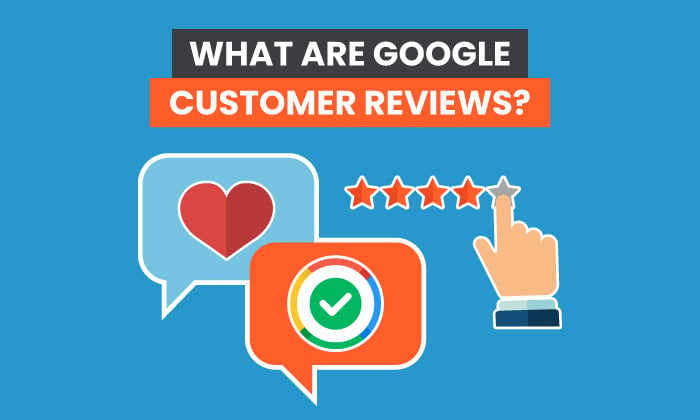 With the competition becoming fiercer every day, e-commerce businesses need to pull all the stops to ensure they continue beating the competition.
One simple yet powerful marketing tool you can use to your advantage is the Google Customer Reviews feature.
Research shows that 70 percent of people trust online reviews more than they trust advertisements. That's why getting as many reviews as possible from your customers can be one of the best things you can do for your business.
Google has made that easy with Google Customer Reviews.
Let's dive right in and see what these reviews are all about.
An Overview of Google Customer Reviews
Google Customer Reviews is a service that allows businesses to collect reviews on their website. To participate in Google Customer Reviews, you must have a Google Merchant account.
Google does most of the heavy lifting by helping collect customer feedback for you. To do that, Google sends your customers an email asking if they want to provide feedback on their experience with your brand. Customers who choose to participate then receive a short survey form to fill out.
The reviews and ratings that customers provide in the surveys can be displayed on your website and other marketing platforms. They also help determine seller ratings that Google gives to merchants, including the average star rating and the number of ratings. The higher the rating, the more trusted the merchant is.
A replacement of the retired Trusted Stores program, Google Customer Reviews is an excellent way to prove to prospects that they can trust you to deliver on your promises.
Why Are Google Customer Reviews Important?
If you're wondering whether you should even bother with the Google Customer Reviews program, let me quickly give you three important reasons why you should.
Help Build Social Proof
One of the essential ingredients to running and growing a successful e-commerce business is to gain your customers' trust.
That's what Google Customer Reviews helps you do.
The customer reviews you gather are great for building social proof you can use to gain the trust of new customers. Social proof simply means evidence that other people trust you to provide them with a positive shopping experience. It makes other customers feel comfortable shopping with you. As a result, this positively impacts your conversion rates.
Participating in Google Customer Reviews allows you to build social proof and add a badge with the Google brand on your website, helping drive conversions.
Help Build a Better Brand and Products
Besides helping you win your customers' trust, Google Customer Reviews is also an excellent way of getting feedback from your customers. You can use this feedback to improve your product and service delivery. As a result, you can build a better brand and create buyer journeys that your customers will love.
Boosts Your Local SEO
Want to boost your local SEO? Then leverage Google Customer Reviews.
Search engines, particularly Google, want to serve up the most relevant businesses in local search queries. To do so, they consider what your brand does.
Most importantly, they value the opinions left by people who have had a first-hand experience with you.
That's where Google Customer Reviews come in. They help search engines know which businesses to recommend to users. Google rewards brands with better reviews by ranking them higher on the search engine results pages (SERPs).
Google Customer Reviews also helps users decide which brands to do business with. To get a fair share of the business, you'll need to have more positive reviews than your competitors.
Ignoring Google Customer Reviews could deprive you of the opportunity to give your business and marketing more mileage. That's especially true as studies show that 87 percent of people read online reviews when researching local businesses.
How Does Google Customer Reviews Work?
How does this program work? Thankfully, it's much simpler than Trusted Stores. All it takes for you to get a customer review are three simple steps:
1. Google Asks Your Customers to Opt-In
When a customer buys something from you, Google sends them an email around the day they're expected to receive their purchase. The purpose of the email is to ask the customer to opt-in to receive a survey about their experience shopping on your site.
2. Customers Take the Survey
Customers who opt-in are then directed to a survey consisting of a star rating system (from one to five). There's also space for additional comments if customers wish to provide more information about their shopping experience.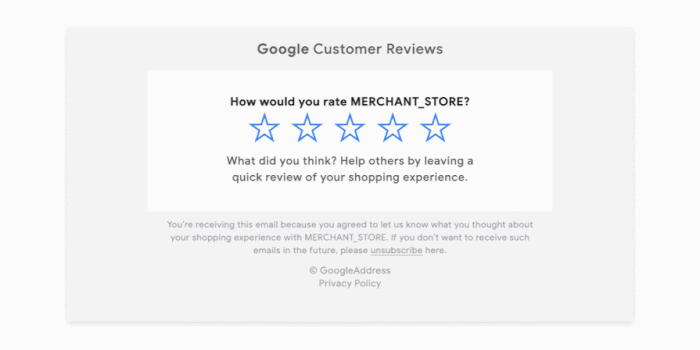 3. Google Aggregates the Reviews and Data
Once the survey information is submitted, Google aggregates it to form star ratings for your business. These are displayed on your website and in organic and paid search results.
While Google Customer Reviews is a Google initiative, it benefits you as a merchant.
Try as much as possible to encourage your customers to participate. This way, you get more reviews, and more reviews mean a better seller rating (Google's average rating for your store).
That, in turn, will encourage more people to shop from your business.
What Can You Do With Your Reviews?
You've managed to collect some reviews using the Google Customer Reviews program. What's next?
Well, this is where the fun begins, as you can use these reviews for many things. Here are just a few ideas:
Incorporate Them in Your Business Listings
Your reputation is one of your most valuable business assets. What better way to show customers that you're a reputable business than by showing them what other customers say about you?
Include your reviews in all business listings of your business across the web to build customer confidence.
Display Them on Your Website
One of the first things you can do with your reviews is to display them on your website. Doing so helps earn your customers' trust. It also lets customers see that you're transparent, a value that 81 percent of customers look for in brands.
Use Them on Social Media
We all know social media can be a very powerful marketing tool. When you run your social media marketing campaigns, you can leverage your reviews by incorporating them into your posts or ads.
You can use your reviews on any marketing platform and with any marketing strategy. The whole point is to demonstrate to potential customers that your business is reputable and is known for delivering good customer experiences.
So, if you feel your marketing message could benefit from a review or two, pull one up from your Google Customer Reviews.
How Is Google Customer Reviews Different From Google Product Ratings?
Another Google program you can participate in is the Google Product Ratings program.
Participating in Google Product Ratings allows you to collect customer reviews on the products you sell. Like customer reviews, the product reviews' results are aggregated and can be used across other marketing platforms like Google Search and Shopping Ads.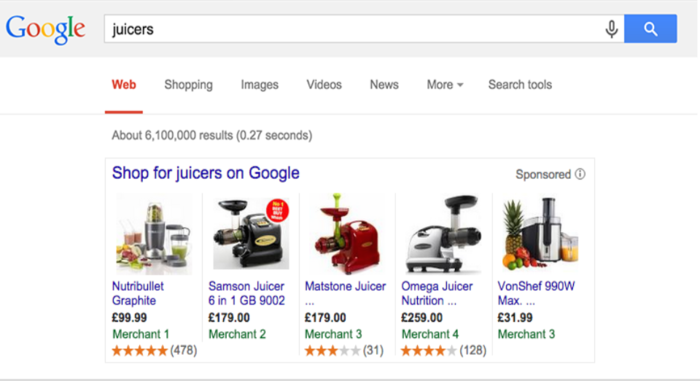 The main difference is that product ratings are not a reflection of your business. Instead, they reflect how satisfied customers are with the product.
As you've already seen, customer reviews are a rating of your customers' overall experience with your brand. This can take into account the product (and its ratings), shipping, and customer service, among many other factors.
To put it simply, product ratings help other customers pick quality products, while customer reviews help other customers choose reputable sellers.
Product ratings and customer reviews are two different programs. However, you can edit your Google Customer Reviews code snippet to include certain products, so your customers can rate them in the same survey.
What to Do When You Get Negative Google Customer Reviews
Negative reviews are inevitable in business. There will always be a customer or two who are not satisfied with their experience with your brand. Legitimate or not, these negative comments can impact your business.
What do you do when you get a negative Google customer review?
First of all, don't ignore the review. While you must respond to all reviews posted, negative reviews must be handled with extra care. That means:
Respond Quickly
Don't let a negative review sit unanswered for a long time. Doing so results in everyone who reads the review either believing it or drawing a conclusion. Both can be harmful to your business.
Before you rush to respond, however, make sure to assess the feedback your customer has left. Use it to come up with a positive and helpful response.
Respond Carefully
When you respond, make sure to personalize the response by mentioning their name and the product they purchased.
It's also crucial that you don't turn a negative review into a debate or finger-pointing battle. Instead, thank the reviewer for taking the time to offer their feedback.
Also, make sure to apologize for the negative experience. By accepting the blame, your customers will see there's an empathetic human behind your brand.
Move the Conversation Offline
Another vital step to dealing with a negative review is to ask the reviewer to get in touch with your customer support department. Moving the conversation from the Google Customer Reviews platform can help you take care of the customer's gripe in a better environment.
It also shows prospective customers that you care about providing the best experience.
Do it well, and they may end up changing their review and leaving a good one. What customers really want is to know that you care about them.
If you can go out of your way to provide a good customer experience (CX), the chances of them becoming loyal to your brand increase.
Offer a Solution
When a customer leaves a negative review, it's a sign they're not happy about an aspect of their experience with your brand. Besides just leaving your response, you should offer a solution to rectify the situation. Offering a solution also shows that you truly empathize with the customer.
The way you respond to negative reviews can either make or break your brand. If you do it well, you can reduce customer churn. You can also increase the chances of your customers leaving glowing reviews and becoming your brand ambassadors.
Conclusion
Google Customer Reviews is a great way to boost your brand's credibility and visibility.
As an e-commerce business, reviews are the lifeblood of your business. Yes, even the negative ones, as you can leverage them to show your brand's human side.
Take advantage of Google Customer Reviews and give your customers a voice. Doing so will let your customers know that you value them and can also help boost conversions.
What's your experience with Google Customer Reviews?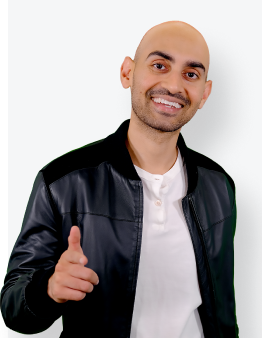 See How My Agency Can Drive More Traffic to Your Website
SEO - unlock more SEO traffic. See real results.
Content Marketing - our team creates epic content that will get shared, get links, and attract traffic.
Paid Media - effective paid strategies with clear ROI.
Are You Using Google Ads? Try Our FREE Ads Grader!
Stop wasting money and unlock the hidden potential of your advertising.
Discover the power of intentional advertising.
Reach your ideal target audience.
Maximize ad spend efficiency.