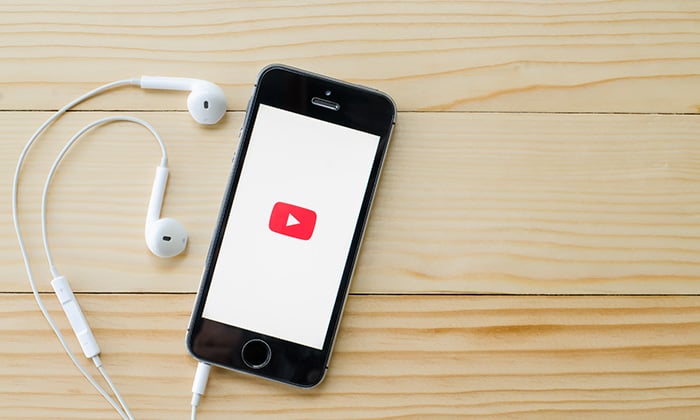 What if I told you that you had unlimited access to a proven e-commerce marketing platform — and it was free to use?
You do.
YouTube visitors watch almost 5 billion videos every day. It's the perfect vehicle for promoting brand awareness and building a loyal following.
But its popularity is a double-edged sword.
Billions of visitors draw lots of content creators. It can be hard to cut through the clutter and stand out — not just from your competition, but from the content-creator masses as a whole.
Thankfully, with the right strategy in place, you can rise above the throngs of eager YouTubers to drive revenue.
Because you definitely want to take advantage of YouTube's selling potential.
It is, after all, the third most visited website in the world.
I'm going to show you how to leverage it like a pro to boost your e-commerce sales.
What makes YouTube so effective as a selling tool?
In business, it's better to show, not tell.
YouTube is the perfect platform to show your brand to a large audience so they remember you when it's time to buy.
If 63% of marketers say that their #1 challenge is generating new leads and 43% of consumers want to see more video content, a video platform like Youtube is the perfect way to connect those needs.
The problem is that YouTube is so popular and so saturated with content creators and channels that it can be a challenge to get your videos in front of the right viewers.
What do I mean by "saturated"?
There are over 50 million active references in the YouTube database.
What does that mean for you?
It means that your message is competing with over 50 million other unique videos for attention.
The good news is that there are also over a billion active YouTube users, watching around a billion hours of content a day.
The audience is there. You just have to get to it.
Here are a few tips to make YouTube one of your most effective selling tools.
1. Stay true to your brand
Your channel is an extension of your website and should look the part so that your potential customers immediately recognize you no matter where they find you.
Be consistent, whether it's on your website, social or video platforms.
On average, it takes 5-7 brand impressions before someone remembers you. For a visitor to make a visual imprint of your brand and remember you in the future, they need to see your story at least five times.
This is why it's crucial to look like the same company on every single platform.
It creates a cohesive story, which creates a cognitive link between you and your reader.
Just check out this example of a compelling brand story from Toms.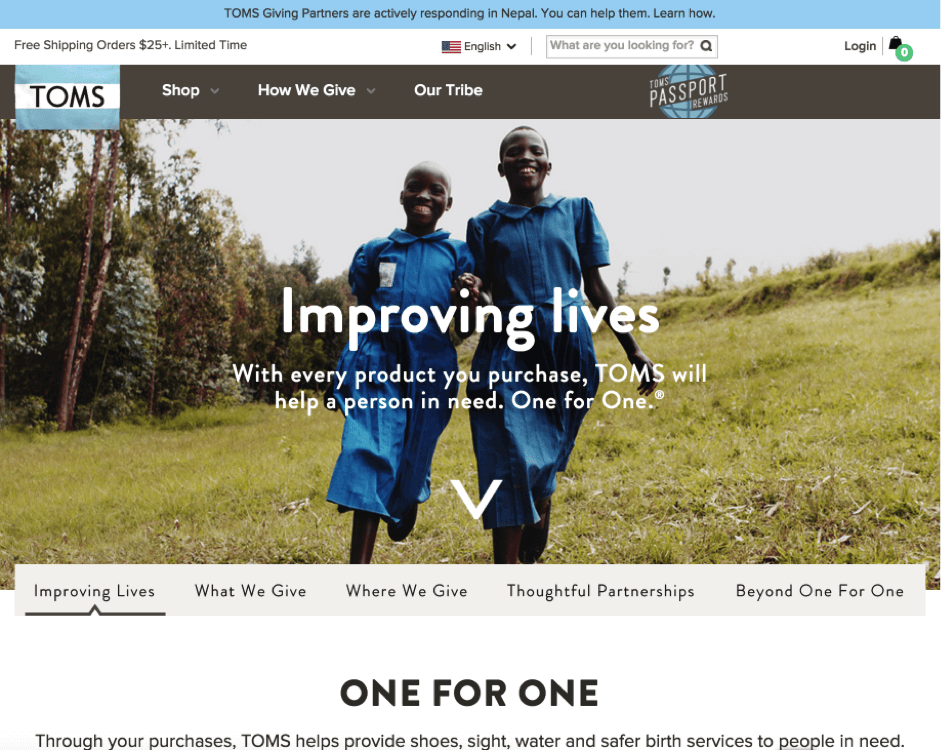 Good stories don't just connect customers. They connect with customers. Toms puts their mission statement front and center on their website:
Improving lives, giving back, helping people in need.
It's memorable.
Now, look at the Toms YouTube Channel: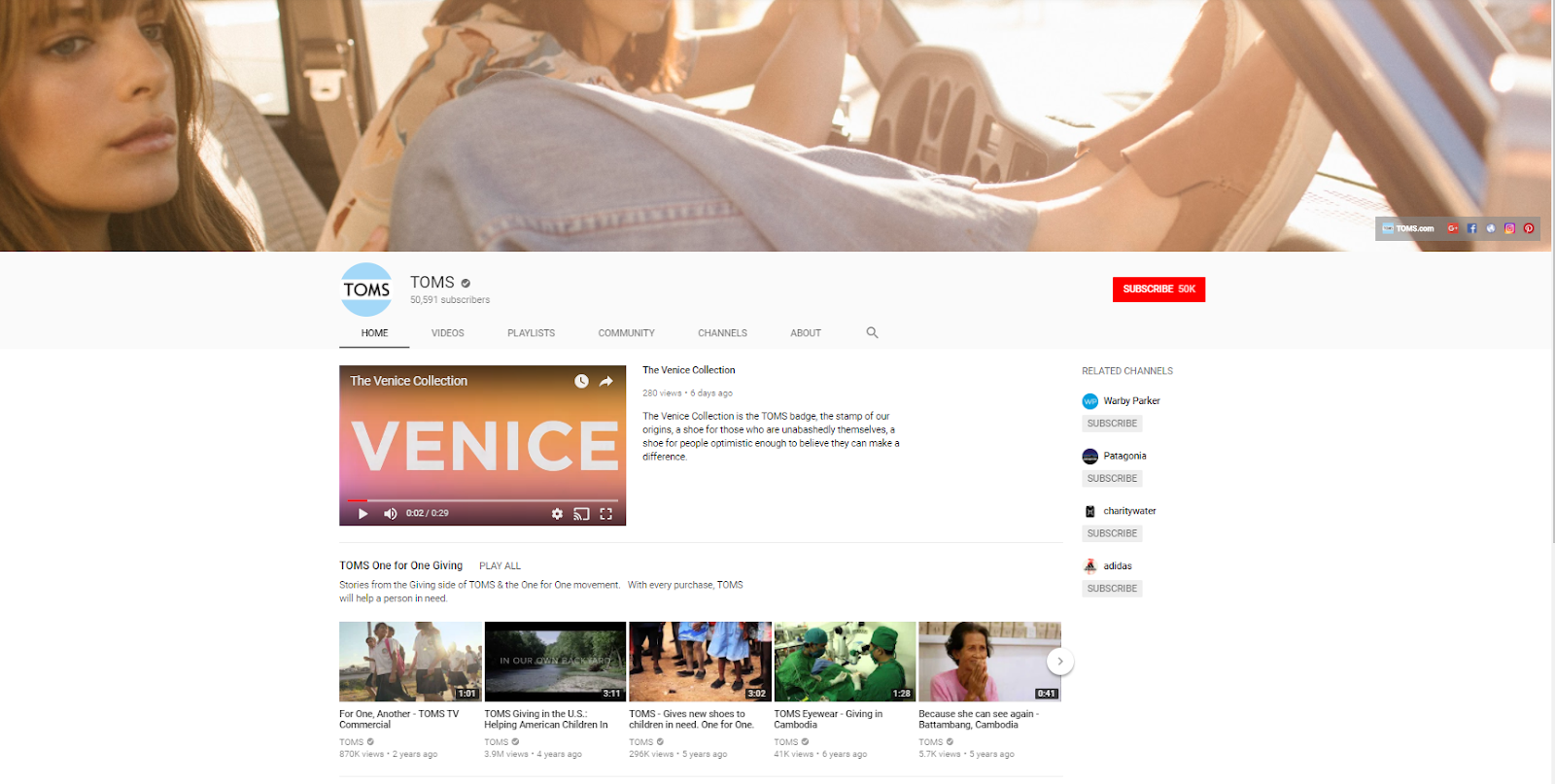 There is immediate recognizability with their logo, color palette, and basic branding elements, but they also carry over their mission statement to their video playlist.
Their channel looks and feels like an extension of their brand.
Here's another example from my website:
Compare that to my YouTube channel: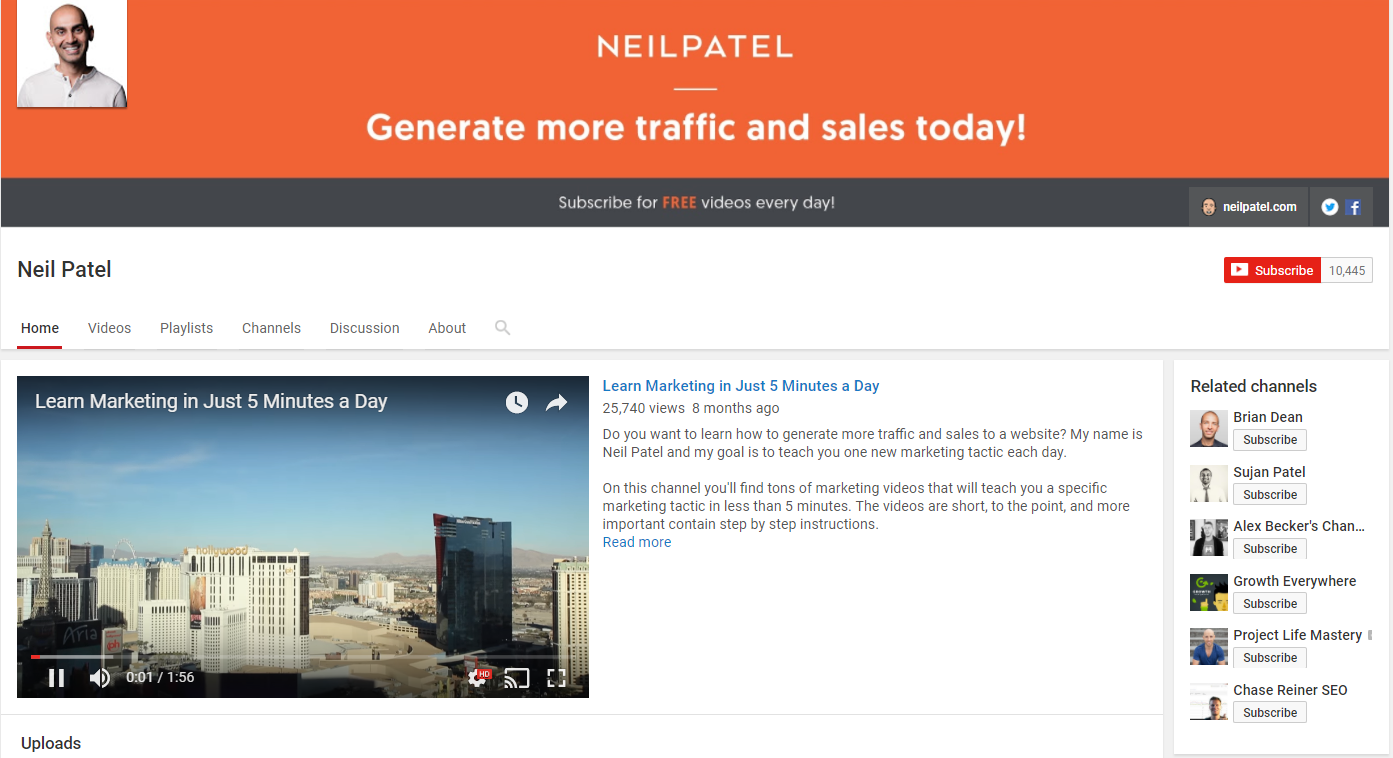 Same look and feel, right? It's all intentional so that searchers will recognize my content in an instant.
So how do you do the same thing?
First, make sure you take a look at YouTube's customization features and add some brand flavor to your channel.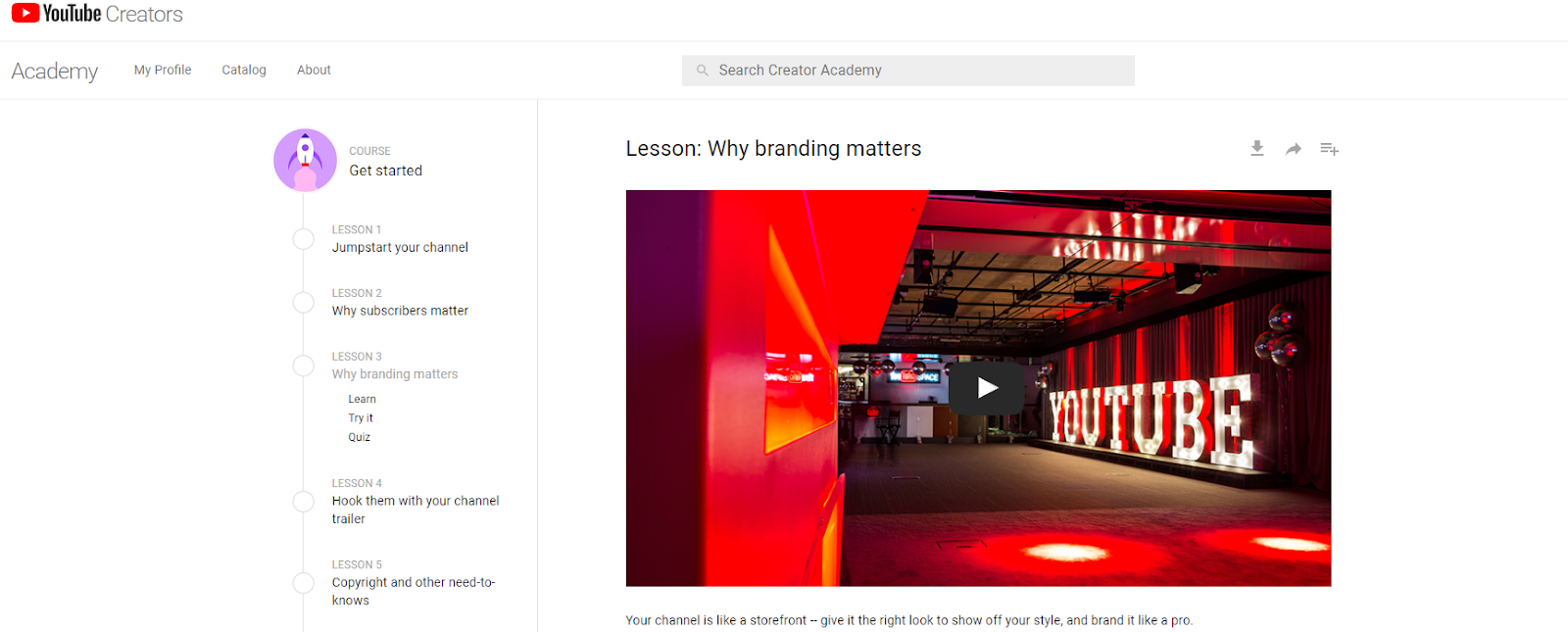 YouTube makes it easy to brand your channel with logos, images and design elements that carry over from your website.
Second, don't overlook the importance of using keywords to supercharge your brand identity.
Within the next two years, video will account for 80% of consumer Internet traffic.
Eighty percent.
The right keywords reinforce your brand and help the right customers find you on video channels like YouTube.
If you do it right, it doesn't take long to zero in on those keywords.
If you're just getting started, try a free keyword search tool like Ubersuggest.  Here's how it works: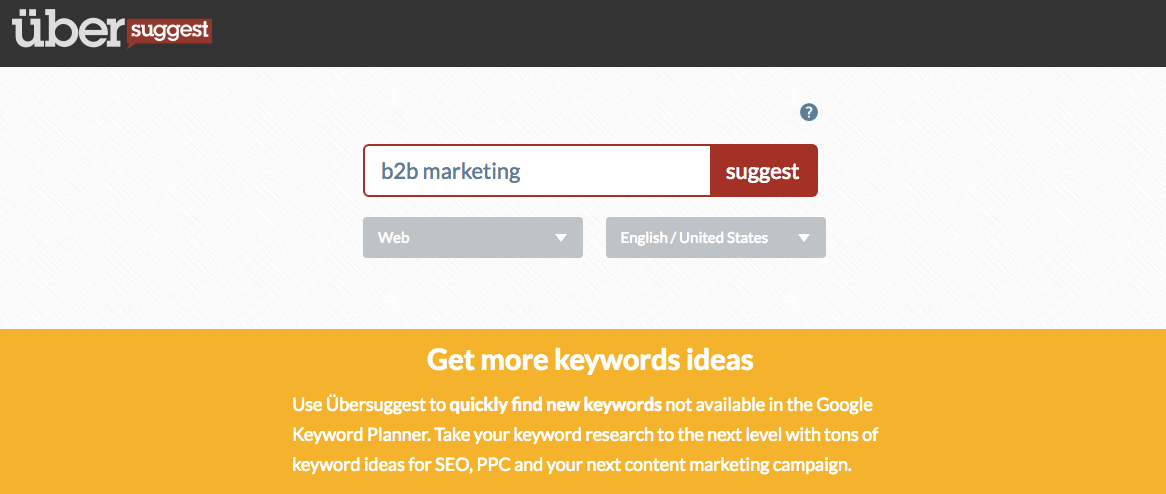 By entering a simple search term like "b2b marketing," I'm presented with an impressive list of 267 keywords to choose from: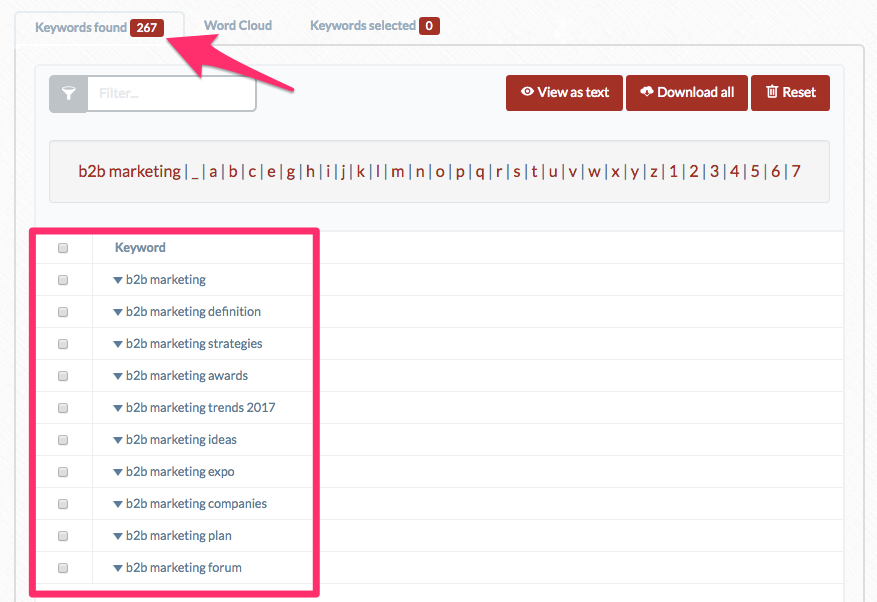 Ubersuggest lets you easily drill down from there to get to the right list of keywords for your brand: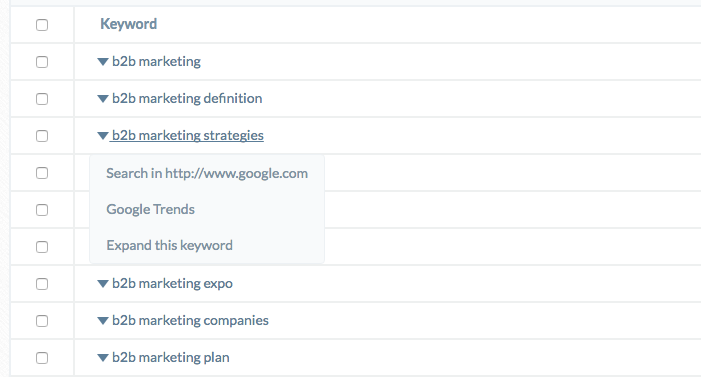 Now that you've found your brand identity and the right keywords to back it up, it's time to think about content.
2. Find your content cadence
Don't overlook the importance of posting on a regular schedule.
If you don't post often enough or are too erratic with your posts, your audience will quickly lose interest and forget about you.
First, you need to determine your content marketing goals.
Is it to build an email list? Drive consumers to your e-commerce site?
Identify your top two or three objectives to help hone in on the right strategy.
I can't overemphasize the importance of this step.
72% of content marketers credit content strategy development as a key factor in their organization's overall success.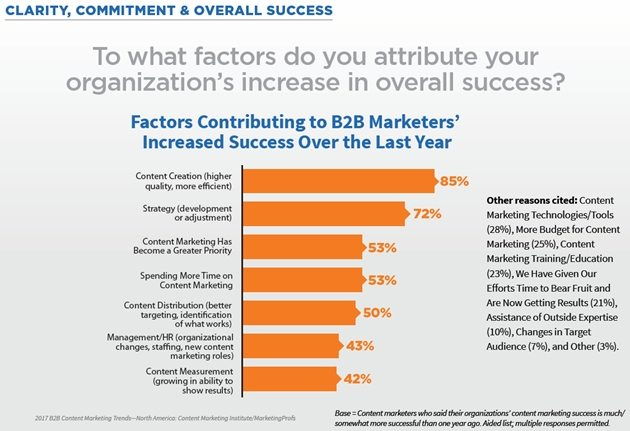 Next, identify your biggest challenges. What's holding you back from content marketing Utopia?
To help brainstorm, here are some of the top challenges reported by content marketers. Do you see yourself in here?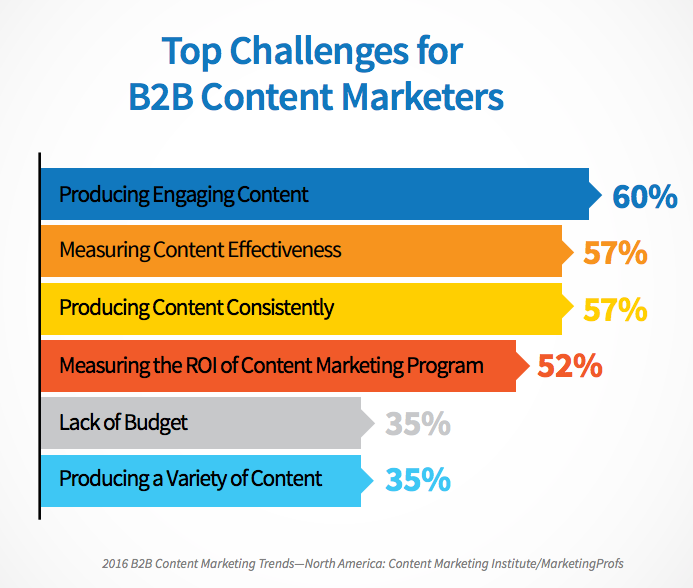 Don't despair.
Simply address one challenge at a time. Recognizing what to fix is half the battle.
For example, if your top challenge is producing enough content, try creating some repeatable templates or processes to help you crank out more posts without reinventing the wheel every time.
Once you've acknowledged and addressed your challenges, it's time to get down to business.
You have a bank of great content.
You have the right keywords.
So when is the best time to post to make sure your content doesn't fall into a black hole?
Obviously, you want to post when web traffic is highest. Check out these stats:
As you can see, traffic is generally higher later in the week and on the weekends.
Consider your audience, however. When are they most likely to be free and able to watch your content?
If you're not sure how to find the best times to post for your brand, you can use a free tool like YouTube Analytics. Here's how to use it: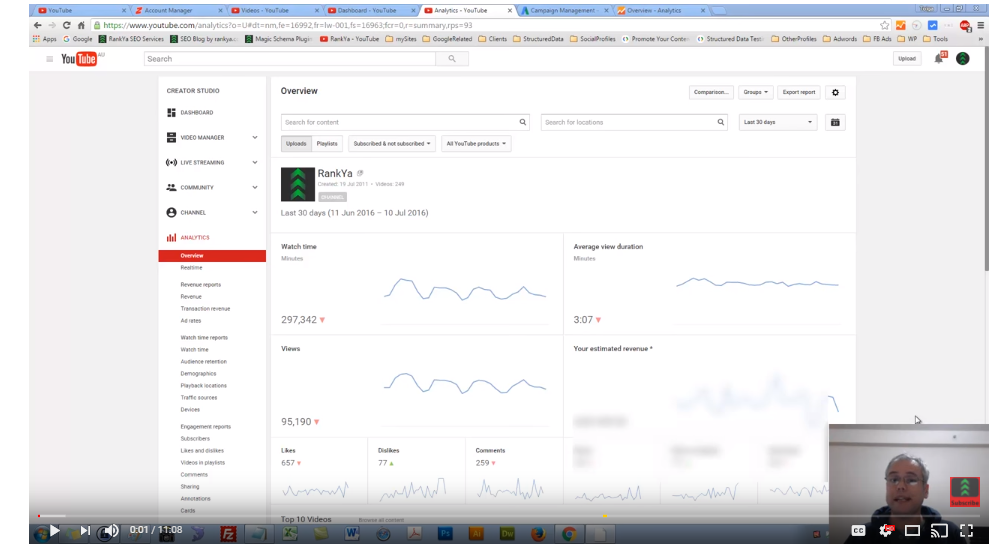 3. Build a following
Your ultimate goal is to generate traffic that will convert to more sales, but you can't do that without an audience.
The more subscribers you have, the more views and shares your content will get. The bigger the audience, the more credibility and brand awareness.
YouTube "popularity" has a snowball effect.
To be successful, you'll need to understand the persona you're trying to reach.
Instead of blindly throwing a dart at the entire YouTube viewing universe, connect with the right audience, right off the bat.
Subscriber numbers will naturally follow.
Check out this example from Banish skincare.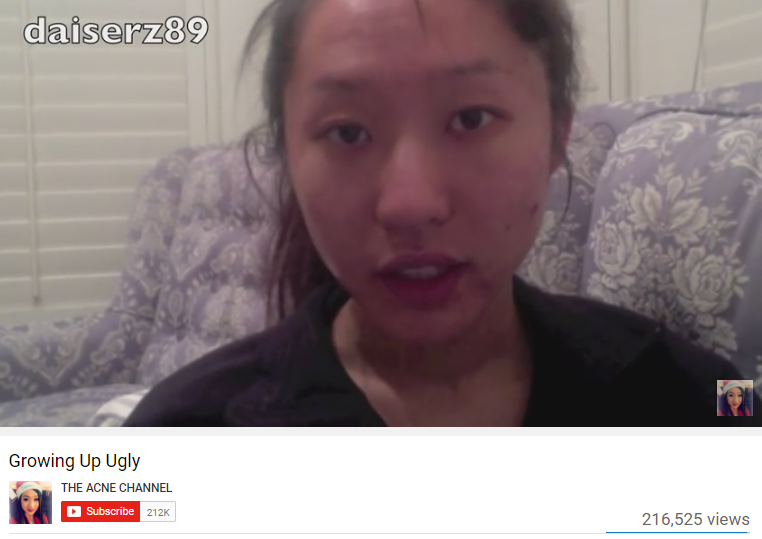 Daisy Jing, the CEO of Banish, realized that she needed to create an authentic connection with viewers who were experiencing the problem she was trying to solve: acne.
She didn't post a flashy marketing video. Instead, she connected with viewers in the most vulnerable, open way possible — and it worked.
Banish has generated over $3 million in revenue from YouTube subscribers alone.
Once you've built a following, your next task is to keep them hooked on your brand.
4. Create how-to videos
Can how-to product videos really drive revenue? Absolutely.
50% of YouTube subscribers between the ages of 18-34 say that they would stop what they're doing to watch a new video from one of their favorite channels or brands.
So how do you capitalize on that loyalty in the e-commerce world?
It's simple: teach other people how to use your product.
The results speak for themselves.
Up to 85% of consumers are more likely to buy a product after watching a product video.
And up to 58% of consumers say that companies with product videos can be trusted over those without videos.
How-to videos are often referred to as "explainer videos" because they explain (in two minutes or less, ideally) what your brand stands for or how to use your product.
Check out these 17 examples of e-commerce sites who have mastered the art of how-to and product demonstration videos.
Once you've got the hang of creating your how-to videos and have several under your belt, try putting them in a playlist on your YouTube channel like I did for my channel.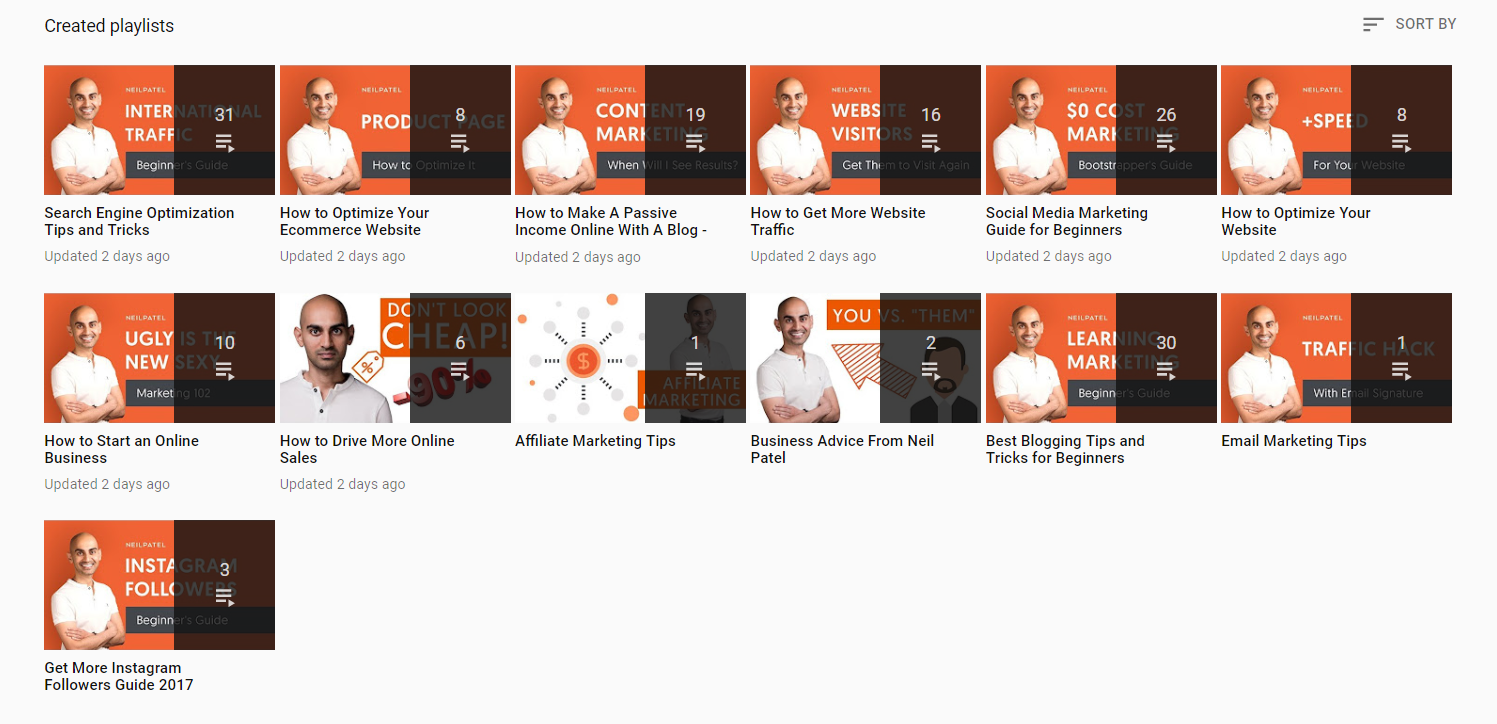 It promotes you as an expert with tons of great content and makes the user experience easier for your viewers.
As your brand grows, you can take advantage of videos that you didn't even create to drive consumers to your e-commerce site.
5. Leverage product reviews
Honest, authentic product reviews build credibility.
In fact, 84% of consumers trust product reviews as much as they trust a recommendation from a friend or family member.
What is the recipe for a great product review video?
First of all, it shows consumers why they need your product and how it will improve their lives. The best product reviews focus on solutions — not selling.
67% of YouTube viewers watch videos for informational product reviews to help with a purchasing decision.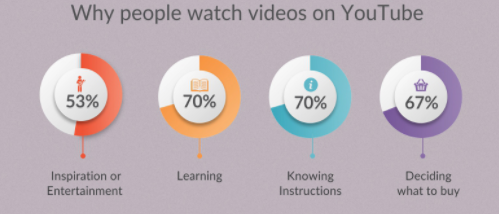 Check out these top YouTube product reviewers for inspiration.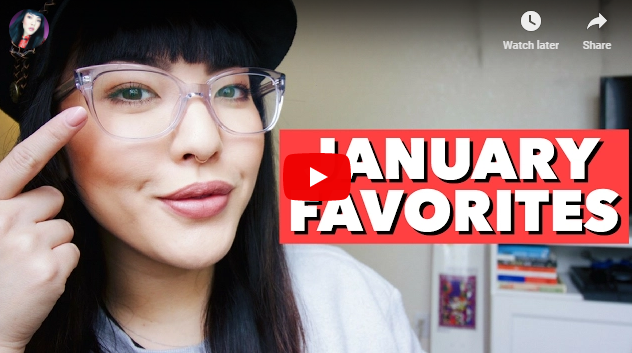 Each one has thousands, if not millions of subscribers tuning in to hear them review products and talk about the brands they like.
Why are they so popular?
They all follow a formula: education, storytelling, and recommendation — all centering around a brand or product that they are willing to promote.
If you're ready to engage with YouTube influencers to review your products, be sure that you do some research on the front end to find influencers that are compatible with your brand.
If you're selling products to outdoorsmen, a YouTube influencer that reviews couture fashion probably won't resonate with your audience.
There are tools, like Social Bluebook, to help you connect with the right channels.
It shows you key metrics for influencer channels, including follower information and engagement grades.
Now that you know how to use product reviews to your advantage and sales are taking off, you'll want to create some "meat" for your customer base to stay engaged and position yourself for repeat sales.
6. Post a product FAQ
A simple way to introduce people to your brand is to create a short (5-10 questions) FAQ about your products or services.
If customers have to work too hard to learn about or use your product, they will never buy from you again.
By answering frequently asked questions before they are even asked, you are addressing potential buyer objections and concerns.
This paves the way for happy customers and future sales.
A couple of things to keep in mind:
All videos, including FAQs, work best if they are short (30 seconds or less is best).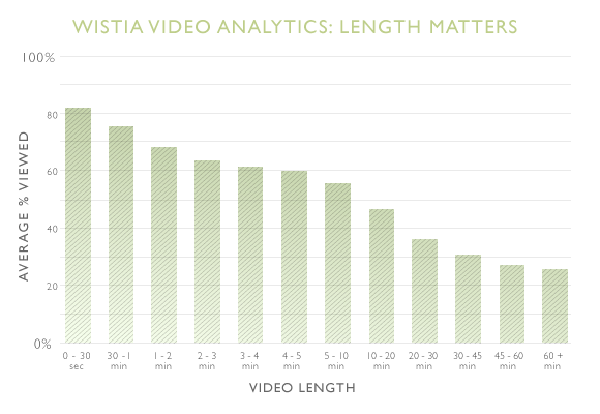 Viewers retain 95% of what they see in a video, compared to 10% of what they read.
FAQs are an easy way to address common customer support questions in the future to free up your support team for more complex issues.
Happier customers who feel like you care about and solve their problems are more likely to buy from you again.
As you plan your FAQ videos, try a free tool like TubeBuddy to run some A/B tests on your video thumbnails, length and view rates.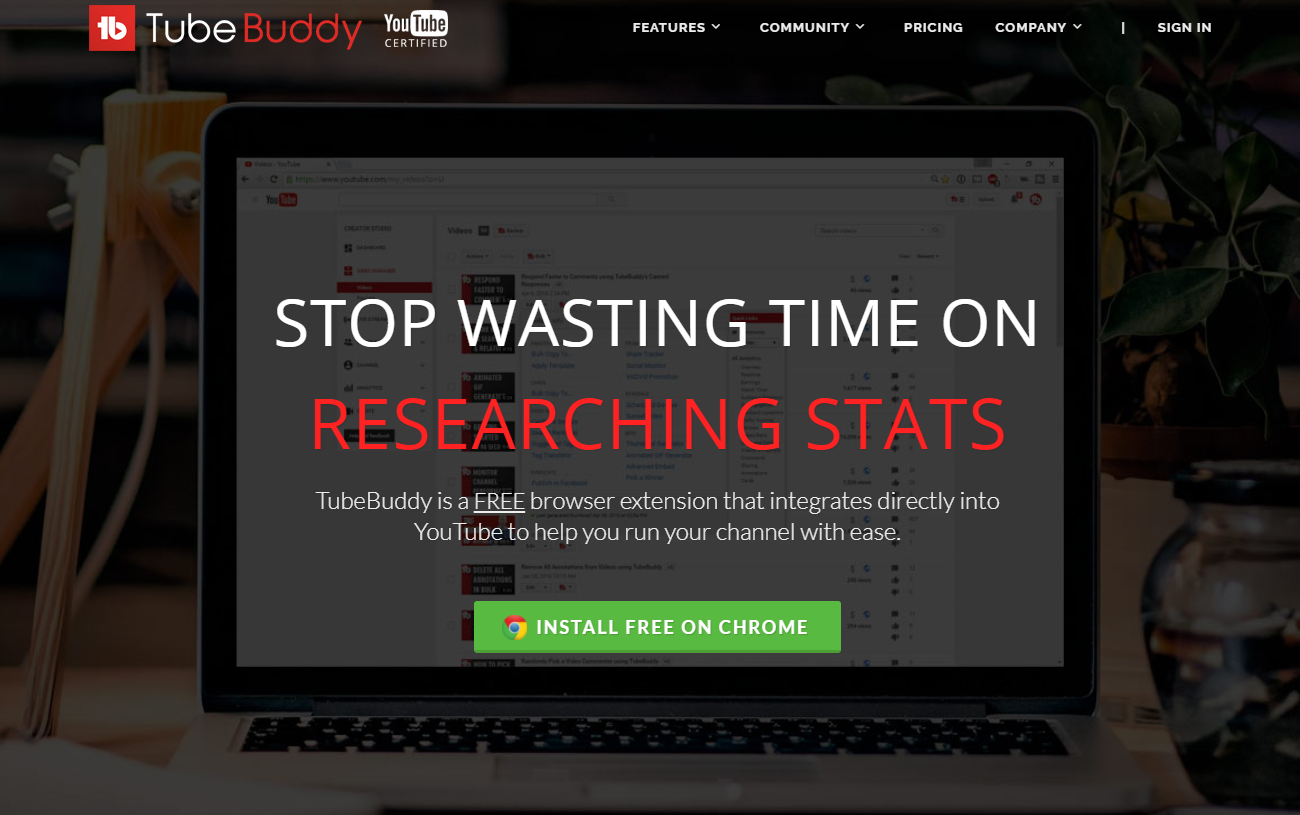 You're getting into your YouTube rhythm and starting to make a name for your brand.
It's time to capitalize on that hard-earned popularity.
7. Cross-promote with other channels
Cross-promotion is one of the fastest routes to YouTube channel growth.
By working with an established channel to promote your own content, you get double the visibility and a huge bump in credibility.
Think about it.
If 500 hours of YouTube video are posted every 60 seconds, you want to be front and center in as many of those videos as possible, right?
An easy way to get started is to add links to other channels in your end screens and comments and ask those channels to do the same for you.
Look at Samsung, for example. They partnered with the YouTube influencer channel Unbox Therapy to promote the new Samsung gaming monitor.
One simple unboxing video got more than 130,000 likes, 20,700 comments, and 3.6 million views.
Similar to product reviews, cross-promotions highlight features and functionality of your products.
What's the difference?
Cross-promotion requires a bit of "quid pro quo." Channels that actively cross-promote your brand will expect you to do the same for them.
This is why it's crucial to do some research to make sure you're reaching out to the right channels.  Otherwise, your videos will come across as cheap sales gimmicks.
Even worse, you'll be stuck promoting channels in return that have nothing to do with your brand.
On the opposite side of the coin, you'll want to be sure to position yourself intelligently to attract the right channels who want to cross-promote with you.
To avoid any pitfalls, use a tool like Social Blade to check out other channels in your niche.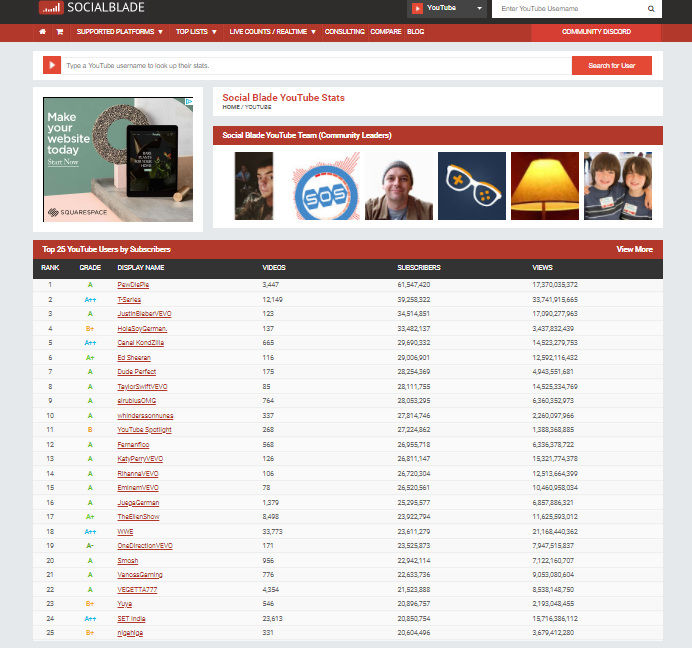 Once you've mastered cross-promotion, what comes next?
Well, all of the great content and brilliant cross-promotion in the world will be wasted if you don't tell your viewers what you want them to do with it.
8. Don't forget your CTA
Don't assume that your viewers know what you want. Give them clear directions.
Specific calls-to-action drive viewer behavior.
Want them to visit your store? Download content? Subscribe? Buy your product?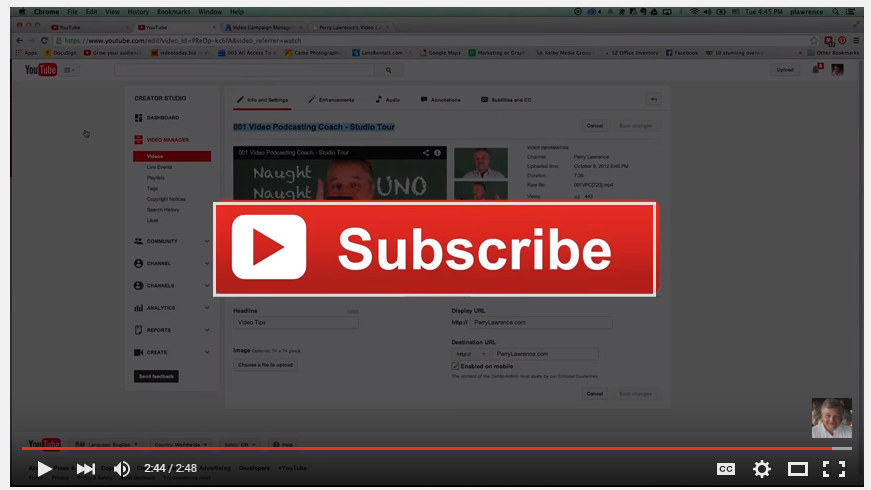 Don't be afraid to experiment with different ways of including a compelling CTA in your YouTube videos.
If your video is at least 25 seconds long, try an end screen like this one: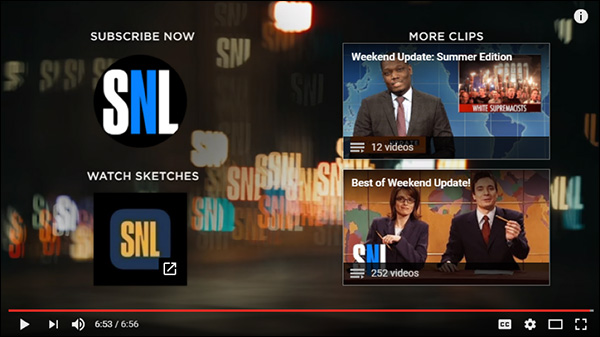 An end screen is basically a big target for your viewers to click on.
It keeps them engaged with your content and leads them down a trail of information that you design.
Cards are another tool to complement your YouTube CTAs.
They are exactly what they sound like — preformatted boxes or "cards" that pop up inside your video like this one from Content Sparks: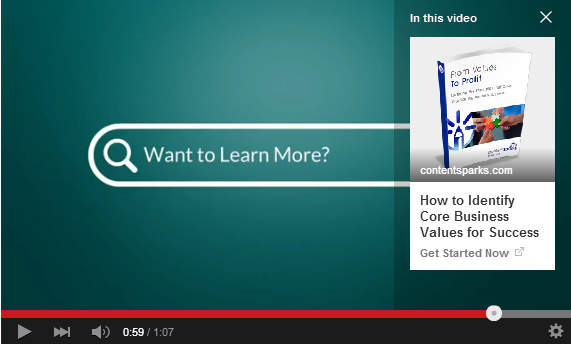 You can place them anywhere inside your video (beginning, middle, end) and use any flavor of CTA you'd like.
Creator Academy has a great how-to video to help you set up cards in your videos.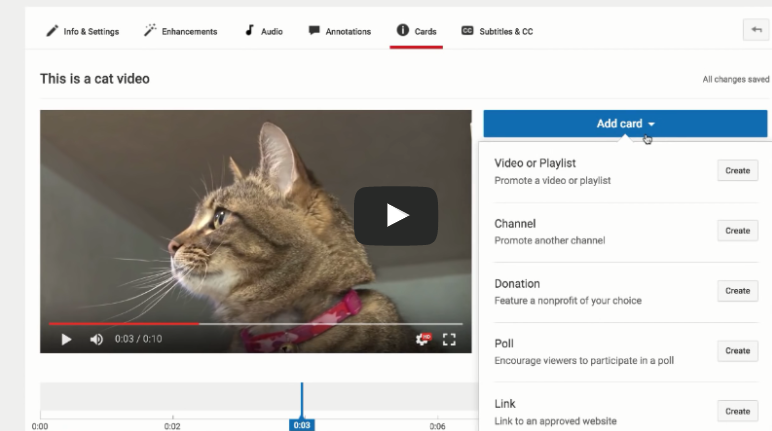 Still not sure if you need to beef up your CTAs?
YouTube has a conversion rate of 1.16% for channels that ask viewers to take action.
In the ultra-competitive e-commerce space, every conversion counts.
9. Promote your content
Don't depend on your prospective customers to find your channel on their own.
You've spent countless hours creating content and refining your channel. Time to toot your own content horn.
One easy way to broaden your reach is by promoting your YouTube channel in other mediums.
Try embedding a link to your channel in an email, or including a link to a YouTube video in your latest blog post.
You are your own best brand advocate. Use your content to your advantage.
Look at this example from my blog: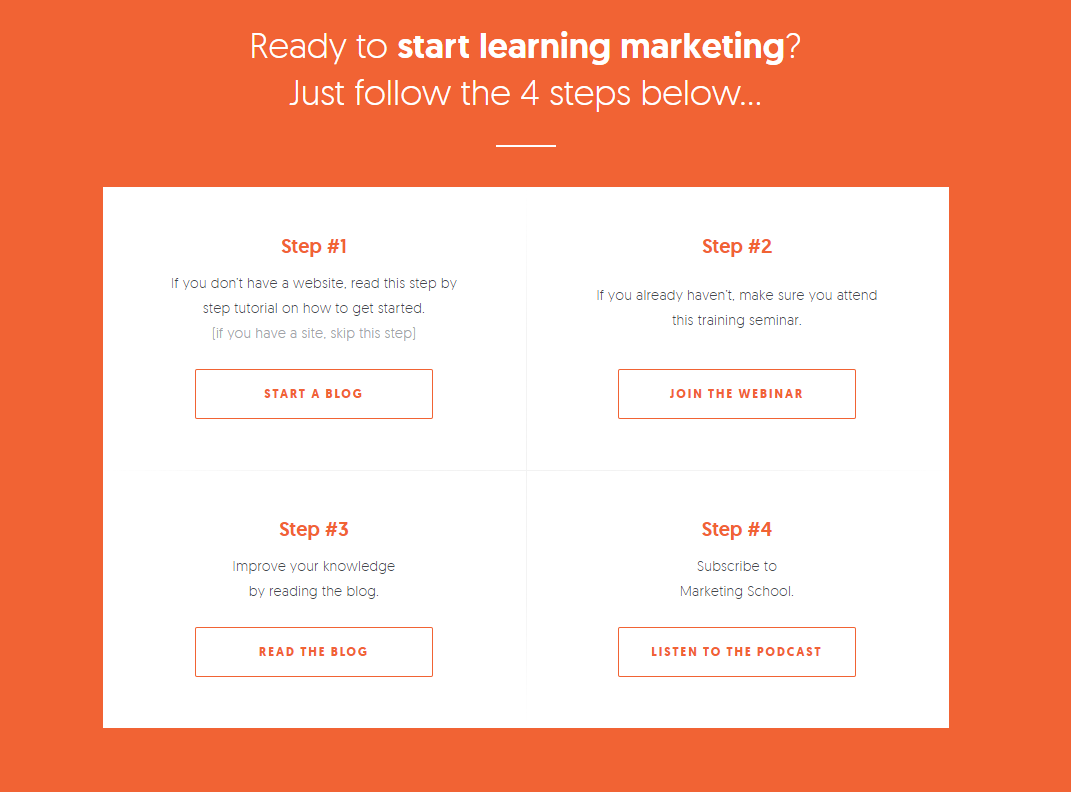 I point visitors back to my content in four different ways, right from my home page.
And did you notice my video earlier in the post?
I have nearly 88,000 YouTube subscribers because I look for opportunities to be pervasive.
Earlier in this article, we talked about how it takes 5-7 brand impressions for a consumer to remember you, remember?
By that logic, it makes sense that campaigns integrating four or more digital channels will outperform single or dual-channel campaigns by 300%.
If you want to test the waters with a couple of channels, pick one and track your progress.
Take email, for example. It's almost 40 times better at acquiring new customers than Facebook and Twitter.
Start including some YouTube links in your email newsletters and then check your subscriber and viewer rates to see how you're performing.
After you've mastered the email/YouTube combo, pick another channel and start the promotion process again.
Conclusion
Fewer than 10% of small businesses use it, and yet YouTube is one of the most powerful social media platforms in existence.
It reaches audiences all over the globe, and it's accessible to any organization, regardless of industry.
If you're not tapping into the open market of over one billion YouTube users, you're missing out.
While it's true that YouTube is heavily saturated with content creators and channels, it has also never been easier to get your content in front of the right audience if you put some thought into it.
Leverage the tools that YouTube makes available to you for free. Start customizing your channel to create lasting brand impressions.
Once you've created compelling content, make sure to get it in front of the right audience through explainer videos, product reviews, and smart cross-promotion.
By incorporating the right branding, compelling calls-to-action, and a consistent content stream, you'll separate your brand from the noise and start seeing revenue-generating leads for your e-commerce site.
What are some ways you use YouTube to drive business to your e-commerce site?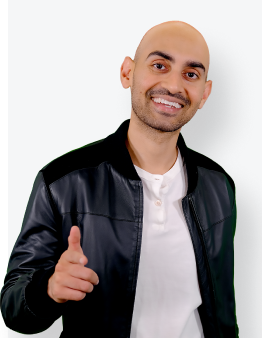 See How My Agency Can Drive More Traffic to Your Website
SEO - unlock more SEO traffic. See real results.
Content Marketing - our team creates epic content that will get shared, get links, and attract traffic.
Paid Media - effective paid strategies with clear ROI.
Are You Using Google Ads? Try Our FREE Ads Grader!
Stop wasting money and unlock the hidden potential of your advertising.
Discover the power of intentional advertising.
Reach your ideal target audience.
Maximize ad spend efficiency.