Does your YouTube channel optimization need some work? Perhaps you've been busy posting videos, yet your views remain low despite your efforts.
Here's the thing: Posting isn't enough. You need to optimize your content if you want more people to see it.
After all, YouTube has 122 million daily active users, and 500 hours of content gets uploaded to YouTube every minute.
That's some steep competition; naturally, not every video stands out. However, that doesn't mean you can't take action to increase your traffic.
Today we'll look at how to optimize your YouTube channel, maximizing your video SEO, and looking at examples from existing innovators.
Let's begin with a short explanation.
The Importance of YouTube Channel Optimization
YouTube channel optimization is essential in maximizing the reach of your channel, improving viewer engagement, and driving more traffic to your website. Here's why:
It improves your search rankings: Optimizing your YouTube channel by including relevant keywords can boost your visibility on the site's search engines and external search engines like Google: it's simple: the more easily people can find you, the more views your channel attracts.
It enhances brand identity: Looking for an easy method to improve or create a brand identity for your YouTube channel? Then use optimization methods to clarify what your channel is about, what your values are, and what type of content you publish. This ensures your viewers know what to expect from you.
It drives traffic to your website or blog: When you use channel optimization, you can add links to your website, social media profiles, and other off-platforms. This encourages viewers to visit your website, read your blog, or connect with you on social media.
It boosts engagement: Well-optimized channels bring you more traffic. The more viewers you have, the more engagement you'll get (provided you're delivering your viewers the type of content they want). As viewer engagement goes up, viewership and subscriptions also go up.
In short, YouTube channel optimization is essential if you want to stand out from everyone else and achieve success on the platform.
Keep reading to find out how to optimize your YouTube channel and drive traffic.
1. Engaging Your Audience
Audience engagement is a vital aspect of marketing that involves connecting with your audience to drive them to interact with your brand.
If you don't like the term "engagement," let's just call it interaction, as Hootsuite suggests,
Interaction means responding to comments on your channel, setting up a community side, and asking viewers what they want to see. All these actions give people a chance to get to know you better.
In addition, you could try different formats as part of your YouTube channel optimization, like answering questions, setting challenges or responding to them, using YouTube Live, or hosting a contest.
Finally, fill out your profile fully. The more your visitors know about you, the easier it is for them to engage.
Tell People to Visit Your Website
I know it sounds simple. In fact, it's probably the easiest idea in this article. However, don't pass this one up just because it seems obvious.
Getting people to your YouTube channel is as easy as telling people it's there. You'll get more traffic than you think just by asking people to go and visit.
I suggest a bookend approach for each video.
In the beginning, say, "Hi, this is (your name) from (yoursite.com)."
That instantly ties you to your site and tells your viewers where to go if they want more of your content.
Then, at the end, say something along the same lines. You can go into more detail this time since you've given away some free, valuable content.
Try something like, "Thank you so much for watching! If you'd like to see more about (topic), head over to (yoursite.com) for more free content."
This is a great strategy to use. Viewers don't have to make it through your entire video to know where to go for more content.
It also helps to put your URL on the screen in a prominent place.
Once again, don't overlook this tactic. You'll be surprised at how much referral traffic you get.
Encourage Viewers to Subscribe
This is a long-term goal, but that doesn't make it any less effective.
With the strategies I've discussed so far, the aim is to send users to your site immediately.
This method isn't as direct but can get you more steady traffic over the long run.
The idea is to ask people to subscribe to your channel.
Subscribing is an action that takes literally a second to do. All your viewers have to do is click on the big red button.
Once you've hooked your viewers with fantastic content, they'll be keen to subscribe if you ask them to.
Of course, that means they'll see more videos from you; this is where the magic starts to happen.
As your videos pop up in your viewers' subscription feeds, you'll get more views from repeat viewers.
Those repeat viewers often turn into fans who will likely check out your site sooner or later.
If you produce enough valuable content, your subscribers become increasingly interested in seeing what you offer and want to know more.
Interact With the Comment Section

If you're getting lots of comments on your videos, that's good. If you're not responding, that's not great.
Whether these remarks are good or bad, receiving them means you're generating buzz. As a result, people want to talk about your content, and you need to answer them.
You need to step in and personally interact with those comments.
This reminds your viewers that you're an actual human being who's listening, responding, and engaging. It builds a lot of rapport with your viewers.
Positive comments are great, but responding to questions is even better because you can often direct people to your site.
This doesn't come off as spammy because someone explicitly asked for information.
Even better, people reading through the comments section see your response. They're probably interested in learning more, so they'll also click the link.
See how it works?
By sharing one helpful link with one commenter, you can potentially get thousands of people to visit your site.
That said, you shouldn't include a link to your site every time you respond to a comment. That does come off as spammy. Instead, just have links when it's relevant or adds value.
While it's essential you respond to positive comments or questions, that's only half the battle.
You've got to deal with negative comments, too. Should you respond to them? It depends. If it's constructive criticism, replying fully gives you another chance to shine by demonstrating your expertise. However, if it's obvious trolling, it's best ignored or deleted if necessary.
Partner with Other YouTubers
Another way of optimizing your YouTube channels is partnering with other YouTubers in your field.
Chances are, there are YouTubers in your niche who want the same thing you do: more exposure and more traffic.
You can share audiences by partnering up, and both parties get a new traffic source.
Your best bet is to do a YouTube search for your keywords and find channels with more subscribers than you do.
For instance, if you have 2,000 subscribers, try finding a channel with 3,000 or 4,000.
This way, you stay inside your league while finding a new audience.
2. Optimize Your Video's Metadata
What is metadata, you ask? Metadata is all the information you enter about a video to help clearly define the subject of a video. For example, with YouTube, the metadata consists of your videos' titles, descriptions, and tags.
Optimizing these critical sections of your video content helps rank your videos on both Google and YouTube.
If your video is the content your audience wants to see, these optimizations will help your reach. On the other hand, if your video content doesn't hit the mark, then optimizing your metadata won't do much to extend its visibility.
For an excellent example of optimized metadata on YouTube, let's look at the Ahrefs YouTube channel.
Title Your Video Correctly
Write a concise, descriptive title using keyphrases that people would search to find your video. Be as natural as possible, but incorporate YouTube's Keyword Suggestion Tool to approximate how much global monthly traffic a particular phrase receives. Ensure you choose "exact match" when researching keywords with this tool.
In the above example, Ahrefs titled its video"Will ChatGPT and Bard Take Over SEO? AI Explained" to let searchers with questions about AI and SEO know it's there to explain the impact of AI tools on SEO.
With this title, it's more likely to get discovered by someone looking for AI and SEO information rather than looking for Ahrefs itself.
Make Use of Your Video's Description
Each of your videos should have a lengthy description of what the video's content is about. In Ahrefs' case, it used appropriate keywords to attract the relevant audience.
In addition, Ahrefs included URLs at the start of its video description. Again, that's something you can learn from: Always add a relevant URL to your website or other content, whether it is a specific page, the homepage of your website, or other videos, so your viewers can easily find the information from your video on your linked content.
Following the URL:
Include your most important keywords in the first few sentences of your description. This is because, depending on the length, they can get hidden behind the show more tab.
Aim for at least a 250-word description using key phrases you've researched for the video's title.
Remember to keep your videos balanced by using key phrases while remaining natural.
Add Tags to Your Videos
Adding ten to twenty tags per video is an ideal way to make use of keywords relevant to your video, but that couldn't naturally fit in your title or description.
Each tag should be a relevant word or phrase (use mostly phrases) appropriate to the video and how you predict users would discover such a video. Follow Ahrefs' examples of how to tag your videos with their use of keywords like how to, easy, best, what you need to… etc.
3. Use Descriptive Playlists
Whether you're a seasoned YouTuber or just starting, creating playlists for your content is an excellent way to improve your channel's discoverability and keep your audience engaged.
Playlists are a feature that allows you to organize your videos on your channel into groupings based on a topic of your choice, and there are benefits to using this feature.
Organizing your content into playlists can have significant advantages for building your channel. Grouping similar topics and themes makes it easier for visitors to find what they want while keeping them engaged and entertained. Playlists even rank in Google and YouTube's search results, providing another way to see your content.
By increasing watch time, you also increase your chances of attracting and retaining subscribers.
Using playlists also drives increased traffic via related videos. For example, when viewing a video on Target's Current TV Spots playlist, other videos from this playlist appear on the related videos sidebar to the right of the video. Since Target placed other videos of a similar subject matter in an optimized playlist, other videos from Target appeared and therefore are helping drive traffic to each other. Related videos are among the most common ways to drive traffic to your existing videos. Playlists help facilitate this traffic.
In addition, the playlist bar automatically plays an entire playlist once you begin watching one of the videos from the selection. This provides another opportunity for more than one of your videos to be played in front of a user you've already gotten the attention of. The feature doesn't come off as abrasive because it's effortless for a user to stop, play, pause, skip, or return to your YouTube channel by interacting with the playlist bar at the bottom of the browser anytime.
Here's an example of how Target uses it.
Target's YouTube channel makes excellent use of the playlist feature when grouping videos of a similar topic, choosing a keyword-focused title, and correctly describing the playlist.
So, with this said, how can you optimize your playlists for greater visibility in YouTube, just like Target?
Begin Grouping Videos of Similar Topics Into Playlists
Target grouped all its web-exclusive content in one playlist and TV commercials in another. By grouping your videos based on their topic, these videos are more likely to drive traffic between one another due to both usability and YouTube's search algorithm. As a result, users are more likely to watch a video of the same subject matter right after they've just watched a previous one.
Use Keyword-Focused Titles for Your Playlists
YouTube's search algorithm considers several factors to determine what videos show up for what keywords. That means you need to carefully consider which keywords to include in your descriptions, as YouTube uses them to determine the subject matter of a video.
Keep the title short and descriptive and use YouTube's Keyword Suggestion Tool as a reference for finding keywords with a substantial global monthly search volume. When using the tool, search with exact match types and only use it as an approximate estimate of the value of certain keywords.
Write a Keyword Focused, Accurate Description for the Playlist
This description can be a maximum of 5,000 words, allowing users to understand the subject of the playlist at a glance and YouTube's algorithm to understand the playlist's contents.
In our example, Target wrote one sentence describing their Current TV Spots playlist, using keywords like great commercials, exclusive online content, and Target. Completing the same type of research for the title of your playlist is also recommended when writing the descriptions of your playlists.
4. Make the Most of Annotations
YouTube annotations are a way of adding interactive commentary to your videos. They act as a call to action on your content to help drive a viewer to complete a certain task, such as subscribing to your channel, watching more videos, pausing the video, adding a comment, and following your brand on Twitter or Facebook, among many others. Here's an example of what I mean from a recent video on my YouTube channel: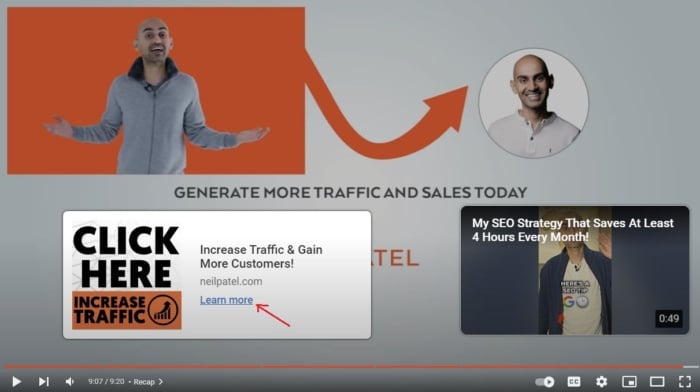 You must first verify your site or log in to add an annotation (pop-up window).
From there, annotations are straightforward enough to add:
Go to "video manager."
Select a published YouTube video from your channel.
Go to YouTube Studio and click on the drop-down menu.
Find the "edit" button and choose "Annotations."
Select "End Screen and Annotations."
Wait for the new screen and your selected video to start playing. Then, let it play or forward it to where you want to include an annotation.
Select the "Add element" button and choose from the menu. You can pick "subscribe," "Channel," "link," and others.
Decide on your commentary length.
Add your annotations (you can include up to four)
Click on "save," and you're done.
You'll see a section called "Associated website." Enter your URL there and click Add.
You'll be redirected to Google Search Console, where you can finish the process.
Once you've verified your site, go to YouTube and click on your account icon. Click "Creator Studio" and then "Video Manager."
For a quicker way of doing it, VEED.IO offers an annotation tool.
Expert Village's YouTube channel, part of the organization's greater ehow network, takes annotations to a new level of innovation by providing calls to action that don't interfere with the viewer's experience.
So, how can you add annotations to your YouTube videos just like Expert Village?
To add annotations, select edit video on a video you've already uploaded to your channel and then choose the annotations tab. In the annotations dashboard, you can scroll throughout your video, selecting the timeframe where you wish to add an annotation from the add annotation drop-down menu. There are six different types of annotations to help drive further interaction with your videos, each with another purpose for optimizing your content.
The Speech Bubble
The speech bubble annotation acts as a way of adding additional text not supplied in the video, but it is still important that the user be aware of it. For instance, adding a speech bubble to someone talking during a video allows you to add extra content to what they're already discussing.
This annotation can be especially helpful because it allows you to display text and allows you to add a link to another YouTube video, YouTube playlist, or YouTube channel and allows a viewer to subscribe to your YouTube channel.
YouTube only lets you display links to other websites in text form, requiring users to type the URL displayed in an annotation into their browser instead of clicking. So unless it's relevant, stick with sending traffic to other destinations within YouTube and keep links elsewhere to a minimum.
The Note
This is one of the most valuable annotations of them all. It's a simple square that you can enter text into and links to other YouTube features like the speech bubble.
The note annotation looks professional and makes presenting links to relevant destinations like your brand's Twitter account or website easier. You could use this annotation in a similar way to the speech bubble, but it's more relevant for a variety of video content.
Expert Village's Garden Home Challenge video uses the note annotation throughout the first twenty seconds of the video, as seen below. This adds a clear call to action to the beginning of the video, connecting it with the other videos in the series and to the channel.
Expert Village used spotlight and note annotations in this video series because note annotations draw more attention and take over more of the screen visually.
The Title
This annotation acts as an added function for videos without a title built into the production of the video.
You can customize the color, font, and size of the title box you wish to have for their entire video. Alternatively, you can cut the video into various sections and include a variety of subtitles.
If you're adding the note annotation for branding purposes, you may prefer this option because it helps clarify the nature of the video and the company behind it.
The Spotlight
The spotlight annotation acts similarly to the note annotation, allowing you to link to various aspects of the YouTube network with or without text. However, the only difference is it highlights a section of an existing video.
For example, Expert Village added a subscribe and a watch now image to the end of its video during its original production. Once the video was uploaded to YouTube, the spotlight annotation appeared over each image to create a custom call to action, adding a link to the appropriate next step.
The Label
The label annotation is a newer addition to the family. Think of it as a combination of the spotlight and note annotation, acting as a frame with space below it for a caption and/or link.
The Pause
The pause function freezes the video during a time of your choosing, then resumes the video once that pause time is over. This annotation helps emphasize a particular part of a video that may be beneficial for viewers to focus on for longer.
For instance, if you have a video with important contact information about a particular product or service, you may give viewers more time to take down this information.
It's helpful to highlight an important message or image about your company to consumers, so vital that the video needs a brief pause.
5. Brand Your Page Consistently
Consistency is critical to your branding. The more cohesive it is, the more consumers come to recognize you.
Fortunately, with YouTube, you can use several branding features free of charge so you can take advantage of them.
For instance, you could:
Customize the background of your channel
showcase your other social networks
create a custom header
Look at my YouTube channel pages to see what I mean.
Orange highlights match across all platforms and my website for a consistent color scheme and brand recognition.
Here's how to brand your YouTube channel like a pro.
Upload a Custom Background
Many YouTube channels have a custom background as a testament that this is the official YouTube presence of their brand. For example, I prefer a clean white background, which makes any text highlighting salient points I'm talking about stand out.
If you want some help, here's a link to download your YouTube Photoshop Template for getting started with your YouTube channel design with the proper dimensions courtesy of TubeSkills.
Showcase Your Other Social Channels Everywhere
Any opportunity to showcase links to your other social networks, blogs, website, etc., is worthwhile.
Many brands, like Oralbrush and Dell, utilize the space about their channel at the top right of the dashboard to link to their Twitter, Facebook, blog, website, and other destinations relevant to their YouTube audience.
This space also allows for a brief description of your channel. When filling it out, include keywords and keep natural phrasing in mind.
For another way to showcase your most viral, successful, or otherwise important videos and playlists, add them to the About section of your YouTube channel.
Custom Banners and Layout as a Brand Channel
Branding your channel helps bring a consistent experience to your viewers and subscribers on YouTube that they would see similarly reflected elsewhere. Customizing the banner and layout can go a long way toward your YouTube channel optimization while improving the experience for your subscribers and viewers.
However, it comes at a cost.
If you're a non-profit, you can do this for free, but otherwise, you'll have to explore your payment options on YouTube's brand channel product offerings page.
These YouTube channel optimizations are often only undertaken by large companies but don't let that dissuade you from taking on such channel customization.
Here's an example from CHOW.com.
The company created its custom header focused on sharing a similar branded look to its website, focusing on the icons of its other social networks. Consider how you can better use this space by looking at other YouTube channels with customized channels.
To help you with customization, Adobe Express has some free YouTube banner templates.
Frequently Asked Questions
What does YouTube channel optimization mean?
YouTube channel optimization means the strategies and techniques used to increase the visibility and engagement of your channel. 
Understanding how to optimize your YouTube channel may seem complex, so start with the basics. That means optimizing keywords, titles, tags, thumbnails, and descriptions to make your content easily discoverable.
Why optimize YouTube channel?
YouTube channel optimization is essential to success on the platform. Optimizing drives traffic grows your audience, and gives you more visibility.
Additionally, it helps you with brand visibility.
How do I attract traffic to my YouTube channel?
Start by posting regularly and on the same day every week, so viewers know when to expect new content. Then, when you've published your content, share it on social media platforms.
Aside from that, you need to focus on YouTube channel optimization and creating informative, high-quality content. 
You'll also want to develop a clear brand voice that captures the imagination of your target viewers. 
In the long term, focus on building a loyal audience and posting regularly to keep viewers interested. 
Conclusion
Anyone can get started on YouTube. However, gaining visibility and viewers is a whole different ball game.
That's why you need to know how to optimize your YouTube channel to drive visitors and gain traction. That means working on YouTube SEO by including keywords in your metatags and adding backlinks to other online platforms.
Don't expect your efforts to make a huge difference at first, and remember there are also things out of your control, like YouTube's algorithm changes.
In addition, you'll want to take time to develop consistency across your branding and refer to your analytics so you can give your followers more of the content they want.
About the Author: Brian Honigman is the Social Media Account Manager at LunaMetrics, a Google Analytics-certified partner specializing in social media, search engine optimization, and PPC. You can follow him on Twitter @Brian_Honigman or LunaMetrics.
How do you optimize your YouTube channel? Tell us below.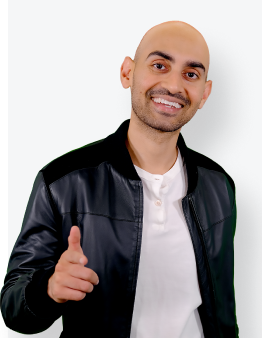 See How My Agency Can Drive More Traffic to Your Website
SEO - unlock more SEO traffic. See real results.
Content Marketing - our team creates epic content that will get shared, get links, and attract traffic.
Paid Media - effective paid strategies with clear ROI.
Are You Using Google Ads? Try Our FREE Ads Grader!
Stop wasting money and unlock the hidden potential of your advertising.
Discover the power of intentional advertising.
Reach your ideal target audience.
Maximize ad spend efficiency.