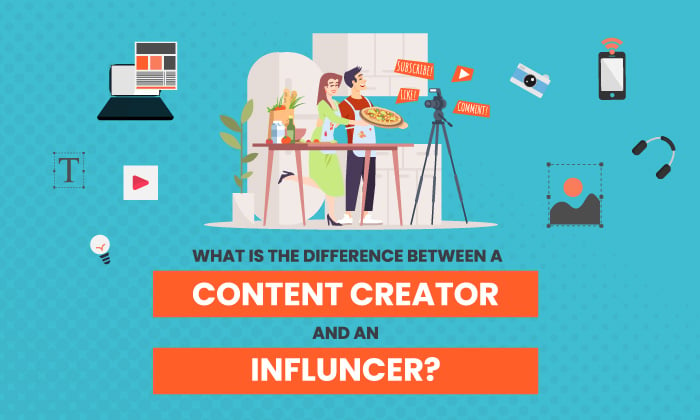 In today's internet-focused age, words like "content creator" and "influencer" are thrown around on nearly every social media platform. Have you ever wondered: What do these terms really mean? Is it the same thing? How do the two roles differ from the perspective of a user or consumer?
In a nutshell, content creator is a broad term describing someone who produces some form of content, including but not limited to blog posts, videos, photography, and reels.
Influencers can also create such content, but they're better known for their connection to their audience (i.e., the "influence" they have on their followers).
Still confused? Let's dive deeper into the world of content creators and influencers to understand exactly what they do and what makes them different from each other.
What Do Content Creators Do?
Content creators create content for blogs and social media platforms. This can include YouTube videos, TikTok reels, and text-based posts on social media sites like Facebook, Twitter, Instagram, LinkedIn, etc.
The content they produce is typically original and may be shared for money, audience building, brand awareness, or just as a way to share their talents online.
For example, "Insta poets," bloggers, and newsletter writers are typically seen as content creators.
Here is an example of content on Instagram shared by the account @poets.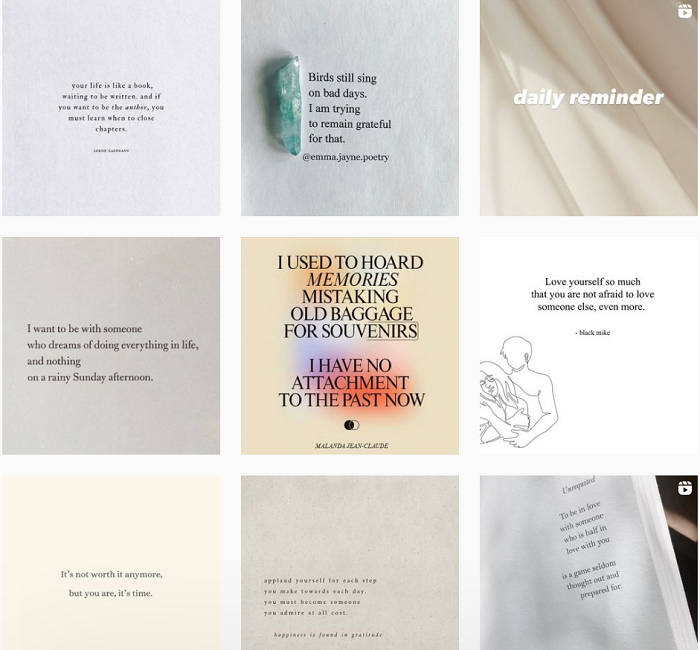 Content creators aren't limited to texts, though. They can specialize in video, audio, and visual content, among other forms.
Here's an example of a YouTube content creator Home RenoVision DIY.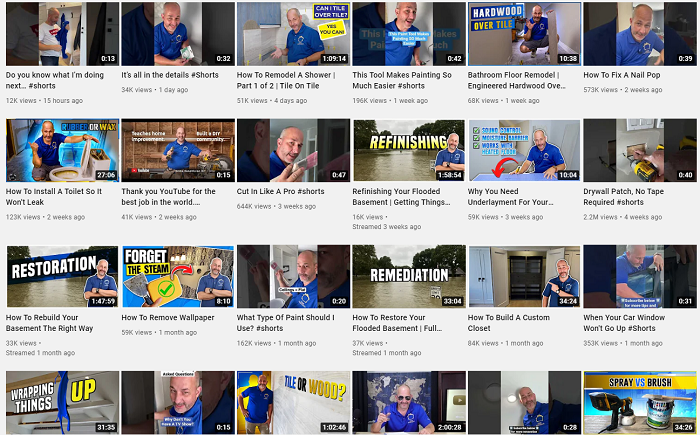 What Do Influencers Do?
Influencers are popular individuals on social media and other content-sharing platforms who leverage their substantially large followings to promote certain brands and lifestyles.
This can be very beneficial for brands and small businesses looking to reach new users and build brand awareness.
When you see someone with thousands of followers flaunting a beauty or wellness product with a "sponsored" tag, they're probably an influencer.
Influencers promote products and lifestyles through photos, videos, blogs, reels, and other forms of "viral" media.
Influencers often create content; that's where the confusion comes from.
However, the difference is influencers are more focused on audience engagement, promotions, and portraying a certain image about themselves and their lives to sustain and grow their influence.
See this post by fashion influencer @sophia_hardy on Instagram, for example.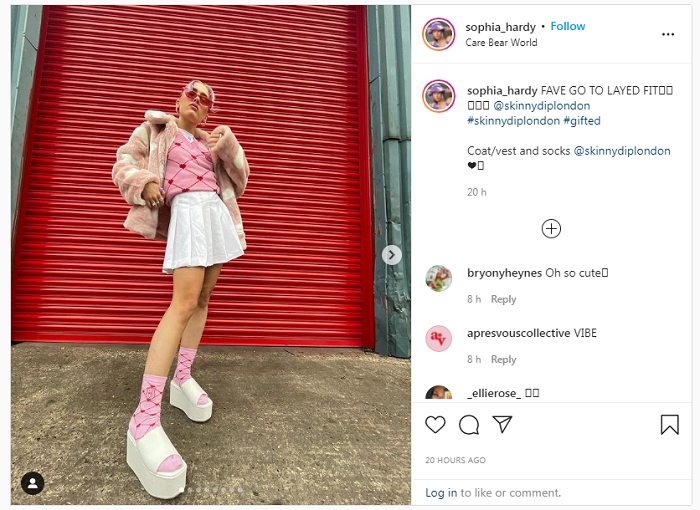 Content Creators Vs. Influencers: Skills
Content creators and influencers have some overlapping skills. These typically include proficiency with technology, writing and communication skills, photography, and audience management.
While some individuals may be more proficient at one skill than others, most digital creators and influencers need these skills in some capacity to thrive in their field.
Common skills:
communicating ideas effectively
basic tech proficiency
managing client expectations
admin tasks like invoicing, managing emails, follow ups, etc.
Beyond the common overlapping skills, the two groups also need some specific skills to succeed. For instance, influencers need to have a strong understanding of how social media and audience engagement works. Their entire process depends on leveraging these talents.
Influencer skills:
photo editing
video editing
social media management
audience management
live streaming
promotion
knowledge of advertising
niche expertise in a particular industry
Content creators can benefit from these skills too, but writing, recording, editing, and publishing content may be a bigger priority for them. Content creators also need to be good storytellers to create engaging content.
Nowadays, many content creators also excel at SEO and digital marketing to help themselves and their clients achieve key business goals.
Content marketing skills:
above-average writing proficiency
SEO
digital marketing
storytelling
handling content management systems
content research
keyword research
audience research
broad knowledge of a particular industry
Content Creators Vs. Influencers: Strategy & Goals
The biggest difference between content creators and influencers lies in their goals and the strategies they use to achieve these objectives.
Content creators develop content marketing strategies. These include publishing schedules, topic research, keyword research, audience targeting, social media plans, and other digital marketing elements.
Content creators work with brands, agencies, business owners, and other clients to understand their current marketing needs and develop SMART plans to achieve their business goals.
Content creators earn money by developing content strategies and content items like blogs and videos for others, or by uploading media on their own accounts for ad revenue, affiliate sales, and paid subscriptions. This way, they either get paid directly by a client seeking their services or through their own efforts by building an audience that wants to pay to consume their content.
Influencers work differently. They work with a primary goal to "influence" the audience. They work to build strong relationships with their followers. They constantly strive to increase engagement on their posts and ensure they have an optimal web presence.
Influencers also accept sponsorships from brands to promote products and lifestyle ideas. In exchange for money or free products, these users upload reviews, product photos, and videos, or sponsored posts on their social media accounts.
Many influencers make a huge share of their income through these sponsored posts, but not all influencers make enough money to make a living out of sponsorships. Some do it as a side hustle, while others do it for fame and status in society.
For instance, the following graphic by Influence.co shows the research findings highlighting the top ways popular influencers make money.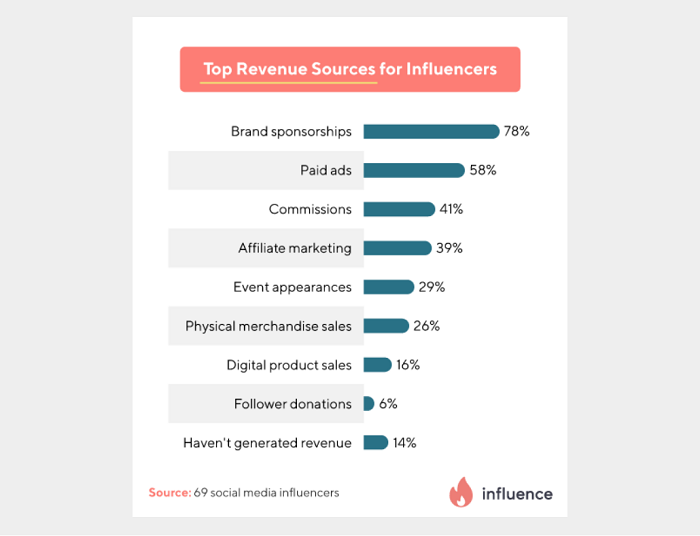 However, several influencers with millions of followers do reach a stage in their career where they're regularly pulling in six figures from brand deals and sponsored posts.
Content Creators Vs. Influencers: Tools
Content creators and influencers use a variety of tools to meet their goals.
Content creators typically use the following tools:
This is far from being an exhaustive list. Different content creators use different tools based on their needs and end goals, but I hope this list gives you a great place to start your search.
Influencers typically use the following tools:
Social media platforms (free and paid features) to post influential content and build an audience.
Canva (free and paid features) to create engaging graphics in a variety of formats.
Remove.bg (free and paid features) to remove background clutter from photographs.
Sprout Social (starting at $99 a month) to schedule social media posts and track analytics.
Influence.co (free and paid features) as a social media style directory to find influencers and work with sponsoring brands.
TweetDeck (free) to organize tweets and feeds for easier access.
Intellifluence (free and paid features) to collaborate directly with brands and agencies for sponsorships.
Again, different influencers will use a combination of these tools (or something completely different) based on how they work, but this list can be a good place to start looking.
Content Creators Vs. Influencers: Which Is Right for My Business?
Now that you know more about what content creators and influencers do, how they work, and which tools they use, it's time to think about which of the two would be right for your business.
Whether you're planning to work with content creators, influencers, or both, each option has its pros and cons. Let's discuss some of those below.
Working With Content Creators
Let's start by highlighting the pros and cons of working with content creators. Know that there will always be some individual differences based on how each person works, but many content creators share the following traits.
Pros:
Content creators are well-versed with digital marketing and can add more value to your marketing campaigns.
Content creators can offer more than one skill. They can write about your product but also offer photographs and videos for a more comprehensive final product.
Content creators tend to be good storytellers. They can weave in narratives and strong research findings to strengthen your story and position your brand effectively.
Cons:
Content creators may or may not have huge followings. Many content creators don't have a massive influence on their audience, so you won't necessarily get millions of impressions on your post.
Content creators typically don't take on sponsored posts, so your content may not be advertorial in nature.
Some content creators have specific processes of how they work, and they might not be able to tailor their content to match your marketing needs.
Working With Influencers
Now let's look at the pros and cons you can experience when working with influencers across different industries.
Pros: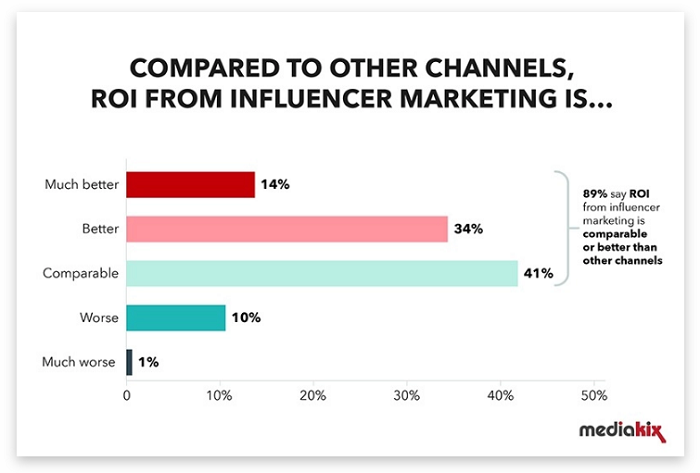 Influencers have strong relationships with their audiences, so your posts can get a lot of engagement.
Working with influencers can help you target specific audiences. For instance, beauty influencers have a lot of followers interested in beauty and wellness products so you can market to them directly.
Cons:
Influencers may have huge followings but still be subpar content creators. Not every influencer can make the most engaging post so often there's no guarantee of quality.
Influencers may have fake followers. Today many influencers buy followers or have fake accounts to boost their apparent credibility making it very difficult to vet them before partnership.
A lot of social media users dislike engaging with influencers, so you're essentially cutting off a huge portion of your target audience by working only with influencers.
The bottom line here is that both influencers and content creators have something to offer, but you have to carefully consider your needs before choosing to work with any one of them.
Finally, remember that some content creators do double as influencers, offering you the best of both worlds.
Content Creators Vs. Influencers: Frequently Asked Questions
Here are some frequently asked questions about content creators and influencers.
Do content creators or influencers drive better ROI?
What are the key differences between content creators and influencers?
Content creators are more focused on creating and publishing content, while influencers are more focused on building an audience, promoting brands, and maintaining the status quo. They also operate differently. Content creators create original content for sharing knowledge or building a brand, while influencers post sponsored content for money and popularity.
How do I find the right influencers for my brand? 
You can find the right influencer for your brand by using free and paid research tools like Intellifluence, Influence.co, and popular social media apps. You can also look at who your competitors are working with and where they find relevant influencers.
Are YouTubers content creators? 
YouTubers are typically called content creators as they upload videos and popular content on a fairly consistent schedule. Viral YouTubers can become influencers once they have a large following and start accepting sponsored deals.
Conclusion: Content Creators Vs. Influencers
Working with content creators and influencers can benefit your marketing efforts. Content creators can help build an effective content marketing strategy, while influencers can help you reach more targeted users through sponsored posts.
Want to learn more about digital marketing and how to work with content creators and influencers? Read my guide on influencer marketing and content marketing strategy.
What is the most surprising difference between an influencer and a content creator you learned today?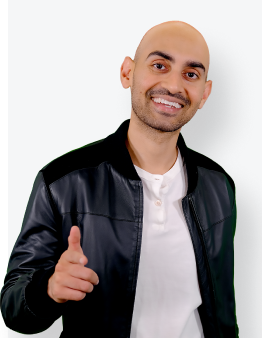 See How My Agency Can Drive More Traffic to Your Website
SEO - unlock more SEO traffic. See real results.
Content Marketing - our team creates epic content that will get shared, get links, and attract traffic.
Paid Media - effective paid strategies with clear ROI.
Are You Using Google Ads? Try Our FREE Ads Grader!
Stop wasting money and unlock the hidden potential of your advertising.
Discover the power of intentional advertising.
Reach your ideal target audience.
Maximize ad spend efficiency.