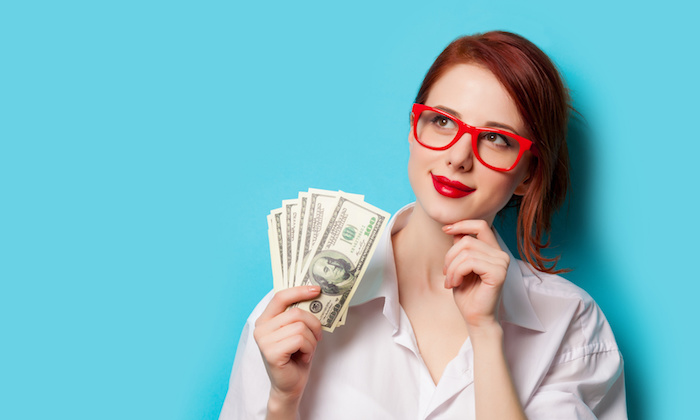 Content is king, right?
If you believe this to be true, you understand the importance of creating high-quality content that converts.
There are certain situations where traditional marketing is effective, but this isn't nearly as powerful as it was in the past.
In today's digital era, it's all about content marketing. Once you have content, you need to effectively push it out on social media expanding social networks to grow your captive target audience.
Not only does content marketing cost less than traditional marketing, but in 2018, a whopping 93% of B2B marketers have a strategy in place to attract their target audience.
If you don't make a concerted effort to implement a sound content marketing strategy, you will continue to spend more money than you have to, while also slipping further behind the search engine competition.
You may have a great content strategy, meaning you know who your target audience is. From there, you need to implement a "creating amazing content strategy."
But, what if you don't have the experience, knowledge, or time to create high-quality content that converts?
This isn't an excuse to give up and go back to your old ways.
It's time to turn your attention to the tools and services that can boost your content creation efforts, despite not having all of the experience in the world.
5 Content Creation Tools
In an overall sense, Evernote is a powerful tool used by entrepreneurs, for a number of reasons.
For the sake of this article, we're going to examine how it is used to create better content.
Evernote makes it simple to keep track of all of your ideas. From blog post titles to outlines, if it's floating around your mind, then this service can come to the rescue.
Once you create a note, it's accessible from now until the end of time (as long as you don't delete it, of course).
From a content creation perspective, here's why you should be using Evernote:
Create posts in Evernote and then transfer them to your content management system, when the time comes.

Take notes related to future blog posts. This is preferable to recording your thoughts on paper because that piece of paper is more likely to go missing.

Share your thoughts with others to develop great content. Maybe you want to share a blog post idea with one of your writers. Or, maybe you need to share a draft with an editor. Evernote makes this simple.
Through a variety of tools and unique features, Evernote will forever change the way that you create content.
It's called writer's block and it's a serious problem that can stop you dead in your tracks. Even worse, some people run into this before they ever reach the first sentence.
If you struggle to create blog post titles, this tool will change your writing strategy forever.
Getting started is as simple as entering your keyword. For example, "content writing." Upon running a search, you are presented with this:
I don't know about you, but I am definitely curious to know what the Amish can teach me about content marketing!
Best yet, if you don't like the first suggestion, you can continue to hit the "generate" button. Sticking with this example, other suggestions include:
9 Ways to Become the MacGyver of Content Marketing (sounds interesting!)

Why Content Marketing is Scarier Than Tyra Banks (a bit weird but would get clicks)

Why Your Content Marketing Never Works Out the Way You Planned (true!)
You get the point. Portent's Content Idea Generator guarantees that you will never run out of unique, actionable titles to fit your content strategy.
Not every suggestion will make sense, but there is no shortage and even an apparently odd suggestion can inspire you. This tool is great in helping you create great content.
This is a nifty tool that pushes the quality of your writing to the next level.
In addition to identifying problem areas, it also categorizes each one so that you know how to fix them. Here is an example that shows a variety of errors.
The color coding shows you the mistakes, with each one outlined on the right sidebar:

Get into the habit of using the Hemingway Editor to review all of your blog posts.
Not only does it help you repair content but it also trains you to avoid the same mistakes in the future. This allows you to save time down the road being more efficient in creating great content.
This frees up time to focus on various social networks strategies.
With visual content marketing continuing to rise, it's time to rely on the services of Infogram and related tools.
Content with relevant images attracts 94% more views than content with none.
With the help of Infogram, you don't need to be a professional designer to create eye-popping online charts and infographics. There is also no reason to spend thousands of dollars hiring a professional.
Here is the tool's tagline:
"Infogram is an intuitive visualization tool that empowers people and teams to create beautiful content."
Making a chart is a simple three-step process:
Choose a template.

Visualize your data by adding charts, images, maps, videos and more.

Publish and share through one-click share buttons or simple embed code.
Here is a great example of some charts, created by Faunalytics, using Infogram:
Every aspect of the image was personally customized by the client, including the title, colors, and chart data.
Every content marketer eventually understands that backlinks to your blog post are the currency of search engines.
Content with high quality, data-driven images will keep visitors on your site longer. Infogram makes it simple to create visualizations of your data, all in a fast and affordable environment.
If writer's block continues to hinder your progress of creating great content, a tool like ilys can be useful.
First, it asks you how many words you want to write. Since 2,000+ words will give you the best chance of a page one ranking, this is a good place to start.
From there, the tool gives you little choice but to work towards your goal. It is not until you reach your goal that you are permitted to edit the text.
Since there is nothing else that you can do, you are encouraged to just keep writing. There is no editing, for now. There is no deleting, for now. There is plenty of time for that once you reach your word count goal.
I suggest that you experiment with this tool for many reasons, including the fact that it will train your mind to write more consistently and efficiently in the future. By tracking your progress over time, you can examine where you are succeeding and failing.
Consistency is key when creating content and blogging in general.
You can use ilys to improve in this area, thus putting writer's block behind you once and for all. You can now focus on creating great content for your target audience.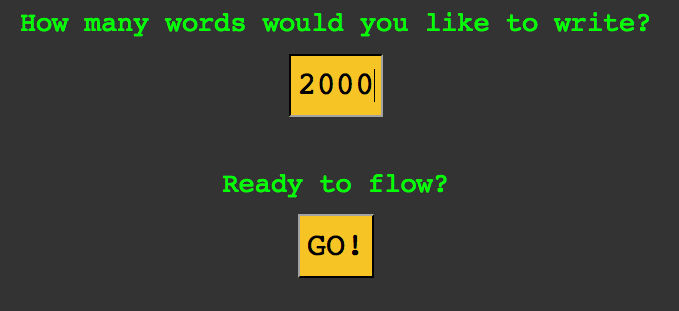 7 Content Creation Services
When Elance and oDesk joined forces, the end result was the most powerful freelancing platform in the world.
With $1 billion in annual billings, Upwork is used by freelancers and companies looking to connect with one another. It's a business, not social network.
As a company seeking content creation professionals, there are many benefits to Upwork.
It's the number one freelancing platform, meaning that you have access to thousands of writers.

Writers of all pay ranges, make it simple to find someone who fits your budget.

You have the ability to communicate and work within the Upwork system, thus removing risk from the hiring process.
With so many writers to choose from, the best thing that you can do is to start by searching those with the highest rating.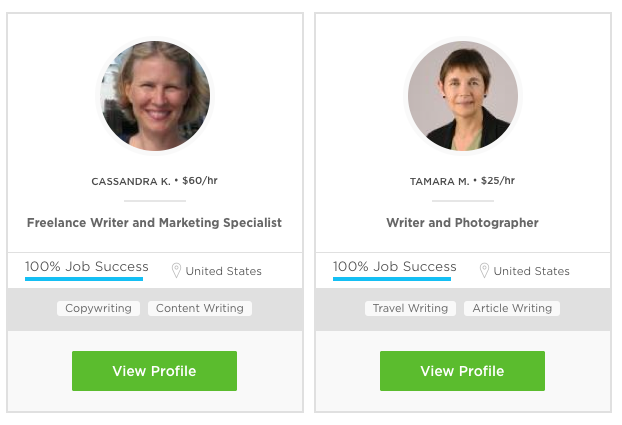 A 100% job success doesn't guarantee the person is right for you, but it's a good start.
There are writers on Upwork who are true professionals with high ratings and samples to back them up. There are also those who may fall short of your quality standards.
While comparing writers, pay close attention to their work history, feedback and test results. This will give you a clear idea of what the person offers and whether or not they should be considered.
Have you had trouble finding freelancers in the past? Are you concerned about making another bad decision?
Contently takes all of the guesswork out of the process, as this company is based, primarily, on one word: quality.
If you are seeking high-quality content from only the best writers, Contently is the platform for you.
Professional tip: if you already have writers in place but require editing assistance, Contently can also help with that.
Some of the many reasons to choose Contently include:
You are seeking pre-qualified writers who have already proven their ability. Contently does all of the legwork for you.

You are interested in a platform that provides a collaborative environment for submitting, reviewing and editing work.

You are willing to pay top dollar for premium content.
With more than 55,000 creative professionals, including writers, waiting to connect with you, it's possible to find the best talent at the right price, all without jumping through a lot of hoops.
Contently has carved out a niche based on quality.  When it comes to content creation, there is nothing more important than that.
If ease of service is as important to you as quality, Writer Access is a service to learn more about.
In addition to access to thousands of writers, the Writer Access platform provides analytics data and only requires you to pay if you are 100% satisfied with the service.
This risk-free environment allows you to confidently rely on Writer Access for all your content creation needs.
On your search to find the perfect writer, you are presented with this screen: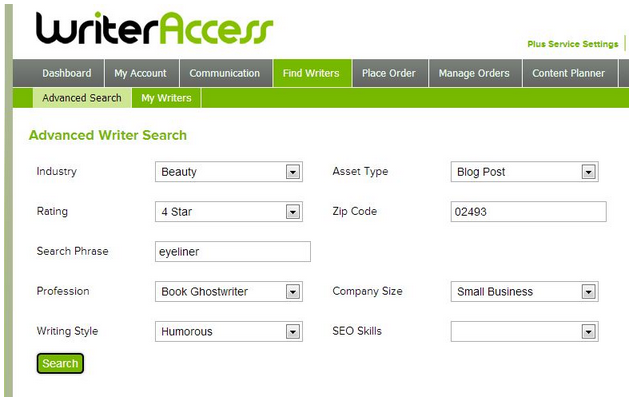 With so many options, you can quickly narrow your focus.
For example, you may only be interested in the highest quality bloggers in a certain zip code. Writer Access allows you to easily enter these search criteria.
Other reasons to use Writer Access include:
Access to writers who have been tested by the service.

If you require content now, not later.

If you want to learn more about a writer, such as his or her bio and industry experience, before hiring.

When you want to experiment with different price levels, as writers charge anywhere from $.02 to $1 per word.
Writer Access has a solid reputation, with the company serving thousands of clients and working with over 10,000 writers. With a spot on the Inc. 5000 list, Writer Access is anything but a fly-by-night operation.
Many of the top freelance writers in the world spend their time combing the Problogger Job Board.
There are many reasons for this, including the fact that a variety of companies and individual bloggers post high-quality jobs here.
The Problogger Job Board puts your ad in front of thousands of writers, all for a small fee of $50 for 30 days.
Here are some tips for finding the best freelancers through this method:
Create a clear and descriptive title.

Share all of the necessary information in the job description, including the exact responsibilities.

Don't be afraid to request detailed information, such as a resume, past samples and pay rate requirements.
Here is an example of a well-crafted job post: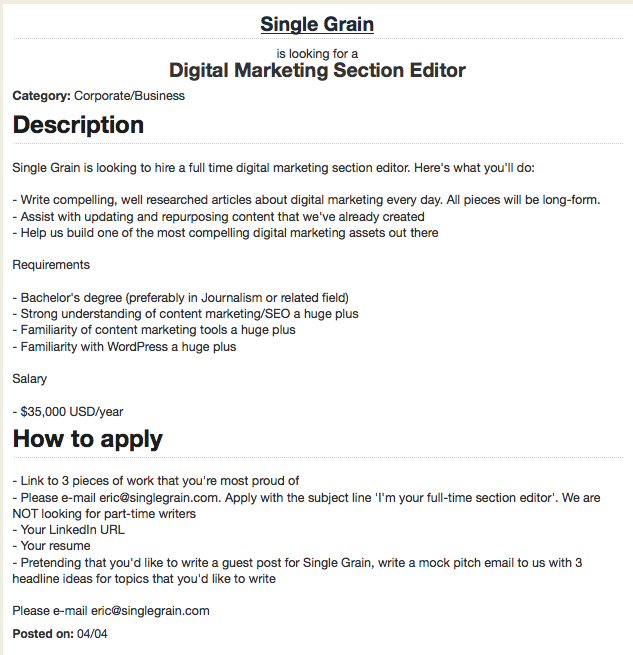 It's straightforward and it requests all of the necessary information that the company needs to make a hiring decision.
I particularly enjoy the "How to apply" section. For example, the part that says "we are NOT looking for part-time writers" makes it clear that the hiring party is only interested in full-time writers, thus weeding out everyone else.
Sure, you have to pay to use the Problogger Job Board, but you won't be disappointed with the number or quality of the responses. 
WritingBunny is a service that is very serious about the hiring process. Not everyone can become a writer on their platform.
Because of this, you will be working with skilled writers with tons of experience.
WritingBunny offers all sorts of different writing services on its platform. It isn't the cheapest option out there but you can be sure to receive quality work. 
In fact, the quality is so high not just because of the hiring process. They offer unlimited edits as all of the writers have to submit the content to a thorough internal quality control process before the client receives the content. 
If you like the idea of receiving high-quality blog content that is delivered fast and clean, WritingBunny can be your savior.
Here is what Freelancer has to say about its service:
Millions of small businesses use Freelancer to turn their ideas into reality.
The service is not solely for connecting companies with writers, but it is a big part of the Freelancer platform.
With the Freelancer platform, you gain access to a large workforce of writers. As with other similar services, some writers will suit your needs, while others will not.
The first step is providing information about your job:
From here, you have the opportunity to set a budget and choose from optional services, such as "featured" or "urgent."
Freelancer often takes a back seat to other similar services, including Upwork, and especially Contently and WritingBunny, but the company has worked hard to change its reputation to one that connects quality freelancers with companies and individuals.
The writing category on Guru is robust, to say the least. There are more than 150,000 jobs in the general writing category alone. This means one thing: companies know they can use the service to find quality writers.
Not only is it free to post a job, but the thing I like best about Guru is its ease of use. Getting started is a simple process, as creating a job post is as easy as providing these details:
Choose the type of work you need to be done, such as "blog post creation."

Provide in-depth details on the project.

Choose a category.

Add keywords.

Set a budget.

Set a deadline.

Post the job.
Since quality is important, here is a suggestion: take advantage of the option to receive better quotes.
Guru shares many similarities with Upwork and Freelancer but is able to stand out due to its ease of use and convenience.
Conclusion
The ability to create actionable content is a big component of achieving content marketing success. Even if you don't have the skills right now, the tools and services above can come to your rescue.
As we've explored in this post, assistance is available. Your job is to implement the tools and services that fill any voids in your personal content creation process.
If you want to be among the B2B marketers who say they're effective at content marketing, you may need one or more of these tools and services on your side.
What are your thoughts on these tools and services? Do you have experience with any of these? Would you recommend any others?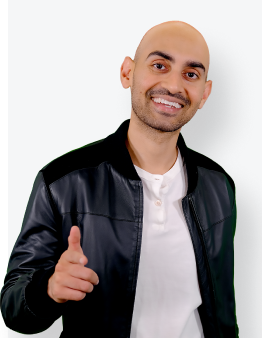 See How My Agency Can Drive More Traffic to Your Website
SEO - unlock more SEO traffic. See real results.
Content Marketing - our team creates epic content that will get shared, get links, and attract traffic.
Paid Media - effective paid strategies with clear ROI.
Are You Using Google Ads? Try Our FREE Ads Grader!
Stop wasting money and unlock the hidden potential of your advertising.
Discover the power of intentional advertising.
Reach your ideal target audience.
Maximize ad spend efficiency.