Culture is a topic that's discussed a lot and yet isn't well-defined. Despite this, nearly every company says they have a good culture (which to most just means the benefits they offer) for employees.
To help sort out this ambiguity, today's post will feature two experts. Alfred Lin spent 6 years as the COO and Chairman of Zappos, working alongside Tony Hsieh.
Brian Chesky is the co-founder and CEO of Airbnb, which was recently named 2014 Company of the Year by Inc Magazine.
The two of them recently gave a talk at Sam Altman's 'How to Start a Startup' class at Stanford University. Alfred Lin handled the first 10 minutes, where he defined what culture is and why it's important. From there Chesky took over and discussed his views on culture. We'll first begin with Lin and some of his slides.
What is Culture?
Lin likes to use this formula when describing company culture: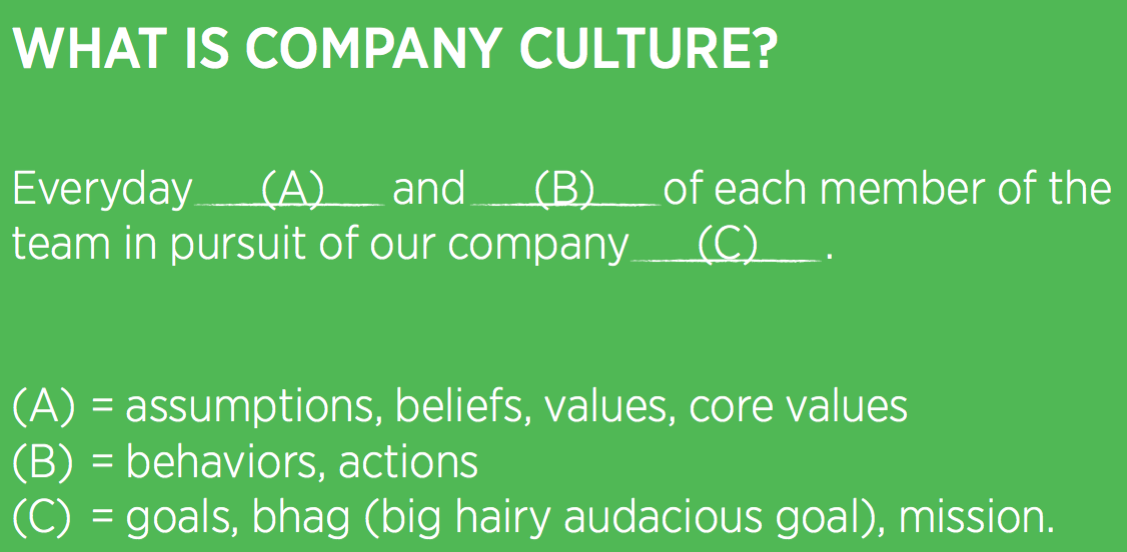 Lin prefers to fill in the blanks with core values, actions, and mission, which makes it read:
Everyday core values and actions of each member of the team in pursuit of our company mission.
Lin gives us the reasons for why culture matters (hint: it allows you to move FASTER):
It gives the team some first principles to fall back on
It aligns people on values that matter to the company
It provides stabliity for the company
It provides trust that bind people together
It gives you a list of what to do and what not to do (exclusion)
It allows you to retain the right employees. If you have strong core values, you'll know who you do and do not want to retain.
Great companies to work for also perform better: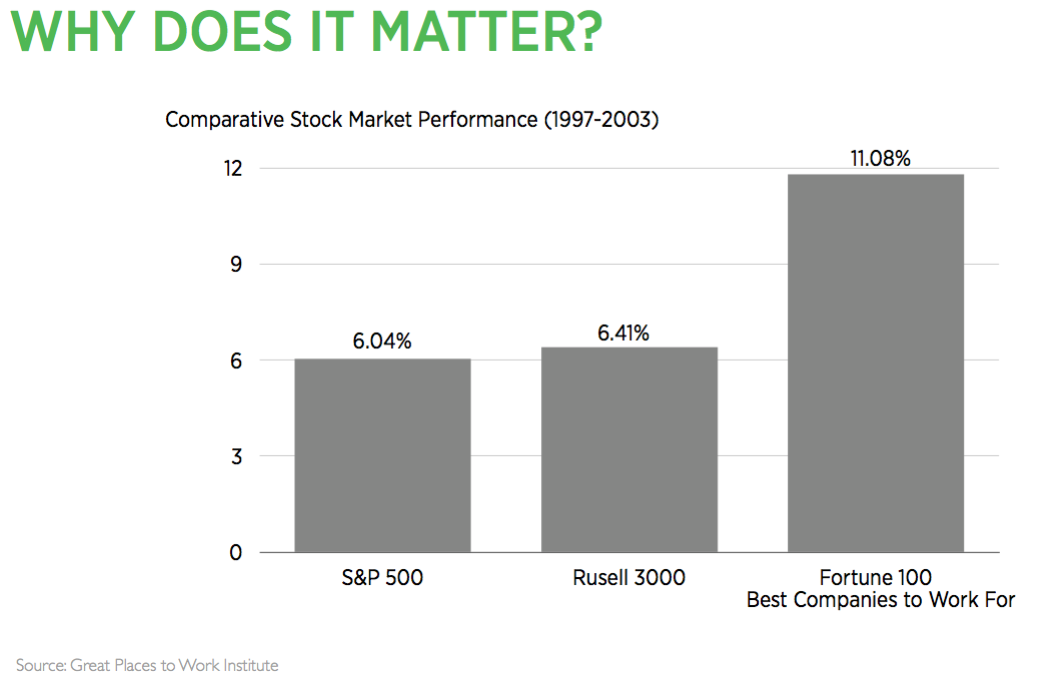 Creating Your Core Values
Lin has created this worksheet for you to use when creating your core values:

At Zappos, their core value was delivering WOW through service. This runs through the entire company, from customers to co-workers to vendors to investors.
Another core value was to be humble and work with humble people. These two core values made it credible and uniquely tied to their mission, which is to provide the best customer service possible.
Don't be vague with your core values. Honesty, integrity, teamwork, and service are great, but if you don't understand why those are your core values, you haven't thought through it well enough.
So how do you create and maintain this great culture? Lin has a few ideas: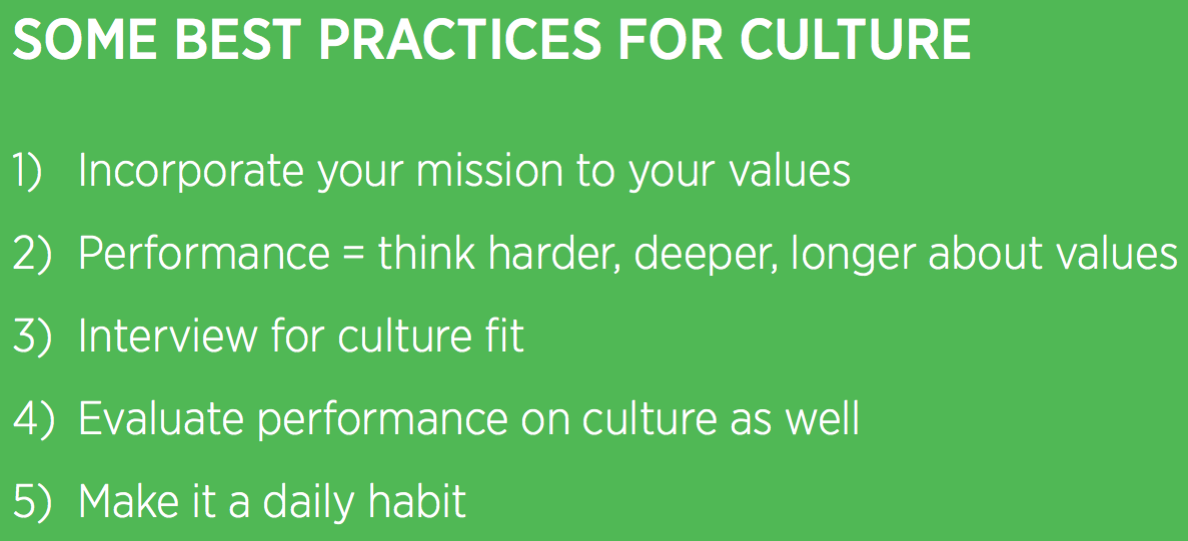 When he recommends making it a daily habit, he gives the analogy of exercise and eating well. You have to do it everyday. Taking one day off will eventually lead to taking two or three days off, until you get out of shape. You need to keep at your culture everyday and don't let it deteriorate.
Brian Chesky's Tips For Creating a Great Culture
During his talk, Chesky gave some tips for creating a great culture and company. I've listed them here:
Surround yourself with people that are so good they intimidate you
"I think that's what the first thing is, to build a team that is so talented that they kind of, slightly make you uncomfortable to be with them, because you know you are going to have to raise your game to be with them."
Looking for interview tips? Check out this video:
After product/market fit, you need to focus on building a company
Chesky says that it doesn't matter how good your original product is. If you can't build a great company around it, the product won't endure.
He draws the analogy of a company being like a child, with the parents being the founders. It's a tragedy if a parent outlives their child, in the same way it's a tragedy if the founders outlive the company and watch it rise and fall. Chesky and his founders wanted a company that would endure.
One of the ways to build an enduring company is to have a clear mission, values, and a shared way of doing something that is unique to them. They learned from companies like Apple, Amazon, Nike and Zappos.
With Zappos, they learned that there are behaviors and rituals that will change overtime, but what will never change are the values. These values have to be unique to your company. The two or three things that make you different from everyone else. Most companies create their core values after they've hired a few dozen people. Airbnb created theirs before they hired anyone.
The first employee is like bringing in new DNA
When hiring their first employee (who was an engineer), Chesky ran through thousands of applicants and interviewed hundreds of people. After six months, he found his guy.
Why did he spend so much time searching?
Chesky tells us that he viewed bringing this first employee as analogous to bringing in new DNA into the company. He didn't view it as the person to build a few features. He viewed it much more long term, because there were going to be a thousand people just like him. You want diversity, of course, but you won't want diversity of values.
Culture doesn't pay off in the short term
Chesky says that if you're only interested in building a company for one year and then selling it, building a culture won't matter to you. Just hire as many people as you can to grow as quickly as possible. Building a culture is like an investment, in the short term it can slow progress (because you're deliberate about decisions) but pays off over the long term.
Quotes
"Having a clear mission and making sure you know that mission and making sure that mission comes through the company is probably the most important thing you can do for both culture and values." – Brian Chesky
"Companies that hire employees..that are deeply passionate create companies that customers are really really passionate about, and those are the companies that have strong brands." – Brian Chesky
"There's no such thing as a good or bad culture, it's either a strong or weak culture. And a good culture for somebody else may not be a good culture for you." – Brian Chesky
"Brand is really the connection between you and your customers…if you have a very strong culture, then the brand will come through." – Brian Chesky
"Somebody asked me 'what's the job of a CEO', and there's a number of things a CEO does. What you mostly do is articulate the vision, develop the strategy, and you gotta hire people to fit the culture. If you do those three things, you basically have a company. And that company will hopefully be successful, if you have the right vision, the right strategy, and good people." – Brian Chesky
"Every company needs a moat…that protects you from your competition." – Brian Chesky
"Without even technology imagine what would make an amazing experience for just this one person, and walk through the journey…and make it perfect for that one person…it's actually really easy to make almost anything perfect for a person, it's actually not that hard. The hard thing then is [how to] scale it to millions of people. Where everyone gets in trouble is they try to solve both at the same time. So the first thing we do is get the perfect experience for one person…and then we use a separate part of our brain to imagine [how we do that at scale]." Skip to 43 minutes, 44 seconds in the video to find an example of how Airbnb used this strategy.
Video, Slides, and Recommended Reading
Brian Chesky on why a strong culture is important.
About the Author: Zach (Twitter) likes marketing, finance, and learning about different businesses.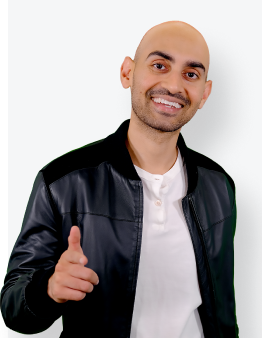 See How My Agency Can Drive More Traffic to Your Website
SEO - unlock more SEO traffic. See real results.
Content Marketing - our team creates epic content that will get shared, get links, and attract traffic.
Paid Media - effective paid strategies with clear ROI.
Are You Using Google Ads? Try Our FREE Ads Grader!
Stop wasting money and unlock the hidden potential of your advertising.
Discover the power of intentional advertising.
Reach your ideal target audience.
Maximize ad spend efficiency.