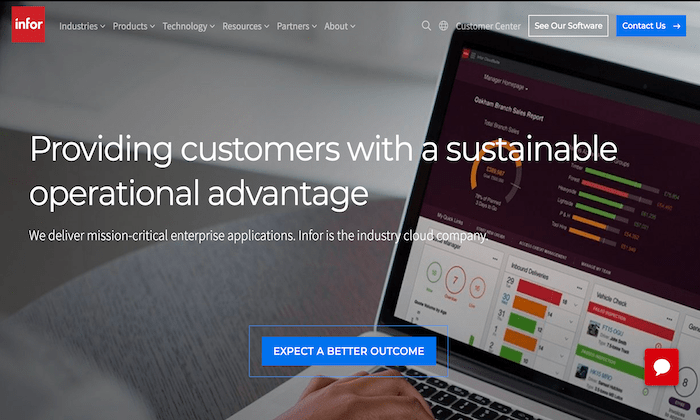 Disclosure: This content is reader-supported, which means if you click on some of our links that we may earn a commission.
Back in the dark days of a couple years ago, ERP (enterprise resource planning) software was only used by large corporations and multinational organizations. It was complex, expensive, and required a lot of skilled technical support.
Things have changed.
Well, ERP software for massive companies is still a pretty penny. The difference is that it is way less expensive for everyone else.
Now, it's within reach of small and midmarket companies that used to dream of centralizing all their business tools with ERP software. Integrate accounting, compliance, project management, risk management, supply chain operations, and more–all within a single platform.
And, those who need the big-ticket ERP software are getting much more powerful and user-friendly tools. So which ERP software is the best? Find out below.
#1 – Infor Review — The Most Versatile ERP Software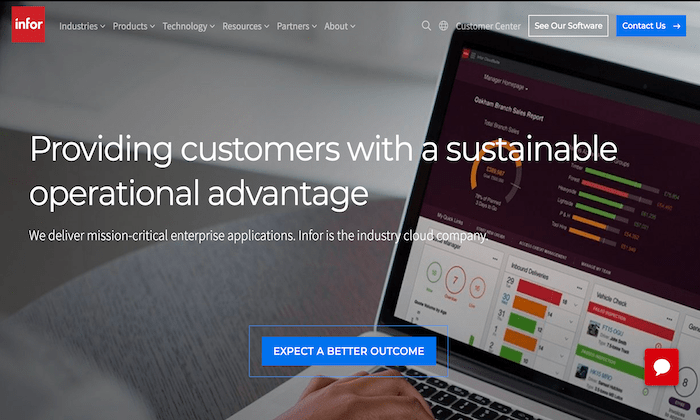 Infor is a cloud-based ERP software with solutions for SMBs and enterprises alike. They have several different ERP products for you to choose from based on your industry and business needs.
Companies looking to modernize their operations will find an ERP more than up to the task. Whether they are a multi-national manufacturer focused on better supply chain management, or a restaurant chain that wants to centralize reporting, Infor can help.
With 30+ years of experience in this space, Infor's robust and flexible technology earns them a high ranking on my list.
The ERP solutions offered by Infor are a popular choice for wholesale distribution companies, manufacturing organizations, and various service industries. Some of the notable highlights of the software include:
Ability to personalize home pages and dashboards
Intuitive role-based user interfaces
Unlimited financial calendars, ledgers, basis reporting, and dimension strings
Embedded analytics directly within different user' workflows
Production planning and scheduling management
Optimized purchasing with advanced order controls
Ability to ensure maximum margins with integrated pricing modules
While Infor is definitely known for its cloud solutions, they do offer single-instance and on-premises deployment options for some of their software.
Infor also has a wide range of specific software for things like HCM, CRM, PLM, SCM, and more. So if you just have one single need, you can explore those choices as well.
#2 – AccountMate Review — The Best Vertical Specific Solutions
AccountMate is branded as the "world's most customizable accounting system." It's designed to help growing businesses gain a competitive edge with unique ERP software based on specific verticals.
The software is trusted by 125,000+ companies worldwide. In addition to the software, AccountMate provides additional services to help you get the most out of your ERP tools.
AccountMate's vertical solution catalog is extensive, to say the least. They have 30+ vertical-specific category options available. Their development partners help businesses get industry-specific functionality in addition to the base financial software.
Some of those top categories include:
Billing
Budgeting and forecasting
Business analytics
Business intelligence
CRM applications
Document management
Ecommerce
Food processing
Human resources
Invoice automation
Job costing
Payroll
Route management
Sales analysis
Warehouse management
The list goes on and on. As you can see, these vertical-specific offerings are extremely versatile. AccountMate can ultimately provide you with a comprehensive front office and back-office solution.
Businesses within industries like manufacturing, wholesale distribution, utilities, government, solution providers, ecommerce, and business services all rely on AccountMate for ERP.
For those of you looking for a vertical-specific solution with a core focus on accounting and finance, look no further than AccountMate.
#3 – Epicor Review — The Best ERP Software For Manufacturing
Epicor is another industry leader in the ERP software space. They provide cloud and on-premises solutions for businesses in spaces like manufacturing, retail, automotive, lumber and building, and distribution.
With that said, the manufacturing ERP software offered by Epicor is the clear standout.
It's trusted by a wide range of manufacturers producing products like industrial machinery, lumber and wood, rubber and plastics, high tech electronics, aerospace and defense products, fabricated metals, medical devices, furniture, and more.
Here are some of the top benefits you'll get with Epicor's ERP software:
Ability to track, measure, and monitor entire operation from raw materials to final product
Improve efficiencies with real-time visibility into plant and business operations
Streamline your processes to reduce costs and increase profits
Adapt to new strategies, changing customer needs, and new manufacturing methods
Implement lean manufacturing methodologies to eliminate waste
Make smarter decisions and prioritize customer satisfaction
Overall, the software is designed for mid-sized and large businesses in the manufacturing and distribution space. If you fall into these categories, I strongly recommend Epicor for ERP.
#4 – IFS Review — The Best Agile ERP Software
IFS is a bit unique compared to other ERP solutions on the market today. The software isn't as complicated and rigid as other tools that you'll come across.
Instead, IFS gives you the ability to adapt in real-time as market landscapes change, and new technology becomes available. This approach helps maximize the agility of your organization.
The full IFS suite of tools works beautifully, across any Windows, Mac, iOS, or Android device.
IFS has pre-configured ERP solutions for areas like supply chain management, human capital management, project management, financials, service industries, and manufacturing.
Within those categories, some of the noteworthy highlights of the ERP software include:
Risk and opportunity management
Digital asset lifecycle journey
Contract management, variation order management, and payment applications
Real-time planning and scheduling optimization
Sales forecasting and demand planning
Multisite and multi-entity supply network visibility and planning
CRM and SRM
Financial accounting, management accounting, project accounting, and strategic accounting
Again, all of these tools and functionality are designed to keep your organization agile as the market changes. You'll be able to gain a competitive edge and make strategic decisions in real-time using IFS for enterprise resource planning.
#5 – Deltek Review — The Best ERP Software For Small Business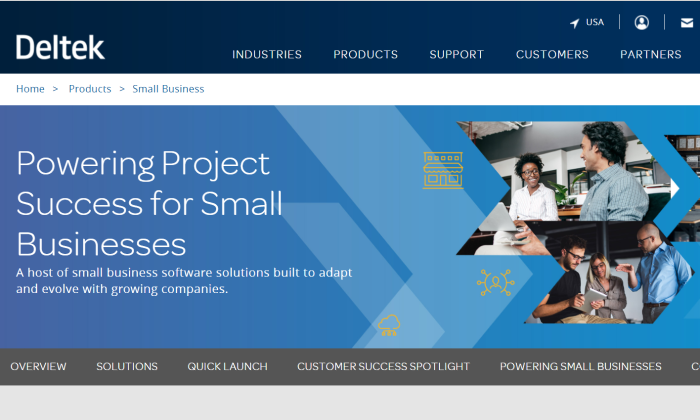 As I mentioned, ERP software is no longer reserved for global enterprises. There are now a handful of really excellent tools designed for growing companies that want to leverage these solutions.
Deltek is one of those options for small businesses, and it's my top recommendation in this category.
Not every small business needs an ERP by any means. I'd look at Deltek if your current project management solution isn't capturing all the information you need. You're not able to track costs, personnel, or other factors the way you want to. Having these blindspots is going to cause problems in the long run.
Deltek is a great option for project-based businesses seeking an ERP solution. They have a wide range of products and modules in categories like:
Information management and collaboration
Business development
Project and portfolio management
Human capital management
They even offer niche-specific solutions like costpoint for government contractors or project lifecycle management for small architecture and engineering firms. These examples showcase the versatility of Deltek.
The cloud-based deployment makes it easy for smaller businesses to implement as well.
What I Looked at to Find the Best ERP Software
ERP software essentially combines all of your business tools into a centralized console. It encompasses components like accounting, HR, CRM, supply chain management, and more.
By consolidating your business tools into a single ERP solution, it's much easier to manage.
It also gives you tons of extra value from a big-picture point of view that you normally wouldn't see from standalone software.
In order to find the right ERP software for your business, you need to understand what to look for as you're shopping around.
There's not really a "one-size-fits-all" solution. Use these feature sets and considerations to start narrowing down potential options.
Business Processes and Modules
ERP software encompasses various types of business processes. These typically come in the form of modules as you're customizing an ERP solution.
Some companies might only need a handful of these processes, while others could be looking for a dozen. It really depends on your business size, existing tools, and future goals for resource planning.
Examples of modules and processes to keep an eye out for include HRMs, financial management tools, CRM, SCM, inventory management, purchasing and supplier management, sales and marketing tools, and more.
There are even industry-specific processes for things like manufacturing or engineering. These will include crucial functionalities for product planning, production scheduling, bill of materials, shop floor planning, etc.
Make sure the ERP software you're evaluating has the capacity to handle your needs with modules for these types of functions.
Reporting, Analytics, and Dashboards
The best ERP software on the market today has advanced reporting capabilities. These go above and beyond basic spreadsheets and PDF downloads. Look for a solution that includes real-time data and smart filters.
Some tools might even have agile reporting and ad hoc reporting, so you can quickly adapt to ever-changing needs without interruptions.
You should be able to manage these complex reports and analytics through a simple dashboard. If you can't figure out the dashboards, you'll never get the most out of these reports (which renders them useless).
Dashboards should also display KPIs and let you analyze different data with just a few clicks. For example, you might want to compare qualitative vs. quantitative data based on departments or users within your organization.
Integrations
Your ERP software must seamlessly integrate with your existing tools and software.
From simple file transfers to complete integrations, it's crucial that these all work together. For example, you should be able to sync your existing CRM with your new ERP software.
Or you might want to link an ERP payroll module to an HRMS software that you're already using.
ERPs that provide flexible integrations can expand the functionality of your existing tools or completely replace them after a smooth file migration.
Custom Capabilities
Customization is crucial when it comes to evaluating ERP software. Otherwise, you won't get the most of the potential benefits; here's why.
Each department will have different business workflows. These could potentially have contradictory priorities and goals.
For example, marketing teams will focus on spending while accounting teams will be focusing on saving money. Sales teams will be prioritizing a monthly quota, and production departments prioritize daily output.
It's impossible to configure these various workflows into an all-in-one solution.
So your ERP software should have configurable workflows and custom dashboards for each department. This will allow those decision-makers to define specific KPIs and goals based on custom parameters.
Setup and Deployment
It's no secret that ERP software can be complex. Unlike other business tools, it's not really a "sign up today and deploy in seconds" type of tool. This is largely due to the custom nature and different modules required to run smoothly.
But with that said, some ERP software providers are definitely easier to set up and deploy than others. If you don't want to install anything locally, look for a cloud-based ERP solution. You'll still need a custom solution, but this will be easier overall.
Between cloud-based SaaS solutions and on-premises deployment, you'll have different options to consider.
Training and Support
Again, ERP software isn't always easy. You need to find a provider that offers you the resources required to hit the ground running.
In most cases, they will need a proper installation by someone with technical expertise. So if your business doesn't have a dedicated IT team, make sure you review your SLA.
In many cases, the installation could be charged entirely separately from the ERP license or subscription. Cloud-based ERPs are definitely easier to set up (as mentioned earlier), but it might still require some training.
What happens when you have a question or need some assistance? Will your software vendor be there to help you out?
These are the types of questions you need to ask yourself as you're evaluating different options.
Summary
There are dozens of vendors out there offering ERP software. But after extensive research and testing, I can only recommend the five options:
Which one is the best? It depends on your situation.
Make sure you follow the methodology I described earlier in this guide to narrow down your options as you're shopping around. This will make your life much easier and ensure you make the right decision for your business.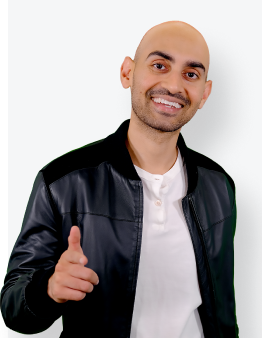 See How My Agency Can Drive More Traffic to Your Website
SEO - unlock more SEO traffic. See real results.
Content Marketing - our team creates epic content that will get shared, get links, and attract traffic.
Paid Media - effective paid strategies with clear ROI.
Are You Using Google Ads? Try Our FREE Ads Grader!
Stop wasting money and unlock the hidden potential of your advertising.
Discover the power of intentional advertising.
Reach your ideal target audience.
Maximize ad spend efficiency.