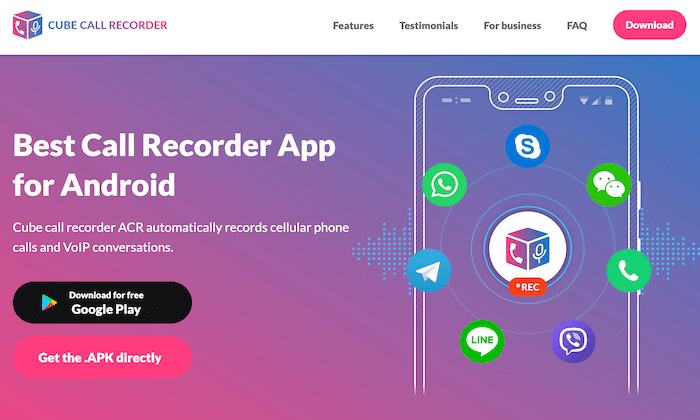 Disclosure: This content is reader-supported, which means if you click on some of our links that we may earn a commission.
Want to skip right to the point? My top picks for the best call recording software are Nextiva and Ooma.
Call recording software is a useful tool for businesses and individual users alike.
For quality assurance, employee training, compliance, record-keeping, dispute resolution, and more, there are dozens of reasons why organizations can benefit from recording calls.
But which solution is going to fit into your workday? You don't want to have to re-do everything just to record calls, or pay for a million features you're never going to use.
Use this guide to learn more about my top picks and methodology for finding the best call recording software for you.
#1 – Nextiva Review — The Best Overall
In a large company, a lot of different people need to use call recording for a lot of different reasons. And Nextiva is the business calling solution built to handle the strain.
Think of a huge customer service team—dozens of people need to touch the software, from the reps recording their calls to the customer service and HR managers who will use them to run quality assurance, employee evaluations, and training.
Multiply that by the number departments in your office, then again by the number of offices in your organization–you can see how call recording frequency and storage needs add up quickly.
Nextiva solves the problem of call recording at scale. Everything is easy to find when you need it. If a customer calls to complain about a conversation, all of their recordings are tied to their account. No more searching.
With the Enterprise and Ultimate plans of Nextiva One (their voice and video service), you get unlimited recording of both calls and video conferences. Plus, both plans accommodate an unlimited number of users, so everyone can utilize the recording features and access (if you grant it) saved recordings.
Plus, you unlock advanced features of Nextiva's overall calling service, like advanced voice call analytics, and custom productivity reporting.
When you think about it, it all comes together nicely. Call recording for anything from training to stakeholder meetings can be used in tandem with the analytics, reporting, and Nextiva's built-in team messaging and collaboration tools to spur improvement everywhere in your organization. And at scale.
What seals the deal for Nextiva is the price point for large teams. The Enterprise plan—which includes everything I've described above—is $31.95/user per month for 100 or more users. For a limited time get 25% off, plus a free phone, when you signup!
That's a better value and feature set for teams that large than just about anybody else out there.
Want to get started? Visit Nextiva today.
#2 – Ooma Office Pro Review — The Best Price for the Total Package
A lot of the best call recording options available come as part of wider business phone solutions. When it comes to getting voice and video with all the features you'd need—including call recording—you can't beat Ooma Office Pro.
I usually save the pricing information for towards the end of these reviews, but here it's lede: Ooma Office Pro is just $24.95/user per month.
That sort of pricing for the feature set you get usually requires you to have 20 or more users. Ooma offers just one flat price, which makes it great for teams of any size to update their calling capabilities.
Here's just a sampling of that feature set:
Virtual receptionist
Virtual extensions
Multi-device ring and ring groups
SMS messaging included
Desktop calling app
Voicemail transcription
Call logs
Call parking
Plus, call recording is adaptable for automatic and on-demand recording. And they're all stored in your call logs automatically.
Keep in mind, you'll need to sign up for Ooma Office Pro, as the standard Ooma Office plan does not come with recording features.
If you need a more customizability and analytical capability in the form of a full UCaaS solution, you can step up to Ooma Enterprise for just a few bucks more—$27.99/user per month.
Ooma also offers device flexibility—their mobile app allows you to call from anywhere, but they also sell equipment like traditional desk phones and base stations.
For customer service, sales, or even the legal and medical fields, Ooma Office Pro is a modern business phone solution that will give you the call recording features you need for compliance and improvement.
Get started with Ooma by getting a quote today.
#3 – RingCentral Review — The Best Archiving and Storage for Recordings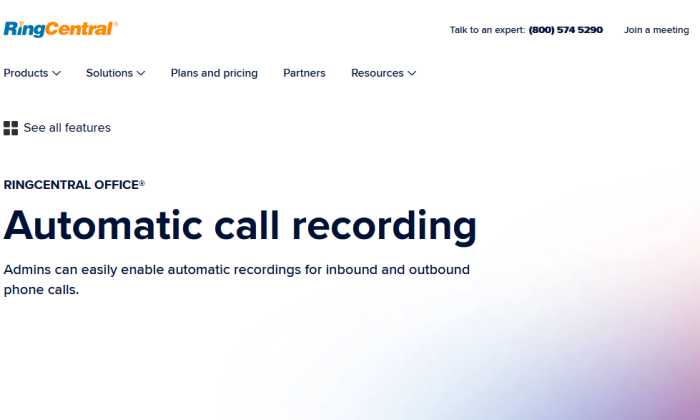 Whether you're using recordings for training, posterity, note-taking, or anything else, what good are they if you can't access and store them easily?
If you choose RingCentral Business Communications for your team messaging, video conferencing, and phone system, you get generous call recording limits and an excellent dashboard for managing them.
You get the full suite of communication tools, plus features like:
Call whisper and barge
Hot desking
Real-time call analytics
Open API
Single sign-on
Dozens of integrations
RingCentral allows storage of 100,000 call recordings per account, kept for up to 90 days. That's a nice allowance without even getting into their tool for organizing and storing recordings.
That would be the RingCentral Archiver, a clean, easy-to-use dashboard for viewing and accessing all call recordings in your organization.
In it, you can see recordings, voicemails, and SMS messages all at once, see the numbers they came from, and when they were made or received.
You can easily connect the Archiver to Dropbox, Smarsh, or Google Drive, allowing you to easily sync and backup recordings on your cloud storage. That way you can save any recordings that may be about to hit the 90-day expiration date.
Automatic call recording and the Archiver only come on RingCentral's Advanced and Ultra plans. You can utilize on-demand call recording on the Core plan, but you won't have many options for accessing, storing, or downloading them.
RingCentral Advanced is the best plan for most businesses wanting voice, video, messaging, recording, and easy archiving. Pricing for that package begins at $25 per month, per user when it is paid annually.
You can even try it out for 15 days with RingCentral's free trial.
#4 – Rev Call Recorder Review — The Best Call Recording App For iPhones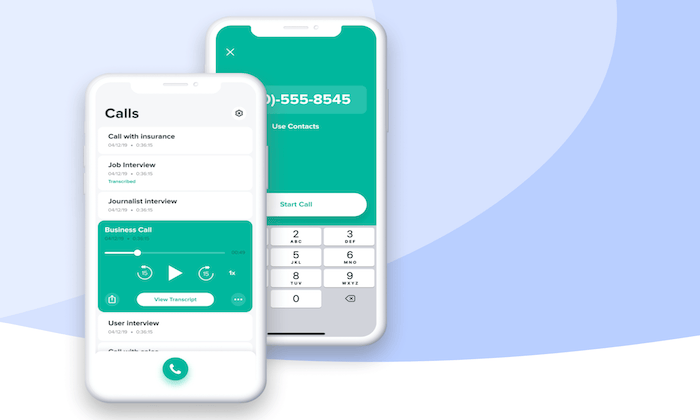 Rev is best known for its online audio transcription and video captioning services. It's trusted by more than 170,000 customers worldwide, across industries like marketing, legal, media, education, and more.
But they also have an excellent iPhone app for recording calls.
This is a simple and straightforward solution for call recording. It's a viable option for both personal and business use cases.
Here's a quick overview of Rev's key features:
Automatically record incoming and outgoing calls
Free and unlimited call recording
Convert any recording to text with the in-app transcription feature
Easy to share recordings and transcriptions via Dropbox, email, and more
Aside from the ability to transcribe and share, Rev is a no-frills solution for call recordings. It's perfect for anyone who wants a free and simple way to record calls on their iPhone. Learn more.
#5 – Aircall Review — The Best Call Center Solution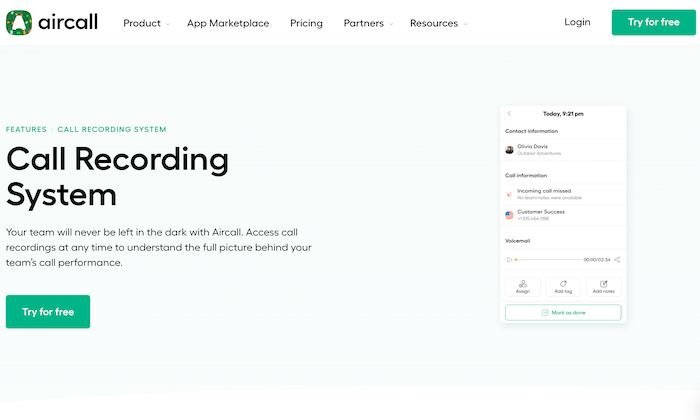 Aircall is more than just call recording software. It's a complete cloud-based call center solution made for business teams.
You can set it up in seconds without any hardware, downloads, or headaches associated with traditional phone systems. Best of all, every Aircall plan comes with call recording capability.
If you just need a way to record calls on your existing phone system, Aircall probably won't be a viable option. This software is designed for businesses that need a completely new phone system. The call recording features are just some of the many perks you'll get with an Aircall subscription.
Some features of Aircall include:
Automatically record inbound and outbound calls
Customize recording settings at any time
On-demand playbacks
CRM integrations
Clear recording quality
Unlimited calls in the US and Canada
Aircall has additional services for things like call monitoring, call whispering, and call analytics. These advanced features are not available on the entry-level plan.
Pricing starts at $30 per month per user, and you can try it for free for seven days.
#6 – Talkdesk Review — The Best For Voice and Screen Recording
Talkdesk is a modern cloud contact center solution. One of the main benefits of using this platform for business communication is the built-in call recording capabilities.
With Talkdesk, you'll gain deeper customer insights with encrypted screen and voice recordings.
By synchronizing the playback of voice and screen recordings, you'll have more context for evaluating customer interactions with your support team. This also makes it easier to ensure compliance and provide your agents with in-depth feedback on their performance.
The software has a feature called Talkdesk Speech Analytics. The tool is perfect for analyzing calls based on customer sentiment, keywords, topics, and more.
There's so many ways this can help your teams. If a ton of customers start asking about a particular feature or run into the same problem, you're going to know. Instead of that information being siloed with individual agents or teams, Talkdesk is going to pick up on those trends and alert managers much faster.
Some of the other key features and benefits of using Talkdesk for call recordings include:
Inbound and outbound call recording
Custom storage options
Ability to pause and resume live recordings
Store recordings for as long as you need
Storage available on Talkdesk's cloud storage or use your own storage system
Talkdesk even has tools for quality assurance. Admins can add time-stamped annotations to recorded calls and fill out scorecards to improve agent performance. All of this can be managed from a simple and intuitive interface.
Request a demo to get started. Pricing for this contact center solution is based on the number of agents on your team.
#7 – Cube ACR Review — The Best Call Recorder For Android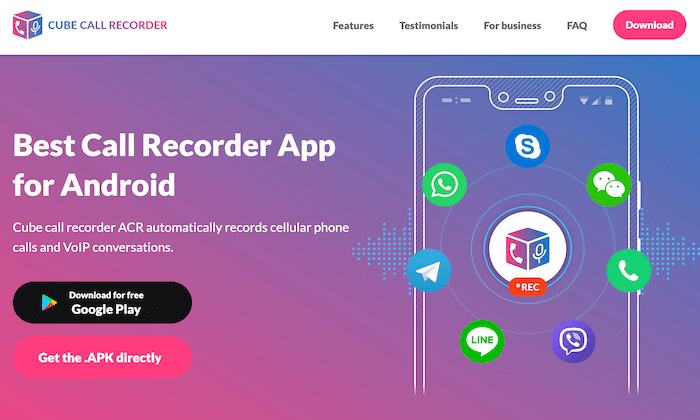 Cube ACR is a smartphone app designed specifically for Android devices. It has 10+ million installs worldwide.
In addition to cell phone calls, this simple tool makes it easy to automatically record calls from VoIP platforms like Skype, WhatsApp, Viber, Telegram, WeChat, LINE, Slack, Hangouts, and more.
For such a basic app, Cube ACR has surprisingly good recording quality, and you can clearly hear both sides of the conversation. Just customize your settings to enable VoIP calls, automatic recordings, and control storage backups via Google Drive, Dropbox, etc.
Cube ACR is always coming out with new updates to ensure recordings are stable and reliable.
Other noteworthy features and highlights of Cube ACR include:
Cloud backups
Silent mode
Geotagging to see where calls take place on a map view
Data security with a PIN lock
Automatically remove old recordings to free up storage
If you want to mark an important part of the conversation, simply shake your phone, and Cube ACR will highlight that part of the call so that it's easy to find later.
While the app is popular for individual use, the software has business-specific features as well. It integrates with certain business tools, has custom development, and offers special business licensing options.
The app is free and has a 4.3/5-star rating with 510,000+ reviews on the Google Play Store.
#8 – Callcap Review — The Best For Call Monitoring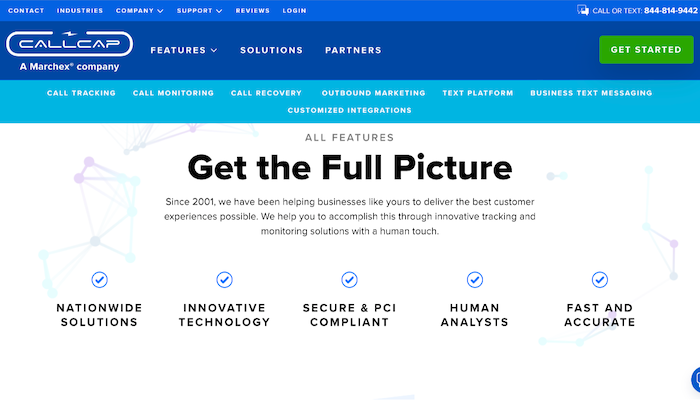 Callcap is a bit unique compared to some of the other software on my list. It's not really a standalone call recording tool. This platform is branded as a call tracking and monitoring solution, but it does have call recording capabilities.
Marketers leverage Callcap to gain deeper insights into consumer behavior. Any business seeking an advanced solution beyond basic call recording should consider Callcap.
Callcap will automatically record all of your business calls. These recordings are available at any time. You can use them for agent training, employee recognition, lost opportunity analysis, disputes, and more.
All recordings are stored in the cloud and accessible from anywhere, and it is easy to share recordings with team members.
But Callcap takes these recordings to the next level with third-party monitoring services. Their trained analysts provide unbiased scoring for all inbound and outbound calls. The data from Callcap allows agents to improve, close more deals, and increase customer satisfaction.
Other benefits of Callcap include:
Catalog item tracking reports
Track revenue by campaign or employee
Secure and PCI compliant recording and monitoring
Manual pausing and automated scrubbing
Call tracking
Call recovery
Callcap is not for everyone. If you just need a basic solution for recording calls, look elsewhere. But if you want one of the most advanced call recording and monitoring services on the market today, Callcap should be at the top of your list.
#9 – Kixie PowerCall Review — The Best Chrome Extension For Call Recording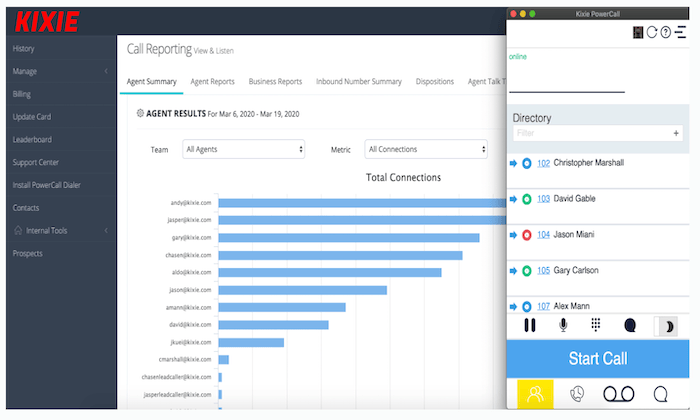 Kixie PowerCall is another all-in-one business phone solution. It's a top choice for remote teams looking for a simple way to manage calls.
This robust Chrome extension can be installed in seconds on Mac, Windows, and Chromebook devices. All Kixie PowerCall plans come with call recording capabilities.
As a Chrome browser extension, it's easy for agents to make and receive calls from anywhere. Recordings can be managed with a single click, and the software is ready to use out of the box.
Since Kixie PowerCall is an all-in-one phone system, you'll also benefit from features like:
Single-click voicemail drop
Local presence phone numbers
Click-to-call dialing
Live call coaching
Call reporting insights
Like some of the other software on our list, Kixie PowerCall is better for teams that need a complete business phone solution. If you just want basic call recording features on your existing phone service, you'll find other options more suitable for your needs.
You get 300 free minutes when you try Kixie PowerCall free for seven days.
What I Looked at to Find the Best Call Recording Software
There are certain factors that I looked for while narrowing down the top recommendations on my list. You can use this methodology as well when shopping around comparing different tools side-by-side. Consider this as your buying guide for call recording software.
Use Cases
Why are you seeking a call recording solution?
The answer to this question will help narrow down your options. Some tools are better for sales and marketing, while others are better for training, management, monitoring, and quality assurance.
There are smartphone apps for call recording for personal use and full-scale business phone solutions with built-in call recording features.
The type of calls you're recording will impact your decision as well. Some solutions only support traditional calls, while others support WhatsApp call recording, Skype call recording, and other third-party platforms.
On-Demand vs. Automatic Recording
Do you want every inbound and outbound call to be recorded automatically? Or would you prefer to control if and when a recording starts and stops?
The ability to choose between on-demand and automated recording is definitely something to keep in mind as you're shopping around.
For large-scale business use, automatic recording will probably be your best option. It's one less step your staff has to think about during a call. But for personal use, you probably don't need to record every single call you make or receive.
Live Monitoring and Call Evaluation
Live monitoring is a crucial tool for call centers. In addition to recording the call, this feature allows managers or admins to listen in on calls in real-time.
Overall, this is a proactive way to improve quality assurance.
Some software takes QA one step further by providing call evaluation metrics. There are tools out there that can use recordings for sentiment analysis, conversion insights, and more to provide advanced scoring grades for each call.
Security and Compliance
Security needs to be a top priority for conversations that include sensitive information. Examples include credit card information, medical information, personal details, and more.
Certain businesses must follow industry-wide regulations to ensure compliance. Make sure the software you're considering meets all necessary regulations, even if it's something as simple as notifying the caller about the recording and giving them the option to opt-out.
Storage
Another factor to consider is to assess the way recorded calls are stored and accessed from platform to platform.
What type of storage restrictions does each plan have? How easy is it to access, organize, and listen to those recordings at a later time?
For example, let's say you're dealing with a customer dispute. A customer claims that they never gave your staff permission to charge their credit card over the phone. Can you quickly locate that recorded call to find out what happened?
The best call recording storage systems are searchable and well-organized.
Conclusion
Call recording software comes in different shapes and sizes. The best option for you will depend on your unique wants and needs.
I've made suggestions in my reviews of the top products:
Nextiva — Best for massive organizations (For a limited time get 25% off, plus a free phone, when you signup!)
Ooma Office Pro — Best price for the total package
RingCentral — Best archiving and storage for recordings
Rev Call Recorder — Best call recording app for iPhones
Aircall — Best call center solution
Talkdesk — Best for voice and screen recording
Cube ACR — Best call recorder for android
Callcap — Best for call monitoring
Kixie PowerCall — Best Chrome extension For call recording
Consider a smartphone app or standalone call recording tool for simple call recordings. More advanced call recording software will come with features for screen recordings, call monitoring, and customer insights. Choose an all-in-one business phone system to get features that go above and beyond just call recording.
Regardless of your call recording needs, you can find what you're looking for using my recommendations listed in this guide.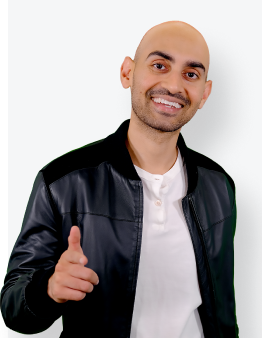 See How My Agency Can Drive More Traffic to Your Website
SEO - unlock more SEO traffic. See real results.
Content Marketing - our team creates epic content that will get shared, get links, and attract traffic.
Paid Media - effective paid strategies with clear ROI.
Are You Using Google Ads? Try Our FREE Ads Grader!
Stop wasting money and unlock the hidden potential of your advertising.
Discover the power of intentional advertising.
Reach your ideal target audience.
Maximize ad spend efficiency.