Amazon's so big that it has become an entire marketing channel.
You could build your entire business on just Amazon.
Many entrepreneurs do. It's crazy how many 7-figure businesses are running on Amazon right now.
The downside?
Lots of folks know about the Amazon opportunity.
There are 353 million other products on Amazon already.
Granted, you don't have to compete for all of them. But that's still an insane number of products.
No matter how obscure your niche, you'll have top-tier competition.
How do you stand out in such a highly-competitive marketplace?
Find an Amazon marketing consultant.
3 Ways an Amazon Marketing Consultant Can Help Grow Your Business
Most Amazon consultants focus on one goal: getting you more customers.
That is, after all, why most businesses get on Amazon.
They want access to Amazon's customers.
Here are the main ways that a consultant can help.
1. Store Setup and Product Listings
Some sellers on Amazon set themselves up for failure from day one.
And they do this with poor store setup and product listings.
If you, a seller on Amazon, get the foundational areas like excellent store setup and product listings wrong, other efforts to grow your store will fall flat.
No doubt, signing up for an Amazon Seller account takes only a few minutes.
But it takes a lot of work to get Amazon's algorithms to know what category you should be in and when to show your products higher than others.
An Amazon marketing consultant will properly set up your store and build your product listings to get you more customers. Not only will your products get more views, the product descriptions will also help you convert more of those prospects into customers.
The best Amazon consultants will help you:
Choose the right seller account type for your store.
Make your product descriptions as enticing as possible.
Ensure that Amazon knows exactly which categories and terms you should be in.
Get the back-end set up properly so it's as easy to manage as possible.
They'll also help you avoid these mistakes:
Don't accidentally get featured in the wrong categories which could hurt your store.
Make sure all products comply with every Amazon guideline.
Your listings avoid common mistakes that annoy customers, which could increase the number of negative reviews if you don't catch them early.
Get the foundation of your store done right. Then everything else gets a lot easier.
2. Product SEO in Amazon
It's one thing to have your store properly set up and your products accurately listed.
But it's another ball game to have them actually appear on Amazon.
According to a study by Feedvisor, about 74% of ecommerce shoppers go to Amazon first for any purchase they want to make.
Do you know what that means?
Amazon has become a search engine for products. Amazon SEO is now a real thing. And it's just as important as Google SEO. For ecommerce businesses that are on Amazon, it's probably MORE important.
Amazon even developed its own SEO algorithm called A9.
You could try to learn all the ranking optimization tricks on your own.
Or you can partner with an Amazon marketing consultant to help you save time, money, and make the most of your scarce resources.
They'll help you:
Find the best categories and keywords to focus on.
Optimize your products for rankings.
Get the reviews you need to compete.
Break down your competition so you can learn what's working today.
3. Amazon PPC Management
Amazon turned on the firehose of PPC.
Not only is it making them a ton of money. It can also make you a ton of money.
For the first time, you can pay a small fee to get in front of the most valuable customers in your entire market: customers ready to make a purchase right now.
With the right product, you can easily take $1 and turn it into $2 with Amazon paid ads.
However, paid media on Amazon is also complicated.
Like any PPC platform, it requires a ton of specific know-how and tons of work to keep it optimized.
You could try to manage all this on your own.
Or you could get an Amazon consultant to do it for you.
PPC campaigns are a great type of marketing task to outsource. The work is repetitive and usually the same workflow across businesses. Consultants can easily take this off your plate and give you a nice ROI at the same time.
Even if you could do this yourself, I recommend finding a consultant to help. Your time is better used elsewhere.
Most consultants get really good at bid management and ad optimization. Use them for these areas.
How to Get Started With An Amazon Marketing Consultant
First, what should you have before engaging an Amazon marketing consultant?
An Amazon store or a store that's about to go live.
Products you want to sell and sourcing or manufacturing are sorted out.
Key competitors and search terms for your market.
Budget set aside.
An Amazon consultant can help with setting up your store and getting you customers. You'll need to sort out everything outside of Amazon.
Basically, they'll help you develop and implement marketing strategies to drive sales and revenue.
When you visit the website of a top Amazon marketing company, you'll usually find a contact form to schedule an initial call.
Even if you're not sure if you need help yet, I recommend getting a call done. You'll have a much better idea with how consultants can help you once you've done a few calls.
You can also ask them loads of questions like:
What budget would you recommend?
What are the key trends that you see in your most successful clients?
What should I do ahead of time to set this project up for success?
What would make us a bad fit to work together?
Yes, the consultant will treat the call like a sales call. It's their chance to close you on a proposal. But it's also a chance for you to learn a lot more about the space from a real expert. And the best consultants will happily teach you as much as they can. That's how they prove their expertise.
After you've done a few of these calls, move forward with the one that you think is the best fit. Since this project should generate real revenue for your business, I'd go with the one that has the best chance of succeeding, even if they're a bit more expensive than others. The good consultants will easily pay for themselves.
Measuring the ROI of Amazon Marketing Consulting Services
The ultimate measure for any marketing service is how much demand and sales it drives. For Amazon consulting, this same rule applies.
Specifically, you should track:
Views for your store and products
The number of new products sold
Conversion rate of impressions to sales
Total revenue
Average order value
I recommend that you track your totals, not just revenue and purchases from specific campaigns.
Marketing channels and campaigns often bleed into each other. For example, an increase in Amazon PPC budget will often lead to an increase in your organic Amazon sales. Trying to get perfect attribution is super difficult.
So get a good baseline before the consultant starts. Then compare the overall performance of your store afterwards.
Let's go deeper on each metric.
Conversion Rate
This is a measure of how many impressions you're getting for your store and products compared to how many of those impressions led to sales.
For any consultant working on your product listings, it's probably the most important metric to watch.
When optimizing products, you should see it go up.
And when working on product rankings, you want to see your conversion rate stay stable. If it drops while your impressions go up, it's a sign that you're getting less-qualified traffic. It's possible that the extra traffic is still worth it, you'll need to dig in.
Product impressions
Any Amazon consultant should be able to get your products more impressions.
It's always nice to get a conversion win right away but the real money is getting your products in front of more people.
This is what separates great Amazon consultants from the ones that are just average. Great consultants will have a plan to double, triple, and quadruple your impressions over time. They'll also be able to execute on that plan.
This can take a lot of time and money.
But within the first few months, you should be able to see at least some signals that things are going in the right direction.
Total revenue
At the end of the day, marketing is about increasing revenue.
The ROI needs to be there.
After a few months, check your total monthly revenue and compare it to your baseline before you started working with the consultant.
Is it moving in the right direction? Have you generated enough profit to pay for the consultant fees?
You might not be generating enough extra revenue yet but there should be a path to a positive ROI.
The great consultants will have set expectations with you at the beginning. Things should be playing out like they planned.
4 Point Checklist For Finding the Right Amazon Marketing Consultant
Below are six things to check when finding the right Amazon marketing consultant to help drive growth for your store.
1. Thought Leadership on Amazon Marketing
Since most of what an Amazon marketing consultant would do is help you to drive sales for your store, it's essential you find one with practical knowledge on how to do it.
Every marketer knows the power of thought leadership.
For the best Amazon consultants, I'd expect to see some of their content already published.
It's a great way to get a feel for how they build Amazon stores, their favorite tactics, and how they'd fit with your own company.
For example, I have a guide, detailing persuasion tactics to upsell products on Amazon and a full course on how to drive more sales on Amazon:
2. Real Amazon Marketing Expertise
Many marketing consultants who didn't offer services specific to Amazon stores have jumped on the bandwagon, seeing how much the marketplace is growing.
The result?
They apply the same generic marketing practices, thinking it will automatically work on Amazon.
If you don't want to fall for this and waste your money, ensure that the consultant has true expertise with Amazon marketing. They should plenty of:
Deep answers to all of your tactical Amazon marketing questions
Case studies with Amazon marketing
Clients and testimonials from Amazon marketing projects
3. Expertise on How Amazon Impacts Other Channels
If you have an ecommerce business that focuses 100% on Amazon, feel free to ignore this criteria.
But most businesses go after multiple channels.
Especially ecommerce businesses. They usually have Amazon product listings and their own ecommerce story.
Great consultants will get your different channels to help each other.
That's right, you can can get each channel to make your other marketing channels stronger.
Here's a few examples:
Using discounts and promos to get Amazon customers to sign up for subscription deliveries on your website.
Getting your biggest fans to help with Amazon reviews.
Tapping into your audiences to kick-start new products on Amazon.
With a little creativity, you can hit goals a lot faster by using assets you already have.
The best consultants look for these opportunities and take advantage of them.
4. A Proven Process for Execution
The really great consultants have a formula for rolling out their Amazon marketing campaigns. It's how they deliver results over and over again, for every client.
Less experienced consultants may depend on the brilliance and wit of a single person.
That can work great as long as that person focuses on your marketing. But what happens when they move to another client?
Campaign performance usually suffers.
Look for a consultant that has a team behind them that can reliably execute on your project month in and month out.
The odds of accomplishing your goals goes way up.
During your initial discovery calls, dig into their process, how they manage deliverables, and train new team members. You should be shocked on how thorough it all is.
Start With an Amazon SEO Consultant
Don't know where to focus?
Get help with your Amazon SEO first. One project could get you more impressions, more sales, and more revenue on an ongoing basis.
The ROI of that single project can be massive.
So if you're not sure what you really want, start there.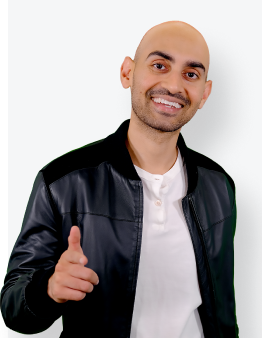 See How My Agency Can Drive More Traffic to Your Website
SEO - unlock more SEO traffic. See real results.
Content Marketing - our team creates epic content that will get shared, get links, and attract traffic.
Paid Media - effective paid strategies with clear ROI.