Affiliate marketing is a way for online publishers (including bloggers) to make passive income by recommending products and services they love.
Amazon Associates is one of the most trusted affiliate marketing platforms where anyone can start an income stream from the comfort of their home.
Like most methods, this takes plenty of strategizing and hard work.
Once you get the hang of the basics, however, it's relatively easy to monetize your content. Here is how to get started and drive revenue with Amazon Associates.
How Does the Amazon Associates Affiliate Program Work?
The Amazon Associates Affiliate Program is an affiliate program that's free for creators to use. As a blogger, YouTuber, or another content creator, you can insert links to products from Amazon into your posts to encourage people to click and buy.
Amazon explains the process in three simple steps: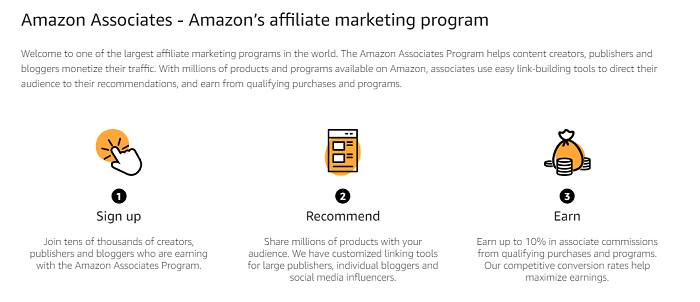 When someone uses your unique affiliate link to buy something from Amazon, you get a small revenue cut via referral fees.
You can take advantage of this by leveraging your audience's attention.
If you're already a big influencer, you can encourage your large following to buy from your links by posting promotional content.
However, you don't need to be a massive influencer to make some money from Amazon Associates. Content creators of any size can make some additional cash by creating enticing work and including affiliate links in it. Just make the products look irresistible!
No matter what, make sure the products line up with your content and brand message. You don't want to lose your audience's interest.
These affiliate marketing techniques, among others, can help creators generate passive income streams.
Things to Keep in Mind About the Amazon Associates Program
While the Amazon Associates process is relatively straightforward, there are some essential things to keep in mind before you get started.
These reminders may help keep you out of legal and financial trouble while ensuring you have the right resources to build a successful affiliate marketing business.
1. Not All Commissions Are Equal
The Amazon Associates program operates on a commission basis, but not all commissions (also known as "referral fees") are worth the same amount.
The official Amazon Associates page created the pay scale table below. It shows luxury items, like designer watches, bags, and perfumes, offer a 10 percent commission. Meanwhile, toys, furniture, business supplies, musical instruments, and other lifestyle items pay a 3 percent commission.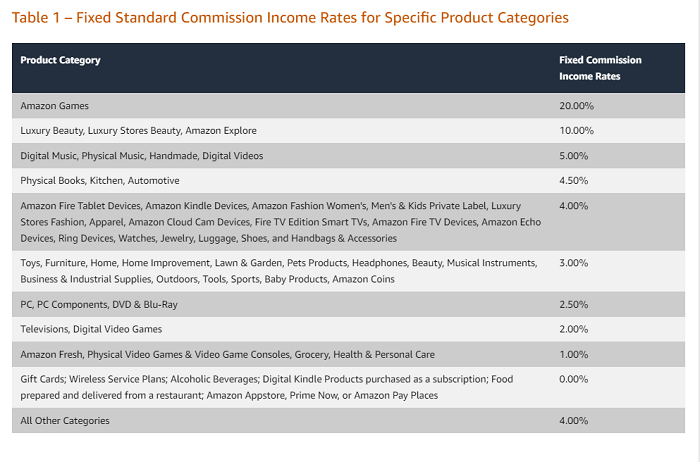 If someone buys a $1,000 luxury product from your Amazon Associates affiliate link, you get $100. If someone buys a $1,000 musical instrument with your Amazon Associates affiliate link, you get $30.
Though this difference is enormous, don't be tempted only to sell high-commission products. For example, if you run a website where you talk about musical instruments but throw in a link to luxury shoes, your audience may be thrown off, and your content quality could decrease.
If you can find high-commission products for your page, that's great! If not, smaller amounts add up.
For example, that $100 commission is worth just over three $30 commissions. People looking for your content are more likely to want relevant products. Are they more likely to buy the unrelated item or the one that fits naturally with your content?
2. You Must Disclose Affiliate Earnings
It can be tempting to hide links in your content and earn referral fees without telling your audience—you don't want to seem "too salesy," after all. However, not only is this unethical but it's also frowned upon by Amazon.
Perhaps more importantly, it's a U.S. Federal Trade Commission (FTC) requirement: Creators must specify if the links on the page earn them revenue.
This can look something like this:

Or this:

3. You Can't Promote Controversial Products or Make Fake Claims
While you're allowed to use affiliate links with almost any Amazon product, there are some limitations. For example, you can't promote sexually explicit, obscene, violent, or illegal products. Make sure anything you promote is legitimate before adding the link.
You also may not make misleading, overly promissory, or false claims in your content.
This is particularly important when recommending health and beauty products. Avoid exaggerating benefits and give ample information about side effects and other warnings.
On a relevant note: Don't promote products you don't believe in. While it may be hard to prove you were intentionally misleading, you could end up losing audience members if everyone hates what you're trying to sell—particularly if the downsides are obvious.
What Are the Pros and Cons of the Amazon Associates Affiliate Program?
The Amazon Associates program offers a great way to monetize your content and promote products you love. That said, it comes with both pros and cons.
Pros of Using Amazon Associates Program
There are several benefits to using Amazon Associates over other platforms. Here's why you should consider this platform.
Amazon Is a Well-known Brand
Amazon has millions of shoppers, many of whom are regular customers. You can leverage this by using Amazon affiliate links to recommend trending or relevant products from this mega-popular e-commerce site.
Amazon Has a Lot of Variety
Amazon is estimated to sell more than 12 million products, so you have plenty to choose from. Whether you are an automotive blogger or a fashion influencer, you can find products that work with your content and audience's interest.
Make Money by Recommending Products
Do you enjoy recommending new products to friends and relatives? Then you'd enjoy working with the Amazon Associates Affiliate program. You earn referral fees just for recommending products you already love (or know your readers would love).
There Are No Minimum Requirements to Get Started
Most programs have qualifications for using affiliate links, but the Amazon Associates Affiliate program has no minimum requirements. You can apply for an Amazon Associates account with any number of social media followers and web traffic.
Cons of Using Amazon Associates Program
Amazon Associates isn't the only affiliate program on the market. Is it the right choice for you? Here are a few cons to keep in mind before diving in.
Amazon Associates Offers Low Commission Rates
While it's easy to use the Amazon Associates Affiliate program, it offers comparatively low commission rates. You generally shouldn't expect to make a living out of affiliate marketing alone anyway, but it's even more challenging at these rates.
In fact, you may not even be able to cover your website hosting fees, let alone any marketing costs, using affiliate links alone. Therefore, plan accordingly and make sure your content continues to be excellent.
Buy in 24 Hours or No Commission Rule
Sometimes users may like a product you recommend. Maybe they'll visit Amazon and check out the item but don't buy it immediately.
Unfortunately, this becomes a problem for content creators using Amazon affiliate links. The user who clicks on your affiliate link must buy the product within 24 hours for you to qualify for referral fees. If they buy it later, you won't earn any money, even if they put it in their cart via your link.
Amazon Associates Program Doesn't Support PayPal Payments
Many creators use PayPal for sending and receiving money. Unfortunately, the Amazon Associates Affiliate program doesn't send out money via PayPal. This alienates a large user base who depend on PayPal to obtain foreign currency in their local accounts.
How to Set Up the Amazon Associates Affiliate Program
Now that you understand how the Amazon Associates Affiliate program works and the pros and cons of using it, let's go through the steps required to set up an affiliate account with an Amazon Associates ID.
Start a Blog, YouTube Channel, or Other Content Setup
You need a place to post affiliate links, so create a blog or a media channel. This doesn't need to be fancy—just somewhere you can publish content and build an audience.
Sign Up With Amazon Associates
Visit the Amazon Associates Affiliate program homepage and click the sign-up button to get started.

Fill Out Your Profile Information
Provide basic details like your name, address, website details, and other information necessary to set up a preliminary account.
Explain Your Marketing Strategies
You need a plan for how you'll market the products to earn commissions. That's why you'll be asked for this information when filling in your account details.
The questions are pretty straightforward and aim to narrow down your marketing strategies. Try to answer these as accurately as possible to increase your chances of approval.
Enter Your Payment Details
Once the basics of your account are set up, you come to the payments section. Here, you enter information about how you wish to get paid.
You may set this up later. If you're in a hurry, you can skip this section and move forward with the account setup. However, I recommend doing this immediately so you can start making money as soon as your account is approved.
Start Using and Promoting Affiliate Links
Once your account is approved, head over to the dashboard and start using affiliate links for the products you love.
I recommend working on a couple of trial links to see how it works. Share them with your friends and acquaintances to see how it appears to a third person.
Once you're satisfied with the aesthetics and practicalities of the process, you're ready to start promoting your affiliate links officially.
Share them on social media, invite your friends to buy their favorite products through your links, and, most importantly, create engaging content to find new users and sell the products to them.
Frequently Asked Questions About the Amazon Associates Program
What are the requirements to be an Amazon affiliate?
The Amazon Associates Affiliate program does not have minimum follower or traffic requirements to set up an account. Instead, you only need to follow basic rules like adding an affiliate disclosure to your website and not promoting prohibited products.
How can I do affiliate marketing with no money?
Setting up an Amazon Associates account is free. You can also start a free blog on free-to-use platforms like WordPress and Medium.
How do Amazon affiliates get traffic?
Can I promote Amazon affiliate links on Facebook?
Both Amazon and Facebook's policies allow users to use affiliate links on Facebook. Therefore, you can add affiliate links in content posts on your feed to interest readers you're already connected with.
Amazon Associates Affiliate Program Conclusion
The Amazon Associates Affiliate program is a reasonably straightforward way to set up a passive income stream. The best part is that anyone can do it from anywhere, with few geographic and financial restrictions.
Users can start a home-based business at zero cost using a free blog and a free Amazon Associates account. This makes this affiliate program a valuable option for creators who don't have a lot of business capital but have great content and the drive to succeed.
Amazon has structured its affiliate program to be as effortless as possible, so even beginners can get started with the program with little to no help.
Even if you do get stuck somewhere, you have access to a large community of hundreds of thousands of users who've been through this process and may be willing to help you out.
Whether you've been creating content for years or are new to the world of earning income via online content, you can set up an Amazon Associates Affiliate Program account and start making some extra money.
Just make sure your content is consistently excellent and work hard to build your audience. Digital marketing is key in this, as an audience doesn't just appear, no matter how fantastic your content is.
With some elbow grease, you could find yourself making enough passive income to continue building a successful online business via the Amazon Associates Affiliate Program.
What types of products do you think you could sell using Amazon Affiliate links?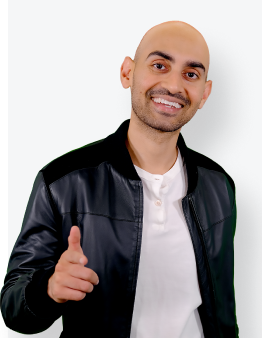 See How My Agency Can Drive More Traffic to Your Website
SEO - unlock more SEO traffic. See real results.
Content Marketing - our team creates epic content that will get shared, get links, and attract traffic.
Paid Media - effective paid strategies with clear ROI.
Are You Using Google Ads? Try Our FREE Ads Grader!
Stop wasting money and unlock the hidden potential of your advertising.
Discover the power of intentional advertising.
Reach your ideal target audience.
Maximize ad spend efficiency.