The growing popularity of "growth hacking" has resulted in a lot of young startups that know a lot about hacks that give you quick wins, but cannot build long term success based on these experiments.
But if you have a process, you can win in the long term and 'hack' continuously. Like a lot of companies that use agile methods to build successful products (we all know that it works!), marketers can implement agile for their growth process.
The agile marketing framework described in the article helped us acquire 675K signups while spending zero on user acquisition, and I'm happy to share some tips and tricks that any startup can use.
Agile Marketing: Number of Hacks vs Process
First, you should understand the difference between the number of hacks and process. You can find a lot of things on the Internet that promise you new audience (and they work). You can conduct 100 experiments per month (and some of them work), but the real goal is not implementation of all the possible hacks, the goal is the right product for the right audience and deliver it in the right time and place. We used to make a lot of experiments, but finally we understood that system of experiments gives us greater results. That's why we decided to rebuild our marketing process and took some practices from our development team.
Step 1. Choose the right metrics
The goals should be measurable, that's why before you start any process, you should choose the ruler to measure your success or failure. We are using AARRR metrics by Dave McClure as we think it describes our users' path to success.
3 lessons learned:
Use services that can help you analyze your users behavior. We've implemented analytics after several months of product development, and that was a bit late – we were blind without data. Measure everything you can from the very beginning, this will help you take decisions based on data.
If you have something specific in your product, you can add a metric to measure. For example, as we are offering Free trial and have Free limited plan at the same time, we have included the number of trials in the AARRR funnel.
There is one metric that can be tricky to define – it's Activation. It's about so-called a-ha moment, but actually it cannot be simply measured. But you can see what your returned visitors did in the first session and then allow your inner Sherlock find the reasons and motivation. In the image below you can see data about active usage of different features by returned and one-day users.
Step 2. Define goals and rhythm
The first step of implementing agile marketing was defining our goals in terms of product metrics. For each AARRR letter we defined a quarterly goal. I.e. Q1 Retention: Increase Day 1 Retention by 15%.
But a quarter is a very long period of time for agile marketers, that's why we defined a sprint time – it's time for conducting a number of experiments, and at the end of each sprint we measure the results. It's one week for us, but you can take more time if you need. The sprint length can be extended to a month and it depends on:
the number of members in your marketing and development teams (yes, some experiments need coding)
the time they need to conduct an experiment
Each week we have a meeting and discuss results, set goals and choose experiments for the next sprint. For remote team members we use online whiteboards and Google Docs, it helps us keep everybody on the same page. Trello and Sprintly are also good options.
Step 3. Build hypotheses
Every single article you read can inspire you do something with your product or marketing strategy. We add these ideas to our backlog – even crazy ones. After that we choose some of them for the future evaluation, but everyone in the team can contribute to our marketing backlog, which is divided into 5 sections that correspond to AARRR metrics. Here's what our agile board looks like:
Step 4. Evaluate, prioritize and implement hypotheses – ICE Framework
Sean Ellis introduced amazing ICE Score framework that allows you evaluate all the hypotheses before you spend time and money on testing. It helps teams reduce costs significantly:
All you have to do is to ask yourself three questions:
What will the impact be if this works? (we measure it in percentage of growth of a metric)
How confident am I that this will work? (from 0 to 1)
How much time/money/effort is required? (from simple 5 to 1)
The hypotheses with the highest score go to To-Do section, that means we are working on them during the next sprint.
What if's
What if I have an amazing idea in the middle of the sprint? Don't start working on it right now – add to backlog. The team already has the number of hypotheses to test, don't interrupt them.
What if we cannot achieve the result during the sprint? You usually can. Just do something that you can measure or touch, remove everything that is really not required.
What if the idea got the high score, but you don't believe in that idea? Frameworks are great, but you should also follow your vision and base your decisions on empathy. That works for us.
Step 5. Test and analyze the results
When the experiment starts, we collect the data from different sources and visualize it on the board to make it visible for the whole team:
I can't say it enough – our life is impossible to imagine without testing. We tried many services, but due to several reasons our toolbox contains the following products nowadays.
Step 6. Repeat
The sprint ends with retrospective, the meeting where we discuss the results and plan the next sprint, where the steps from 3 to 5 are repeated. At the meeting each member of the team answers the following questions:
What worked well for us?
What did not work well for us?
What actions can we take to improve our process going forward?
It's a very important part of agile marketing as it helps you remove the obstacles and improve the process. With every cycle you'll have more practice and you'll become more trained in agile marketing and spend less time and money on your experiments.
Conclusion
agile marketing is a great approach taken from software development, and it gives us an opportunity to make not just hacks but build the process of growth saving time and money on things that just do not work. The framework described above is not rigid though. Find your own rhythm, prioritize goals, test, analyze the results and improve your growth process from sprint to sprint.
About the Author: Anna Boiarkina is the Head of Marketing at RealtimeBoard, an online whiteboarding and collaboration service for teams. You can connect with me on LinkedIn.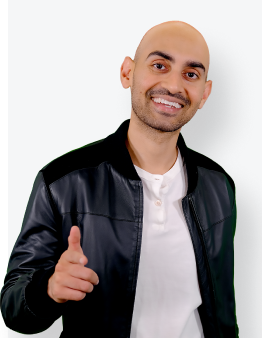 See How My Agency Can Drive More Traffic to Your Website
SEO - unlock more SEO traffic. See real results.
Content Marketing - our team creates epic content that will get shared, get links, and attract traffic.
Paid Media - effective paid strategies with clear ROI.