SEO can be hard.  And, the consequences of not getting it right can be pretty dire.
If you continue to make mistakes, you'll earn a whopping $0.00 and generate zero views. Results like that are likely to make you give up pretty quickly.
We're living in an information age, so you can learn everything there is to know about SEO. But, if you're not implementing the right tips, you'll soon be lost. Sounds brutal, right?
So many content marketers and bloggers are struggling to get organic traffic or even sustain their search engine rankings because they've followed the status quo and refuse to adapt to the new way of optimizing a page.
The good news is that search engines deliver the most targeted and motivated site users.
For example, if you sell digital cameras and someone discovers your web site through the search term "best digital camera online," the chances of converting these visitors into a customer are high.
In fact, leads generated from search engines have an 8.5 times higher chance of conversion than users acquired through other inbound lead generation strategies.
So, let's explore 5 SEO mistakes that hinder search engine rankings. I'll also show you how to fix them and improve your search engine performance. 
Mistake #1: Not optimizing for the right keywords
Sometimes, it's the little things that often go unnoticed yet make a big difference in the success of your business.
You might not know this, but not all keywords are going to grow your business. It's true. Some keywords might even harm your conversions.
Keywords can help your search traffic and rankings. Head keywords (e.g., "politics" or "make money online") usually have more search volume, but long-tail keywords (e.g., "South Carolina Democratic politics 2016" or "make money with ebay from home") generate 70% of all search engine traffic – and it's traffic that truly converts.
People from all walks of life use Google to find relevant information by entering specific keywords.
Even travelers use search engines when looking to book flights and hotels or to find their way around a new city. According to Search Engine Watch, "search is the starting point for a mind-blowing 93% of searches in 2019."
The truth is that your success with search engine optimization begins with keywords. This is a fundamental part of using search engines to boost your ranking. 
However, if you go about optimizing site content for every keyword you can think of, chances are, you won't rank highly in search engine results pages.
Worse, you'll experience a high bounce rate, because search engine users who eventually find your web site will leave without doing anything that you want them to do.
This often results in a situation referred to as pogo-sticking. That's when people quickly click the back button to look for an alternative search engine result, solely because the page on your web site didn't satisfy their needs.
In fact, not optimizing site content for the right keywords will cripple your search engine rankings. 
Don't be confused when I say the "right keywords." I just mean those keywords that'll lead your audience to discover your pages when they input them into the search engine.
You're confident that your site content will be relevant when an ideal customer searches for, say, "ceramic mugs reviews" using Google.
When optimizing for keywords, these simple guidelines can help:
Don't optimize for global keywords when you only offer services or products to local customers.

Stop optimizing for generic keywords that send visitors who aren't motivated, relevant or useful to your business.

Optimize for both informational and

commercial keywords

. Don't focus on just information. Otherwise, you won't build a successful business that generates income.
More importantly, if you're just starting out, don't optimize for head keywords that'll be difficult to rank for with search engines.  Remember- even if you rank for a head keyword, it's highly unlikely to produce a conversion.
If you're a social media expert looking for clients, stop optimizing for "social media marketing," except for generic informational pages. Instead, you should be tactical with search engines by going after the low-hanging fruit of long-tail keywords, such as …
social media marketing expert in NY

best social media expert for restaurants

top legal profession social media marketing experts

social media consultant in Los Angeles

social media marketing best practices

checklists for social media marketing

social media marketing for small business

social media lead generation expert
… and so on.
It's very important to focus on the right keywords.
Here's an example: Richard Emils had managed his site for several months. But, he wasn't satisfied with the search engine results that he was getting.
So, he researched the correct keywords and optimized his site content for the keyword "wellness program ideas." He now ranks at #1 for this primary keyword in Google results:
Then, he used Brian Dean's skyscraper technique to create and promote his link-worthy site content. The results within search engines were staggering. He generated 41,992 pageviews, achieved a #1 organic ranking, and increased his monthly recurring revenue to $100k.
Mistake #2: Confusing PPC (Pay Per Click) with SEO
Believe me, there were times when I confused pay per click ads for organic search engine results. This usually happens when Google doesn't indicate that the top results are paid ads.
However, it's becoming a lot easier to identify PPC ads in Google, thanks to the "Ad" symbol. For example, when I searched for "php developer," I only found one PPC ad.
Be careful with this, because, at times when you look at the organic results of search engines, you may not find the "Ad" sign displayed prominently.
This leaves room for confusion.
The awful experience for users is that they think the PPC ads that they're clicking on are actually organic listings that the page in question earned, through the strength of its own merits.
Instead of confusing your targeted users, you can bid on your brand terms, in order to prevent competitors from taking advantage of your search engine users' faulty assumptions.
If for some reason you and your competitors bid on the same brand terms, Google will favor you over them because your overall landing page and web site will be more thematic and relevant to the brand keywords.
Truth be told, there's been some debate about whether or not marketers should bid on brand keywords. But, all the arguments are pointing to one thing: relevance.
You want your brand keywords to answer the questions of your target users. As long as it can meet the user's goal, go ahead and bid on them. Otherwise, ditch them.
To learn more about bidding on brand keywords, see the resource guides below:
Mistake #3: Expecting SEO results to take immediate effect for new web sites
It took me close to 10 years to achieve significant results from all of the efforts that I've put into SEO.
Seriously, you shouldn't expect an immediate effect. It doesn't matter how smart you are. Instant gratification just doesn't work with SEO. Modern SEOs focus on the long-term, and on satisfying the user with their site content.
Don't get me wrong. I'm not saying successful SEO will take years to show results.  I've seen people with new web sites that started organically generating dramatic search engine traffic and rankings within 3 months.
One of those success stories belongs to Sentient Media. A media non-profit about animal rights issues, they didn't start working on their SEO and keyword strategy until 5 months after launching their site. Because of that, they were only getting a few hundred visitors per month, mostly from direct traffic.
Using Ubersuggest, they were able to discover the right keywords and build content that targeted the right audience.
And, in less than 6 months, using the power of keyword research, they were able to boost their organic traffic by over 3,500%.
Sentient Media isn't the only one who's seen quick success with SEO. Servando Silva shared an inspiring story about his niche site. It went from 0 to 400 visits per day within a 2-month period.
That said, these case studies and success stories are not the norm. They're possible, but not common.
You might think that these people did a lot of work (of course they did) to achieve their success. But, then again, there are people who sweat day in and day out – creating content, promoting it and getting links, but still struggle to rank highly in Google.
Often, these people quit.
Obviously, one of the core reasons why they quit is because the immediate results they were expecting weren't forthcoming.
If you have an old authority web site, then you can expect immediate search engine rankings and traffic, especially when you optimize your site content for long-tail keywords.
On the other hand, if your site is new (especially if it's a niche site), forget about immediate rankings. Instead, focus on creating data-driven content and promoting it legitimately.
Don't try to get links at any cost. It'll only backfire and get you penalized. If you're looking to make quick sales from your niche site, focus on PPC advertising through Facebook, Google Ads, Instagram, LinkedIn, and other search engines.
The real SEO benefits will come to you in about 6 months or more. The reason for this delay is that your new website needs to have quality content, engage users, get contextual links, garner social signals, and so much more. This all takes time.
To close this section, I've got two simple words for you: "Be patient."
Mistake #4: Falling for cheap SEO tricks & black hat strategies
The majority of "quick SEO solutions" usually involve black hat SEO techniques. If it sounds too good to be true, then you should be wary about that strategy.
The truth of the matter is that getting links to a page is easy, but getting rank-boosting links is hard. Really hard.
For example, before you can get a link on authoritative sites such as Search Engine Journal, Moz, Crazy Egg, and Entrepreneur, you have to work your butt off.
You only have two options. You either pitch a high-value guest post topic or you pay someone with the right skills and influence to do it for you.
Trust me, connecting with influencers can still fail, especially if your sole purpose in getting featured on a popular blog is to get links.
Success comes when you shift focus from your immediate needs (such as links, traffic, social shares) to delivering enormous value with your content. That's what users want.
Black hat SEO tricks may sound fast, shiny, and promising, but don't give in to them.
Google released the Penguin algorithm update way back in April 2012. Its main objectives were to better reward trustworthy web sites and to penalize sites that were spamming its search results.  They were specifically targeting sites that were buying links or obtaining them through link networks and wheels designed primarily to boost Google rankings.
In a nutshell, web sites that were penalized by the Penguin were primarily wearing the black hat and manipulating search results. And in the years since Penguin, Google has released numerous other algorithm updates to combat unethical black hat practices. 
In the same vein, cheap SEO solutions shouldn't be trusted, no matter where you get them from.
A few years back, Ryan Stewart took a bold step and stopped selling SEO services. Why? Because he can't guarantee any definite results to his clients any longer. SEO has changed.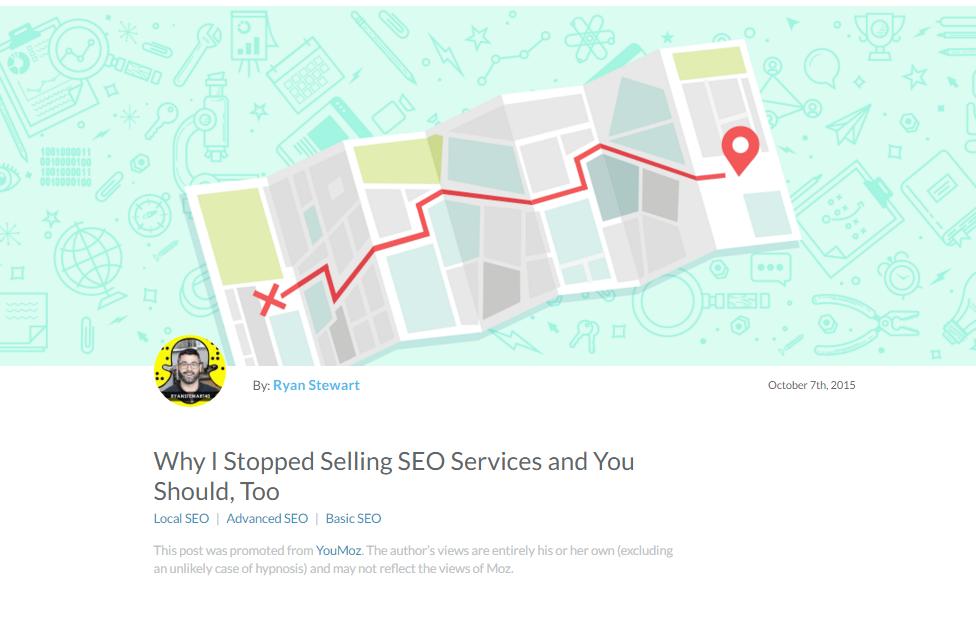 Again, any SEO expert or agency that guarantees a #1 ranking is probably taking advantage of your ignorance.
Mark my words:
No one can guarantee instant search results or a #1 organic ranking.
Mistake #5: Not using anchor texts for internal links
Anchor texts are important, both to users and to search engines. If that weren't true, Google wouldn't care about the anchor text that you use in your content.
I'm never going to advise you to over-optimize your content with exact match anchor texts. You could get penalized by Google and lose your rankings.
When it comes to internal linking (linking within your site), relevance is key. If you use anchor texts like, "click here," "read more," or "visit site here," don't overdo it. From the SEO perspective, it's a waste.
I know that using generic call-to-action wording may increase your click-through rate, but it also costs you in the long-run. So, how do you tailor your anchor text, which is an important component of SEO?
If you write a blog post on the topic "landing pages" and you want to link to another page where readers can download templates, you should use anchor text such as:
Get landing page template

Download landing page templates

Landing pages theme for business
Don't overdo this. The key is to be natural.
If the anchor text doesn't read naturally, get rid of it. That's why I recommend that you write your content first, then turn one of the partial or branded keywords into an anchor text.
Conclusion
These days, it's hard to stand out from the crowd, due to the enormous amount of content that's being published.
Remember that people using search engines to find answers aren't interested in another piece of content that will bore them to death.
Put yourself in their shoes. What do you look for when you type a search term into Google?
Obviously, you want the right search results. After all, who has the time to scour through billions of search engine results to get the perfect content?
Focus on creating link-worthy content.
And, if you've got an opportunity to build links to your useful pages, focus on quality over quantity. In Google's eyes, 1 dofollow link from Forbes.com will carry more SEO value than 5 dofollow links from a blog that just sprang up out of nowhere.
Which other search engine optimization mistakes do you think can hinder organic search rankings?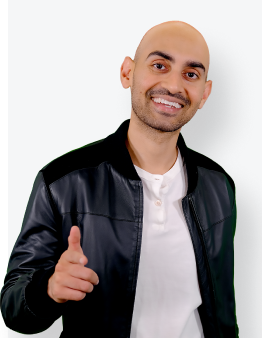 See How My Agency Can Drive More Traffic to Your Website
SEO - unlock more SEO traffic. See real results.
Content Marketing - our team creates epic content that will get shared, get links, and attract traffic.
Paid Media - effective paid strategies with clear ROI.