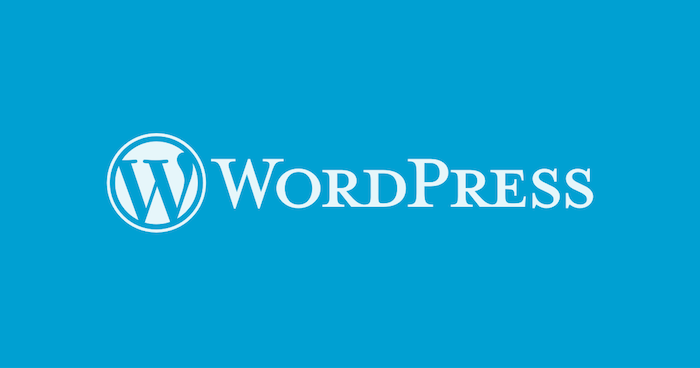 Did you know that there are tens of millions of websites powered by the WordPress content management system?
From individuals and small companies to some of the biggest brands in the world, such as the National Football League and CNN, WordPress users come from all walks of life.
Marketing professionals love WordPress for many reasons. It's SEO friendly, flexible and there are thousands of plugins to choose from.
Speaking of plugins, many of these are a marketer's dream. In this post, we'll examine 23 free WordPress plugins that can assist with everything from SEO to email marketing and much more.
Let's get started! 
1. Yoast SEO – Out of the box, WordPress is no SEO slouch.  Even so, you understand the importance of leaving no stone unturned.
With 1+ million active installs, you won't be alone if you install and rely on this powerful plugin.
Even if you don't have much (or any) SEO knowledge, Yoast SEO can provide you with guidance. But, you may be asking yourself "What makes this plugin better than others?"
With WordPress constantly changing, regular plugin updates are a must. Yoast SEO never falls behind in this area.
But most importantly, the plugin is a comprehensive, easy to use solution. For example, the page analysis functionality protects against common mistakes. Do you have images in your post? Is your description too long? The plugin automatically detects common oversights, ensuring the SEO integrity of each post.
The WordPress content management system is simple to use, but you may still require help here and there. From an SEO perspective, this plugin is a do-it-all solution.
2. All in One SEO Pack – Yoast SEO has some competition at the top, with the All in One SEO Pack being a favorite among many online marketers.
Here's the plugin's tagline:
"All in One SEO Pack is a WordPress SEO plugin to automatically optimize your WordPress blog for Search Engines such as Google."
Once again, it's all about automatic processes to improve performance.
Created in 2007, the All in One SEO Pack is updated regularly to provide bug-free performance. With more than 1 million active installs, it's trusted by many.
Some of its top features include:
XML sitemap support.

Advanced canonical URLs.

Google Analytics support.

Automatic META tag generation.

Duplicate content prevention.

Ability to override settings.

Out of the box functionality (perfect for beginners).

Translated into nearly 60 languages.
Making sure that every blog post is properly SEO'd is no simple task. Thanks to automatic features, a simplified interface and advanced options, the All in One SEO Pack is trusted by individual bloggers and companies of all sizes.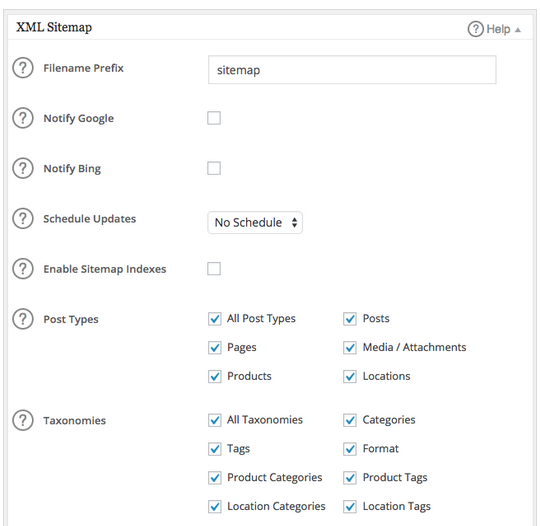 3. Google XML Sitemaps – If you don't understand the importance of an XML sitemap, take the time to read this article before moving forward.
Now that you understand why this is critical to your success, it's time to get some help. Enter the Google XML Sitemaps plugin.
Through the generation of an XML sitemap, search engines are able to better index your blog. This works in your favor when attempting to push your posts to the top of the rankings.
The primary benefit of the plugin is ease of use. You don't need any technical knowledge to get started. Best yet, the plugin walks you through the process, from start to finish, helping you build a sitemap within a matter of minutes.
Despite the name, the special XML sitemap that you generate will help other search engines, such as Yahoo and Bing, better index your blog, too.
Just the same as all the most popular WordPress plugins, this one has 1+ million active installs. With a 4.9 out of 5 star rating, you can't go wrong.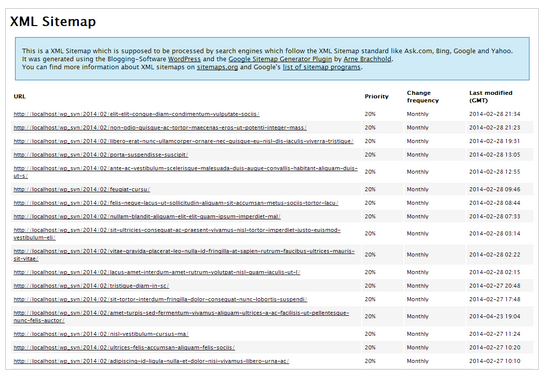 4. Just Writing – Writing comes naturally to some people, but others struggle to put their thoughts on paper (or computer screen).
The Just Writing plugin helps with this, by adding a variety of features to the WordPress distraction free writing mode.
With all distractions out of the way, you have a better chance of creating killer content. This plugin takes things one step further, providing additional features such as:
Spell checker.

Ability to alter paragraph style without reverting to the standard post mode.

Formatting removal.
The Just Writing plugin allows you to customize your distraction-free writing experience. You can add as much functionality as you want. You can also remove buttons as you see fit.
When you combine distraction free writing mode with a personalized layout, there is a greater possibility of creating quality content in a time efficient manner. As a content marketer, you know just how important this is.
5. Broken Link Checker – Broken links and missing images can work against your website.
The Broken Link Checker plugin scans your posts, comments and other content in search of broken links. If (or when) these are found, you are immediately notified. This allows you to provide a quick fix, thus preventing any negative impact it could have on your rankings.
Virtually every link on your blog is monitored, including those on posts and pages. You can choose to be notified via email or the plugin dashboard, whichever allows you to take the fastest action.
As an added bonus, you have two additional options:
Make broken links display differently, allowing you to easily pick them out.

Prevent search engines from following broken links.
If a broken link is detected, edits can be completed from the plugin dashboard, saving you time.
No matter how careful you are, broken links are part of the blogging game. Use this plugin to pinpoint broken links and make the necessary changes.
6. Pretty Link – An often overlooked plugin for marketers, Pretty Link has some cool features.
Its tagline reads:
"Shrink, beautify, track, manage and share any URL on or off of your WordPress website. Create links that look how you want using your own domain name!"
That pretty much sums it up, but let's dig a bit deeper.
Do you use tinyurl.com, bit.ly, or another service to shrink links? You can now do so directly through this plugin.
Are you looking for a simple way to track the number of hits per link? This can also all be tracked via the Pretty Link dashboard.
If it has anything to do with a link, the Pretty Link plugin can provide additional functionality meant to improve your marketing performance.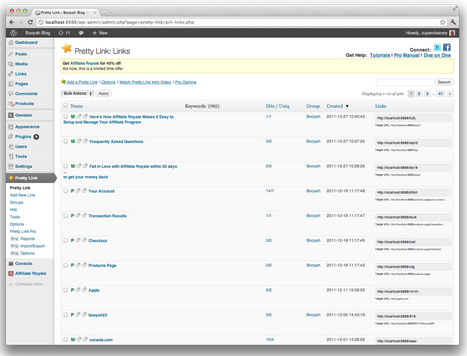 7. Akismet – If you have ever downloaded WordPress, you know what the Akismet plugin is all about: fighting against comment spam.
By checking comments against the Akismet Web service, the plugin intercepts spam, allowing you to review each comment through the "Comments" section admin screen.
Additional features include:
Status history attached to each comment, allowing you to see which ones were caught by Akismet and which ones were moderated.

Moderators can review the number of approved comments by user.

URLs are displayed in the comment body.
Last, but certainly not least, is a discard feature that blocks the most egregious spam.  This speeds up your site and saves space.
All in all, Akismet is the top comment spam plugin because it does all the dirty work for you.
8. Google Analytics by Yoast – Yet another plugin by Yoast, this one is exactly what it sounds like.
You never again have to install Google Analytics the "hard way." You can now use this plugin to install tracking in seconds.
And then, the real fun starts. You can review metric dashboards via your WordPress dashboard, saving you the time of jumping between your blog and your Google Analytics account.
There are also a few other high level features, such as:
Download tracking.

Outbound and internal link tracking.

Option to enable demographics reports.
Google Analytics by Yoast is fast, accurate and easy to use. This is why it has been installed more than one million times.
9. TaskFreak – Tasks, tasks and more tasks. This is what your day as a marketer is all about.
If you need help managing tasks for yourself and/or a group, this plugin could be the answer to all your challenges.
TaskFreak gives you the option to create projects, add tasks and assign them to individual users. Even better, there are features for discussing tasks, adding attachments and providing status updates.
This isn't one of the most well known plugins for marketers, but it's one of the most useful from a task management point of view.
TaskFreak is full of features, mobile friendly and compatible with all WordPress themes. Marketing professionals have a lot on their plate and staying organized is a must. As a free plugin, this one is worth your consideration. It may be the secret to staying organized and improving production and efficiency.
10. OptinMonster – More than an interesting name, OptinMonster is geared towards WordPress users who want to grow their email list by converting visitors into subscribers.
If you don't have an email marketing solution in place, this plugin is a good place to begin your journey.
An easy to use form builder allows you create beautiful forms to boost your conversion rate. Adding to this, you have the ability to create many types of forms, including:
Pop-ups.

Footer bars.

Floating headers.

Sidebar forms.

After post forms.

Welcome gates.

Scroll triggered boxes.
But, there is even more to like about OptinMonster. All of the forms are mobile friendly and responsive, increasing your chance of capturing smartphone and tablet users.
Some people believe email marketing is dead, but this isn't true. Use OptinMonster to harness the power of this marketing strategy.
11. Wordfence – There is no quicker way to kill your marketing momentum than to have your WordPress website hacked. This is a problem on many levels, including the time and money it can cost to get back up and running, not to mention the impact it can have on your search engine rankings.
Wordfence is a WordPress plugin designed to protect your website from malware and hackers.
It has more than one million active installs, approximately 2,500 five-star ratings and an overall rating of 4.9 out of 5 stars. In other words, it works.
After downloading and activating the plugin, it scans your site to see if it's infected. If everything checks out, it secures your website and improves efficiency and speed through a variety of measures.
Other features include:
Blocking features.

Login security.

Security scanning.

WordPress firewall.

Monitoring features.

Multi-site security.

Caching features.
Marketers don't have the time or desire to deal with security concerns. Using Wordfence will put your mind at ease.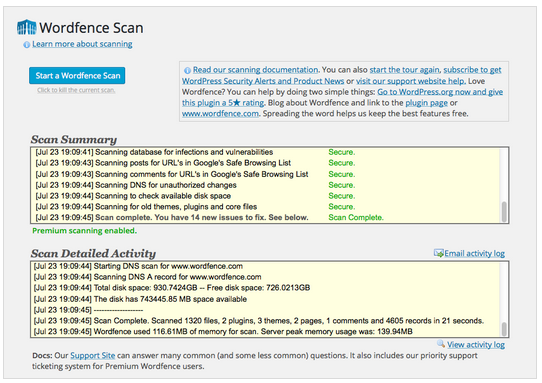 12. Contact Form 7 – Engagement comes in many forms. From blog post comments to social media sharing, you should set the goal of boosting engagement in any way possible.
Another form of engagement is direct contact with your readers via email. This often starts with somebody making contact through your website. This is where the Contact Form 7 plugin helps.
With this, you can add multiple contact forms to your website, all of which can be easily customized to suit your layout and audience.
Another plugin with more than one million active installs, Contact Form 7 is one of the leading free form creators for WordPress.
Pro tip: the plugin has support for Akismet and CAPTCHA.
13. WordPress Landing Pages – The name of this plugin is a bit misleading. It's not because it doesn't help you create landing pages, but because it does so much more than that.
In addition to creating beautiful, functional landing pages, it can also be used to monitor conversion rates, run split tests and customize your own designs.
With a visual editor, you can view changes as they are made. Also, there is a clone feature that makes for easy A/B split testing on variations.
From beginners to experienced designers, the WordPress Landing Pages plugin has something for everybody.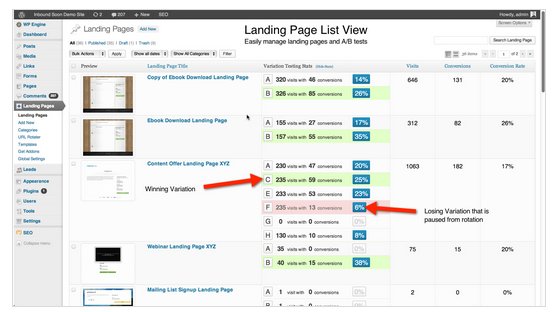 14. SEO Friendly Images – Content, content and more content.  It's important to publish high quality, unique content as often as possible. But, you also need to understand the importance of using images.
The SEO Friendly Images plugin is described as follows on its official download page:
"SEO Friendly Images automatically adds alt and title attributes to all your images improving traffic from search engines."
It's not good enough to add images to your blog posts. They need to be optimized for search engines, such as by adding the appropriate alt and title attributes.
If you often overlook this detail or you don't know what to add to each image, this plugin takes all the guesswork out of the process.
With this plugin, you never again have to worry that your images are anything less than SEO friendly.
15. Yet Another Related Posts Plugin – When somebody visits your website, you want them to stick around for as long as possible. This often comes down to one thing: pointing them towards other content of interest.
This plugin will display a list of related posts, giving readers the option to visit related content before leaving.
With a powerful algorithm driving the plugin, you don't have to lift a finger. Your job remains the same: publishing high quality content on a regular basis. You can rely on the plugin to do the rest.
There are a variety of standard features, such as:
Thumbnail or list view.

Templating for full control over how your results are displayed.

Customizable algorithm to match the needs of your website and audience.
The Yet Another Related Posts plugin has more than 300,000 active installs, with an overall rating of 4.1 out of 5. It's definitely a keeper.
16. WordPress PopUp – Pop-up and pop-over advertisements are not what they used to be. They are not the annoying pop-ups of the past.
Using this plugin, you can create customized, attractive and responsive pop-ups and pop-overs, all with the goal of providing your readers with additional information. For example, you can use one of these to push your latest information product or grow your email list.
With an intuitive interface, the perfect design is only a few clicks away. Add this to controls for when pop-ups appear and you have a plugin that gives you the flexibility and power you need.
17. Click To Tweet – In the world of simple yet effective plugins, Click to Tweet is king.
This tool allows you to create "Click To Tweet" boxes anywhere in your blog post, making it simple for readers to share on social media.
Maybe you'll implement one box per blog post, or maybe you use a few. This is based on preference, content type, length and, of course, how your audience will respond.
If you want to give your Twitter marketing a shot in the arm, the Click to Tweet plugin could be your secret weapon.
18. Fancier Author Box – How do you end your blog posts? Do you have an author box? If not, now is the time to add one. Doing so is simple with the Fancier Author Box plugin.
With a few clicks, you'll have an attractive author box setup. You can add a headshot, content, social media buttons, URLs and much more.
One of the top benefits of this plugin is the easy to use dashboard. You don't need much WordPress experience to figure it out. Even better, no design experience is required.
It doesn't matter if you have a single author or multi-author website, this plugin can meet all of your author box needs.
19. Blubrry PowerPress Podcasting – If starting a podcast is in the cards, you have found the WordPress plugin to power your strategy.
Known as the top podcasting plugin for WordPress, you can use its many tools to bring your podcast to the world.
For those who are new to podcasting, the plugin has a "Simple Mode" that will put you on the right track. Getting started is as easy as following these three steps:
Use only the essential settings to setup your first podcast.

Create your first episode with the help of many high level tools.

Submit your podcast directly to iTunes and Google Play (among other services).
Podcasting can be a seriously effective marketing tool, when done right. Getting started is as simple as downloading the Blubrry PowerPress Podcasting plugin and following a few basic steps.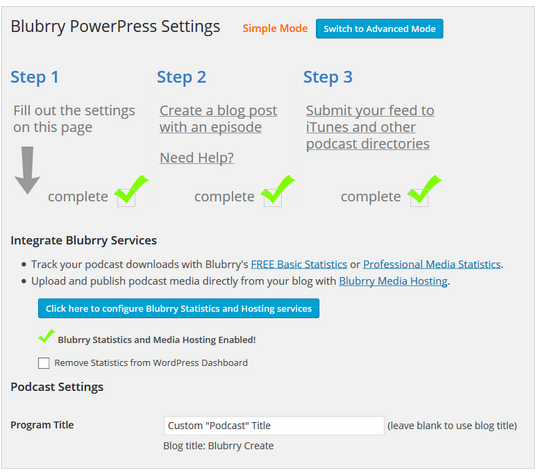 20. Editorial Calendar – WordPress does a lot of things right, but it's not always user friendly when it comes to scheduling and managing content.
Did you write a post for next week? Did you schedule that guest post for the right day? When you rely solely on built-in WordPress features, these questions are not always easy to answer.
Enter the Editorial Calendar plugin. This tool gives you an overview of your content, including when each post is scheduled to be published.
You have the power to edit posts in the calendar, drag and drop to different dates and manage multiple authors.
Even if your blog is a "one man show," this plugin can do a lot for you in terms of efficiency, organization and management.
21. W3 Total Cache – A popular tool with loads of active installs, the W3 Total Cache plugin will improve the performance of your blog.
Here is a basic description of the plugin, as shared on its official download page:
"Easy Web Performance Optimization (WPO) using caching: browser, page, object, database, minify and content delivery network support."
User experience is more important today than ever before. With this plugin, you are taking a big step towards improving user experience, while also boosting the speed of your website.
From increasing server performance to reducing download times, W3 Total Cache will take care of many details that can have a hidden impact on your marketing success.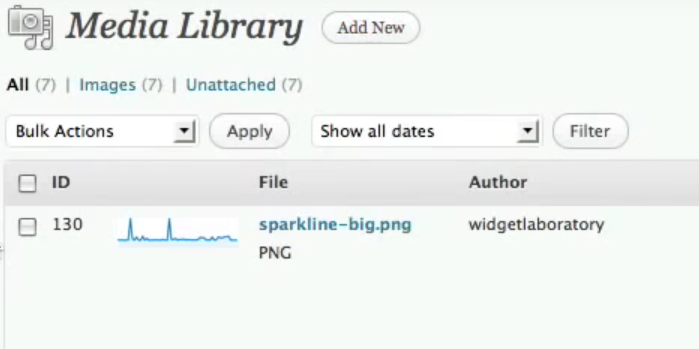 22. Floating Social Media Icon – Social media marketing is a powerful way to spread your message.
This plugin makes it simple for users to share your content on more than 20 popular social media platforms.
You can customize the tool to suit your needs, taking advantage of features such as:
Easy to customize on the go.

Support for 20+ social platforms.

Automatic integration.

Shortcode support.

Less load time.
Don't make your readers work to share your content on social media. Use this plugin to give them a nudge in the right direction.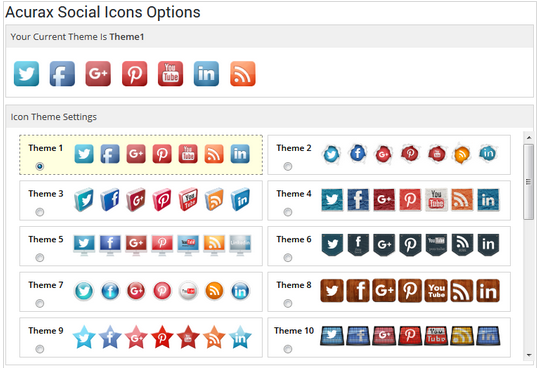 23. Title Experiments – Mastering the art of exceptional (and high converting) blog post titles is never easy. You can improve in this area by using the Title Experiments plugin.
This plugin allows you to easily test your titles and discover what will pique the interest of your audience. This results in more clicks, more engagement and more revenue.
With the help of the Title Experiments plugin, A/B testing blog post titles has never been easier. You can experiment with many variations until you find the one that provides the best chance of top notch results.
Conclusion
Getting started with the WordPress platform is half the battle. From there, it's time to customize your experience through the implementation of plugins.
Hopefully, after reviewing these 23 free WordPress plugins for marketers, you have a better understanding of how powerful this content management system truly is.
Maybe you are starting a personal blog. Or, maybe you are taking your company's blogging strategy to the next level. Regardless of why you are using WordPress, there are plugins that provide assistance from a marketing perspective.
Do you have experience with any of these plugins? Which ones do you consider the absolute best? Would you add any others to the list?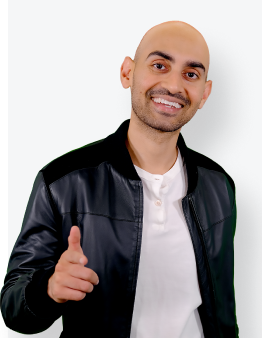 See How My Agency Can Drive More Traffic to Your Website
SEO - unlock more SEO traffic. See real results.
Content Marketing - our team creates epic content that will get shared, get links, and attract traffic.
Paid Media - effective paid strategies with clear ROI.
Are You Using Google Ads? Try Our FREE Ads Grader!
Stop wasting money and unlock the hidden potential of your advertising.
Discover the power of intentional advertising.
Reach your ideal target audience.
Maximize ad spend efficiency.