It's such a nice feeling.
You're seeing a continuous rise in your email subscriber count and your blog is ranking for new long tail keywords and your search engine rank is increasing every month and you're getting one natural link after another…
Until one day…
When you open your website analytics…
To find a tremendous dip in your traffic.
You feel shattered.
And frenzied.
And so you come up with a number of possible scenarios.
Maybe it's duplicate content. Or maybe the Penguin update has changed something else again. Maybe the content you thought was high quality and relevant was interpreted as keyword-stuffy and fishy by the search engine giant. And what's been said about anchor text and exact match and site explorer and…?
Then, you pause, breathe, and decide to really investigate the issue.
After flipping through some articles on the possible reasons for traffic drop, you realize that you might've been hit with a Google penalty.
You quickly log into webmaster tools (which you haven't checked for a while).
Bam!
You feel dreadful to receive this unnatural links message.
"Google has detected a pattern of artificial or unnatural links pointing to your site."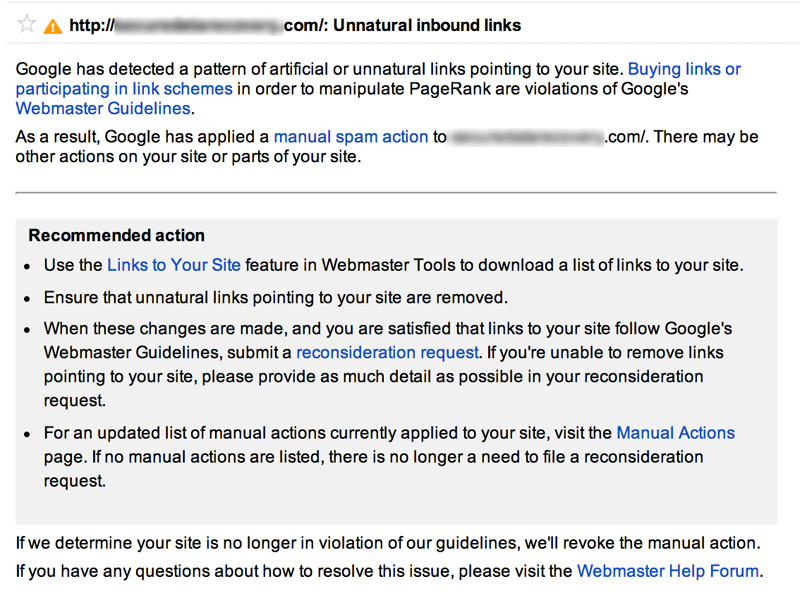 Maybe the links that you bought months ago to elevate your search rankings have come back to haunt you?
But, if that's not the case, maybe something else is happening.
A competitor has built (thousands of) spammy backlinks to hurt your website. Negative search engine optimization is real and it's more common than you think.
Every month Google initiates more than 400,000 manual actions against websites as per Matt Cutts, head of the search engine giant's webspam team.
And Google processes 20,000 reconsideration requests from webmasters every month.
It's a sad reality that if your website traffic has disappeared, you're going to lose some revenue; that you may have to join the legions of others by crafting a reconsideration request.
What's even more painful is that the road to recovery is a long one. Google processes less than 1 reconsideration request for every 20 penalties. And after filing a reconsideration request it takes about 4 weeks to hear back from Google.
You should not panic and get frustrated.
But you should take immediate action.
The brighter side of the picture is that only 5% of webmasters actually attempt to recover from a penalty.
So if you're reading this article, you belong to the elite class.
I want to share 11 tools and strategies to help you recover from link penalties and think about the importance of consistently doing a link audit in the future. These strategies will help you to stay in the safe zone.
But before we look at the tools, let's begin with understanding the different kind of link penalties you can accrue. 
Two types of penalties caused by bad backlinks: Unnatural links (manual) and Penguin (algorithmic)
Google wants to serve the best quality content to its users that solves their queries. So, if the search engine giant finds that you've tried to manipulate its search rankings and violated its webmaster guidelines, they'll take action against your website.
Before we get into the two kinds of penalties caused by spammy backlinks, I want you to remember these 2 important pointers.
1. The recovery of your website's traffic (after a penalty) will rarely cross 60-70%. Don't expect to regain your original organic traffic especially if you haven't built high-quality backlinks. This brings me to my next point.
An example is Portal Programas. They recovered 65% of their traffic post a Google Panda 4.0 penalty.
2. Not only should your website's link profile be cleaned up, but for regaining authority in Google's eyes, you've got to possess a good natural base of backlinks (that was lying underneath your bad backlinks).
The reason is that even the bad backlinks initially contributed to your site's rankings in SERPs. So you need to launch a fresh link building campaign to replace the spammy backlinks with new and high-quality authoritative backlinks.
I hope those pointers set a clearer expectation of what happens once you've been hit by penalties.
Now let's look at the two kinds of link penalties. Understanding the reasons behind them will allow you to fix your traffic drop.
1. Penguin Penalty – Back in 2011, links from article directories, blog comments and link networks worked nicely to elevate a website's rankings.
In April 2012, Google released the Penguin update, which discounted all these link building strategies.
It affected about 3% of the queries at that time. And it has only got smarter and more sophisticated over time.
So what are the link patterns that can get your website penalized?
It's mostly these 3 factors – link quality, link velocity and link diversity.
Penguin only affects those specific pages on your website that have bad backlinks. You'll experience considerable loss of search visitors only if the penalized pages were contributing a substantial chunk to your website's overall traffic.
So how do you identify if your website has been strapped with a Penguin penalty?
It's tricky because you aren't presented with a clear message.
The only way to recognize the penalty is by matching the date range of your traffic drop with the date when Google announced the algorithm release (the penguin algorithm is big and runs for several weeks).
As an example look at the traffic drop of Niche Pursuits in September 2014 after getting hit by Penguin (due to building links from private blog networks).
Later in the article, I'll share a Moz tool that reports Google's algorithm update releases.
It's relatively difficult to recover from Penguin. After you've taken corrective action, you'll have to wait until the algorithm is run again – sometimes as long as 6 months.
2. Manual Penalty – They're as ruthless as Penguin, but easier to detect.
So how do you get hit with a manual penalty?
Maybe you're buying a lot of links that pass Page Rank or you're participating in link schemes.
Google employees suspect unnatural link patterns and review your website. They find that you're violating their quality guidelines. And they strap you with a manual penalty.
Here are the most common reasons that lead to manual penalties.

And here are the 3 common manual actions (messages) that Google initiates against your website.
As you can see from point number 3 above, even unnatural outbound links from your website can get you penalized.
Matt Cutts and Sandy share recommended actions if you get this "unnatural links from your site message."
If you're hit with a manual penalty, you'll receive a message similar to the one below in your webmasters account.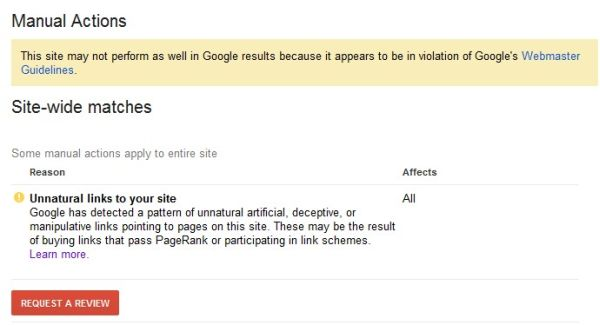 The manual penalties can be site-wide: meaning they impact your entire site.
Or, the penalty might be a partial match penalty that impacts only certain URLs and sections of a website.
To get a manual penalty lifted, you need to file a reconsideration request after taking corrective action.
It might take only two months to recover from a manual penalty, but your website won't regain the trust of Google's algorithm immediately. That will take more time, probably a lot more time.
Now that you understand the rubrics of link penalties, in the next section we'll look at the tools that'll help you in recovering from them.
11 tools to help you combat and prevent link penalties
As a webmaster, there are so many roles you're expected to play on a daily basis:
Blogging, marketing, designing, debugging websites, monitoring website analytics, planning for the next month and much more.
You know what's even more taxing?
Finding that you've been hit with a link penalty and having no clue how to fix it.
Don't panic. Here are 11 tools to combat and prevent those link penalties from happening again.
1. Majestic SEO – This is an intelligence tool that'll provide information about your website's traffic, perform a competitor link analysis and conduct regular link audits of your website.
To get started:
You just need to plug your domain URL, choose either fresh index (updated daily and includes data from the last 90 days) or historic index and click on the search button.

Note: For investigating your website, I would recommend that you use historic index. Google can and will also penalize your website based on historic data.
You can access a lot of information about your website on the summary page tab.
You'll get a backlink history chart like the one below.

Then there are charts for your anchor text distribution.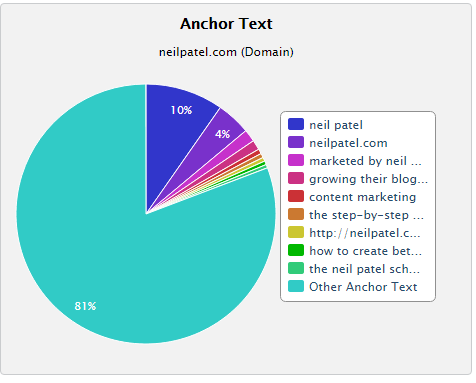 And a breakdown of your backlink composition – frames, text links, redirect and images.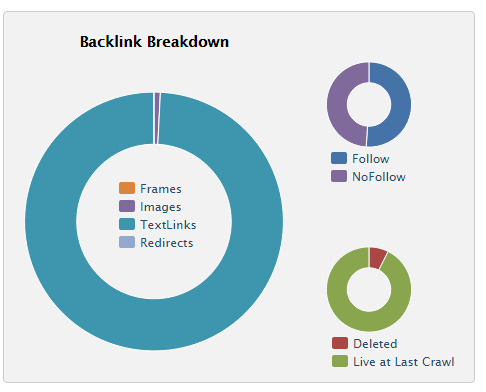 You'll also see a page-level analysis with backlinks and referring domains data on your top pages.
If you want a deeper analysis of a specific metric, than you can head over to that section. Here is the anchor text report of NeilPatel.com.

Two important metrics used by Majestic for identifying the quality of a link are – trust flow (the proximity of links to trustworthy and authoritative sources) and citation flow (essentially link juice).
Here is a detailed explanation by Adam on the trust ratio (= Trust Flow / Citation Flow) of a website.
Let me share a couple of websites with good and bad trust ratios.
First the good website with a trust flow of 68 and citation flow of 54.  
Its trust ratio is equal to 68/54 = 1.259
So this website has links from authoritative and trustworthy domains. It'll be great to get a link from it.
Here is a second website built using 'spammy' practices.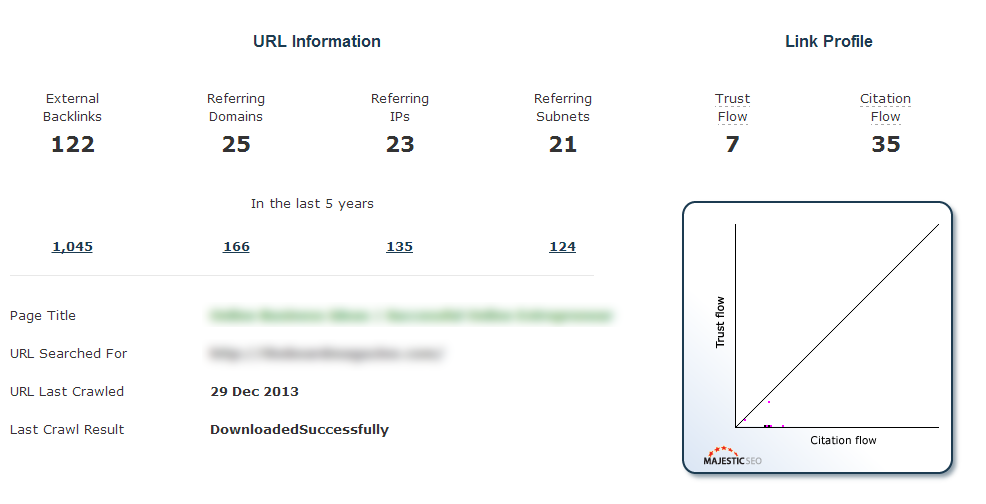 The website has a fairly low trust ratio (7 / 35 = .2)
You're better off without a link from this website.
As you can see, Majestic is easy to navigate and will quickly detect any anchor text over-optimization issues and spammy websites linking to you.
But I want to share 2 specific examples of how it's useful during link penalties.
Case Study 1: Dixon Jones sorted the backlinks for his website based on anchor text and found 50 domains linking to him using the anchor text "pandaranol stats."
Then he filtered the backlinks with the anchor text "pandaranol stats." And he was surprised to find that all the links originated from one article that was picked up by a popular RSS feed.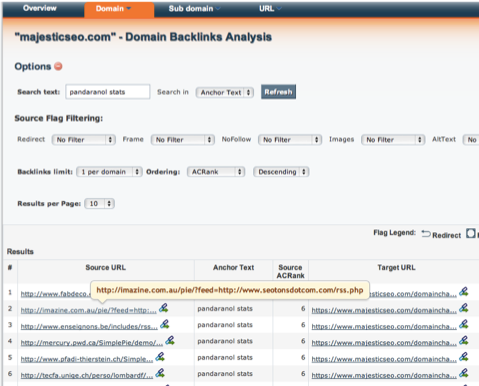 If those links were hurting his rankings, then Dixon did not need to get in touch with 51 website owners.
He found a smarter solution by getting to the root of the links using Majestic…
Getting in touch with the RSS feed owner.
Case Study 2: Sante Achille's client website got unwarranted attention from Google and got hit by penalties because of the unnatural bursts in link growth.
Here is a snapshot of the backlinks discovery panel in Majestic.
As you can see, there are two major bumps – 2008 and 2010.
Sante explains how an accidental "network" of penalties led to these growth spikes and triggered automatic penalties.

The next step Sante took was reporting some websites via the webmaster tools. But their request for inclusion was rejected by Google.
Even after repeated trials, the penalty wasn't lifted from the website. And it led to serious loss of traffic.

Performing a link-by-link review would have been tedious. So Sante decided to review the backlinks to the client's website based on Majestic's citation flow value.
Soon enough she found two suspicious websites with hidden links. And she was able to partially recover the website.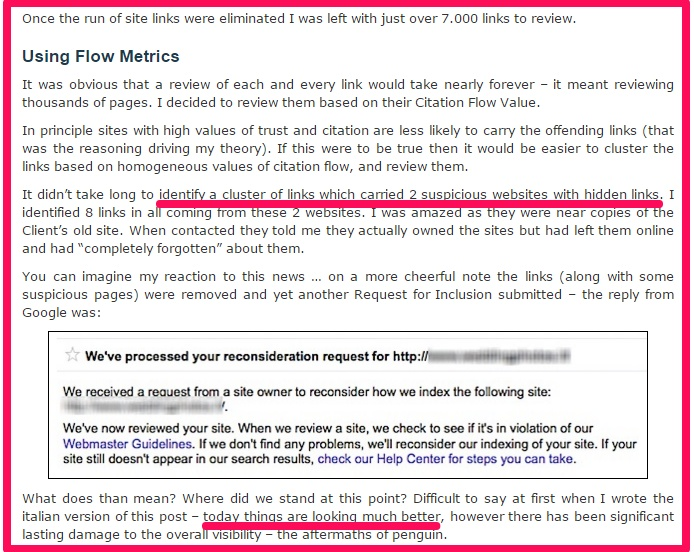 You can perform a basic analysis of a website by creating a free account. To access all the functions and the massive library of the tool, you'll need to buy a premium subscription.
2. Ahrefs – This is another link analysis tool with a large database of links that are updated regularly.
You just need to plug your URL into the tool and get your inbound links report.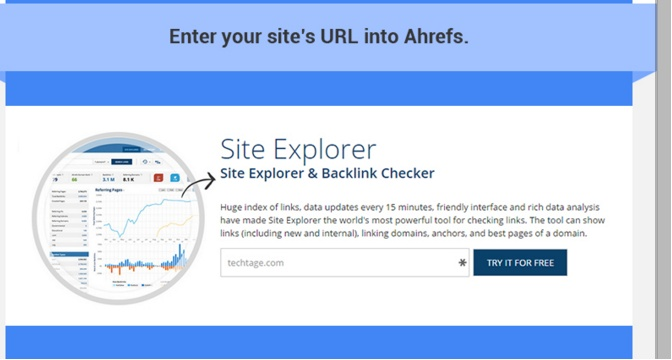 In the report, you can sort the backlinks by their Ahrefs rank (or domain authority).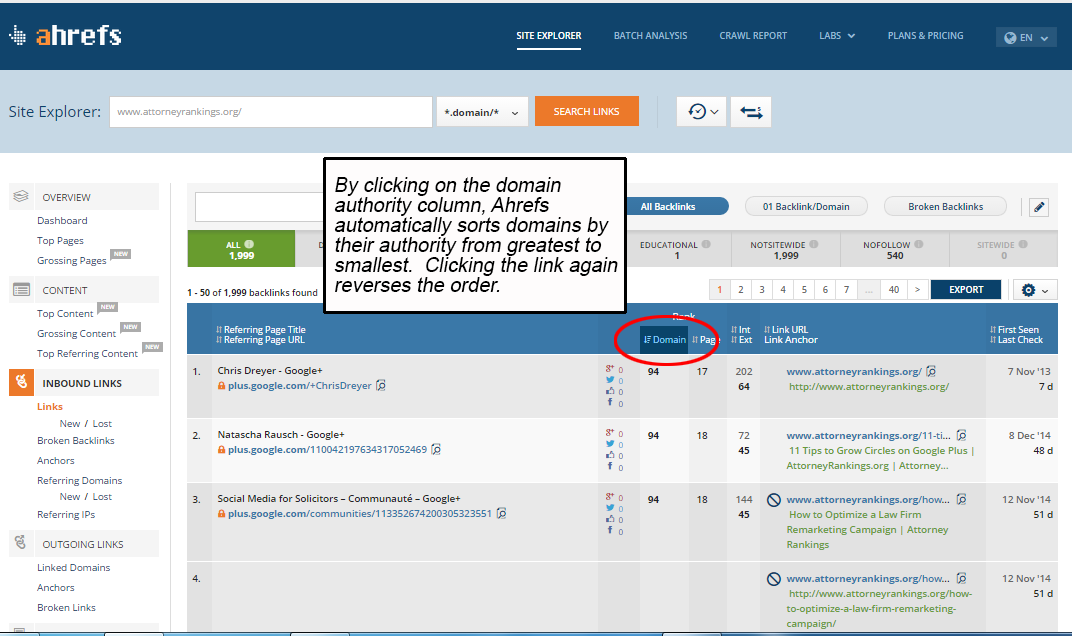 Or sort them by their anchor texts.
Ahrefs also has nifty filters to segregate site wide, nofollow and do follow links.

So how can you use the tool to identify if a backlink is toxic?
The first step you can perform is to use the links function to find all the new links acquired by a site.

You can even find the recent performance changes of your website in SERPs – the keywords for which you gained and lost traffic.
In case you suspect hundreds of links from a link network having the same IP range, you can check the referring IPs tab under Inbound links.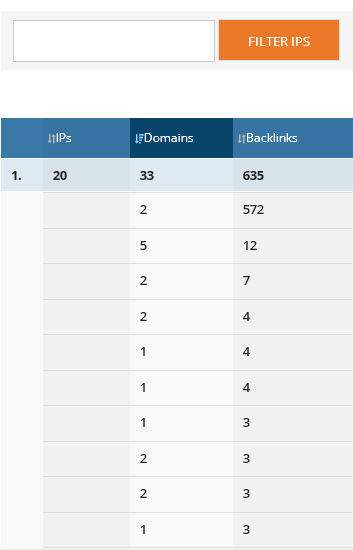 If you discover a bad backlink, Ahrefs even has a disavow tool to disavow links.

You just need to sync your webmaster's account with Ahrefs.
You can even conduct a bulk upload of bad backlinks by creating a text file mentioning them and using 'Upload Disavowed Links.'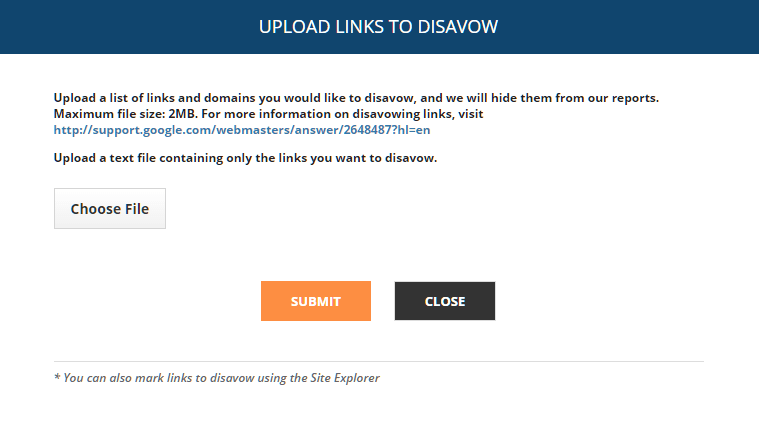 Warning: Google expects you to contact webmasters for removing the bad backlinks before using the disavow tool. So don't go on a disavowing spree on every suspicious backlink. And always take some corrective action before using the tool.
The basic features like backlink profile and recent changes in your SERPs are available in the free version (with daily limitations). But you'll need a premium subscription to effectively use all the features of the tool.
3a. Google Webmaster Tools – This is a powerful free tool that acts as a communication medium between Google and webmasters.
It is the ultimate destination for you to understand how Google is viewing your website.
When signing up, you need to first verify that you're the owner of your entered website.
Once verified, you'll see a dashboard with important information about your website.

The 'Site Messages' section is the place where Google informs you about any website errors, spam actions and security vulnerabilities on your website.
You can set up a daily digest of the messages received or set up notifications whenever malicious activity happens on your website (even for manual penalties).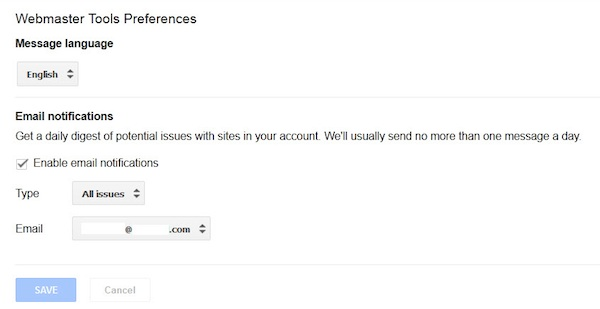 On the search traffic tab, you'll get an overview of the traffic driving keywords and your overall search visibility.
If you've been hit with a site-wide or partial match penalty, you'll be notified about it in manual actions.
Lastly, you can also check and download 'links to your site.'  The links aren't frequently updated, so you will not see all of the backlinks to your website here.
Curious how Google crawls your pages?
Then use 'Fetch as Google' feature. It'll simulate how Google renders your website's URL.

On pressing the fetch button, you're presented with the HTTP response and other data about your website.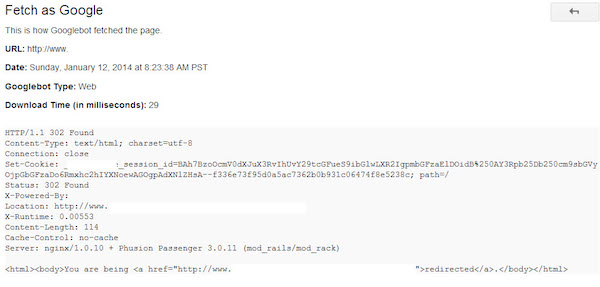 3b. Google's Disavow Tool – The most important feature in Google Webmaster Tools for link penalty recovery is "Disavow backlinks."
So, it deserves a separate mention.
You cannot directly submit a website through disavow.  First, you need to show Google that you're serious about cleaning your link profile.
So, once you notice that you've received a spammy backlink, you should first request that the webmaster of that site remove the link to your website.
If after a couple of emails, your efforts are unsuccessful, then you can disavow links using this 3-step method.
The first step is to download all the backlinks to your website.

Next you need to create a text file containing the links you want to disavow. Here is an example structure you need to follow.

Finally you need to upload the text file using the disavow tool.

As you saw already, some tools like Ahrefs can connect with webmaster tools and allow you to disavow from within the tool.
Here are 3 additional tips on how to use the disavow tool effectively.

4. Google Analytics (GA) – This is another powerful free tool by Google for monitoring your website's traffic and overall health.
First ensure that your analytics tracking code is installed and tracking your website properly.
Just head over to the admin area and choose your account and property. Then, click on Tracking Info > Tracking Code.
Ensure that the Javascript snippet (tracking code) matches the code for each page on your website.

The tracking ID is in the format UA-XXXXXX-Y. The first set of X refer to your account number.

And Y refers to your property number.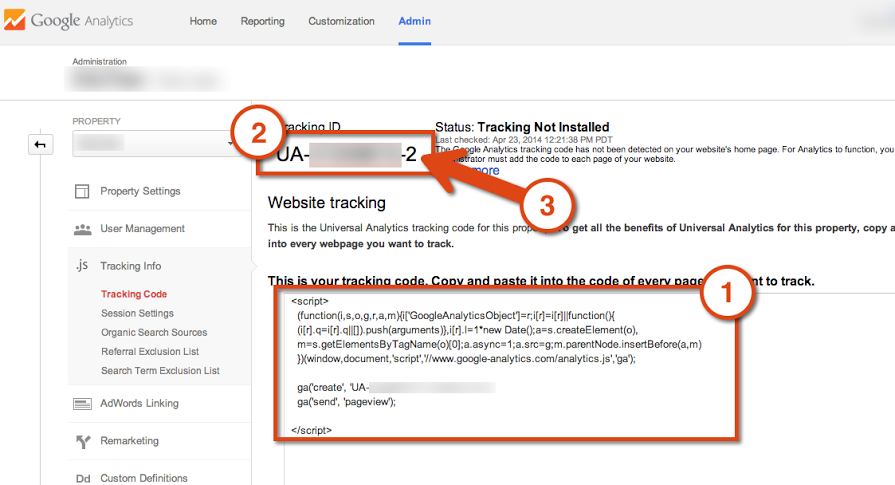 If you hired an SEO Agency and now suspect that they use a shady link network for building your backlinks, then the UA-code can come in handy.
You can plug in a back-linking website's UA code at Domainiq.com/reverse_analytics and find out if any other websites are using the same Google Analytics ID.

Here are the results for Google® AdSense ID UA-5620270.

If there are other spammy looking websites with the same Analytics UA, you can instruct the SEO Agency to get the links to your website removed from the link network.
GA can also come in handy to check if your website has been hit with Penguin.
If you find a substantial drop in your organic traffic (under search console) like the graph below.

And you haven't received a message in your webmaster tools account, then:
You've probably been hit with an algorithmic penalty.
You can use the next tool on the list for matching Google algorithm release dates with your traffic drop.
5. Moz's Google Algorithm Change History and Fruition – If you've been hit with a manual penalty, you will get a message in your webmaster's account.
But you won't be notified if an automated algorithmic update hits you (big or small).
This Moz resource comes to your rescue.
It can help you diagnose algorithmic issues.
You just need to match dates ranges of your organic traffic drop with algorithmic updates.
But the resource only includes the updates that are announced officially. Speculated unofficial updates are not a part of it.
For gauging major SERP ranking turbulence and sneaky updates, you can log on to Mozcast.
"The hotter and stormier the weather, the more Google's rankings changed."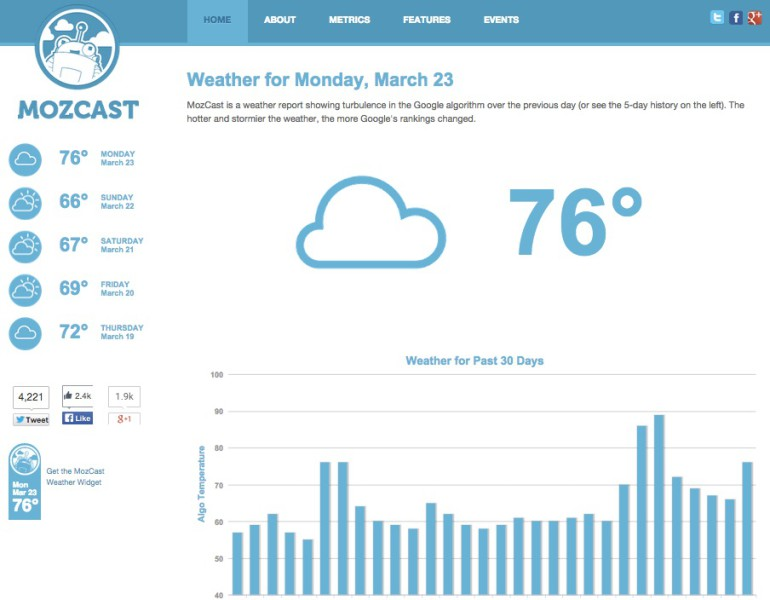 Finally if you don't want to do a manual cross check, you can plug your website url into Fruition's Google Penalty Checker tool.
It connects with your GA account and analyses your data against Google's updates to check how they affected your website.
You'll see a chart like the one below indicating positive, negative, extremely negative, or no impact.
6. WebMeUp Backlink Checker – Are you looking for a free backlink profiling solution with a user-friendly UI?
Then WebMeUp is the perfect tool for you.
It has a comprehensive index (although much smaller than Ahrefs and Majestic SEO) and its data is easier to understand than the other backlink intelligence tools.
Let's look at some of its features.
You get nice looking pie charts breaking down your backlink domains and IPs along with the percentage of dofollow links.  A natural link profile has both dofollow and nofollow links from varied sets of IPs.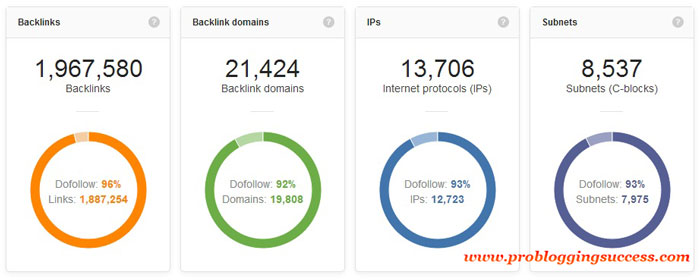 It delivers a simple pie chart of your anchor text distribution so that you can check for over-optimization issues.
You can also review the link distribution percentages by country (the majority of your links are generally from the country in which you work).
7a. Link Detox – If you've already been hit with a penalty, then you should buy a subscription of this specialized bad link removal tool.
Even if you're suspecting negative SEO attacks, you can use the tool to maintain a clean link profile.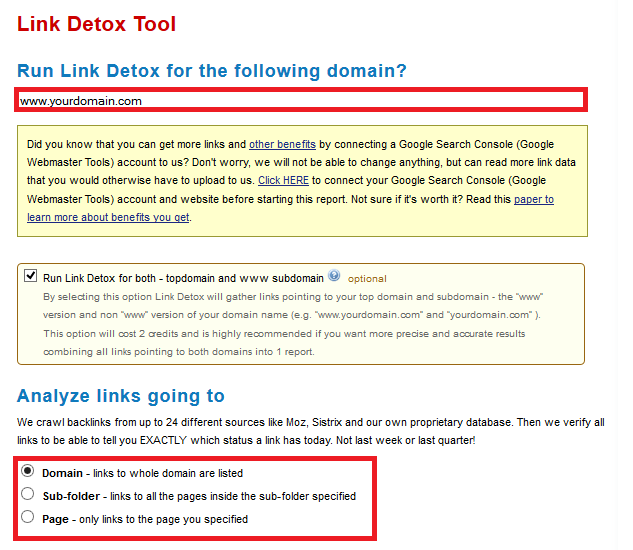 It shows a risk score for every backlink (pulled from 22 different sources) and classifies them into 3 categories – suspicious, healthy and toxic.
Although you'll need to manually investigate these links, the above report is a good indication of your overall link profile.
You can use the link detox screener to manually review each link.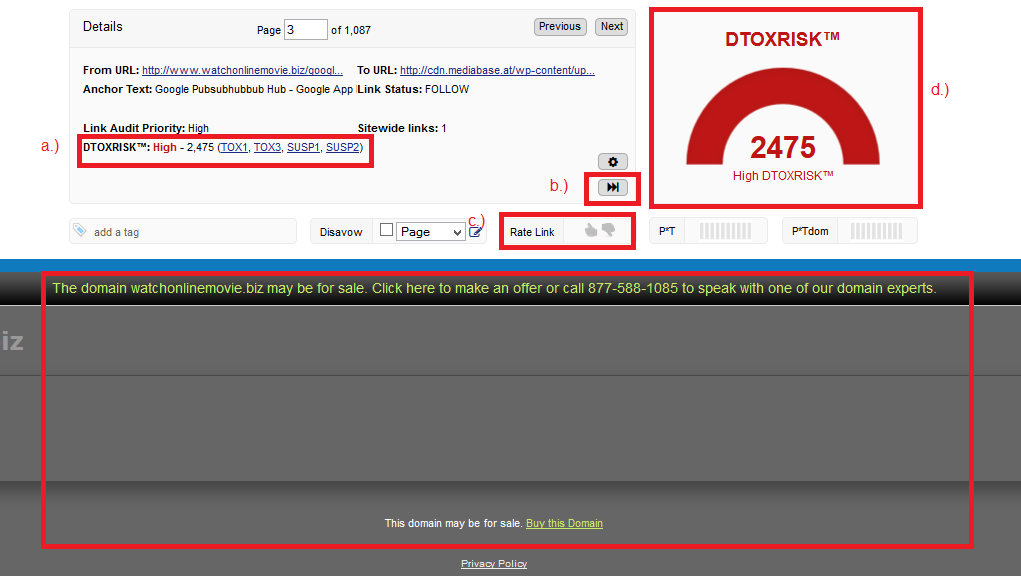 Let's look at a live analysis of a website – elearners.com.
As per SEOlytics, elearner.com lost 60% of its traffic due to a Penguin 2.0 penalty.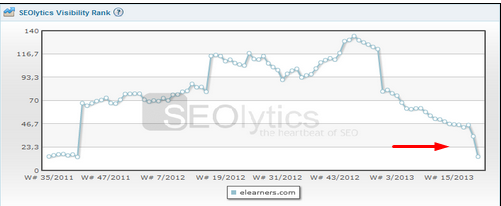 On doing an analysis with the tool, the average link detox risk of all the links was low.
But if we dive deeper into the link health breakdown, this is what we get.
That's right – 1.2% toxic and 36.2% suspicious links.
After further analysis of the backlink profile, we find that elearner.com is a part of a link network. And too many money-rich keywords have been used as an anchor text.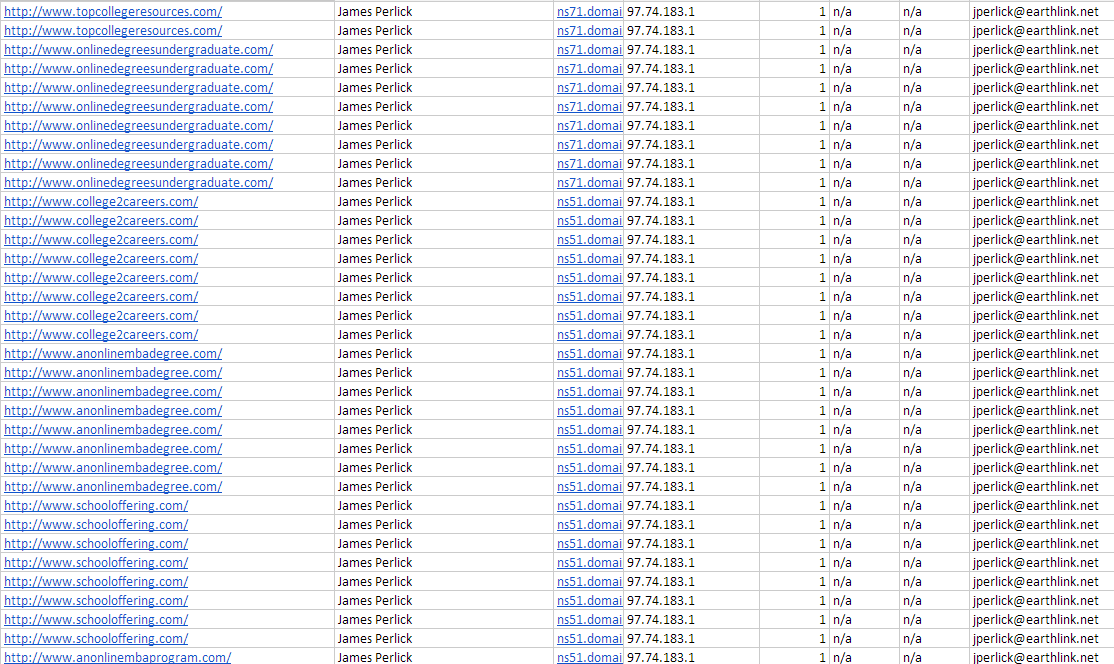 Overall, the link detox system is good, but you should be careful of its low risk links. Some spammy links also pass the tool's filter.
7b. Link Alerts – This tool is also a part of Link Research Tools.
As the name suggests, it sends email notifications when you (or your competitor) receive a new backlink.
Its link data is collated from 24 different backlink sources.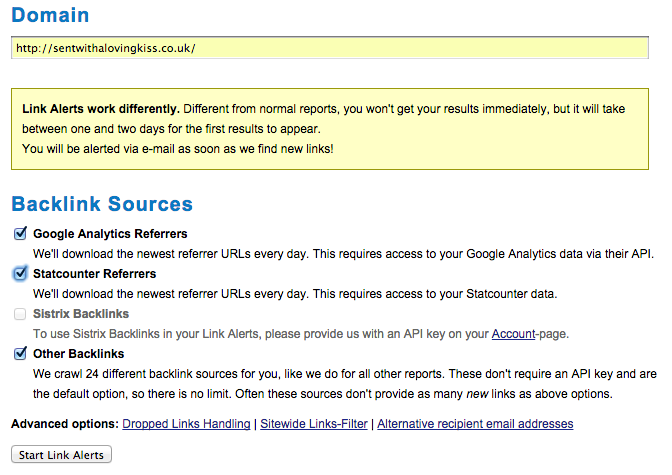 The email is like a summary with some example new backlinks your website received.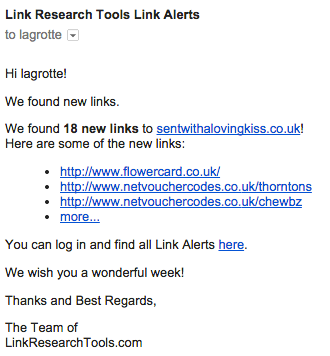 It also has a hands-off mode to detect link based negative SEO attacks.
8. Cognitive SEO – Another professional backlink analysis tool that identifies your links as unnatural, suspected or OK.
What is even more helpful is the tool's classification of links based on their origin and value: from press releases, forum, blog comments, and web directory.
It also gives visualizations to easily spot low-quality and high-quality inbound links.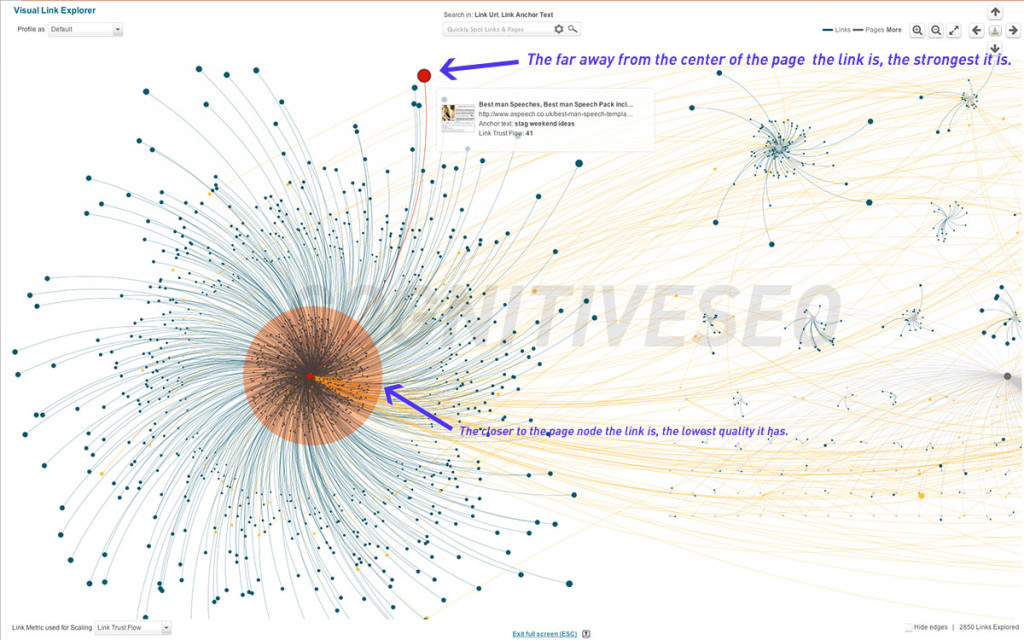 The tool can be very handy when you get hit with a penalty, because you can export unnatural links from a report directly into a disavow file.
Let's have a look at how link classification inside the tool can speed up your recovery from a penalty.
Manuel's website SmartLipo.com got hit with a penguin penalty.
He used the tool's 'unnatural links detection' option to create a report.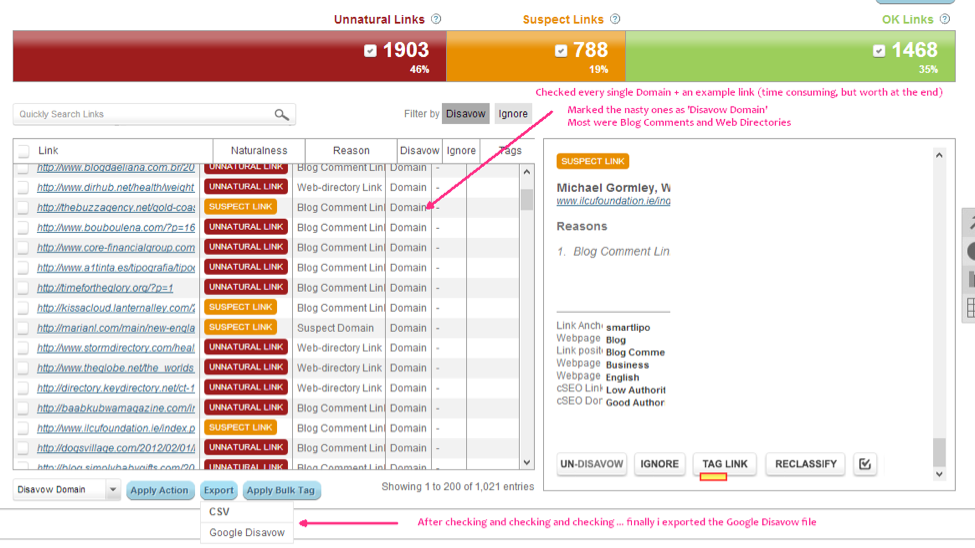 After having a second look at the suspected and unnatural links, he exported the links in a disavow file. And submitted the disavow file to Google.
In about 3 weeks, his website started to recover organic traffic.
9. BuzzStream – OK, so you've scanned link profiles of your penalized website and found hundreds of unnatural links.
The next step is the outreach, involving a lot of manual work.
But can you send link removal emails efficiently?
Meet BuzzStream – a CRM system that facilitates quick and efficient outreach.
It can record your prospects, send emails using templates and monitor the response rate of your pitches.
You can also personalize the email templates before sending them.
It even has a free email research tool to find anyone's email by generating a list of Google searches that are clickable and open in a new tab.
Oliver Carding used BuzzStream for outreach management in removal of unnatural links in his client's penalized website.
First he collated the details of his unnatural links (12,000 links from 693 domains) in a spreadsheet.
And added custom fields using the settings section.
Finally they imported their spreadsheet data into BuzzStream. And started outreach with the help of contact information pulled from contact pages and whois records.
They created an updated CSV file adding notes on websites whose contact information couldn't be found or that didn't reply.
After a couple of reconsideration requests, Google lifted the manual penalty from the client website.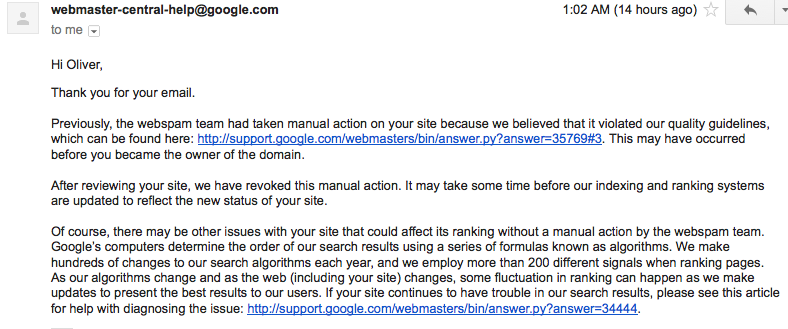 10. Rmoov – This is another brilliant tool to make your link removal email outreach efficient and scalable.
Here is a video tutorial of Rmoov to get you started.
And here is a glance at the functions of the domain editor.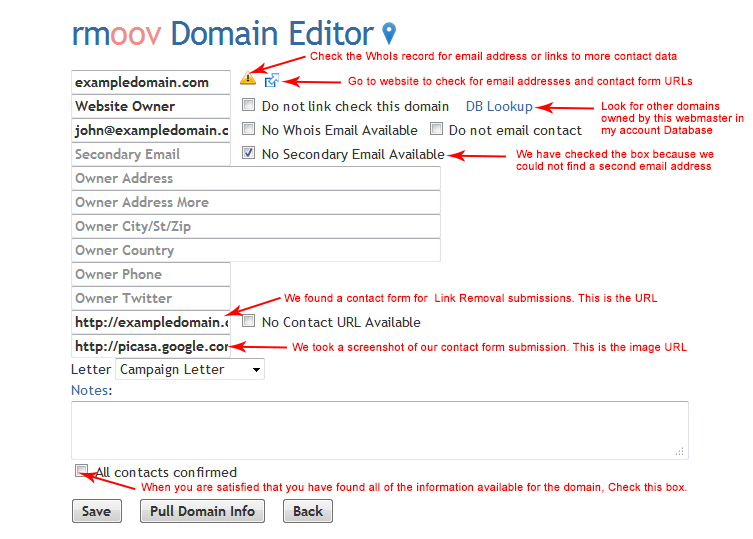 Once you add the list of toxic links, the tool pulls contact info of spammy backlink website owners and sends them automated requests (with follow up reminders). You can customize the email template if you want to.
The tool also keeps a record of the links that have been cleaned up. And once the outreach has been completed, it automatically generates a disavow tool.
11. Remove'em – This a link auditing tool that identifies bad backlinks by collating links from Moz, Ahrefs and Majestic SEO.
Once the tool flags bad backlinks, it automatically send emails with link removal requests.
Here is a tutorial showing how the tool works.
It monitors the responses and also generates a report. You can then submit the unremoved spammy links in a disavow file.
Conclusion
Link based Negative SEO campaigns can seriously hamper your search engine rankings and business.
That's why SEO businesses have started to shift from pitching website owners for building their traffic to recovering their traffic.
If your website has been hit with a penalty and experienced a drop in rankings, you might've received a mail like the one below.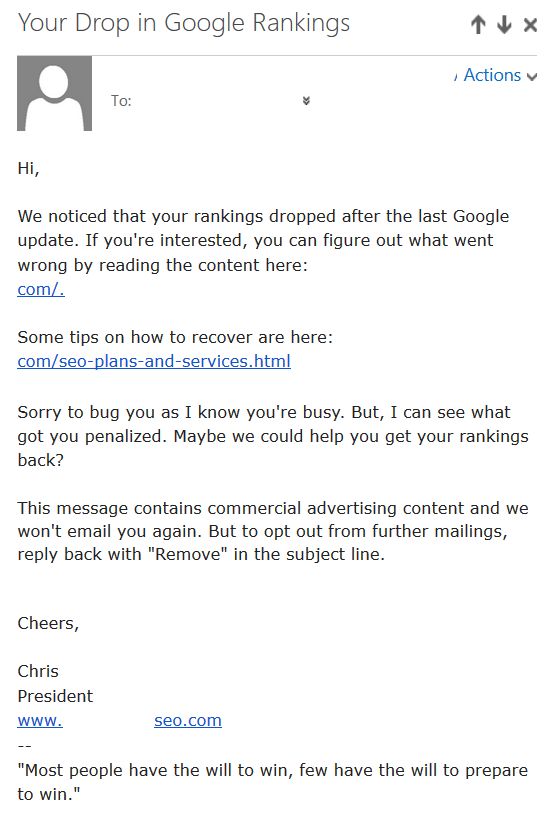 If you notice a large drop in site traffic, you need to take immediate action and conduct an immediate link audit. Don't lose those precious organic search leads, as they have a 14.6% close rate.
Based on your requirements, choose from the 11 tools I shared in this article. You'll be able to prevent a penalty or speed up your recovery.
Has your website ever been hit with a manual or algorithmic link penalty? What are the tools you use for keeping your backlink profile clean?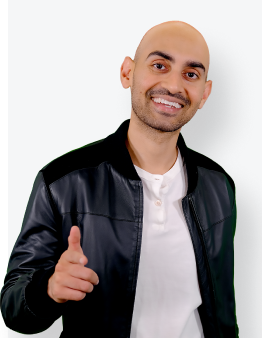 See How My Agency Can Drive More Traffic to Your Website
SEO - unlock more SEO traffic. See real results.
Content Marketing - our team creates epic content that will get shared, get links, and attract traffic.
Paid Media - effective paid strategies with clear ROI.