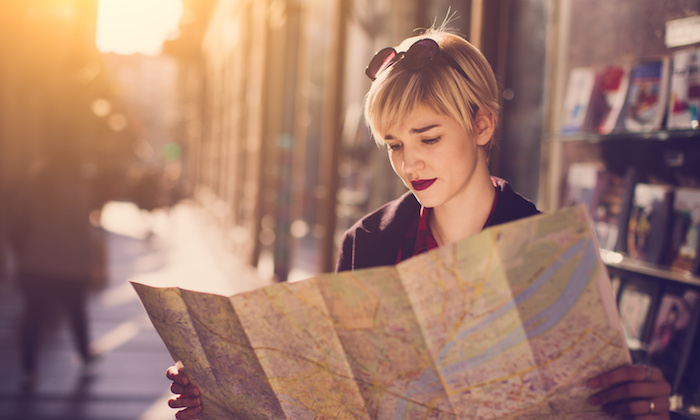 Google Maps marketing is one of the most intuitive, accessible local marketing opportunities available. It helps your customers find you just by searching via Google or their Google Maps
And if you want to succeed, you've got to get it right.
In this post, I'll teach you how to get started with and optimize for Google Maps marketing.
But first, why does Google Maps matter so much?
One-third of mobile searches are based on location.
Overall, local searches are growing 50% faster than overall mobile searches.
As of 2013, 70% of searchers used the "click-to-call function directly from the search engine result pages (SERPs).
Searches including the phrase "best place to buy" with the applicable product or service keyword grew by 70%between 2015 and 2018.
"Near me" searches also rose by 500% in recent years. These include searches like "car dealerships near me" and "wedding dresses near me."
Google also realizes that your business is 'special.' It released an algorithmic update, in July 2014, to favor local businesses for neighborhood-focused mobile device queries.
While there are local guide Android app platforms released, in this article, I'll focus on Google Maps marketing, paying special attention to the mapping app on an iPhone and iPad as well as any Android device.
The History of Google Maps 
Before we dive into the heart of Google Maps marketing, let's talk about where this local marketing tool came from.
Google Maps actually started as a C++ program at Where 2 Technologies. After making a series of company acquisitions, Google started its desktop web mapping service in 2005. Then. in September 2008, the Google maps mobile app was launched on Android.
Commuters widely use the application for navigation, street view, public transit information, and finding local businesses.  In 2013, the app was the most used smartphone app in the world.
I've written about local business marketing and local SEO before. While optimizing your website for Google search results is a good start, there's still a disparity between map and web search results. So, you might have to separately optimize your business listing in a local guide to appear higher in Google Maps results. Your site needs to link up to the mapping app via your API key.
Furthermore, you can also display your local inventory and purchase space to appear higher on the Google Maps results. Customers are also able to get real-time traffic times to reach you when you incorporate navigation app capabilities.
Let's get started with Google Maps marketing and drive qualified local traffic to your store even with walking turn-by-turn navigation if you choose.
Google Maps Marketing 101: Ensure All Citations Are Accurate and Optimized
The first step to making your business easier to find on Google Maps remains the same. Go to Google My Business and claim a listing for your business. This listing will appear in the search and map results. A site responsive to a mobile device will outperform one that isn't.
The verification process takes a few days, as Google wants to make sure you are who you say. They'll send you a physical postcard with a PIN. When you get it, follow the link, enter the pin and get to work.
Google emphasizes that the information you provide about your business must be accurate.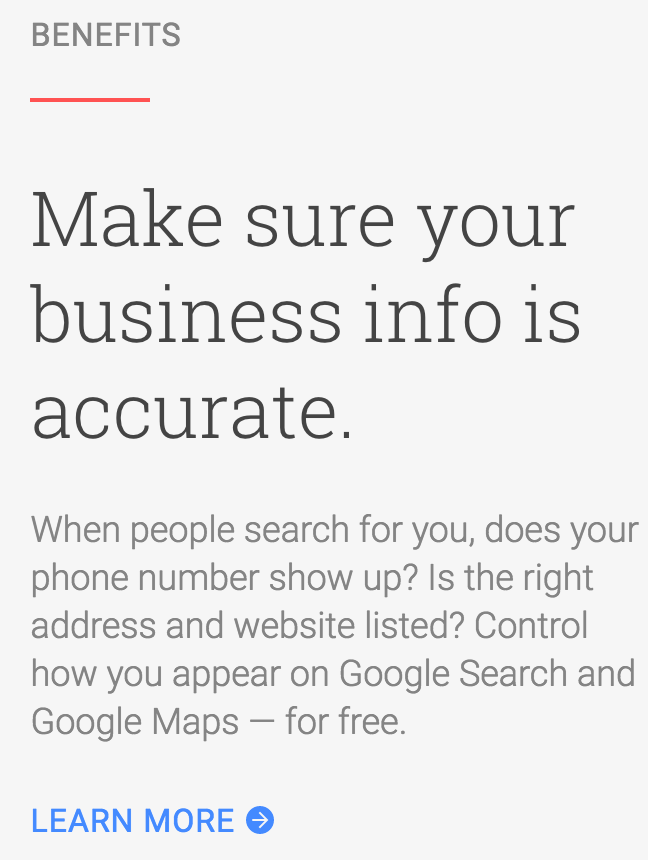 Google determines your business location and presents your listings in its results based on the presence and accuracy of NAP – Name, Address, and Phone number (with local area code).
On-Page SEO is the first and most straightforward step of Google Maps marketing.
But guess what?
Many local businesses provide incomplete and wrong information. Sadly, they don't even put the effort to update their local guide listings.
It's not completely the local business owner's fault, though.
You need to take extra care while providing data about your business. Give your address, right down to your street and floor number. And, it must appear EXACTLY the same way across the internet – on your website and other local directories. Even the formatting of your address should remain the same.
Your business mentions on other listings, like Yelp, are called citations. And, citation inconsistency was found as the number 1 ranking issue for local businesses. Moreover, almost all local businesses were found to have a duplicate Google+ listing (which can lead to ranking penalties).
So, I would recommend checking the business address that you provide to the local postal service. For a more thorough analysis, I recommend reading my article on conducting a local SEO audit.
Let's evaluate the business listing for a salon in California.
Here is what I see in Google Maps when I search for a salon.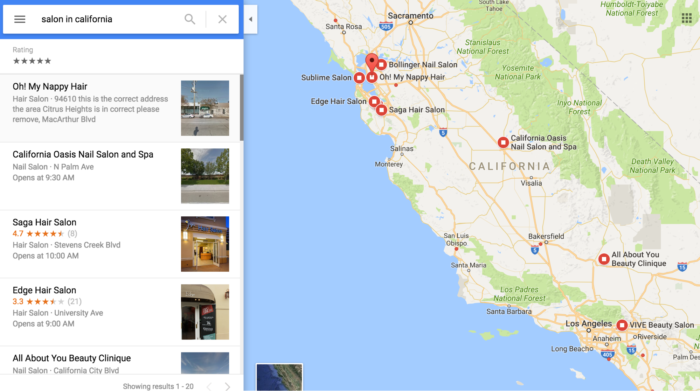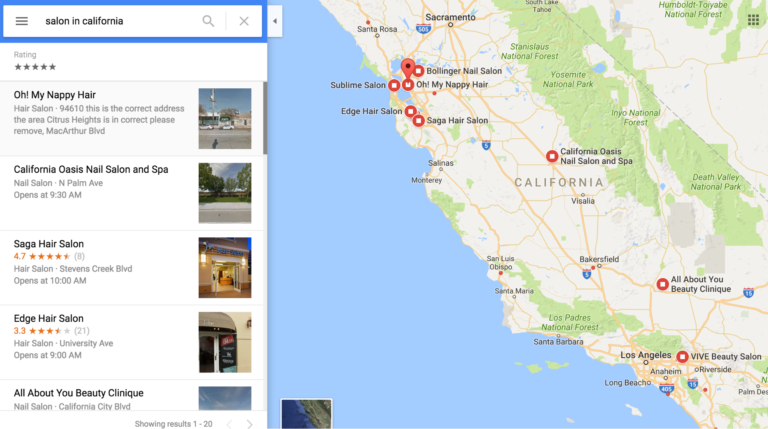 Now, let's check the info provided by Saga Hair Salon (it's the first listing with a public rating). The listing provides the salon's address, operating hours, and contact number, along with their official website. If you scroll down the listing, you'll also find a few photos that portray the salon well.
Then add additional photos of your business featuring your logo, interior, exterior, team members, and products. You probably know this from your own experience searching local businesses, but a Google confirms that businesses with photos get more clicks than those without.
The idea is to help make your business appear friendly and accessible, so add photos that answer the question, "Why should I choose you?"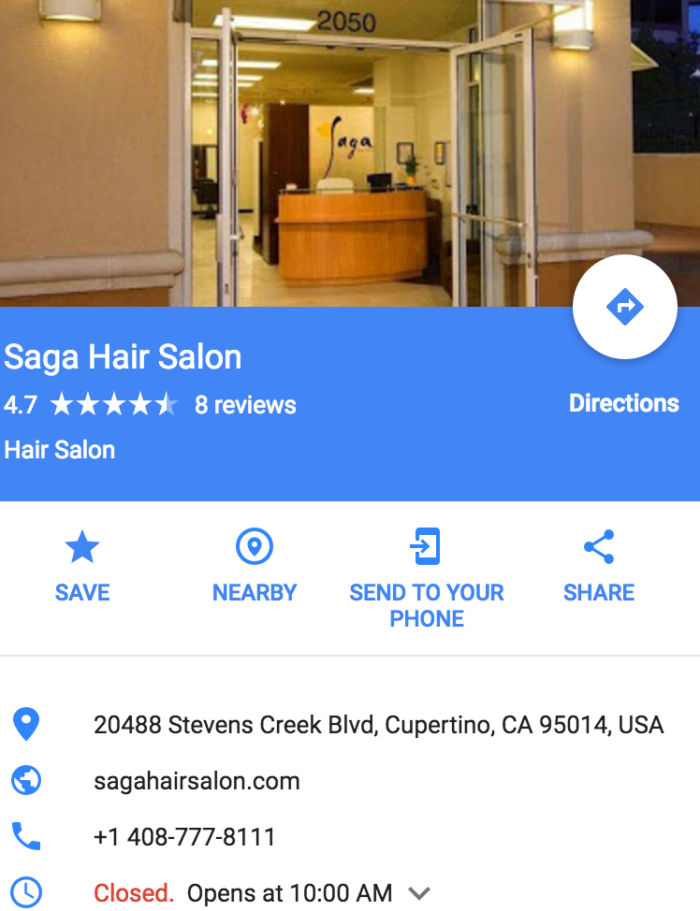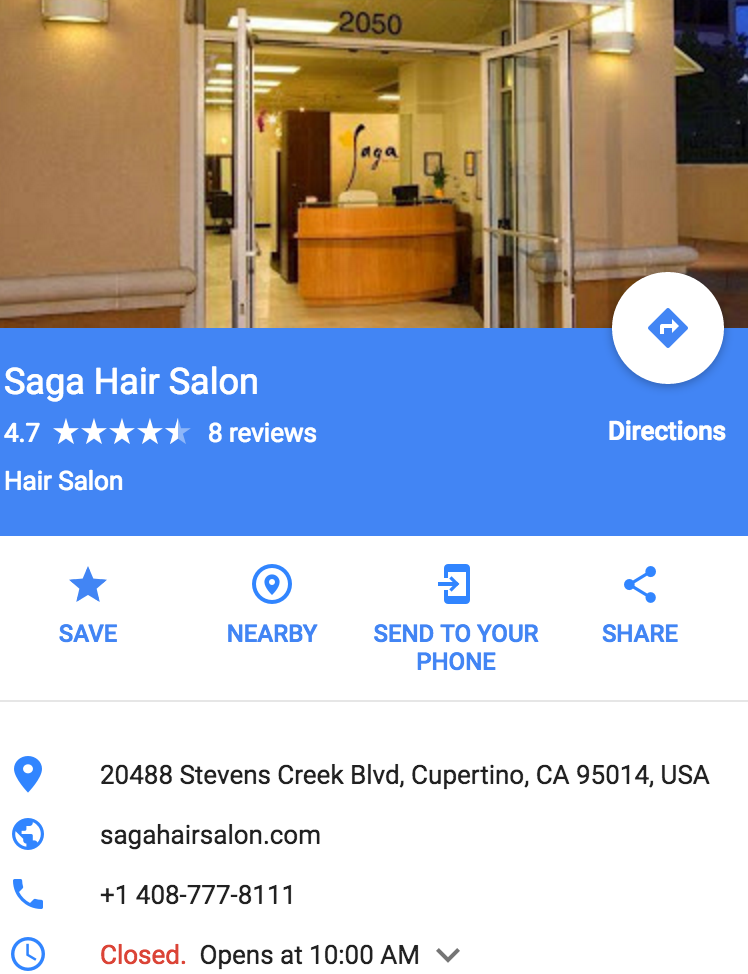 Now let's visit their website and cross-check the info. Note that we're not critiquing the design at this point.
When I visit their site, the same address and contact number appear near the top, in the exact same format. Plus, the information isn't embedded inside a photo – search engine spiders can access it. So far, so good.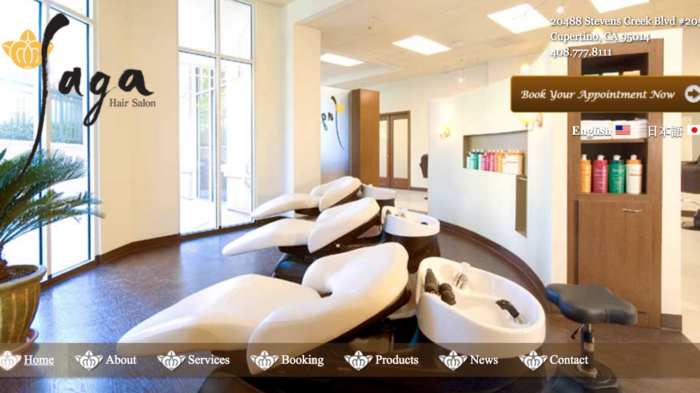 When I scroll to the bottom, I see the same address info, contact, and business hours (as listed on Google Maps) and an option to go to map view and get directions. Again, a win!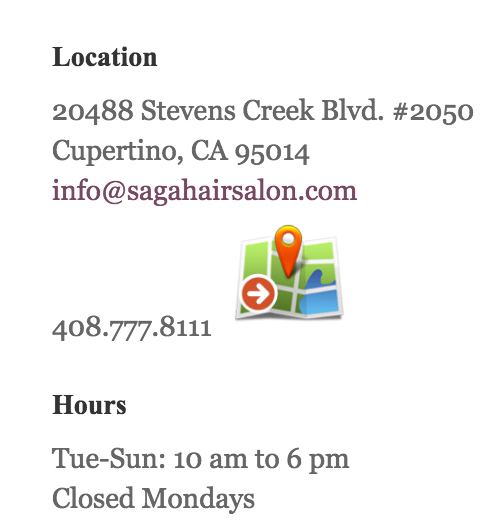 It's on their contact page that they commit the first mistake. Their phone number is listed in a different format from the other places that we've reviewed. And while the graphic illustrating their location is okay, they could have embedded their Google Maps listing instead.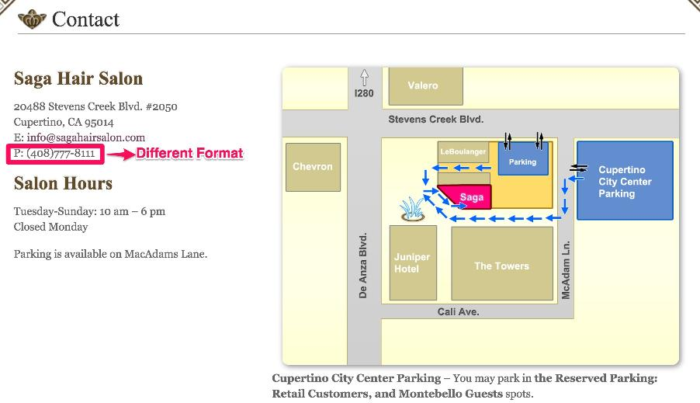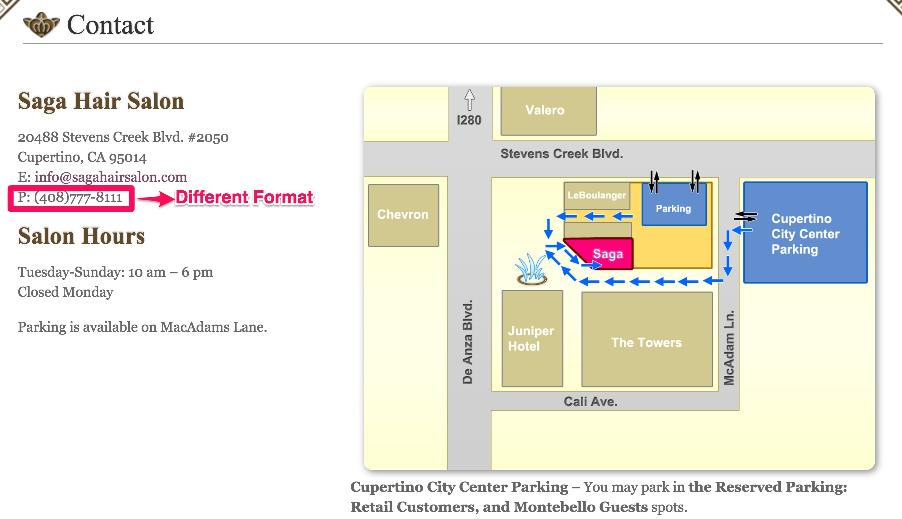 I evaluated the salon's other online citations by searching for their business name in Google. Their Facebook page also provides NAP in a different format. And, their Yelp listing states that they are open seven days a week (although they say that they are closed on Mondays on their website).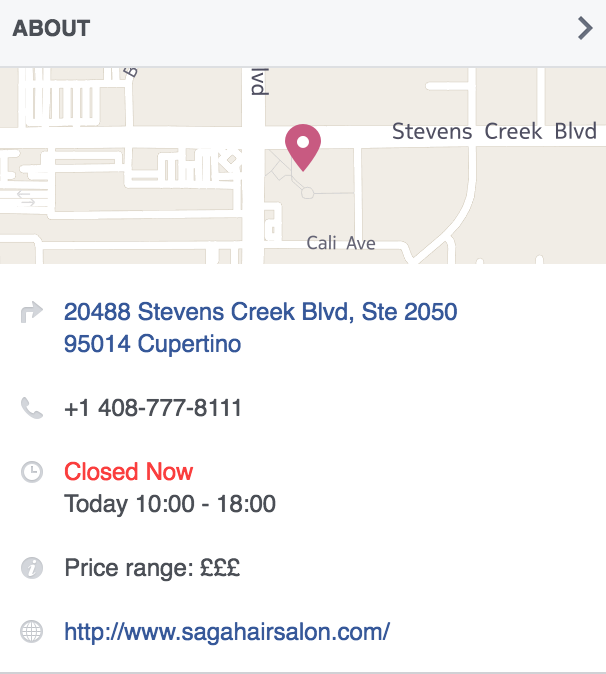 Such inconsistent info can hurt a business's credibility. And, it can also push their listing down in Google Maps results if another optimized business gets their NAP correct across all citations.
I hope my breakdown of the Saga salon gives you perspective on conducting your NAP consistency check. After tweaking your listings, check your Google Maps listing once to ensure that your address and other info are displayed correctly, especially on a mobile device where formatting can become misaligned.
I would also recommend that you get your business verified (it takes a couple of weeks).
To further optimize your images, you can also add relevant local info about your business in the alt text and image metadata.
Want a good example of how to complete your Google My Business listing?
Watch the Otis James' success story below (he brings old-fashioned crafting to people).
Reach For The (Google Map) Stars 
Once you get the basics right, you should request that the customers that visit your store review you. In a Search Engine Land survey, 72% of consumers said that positive reviews made them trust a local business more.
Social proof matters.
The obstacle is that customers are much more likely to post their negative experiences online rather than positive.
So, first, you need to encourage and remind your customers how easy it is to review your business on their android device, their iPhone, and iPad (for those running around town with them).
Second, you've got to stay on top of the reviews, with designated customer service folks in place. Understand that only 23% of customers post negative reviews out of vengeance. And, 70% of the people who complain online hope to get a reply.
Google My Business dashboard allows you to easily see all of the new reviews and to respond to them.
If you get a negative review, then don't launch a personal attack. Be courteous and thank the customer for their feedback. As per Google guidelines, you can also flag a review as inappropriate if it violates the Google guidelines. But, you can't edit your negative reviews.
I've written in more detail about how to get more online reviews. Remember that a higher number of 5-star reviews alone doesn't guarantee a higher placement.
Reviews Boost Google Maps Marketing Efforts 
The best way to get reviews, especially for salons and other service companies, is to ask for them when interacting with customers in person. Most customers are happy to oblige and consider it an extension of your relationship.
Otherwise, you can ask for reviews via email with a link to your Google My Business page in your message.
You can also "automate" the request by including it in your digital receipt. Payment merchants like Square, for example, allow you to customize your receipts, so you can toss your ask right in that custom field, making you automatically more likely to get reviews. You can simply say, "Love us? Give us a review!" then give a link to leave a review.
Once you have reviews, interact with them. This gives Google more content to share with potential customers, which provides the algorithm with a good reason to rank your page higher in the SERPs and on Google Maps. Here are some tips for responding to negative reviews.
The exact role of reviews in the Google Maps algorithm isn't known. The best that you could do is check the number of reviews and ratings of the first listing in your industry/locality.
Returning to my search for Chinese restaurants in Los Angeles: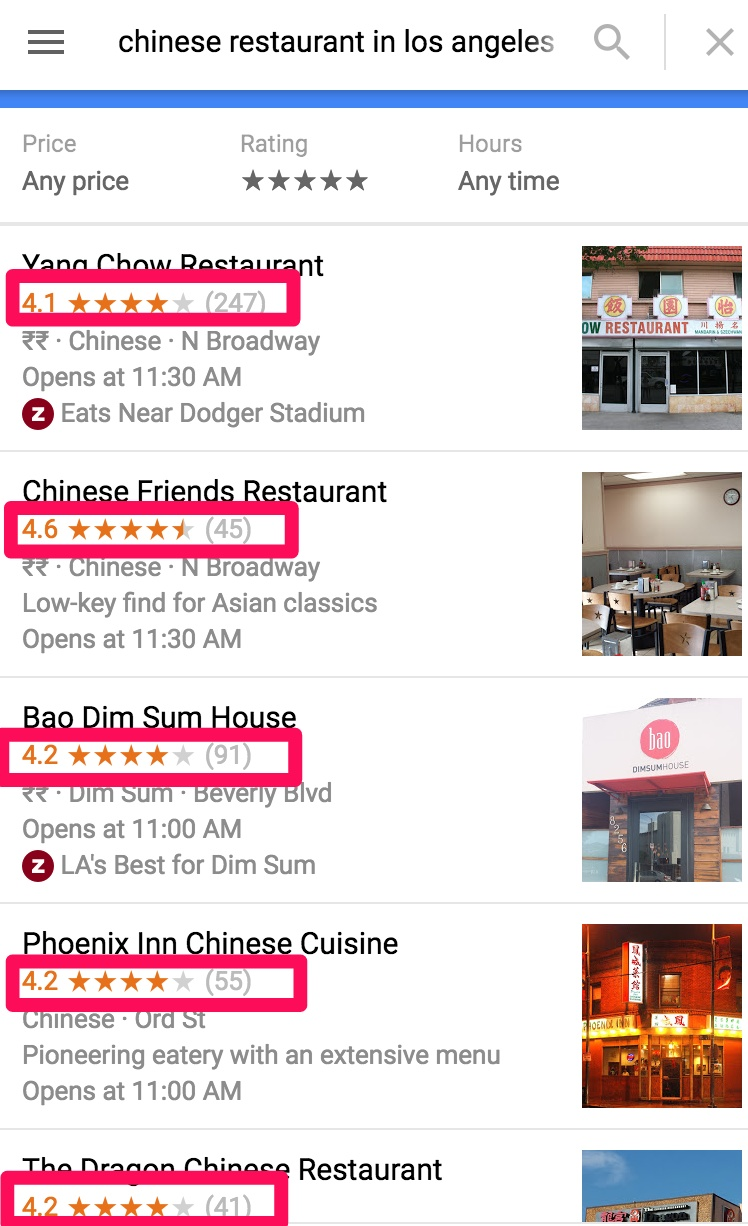 It looks like I can only enter into the top 5 results with at least 40 reviews for my business listing. And I'll also need to maintain a rating above 4.
Optimize All Your Other Review and Social Pages, Too
Google Maps marketing isn't just about the maps. Remember that Google pulls information from other platforms.
Other review sites, like Yelp, Facebook, Yellow Pages, and TripAdvisor, still matter. You can use the review snippet to pull in reviews from around the web to show up on your SERP listing, and for some businesses, Google links to reviews on other sites. Here's an example from a hotel listing:

This is why you don't necessarily have to focus exclusively on your Google My Business page when asking for reviews. Users are loyal to their favorite social media and review sites. So make it easier to leave a review by offering a Google Maps review link, but welcome reviews at other sites as well.
Paid Ads: Your Google Maps Marketing Toolkit Would Not be Complete without Them
If you want to stand out in Google Maps, there is a paid option.
The location extension enables you to target an exact location and bid on users in that location.
Google previously experimented with ads inside maps and pushed AdWords location extensions. But, at the Performance Summit, Google released new forms of local search ads. The newly launched Google Maps Ads drive real-time traffic to your physical store with turn-by-turn navigation. The mapping app allows both online and offline map capabilities with easy to zoom map view options.
Where Do Google Maps Ads Show Up? 
They will appear with a purple ad label above the organic search results list.  They will also show your business as a purple icon on the map. Here is an example of map results for a search on vegan restaurants in New York.
They will be seen in the Google Maps app and the mobile, desktop, and tablet sites. They'll also appear on the location-related searches in Google.com's main searches – but only for users who click on the "More places" link at the bottom of the Local-3 pack.
Note that while Benihana New York and Panera Bread have bought precious real estate and prominent visibility, their ratings aren't impressive even in the local guide. I am not sure that I'd click on their listing over the three organic results with at least a rating of 4.4.
Paid advertisements alone can't substitute for your organic marketing efforts – they can only amplify them. 
Location extension ads are just what you would expect. They appear at the top of the Google Maps result, regardless of a business's popularity or any other SEO ranking factors.
Otherwise, it looks exactly like a map result.
Soon, however, Google map ads will start to look very different thanks to a bevy of new Map ad options announced in June 2020.
Called Local Search Ads, they will include:
Promoted pins, which are purple as opposed to red and can include your logo
In-store promotions
Customizable business pages
Local inventory search ads, which will require businesses to connect their local inventory feeds with their Merchant Center accounts.
In the meantime, keep in mind that ad quality is still very much a priority. The Google algorithm considers more than your PPC bid when choosing whether and where to place your ad in the SERPs.
Keep an eye on that quality score by checking and optimizing it regularly. A higher quality score means your ads will be seen by more users, and you will pay less for every click.
To run ads on Google Maps today:
Enable location extensions inside your Google Ads account.
Ensure your Google My Business page is accurate and up to date. (This assumes you've already claimed and verified your page–if not, do it!)
You can then use location targeting and bid by location by focusing on a specific place and setting your bids based on where the users are.
Tip: Save your highest bids for users nearest your business.
Google Maps Marketing: How to Track Ads Organic Metrics 
In your Google My Business dashboard, you're provided with a range of metrics gathered from your unique API key to see how your business is doing. If you want to understand your Google Maps marketing effectiveness, this is where you'll start.
For starters, you get the number of clicks on your phone number.
You also receive a breakdown of the phone calls that have occurred on various days.
You're shown the number of clicks by people who are looking for turn-by-turn navigation to your business.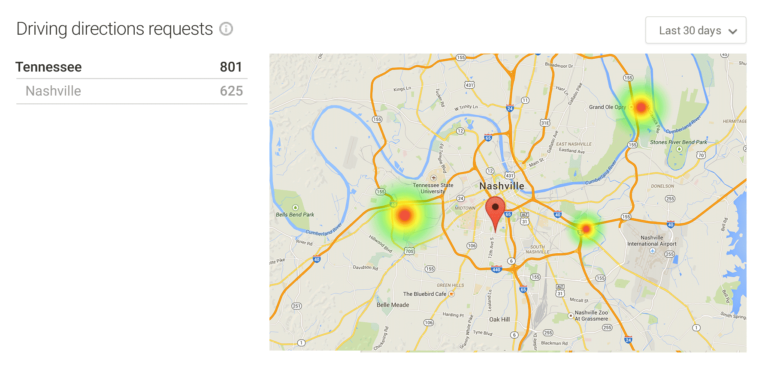 Similarly, search ads can generate three types of clicks and are a good way to measure your Google Maps marketing campaigns' success.
Get location details: A good indicator of interest in your business,
Get directions: Can indicate how well your ads are driving traffic to your store,
Mobile clicks-to-call: These are precious leads, and it's up to your customer representatives to convert them.
Google map ads are a powerful way to attract local customers. A great feature is an offline map to help your consumers save battery juice while getting into the vicinity to move to turn-by-turn navigation app features in real-time.
Conclusion
Google Maps marketing is now the gold standard of local search, especially for local businesses looking to drive online and in-person traffic.
I recommend starting your Google Maps marketing by optimizing your Google My Business listing and encouraging customers to leave reviews. Then, consider using Google Maps ads to drive traffic to your site.
Just remember that a successful business begins and ends with excellent customer service. Treat your customers well, and they will happily write reviews that could send everyone in town your way.
How have you been using Google Maps marketing to improve your local business marketing efforts? Let me know in the comments.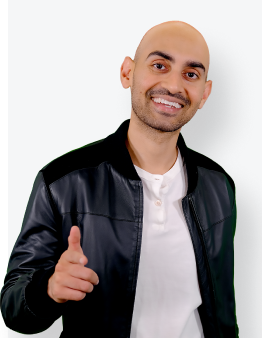 See How My Agency Can Drive More Traffic to Your Website
SEO - unlock more SEO traffic. See real results.
Content Marketing - our team creates epic content that will get shared, get links, and attract traffic.
Paid Media - effective paid strategies with clear ROI.
Are You Using Google Ads? Try Our FREE Ads Grader!
Stop wasting money and unlock the hidden potential of your advertising.
Discover the power of intentional advertising.
Reach your ideal target audience.
Maximize ad spend efficiency.