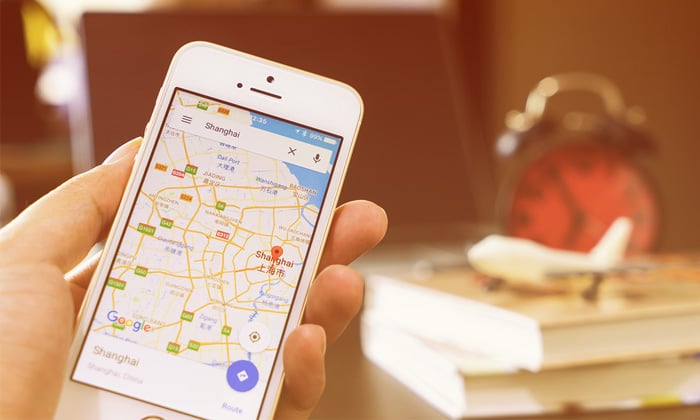 Driving local sales seems to be harder than ever before.
It seems like every day my neighbors are getting packages delivered to their doorsteps. They buy everything from electronics to artisanal bread online.
People just don't shop in local stores as often as they used to.
But that's the worst nightmare for any brick-and-mortar store owner.
You need that local foot traffic to drive sales.
And without it, your business is at risk. Your livelihood is at stake.
The good news is that sometimes people don't want to wait multiple days to get something they order online.
That gives you a chance to close sales for your local business.
But most marketers aren't taking advantage of advertising on the one platform that so many shoppers use every single day:
Google Maps.
Thankfully, with Google's new promoted pins option, you can advertise your local business and products directly on Google Maps.
You can capture the attention of locals and visitors who are using maps to navigate.
It's now easier than ever to attract attention and drive visits to your local shop.
Here's how you can use promoted pins on Google Maps to drive local sales.
Online shopping has taken over
Ever since the Internet's creation, buying products online has been the dream of many.
And now, that dream has turned into a stark reality with serious consequences.
Shopping online is growing in popularity, making real, local stores fear for their businesses' success.
Sites like Amazon are virtually dominating the competition when it comes to online sales.
It's no secret that online shopping and e-commerce have exploded in the past five years.
It seems like everyone has an Amazon Prime account, and they order nearly anything and everything on it.
You used to have to leave your house to buy products that you wanted. But today, Amazon can deliver thousands of products within just two hours of placing an order with Prime Now.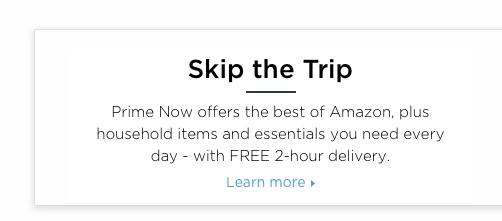 So if there's any household item or essential product that you just can't wait two days for, Amazon can now deliver it within hours.
You don't even have to get up and go outside to get them. And that is a devastating implementation when it comes to local business success.
Amazon Prime's user base is growing more rapidly than anyone could have predicted, too.
In fact, they're almost at 70 million subscribers: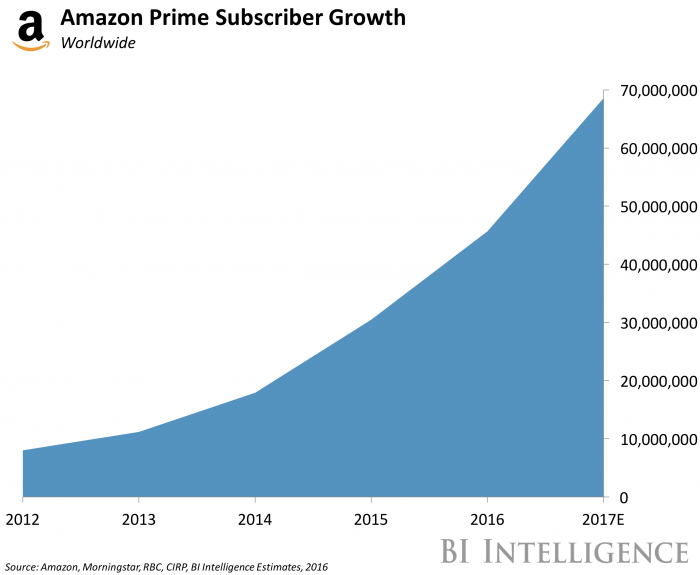 The same Business Insider study found that Amazon accounted for 43% of all online retail sales in the United States in 2016.
A single online marketplace is generating nearly 50% of the retail sales.
Many small businesses have cited Amazon as the reason why they aren't able to thrive anymore.
And that's because Amazon sells virtually everything you could ever need to purchase: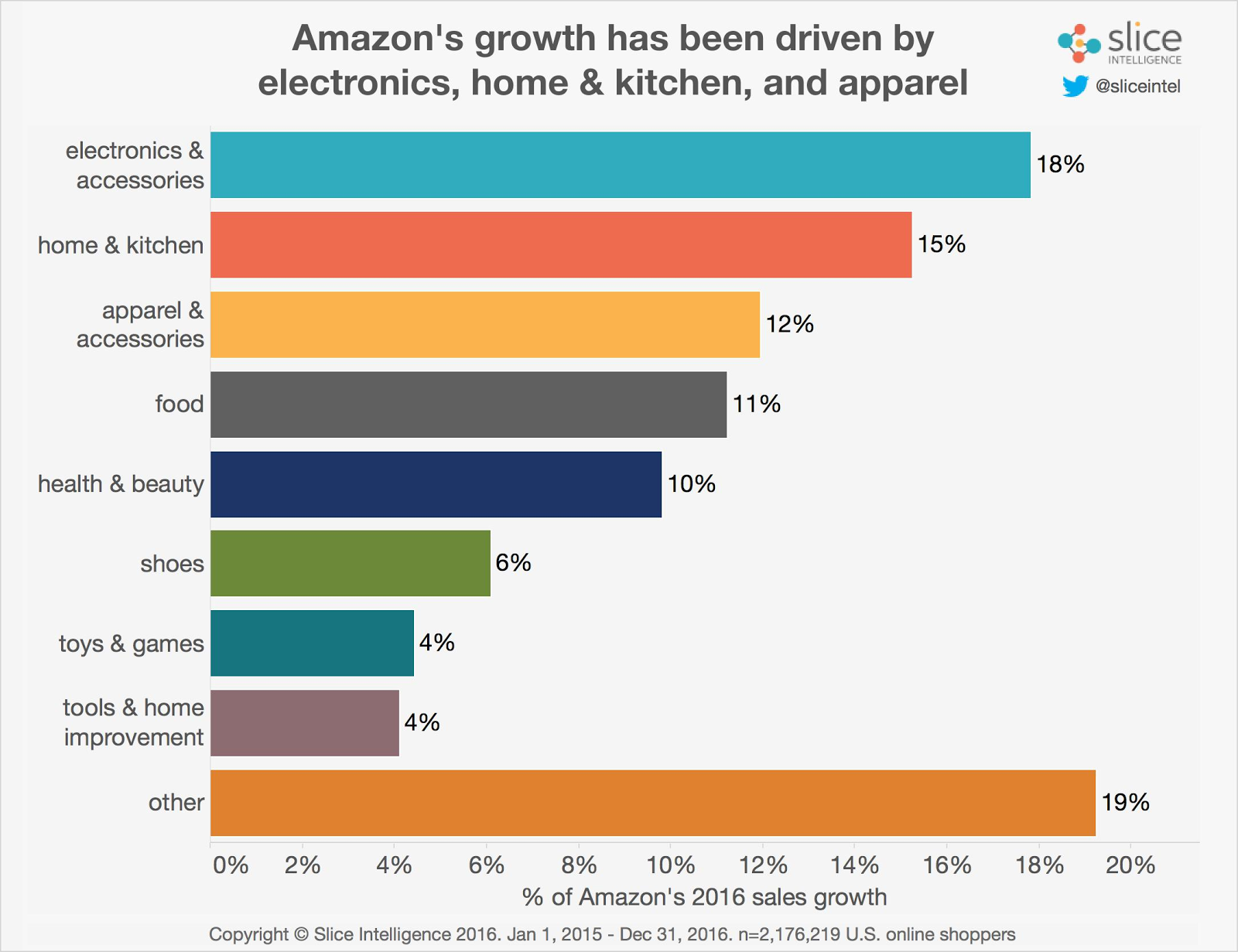 If you can buy anything from tools and home improvement products to food and electronics, why would you need a local shop?
Amazon is growing their user base and expanding their product lines. And they're doing it faster than we could have imagined.
They are diversifying their products and are continually growing faster than any other online retailer: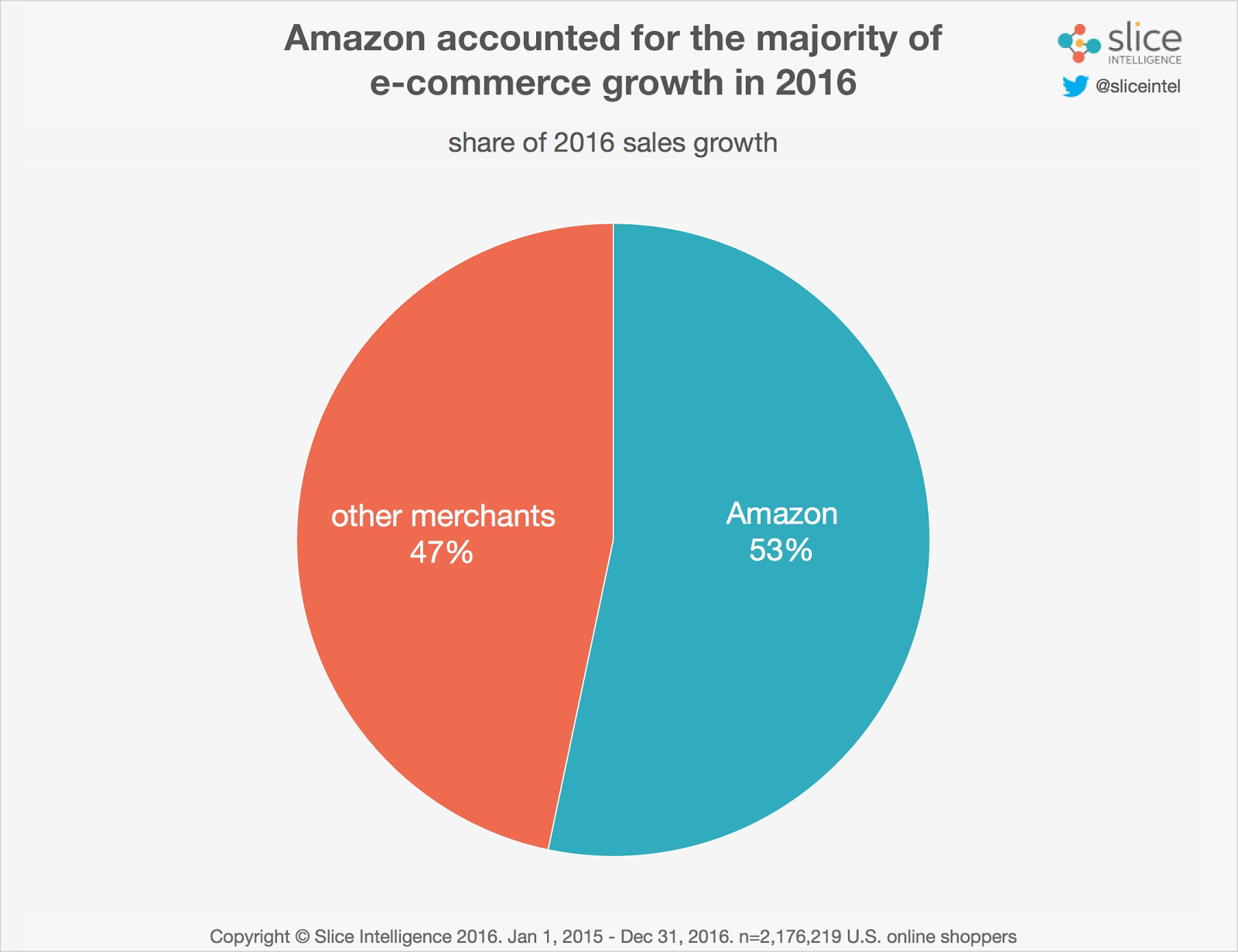 Amazon accounted for 53% of the e-commerce marketplace growth in 2016.
All other merchants combined took up the other 47% of growth.
Amazon's revenue keeps climbing to astronomical heights with this growth, too: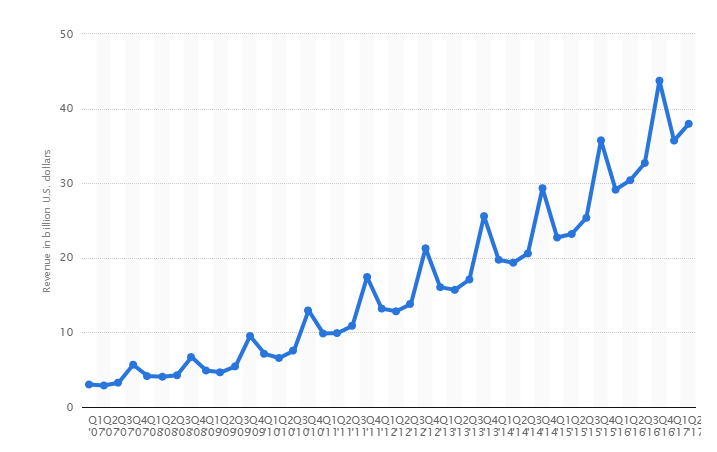 Amazon made over $38 billion in the second quarter of 2017. That's down from over $40 million in the previous holiday quarter.
So, what does this mean for small businesses?
How does the growth of a retail giant like Amazon relate to local, brick-and-mortar stores?
Well, it means that retail store sales are declining: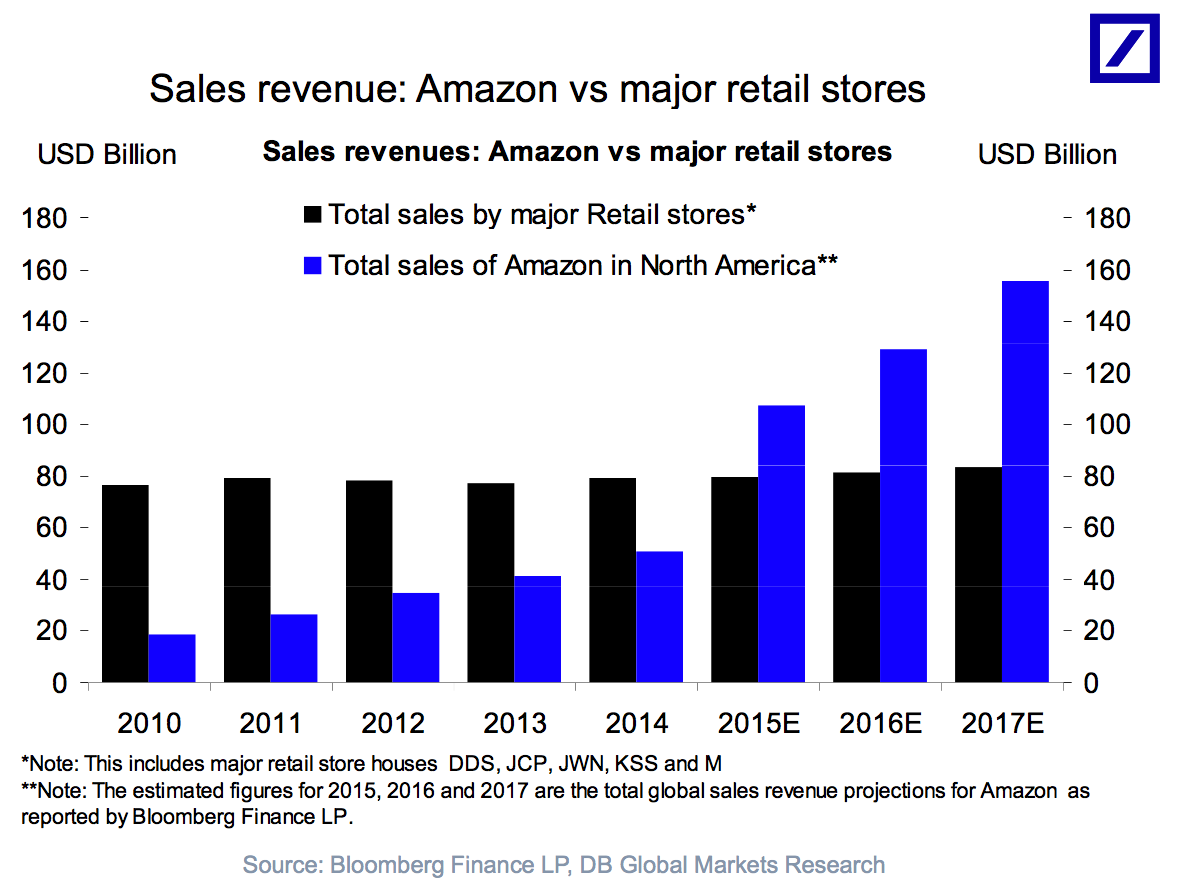 As Amazon continually grows, total sales by major retail stores will decline.
And that means you need to be finding new ways to advertise your local business.
You have to get people off the couch and back on the street to bring local foot traffic, like those from Google Local Guides, to your store.
While all this data may sound bad for retail store owners, there's a glimmer of hope that exists in the local search data.
Even with Amazon raking in billions of dollars in revenue every quarter, retail businesses can still thrive.
Here's why you should care about local search and how to take advantage of it.
Local businesses are still thriving
It's not all bleak and grim for the local business owner.
Sure, Amazon Prime is dominating the market in sales right now. But local businesses are still thriving.
According to the latest numbers from the 2016 Gallup Survey, small business owners are the most optimistic that they've been in eight years!
The optimism of small business owners jumped from +68 to +80 in one quarter.
And according to the data, this optimism has been increasing since an all-time low point between 2010 and 2011: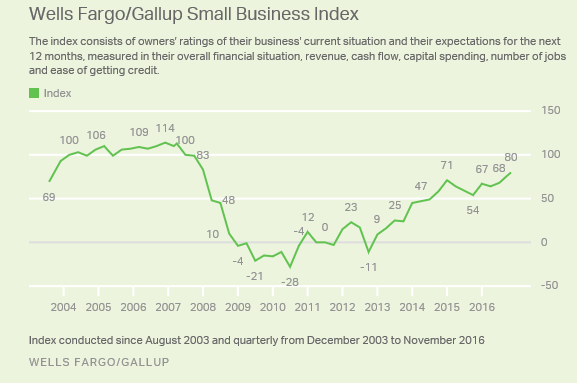 The percentage of small business owners expecting their revenues and sales to grow in the next 12 months rose to nearly 60% in 2016.
On top of that, business owners are expecting cash flow to rise to 70%.
These small brick-and-mortar business owners are also expecting to add more jobs in the future.
Small business owners' views on the operating environment are significantly higher than they were in 2011: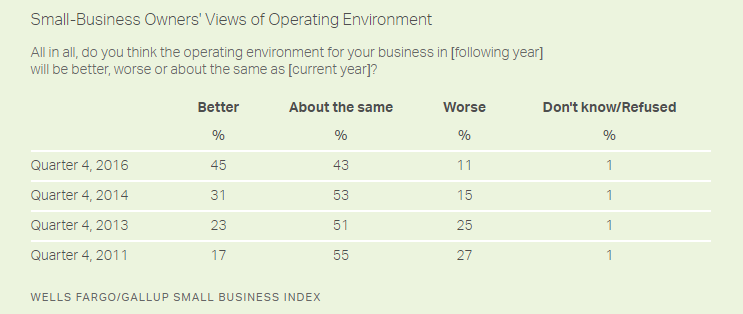 Confidence is on the rise in 2016 and 2017 despite consumer giants like Amazon dominating the retail space.
This is a huge study that sheds light on a major trend and shift in how businesses operate:
People are starting to shop at more local, family-owned stores again.
That's why you can see "buy local" movements popping up all over America.
According to RangeMe, millennials are leading the push of the buy-local movement, which is currently a $29 billion industry for both food and non-food products.
And the buy-local movement is booming.
It's actually doubled in size in the last ten years, with 40% of millennials preferring to buy from local stores even if it costs more.
That's great news for local business owners who are hoping to drive local sales.
Now, you just need to figure out ways to get in front of these users who are actively searching for local stores.
Grab the attention of people who are wanting to buy from your business instead of Amazon or other major online retailers.
Developing new marketing tactics is the only way to stay current and drive local sales.
And promoted pins is one of the best ways to do this.
Here's a bit of background on promoted pins and how you can implement them in just a few minutes to start capturing more foot traffic.
What are promoted pins and why should you care?
According to the latest data, over one billion people use Google Maps, and they use it to navigate to over 1.5 billion places each year.
That means that tons of people are still out there looking for and navigating to local businesses.
And that also means that Google Maps has the opportunity to drive traffic to your local business.
With such a high user base, it's no wonder that advertising is starting to take hold on it.
When you could potentially reach millions of people, it wouldn't make sense to ignore the advertising options.
And according to the latest Google Local study, 30% of all mobile searches are local-based queries relating to location:
And the trend for these search types is growing, too. In fact, it's more than doubled in the past year for searches like "stores open now:"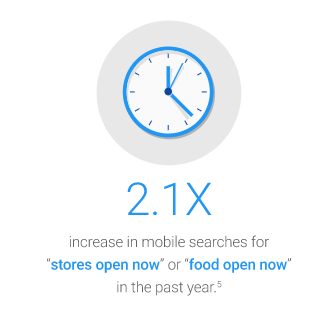 Even searches for direct local-buying options have increased:
And that's not all.
Google found that 76% of people who search on their mobile devices and smartphones for something nearby (local) will visit that business within 24 hours of their search: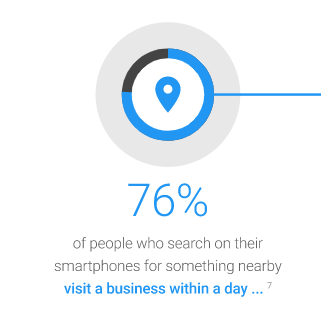 If you can get your store on their screen, you can secure 76% of those searchers.
On top of that, 28% of those searches for local stores will result in a purchase at that store: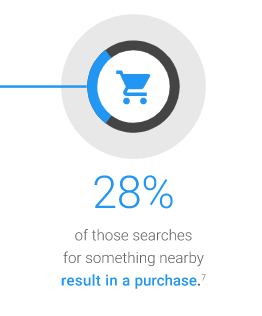 These trends hold huge weight for local store owners who want to grow their businesses.
If you want more traffic to your store, you need to get in front of these mobile users in the most direct way possible:
Via mapping applications.
That's where Google Maps and their promoted pins campaign come into play.
If you're familiar with Google Maps, you've probably noticed the array of red pins that show up when you open your maps: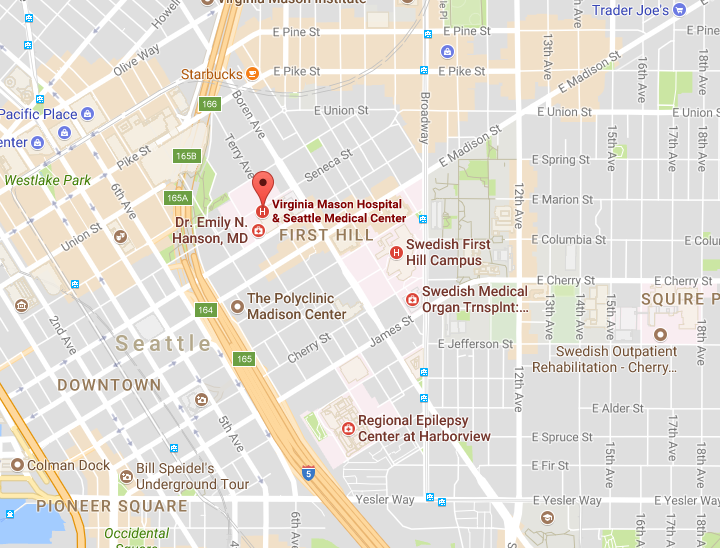 These are used to recognize landmark businesses in the area.
But do you notice how not all businesses show up on the map when you open it?
You don't see every single small business or store on there.
Promoted pins work differently. They show up as purple pins for specific searches.
For example, if you searched for deodorant or contact lenses nearby, you'd get a result like this: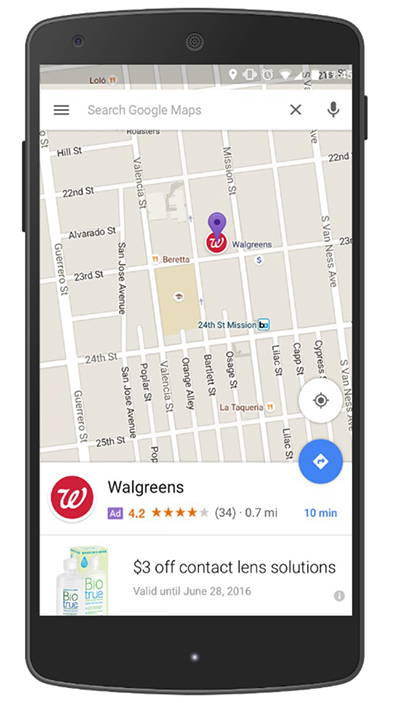 You'd instantly see a purple pin pop up that marked the location of a local store near your location.
With the addition of these promoted-style pins, companies can even offer small coupon-based deals for the searcher depending on their search.
These ads help small businesses hook those users into coming to the local shop to use that deal and buy the product they were looking for.
And when a user clicks on that deal, they can see more information about the store and how to use that coupon: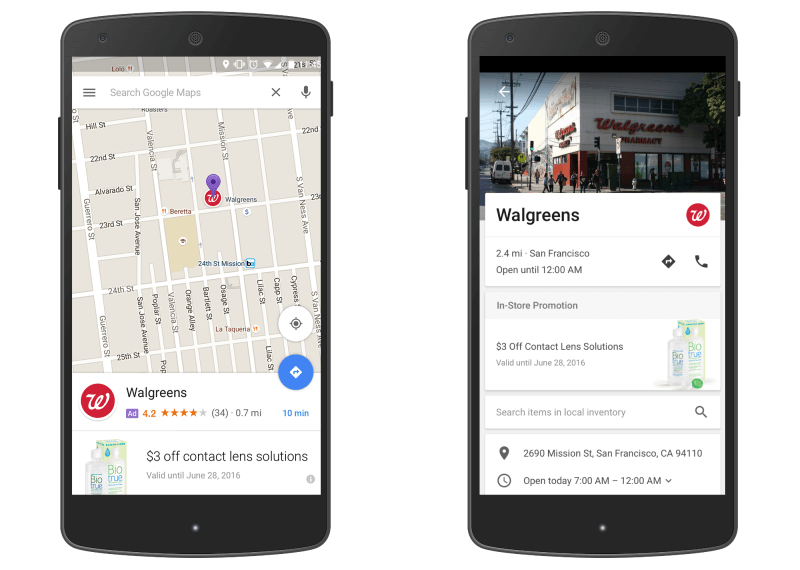 Tons of small businesses are starting to use this feature.
You might already notice ads if you open up your Google Maps and conduct a local search:
Similarly to PPC search-based ads, your company and business page will show up first on the results listing for a given search term.
This gives you the chance to outrank and out-position competitors in your area.
Promoted pins are basically a local version of paid search ads specifically crafted for Google Maps.
You can use them to get your business front-and-center when a person is using the application to find a business.
Here's how you can set up promoted pins on Google Maps and start taking advantage of this new advertising platform today.
How to set up promoted pins on Google Maps
Setting up promoted pins on Google Maps will only take you a few minutes.
There are a few basic functions that you need in order to use this newly-developing platform.
It involves the use of AdWords. So, if you have an AdWords account already active, your set up time will be even shorter.
But, before you can jump into AdWords and start to run promoted pin-based ads, you must officially verify your business with Google.
This can actually take a week or more to do because it requires getting a letter in the mail from Google with confirmation details to verify that your business is real.
Google requires this so that you can prove that your business is legitimate.
To verify your business with Google, you need to add or claim your business listing.
You can do that by visiting this support link.
First, you need to navigate to Google My Business.

Click "Start Now" to begin the process.
Next, you need to search for your business on the map platform and see if it already exists and needs to be claimed.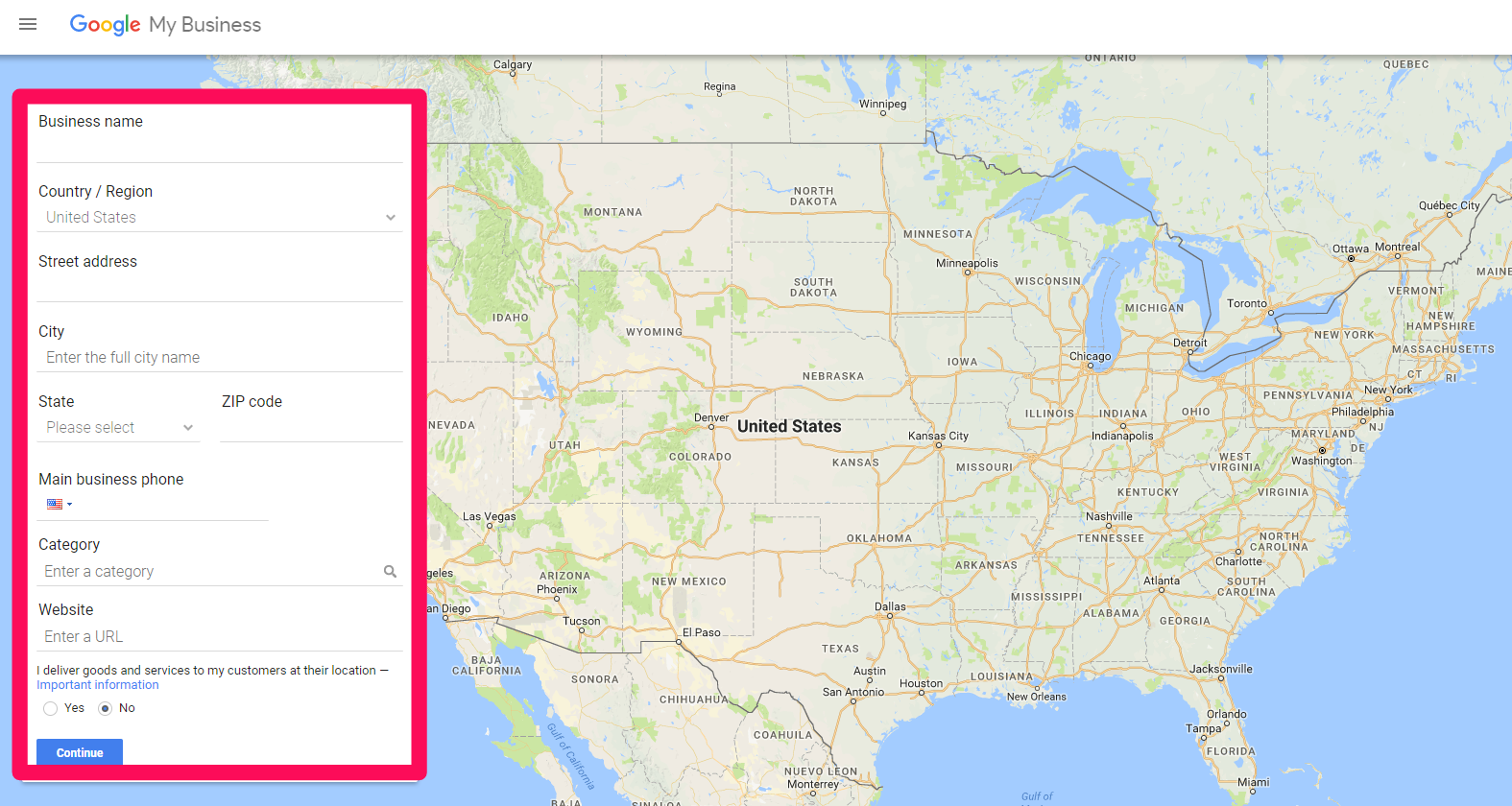 If your business does not show up, you need to verify it with Google.
You can do this by clicking "no, these are not my businesses."
Next, they will require you to fill out a form with your business info. They'll ask for things like phone number, street address, and how to contact you.
Once you've done this, it's simply a waiting game until you get the proper documentation in the mail from Google to verify your business.
Google does this to prevent random people from securing your business and posing as your company.
After your Google My Business account and listing go live, head to AdWords to connect your account.
Navigate to your "Ad Extensions" tab. This is where you can start to enable the proper extensions to become eligible for promoted pins:

From here, select the "Location extensions" option from the drop-down list: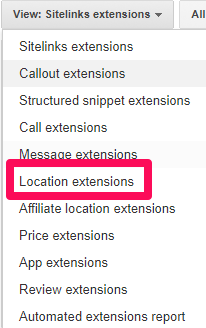 Click the red "+ Extension" button to link your Google My Business profile:

Connect your profile and account to enable promoted pins.
Once you've done this, it's time to set up a few more local-based extensions.
Click on the "Call extensions" tab next:
From here, add your local phone number and select if you want Google Maps to report this for conversion data (which is highly recommended):
This setting will help your promoted pin ads show your local phone number, making it way easier for people to "click to call" your business.
And that's about it. Those are the only steps you need to take to start using promoted pins on Google Maps.
To track the success of this for your business, you can easily uncover some metrics within AdWords.
Navigate to your "Campaigns" section first:
From here click on "Segment" and then select "Click type":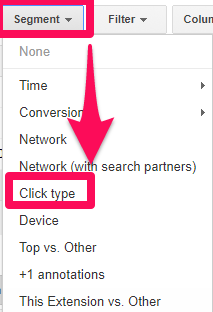 Here, you should be able to see tons of data that shows the performance of your promoted pins.
For example, check out the click types that would show this: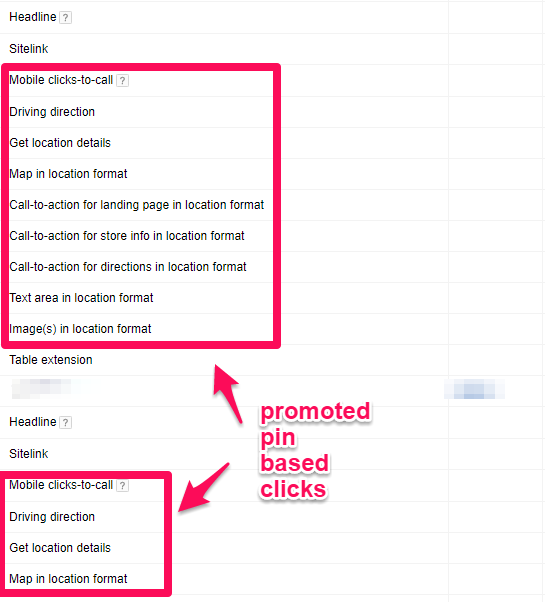 Notice how almost all of them are local search-based clicks?
Like "Driving direction" or "Get location details" and "Map in location format."
These are click types that promoted pins will display.
You can see the metrics for these clicks to see how they are performing, too.

Promoted pins are an excellent way to stand out amongst the local businesses in your area.
If you want to differentiate yourself and show up first for Google Maps results, you should invest part of your PPC budget in promoted pins.
Try using them today to drive more local foot traffic and drive more sales at your store.
Tactics to drive local sales with promoted pins
Now that you've registered your local store with Google My Business and set up promoted pins on AdWords, it's time to drive sales.
So, how do you take full advantage of the listings and drive real, tangible conversions?
Well, you already have a leg up on the competition.
You know that people are locally searching for businesses by location, zip code, city, and even neighborhood.
People are already shopping in your local area. You just need to make sure they see your business and offers first.
One of the best examples to imitate comes from a case study done by Google on how PetSmart used local searches to drive traffic.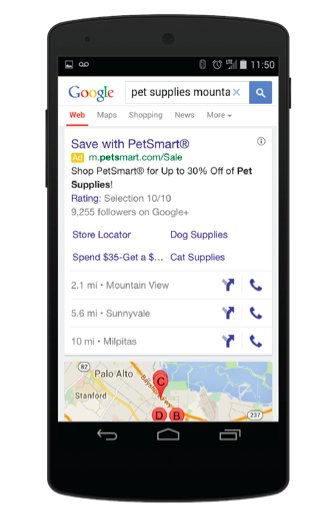 PetSmart started using local ads on Google AdWords to drive tons of traffic to their stores.
They wanted to place better value on paid searches to drive local sales and not just online orders.
On top of that, PetSmart wanted to improve the customer experience from the first interaction online to the actual visit at a local shop.
They started using Google Maps pins and local search ads to generate clicks and engagement.
This implementation of local search-based ads revealed that 10-18% of all the clicks on their ads brought an in-store visit within 30 days.
That's pretty incredible for a simple local search campaign! Can you imagine what 10-18% more traffic would do for your store sales?
PetSmart succeeded because they were early on the trend and were able to capitalize on the growing market of local search.
To understand how to drive more sales, we can look at how current businesses are using promoted pins.
Take a look at this image from Search Engine Land showing how three businesses are currently using the promoted pins to produce ads: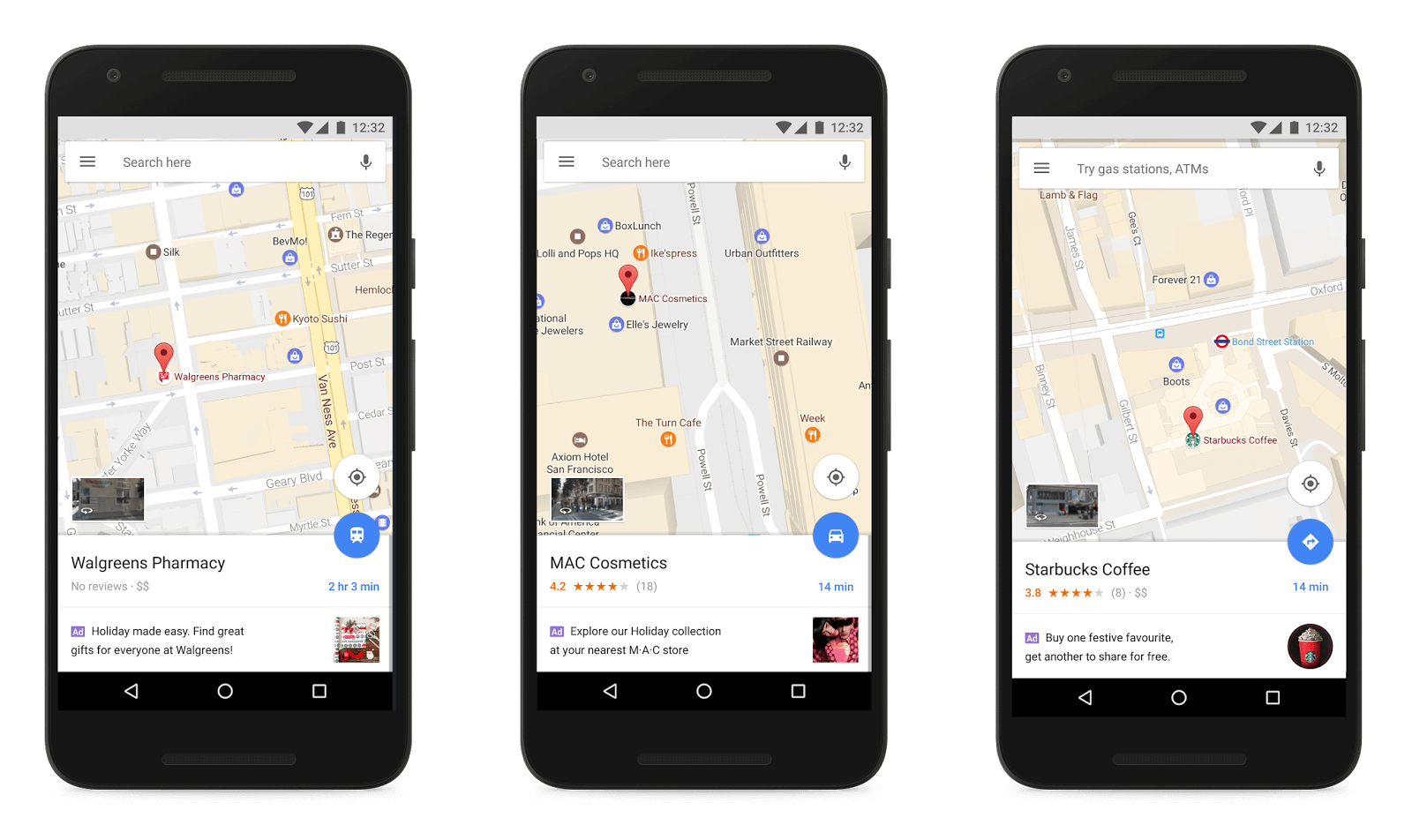 Let's break them down one by one to understand exactly how they are standing out amongst other businesses in their local towns.
Starting with Walgreens, we can already see a trend that they are capitalizing on:
They're using the holiday season to capture immense foot traffic to their stores.
Increasing foot traffic is possibly one of the best ways to use promoted pins when driving sales in your store.
Holiday sales are a major driver of offline sales.
In fact, in 2016, the National Retail Federation conducted a study that found a 4% increase in retail sales.
From the holiday period during November and December, average retail sales increased to $658.3 billion in revenue.
They also found that sales at department stores declined by 7%, while smaller stores were increasing their sales depending on the main goods they sold.
And that's good news for a small business owner who wants to generate more local sales.
Holiday sales are a great way to use promoted pins. It's even helpful on shorter occasions like Black Friday, where revenue exceeded $3 billion in a single day in 2016.
According to TechCrunch, fewer than 50% of people are shopping online for the holiday season: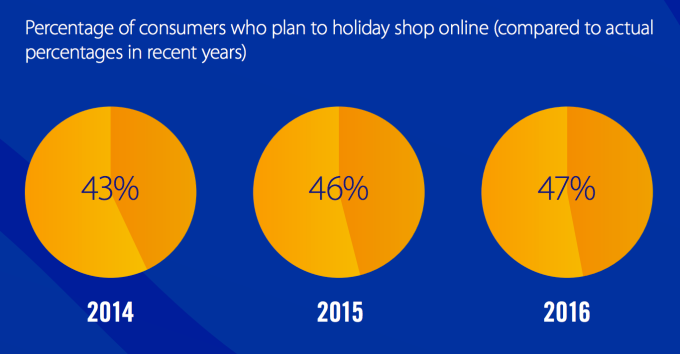 While those numbers are slowly climbing, there are still more than 50% of people who are holiday shopping in real stores.
This gives local businesses a huge edge when it comes to the holiday season and using promoted pins to capture attention and drive sales.
And Walgreens isn't the only business that was finding success with holiday-based pins for local sales.
MAC Cosmetics used this strategy, too: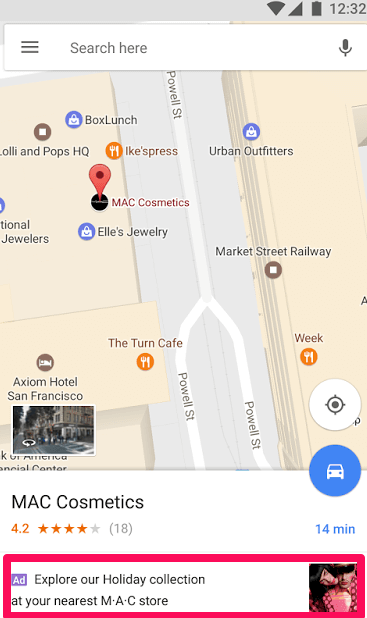 With people spending more than ever during the holiday season, and with so much traffic still coming into actual stores, it only makes sense to use this strategy.
Starbucks ads during the holiday season are also extremely common: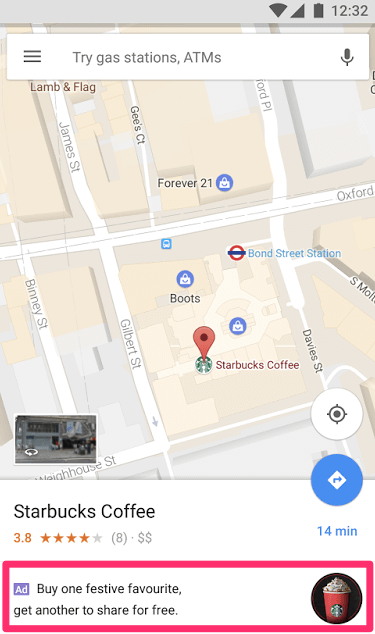 Create some amazing, fast ads on AdWords and start capturing holiday shoppers ASAP.
The top local shops are already on this trend. If you want to compete, start developing a holiday Google Maps plan in advance.
Another common way to use the promoted pins to drive local sales is by capitalizing on travel-based offers.
People are constantly traveling to new cities, countries, and states.
You have a big chance to hook those eager visitors with ads on Google Maps because you know they will be using the platform to navigate.
For example, check out these ads I got on Google Maps when I searched for "car rental seattle:"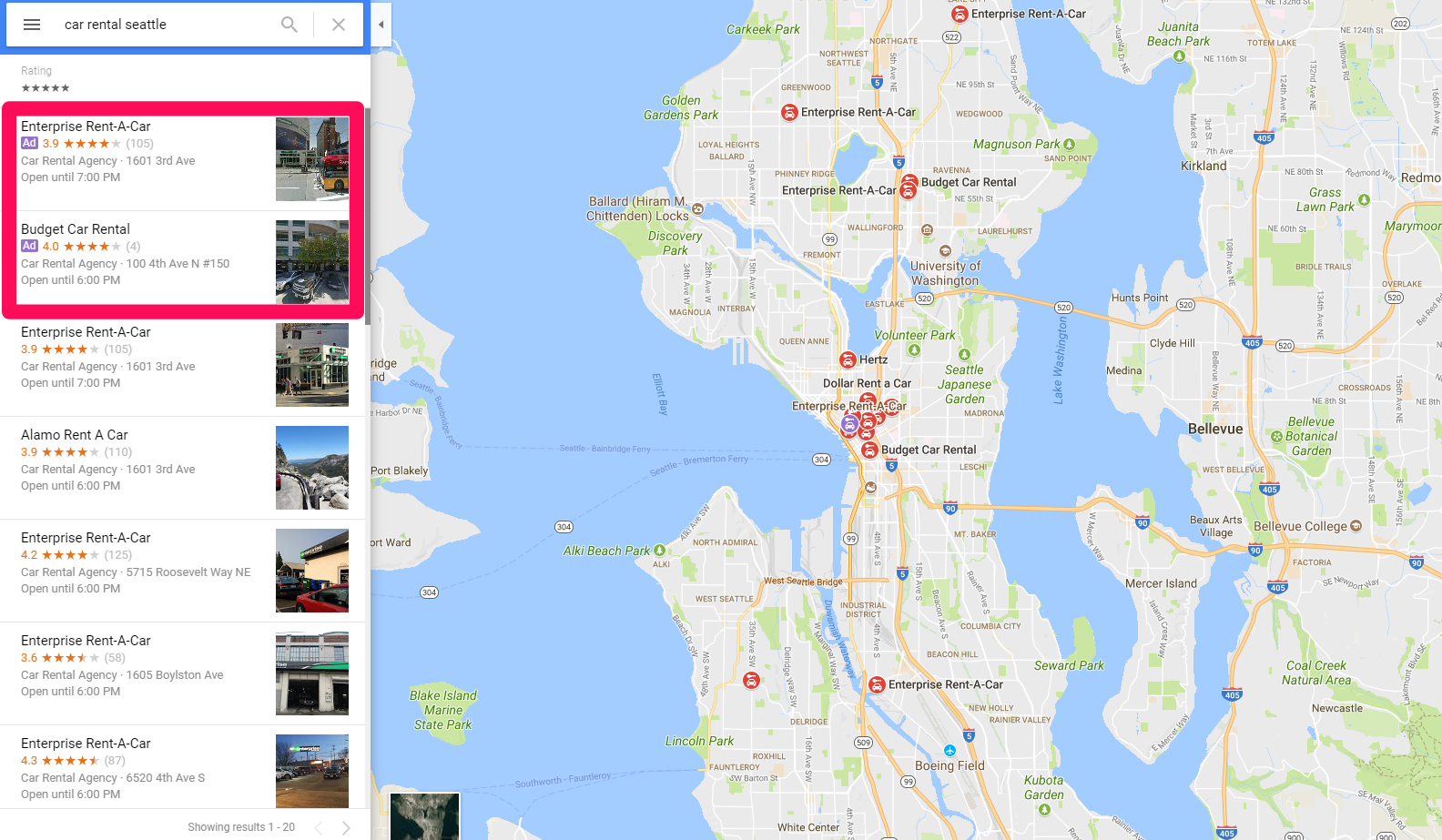 These two car rental companies were able to position themselves above the rest of the others in the area by using the promoted pins.
That means that they are likely getting significantly more clicks than the companies at the bottom of the page.
I also noticed the same type of result when I searched for "travel agency seattle:"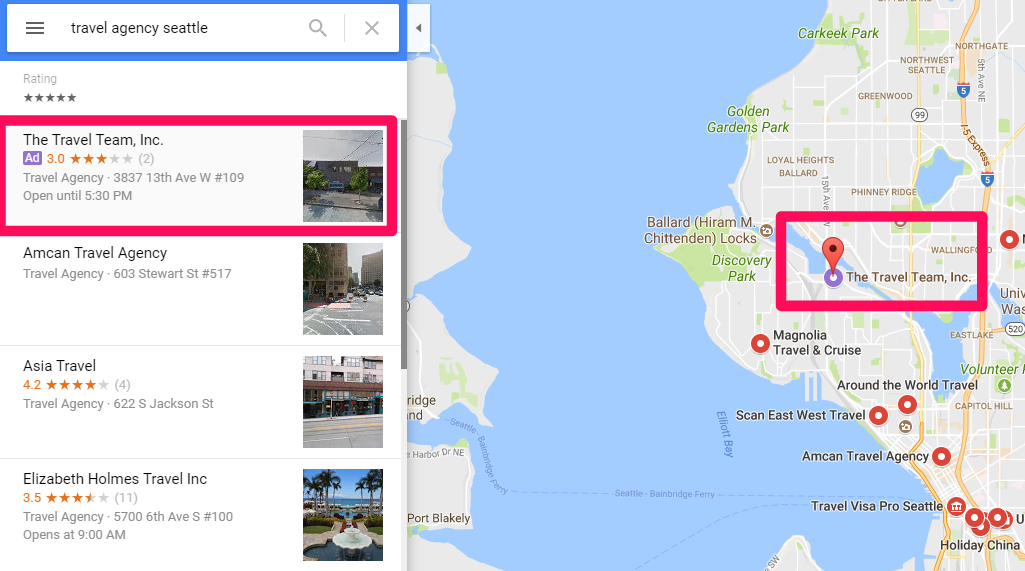 If your business is highly dependent on local, location-based sales, consider setting up some promoted pins.
If your business is the type of store that people often find from a Google Map search, you should highly consider it.
That could include businesses like:
Coffee shops
Grocery stores
Flower shops
Local eateries and restaurants
Travel-based businesses
Tourist destinations
Tourist shops
Hospitality businesses
While not limited to this selection, these businesses are likely to do well on this platform.
Why? Because more often than not, customers discover them directly on Google Maps.
And if you can give yourself an advantage by showing up first in the search results, you should.
Check out this search that is probably common on Google Maps for people visiting Seattle:
"Tour of seattle."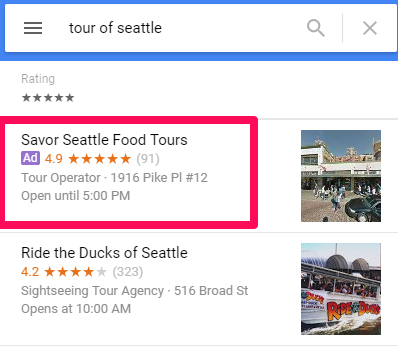 Google lists tons of search results for this keyword search, but only one is bidding on promoted pins.
They have a pretty compelling name along with stellar reviews and business details.
Why not follow their example? Use promoted pins to push your business above your competition on Google Maps.
Using Google Maps to drive local sales is still new.
Google released this feature in March of 2016, and they're still refining it.
But it's perfect for the current times because that same article also shows that local searches are growing fast.
The local businesses movement is growing steadily, and Google is helping these local businesses find new ways to bring in sales.
Conclusion
Running a local business seems to be more difficult than ever before.
Online marketplaces are dominating the competition when it comes to sales.
People can order just about anything from the comfort of their own homes.
And that should be the worst nightmare for any local shop owners.
Foot traffic and in-store sales are critical to your business. You can't afford to lose out on sales to a marketplace like Amazon.
Thankfully, you don't have to. Promoted pins on Google Maps allow you to target users directly on Google Maps.
You can advertise your store and products to locals and map users in your area.
Google's latest reports show that mobile searchers are constantly looking for local businesses.
The data even shows that tons of these searchers are visiting those stores within 24 hours to make purchases.
That means that if you want to tap into this market, you need to use promoted pins.
Start setting up promoted pins for your business today by verifying your business address.
Next, set up the promoted pins as extensions on Google AdWords.
Try promoting Google Maps pins when the holidays arrive. The majority of people still shop in-store during the holidays, giving you a big chance to get more sales.
If your business is often discovered directly on Google Maps, promoted pins will help you drive even more foot traffic.
Promoted pins could be your businesses saving grace when it comes to local foot traffic.
What is the best method you've used to drive local traffic to your store?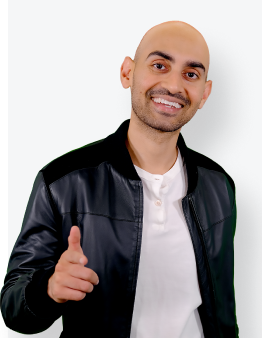 See How My Agency Can Drive More Traffic to Your Website
SEO - unlock more SEO traffic. See real results.
Content Marketing - our team creates epic content that will get shared, get links, and attract traffic.
Paid Media - effective paid strategies with clear ROI.
Are You Using Google Ads? Try Our FREE Ads Grader!
Stop wasting money and unlock the hidden potential of your advertising.
Discover the power of intentional advertising.
Reach your ideal target audience.
Maximize ad spend efficiency.