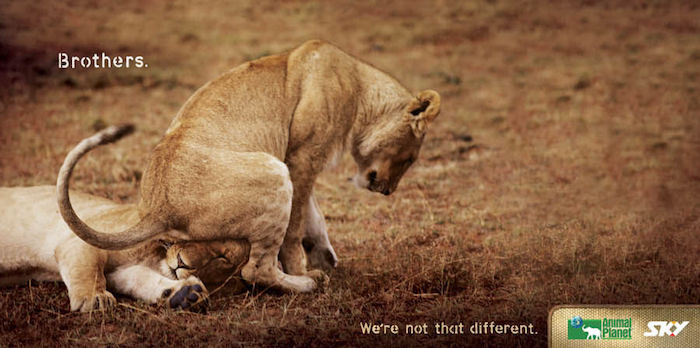 You spent thousands of dollars to build a shiny online small business. You started to push out content at a consistent frequency because you had read that 79% of companies with a blog get a positive ROI for inbound marketing.
As a content marketer, I love the idea of letting the right people find you, because it's permission based online marketing.
But, the competition has turned fierce. Just look at the statistics below.
So, if you're only relying on inbound marketing, there's a huge probability that you'll just get lost in the noise of the great, endless growth hacking cacophony of the internet.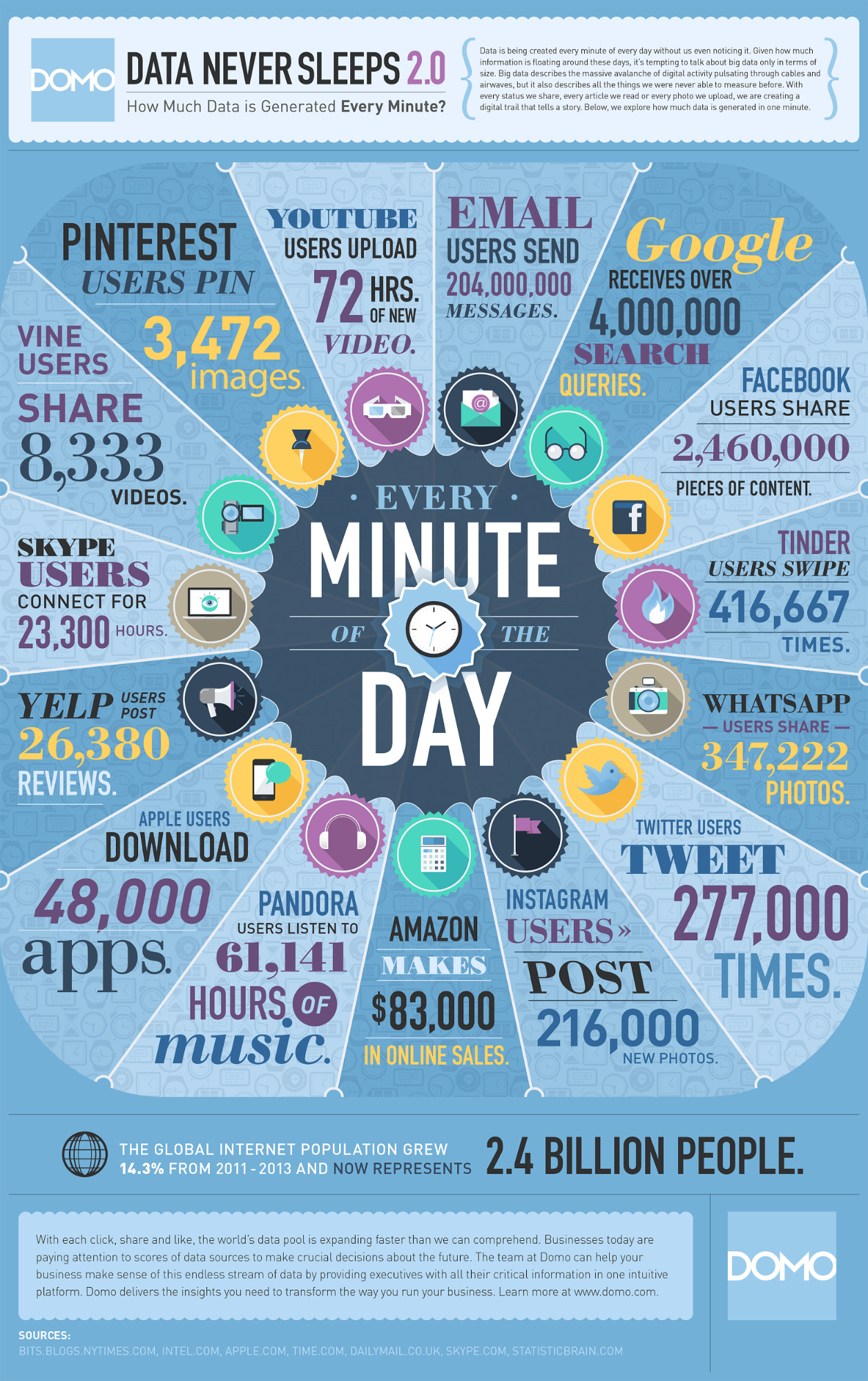 Is there a genuine growth hacking solution that can amplify your reach and quicken your growth?
Yes.
Let me just say the evil words…
Paid online Marketing.
I know. Outbound online marketing is frowned upon, since it's believed to interrupt a user's experience. And, the cost of acquiring a lead through outbound marketing is generally more than that for inbound marketing.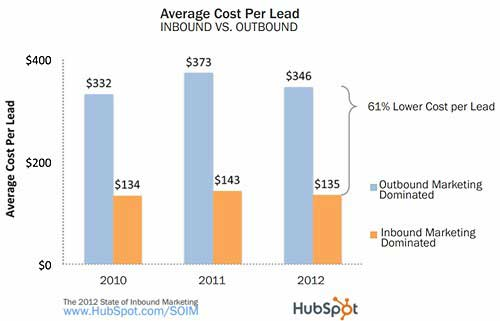 The reason people hate advertising is because of the pushy nature of messages. Shoving irrelevant pop-ups in people's faces as part of your social media marketing or overall digital marketing efforts is a huge turn off.
But, a smart marketer like you can marry these two strategies to effectively expand your brand exposure.
Rather than shouting in your ads to be heard, you can invest your precious dollars to launch precisely targeted inbound marketing campaigns and get your brand in front of the right people.
That's the real power of paid advertising. You can clearly measure your results and optimize your digital marketing efforts to keep reaping more revenue.
And that's the reason I experimented with 7 different paid customer acquisition channels for acquiring new visitors while working with Timothy Sykes.
5 of these channels created positive ROI (remarketing campaign to get visitors back to Tim's website got a 218% ROI). Paid advertising had a major contribution in making Tim $1.2 million extra in profits.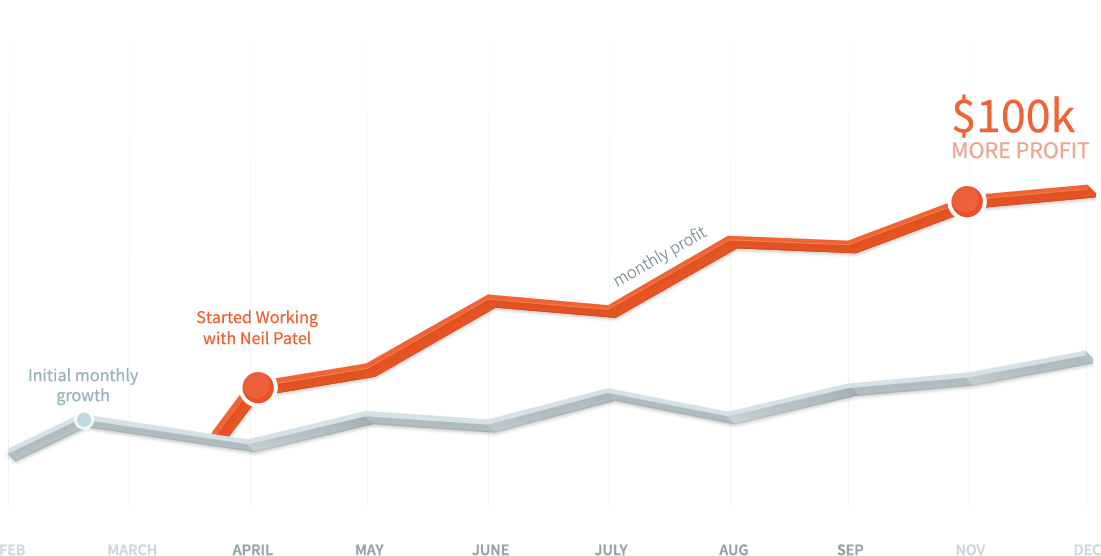 In fact, I've been doing paid advertising for close to 11 years now. I've even shared the lessons I learned from buying traffic through various channels like AdWords, LinkedIn and StumbleUpon in this article.
But, you've got to understand that the paid advertising landscape keeps evolving rapidly. Facebook Ads, like many social media marketing channels, didn't have advanced targeting options 5 years ago.
Now, you can leverage those social media channlels them to get clicks to your website at a few cents a pop and even new email subscribers under two dollars with the help of your digital marketing efforts.

With so many search engine optimization and social media marketing resources available on paid advertising, it's inevitable that you'll get confused. I don't want you to get into the death loop of testing your ad copy and CTA button repetitively without seeing any significant improvements.
In this blog post, I have compiled 3 effective strategies to shorten your paid advertising learning curve. I've tried to integrate case studies and a step-by-step breakdown of every growth hacking effort to make the article actionable.
Ready to launch impactful inbound marketing and social media marketing campaigns (or make your current ones more effective)?
Then, let's dive into the first growth hacking tactic you need to know… 
1. Improve your ad's relevance and lower your campaign costs by improving your quality score
You can put all the effort in the world into make your landing pages enticing.
But, what if users just ignore your advertisement?
A typical internet was served 1,903 banner ads per month (2012 data).
You've got to create a compelling advertisement to earn the attention of your customers and get them to click.
So, is there a way to measure the quality of your advertisements?
Yes, there is a quality/relevance score inside most advertising platform ecosystems. This score helps you in determining the relevance of your ad to your target audience. It also results in higher ad placements and lower costs in running your campaign.
Let me show you ways to improve your score on three platforms – Google, Twitter and Facebook. Thus improving your search engine optimization and social media marketing efforts, in the process. 
1. Google AdWords
When launching paid search engine campaigns on AdWords, you get a quality score that determines how much you pay for a click. It's Google's way of telling you if you're satisfying your customer needs. Along with your maximum bid, this score also determines your ad rank in auctions.
How is the score determined? No one knows the exact ratio of factors in the algorithm. But, here are 4 major factors that impact the quality score.
Past performance of your AdWords account

Relevance of your used keywords with the ad group they are in

Ad copy relevance and

click through rate (CTR)

of your ad

The quality and relevance of your

landing pages
A higher quality score will not just lower your Cost per click (CPC), but will also increase your conversion rates.
Here is a video by Hal Varian (Google's Chief Economist) to give you a better understanding of the quality score.
Note: The quality score that you see (a whole number between 1 and 10) isn't the one used by Google to determine your CPC. Instead, Google uses a real number on a non-linear scale (along with a bunch of other factors) to determine your CPC.
How can you improve your quality score? Here are 3 strategies.
i. Good Keyword Research and Tight Organization – It's all about user intent. Keep digging and adding highly relevant keywords to your campaign. Obviously, long-tail keywords are good additions because of their specificity and typical position towards the end of the purchasing funnel.
WordStream found that prominence of long-tail keywords in a successful AdWords account (with quality score of 8.8) was a major factor that led to a higher quality score.
As you can see, the account belongs to the 87th percentile in terms of long-tail keyword usage (in Wordstream's client database). 82% of keywords used are long-tails.

Additionally. organizing your account into tighter themed ad groups will help in creating more effective ads.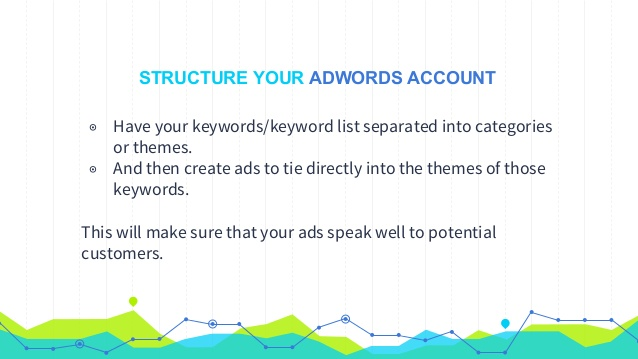 Here are two example keyword lists.
Pro Tip: Do you want to prevent wasting your budget before anything happens? Then, continuously research, identify and include negative keywords in your campaign so that your ad does not show up for irrelevant search engine queries.
Although these keywords might not impact your quality score directly, you'll reduce your irrelevant impressions. That, in turn, will improve your CTR and therefore increase your quality score.
You can use WordStream's free negative keyword research tool for mining irrelevant keywords in your campaign.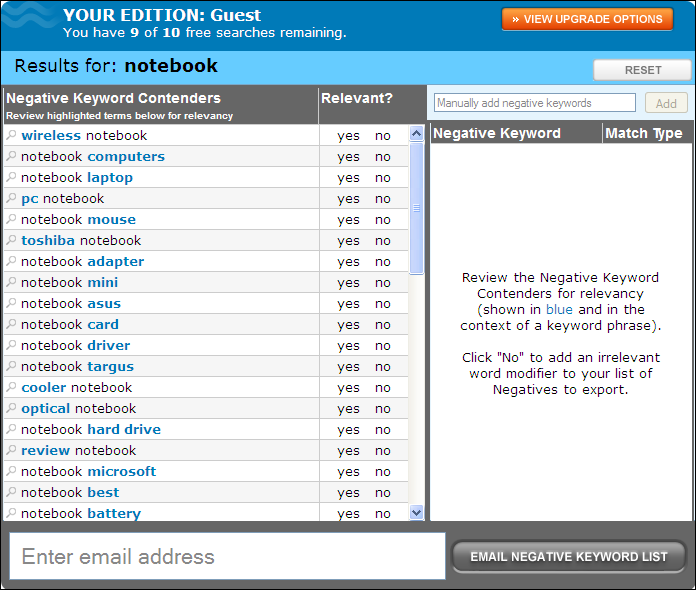 ii. Improve your CTR – The number of clicks on your ad (CTR) is the most crucial factor in determining your quality score. Look at the results from a study conducted by PPCHero below.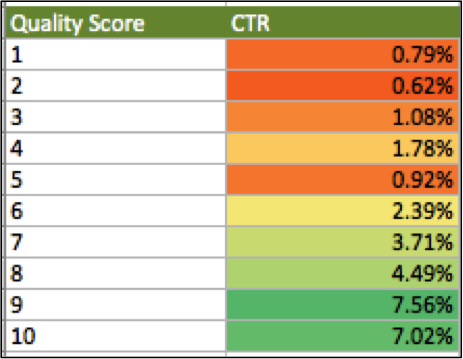 One way of improving your CTR and increasing your account's average quality score is by increasing your budget for branded keywords. Larry Kim from WordStream recommends setting aside at least 15% of your spend for branded keywords.
Since your website will also rank for branded keywords, bidding on your brand keywords will earn the most real estate above-the-fold.
As an example, look at the results for search engine query "Barneys" below. The sitelinks in sponsored and organic result combined give them 12 results above-the-fold.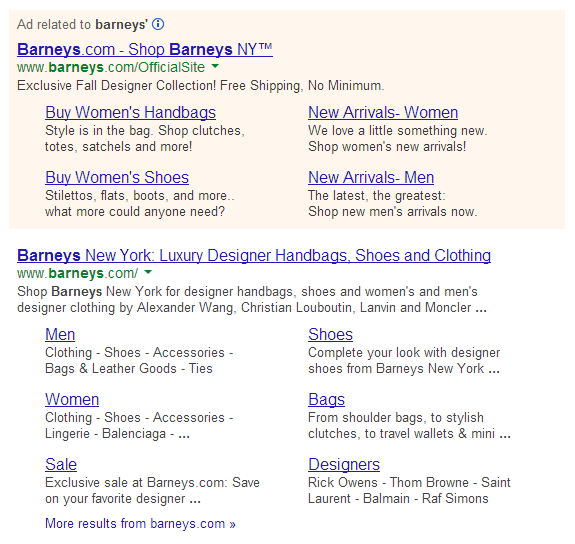 Another growth hacking tactic to improve your CTR is using site extensions like sitelinks, call/location extensions, app download CTA or product listing ads like the ones below.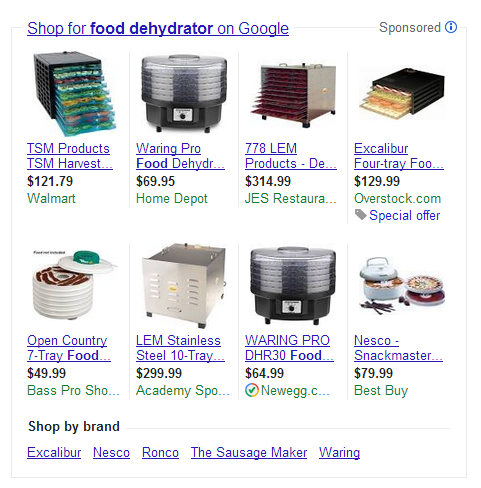 Finally, you need to consistently keep optimizing your ad copy to keep it more relevant and targeted. Campaigns run stale quickly and your ROI from them will keep declining.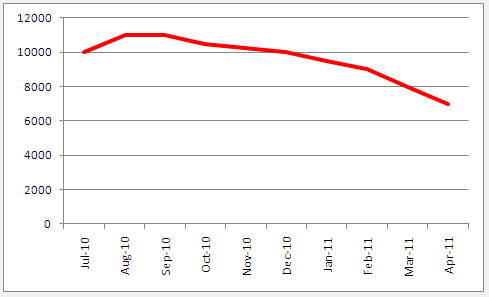 Keep writing more and more ads to explain your differentiating offer in new ways. Look at the number of ads running in the advertiser's account shared by WordStream (with a quality score of 8.8).
They had 100 active text ads – that's double the average for an account of their size.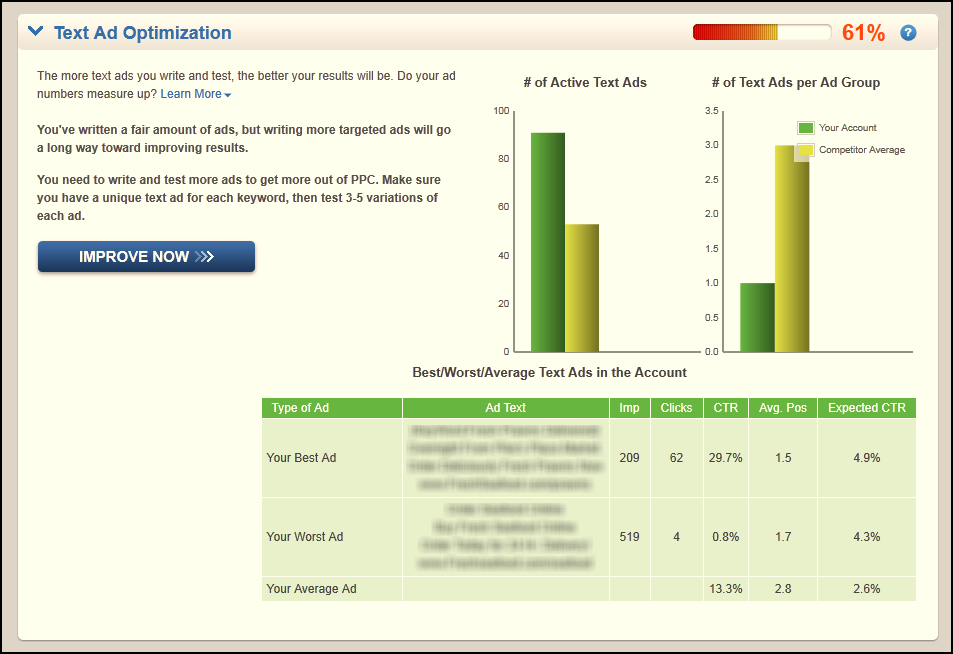 You need to pay special attention to writing an attention grabbing CTA for your ad. It should compel the visitor to click on your ad and visit your website.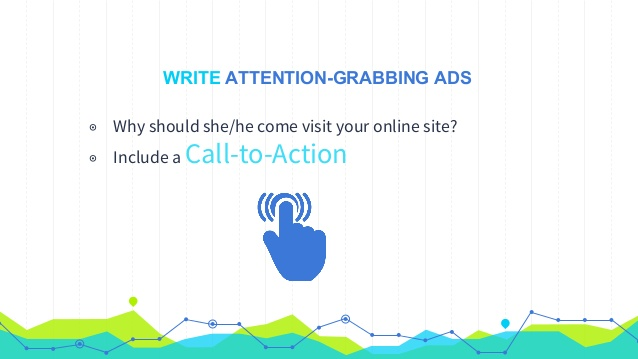 Using an exclamation mark (only one is allowed by Google) in your ad copy can also help your CTR. Test two ads, one with and the other without this simple vertical line punctuation.
As an example, look at the use of the exclamation in the russianbrides.com ad below.
iii. Optimize your landing pages – You need to keep your ad copy relevant to the great content on your landing pages. Failing to maintain relevancy on your landing pages is the number one mistake that hampers conversion rates.
As an example, look at the ad below that leads to the landing pages of Fine Gold Bars website. You don't see any type of value proposition (not even a headline) to compel the visitor to convert.
It's a typical example of a poor media marketing experience. And frustrating landing pages like this will negatively impact their quality score of the web site.
Watch this video tutorial by Google discussing the basics of website design to help you get better results on your landing pages.
You can check your quality score by logging into your AdWords account. Navigate to campaigns. Then, choose the keywords tab and click on the white speech bubble next to the keyword's status.
You can also use WordStream's free performance grader tool to check the quality of your ad. It'll do a quick audit of your account across 8 key performance metrics.
You just need to logon to www.wordstream.com/google-adwords, enter your email address and click on the blue 'Get your Grade' button to get started.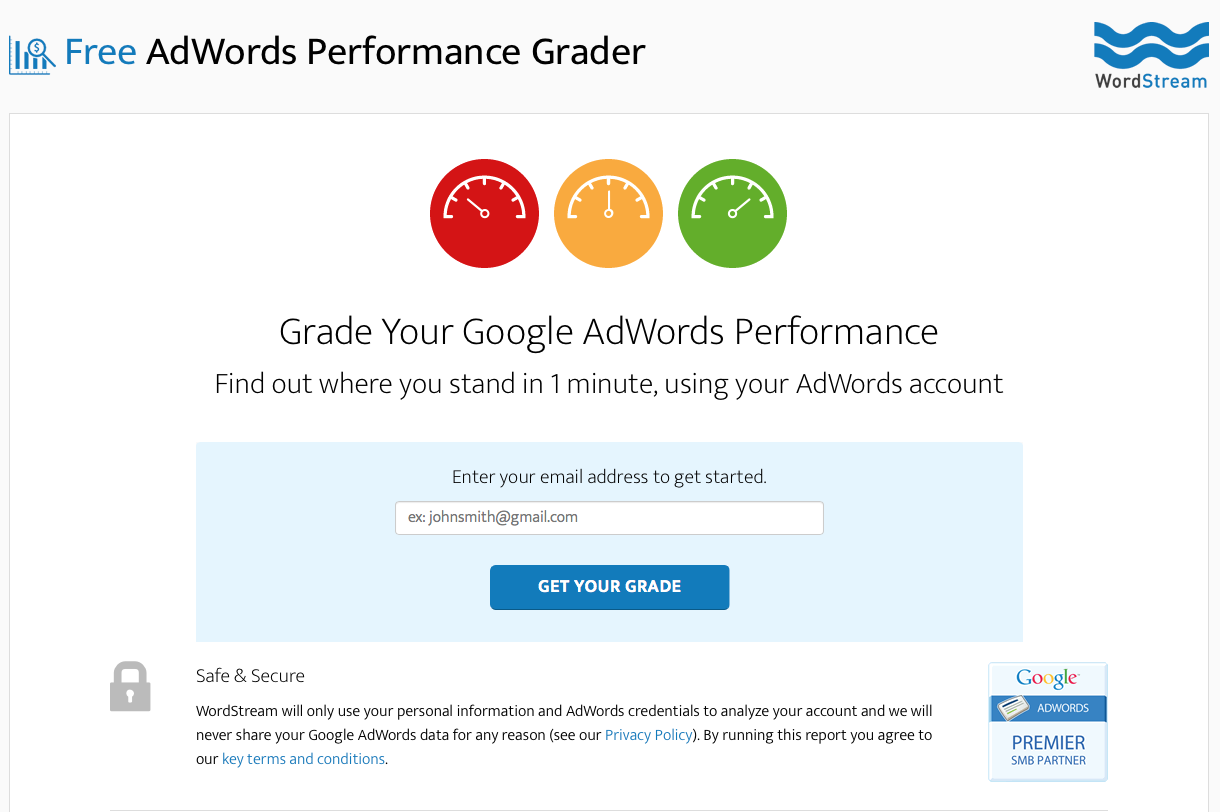 You'll get a plotting of your average quality score in the last 90 days. Along with the number of impressions happening at each quality score, you'll also see a graph of the industry benchmark.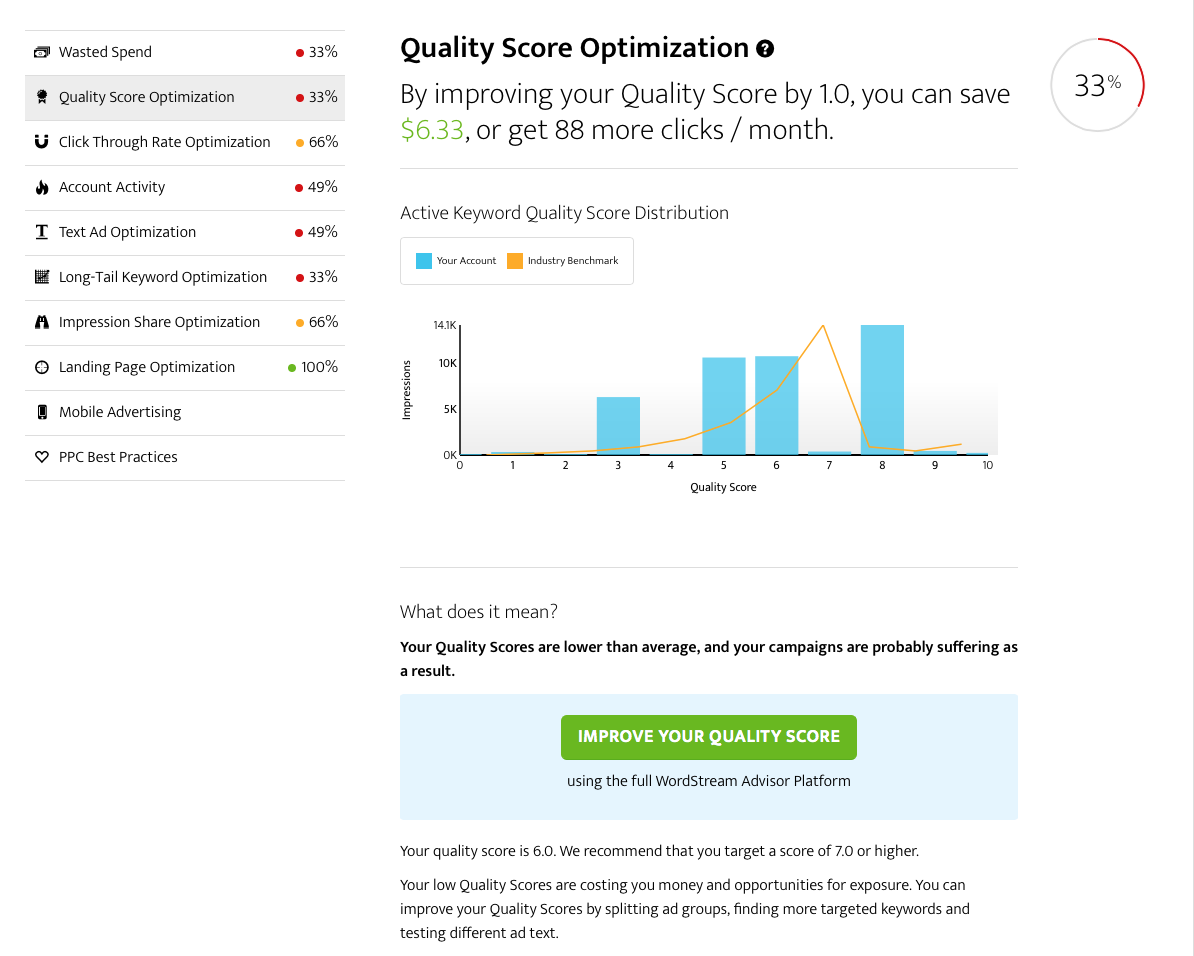 2. Facebook Ads
Similar to Google, Facebook gives you a relevance score for your ads. It's Facebook's way of evaluating whether or not your business advertisement is showing to the people who care about it.
The score is based on the engagement of your ad. A higher score will help you in getting more impressions at a lower cost, meaning customer acquisition for less. So, it's a great way to test ad creative campaigns and even to optimize the social media marketing efforts already in progress.
Remember, it's not about quality, but rather relevance. So, even a decent design and copy with perfect targeting will enjoy a healthy score and encourage customer acquisition. 
Look how the targeting in the example below changes the relevance score.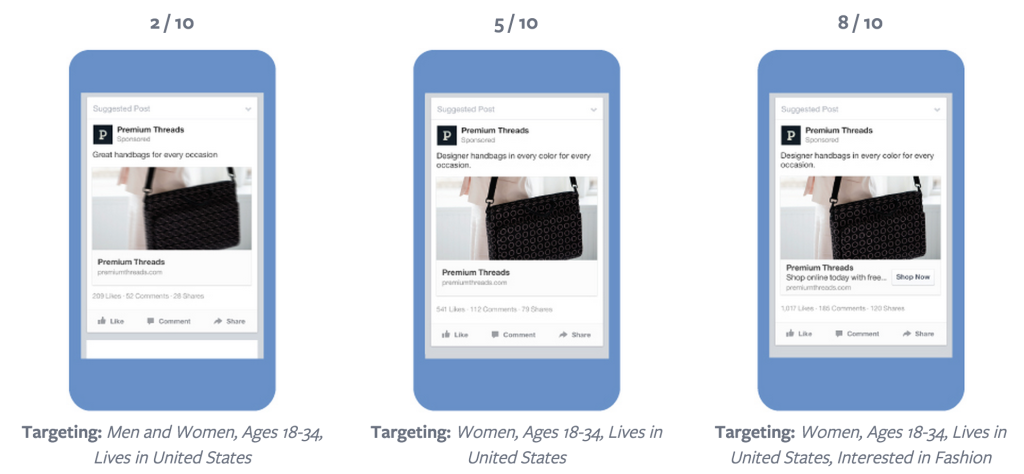 Want to know the difference in advertising cost between a good and bad relevance score?
Here's an advertisement adespresso ran with a score of 2.9. It cost them an average of $0.142 per website click.

Then, they changed the targeting to a custom audience of people who visited their website in the last 90 days.
Boom.
The relevance score jumped to 8.0.
And that led to a cost per website click of $0.03.
That's right – four times the clicks were generated with the same budget.

Accessing your relevance score is simple.
Log into Ads Manager. Choose your campaign. Then, pick the AdSet you want to analyze and then on the Ad. You'll get a "Relevance Score" tab that shows your score.
AdEspresso analyzed 104,256 ads created through their platform in a 45-day period.
And, guess what?
63% of their ads had a relevance score over 6. The most common score was 8.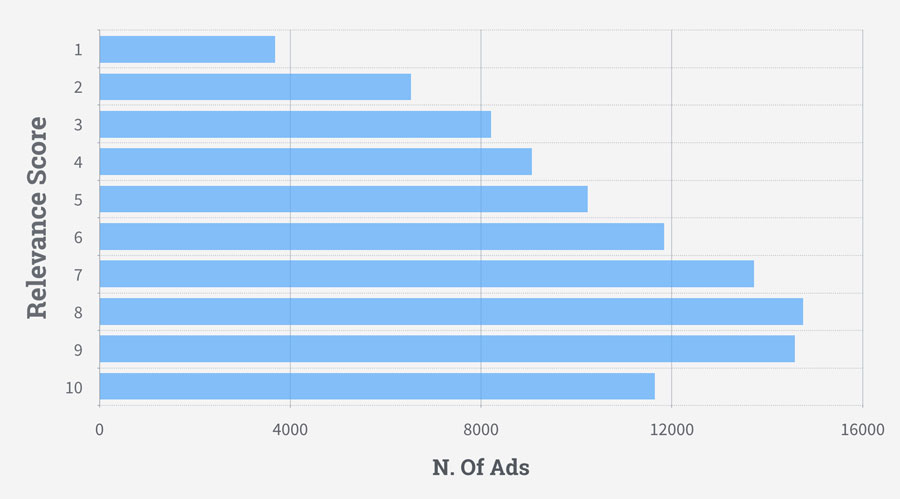 Look at the tremendous increase in click through rate (and decrease in cost per click) with the increase in relevance score.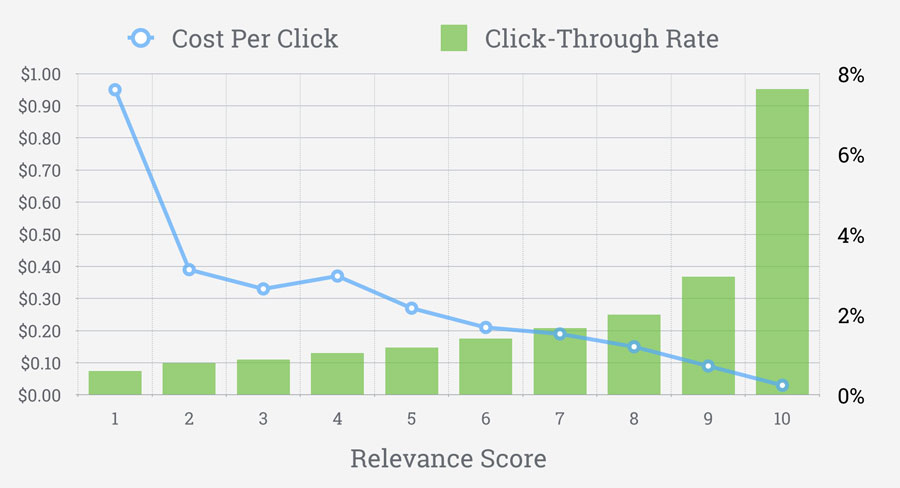 Are you wondering what factors might influence your relevance score on Facebook?
The story is similar to Google AdWords.
A higher CTR on your ad means it's targeting the right people.

More social media shares on your ad is a strong signal of its quality and hence improves your score. Even the likes and comments of your ad might be considered.

Be wary of a user hiding your ad from their newsfeed. It's a strong negative endorsement of targeting.
So, how do you improve your relevance score and increase the effectiveness of your growth hacking campaign?
Here are 3 effective customer acquisition strategies to do just that.
i. Split test images – Social media is highly visual. In a Facebook Ad, visuals hold 80% of real estate. Testing images can make all the difference. Plain images sometimes work better than dazzling ones in social media marketing efforts. 
ii. Check your Ad frequency – Did you know you that banner blindness has even infiltrated the Facebook Newsfeed? That's because a whooping 1,500 stories are vying for a user's attention when he logs in.
AdEspresso analyzed 500 campaigns to find the correlation between frequency and performance.
Notice the CTR decrease (and CPC increase) with an increase in frequency.
At a frequency of 9, the average CPC increases by 161% compared to the beginning of the campaign. Set an optimum frequency for your ads. Don't try too hard.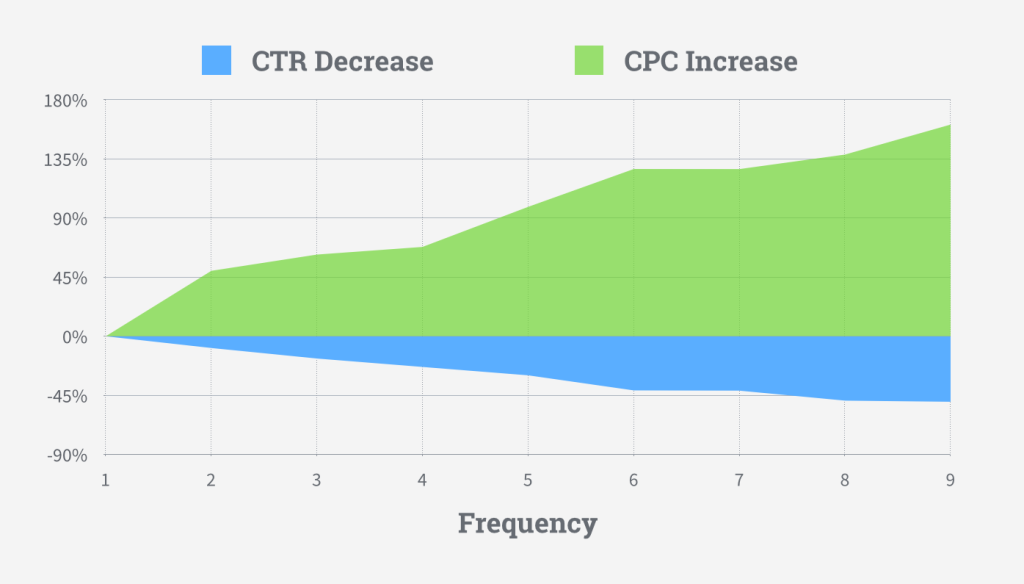 iii. Set laser-focused targeting – It can make all the difference in the world. Facebook gives you a wealth of targeting options (almost 1500 data points per user) for customer acquisition. Try to narrow down who's seeing your ad to the most relevant group of customers possible.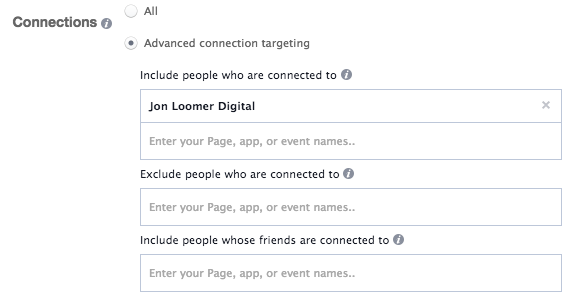 You can even create a custom audience from your email lists and tremendously improve your relevance score.
3. Twitter Ads
Twitter uses quality adjusted bids to determine the ads it will display. This score is comprised mostly by the 3R's – Resonance, Relevance and Recency (other than your bid amount). Here's an official breakdown of the score by Twitter.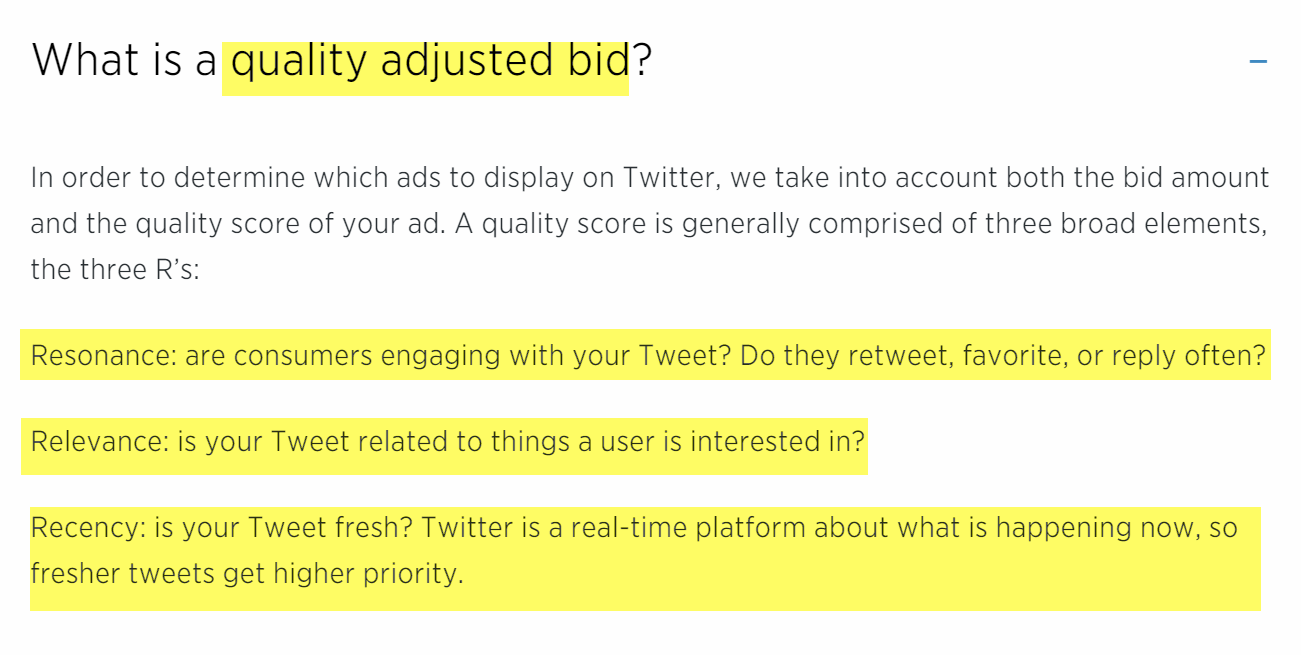 As per Larry at WordStream, for every point of decrease in engagement, advertisers on Twitter see a 5% decrease in cost per engagement.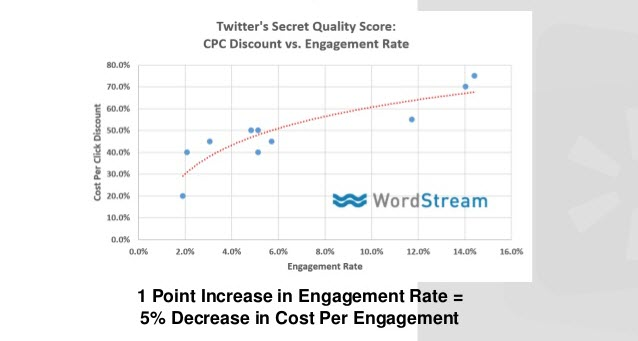 If your engagement rate increases to 60%:
The cost per engagement becomes one penny. And, at 36% engagement, it's two pennies.

Do you want to improve your quality score on Twitter?
Here are 2 growth hacking strategies that should help.
i. Promote only your best tweets – Find your high engagement tweets by exporting data from the Twitter Analytics dashboard and allocate them maximum budget for amplification of you social media marketing efforts.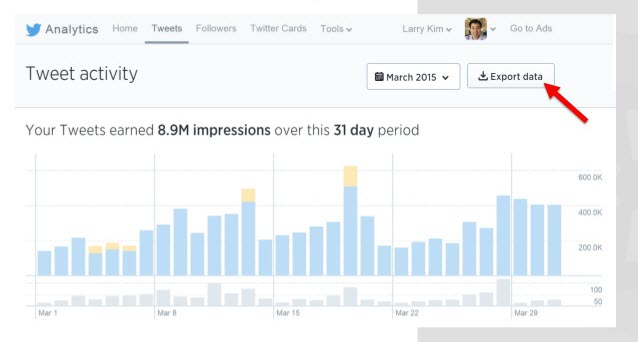 Using this online marketing strategy, Larry Kim ended up getting over 100,000 visits and 1,500 retweets by spending $250 on Twitter Ads.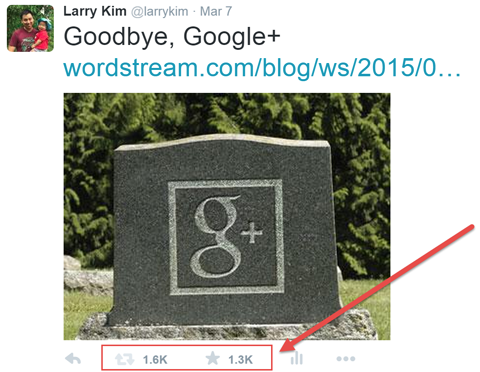 ii. Narrow your targeting – If the CTA on your landing pages is the call button or if it's relevant to local customers, then you should only target mobile visitors, because it's relevant to local people on the go.
You can also use partner audiences by Twitter to reach people based on their offline activity. They're available under "Select Behaviors."
You get a chance to choose from a variety of 1000 audiences across 12 broad categories. Choose precisely.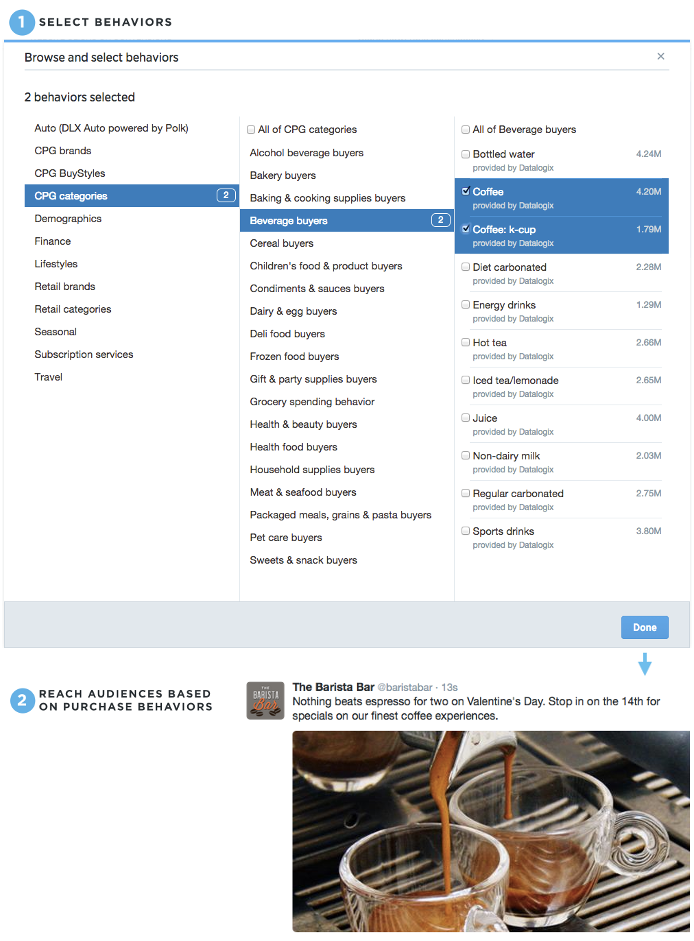 If you want more strategies, you can check out my detailed article on how to improve your Twitter Quality score.
2. Launch remarketing campaigns by segmenting your website visitors or by creating a custom/tailored audience
70% of shoppers abandon their cart. In fact, 49% of individuals visit a website 2-4 times before they make a purchase.
It doesn't mean that a prospect didn't like your brand or your offerings.
They might have just gotten distracted.
And, if you act fast, you can still close the sale.
Want to know how?
Through a remarketing campaign.
It's an incredibly effective and cheap form of advertising. I've experimented with remarketing on various platforms and it's boosted my overall deal closing ratio by 28%.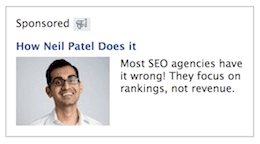 Why does it work?
It works because you can create laser-targeted ad copy based on the targeted user's place in your conversion funnel. You tag the user with a cookie and he gets followed around the internet with a remarketing ad reminding him about his interest in your product.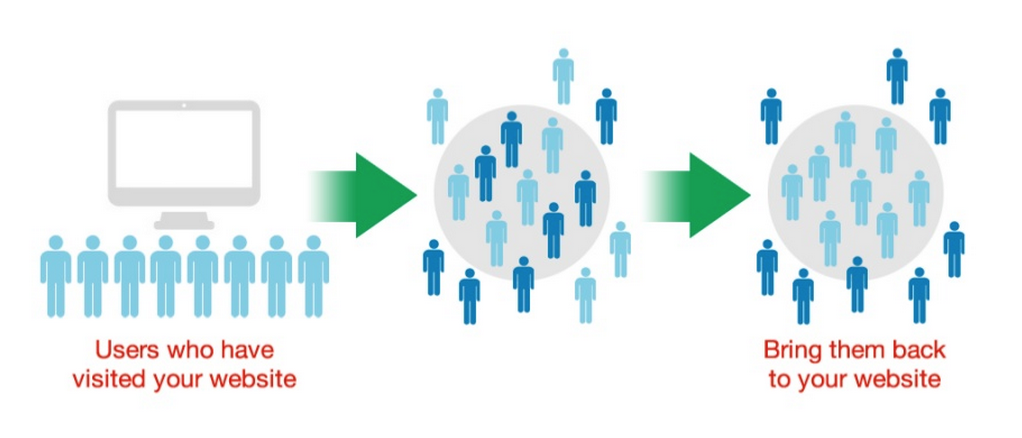 It's also a great way to improve your brand recall.
Google Display Network is a prime remarketing ground as well, as it reaches 92% of all internet users in the US.  Social media marketing platforms like Facebook and Twitter also have robust remarketing ad tools.
The best part about these ads isn't their lower cost or higher click through rate (CTR) over traditional ads. The real win is the fact that your customer acquisition conversion rates improve with more ad impressions. No, people don't hate remarketing ads. They probably don't even pay attention to them initially.
Larry Kim from Wordstream advises you to get aggressive and set unlimited impressions. The only caveat is that your social media marketing efforts should be creative and bold.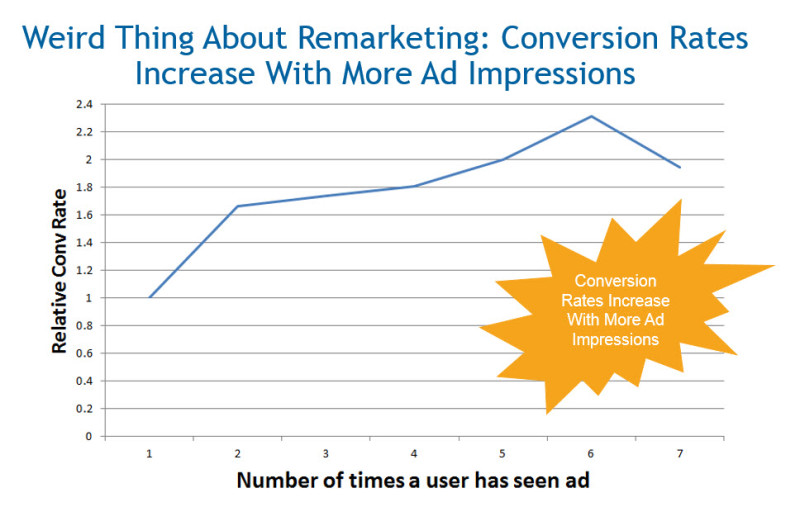 Now that you've got a high-level view of their effectiveness, let me quickly show you how to setup a remarketing campaign on Google.
In Google's ad ecosystem, you can create a list of your abandoned website visitors by tagging them with a cookie when they visit a specific page on your website.
Step #1 – Find your remarketing tag by logging into Google AdWords, then navigate to:
Shared library >> Set up remarketing.

Copy and paste the tag into the footer of your website. You may want to hire a developer and email it to him for help with implementation.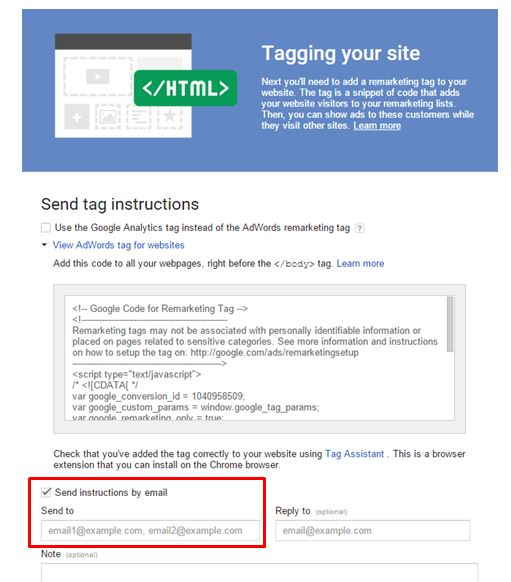 Log back into your AdWords account and check if your remarketing tag has activated.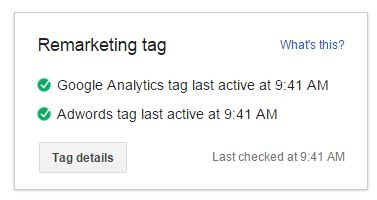 Step #2 – Navigate to Audiences >> +Remarketing List.

Enter a name for your remarketing list. Then, let's tackle the other elements one-by-one.
Your remarketing list should target specific users that abandoned your conversion path midway, like those who abandoned a product page on your website. Choose who to add to your list based on your remarketing campaign objectives.
If you've analytics data includes accounting for high financial value of a section of your website visitors, then you should bid aggressively for that section.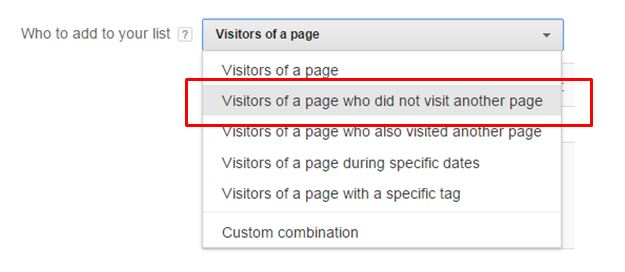 Inside the rule field, you need to setup the type of visitors you want to target. Enter the exact URLs of the pages your target customers came to for the list previously visited and the page that they didn't move onto.
Your list will need at least 100 visitors to your website within the last 30 days to qualify for a remarketing campaign.
Step #3 – Choose the duration of your ads (the number of days you want your ad to follow a user). It's called the audience membership duration.
This number will vary based on the sales cycle of the product/service you're advertising. You'll need to test this number to find the sweet spot for your target audience (Larry Kim recommends you to set it to 3x your average sales cycle length).
Step #4 – Once you've created the list, you can start your AdWords campaign by heading over to +Campaign from the All Campaigns in AdWords. Choose "Display Network only".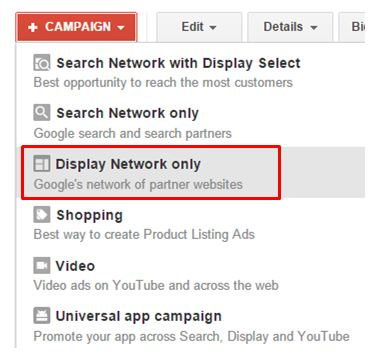 Step #5 – You should also set your frequency capping. Don't be afraid of testing a high number of impressions.
As you deliver targeted messages, add value and keep rotating your ads, your users won't get creeped out.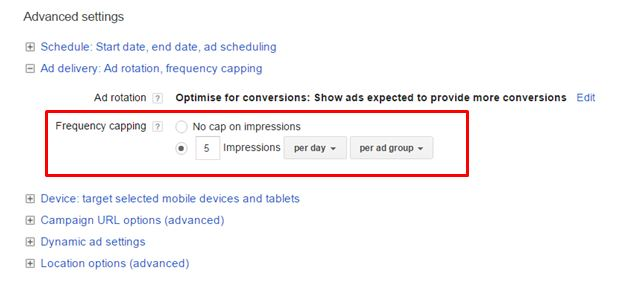 There are 14 ad formats that you can use on the Google Display network. This gives you get the chance to experiment rigorously.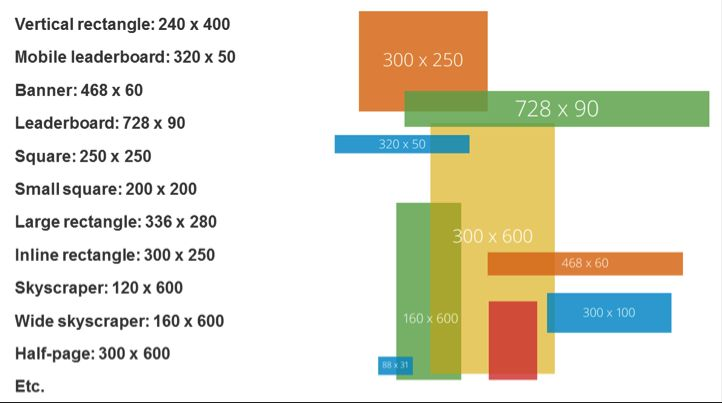 On Facebook, you can create a custom audience from Ads Manager. You can even target your email subscribers. Check out my article on Facebook Advertisements for detailed instructions.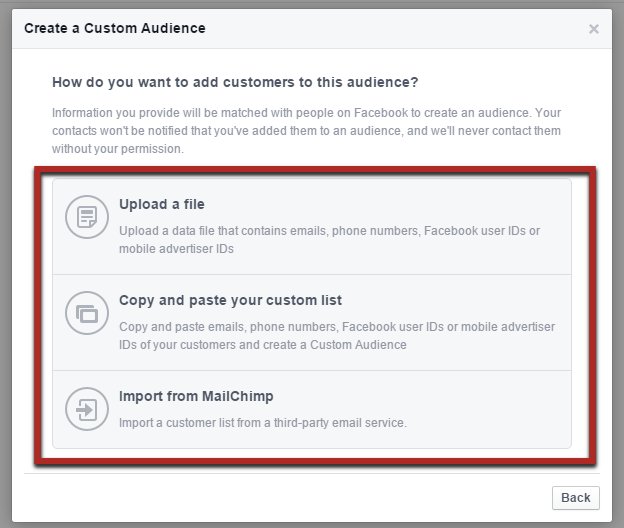 On Twitter, you can use tailored audiences for running a remarketing campaign. Refer to this article at Quick Sprout for detailed instructions.

3. Ditch the prominent advertising networks. Maybe you can gain a terrific ROI from smaller niche networks
What's visible and common in the marketplace might not yield the best ROI for your small business. Maybe your customers don't hang around that much on the bigger platforms. Don't just follow the herd and limit your customer acquisition marketing efforts to Google AdWords and Facebook advertising.
Start by having a look at the demographic data of upcoming social media networks. Maybe you've got a majority of your target audience hanging out on a smaller social media marketing network.
For example – If you're targeting females below the age of 25, then Snapchat could be a goldmine.
70% of their user demographic is female and 71% of the users are below the age of 25.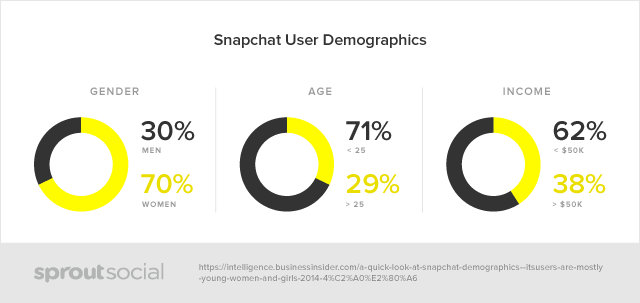 This article by Sprout Social might help you to get started with demographic information about social media marketing on different social networks.
Keep an eye on how your competitors are carrying out their online marketing campaigns with own social media presence. Maybe they're finding great ROI from Bing advertising. If this is the case, it might be worth a shot for you as well. Here are 2 tools to help you spy.
i. BuzzSumo – Key your competitor's website into the search box and click on the go button.
Here are the results for authoritynutrition.com.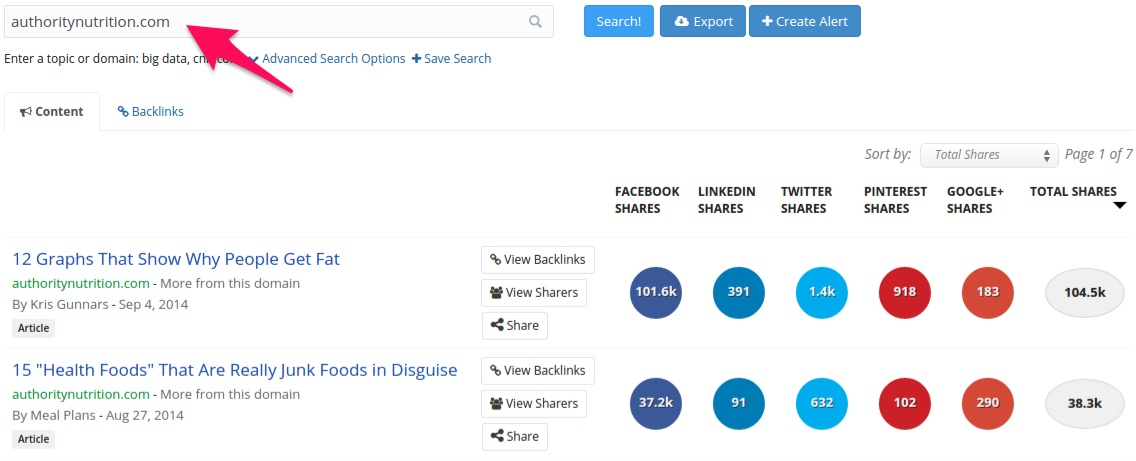 As you can see, their articles get most social media shares on Facebook.
But even social media channels Twitter and Pinterest seem to do well. You next need to drill into their social media presence on these smaller networks and see if they're doing any paid online marketing campaigns.
You can even find out the influencers who've shared and contributed to the success of the most popular content of your competitors via social media marketing efforts. 
Just click on the view sharers button.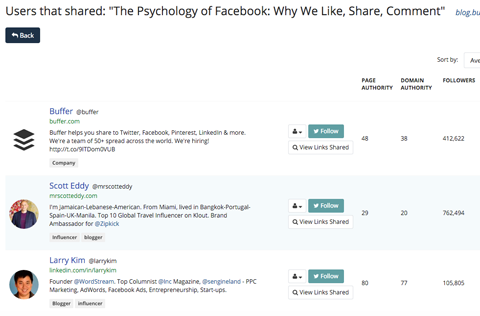 If you find models (or celebrities with a gigantic social media presence) who aren't related to your niche sharing your competitor's content on social media channels, then they might be getting paid to do that publicity.
I've executed a similar social media marketing strategy in the past on Instagram, striking deals with models and celebrities. They all had huge social media followings and I spent $57,000 to get them to create buzz about my name.
This is an unconventional paid online marketing model that you can also consider.
ii. Rival IQ – This is a great paid social channel intelligence tool that can help you to dive deep into your competitor's online marketing strategy.
You can directly add your competitors to your landscape and start analyzing competitor profiles on all major social media networks.
You'll get detailed social media channel insights on the size of your target audience, posting frequency and engagement of your competitors on social media which should help with your customer acquisition marketing efforts. Here's an example snapshot of a competitor Google+ report.
Keep close tabs on your and, if you notice a huge increase in weekly engagement, it's a sign of paid advertising on the network.
Next, I want to show you 3 specific case studies to demonstrate the value smaller networks can deliver for your brand.
1. How a retailer generated $41,254.34 in revenue from $775.50 in ad spend from Pinterest Advertising – Ezra used promoted pins to send people to a story about his brand and the products on his website.
And people clicked through to buy stuff from his eCommerce store. Look at the exact funnel he used: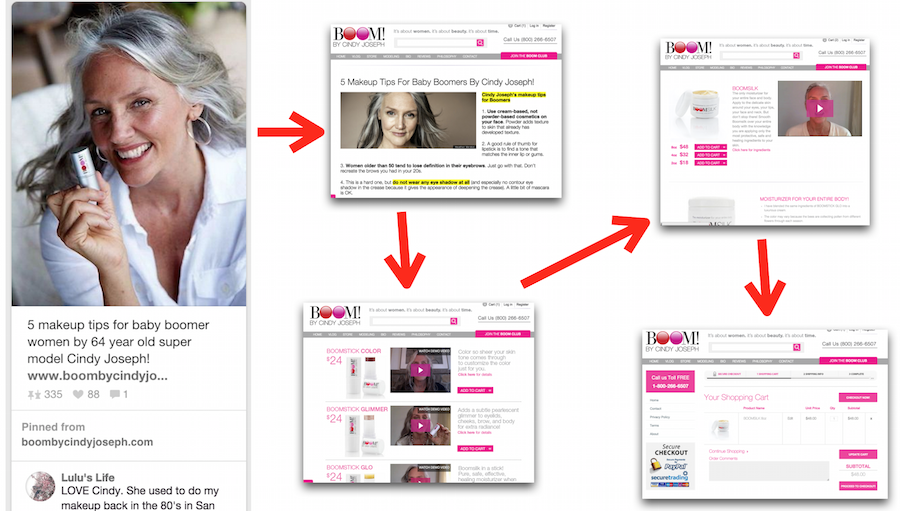 He spent a total of $775.50 dollars on advertising that produced 17 cent clicks.
And, how much revenue did he generate from his efforts on social channels?
It was a staggering $21,969.

He even points out that his other revenue sources have doubled because of Pinterest.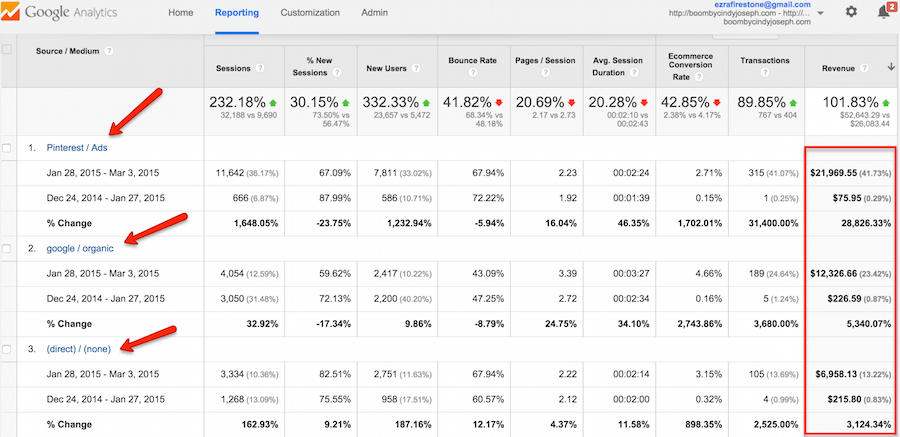 2. How HP generated over 2,000 brand advocates using LinkedIn Recommendation Ads – Do you know that LinkedIn generates almost 3x ROI for B2B business as compared to Facebook or Twitter?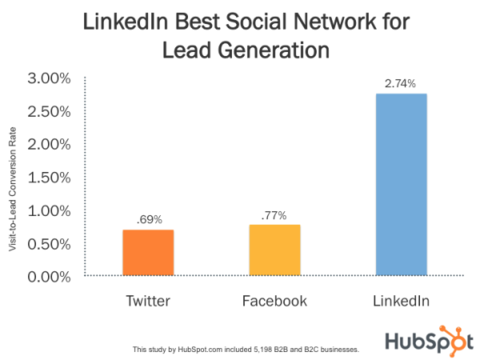 You can either promote a company update or create direct sponsored content.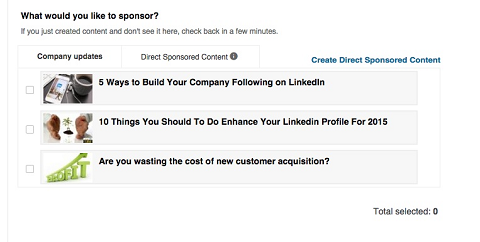 You'll get a bunch of targeting options including company, job title, field of study, skills, school and more.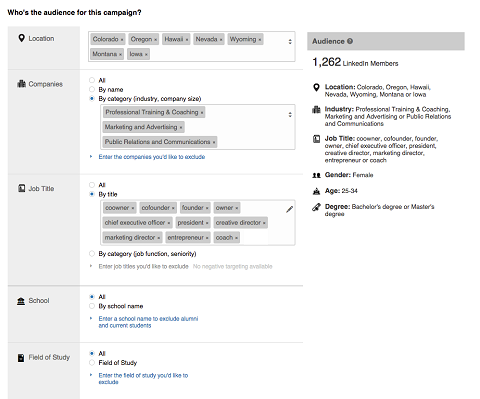 Let's look at HP's case study. The aim of launching their LinkedIn campaign was targeting small business owners and gaining their trust. They used LinkedIn recommended Ads to accelerate their results.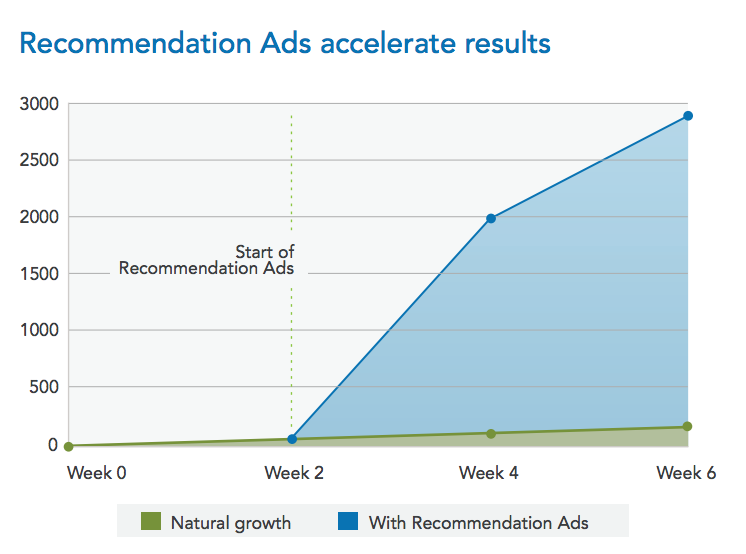 You can watch a video breakdown of this case study below.
3. How a retailer achieved 800% ROI by repurposing and promoting content using Outbrain – I've previously written many blog posts about content promotion. It's an extremely necessary part of any content marketing campaign.
Turning to a paid discovery network like Outbrain can be really helpful in some niches, such as the case of this department store.
They repurposed their great content using existing digital assets and shopping guides in 7 merchandise categories. Then, they turned to Outbrain for amplification in the Outbrain network. Here's a detailed look at their online marketing strategy.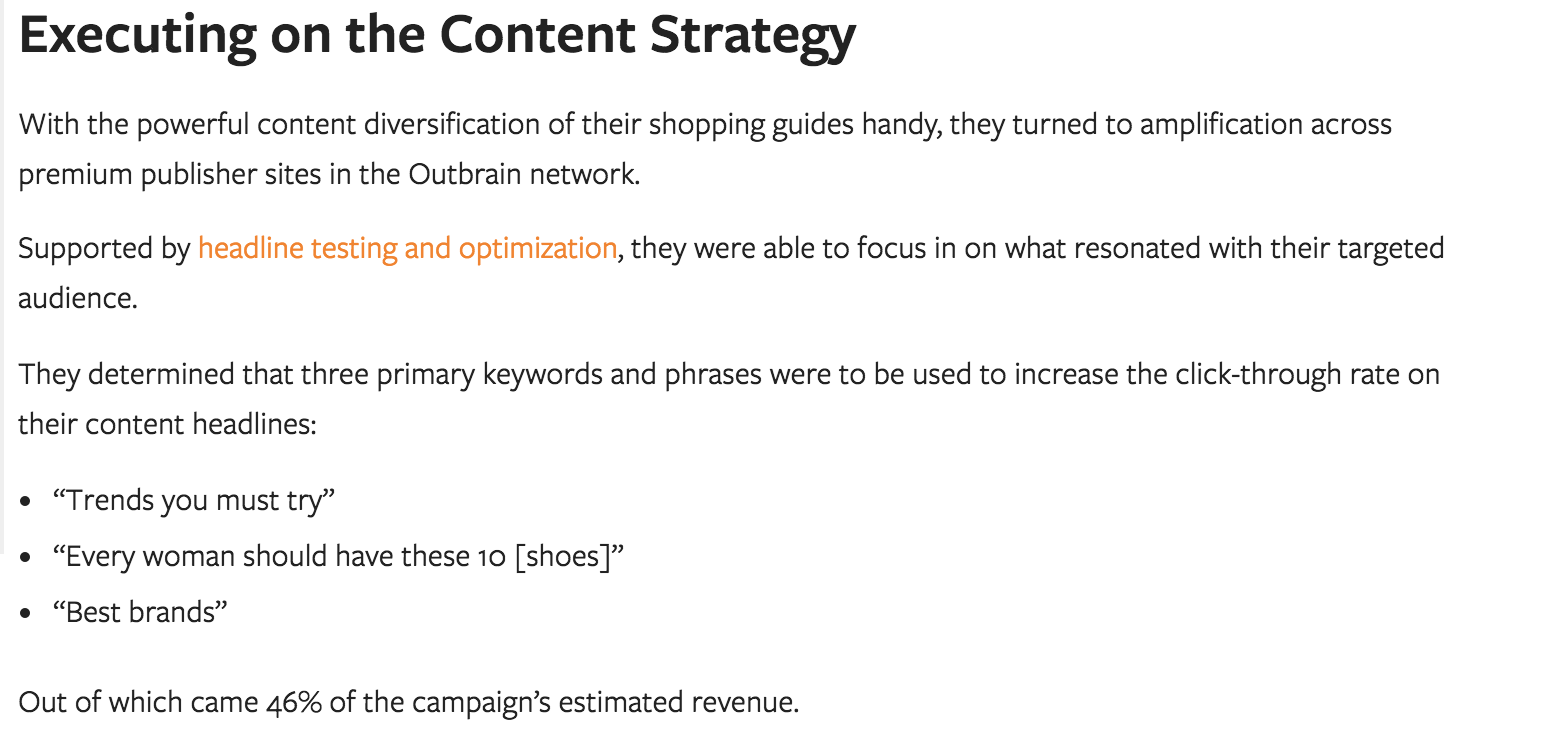 A majority of conversion rates from distributing the shopping guides surfaced after 7 days.
Just look at the difference between CPA and conversions in different quarters.
And, the estimated revenue? Yes, you read that right. It's $3.5 million.
Note: I've had huge success with Instagram (smaller yet hugely profitable social media network). To tell you the exact numbers, I generated $332,640 in 3 Months by spending $75,000 on Instagram Ads. You can read the detailed case study on Quick Sprout.
Conclusion
Paid online marketing is an extremely effective customer acquisition marketing effort to reach your audience and accelerate your growth. For most niches, Facebook and Google's advertising ecosystems can provide great ROI.
But, make sure that you check out how your competitors are performing their own online marketing efforts. A smaller social media network might offer better engagement and interaction opportunities with your customers, with which to effectively gain some valuable customer acquisitions.
If you invest your dollars wisely and keep optimizing your ads, it's normal to get more than 300% ROI.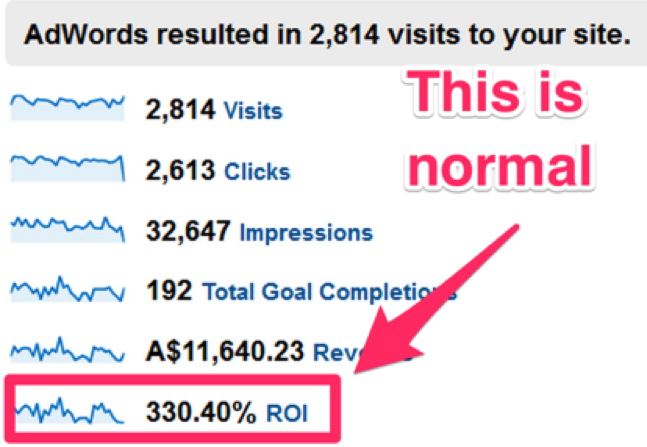 Have you launched any paid online marketing campaigns? I would love to hear about the customer acquisition results you got in the comments below.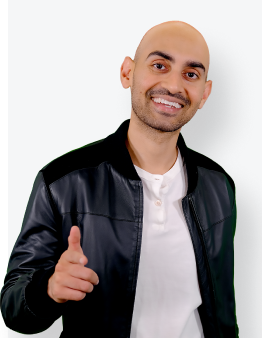 See How My Agency Can Drive More Traffic to Your Website
SEO - unlock more SEO traffic. See real results.
Content Marketing - our team creates epic content that will get shared, get links, and attract traffic.
Paid Media - effective paid strategies with clear ROI.
Are You Using Google Ads? Try Our FREE Ads Grader!
Stop wasting money and unlock the hidden potential of your advertising.
Discover the power of intentional advertising.
Reach your ideal target audience.
Maximize ad spend efficiency.