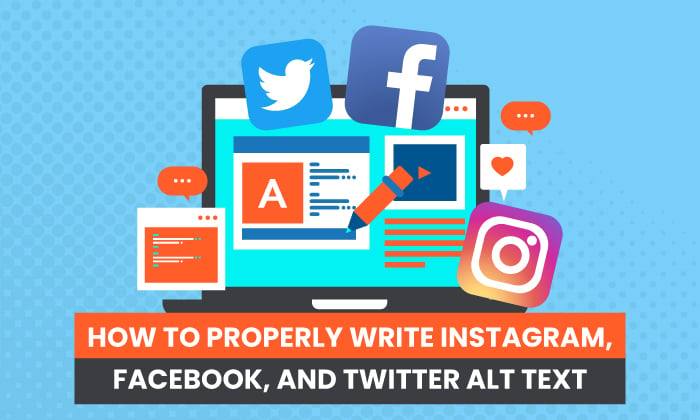 When you're taking your time to curate the perfect images, add the best filters, and write the catchiest captions for social media, it can be easy to overlook a less "urgent" element. This element lives in the background of your social posts, and its proper use could be beneficial for SEO and accessibility alike.
What am I talking about? Alt text.
Alt text isn't just for blog posts and long-form articles. Wherever an image exists online, so should alternative text.
In this article, you'll learn what alt text is and why it's important. You'll also learn seven tips for writing effective alt text for social media, as well as how to add alt text to Instagram, Facebook, and Twitter.
What Is Alt Text and Why Is It Important?
Alternative text, colloquially referred to as alt text or alt tags, is an HTML attribute used to describe an image. When an image displays on a webpage, the alt text is not visible. However, alt text can be accessed by a screen reader, or it will display if the image is unable to load.
There are two common uses for alt text, Search Engine Optimization (SEO) and accessibility.
For SEO purposes, alt text is an additional text element that search engines can crawl. This can positively benefit search engine results page rankings. When it comes to accessibility, alt text makes it possible for screen readers to read the description of the image to the user, which improves user experience.
Before we go on, let me clear up some common confusion. There are several attributes you can add to image elements, including alt text, title text, and captions.
Alt text, as described above, is important for SEO and accessibility. Title text isn't required and is less beneficial to SEO than alt text. Title text displays when a user hovers over an image, so it's not particularly useful for accessibility.
Finally, captions appear below an image and are visible to all users and screen readers. They aren't necessary, but they can add further context to the image.
7 Tips for Writing Instagram, Facebook, and Twitter Alt Text
Adding alt text to your social media images is important for SEO and accessibility. To have the greatest impact, though, you need to know how to write alt text effectively. The seven tips below will help you to craft functional and descriptive alt text.
1. Describe the Image Clearly
Whether for SEO or accessibility purposes, the more clearly you describe the image, the better. What do we mean by clearly?
Let's take the example of the image below: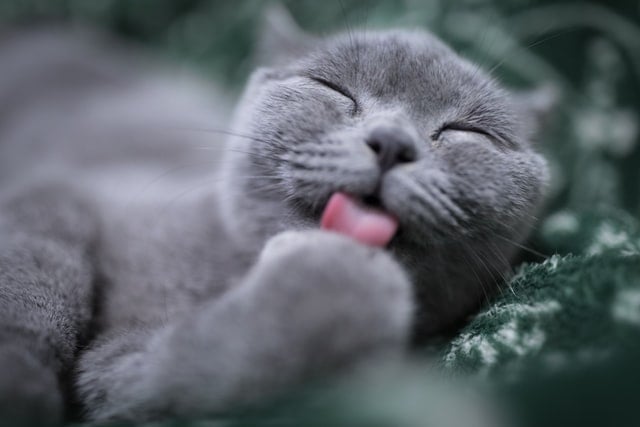 Here are examples of alt text ranked by their descriptiveness and clarity:
Okay: cat
Good: a gray cat
Best: a gray cat licking its paw
The last example paints a picture the other two examples don't. This describes the image so the end user can envision it or understand the larger context of the image.
2. Be Concise
Descriptive doesn't mean wordy. Actually, being too wordy can take away from the most important descriptors. It may also be a poor experience for users, especially those who use a screen reader. This is because screen readers may cut off alt text after 125 characters.
One easy way to cut down on characters used is to avoid qualifiers like "very," "really," and "just." If conciseness isn't your strong suit, also consider this basic formula when writing your alt text:
adjective + noun + adverb
Here's an example: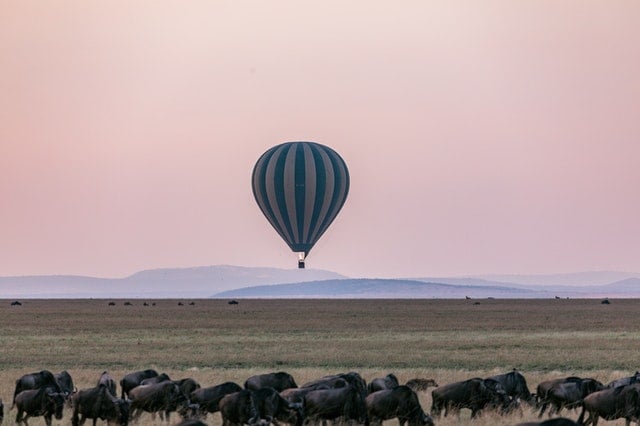 Alt text: A multicolored hot air balloon flying over grassy terrain
While the formula isn't fool-proof, it does provide a good template for beginners. You should feel free to flip the parts of speech around when it makes sense or forgo a part of speech entirely. However, the formula will provide you with a high-quality alt text for SEO and accessibility alike.
3. Don't Feel the Need to Describe Everything
In the spirit of being concise, you should also know where to draw the line when it comes to being descriptive. You should describe the image clearly, but don't feel as if you need to describe every aspect of the image.
When writing the alt text for a busy image, consider what aspects of the image are important for the context of your post.
Take as an example the image from the previous tip. The image includes a herd of cattle in the lower portion of the image and cattle sprinkled throughout the landscape. If the social media post was about cattle, then you could change the alt text to "A multicolored hot air balloon flying over a herd of cattle." There isn't a need to include both the grassy terrain and the herd of cattle in the alt text as it doesn't add additional context.
4. Don't Editorialize
When writing alt text, you aren't writing an editorial. That means the alt text should be objective. You should describe what is seen in the image, not what can be inferred from the content.
What does this mean? In general, you should not:
assume feelings or emotions
assume age, sex, or ethnicity of subjects
make judgements on the subjects or context of the image
tell a story
Think of alt text as a way to transmit data. You should only include what's relevant and what's visible to the naked eye. This ensures everyone is on the same page whether they see the image or not.
5. Use Relevant Keywords
For SEO purposes, alt text provides another opportunity to use relevant keywords. This may be the main keyword, related keywords, or tangential keywords.
While keyword inclusion is beneficial, you should avoid keyword stuffing. That is, do not use the alt text as a place to input a list of related keywords. For example, if your article is on how to train a cat and the image is of a cat performing a trick:
Bad: cat feline cat training obedience training commands
Good: a trained cat jumping through a hula hoop
If you're wondering if your alt text is leaning towards keyword stuffing, read it out loud to yourself. This makes it easier to hear if it's stilted and keyword-heavy or more natural.
6. Avoid Phrases Like "Image of"
In the same spirit of being concise, you should avoid extraneous phrases like "image of" or "photo of." These are unnecessary and wordy. After all, the user will know the alt text is connected to an image, whether they see it themselves or use a screen reader.
7. Include Text That's Part of the Image
When posting on social media, it's common to use an image with a text overlay. That text should be included in the alt text, along with the relevant image description.
It can be tricky to remain under character limits while describing both the image and the text. If you must make a choice, then consider whether the text is already included in the content. If it is, you can use the alt description to describe the image. If not, the text on the image should take precedence as it likely adds value to the content as a whole.
How to Add Alt Text on Instagram
Here's how to add alt text to a new post on Instagram:
Open the Instagram app on your phone and follow the steps to add a photo. Click "Next" (iPhone) or the right arrow (Android) in the top-right corner after you've edited the photo.
Click "Advanced Settings," towards the bottom of the screen.
Select "Write Alt Text" in the Accessibility section on the next page.
Write the alt text and click "Done" (iPhone) or the checkmark (Android) in the top-right corner.
Click the back arrow on the next page.
Write your Instagram caption, then include any hashtags, location, and other details you want to include. Click the "Share" button (iPhone) or the checkmark (Android) to upload your post.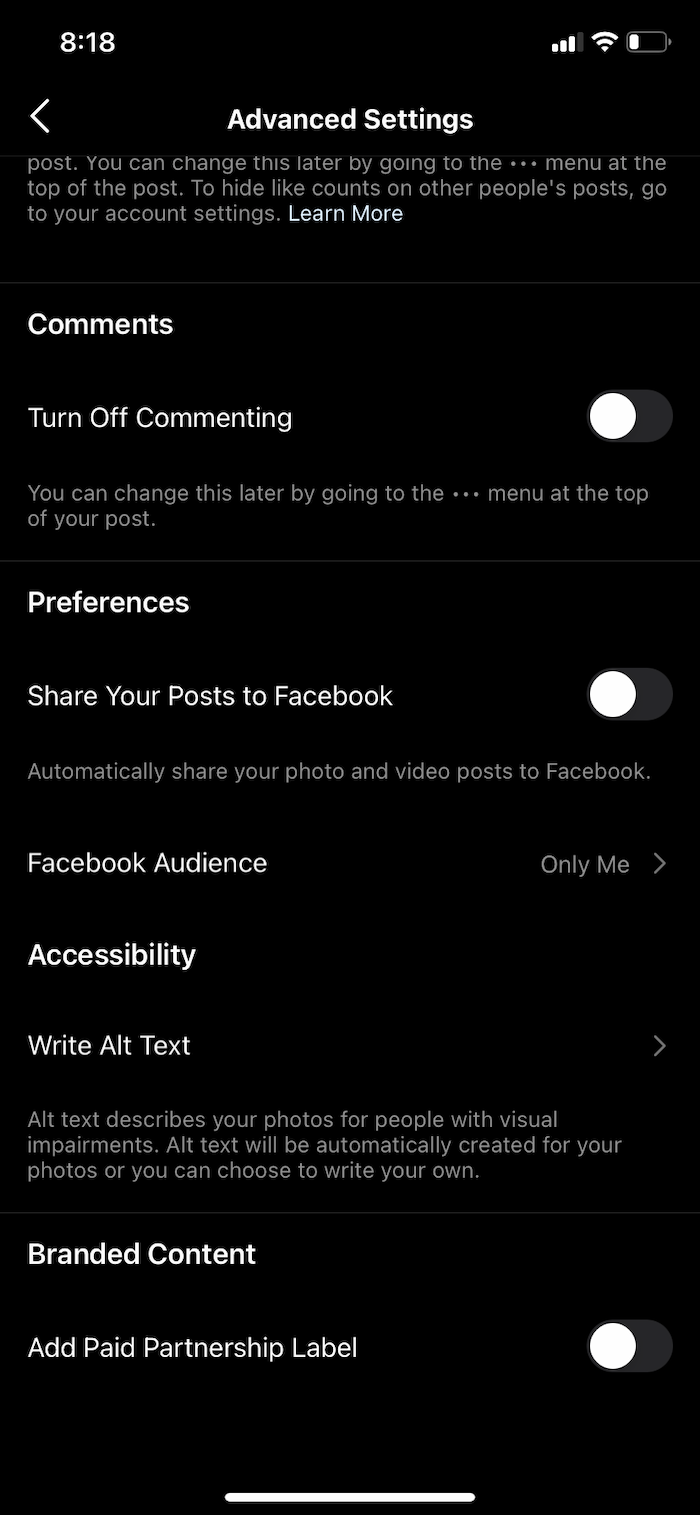 Adding alt text to existing posts on Instagram is just as easy as the steps above. To do so:
Find and open the Instagram post.
Select the "Edit" option.
Click "Edit Alt Text" near the bottom left of the image.
Add the alt text and click "Done" (iPhone) or the checkmark (Android) when complete.
How to Add Alt Text on Facebook
Alternative text is added automatically to most images uploaded to Facebook. To see and edit the alt text before you post, do the following:
Click Photo/Video at the top of your News Feed.
Select the photo you want to add.
Click the three dots in the top right corner of the image and select "Edit Alt Text."
The automatically generated text will populate in the box. Click Override generated alt text to edit it.
Write your alt text in the box.
To save your alt text, click "Done."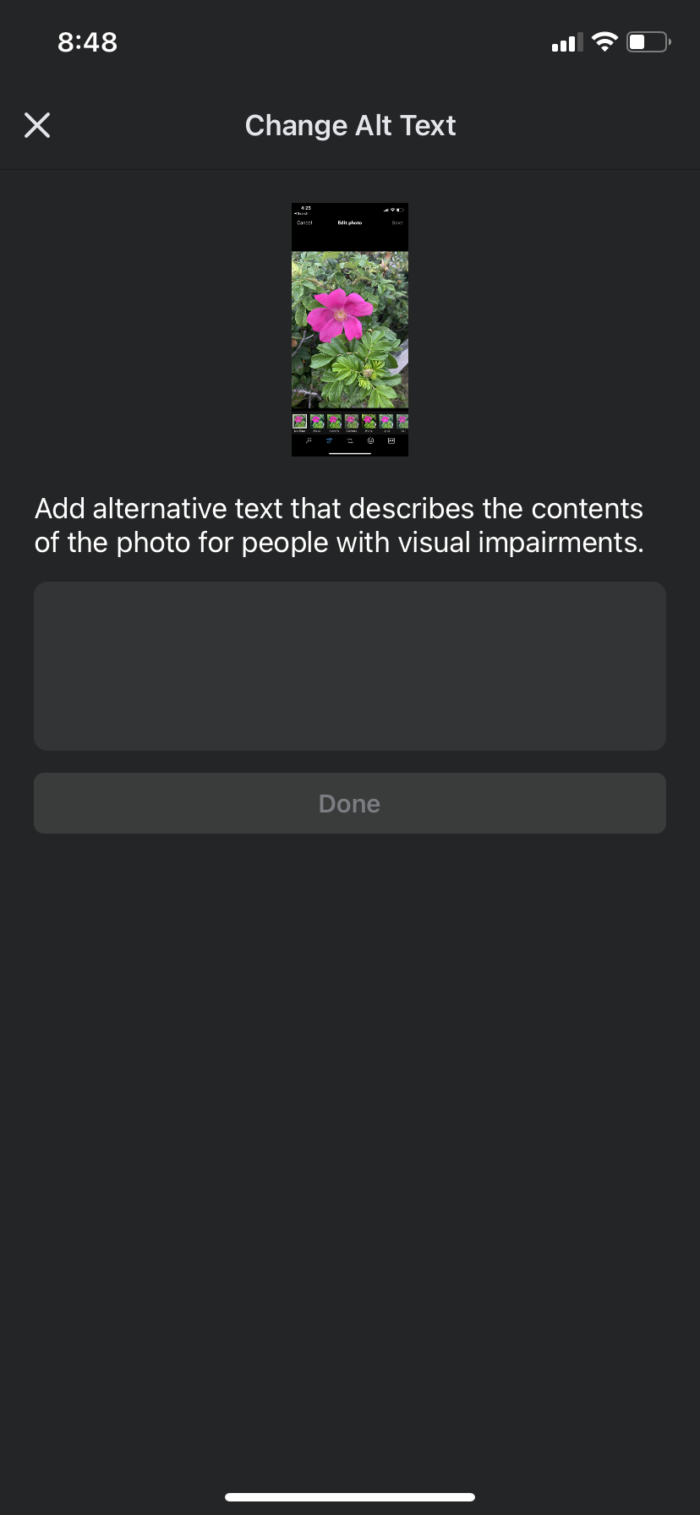 You can also view and edit alt text after an image has been posted. Here's how to do so:
Click the photo to open it.
Click More in the top right and select Change Alt Text.
Click Override generated alt text or change the alt text in the text box. You can also click Clear to change your edited alt text back to the automatically generated text.
Click Save.
How to Add Alt Text on Twitter
Here are the simple steps for adding alt text to images on Twitter:
Click on the Tweet compose button.
Once the photo is uploaded, click "+ALT" in the bottom right of the image.
Add your description and click Done (the limit is 1000 characters).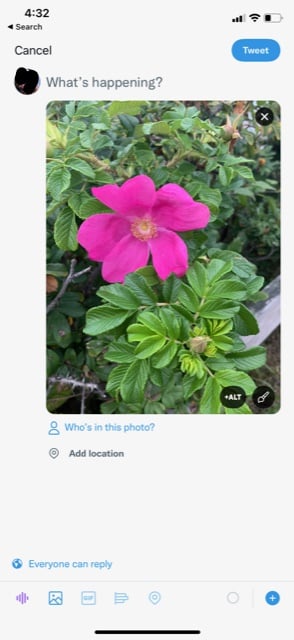 The steps for adding alt text on twitter.com are similar, except you will click "Add description" below the image when composing your tweet.
Frequently Asked Questions About Alt Text on Instagram, Facebook, and Twitter
Can anyone see the alt text I add to Instagram, Facebook, and Twitter?
Even individuals who aren't using screen readers can still find alt text while scrolling social media. Assume anyone can see the alt text you include on your photos when posted to Instagram, Facebook, and Twitter.
How can I check images for alt tags?
The best way to find alt text on social media is to use a screen reader app on your phone. There are browsers with built-in screen readers, too, such as MoxBraille and ReadText. This is a great way to see how other brands are using alt text.
Are there images that shouldn't contain alt text?
When it comes to decorative images or spacer images, like stylized line breaks, you do not need to add alt text in the traditional sense. You should add a null value, though, so screen readers skip it without interrupting the end user. This is unlikely to come up on social media.
Can I add alt text to other post types, like video and GIFs?
You cannot add alt text to video posts, though accessibility options like closed captions and subtitles exist. Whether you can add alt text to GIFs will depend on the platform. As of the writing of this article, Twitter supports alt text on GIFs while Instagram and Facebook do not.
Writing Alt Text on Instagram, Facebook, and Twitter: Conclusion
There are many ways to optimize your images for social media. An often overlooked optimization, though, is the addition of alt text.
There are two benefits to using alt text, even on social media:
Alt text provides context for search engine crawlers which improves image indexing and can increase SERP rankings.
Alt text makes your content more inclusive and accessible for users who require the use of a screen reader.
The seven tips above will help you to write descriptive, concise alt text for posts on Instagram, Facebook, and Twitter. Now you know how to add alt text on social media, there's no excuse not to do so going forward.
Prior to this article, did you know it was possible to add alt text to images on social media?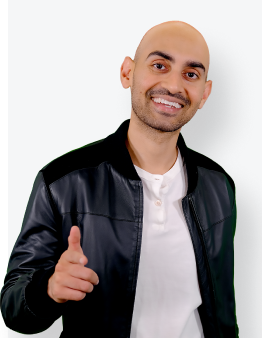 See How My Agency Can Drive More Traffic to Your Website
SEO - unlock more SEO traffic. See real results.
Content Marketing - our team creates epic content that will get shared, get links, and attract traffic.
Paid Media - effective paid strategies with clear ROI.
Are You Using Google Ads? Try Our FREE Ads Grader!
Stop wasting money and unlock the hidden potential of your advertising.
Discover the power of intentional advertising.
Reach your ideal target audience.
Maximize ad spend efficiency.