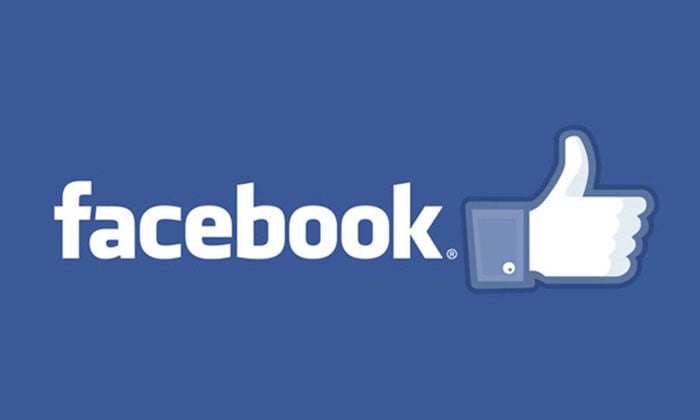 We all use Facebook.
It can get addicting.
In fact, the Omnicore Agency found that nearly half of 18- to 34-year-olds check Facebook when they wake up.
It's more addicting than coffee!
Of course, you're hoping to be successful on Facebook, too.
I can't tell you how often I've opened the site just to see how many people liked my most recent posts.
I'm not alone. Pew Research shows that 76% of Facebook users are on the site daily.
In fact, those users are on there for about 20 minutes per day.
Like me, they're likely checking their engagement numbers before reading posts in their feeds or searching groups.
We tend to judge ourselves by our Facebook likes.
But why?
They have no monetary value.
In fact, a recent study by researchers at Yale and UC San Diego found Facebook use can impact your health.
There's a good chance that social media may be bad for us.
However, it's also unavoidable, and Facebook is the king of social media platforms.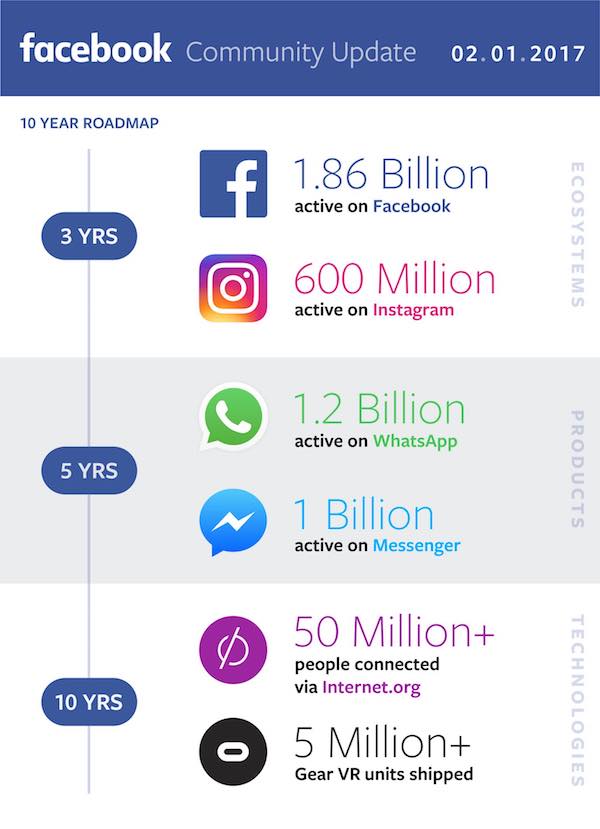 There are over 1 billion users each on Facebook, Messenger, and WhatsApp. Another 600 million users have Instagram.
Oculus VR is opening another lane with over 5 million gear VR units shipped.
Before going any further into how to be successful on Facebook, it's time we analyzed the psychology behind it.
We need to understand the psychology of Facebook likes.
Likes aren't the only reactions anymore
For most of its lifetime, Facebook only let us like posts and comments.
While useful, it made things awkward.
For example, nobody wants to "like" the death of a friend or other bad news.
Brands couldn't always quantify the context of post engagement either.
In 2016, new reactions were added.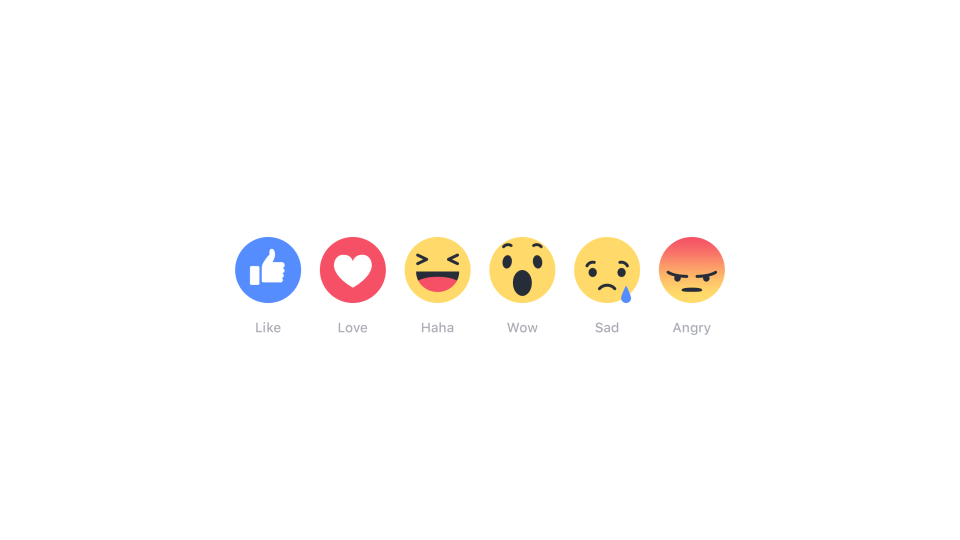 We can now like, love, and laugh. We can also be surprised, sad, or angry at posts.
This opened up a new lane for users to express themselves.
Now my links get more reactions than just likes.
I'll often see a lot of love, laughs, and shocks.
This adds more color to the screen and gives me a better idea of how people actually feel about my content.
A like is still standard, and I get a lot of them, but now I can count the other reactions as another metric.
In 2017, the company went even further, allowing these same reactions on comments
But, again, why?
Why does it matter how somebody feels about any of my posts?
They're not buying anything. They're just signaling agreement.
Although there's not a dislike button, we do have Pew Research to give us an idea of what people dislike about Facebook.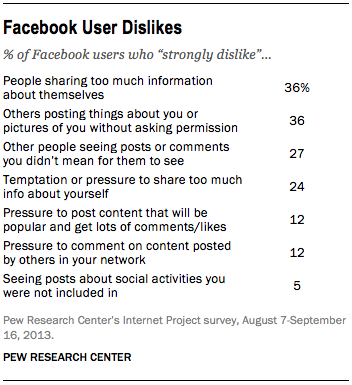 People don't like overshares or people using their personal content.
Privacy concerns are another big hot button.
When marketing on Facebook, it's important to understand these nuances.
You don't want to come off as spammy.
However, most people on Facebook aren't running a business.
The same Pew Research study found that 16% of men and 17% of women use Facebook to get feedback on content.
More than just a place to drive conversions, it's a place to build a community and gain social status.
Whether an individual or business, a large Facebook following is a status symbol that can make you feel more appreciated and powerful.
People want to be associated with liking what's popular.
Facebook is the most popular social media platform, and being popular on it is a badge of honor.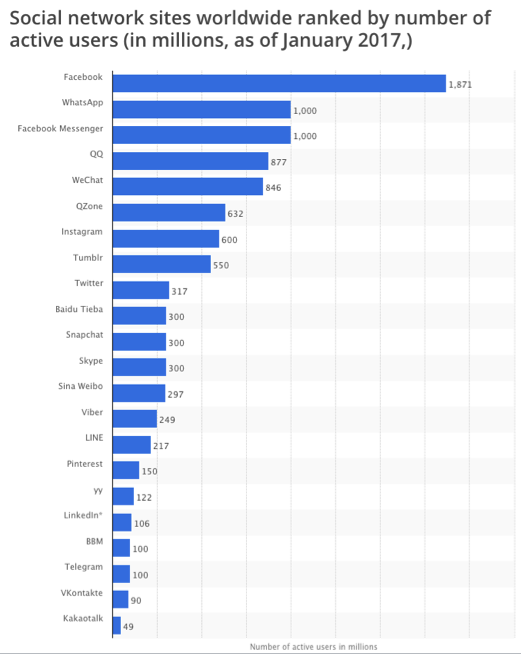 A writer named Elan Morgan wrote a great article on Medium about what happened when she stopped liking things on Facebook for two weeks.
She likened it to a support system and explained how it affected her view on humanity (and vice versa) when the silent support stopped.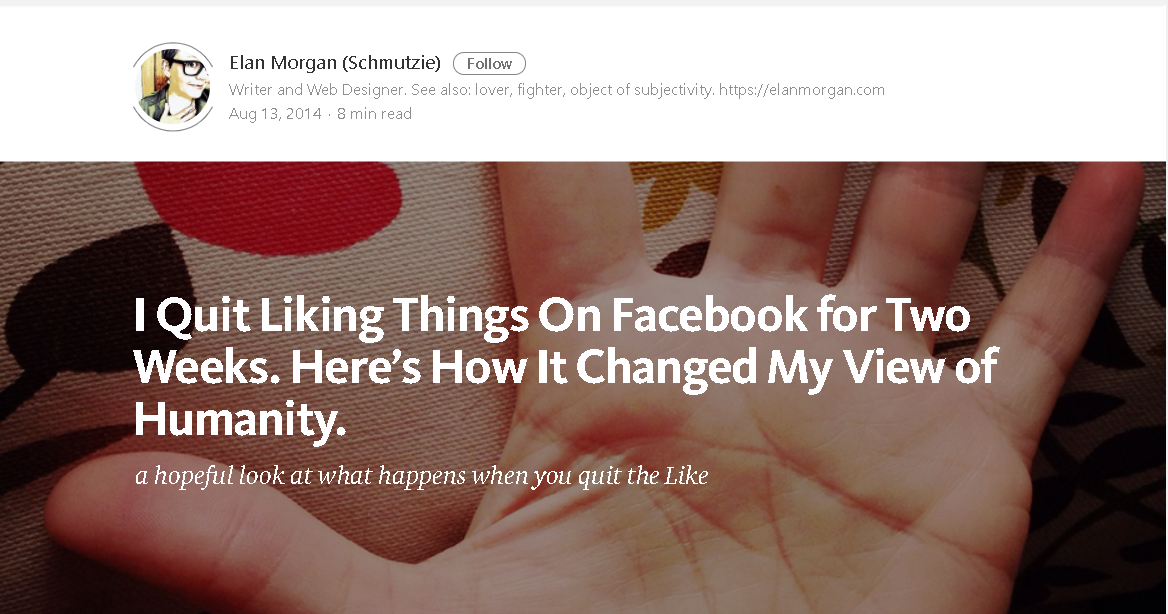 Researchers in another study of over 80,000 volunteers found that Facebook likes reveal preferences we don't disclose in our profiles.
For example, I may list "digital marketing" on my profile, but my likes could indicate a preference for movie comedies.
Mining this user activity provides a much more realistic picture than what's filled out in an account form.
That makes this information useful for brands to track.
But we're still not done exploring the psychology behind Facebook likes and how they raise our brand image.
Reactions signify our social capital
I'm an expert in personal branding, especially online.
There are nearly 4 billion Internet users in the world, and sticking out in that crowd can be difficult.
Even though I'm an expert, I still have to repeat myself about who I am and what I do in order to gain business.
Everywhere I write online, I constantly identify myself.
My Forbes profile mentions my accomplishments.
I do the same thing in Entrepreneur.
Even though I'm featured in major media outlets, I still fill out the same introductory information I do on my Facebook page.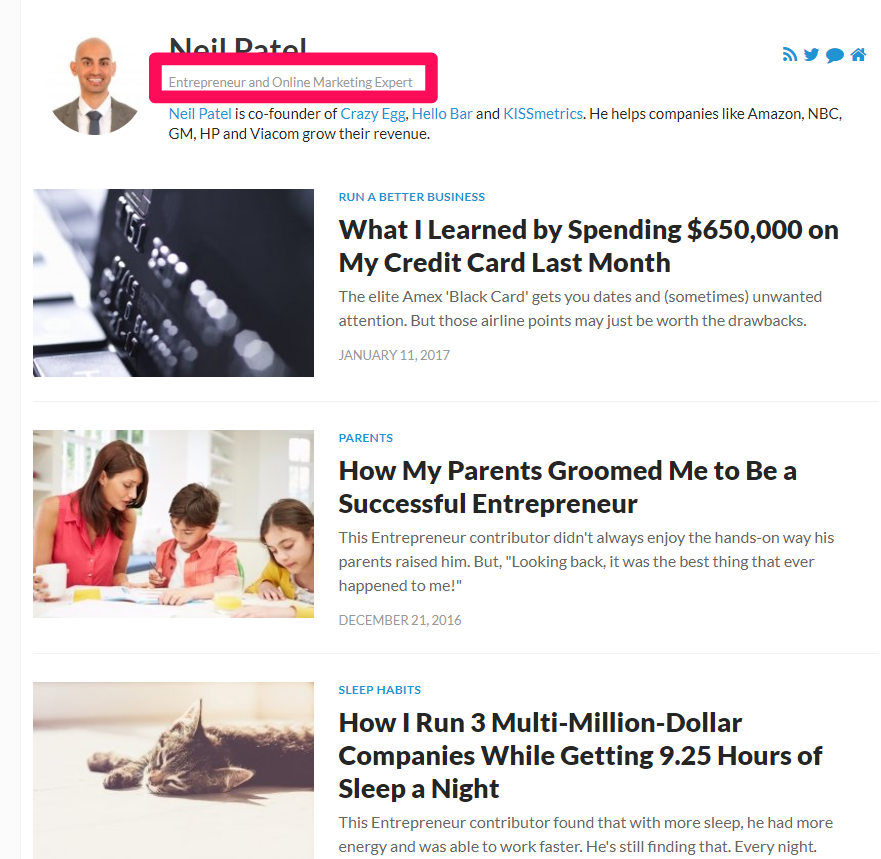 Not everybody has these platforms to expand their reach, so social media is the only place to tell the world who we are.
LinkedIn is for business while Twitter offers too little room to express myself.
Snapchat and Instagram are too visual.
Facebook gives us an opportunity to define ourselves through a variety of content.
Psychology Today found that you can learn a lot about people from their Facebook activity.
The amount of personal information I share about myself feeds my narcissism, according to these psychologists.
While I'm doing it for the purpose of generating business, I do focus on myself a lot.
I'm my own personal brand, and they say it's best to stick to writing what you know.
But beyond business, I do get an affirmative feeling when a certain post gets a lot of likes.
I also get down when a post doesn't perform well.
I typically get 300 or more reactions on my Facebook posts (vs 5,000 to 10,000 views).
When a post gets below 200, I feel like I failed.
It was still shared on 36 Facebook timelines.
My video was viewed nearly 6,000 times already.
But I know I can do better.
The low numbers don't mean that the information is bad.
It's not negatively impacting my revenue.
I also have other platforms to share this content on.
A post later that week got twice the engagement.
Both videos contain valuable information.
It took me the same amount of time and effort to create them.
Yet I feel happier about the post that got twice as many likes, shares, and views.
It also makes me jealous of other people's posts who may be performing better.
It's a common side effect of Facebook according to many psychologists.
However, the golden rule applies on Facebook, and to get liked, you'll need to like other people's content.
This is especially true for businesses.
A recent study found that people are mostly fans of brands on Facebook because they expect something in return.
A full 42% of survey respondents specifically are looking for a coupon or discount.
While people may like my posts, there's a good chance they only like me because they want something from me.
That's fine. It's the nature of business.
But understanding that is important because Facebook likes don't have any monetary value.
And we all like things, sometimes even if we don't actually like them.
We all like things
According to the Omnicore Agency, the Facebook "like" button has been pressed over 1.13 trillion times.
The reasons we like posts aren't always obvious on the surface level, though.
For example, HubSpot recently found the word you begin a question with can affect how many comments it gets.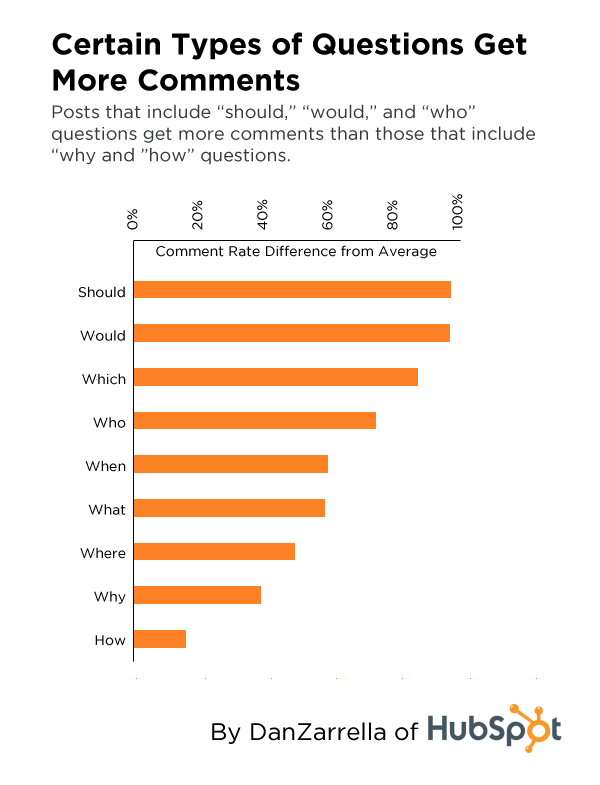 Simply using the words "should" or "would" as opposed to "what" or "where" can instantly increase engagement.
That has nothing to do with your popularity or the question itself.
It's an issue of semantics.
In fact, questions themselves tend to gain fewer likes than statements.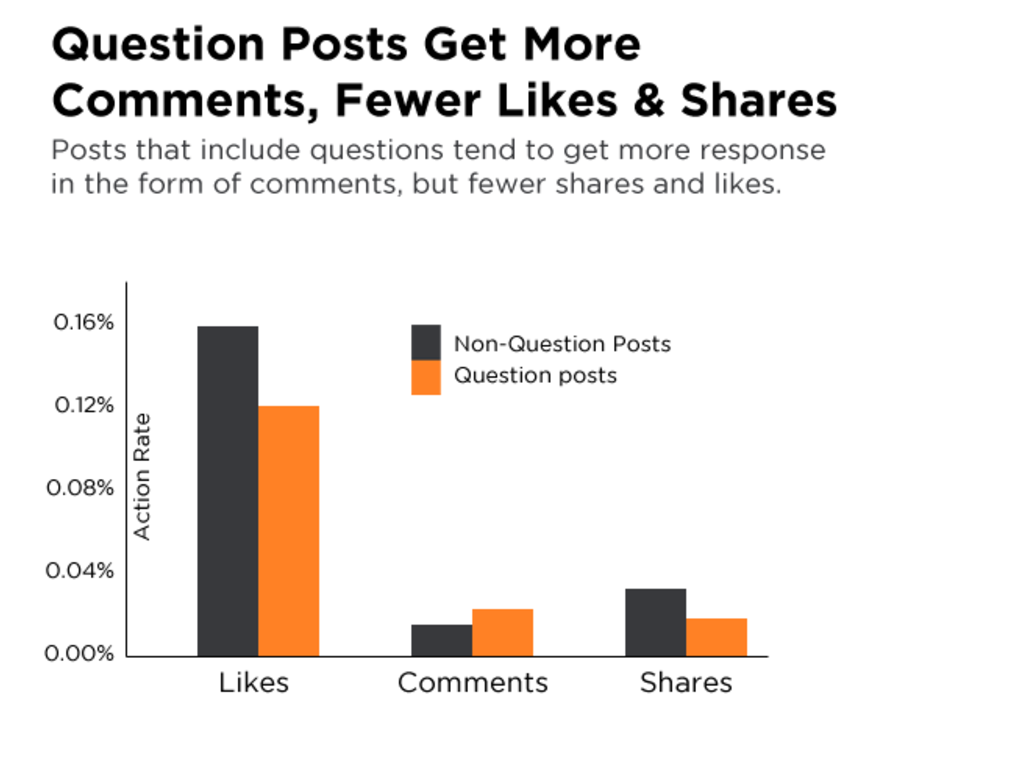 While asking a question is likely to elicit an answer, it doesn't necessarily gain a like.
There are some questions we love hearing people ask because we were thinking the same thing, but for the most part, we're trained to answer questions.
It's how we're wired.
Facebook researchers figured this out, and several employees split off to form Quora, a popular question and answer forum.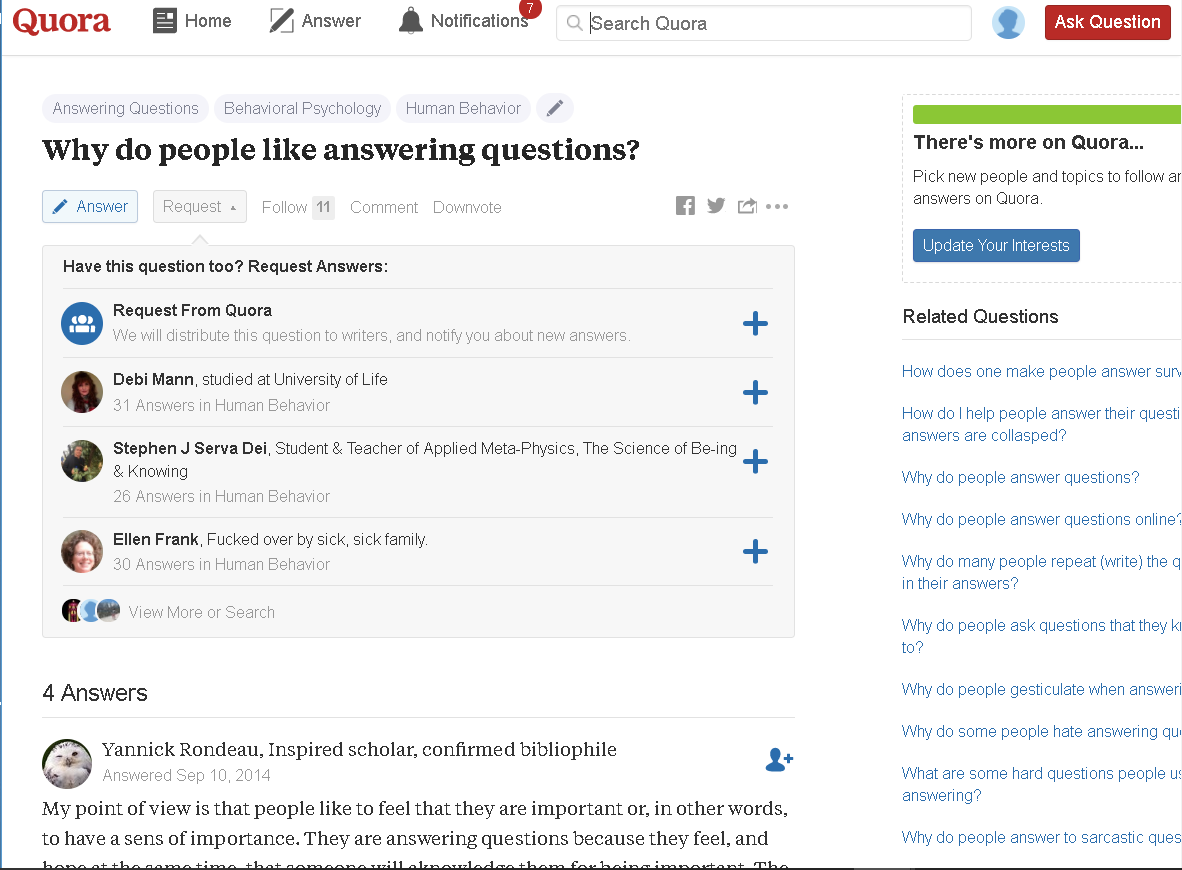 On Quora, experts are sought to answer a range of questions on any subject.
They hyperfocus on this one aspect of Facebook.
And now people like Quora answers, too.
So how do we leverage Facebook likes for the advantage of our brand?
5 ways to use Facebook likes to your advantage
Now that we understand the psychology behind how people use Facebook likes and other engagement channels, it's time to leverage the knowledge for a branding win.
There are plenty of ways to use psychology in marketing.
You can tell a lot about a person by their Facebook likes, so let's run through a few ways to use this knowledge for our business.
1. Create a Facebook poll.
Facebook polls are a great way to engage users on Facebook.
Sofia Vergara used reactions as a voting mechanism during the 2017 People's Choice Awards.
What you wear to an awards show is important for celebrities.
Vergara crowdsourced her outfit using a Facebook poll that garnered over 648,000 views.
If you're going to do this, however, you'll need to know that it was actually against Facebook's rules for quite some time.
Still, no accounts have been reportedly removed for violating this rule.
In fact, it's one of the most popular ways to use Facebook reactions.
Of course, you can always start a poll using Facebook's tools, but you'll need to start a group to do it.
In 2017, Facebook finally loosened its rules against using reactions for voting purposes.
Now it's actually encouraged, but only during Facebook Live broadcasts.
It's also important to choose options that somewhat match the reactions.
With so many people running these reaction polls, it can dilute the meaning of them, but it's still better than just one reaction.
2. Run a Facebook contest.
Brands consistently find that running Facebook contests is a great way to gain followers, likes, and more.
Del Mar Fans and Lighting ran a Facebook contest during the SuperBowl.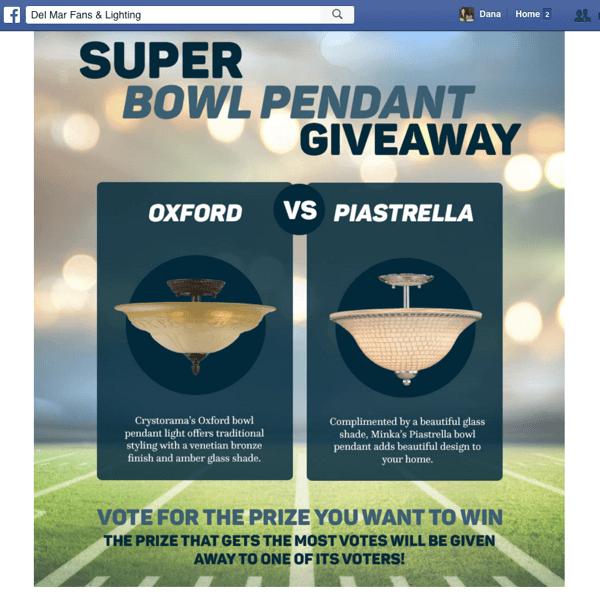 By voting for which light you liked better, you were entered into sweepstakes for a chance to win the one you voted for.
This is a great start to Facebook contests, but it depends on you having a large Facebook following to work.
You can also run a contest via email or your website to encourage people to like your Facebook content for a chance to win.
Of course, Facebook does have guidelines for such contests.
While you can't ask someone to like your Facebook page to enter a sweepstakes, you can have them either like a post or post on a page.
This means that you can boost a sweepstakes post for maximum exposure.
Sponsored posts on Facebook can help you reach specific demographics outside the people who already follow you.
It's done on Facebook Ad Manager, which you can access through your Facebook Business Manager.
Even giving away something simple like 10% off to the first 1,000 customers can drive traffic.
Scarcity is a psychological principle behind supply and demand.
If you create scarcity through a promotion, you'll boost the visibility of your posts and page.
3. Start a Facebook group.
Some people just don't trust brands.
In fact, a social influence study found that friends, peer reviews, and social networking trump traditional media in consumer trust.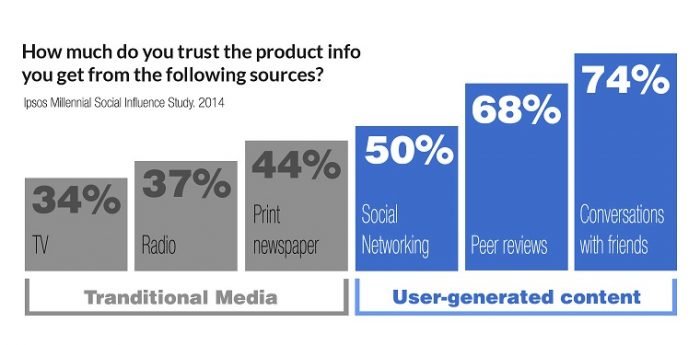 No matter how much you post on your page, people may not like it simply because it's branded.
You can gain a more organic Facebook following by creating a group.
For example, let's say you wanted to promote your club in Seattle.
You could do it on your own page, but it requires people to already have a brand affinity.
You'll gain more traction by posting in a Seattle nightlife group.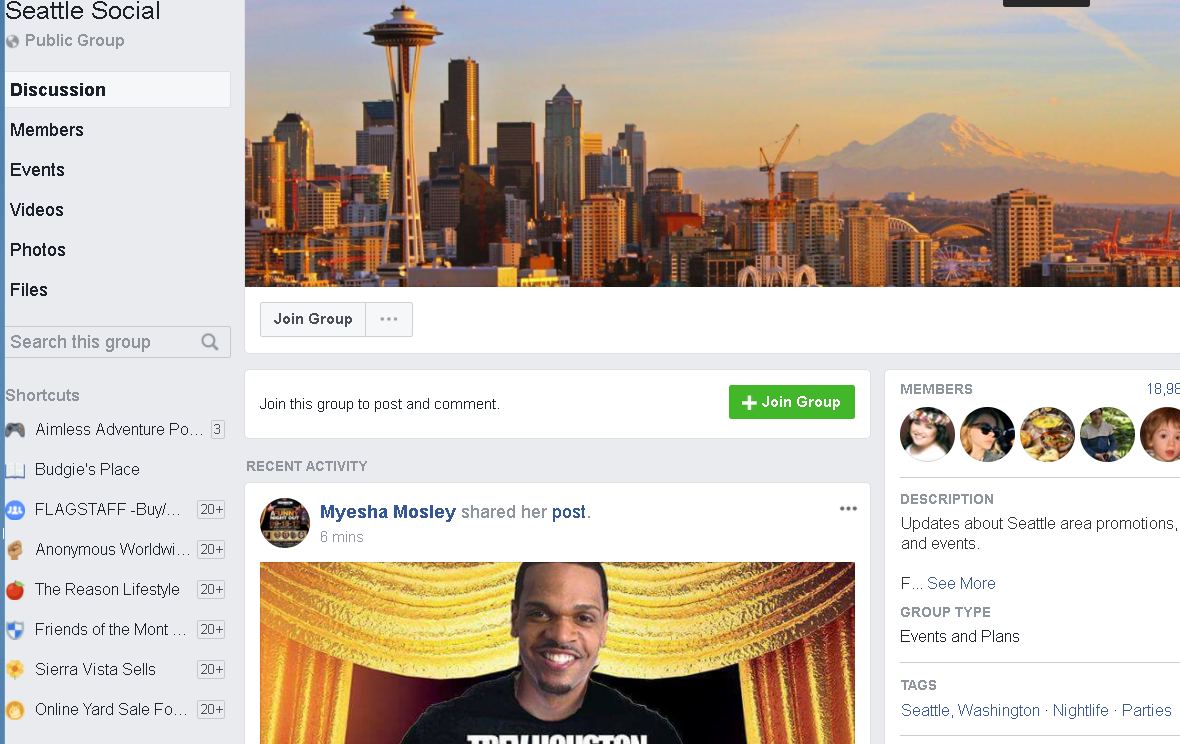 In Seattle Social, you'll be promoting your club and its events to a crowd of 19,000 members.
Do you have that many Facebook followers on your page yet?
Pull up a few more groups and you can easily broadcast your messages to 100,000 people every day!
You just have to join the groups where people like the types of products and services you're promoting and selling.
It's much more organic than a page.
4. Publish visual content.
Visual content gets more engagement across the board.
When asked in a recent survey how important visual content is, 60.8% of marketers said that it's absolutely necessary.
On Facebook, research shows that visual content is 40 times more likely to be shared than plain text.
By appealing to what people like, your content will be more liked.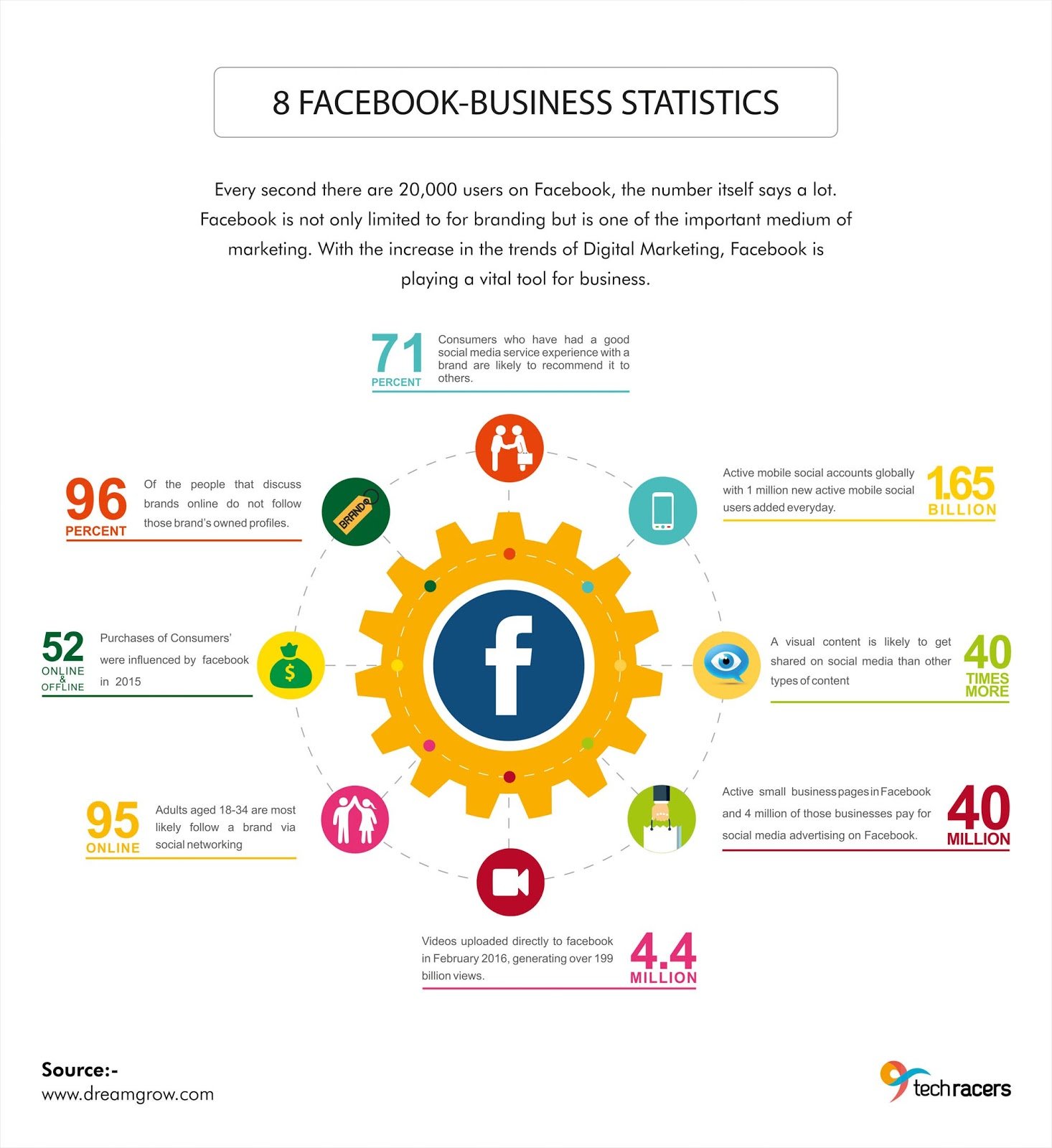 That's not all. The type of visuals matter, too.
Facebook Live video is quickly becoming the premiere video streaming platform.
It ranks above YouTube, Snapchat, Periscope, and more.
Incorporating live video into your feed is going to improve your likes.
As will 360 video.
Facebook is making a big push into 360-degree videos and images for virtual reality.
Nearly one-fifth of marketers are focused on 360 video and virtual reality according to recent research.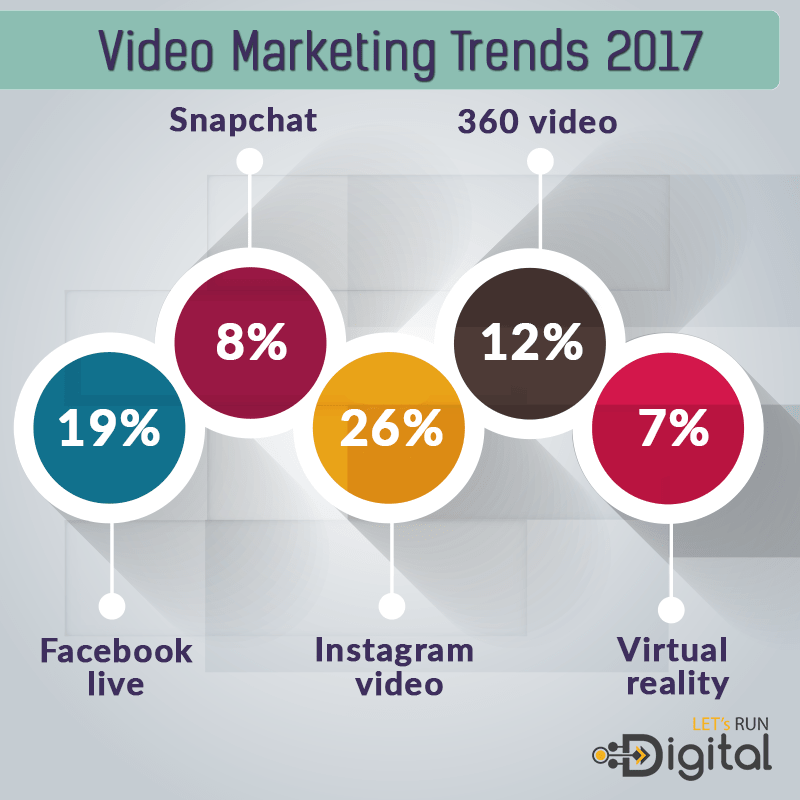 By promoting your brand via these new technologies, you'll create a brand win and increase customer satisfaction.
In fact, a recent study found that over half of respondents find VR technology appealing.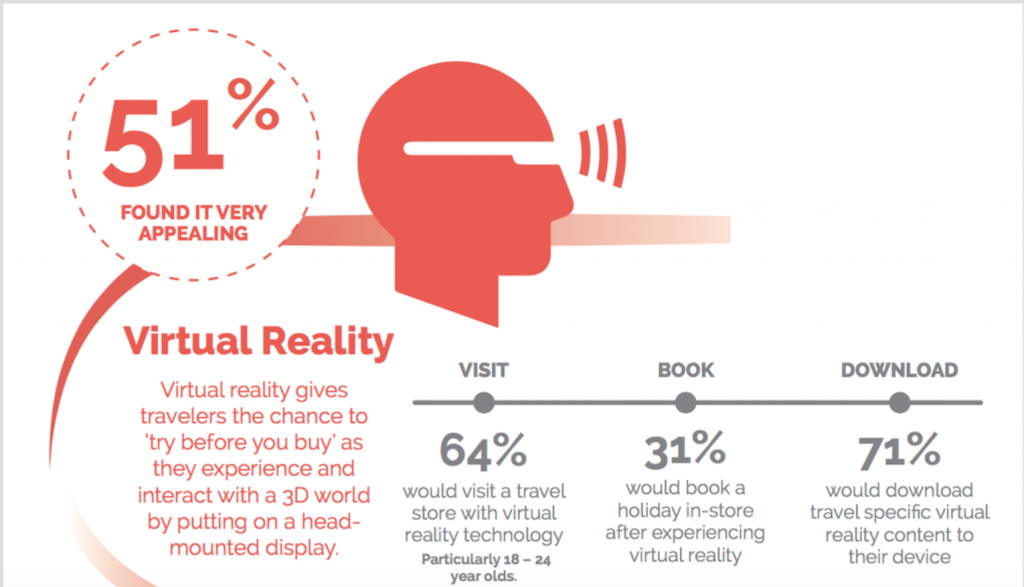 By creating content for this new medium, you'll have a smaller pool of competitors and the impression will last longer.
Eating Tacos with Danny Trejos, for example, is a simple idea that's perfectly executed to leave the brand in your head for a long time.
It's exactly what it sounds like.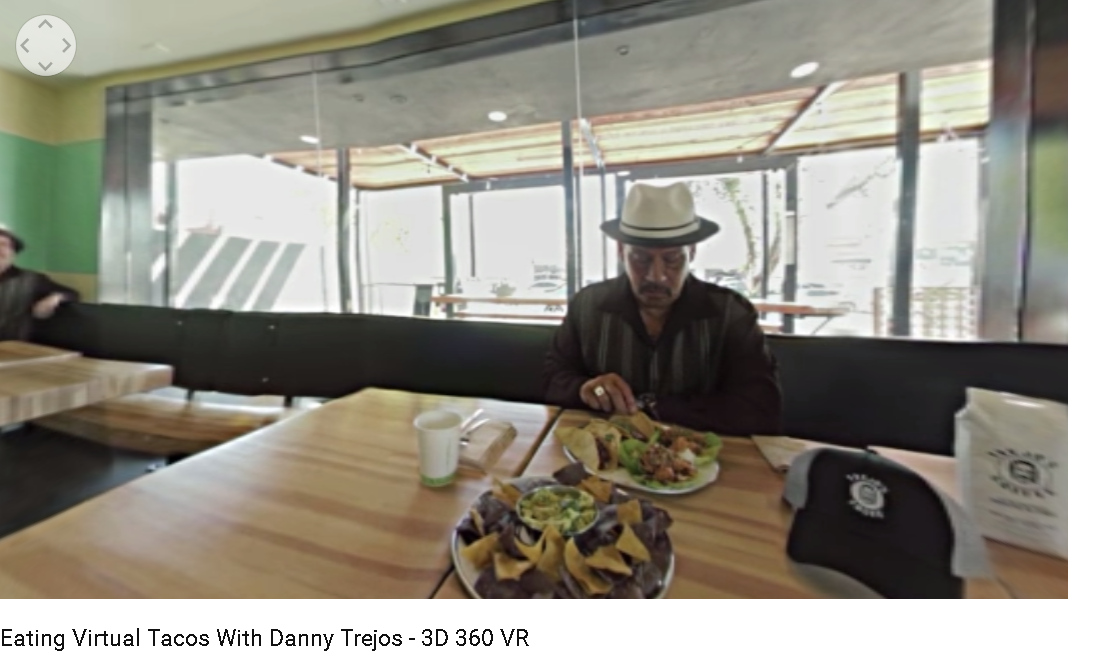 You're sitting at a table in Trejos's Southern-California eatery and are fully immersed.
Look around and you'll suddenly realize that everyone in the building is Danny Trejos.
It's great for a few laughs and makes a fantastic brand impression.
Trejos is a likable guy. Who wouldn't want to eat tacos with him?
5. Encourage employee interaction.
If you want to encourage interaction, the best way is to already have people interacting.
Derek Sivers, the founder of CD Baby, once gave a great TED Talk on how to start a movement.
In it, he uses a dancing guy at a festival to illustrate how the movement forms from people emulating the first follower — not the leader.
You may want people to engage with your posts, but throwing money at the problem isn't going to fix it.
Instead, utilize resources you already have by encouraging your employees to engage with posts using their Facebook accounts.
This way, nobody has to be the first to like anything. You'll look popular from the start.
Conclusion
Facebook is the largest social media platform.
Millions of people are available to engage with your content through likes, comments, and other engagements.
There's no financial benefit to any of it.
We gain nothing except popularity and affirmation from it.
Still, it can be encouraging and put us in a better mood when we gain likes.
It's also a great way to gauge how people feel about each post.
Instead of stressing out about who likes what you post, focus on using the psychology of likes to build your brand.
What psychological tactics do you use to raise brand awareness and gain a positive ROI on your marketing spend?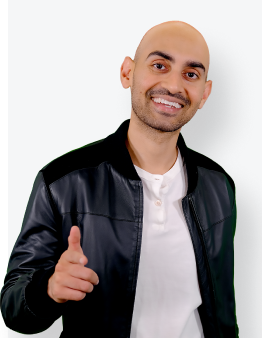 See How My Agency Can Drive More Traffic to Your Website
SEO - unlock more SEO traffic. See real results.
Content Marketing - our team creates epic content that will get shared, get links, and attract traffic.
Paid Media - effective paid strategies with clear ROI.
Are You Using Google Ads? Try Our FREE Ads Grader!
Stop wasting money and unlock the hidden potential of your advertising.
Discover the power of intentional advertising.
Reach your ideal target audience.
Maximize ad spend efficiency.