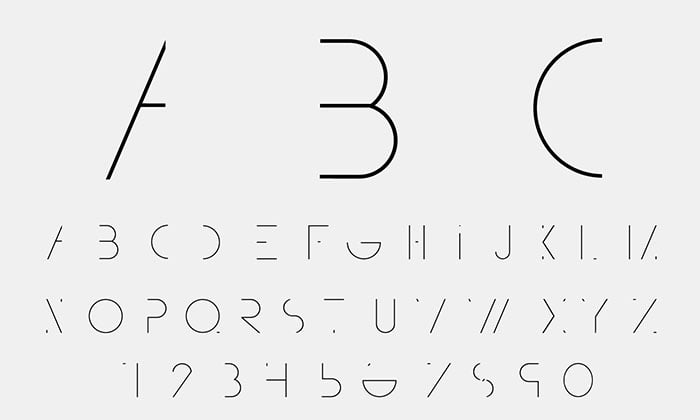 You've started a business, brand, or website, and it's time for you to start distributing content. Congratulations. What you might not be thinking about is how to find a font that represents your brand.
Sure, you know you'll need to learn certain skills like how to write a blog.
But fonts might not be high on your to-do list — and they should be.
Here's why:
Your typography affects conversions.

Content that is easy to read and showcases what your brand is about can help drive traffic, increase conversions, and increase your chances of ranking higher in Google.
Here are the different elements of typography:
Typeface
Fonts
Line length
Leading
Kerning
Tracking
Your typeface is the characters that have the same design as your font.
Line length, leading, kerning, and tracking all have to do with space and difference between characters, lines, and letters.
Now you need to find a font — where do you go?
You want to search for fonts that are unique to your brand and easy for your subscribers to read and comprehend.
With so many business expenses, you shouldn't have to spend money purchasing new fonts.
Not when there are thousands of free options available on the Internet.
I'll show you the 19 best places to find a font for free. 
1. Font Freak
You can find over 9,000 free fonts from Font Freak.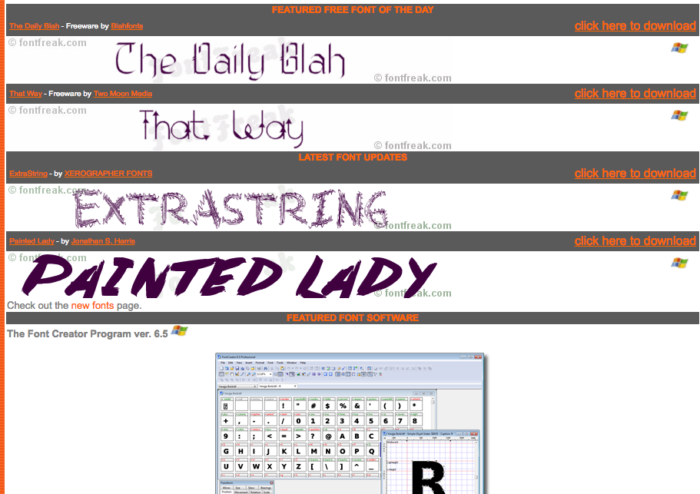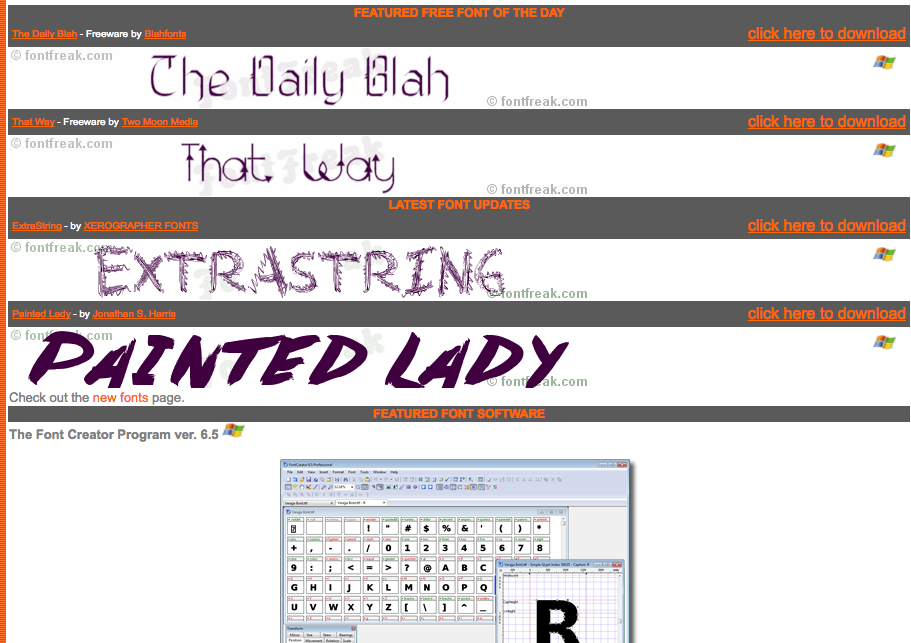 They also have more than 125,000 free fonts available for purchase, in case you want to upgrade.
Font Freak works with about 400 designers to continually grow their library of unique and creative fonts.
They even offer updated software so you can build and edit your own fonts.
One of the best features is that the majority of fonts are optimized for a Mac and PC version.
So you can discover new fonts suitable for your computer regardless of your operating system.
Font Freak also has some tools that can help you save time.
How?
Instead of downloading fonts one at a time, you'll have the option to download entire libraries of different designs.
2. Creative Market
Creative Market puts a distinctive spin on the free fonts marketplace.
How?
They offer fonts, but these fonts change each week. Nearly 23,000 designers are contributing to their platform.
Every week, you can download their featured fonts, themes, and graphics for no charge.
Six packages are offered at a time, and they are pretty solid: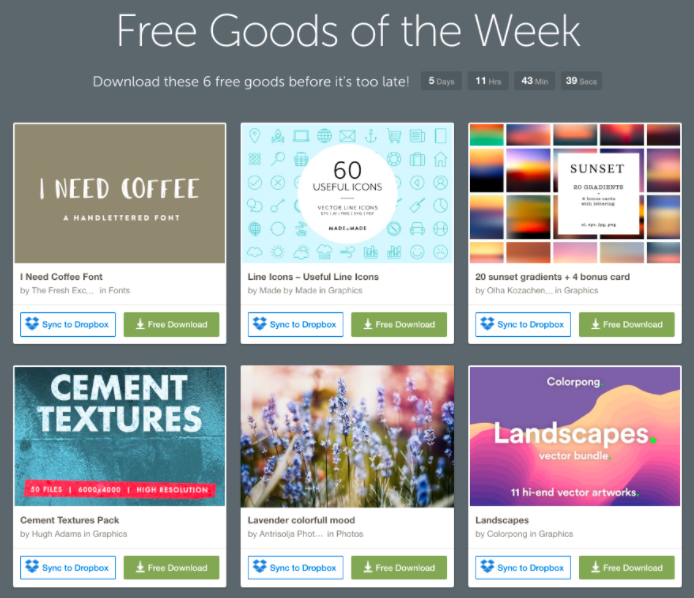 I like Creative Market because you can access free fonts that would normally cost a fee to download.
So you can check back every week and download an additional 6.
Just make sure you act fast.  Once the clock strikes midnight on Sunday, you'll miss out on the free fonts from that week.
You can still download them, but you will have to pay a fee.
3. Fontspace
FontSpace has nearly 72,000 free fonts. They are all legally licensed and ready for you to download.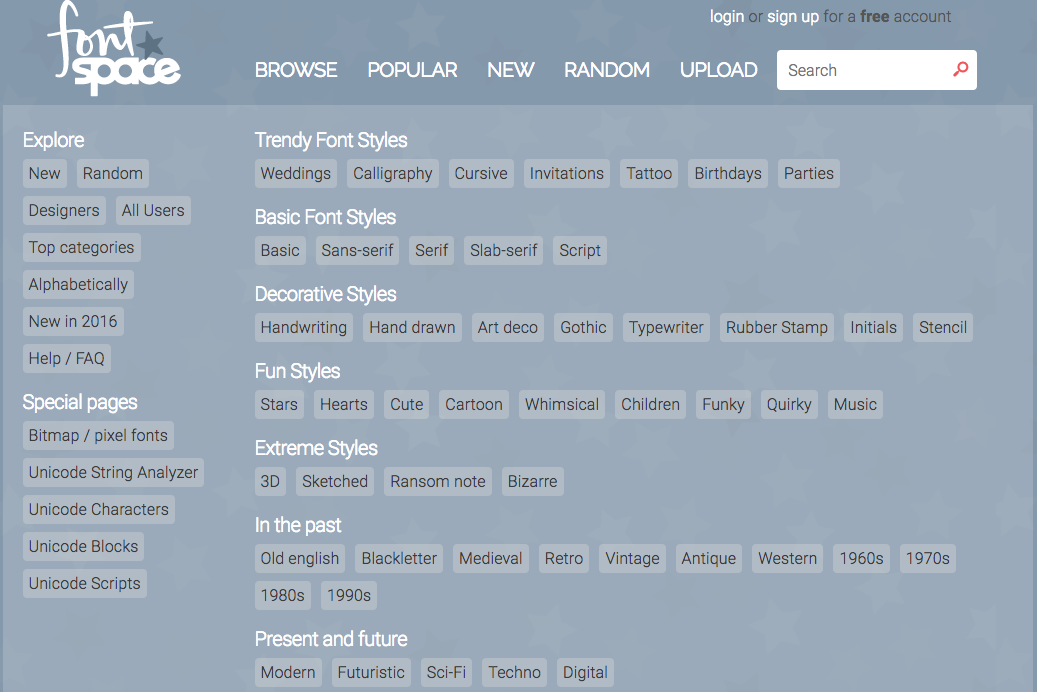 As you can see from the image above, it's easy to search for different styles by category, such as:
Trendy
Basic
Decorative
Fun
Extreme
And much more.
That's just a quick glimpse into a handful of categories. All of their fonts are free and made by designers around the world.
There are more than 2,000 designers actively sharing fonts on the platform.
I like this website because all of the fonts are clearly labeled. You can tell right away if the fonts you like are for commercial use or personal use only.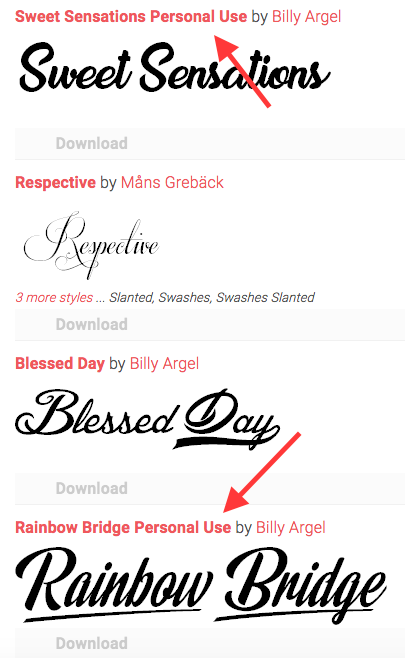 Look at these four fonts.
See how the top and bottom ones are clearly labeled "Personal Use" only?
You may want to consider FontSpace for your brand if you would like to work with creative designers.
If you like one of their fonts, click on the profile to see more work from the same designers.
It shows how many times each font has been downloaded, and users can rate the design after each download.
4. The Northern Block
The Northern Block is another top option for free fonts. They currently only offer three fonts and loads of others for a small fee (usually around $50 or so.)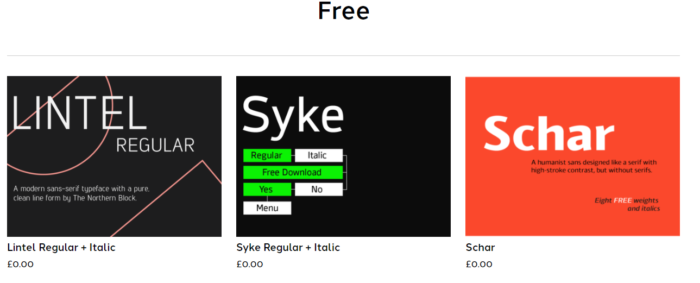 I really like this platform because their website has a clean and simple design that makes it easy to navigate and find exactly what you're looking for.
It's a UK-based website that allows your company to work with creative designers from other countries.
Most of the fonts offered are modern and geometric.
These styles work well with companies in spaces such as:
Electronic manufacturing
Mobile video games
Check out their website for a chance to get free fonts from award-winning designers.
5. Fontstruct
For those of you who want to download free fonts and build your own fonts for free, consider FontStruct's platform.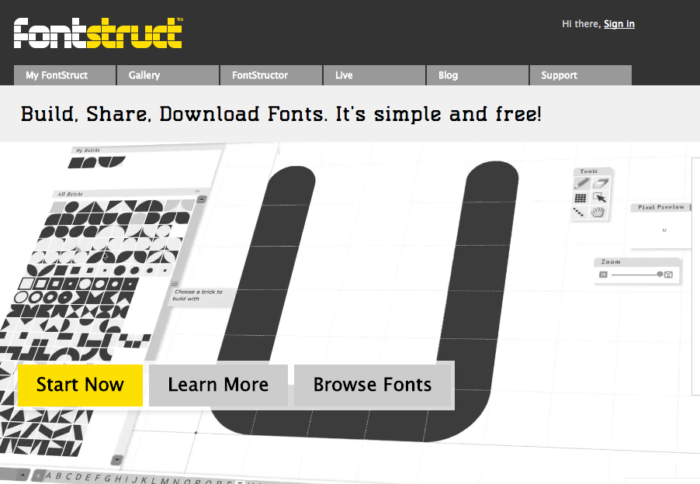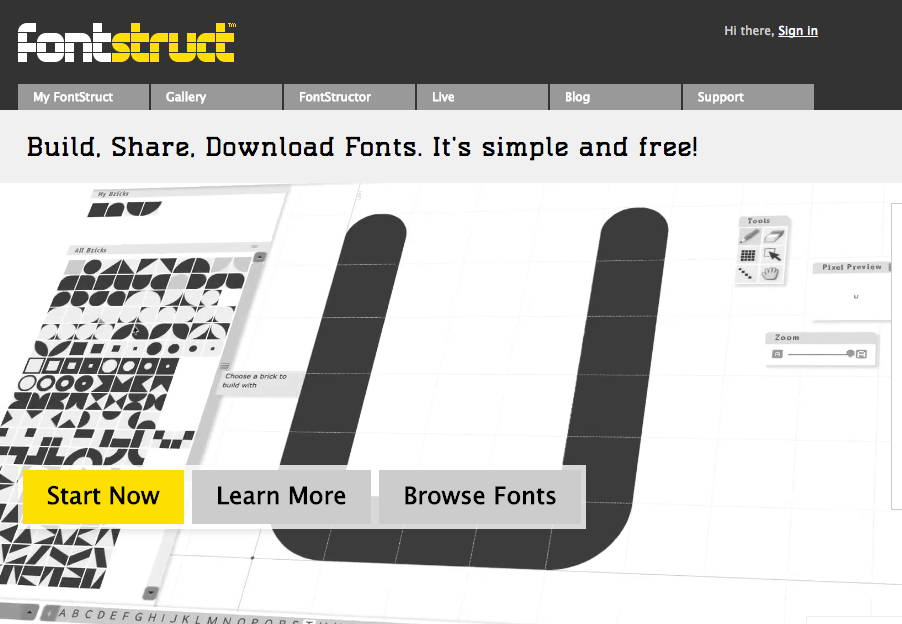 If your company has creative designers, you can let them use this free software on the FontStruct website.
Sometimes it's difficult for businesses to find the best font with so many options to choose from.
That's where FontStruct stands out from the crowd. Can't find what you're looking for?
No problem.
Build your own font.
Plus, you'll know that it's completely unique for your brand.
You will even have the option to modify existing finds built by other users on the website.
6. 1001 Free Fonts
Normally, it's safe to assume "the name says it all" when it comes to a business or website.
That's not the case with 1001 Free Fonts.
They actually have more than 10,000 free fonts.
You can download some fonts for free or donate to the designer.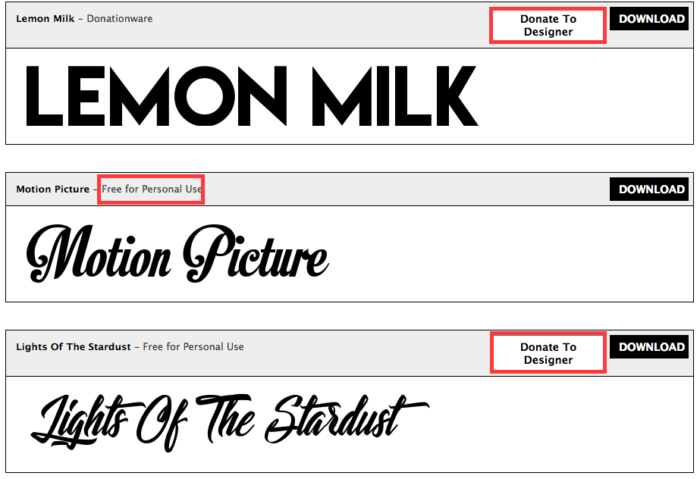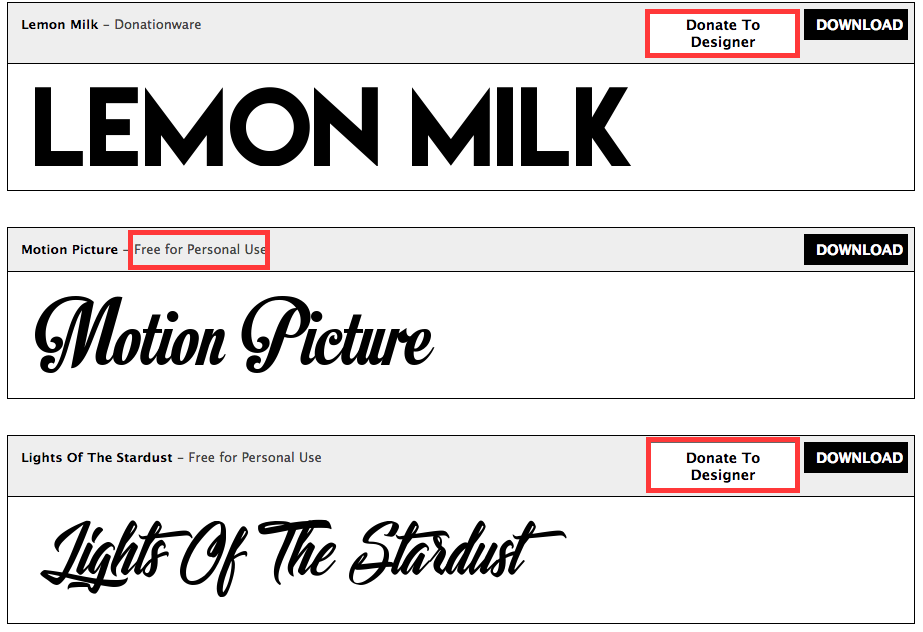 The options are clearly posted on each font, as you can see from the graphic above.
Search for fonts by name or category.
With more than 10,000 options, I'm sure you'll be able to find what you're looking for.
7. Behance  
Behance is a creative social media platform owned by Adobe that offers thousands of creative designers — including tons of free fonts.

One of my favorite designers Jeff Schrieber, a graphic designer from the Netherlands.
Jeff is a talented artist who specializes in:
Illustration
Graphic design
Lettering
Type design
Web design
Iconography
Logo design
User Interface design
Information design
He even offers fonts that are optimized for mobile applications — which is critical for businesses.
But fonts are just the first step; you also need to make sure your site loads quickly on mobile.
The majority of Behance's fonts are paid, but there are still plenty of font options that are free.
8. Typedepot
Typedepot is another great resource to find a font for free.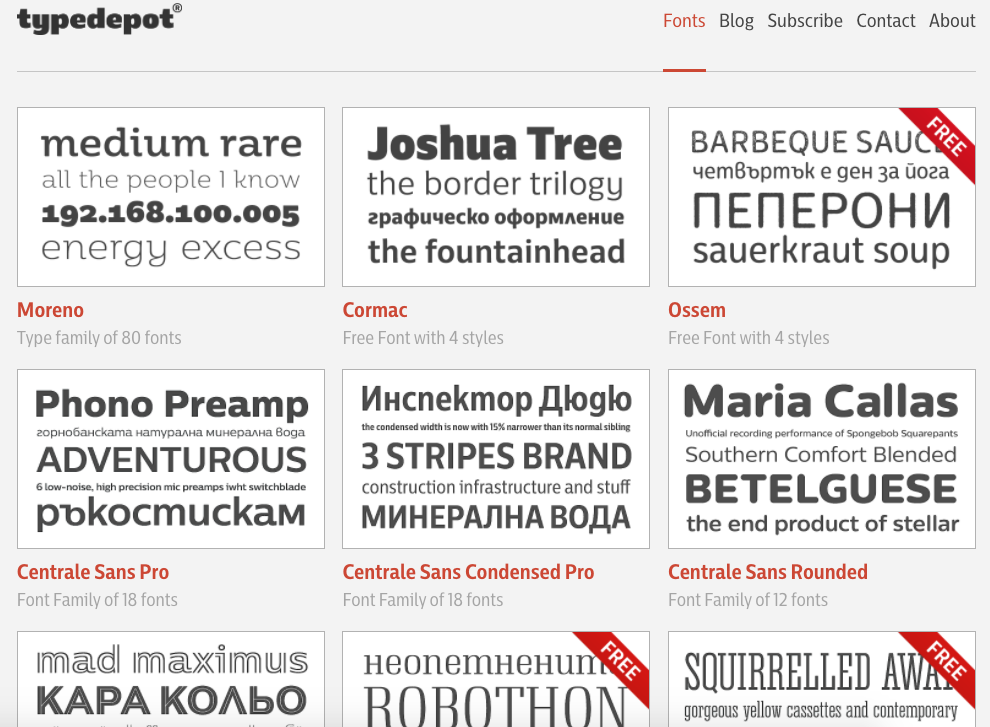 You can clearly see which fonts are completely free based on the banner in the top right corner.
They have a cool blog that discusses different fonts and the evolution of letters and numbers over time.
The company was originally founded in 2010 as a side project for co-founders Alexander Nedelev and Veronika Slavova.
Typedepot is a great place to work with talented and passionate designers.
Download fonts for free or check out their premium designs available for purchase.
9. Fontfabric
Fontfabric offers free fonts for your brand. Like most of the other options on this list, they offer paid fonts, but there are plenty of free font options as well.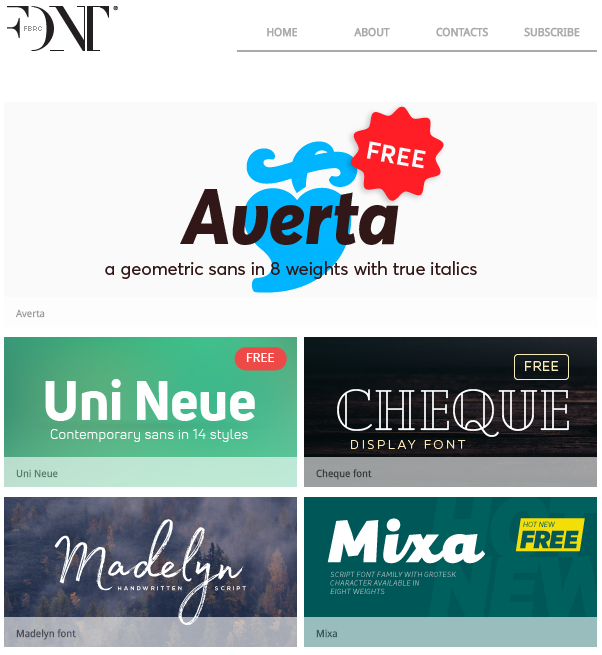 Their website is clean, and it's easy to download different fonts.
They don't have the largest design library on our list, but they have plenty of free options.
Many fonts are simple and great for logos, which is great news because a well-designed logo can improve engagement on your website.
Fontfabric encourages you to use their fonts for your business. There are only a few designs that cannot be used for commercial projects.
It's a great place to find fonts that are legible.
Sometimes the websites that include thousands and thousands of options have designs that you would never consider using for your brand.
That's not the case with Fontfabric.
10. Font Squirrel
Font Squirrel has free fonts that are high quality and, most importantly, licensed for commercial use.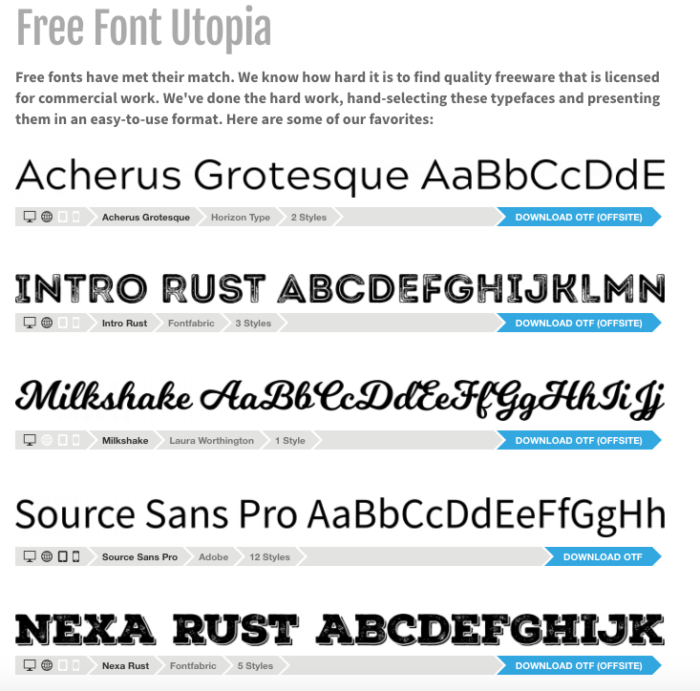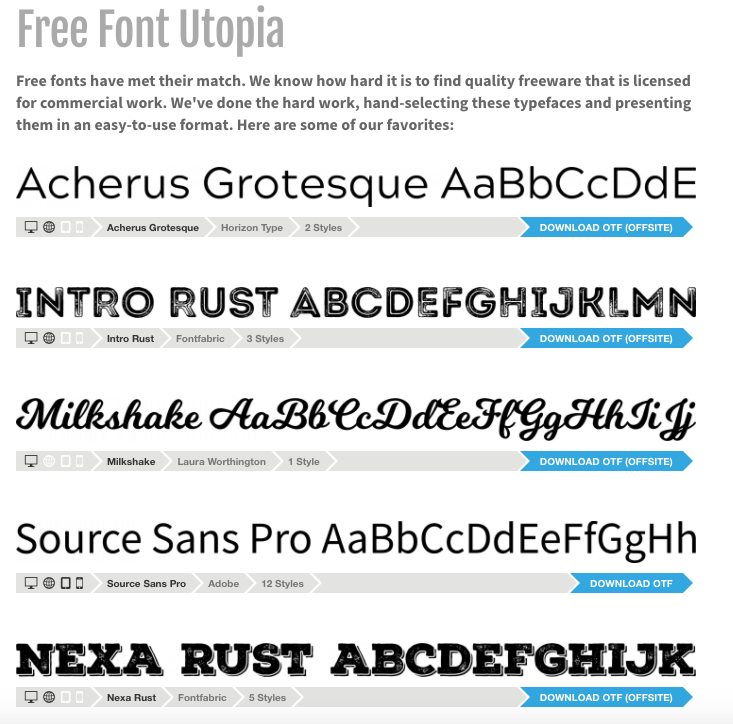 They also have a really cool feature called the "Font Identifier" search.
Have you seen a font somewhere that you like?
I know I have.
I've spent time browsing through different fonts but couldn't find a match.
The font identifying option from Font Squirrel lets you upload an image with the font you've seen from a random source.
They scan the image and help you develop that specific font or a font with a similar design.
Font Squirrel has a blog where users and contributors can discuss different graphic design and web font topics.
You can also create an account and discuss topics on their forum, which acts as a Q&A amongst their subscriber community.
11. Google Fonts
Google Fonts is the ultimate place to find and customize free fonts.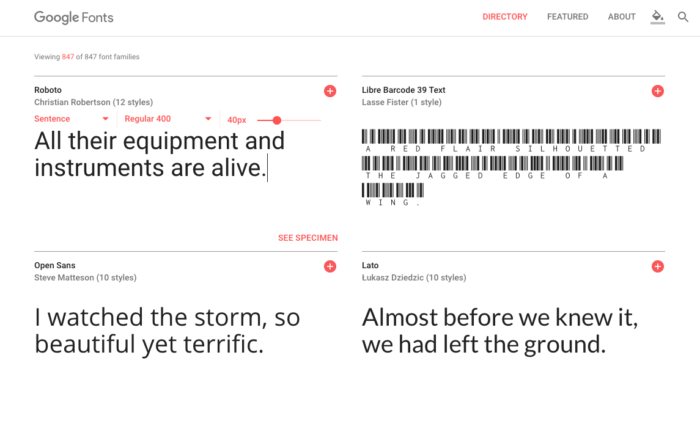 Once you find a font that you like, type your content directly on their website to generate a preview.
Then select how you want to display your words, such as:
Sentence
Paragraph
Alphabet
Numerals
You can also customize the pixel size from 8px to 112 px.
Google Fonts lets you further customize the display with options like:
Thin 100
Thin 100 Italic
Light 300
Light 300 Italic
Regular 400
Regular 400 Italic
Medium 500
Once you finish the customization process, you can copy the link to embed the font on your website.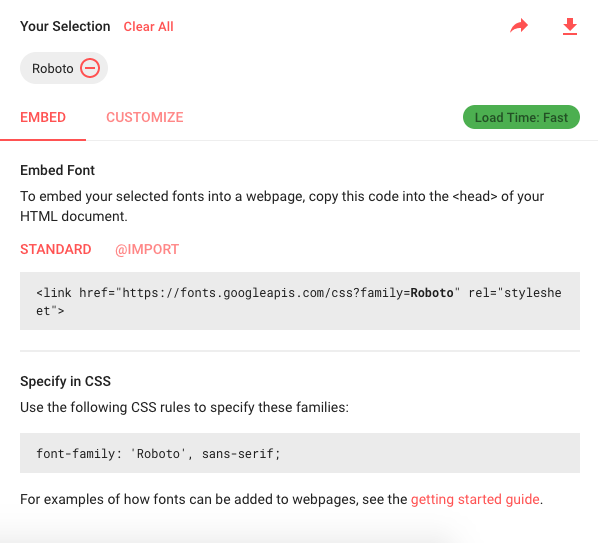 Add one font at a time or add multiple font families to your website.
Google Fonts also lets you add or change colors to the fonts on their platform.
I would definitely recommend checking out their website as a quality resource for free fonts.
12. The League of Moveable Type
Visit The League of Moveable Type to find fonts like these for free: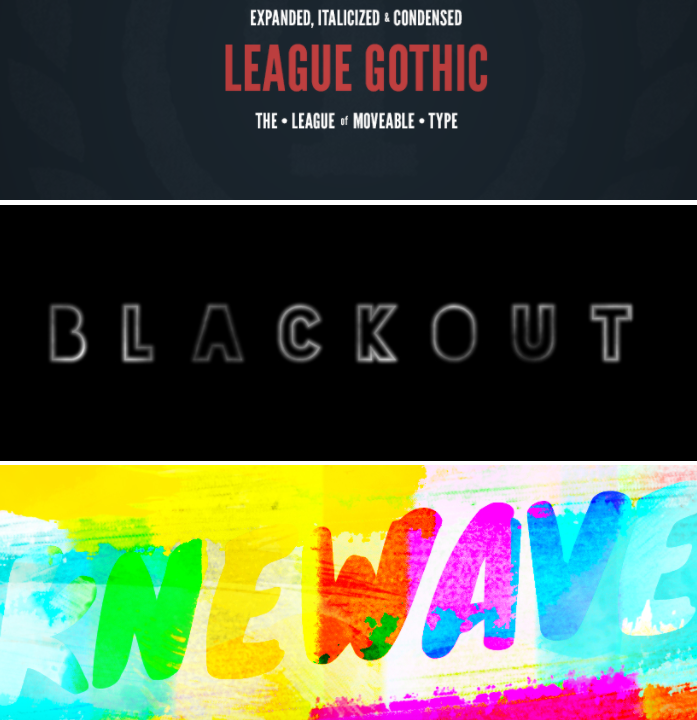 Based on these few samples, you can see that their website has great fonts for your company's website or logo.
Their fonts range from bold and black to bright and colorful.
Plus everything else in between.
The League of Moveable Type has been operating since 2009.
They also offer nice fonts for subscriptions and newsletters.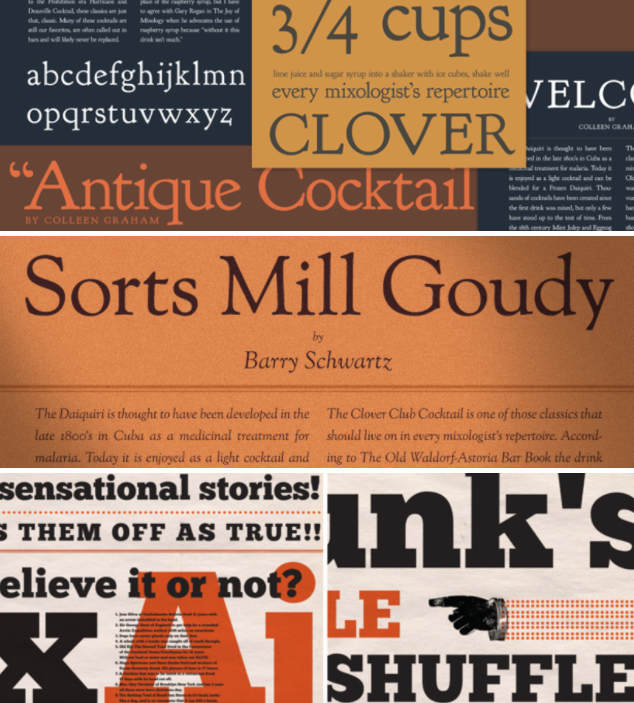 Their designs are some of my personal favorites.
The website's concept is free and open-source content.
If you're looking for high-quality fonts for your brand, it's one of the first places you should check out for free downloads.
13. Urban Fonts
If you're looking for some new-school font designs, check out Urban Fonts.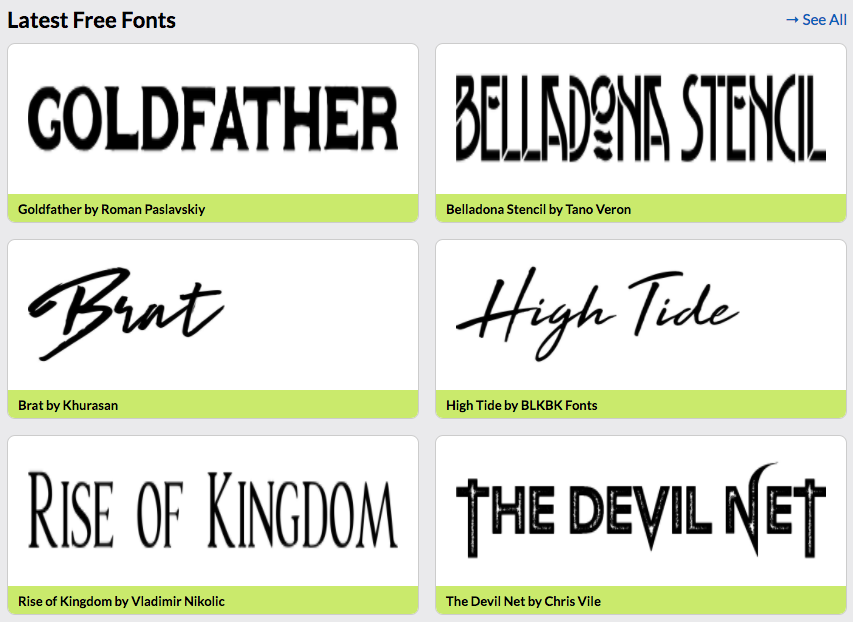 They offer plenty of free options for your brand.
You can find really unique graffiti and calligraphy designs on their platform as well.
Some of their other popular categories include:
Comic
Funky
Futuristic
Gothic
Modern
Celtic
Urban Fonts lets you preview your content directly on their website.
You don't need to download fonts to see what your exact words will look like.
Type some sample text to generate a preview.
Their platform lets you modify the font color and background colors as well.
It's really easy to use, and the downloads are free.
14. Abstract Fonts
Abstract Fonts has more than 13,000 fonts on their website.
Here are a few of their most popular font options.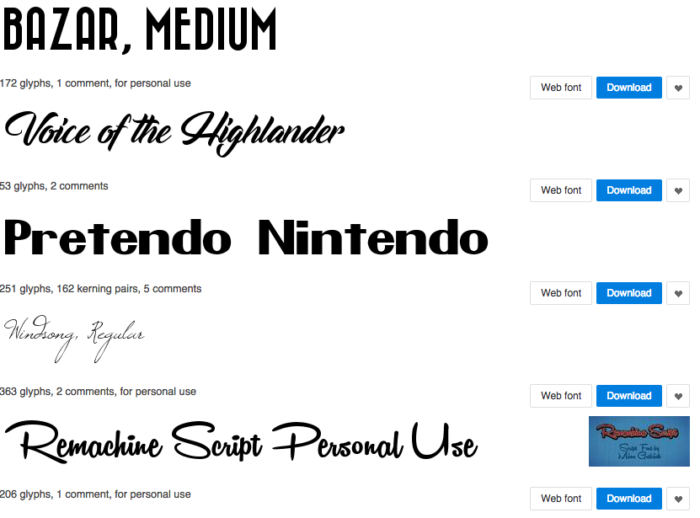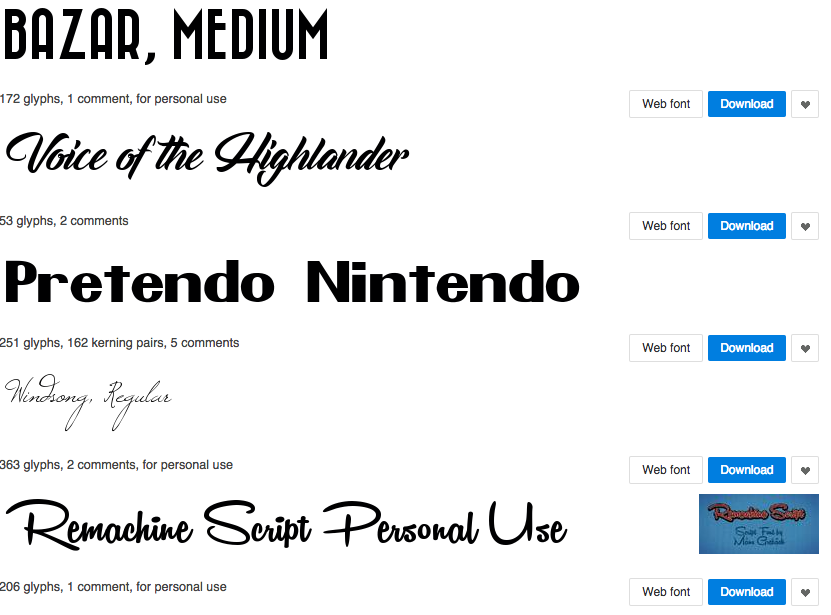 Choose from dozens of categories to narrow down your choices.
You can also search by the designer if there are certain fonts you've used in the past and want to find more from the same person.
It's also a great place for you to upload fonts you've created to share with other businesses.
Some of the unique categories that separate Abstract Fonts from the crowd include:
Retro
Stencil
Minimalist
Bloody
Spiky
Fuzzy
Pixel-Bitmap
Adult
If you're searching for fonts that are different from the traditional styles found on the majority of websites, Abstract Fonts is a top option.
It's easy to navigate their site and download fonts for free.
15. FontZone
Want to search a library of over 50,000 free fonts?
Start with FontZone — you are sure to find a font that fits your business.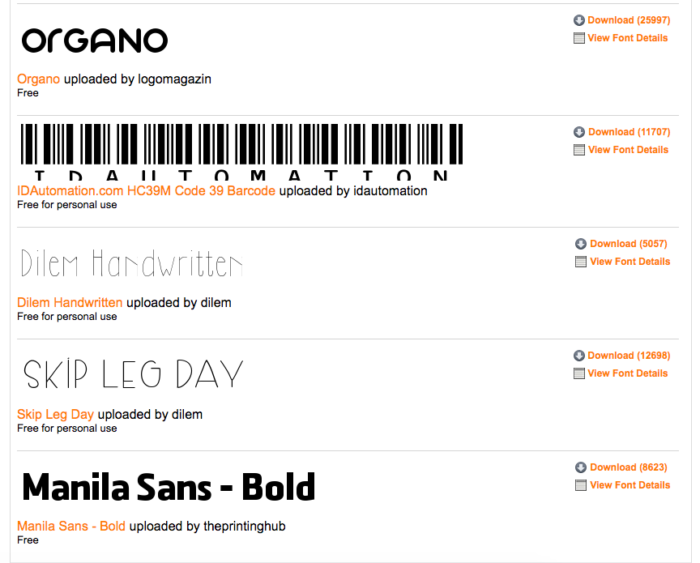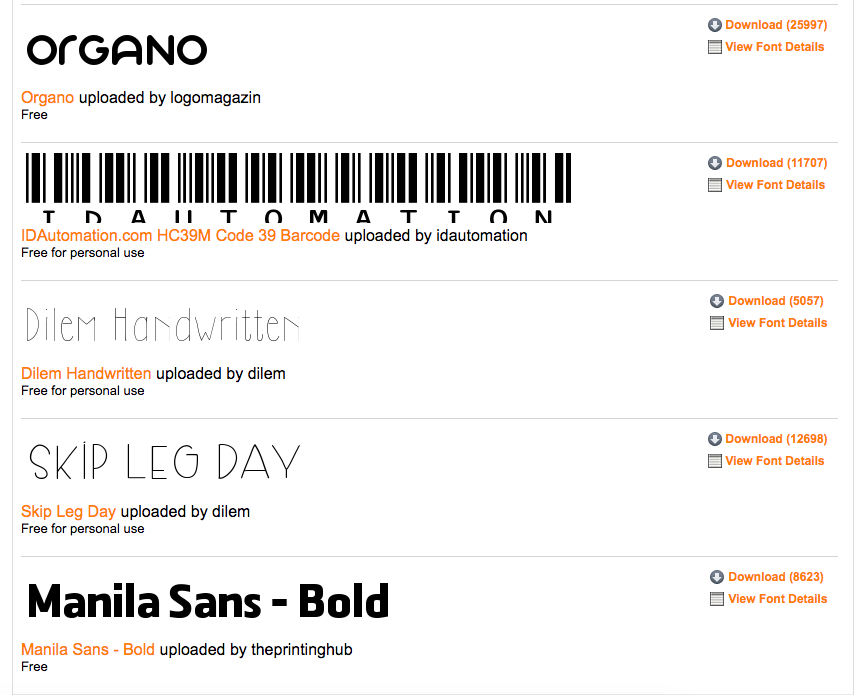 As you can see from the image above, some of the fonts are free, and others are free for personal use.
Just make sure you double-check that before using certain fonts for your brand.
Search for fonts alphabetically or by category.
You can even look for free fonts that are grouped by popularity.
FontZone lets you preview the options directly on their website before you download anything.
That way, you can see exactly how your content will look before wasting time downloading something you won't use.
Their extensive library of free options makes FontZone a top choice for free fonts.
16. FontShop 
Another personal favorite of mine is FontShop.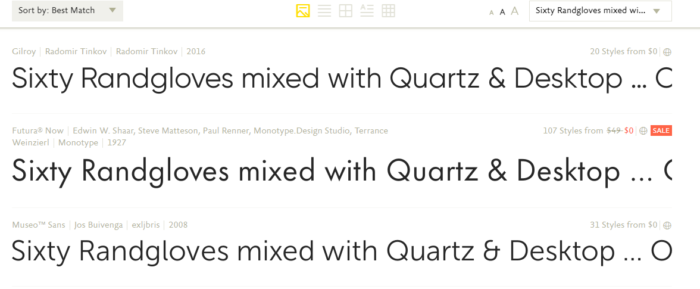 I really like the layout of their website and the search options.
If you know what fonts you're looking for, it's easy to find them alphabetically or with the search bar.
You can also search by fonts, designers, keywords, licenses, and format.
They don't offer mass downloads of different fonts, so if you want to download multiple styles, you'll have to do so one at a time.
17. Fawnt
Fawnt has over 9,000 different font options. Some of them are pretty artistic, making them a great choice for logos or branding.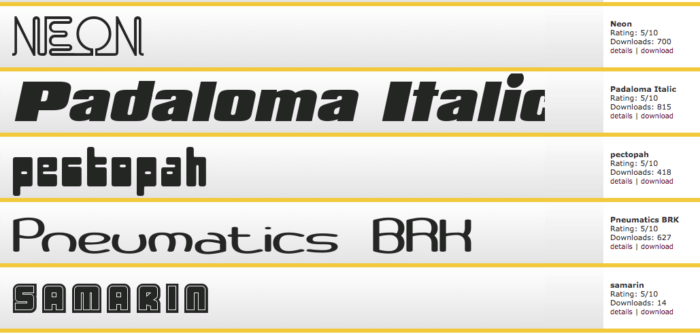 It's a German website that offers reliable and high-quality fonts.
You can download the designs for free and use them for your brand.
The Fawnt homepage displays their most popular options, and you can also browse their website by category.
Each font shows a rating on a 10-point scale based on user reviews.
It also tells you how many times each font was downloaded through its platform.
Fawnt allows you to customize previews and displays all of the letters and characters available for download with each font.
18. MyFonts
MyFonts is another great resource to find a font for your brand. Just make sure that you look specifically for free fonts: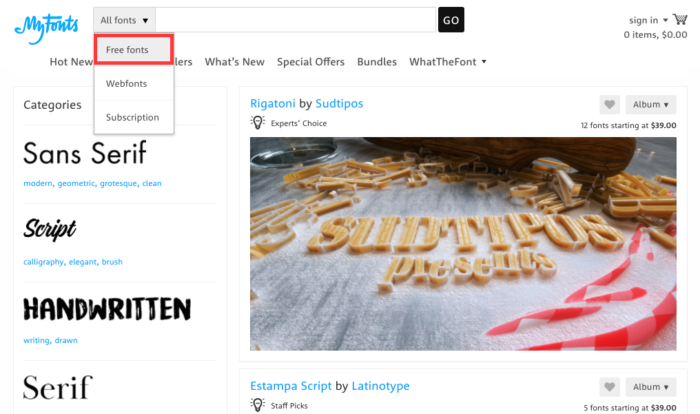 MyFonts also has fonts and designs available for purchase.
To navigate to the free ones, select the "Free Fonts" option from the menu in the top left corner.
It's funny – when people want something for free, they may not think to look somewhere that items are sold.
MyFonts is a perfect example of this.
They primarily advertise their fonts for sale, but you can still download plenty of free fonts and use them for your brand.
19. DaFont
You can also download free fonts from DaFont.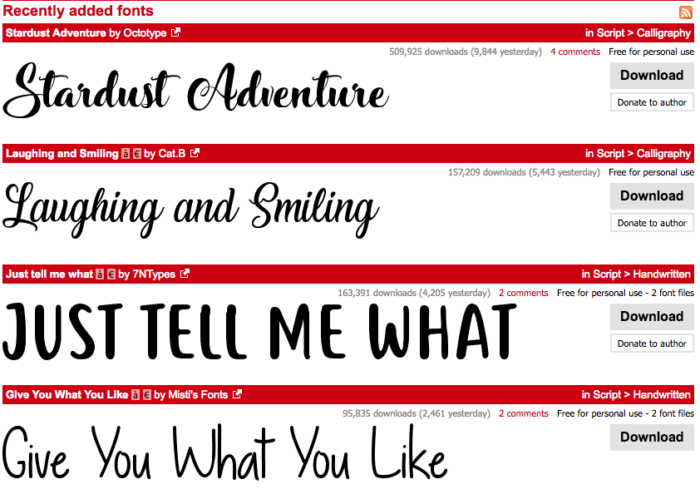 DaFont allows you to download and install designs if you have:
Windows 10/8/7/Vista
Mac OS X
Their platform gives you simple instructions on how to download free fonts based on your operating system.
You can search by top fonts, themes, designers, and new fonts.
To ensure you can utilize a font for commercial use, make sure you check off "public domain" while you're searching.
You can also check the "free" box to weed out the fonts for sale.
Conclusion
Fonts matter.
You don't need to spend money purchasing fonts, especially since there are plenty of free options online.
If you're looking for a free font, consider the options that I showed you above. Take the time to download a few and use A/B testing to see which ones your audience responds to.
Choosing the right font can even help optimize your conversion rate.
All of these websites are slightly different based on what you're looking for and personal preferences.
Just make sure you're downloading and installing fonts that are free for commercial use if you're planning to associate them with your brand and company.
Where have you found the best free font for your website?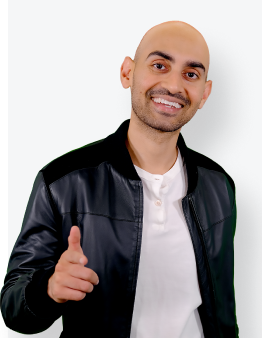 See How My Agency Can Drive More Traffic to Your Website
SEO - unlock more SEO traffic. See real results.
Content Marketing - our team creates epic content that will get shared, get links, and attract traffic.
Paid Media - effective paid strategies with clear ROI.
Are You Using Google Ads? Try Our FREE Ads Grader!
Stop wasting money and unlock the hidden potential of your advertising.
Discover the power of intentional advertising.
Reach your ideal target audience.
Maximize ad spend efficiency.