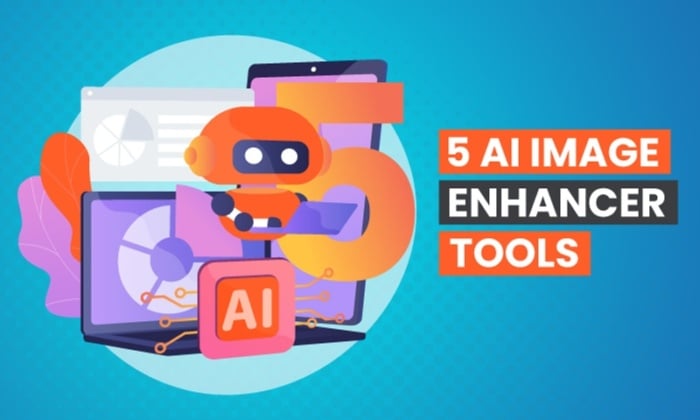 How many times have you taken a picture only to realize when you look at it later that it's not quite right? A beam of light is obscuring someone's face, the main element isn't in focus, or the picture quality isn't quite right.
For most people without the required photo editing skills, this used to mean that image was a write-off, but today, AI image enhancer tools mean it can get a second lease of life.
This is an amazing tool for marketers to turn previously unusable images into professional-looking creative assets.
What Are AI Image Enhancers and How Do They Work?
AI enhancers are web-based applications or downloadable software that enable you to instantly touch up images. This can be as simple as uploading your image and letting the AI do the work.
Using machine learning and AI, these tools are able to improve the quality of your picture without information loss. This means you can take a blurry photo and turn it into something that looks like it's been taken by a professional photographer.
This is a huge bonus for marketers who constantly require high-quality images.
Not only can you enhance your own images, but you can also do the same to stock photos, giving them an improved look.
If you're investing in professional photographs, they will naturally go through editing, but when you're doing all your own images, this has always been tricky. While some people are masters of Photoshop, many others don't have the time or skills.
AI image enhancers change this by taking care of all the editing for you. With AI upscale, smart enhancement, color and tone adjustments, and compression removal, you can touch up virtually every aspect of your images.
We all know images are important to marketing. Whether it's on your product pages, social media posts, newsletters, or anything else, people expect high-quality visuals.
If you're settling for lower-quality images, it could well mean you get less engagement and lower conversion rates. In the past, it was understandable to settle for slightly lower-quality images, but now, there's no need for it.
You can turn poor-quality images into professional-looking creatives with a few clicks of a button, and it can make a huge difference to your marketing.
5 AI Image Enhancer Tools
Artificial intelligence is moving into marketing in a big way. Every day there seem to be new automation tools hitting the market. However, AI is a big buzzword at the moment, and not every tool has the transformational impact it might promise.
When it comes to editing images, these AI image enhancer tools can save you a lot of time and money, so they're well worth checking out.
Let's Enhance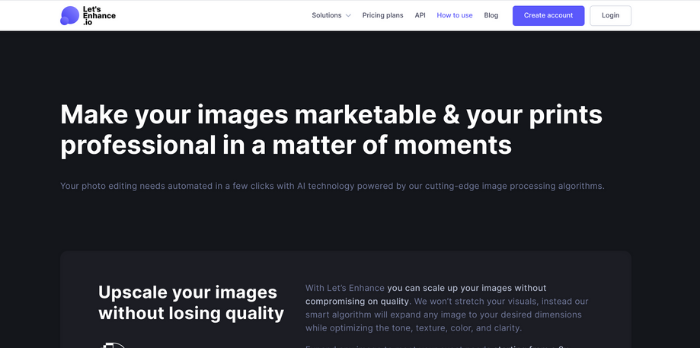 A quick scroll through the Let's Enhance website, and it's clear to see what this tool can do for you. It can turn pixelated images where you can barely make out the subject into sharp, focused pictures.
The great thing about this AI image enhancer is how easy it is to use. You simply upload your image, and it puts out consistent, quality results.
Features:
batch upload
presets
custom size
virtually no limits
quick processing
auto-adjust color, tone, and balance
This helps your images go further. With the custom size option, it means you can make images fit your size requirements without ever having to compromise on quality. From Facebook ads to a website hero image, you've now got a lot more options anywhere you use images.
Pricing:
Let's Enhance offers a wide array of pricing options, but if you regularly use images in your marketing, then the subscriptions probably offer the best value.
Free trial: 5 credits
100 credits per month: $9/month
300 credits per month: $24/month
500 credits per month: $34/month
DeepImage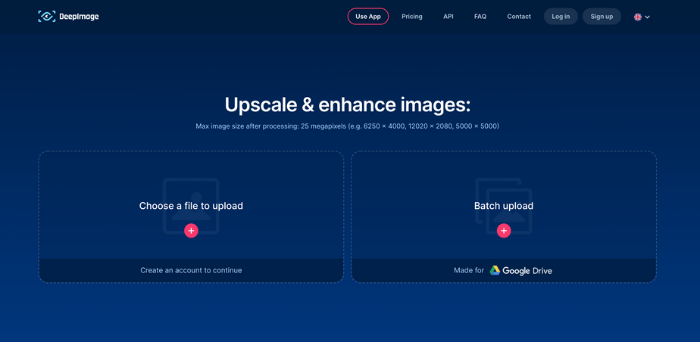 DeepImage sells itself as the ideal solution for real estate and e-commerce, helping turn so-so images into eye-catching statements.
It has good integrations for both Shopify and Google Drive, making it easy to bulk upload images and sync them with your Shopify store. This helps save even more time on your image editing, ensuring you have fully optimized images all over your site.
Features:
upscale from low-resolution up to 4k
remove JPG artifacts
remove unwanted noise
sharpen blurry photos
This AI image enhancer typifies the ease with which you can now edit your photos. Through the integrations, it couldn't be easier to turn your images into professional-looking assets and put them on your website.
Pricing:
DeepImage offers numerous pricing plans with both subscription and pay-as-you-go options. There's an option for everyone, so explore the pricing and make sure you get the one that works best for your needs.
Free trial: 5 credits
100 credits per month: $9/month
500 credits per month: $39/month
1000 credits per month: $69/month
Icons8 Upscaler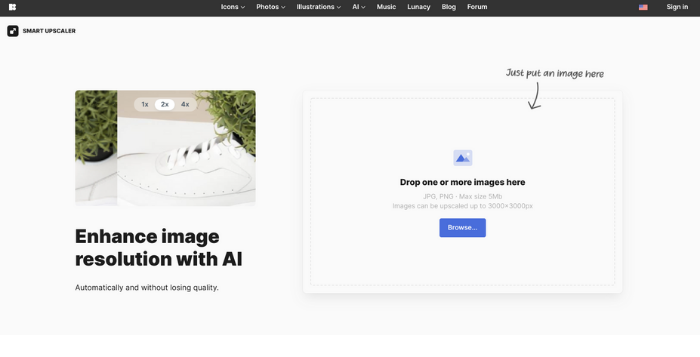 Icons8 offers a wide range of services related to images, but for AI image enhancers, its Upscaler is an excellent option.
Icons8 is all about simplicity. Just drag and drop your image into your browser, and it will immediately get to work to improve your image. You can now download your new image with a much higher pixel ratio.
Features:
sharpening
noise reduction
upscaling
fully automated process
Icons8 Upscaler works well for marketers who want to scale their images with a minimal amount of hassle.
Pricing:
Icons8 Upscaler keeps its pricing simple with two main options. If you want to pay-as-you-go, it's $0.20 an image, but this price comes down if you take out a subscription.
Free trial: 3 images
100 images per month: $9/month
Unlimited images per month: $99/month
Upscaleics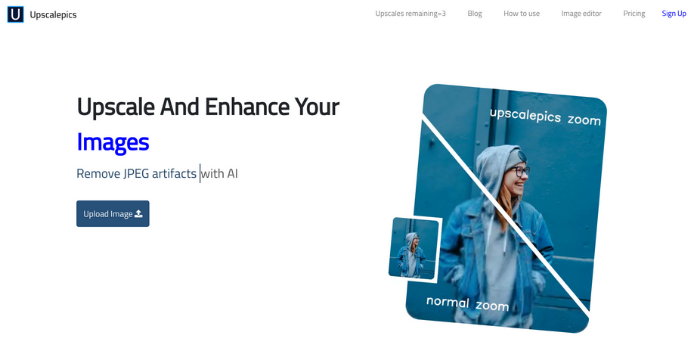 Upscaleics is another simple to use AI image enhancer. Simply upload your image, select the changes you want to make, and let artificial intelligence do its work.
Again, the main benefit of Upscaleics is the convenience. If you've got a few images to edit, then it's quick and easy to use and will give you reasonable results.
Features:
increase resolution
remove JPEG noise
compress image
It also gives you more control over what changes you make to the images than some of the other tools. You can choose what resolution you'd like to reach, and it provides the option to touch and compress your file.
Pricing:
Upscalepics might not offer quite as comprehensive image editing as some of the other tools on the list, but it does do an excellent job given its pricing.
Free trial: 5 credits
Unlimited credits: $3/month
Vance AI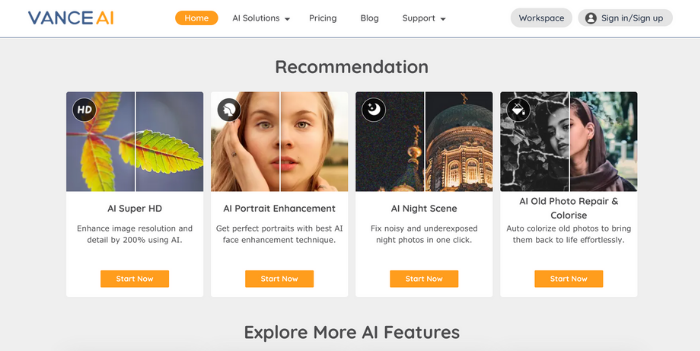 Vance AI's image enhancer combines advanced AI image enhancements with a simple-to-use interface to transform your images. Take old, tired-looking, and out-of-focus photos and turn them into something worthy of a place on your website.
Whatever your project, Vance AI promises to enhance the quality of your images, making them more adaptable and more powerful.
Features:
automatically enhance image resolution
fix pixelated, blurry, and low-quality images
enhance color and many other details
This is another tool that's quick and easy to use, helping ensure your images have the professional look they need.
Pricing:
Vance AI offers two different subscription packages, or you can pay as you go with 600 credits for $24.99.
Free trial: 3 credits
200 credits per month: $9.99/month
500 credits per month: $19.99/month
5 Ways to Use AI Image Enhancers
AI image enhancers can take care of all your editing in just a couple of clicks. This means better images on your social media, website, print campaigns, and everywhere else you use them.
Upscaling/Resizing
One of the best functions of AI image enhancers is upscaling. This process increases the number of pixels in the image, meaning you can zoom in on certain parts of it without losing picture quality.
Combined with auto-resizing, this can save marketers a huge amount of time. You can immediately adjust your images to fit your size requirement without the image being blurry or out of focus.
Deblurring
Not every picture you take is going to be perfect (although there are some tips you can use to take better pictures), especially if you're not a professional photographer.
Images are an important part of how we tell stories, so as marketers, we're constantly using them. Whether it's a quick social post or an in-depth blog, we must use high-quality visuals.
The deblurring feature most AI image enhancers have means that a lot more of your images will be viable marketing assets. You can even go back through your old images and bring them up to modern standards.
Lighting
It's amazing the impact lighting can have on your images. Take your product images with too much light exposure or not enough, and they're just not going to look right.
When it comes to your product images, people need to see them in the best possible light to help them make an informed decision. AI image enhancers can make sure you get this part right by automatically adjusting the lighting in your image.
Contrast
Images often have a subject: a key element that you want to draw people towards. To do this, you've got to use the right level of contrast, but this isn't always easy to do if you're not an experienced photographer.
If you don't get this right the first time around, then don't worry! AI image enhancer tools can edit the contrast in your images to make sure the main elements are in focus and draw your audience's attention.
All-In-One Image Editor
The best way to think of AI image enhancers is as your automated editing tool.
It can make sure all your marketing images are ready to publish without you having to worry about any of the technical elements. This is immensely powerful for marketers.
We all know the difference a good image can make to things like conversion rates, but the costs and time involved in creating those images can be a barrier. With AI image enhancers, you can turn ordinary images into great images, which can make a difference in every aspect of your marketing.
Frequently Asked Questions About AI Image Enhancers
What is an AI-enhanced image?
AI image enhancers can improve the resolution, color, contrast, lighting, and many other elements of your image. They allow marketers to quickly scale images and ensure they have professional-looking pictures to use on their websites and social media profiles.
How does AI photo enhancement work?
AI and machine learning study millions of images learning about the intricate details. This allows it to take your image and apply the most effective techniques to create a professional-looking image, save you from editing the images yourself, and fix them in seconds.
What is the best photo enhancer?
There are lots of different AI image enhancer tools on the market. They each have different features and pricing plans, so it's important to find the one that best suits your needs. Five of my favorite tools for marketers are Let's Enhance, Deep Image AI, Icons8 Upscaler, Upscale Pics, and Vance AI.
How can I improve the quality of a photo?
There are many ways to improve the quality of a photo. You can do it manually in software like Photoshop, or you can use an AI image enhancer to do it automatically.
Conclusion of AI Image Enhancers
Images will always be an essential part of marketing. They say a picture is worth a thousand words, and while I don't know the exact equation, they're certainly very valuable.
In today's world, low-quality images won't do, though. If they're going to have the desired effect, then they need to pop, and this is where AI image enhancer tools can come in handy. From Facebook posts to product images, you can make sure you have professional-looking assets—and it couldn't be easier to achieve.
There's no need to know anything about photography anymore. All you've got to do is upload your images, and they come out much improved. If you're constantly looking for good images to use, then this could be a big timesaver.
Have you tried AI image enhancer tools yet?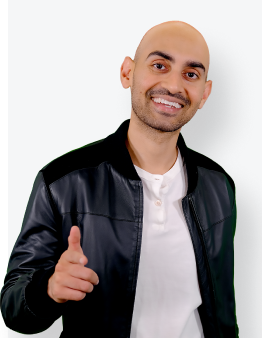 See How My Agency Can Drive More Traffic to Your Website
SEO - unlock more SEO traffic. See real results.
Content Marketing - our team creates epic content that will get shared, get links, and attract traffic.
Paid Media - effective paid strategies with clear ROI.
Are You Using Google Ads? Try Our FREE Ads Grader!
Stop wasting money and unlock the hidden potential of your advertising.
Discover the power of intentional advertising.
Reach your ideal target audience.
Maximize ad spend efficiency.