Close your eyes.
Take a second and imagine yourself shopping on your favorite e-commerce website. You've got a cart that's full of merchandise and you're about to check out. You take your credit card out and begin completing the checkout form. First Name, Last Name, Email Address, Payment Info…
The phone rings, your boss walks in, those TPS reports are due. Panic. You quickly "X" out of the window.
You've just abandoned your cart.
As of 2018, the average cart abandonment rate worldwide was 75.52%, meaning three out of every four people who create a cart on an eCommerce site don't end up making the purchase.
It's not all bad news, however. Let's think about your transaction from the e-commerce companies' perspective. Compared to everyday site visitors, you were special (they'll forgive you for abandoning later). Your session was unique because you expressed a level of buying intent far greater than an average site visitor.
After all, you carted an item, engaged with the checkout process, and left the site just before converting. They even knew what items you were interested in. Valuable data, right?
This makes you an ideal candidate for an e-commerce company to re-engage through remarketing.
The Difference between Retargeting and Remarketing
The word "retargeting" has become a more mainstream term for online marketers in recent years. Retargeting has come to define a variety of tactics that a company can use to re-engage people who've left their site. Companies drop a cookie in the visitor's computer and then pay to show ads to that visitor on other sites.
The philosophy of retargeting is simple: if a customer has visited a website and left without completing a desired action, they're more likely to engage with an advertisement for that brand/company in the future if exposed to the ads at a high enough frequency. The mere-exposure effect is a psychological theory that supports this idea.
The most common retargeting tactic uses display ads to re-engage customers on other websites that they frequent, i.e. Facebook. Unfortunately, the industry terminology got a little more confusing when Google launched their display retargeting product and branded it Google "Remarketing".
Remarketing had been commonly used for another tactic known as "Email Remarketing", where e-commerce companies re-engage would be or existing shoppers with targeted email messages. It's the same idea (re-engage customers who've left your site without completing a desired action) in a different medium (email vs. display ad).
Whether you call it "remarketing" or "retargeting", use ads or email, the two tactics differ in their delivery medium, how they are perceived by customers, and require different resources to execute effectively.
Most importantly, display retargeting is a more effective strategy for targeting customers at earlier stages of the funnel, where email remarketing should be reserved for those customers who have expressed the highest levels of buying intent at a later stage.
From here on out, we're going to focus on the email side of things. If you're looking for a resource on developing your display retargeting strategy, then I highly recommend this great article: "How to Spend Your First $100 on Retargeting Ads".
Case Study: Introducing Adam Saraceno from Peak Design
Adam Saraceno, the head marketing guy at Peak Design, gets contacted all the time by vendors trying to sell various marketing services. You may get similar kinds of emails. Some are legit, a handful are bogus, but the majority are a waste of time.
When Adam was contacted about email remarketing, his first response was, "Isn't that something we're already doing with AdRoll?" The voice on the other line said, "I don't think it's something you're already doing," and followed up by sending a screencast that cleared up Adam's confusion.
Here's how Adam now describes the difference between the retargeting and email remarketing:
They focus on totally different segments. For email remarketing, it's literally people who can't do more to express their buying interest. You can't do more to express your interest in buying than by adding products to a cart. It's people that we have every reason to believe are super interested in buying our stuff. Why didn't they? We want to find out because we think there's probably something we can do to get them over that hump. This is what we do with email remarketing. We ask them: What can we do for you? What can we do to get you to make a purchase?

AdRoll and retargeting is more for people who've expressed interest in our stuff by viewing our site but haven't gone so far as to add products to their cart. Retargeting is more about keeping our brand in the minds of people who have already visited. It provides a repetition of messaging and has a positive return on investment from a click-through perspective. When someone clicks on our site and browses around for a while, we want to periodically remind them that we exist. When that person finally says they're ready to buy a DSLR, which re-triggers their initial need, we want to be top of mind. People feel like once they've seen a few remarketing ads, it feels like they're hearing about Peak Design an awful lot lately. It makes it feel like it's more than a one-time experience.
Does that help to clear things up even further? Email remarketing is for customers who've shown a high buying intent, while display retargeting is to remind visitors who haven't made a purchase yet that you still exist.
Now that you have an even better understanding about the difference between retargeting and remarketing, let's talk about how Peak Design uses email remarketing to recover 12% of their abandoned carts.
How Peak Design Uses Email Remarketing to Recover 12% of Abandoned Carts
First, they've taken a really simple approach. They were worried initially that visitors wouldn't like the fact that Peak Design saved the information from an un-submitted order form and sent an email to follow up, so they decided to begin with a simple, customer-service focused approach.
They schedule their first remarketing email to be sent half an hour after the cart is abandoned and for a second email to be sent out 30 hours later.
Instead of sending a salesy message, they send an email that conveys the message of, "Hey, we noticed you left your cart full of stuff. Was there a problem? Do you have any questions?" The goal is to drive people to customer support to get questions answered. They also remind people about the fact that they have free and fast shipping.
Here's what their first email looks like:
In the second email, they offer a discount. This isn't sent the first time around and instead is sent 30 hours later to see if a small discount will push potential customers over the line.
And that's the last email they send. Most email remarketing campaigns use three total emails, but Peak Design decided to stop with two since they didn't want to push it when customers didn't even ask for the first email. They felt like two was the right number for their brand and decided to stick with that.
What were the results? Let's find out.
The Results
After 30 days, Peak design found out that their average recovery rate was 12% and that number has stayed the same over the life of their email remarketing campaigns. The average recovery value is also roughly the same as their average cart value, which means customers usually purchase the entire abandoned cart whenever they come back to purchase an abandoned cart.
In addition to a 12% recovery rate, Peak Design gets a 66% open rate for the first email and 59% for the second. The click-through rate (CTR) for the first one is 14% and 18% for the second. They also recover 59% of the revenue from their first email and 41% from the second.
If you want to get an idea about how much you may be able to earn back each month from an email remarketing campaign like this, you can use Peak Design's numbers as an average and multiple the number of abandoned carts you get each month by .12 (12%) to calculate how many customers you can win back. After that, you can multiply the number of customers you win back by your average cart value to get an idea about how much revenue can be recovered each month.
Here's what Adam has to say about recovered revenue from abandoned carts that get won back:
It ends up being recovered revenue you probably wouldn't have made at all. There's no way to know for sure, but it's almost certainly revenue that you probably wouldn't have gotten back any other way. And when you consider how much you earn back compared to how much it costs to do email remarketing, it ends up being a no-brainer, low-hanging piece of fruit. Why wouldn't you do it?
Wondering why e-commerce stores wouldn't do email remarketing is a great point. Think about it this way: What if you had a brick and mortar store and someone walked up to the checkout counter with a cart full of items. Then, for some reason, they leave and walk out the door.
Would you just smile and wave in this scenario, or would you ask what happened and if there's anything you can do to convince the visitor to complete their transaction? Of course you'd ask what's going on! No self-respecting store owner would let a single customer out the door without asking if they can help in any way. Email remarketing lets you do this online with website visitors who were ready to buy but decided to leave in the middle of their transaction.
And not only will you recover revenue, but email remarketing helps you learn things about your customers you can't learn any other way…
Other Lessons Peak Design Has Learned
Email remarketing brings you closer to the experience visitors have on your site by helping you to learn what people are thinking when they're not buying products. That's what Peak Design has found.
The first bit of information they've learned are questions people have about products. Peak Design makes photography equipment that's quite innovative. Most people haven't seen their products before which means they have a lot of questions. But what questions are they asking?
They've identified these specific questions through email remarketing. When customers respond to a remarketing email with questions about a product, they make a note and then find a way to address those questions on their product pages and support material. This allows them to answer questions before a customer might abandon a cart because they haven't had their question answered yet.
They also found out that one of the big things that was causing people to abandon carts was the fact that they had to get to a certain point in the checkout process before they were told if they would be charged a sales tax (which they do if they're from California), VAT (European Union), or for shipping. These hidden charges that pop up later in the buying process caused customers to drop out.
To fix this problem, they're planning to add a shipping and tax calculator earlier on in the process so people can calculate how much the total cost will be. They're also going to add more info on sales pages about how much customers need to buy in order to get free shipping, and other similar information.
As you can see, email remarketing helps with even more than recovering abandoned carts. It also helps you to learn more about your customers which pays dividends when you optimize your sales funnel.
So far we've learned that email remarketing helps to recover abandoned carts and learn more about why customers are abandoning carts in the first place, but does it end up annoying visitors in any way?
Were Peak Design Customers Annoyed by the Emails?
As you may remember, one of Peak Designs concerns was whether or not people would be bothered by the extra emails. So far, that hasn't been the case.
They've had a handful of people unsubscribe, but the number's been very small. They've also only received one or two customer service emails from disgruntled customers. That's it.
The only actual issue was when someone accidentally got an email when they successfully checked out OK. Fortunately, that glitch was taken care of and isn't something that will happen again.
From what they can tell, the emails have only had a positive effective. Nobody has gotten super mad, and the additional contact with customers has only made it easier to offer an even higher level of customer service and to learn more about customer needs. It may help that they're recovery emails aren't salesy or pushy and instead focus on answering questions and providing better service.
Peak Design's Top 3 Tips
To help anyone interested in giving remarketing a try, here are Peak Designs top three tips:
Start out simple: Best practice recommendations suggest three emails; Peak Design does two. Starting out simple will allow you to test the technology and learn more about email remarketing without worrying too much if you're doing the absolute best campaign the first time around.
Listen intently: Listen to your customers when they respond to the emails. This helped Peak Design steer their emails in the right direction and helped them to decide what the right frequency and number of emails is. Listen to what customers are asking and saying, and then make changes accordingly.
Interesting content: Make your emails something somebody would be interested in receiving. Peak Design had a plane-Jane email right off the bat that simply asked something along the lines of, "Forgot something? We saw you abandoned your cart. Would you like to come back and finish your purchase?" Now, they have a richer experience with an outdoorsy photo of someone using a product. It does a better job of tying the email into their brand and shows that Peak Design is all about the outdoors and not just a bunch of sales people trying to badger prospective customers. Consider offering interesting content in the emails that somebody might care about because it's a branding opportunity just like when someone interacts with your website.
The Ultimate Payoff
Email remarketing gives e-commerce stores the confidence they have a more sealed website experience. It helps make it feel like you aren't leaking potential sales and losing out on new customers because of problems or issues that were totally solvable. Even if the percentage of recovered carts is small, nobody's walking away empty-handed because they had a simple question that didn't get answered.
Email remarketing will also help you to learn more about the experience people are having on your website and checkout process. You'll identify areas where people are getting tripped up which means you'll know how to address those problems on your site to lower the number of carts that get abandoned in the future.
Email remarketing is the perfect next step for anyone who's already using retargeting to re-engage customers but would like to seal up their checkout process and recover more revenue from lost but recoverable abandoned shopping carts.
About the Author: Mike Arsenault is the founder and CEO of Rejoiner which provides full-service cart-abandonment email remarketing campaigns for demanding e-commerce companies like Hallmark, Liftopia, and VTech Electronics. You can download sample cart abandonment email campaigns of the Internet Retailer 500 by clicking here.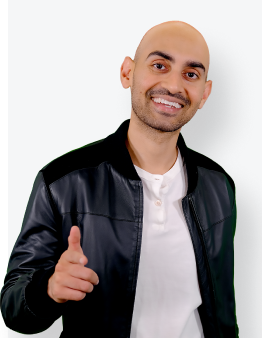 See How My Agency Can Drive More Traffic to Your Website
SEO - unlock more SEO traffic. See real results.
Content Marketing - our team creates epic content that will get shared, get links, and attract traffic.
Paid Media - effective paid strategies with clear ROI.