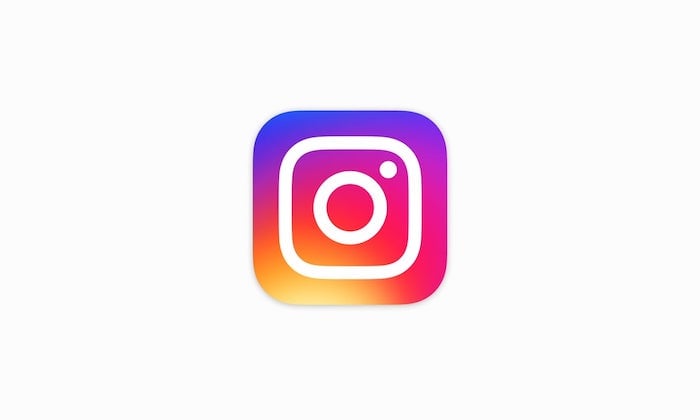 Whether you have an Instagram following or not you can make money on Instagram. And you can do it fast. Below I go in-depth on how to make money on Instagram, here is a quick overview.
Fastest Ways to Make Money on Instagram
Charge for sponsored posts
Promote affiliate links
Offer Instagram management services
Become a brand evangelist
Ask your fans for money (Only Fans/Patreon)
Open an Instagram Store
Coach other Instagramers
The Opportunity for Making Money on Instagram
Want to know something that I absolutely love about marketers?
They are committed to serving the audience. And when you're creating a great experience for your prospects, then money is a byproduct.
But I won't leave you with such jargon and motivational statements. I assume that you're a smart marketer (why else would you hang out on NeilPatel.com, right?)
You understand that building a following and then running ads to sell your product is a great way to generate income. Wait a second though…
Didn't you know that already?
It's the most obvious strategy to make money online.
So let's extend the conversation beyond such cliched tips. Let's get into the thick of things and see how to actually make $200 to $10,000 (even more) per month from the visual social platform. To begin with, allow me to share 3 inspiring stories of people who made money from Instagram.
1. Theresa Nguyen isn't your average teenager. She shares drool worthy videos of her homemade slime on her Instagram account that get hundreds of thousands of views.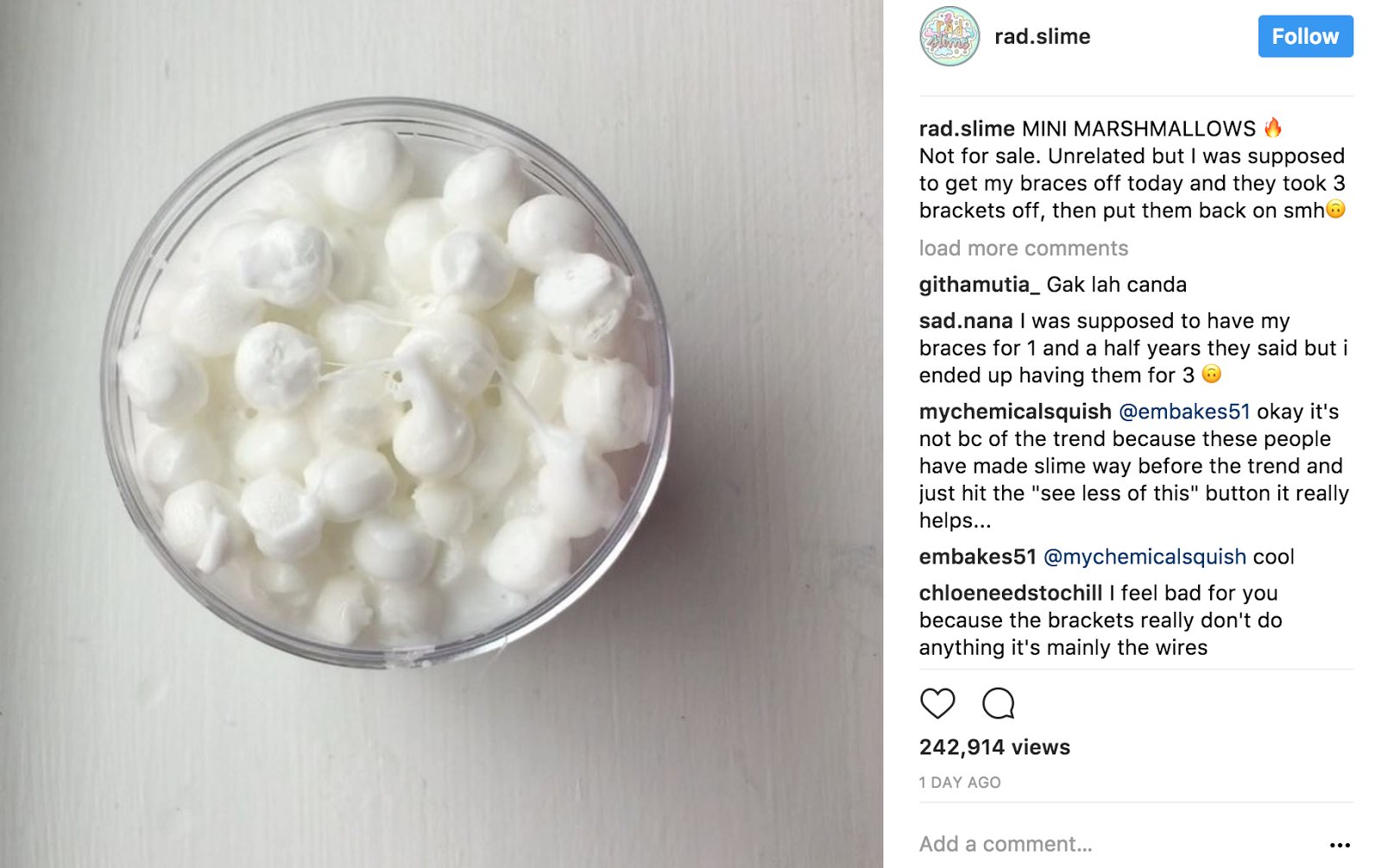 Her account is filled with colorful posts. With just 228 such live posts, she has garnered a following of 747k people (at the time of writing the post). And she shows how to leverage the precious Instagram profile link.
She has a clear CTA driving her Instagram followers to her online slime shop.
Do you think Instagram users are interested in buying homemade slime from a teenager?
You bet.
When I checked out her website, all the flavors were sold out. Time.com reported that she's making $3,000/month. Not so bad for a 13-year old whose parents laughed at her idea of selling her creations.
Theresa isn't alone. Rachel Albus, a 13-year-old from California, and Sara Y., a 12-year-old from North Carolina, have also built their Instagram accounts to thousands of followers. And they make decent money from them.
As they say, age is just a number. But I don't remember being so innovative when I was twelve!
2. With the diversity of the audience on Instagram, everyone has an opportunity to make money. So meet the next Instagram money making star on our list: Sara Tasker.
A 32-year-old woman from Yorkshire, she worked as an NHS speech therapist. Four years ago, while on a four-month maternity leave, she created her Instagram account.
Her motivation for signing up on Instagram was the free products and money that brands were offering to Instagram users. And now, she has honed her way to becoming what's called as a micro-influencer with 170k followers.
Her account is filled with beautiful lifestyle pictures from her life. And she made approximately £120,000 last year. Besides getting paid by brands for posting, she's also making money from coaching people about creativity and Instagram marketing.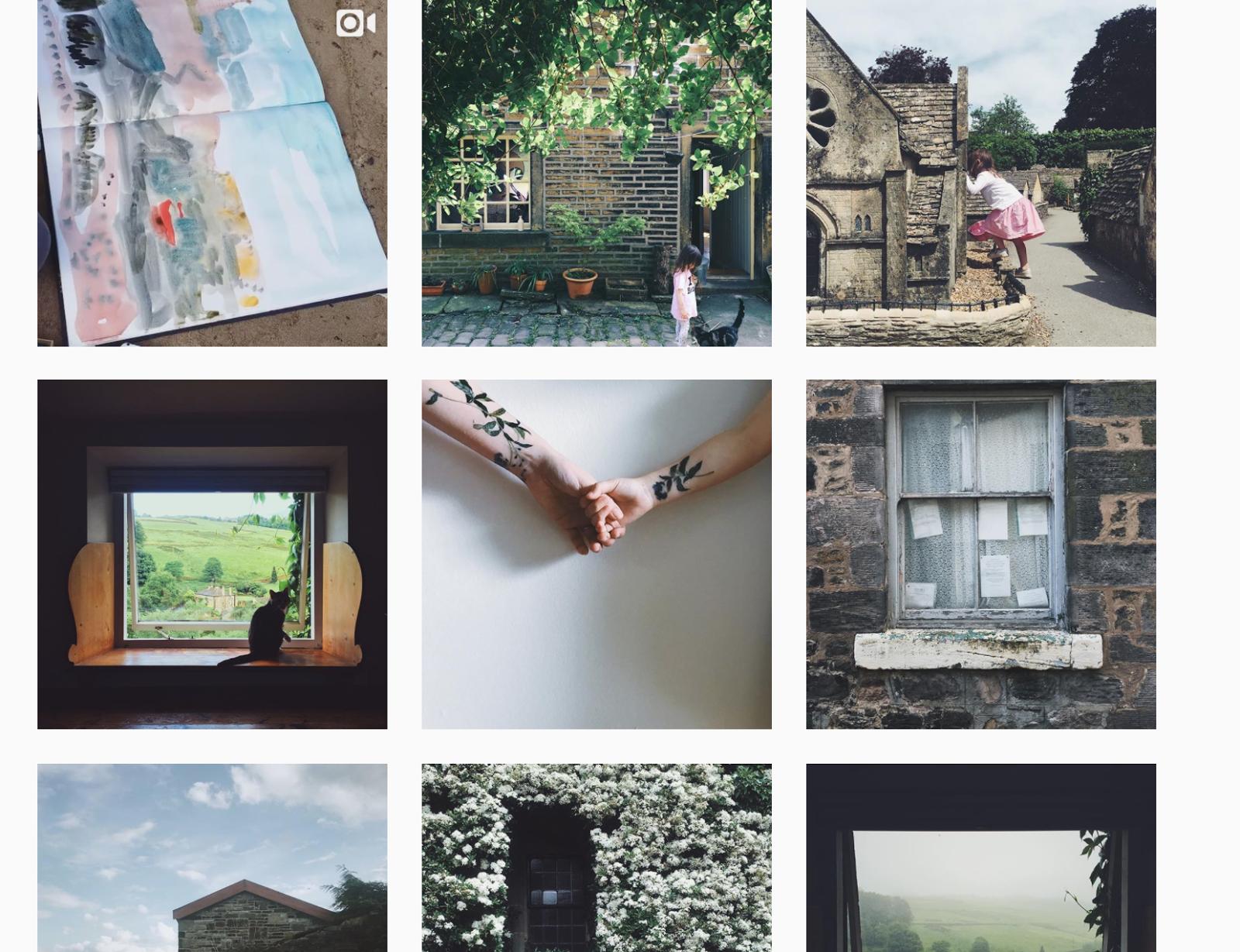 3. If you're thinking that gathering such a huge following is necessary for making money, then meet Jeena Farmer. She's a qualified nutritional therapist and freelance writer from Warwickshire. Her Instagram only has 3,361 followers.
But brands pay her in the range of £50-£100 (64 USD – 128 USD approx) for mentioning them on her Instagram. She also packages an Instagram update with a blog post and a tweet – for which she charges £200-£300 (250 USD – 350 USD).
Major media publications are publishing how to make money with Instagram stories.
But how exactly are these power users managing their Instagram accounts and making money?
I've gone down in the Instagram trenches with my clients in a variety of niches. And I've found that you can launch businesses independently based on Instagram alone (you don't even need a website). Otherwise, you can ignite other business models and catapult your revenue with support from Instagram.
In this article, I'll show you 9 Instagram money-making tactics. As you know, I like to keep my articles comprehensive and beginner-friendly. So, even if you haven't heard of Instagram before, you'll walk away with actionable strategies to make your first dollar from the platform within a month.
Before we dip our toes in the specific tactics, let's look at the prerequisites for making money.
Money from Instagram: The prerequisites
You can't slap a catchy Instagram handle, write a cute description, and start posting pictures from your daily life. That might work well to impress your friends, but if you're looking to make money, here are a couple of requirements.
1. Reach and Influence – Why do businesses pay money to an Instagram user like you?
They get exposure to your audience, and they hope to make money in the process by having your followers buy or recommend their products.
Instagram is generous with sending your post to more of your fans' feeds. If you post at the right time and use hashtags (we'll discuss these tactics later), then your organic reach will be higher compared to other social media platforms.
But what if you only have a few hundred Instagram followers to begin with?
Your potential audience size is low. With a small sample space, your content won't get seen by a lot of people, let alone drive sales for your or a brand's products.
That's why you definitely need a few thousand followers to make any money from the platform.
Now as you might have guessed, reach only contributes to the first stage of the funnel: awareness.
If you want to generate sales, then you need to have persuasion skills (known as influence).
Your audience has to take action on your recommendations. Alexandra Lamachenka illustrates the process below.
One of my favorite writers Robert Cialdini authored a terrific book on the subject: Influence: The Psychology of Persuasion.
A great real life example of people of Influence is Tim Ferriss. When he signed up for promoting Mizzen+Main dress shirts on his podcast, little did they expect that their inventory would run out. Their CEO and Founder Kevin Lavelle vouched for the Tim Ferriss effect.

So just creating a random account and collecting a few thousand followers alone isn't sufficient. You need to become a compelling Instagram personality.
2. Engaged Followers – Sure, more followers will boost your ego. Even mathematically, it increases your probability to appear in more Instagram feeds.
But what if everyone is cold to your updates?
It feels like a failure in spite of putting forward your best work.
In my journey of creating more than four blogs, I've seen it all. Back in the day, I used to flaunt the number of visitors that I drove to my site. Now I understand it's about engagement. It indicates that you're solving problems for people around you.
So on your Instagram account, if you rarely get people commenting, liking, sharing, and following you, then you're doing it wrong. Your updates aren't striking chords with the Instagram universe. Now we'll understand how to fix the issue in the next section.
But for now, understand that even if you have 1,000 followers who are engaged, the potential to make money is there. Brands are willing to invest in you because of the profitable actions you'll drive through your account.
Indeed, Jeena Farmer gets paid a decent sum of money by health brands because she gets good engagement on all her posts. Look at the post below. Despite having 3,368 followers, she got 98 likes and 15 comments on this collagen shots picture. That's over 3% engagement!

Exceptions to the above requirements
You know what I hated about chemistry in school?
After we had been taught rules and equations, there were always exceptions that we had to learn as well.
I feel that won't be the case here with you guys.
If you directly sell your products on Instagram, then you don't necessarily need a huge following. Suppose you sell a high-ticket course priced at $297 on Instagram marketing. Then even with a low conversion rate and about a thousand followers, you can make decent money.
Similarly, if you've a specific skill (like photography/writing/cartooning/video editing), then Instagram only plays a functional role in your service business model.
You can start your account today, post about 3-5 updates that display your work, and message potential customers directly. Depending on your skill, experience, and pitch, you can close your first client by tomorrow and start minting dollars.
By now, I hope you understand that Instagram is not easy money. You need to hustle your way. And the next section discusses how to organize your hustle.
Recap: How to build a sizeable Instagram following that awaits your updates
If you're a seasoned marketer, then you might want to skip this section.
I've written about Instagram marketing in detail before on various occasions – here, here and even on Forbes. But let's have a quick refresh on building an Instagram following with the motto of making money. Here are the 6 simple steps you need to follow.
1. Fill your bio with panache (use the website link wisely)
Whether you're a business just starting out on Instagram or an individual opening an account for making money, you need to post strategically.
The bio is a precious piece of real estate on Instagram. It's where you can pitch to your first-time profile visitors. So keep your text simple, crisp, and direct. I like how Foundr Magazine does it on their Instagram.
There are 3 additional important aspects that they do well:
They are offering a FREE Issue to prove their value
Use emojis to direct the user towards their CTA (Remember, I told you guys that emojis increase conversions. Plus they make you smile)
Their bio link (powerful because it's the only clickable link on Instagram) directs the user to a customized landing page.
You can also show your creativity and personality in the bio. If it's memorable and catchy, then people are more likely to press that "Follow" button. After reading Luvvie's bio below, I am sure most of you are intrigued.
That's how you want your bio to be as well: interesting.
Also, your photo/brand logo must be a clear, high-quality picture. Why?
Well, it's a visual platform, and people want to put a face to the words you're speaking on Instagram.
Pro Tip: You might send Instagram users to your bio link repeatedly throughout your posts. A way around repeatedly changing the bio link is using bit.ly. If you put up a bit.ly link in the bio, then you can change the underlying destination in bit.ly behind the scenes.
2. Post regularly and engage with the commenters
I have a terrific relationship with my friends and family.
Want to know how I effectively manage my relationships with them? By regularly hanging out with them, sharing what's happening in my life, and listening to what they have to say. I proactively call them when I haven't heard from them in a while.
Instagram works similarly. After all, it's a social platform – an extension of our offline interactions. Indeed, it's data-backed.
In their analysis of over 100,000 Instagram posts (over a period of 3 months), Tailwind found that a higher frequency was synonymous with higher engagement.
Your growth rate of Instagram following also increases.
And what's less obvious is that most Instagram accounts actually don't put in the effort to post every day. Just take out the time to get active on Instagram.
Icing on the cake is interacting with the commenters of a post.
Don't let any conversation go unattended. You can even create a hashtag and incentivize your followers to send their content that gets featured on your profile. User-generated content is authentic, and it increases your brand loyalty and credibility.
A great example of user generated content is #ipster. It has 24,562 posts that authentically promote the Ipsy subscription box.
While posting regularly is a must, it is also important that you post at the right time.
As I've already told you, we fiddle with our phones all the time. But it's preferable to post during work breaks and when people are likely commuting in the morning/evening.
Also, weekdays might result in lower engagement as compared to weekends. Here are the findings by Sprout Social.
3. Use relevant hashtags with every post and show your wit in captions.
Hashtags have been around since 2007 on social media platforms to cluster posts with a similar theme. And they work extremely well on Instagram. The platform allows you to add up to 30 hashtags (that's a lot) per post.
I recommend using between 10-15 hashtags in every post. Preserve the caption of the text for adding more context to your post. Even if you add hashtags in the first comment, Instagram will pick them up.
For example: Look at the Foundr post below. They are using the caption to describe their 36th magazine issue and their content on Gary Vaynerchuk.
You can't use any random hashtag. Always consider relevance and competition. I recommend you to do prior competition research. Find commonly used hashtags in your niche and see the number of existing posts for a particular hashtag.
#Marketing had 11,294,699 posts at the time of writing this post. After checking the number of posts and collecting hashtags, I recommend you to create 3 categories: low-competition, medium-competition, and high-competition.
Create a spreadsheet and compile your research. Here's an example spreadsheet for self-improvement and stoicism where less than 12k posts is low-competition, 12k to 100k is medium-competition, and more than 100k is classified as high competition.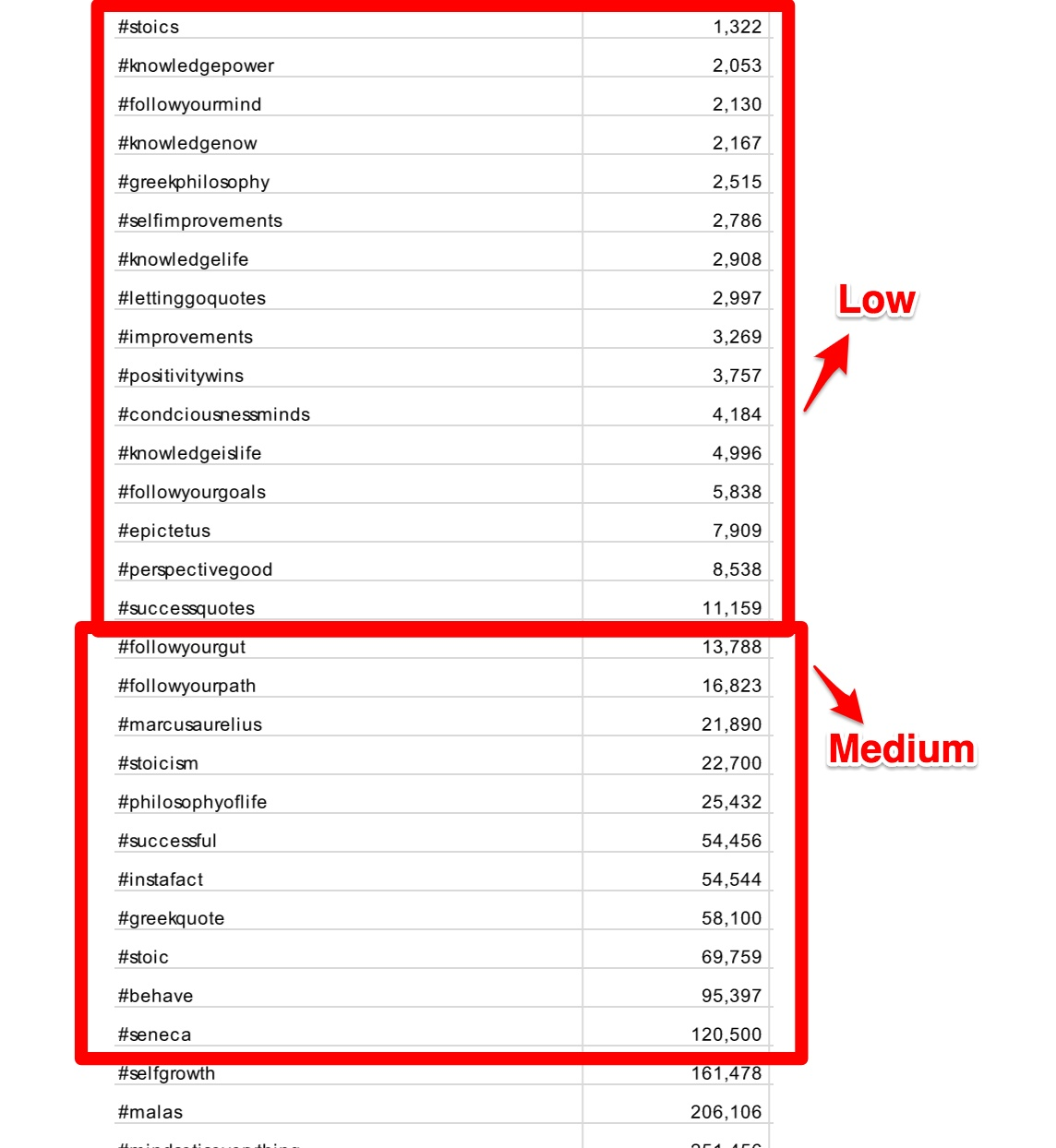 When you post an update, use hashtags from all the 3 categories. This way you'll have a better chance to appear higher in the results of low-competition hashtags while landing some decent exposure with the high-competition hashtags.
Next, let's look at captions.
You get about 2,000 characters to get creative, tell a story, and show your brand's personality. There are no rules. You need to know your audience and be willing to experiment.
Even a couple of words and an emoji can add context to your post.

Or you can get more descriptive and tell facts about your post like Nat Geo.
Garyvee makes it work with crisp one-liners. Sometimes even one word.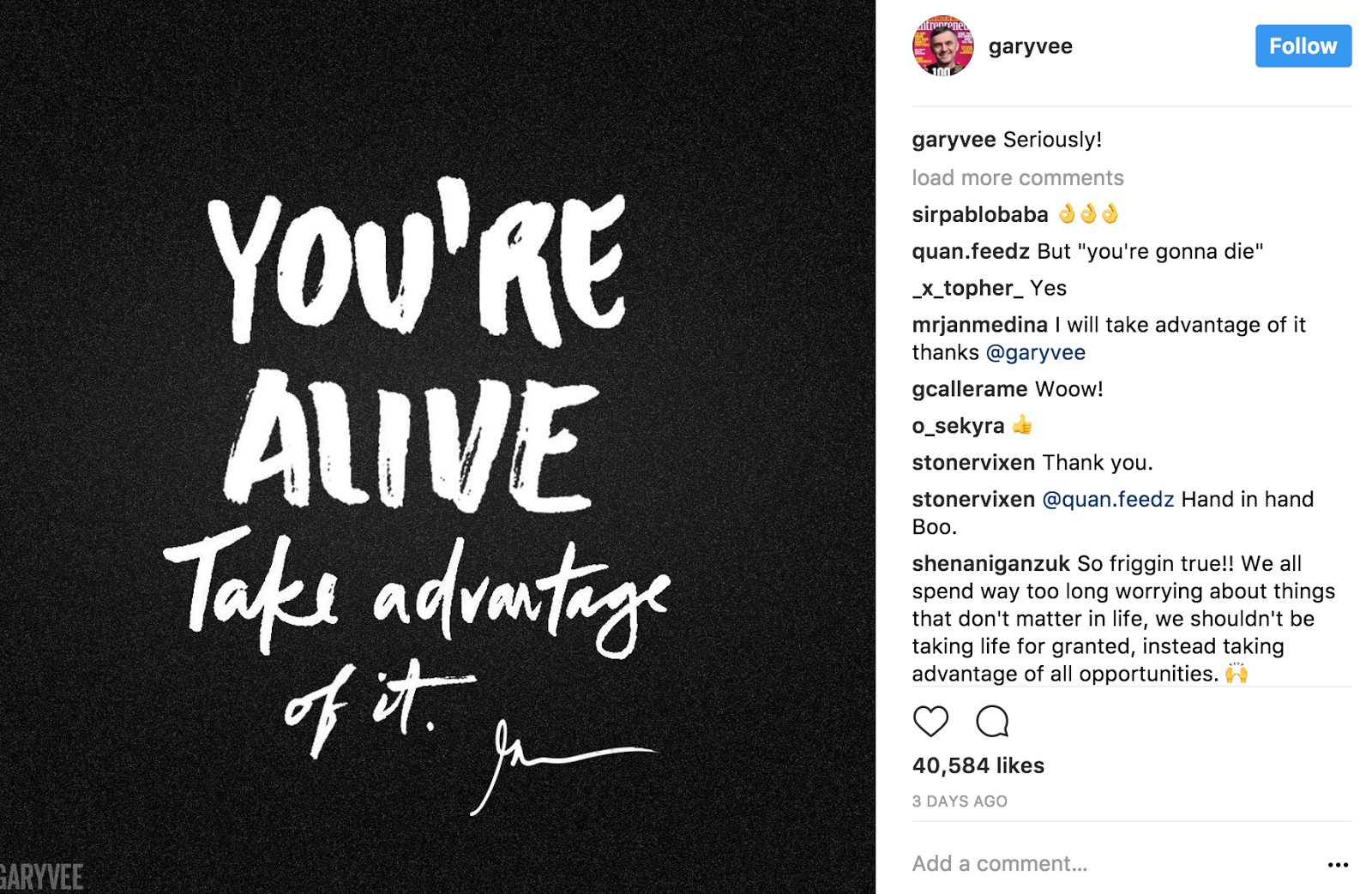 Additionally, I recommend you play around with emojis and use @mentions to give shout outs to other Instagram users. In the post below, Starbucks celebrates the National Pink Day with a pink heart emoji.
Occasionally, you can simply use a CTA to direct people toward taking the action you want them to take. That's what HubSpot did in the post below. They shared their success with their followers and engaged them by posing a question on leadership.

Alternate CTAs include asking people to view the link in your bio, "double tap if you agree", "tag a friend", "share if you agree", etc. You should use such direct CTAs occasionally though, otherwise you'll turn off your audience.
4. Improve the quality of your content (and mix it up)
Since Instagram has stopped showing content chronologically, you can't get away with posting mediocre content. The competition on the platform is high:
You can't get away with these two aspects.
i. Low-quality pictures: It's a visual platform, so blurred and uninspiring pictures won't make the cut. You can't do with those $1 stock photos either. Keep it original and stay transparent. Consider sharing your account details with your employees.
A great example is HubSpot. They put a face to their brand by letting their employees take over their Instagram and share their life events under #hubspotemployeetakeover and #humansofhubspot.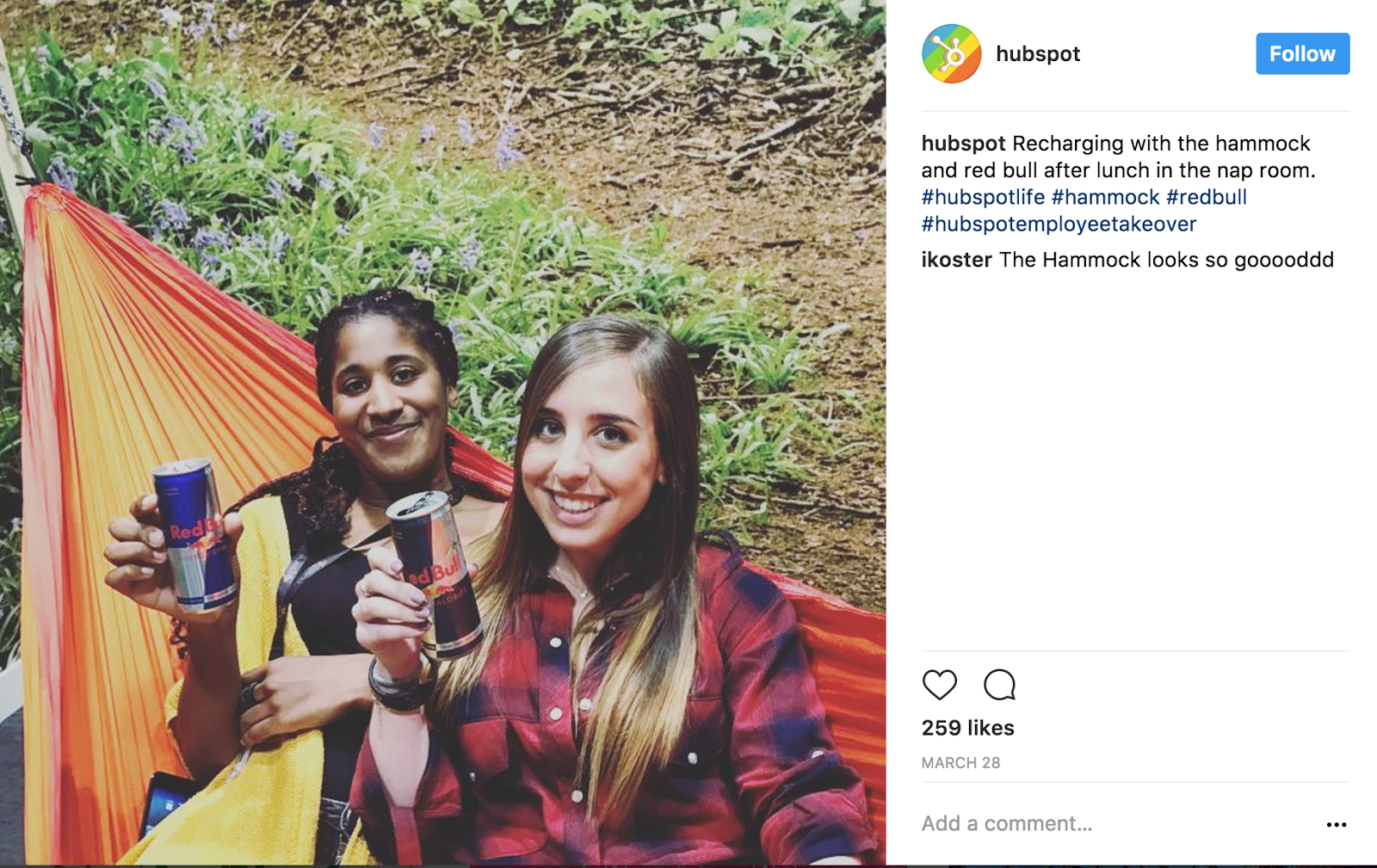 ii. Repeated product pitches: People use Instagram to get a visual taste from the lives of their friends and family. They also want to see the authentic side of brands, not get bombarded with promotional offers. You can educate and inspire your audience with quotes like Melyssa does in the post below.
Occasionally, you can conduct contests and feature your customers. But promote your products on Instagram only about 20% of the time.
5. Stand out by producing video content
Videos are an enriching format for visual communication. It's a great way to add some muscle to your storytelling. As we already know, 2017 is the year of video marketing. And 55% of the total video consumption on mobile is for under 5-minute videos.
Instagram allows users to post up to 60 second videos. As per a Newswhip study, top media publishers are posting a healthy dose of video content on their Instagram accounts. Plus if you consider engagement, videos sparked a higher number of comments (average of 767) than photos (average of 373).
What's fantastic is you can add transitions to sloppy videos, edit previously shot videos in other apps outside Instagram and upload, add sound, or else just keep it simple. Remember that it's social media. People don't expect perfection and overly formal content.
Consider, for example, the Gates of Hell video that Tim Ferris shared on his account. Even a picture of the Darvaza Gas Crater would have mesmerized us. But a video adds a level of depth with the sound of dazzling fire.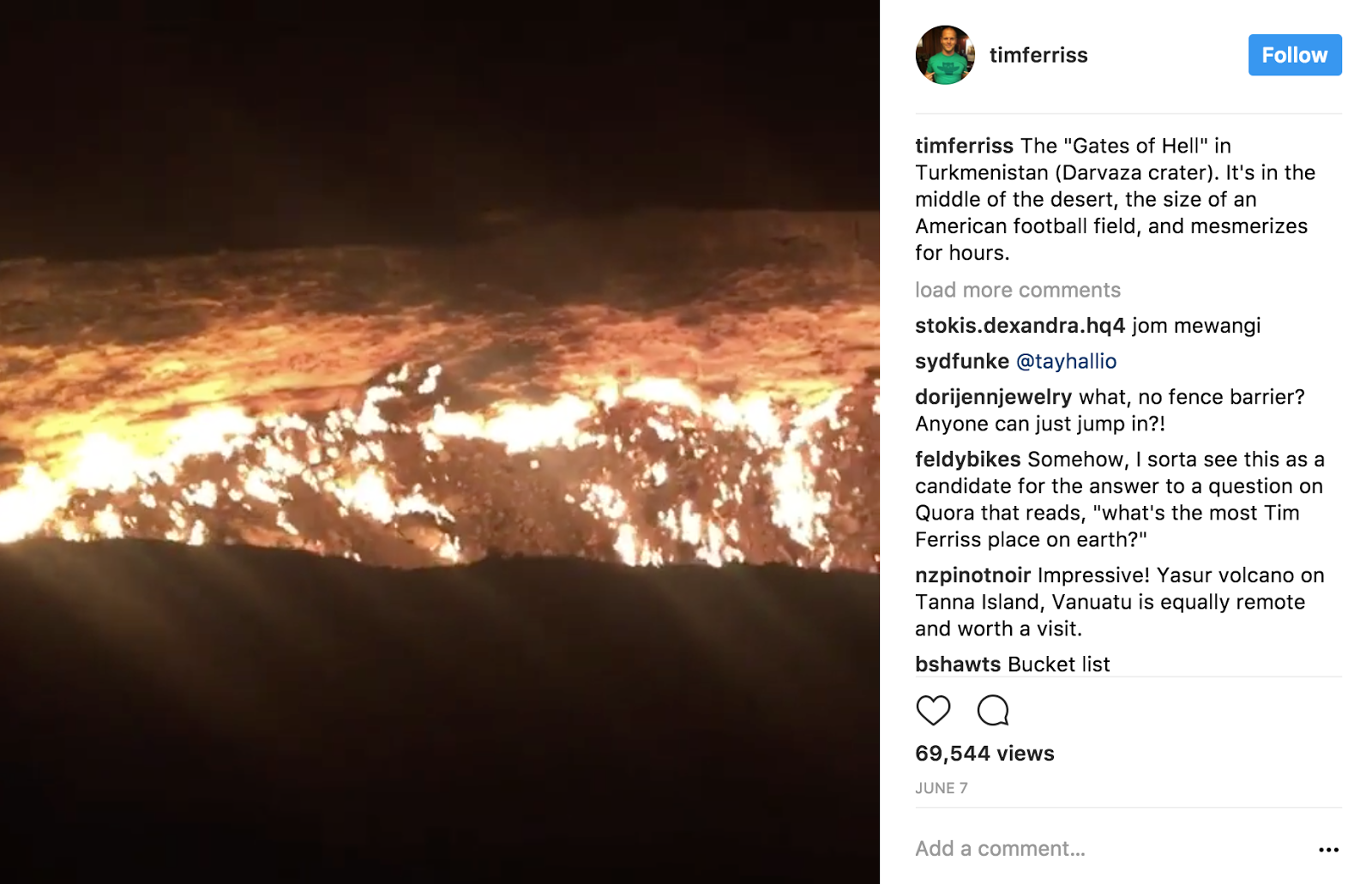 6. Build relationships with influencers and other businesses
When you're starting out, posting more high-quality content and using compelling captions will only take you so far. They are like the compliance conditions to ensure your account doesn't fall flat.
If you want to grow fast, you need external help to get attention from Instagram. You need to cultivate relationships with power users in your niche and borrow their influence.
Now there are a couple of ways to do this.
The first is doing a shoutout for shoutout (S4S). Under this strategy, you search for Instagram accounts in your niche and request them to share your posts in exchange for you sharing theirs. Weekhack relied on this strategy in their journey of achieving over 50k followers in merely 8 months.
The second way is by buying Instagram shoutouts (which is also a way to make money). It's basically paying a per post fee to accounts with massive followings for mentioning or recommending you.
Foundr Magazine relied on paid shoutouts to gain 14k followers in 2 weeks. We'll discuss the strategy in more detail later in the article.
Special Note on Instagram Stories
Instagram has quickly seen Stories rise to 500 million users every day. People love sharing and viewing their friends' daily lives. The fact that Stories are ephemeral in nature and last for only 24 hours creates a sense of urgency.
Using Stories is a terrific addition to your Instagram marketing master plan. Indeed, one-third of the most viewed Stories are from businesses.
In the user's feed, they appear like a video playlist. I recommend doing about 5 Stories per day. You can write over photos and craft a well-composed video that will grab the audience's attention.
I like how apparel brand Beyond Yoga leverages Stories. They display their products in action and get their prospects close to the brand. Plus they have a CTA on photos to shop for their product.

I would recommend you to test and have fun with live videos (you can now even replay live videos as an Instagram Story), stickers, filters, and other creative Instagram features. Instagram rewards creativity and a new feature has a novelty effect on the users. You automatically stand out when your posting strategy is different from other brands.
Alright, now that we have the marketing strategy down, let's cut to how you can earn money from Instagram.
Instagram Money Tactic #1 – Sell your photos
Stock photo sites are huge these days.
If you run a blog or any type of website, there's a good chance that you've used stock images at some point.
But the strategy is dependent on your photography skills. If you're an amateur, then don't expect to make thousands of dollars every month. I am not a professional photographer.
The closest I've come is using tools on my blogs to ensure they are visually appealing. Still, I've developed an eye for great pictures that businesses are ready to spend money on.
4 photography tips for a smooth Instagram ride
By no means is this a tutorial on photography. But you'll sell your photos to brands, so you need to understand their requirements. Here are a few tips on photography from a marketer's perspective.
1. Brands value authenticity – You can keep the posed and staged photos for your marriage portfolio. On Instagram, real-world photos are revered. Art directors, businesses, and publishers love photos that are in social settings.
Indeed, marketplaces like Snapwire thrive on social photos captured on phones. In one particular instance, a Canadian pharmaceutical company paid as much as $6k for a photo (from 52 submissions) of people having a piggyback race (for five years of exclusivity).
2. Ditch the square format – Sure, Instagram started in a square format and people are accustomed to it psychologically, but I recommend clicking photos in landscape/portrait format. Square photos aren't typically considered as the work of a photographer.
With a vertical picture, you might have a hard time with the thumbnail. But they contain more detail and give you more artistic playground. You can also opt for the horizontal format. Currently, Instagram allows photos and videos with aspect ratios between 1.91:1 and 4:5.
3. Leverage white borders – A professional artist knows where they want to focus their viewer's attention. The artist understands how to use empty space and achieve a certain ratio for images. If you use white colored borders, then you can also control how your photo appears in feeds (but remember that Instagram algorithm displays the thumbnails of your photos as center-cropped squares).
4. Experiment with flat lays – Flat lays are a terrific way to promote personal brands and show off that you're a professional. It's the picture of a variety of items styled together on a flat surface and taken from a bird's eye view.
Carefully choose how you'll take the picture (so that it's visually appealing): top-third, bottom-third, center, or evenly placed. Your lighting, color palette, and shooting angle also play a vital role. Remember it's not about an assortment of items but rather about crafting a compelling narrative. You can also use text to add context.
Look how elegantly rawolutionary_me shared the green matcha smoothie recipe with 3 composite items and a little text.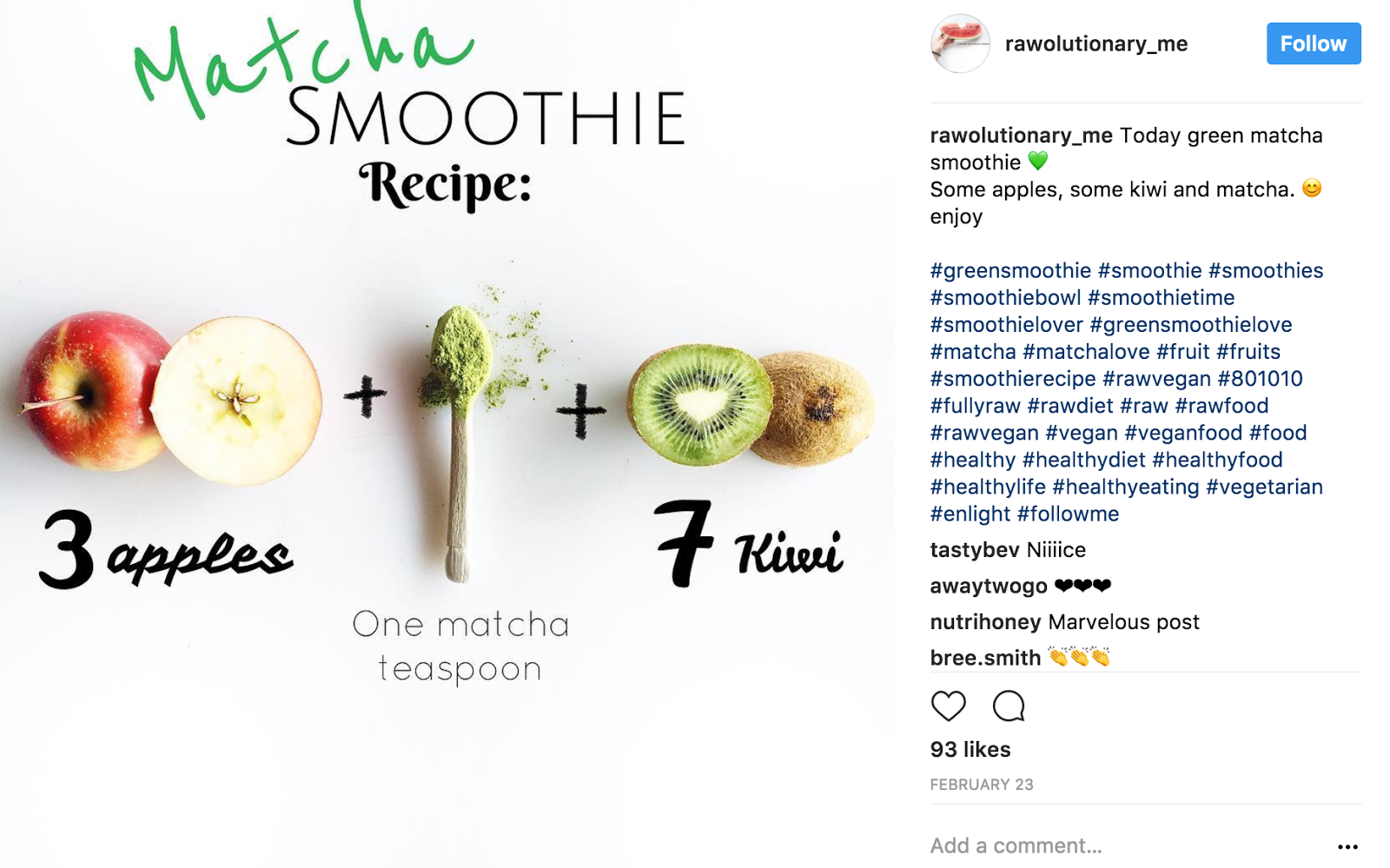 As a photographer, flat lays are a great way to show your creativity to prospective clients. It's a trending product photography skill that will give you an edge over other photographers.
Here is the role Instagram plays to help you sell your photos: In my client meetings, I am repeatedly asked the intent behind adopting a marketing strategy. So let me elaborate on how Instagram can prove useful to photographers.
I know you might have a professional portfolio profile setup at Behance (and even Dribbble). But when was the last time you updated them?
Instagram is much more relevant and powerful than these portfolio websites. You can promote your photography for free by using relevant hashtags. Users crave visual content and are waiting to provide social validation to your photo. As soon as you post, you get immediate feedback as likes, comments, and shares.
As a photographer, you can consider Instagram as your daily journal.
Once your journal is setup, you can leverage the platform to get in touch with your prospective clients directly. Right now, you can send any user a direct message (DM) on Instagram.
So what does that mean for you?
Gary Vaynerchuk pointed out how 2017 is the year to network with Instagram, because the platform is exploding and you have "unprecedented access" to influential personalities. You can pitch your value proposition to brands as a DM.
Case study: How to make $15k in a day from selling your Instagram photos?
Daniel Arnold was an (almost) broke photographer spending about 8 hours walking around and taking pictures of New York City with his iPhone. He didn't know how he was going pay the next month's rent.
One day, on his 34th birthday, he thought of selling 4×6 prints from his Instagram archive. So he put up a message at midnight asking his followers to send a screenshot of their choice of photos.
Little did he expect that his photos would receive $15,000 worth of requests including $1,000 a piece for his most popular photos. Some of his most-ordered photos include the subway (pantless) Santa Clause and the one below.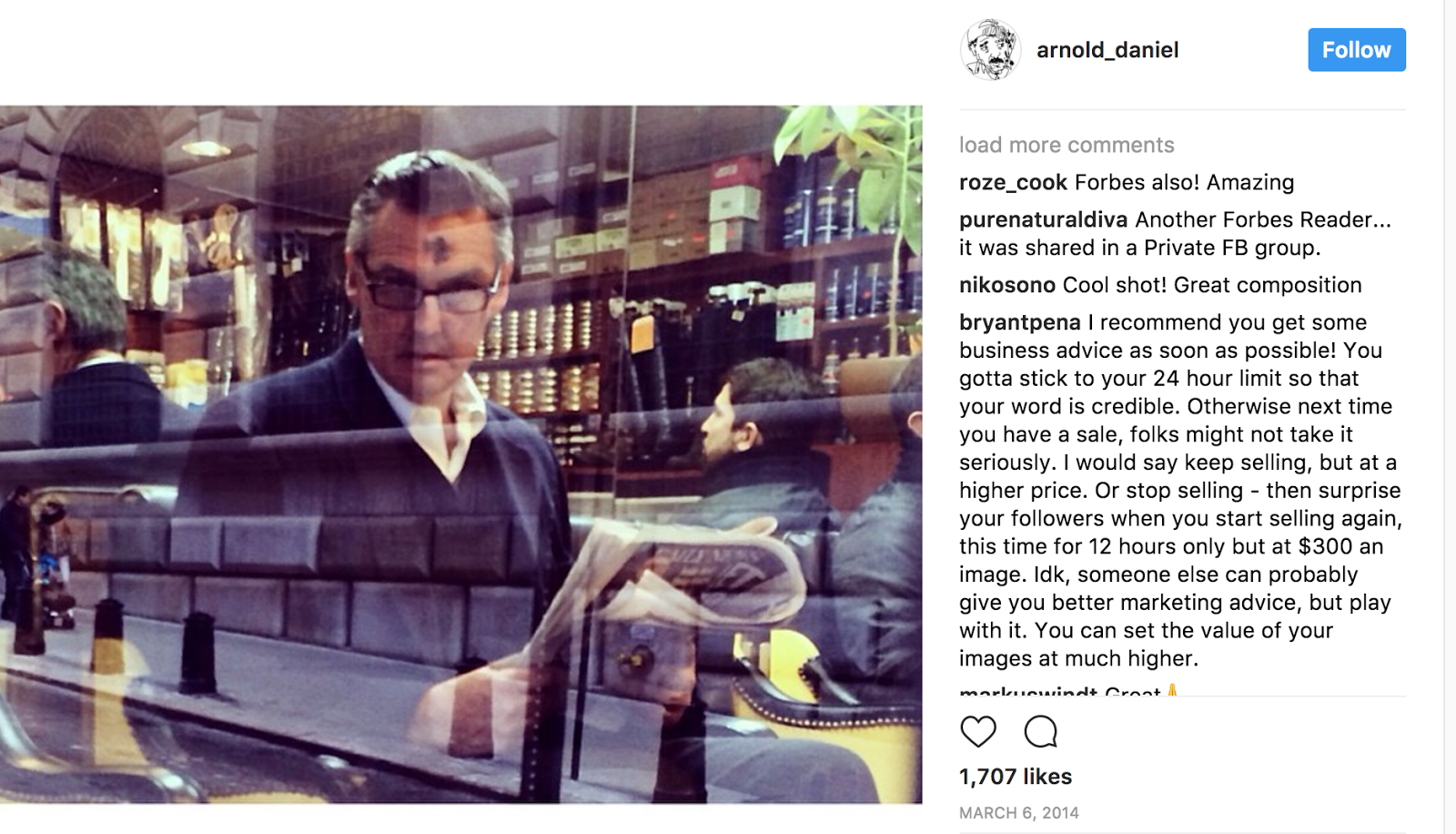 Although Daniel's case might be an outlier, it goes to show that earning money on Instagram is real.
How to earn from Instagram with your photos: Foap and 4 more marketplaces
Let's get down to the process of selling your Instagram photos.
A while back I came across a website called Foap, which has dubbed itself as "the next wave of stock photography."
Rather than brands paying big money for photos from professionals or settling for those mediocre (and often cheesy) stock photo sites, Foap is becoming a popular alternative.
Here's how it works:
You sign up
You build a profile
You create a portfolio of your best images that you'd like to sell
You earn $5 for each image you sell (you can sell the same image an unlimited number of times)
Here's a quick overview of the sign-up process. Click "Sign Up" from the Foap homepage.
Select "Photographer," which indicates that you want to sell images.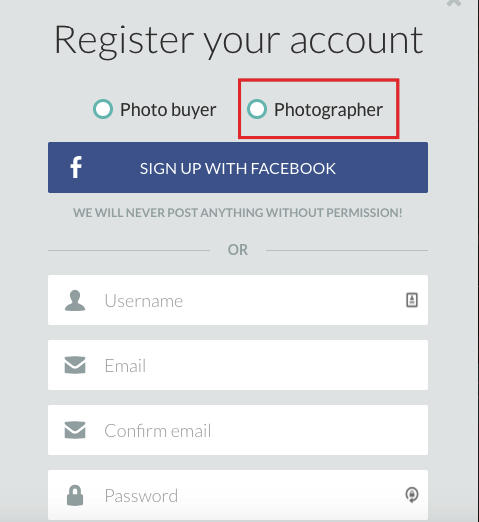 Then, either download it from the App Store or get it on Google Play.
Click "Install."
You're good to go, and you can start selling your Instagram photos.
One feature that you'll want to check out is called "Missions."
This is where you can connect with some of the world's biggest brands and attempt to sell them your photos.
Here are a few examples of current Missions that are posted on Foap.
You'll often be up against a considerable amount of competition, but it's a chance to make some bigger money.
In this case, you would earn $100 if your photo was chosen. However, there are some missions where you can earn $500. The thing I like about Foap is that you don't need to have a huge Instagram following to make money.
Now let me quickly show you around 4 more marketplaces where you can sell your photos.
None of these will help you make significant money alone, so you've to opt for presence on multiple marketplaces and see what works for you.
1. 500px – This is a community of photographers with 80 million photos. It's a great platform to get exposure and license your photos.
You can set up a profile, include your contact info, and start uploading your photos. Here's how your account will look (you get metrics like affection, photo views, and followers).
500px has seen as much as $20,000 for one photo.
Here are a few strategies that will help you sell more on the marketplace:
Use 4 to 5 keywords for every photo – They will help your work get discovered by the buyer,
Research and shoot stuff that nobody else is clicking
Share exclusive photos with 500px so that you can negotiate higher prices
Ensure that you added your contact information
The marketplace can serve as a passive income stream. Their CEO shared how he made $1,600 within 2 months.
2. Twenty20 – Twenty20 is another marketplace to sell your Instagram photos. Sign up on the web or download their iPhone App. Any photo you put up is for sale. But you retain the rights to the photo and it can get sold multiple times.
There are 3 ways to make money on the marketplace:
$2 per licensed photo
Photo challenges (where there's a high reward but higher competition as well)
Commissioning work from brands.
3. Snapwire – This marketplace is all about authentic custom photo licensing. But contrary to 500px, they encourage you to upload as many high-quality photos as possible. Again, you need to use relevant keywords with your photos in order to get easily discovered by brands.
In the beginning, you're expected to submit your photos to as many challenges as possible.
When you consistently upload your photos, you're allocated points. By doing so, you level up and increase your opportunity to make more money. Snapwire elaborates the 7 levels that a user goes through on their platform here.
What's interesting is that Snapwire offers a 'recently purchased' section on their website. It can help you understand buyer requirements and inspire your future photography.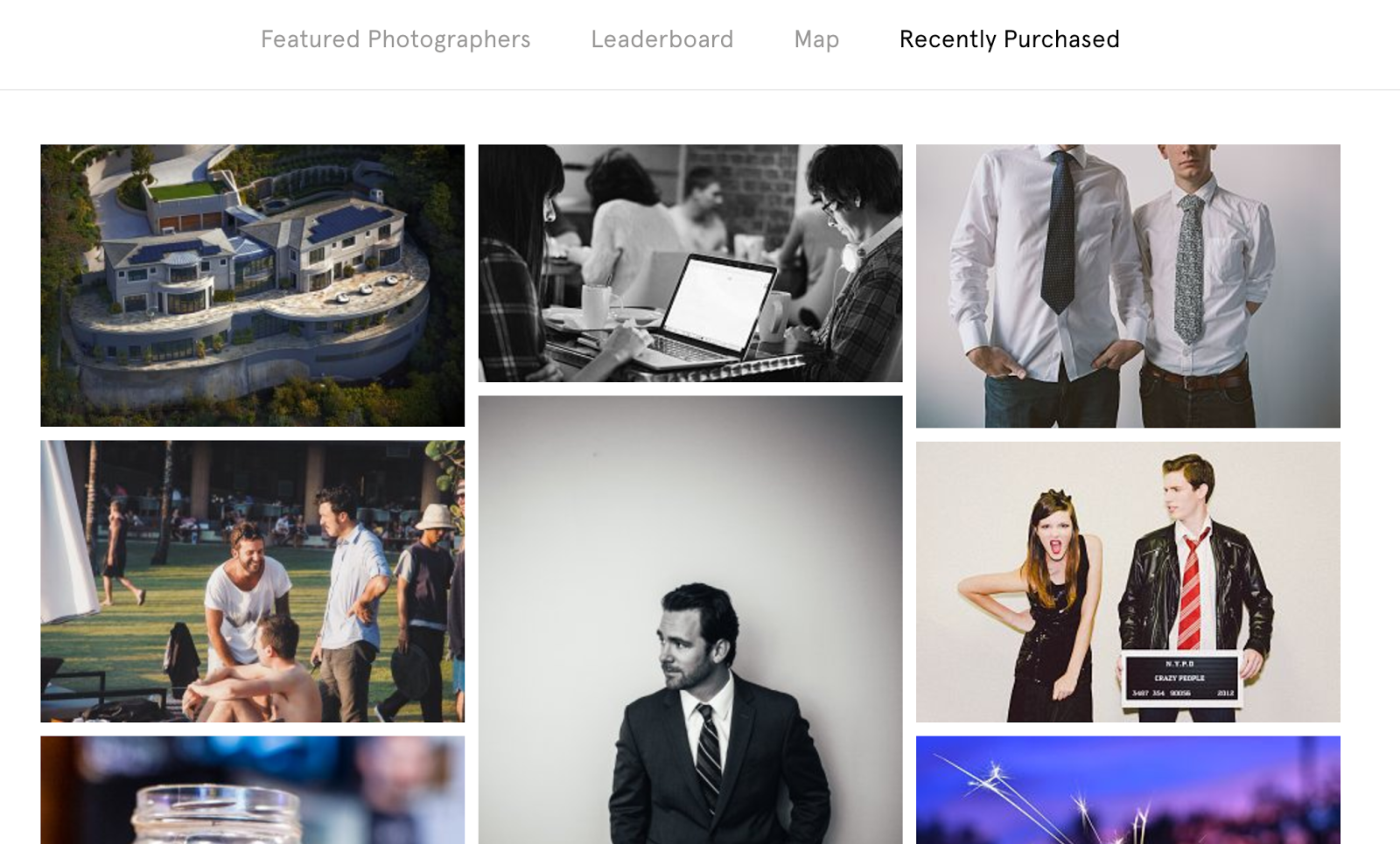 4. Lobster.Media – You can join this platform for free and list your Instagram photos for licensing by using the #ilobsterit. You can also opt out of selling your private photos.
For each sale, you keep 75% of the listed price.
The Lobster marketplace is huge in size with 30 billion videos and photos curated from various social media platforms (including YouTube, Flickr, Facebook, Vimeo, and Google Photos).
There are various collections (content themes) under which you can choose to create and sell your photos.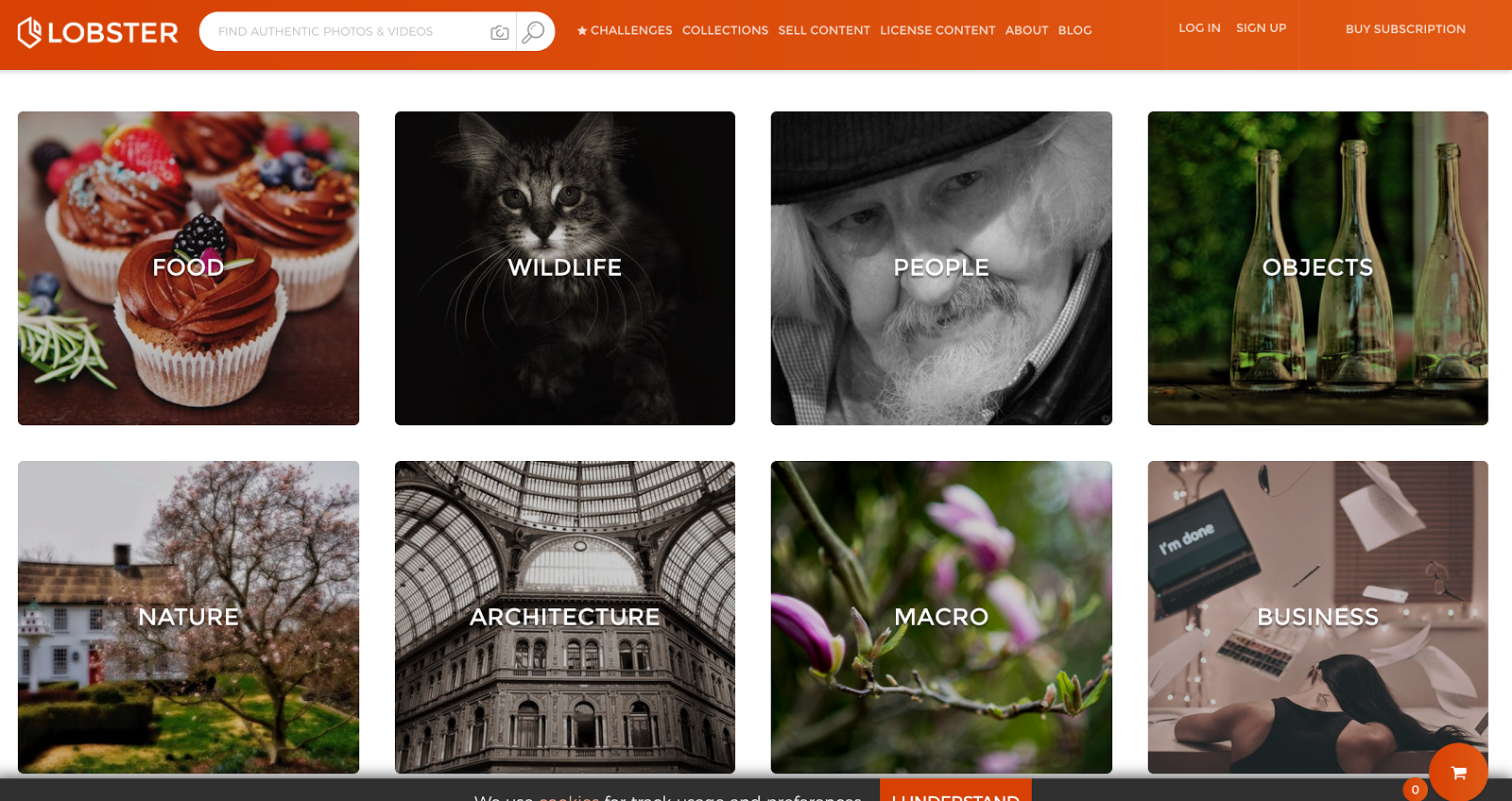 The key to selling on Lobster is asking for a realistic price (when starting out least), presenting your work beautifully and marketing it on social media. The company recently raised $1,300,000 to scale its UGC marketplace. So I would watch out for the new opportunities on the platform.
Note: On all the marketplaces, please put up your highest-resolution photos.
Instagram Money Tactic #2 – Sponsored posts
I'll preface by saying that this is the most common tactic to earn money with Instagram.
Simultaneously, it isn't viable for people with a few hundred followers. The bright side is that people with over 7 million followers get paid up to $150,000 per post.
Now there are a couple of ways to make money from Instagram sponsored posts.
1. The genuine way (audience-first approach): You post pictures around your interests, and they show your personality. Sure you follow a planned marketing strategy (as we discussed above), but you're being you. As you share pictures and build your influence organically, relevant brands will approach you.
2. Create a persona (business-minded approach): Since you're aware that Instagram sponsored posts can be lucrative, you work towards that. So you look out for the most profitable niches and observe the posting strategy of the brands you'll target.
From there, you post high-quality content, strategically using hashtags relevant to the brand's audience. Not that this way is wrong or dishonest, it's just goal-oriented to make money on Instagram. It's pure business, but you must enjoy the process. Otherwise, your Instagram content will lose its realness.
Anthony Carboni at Wolf Millionaire followed this second approach. He now owns 30+ Instagram accounts with more than 18 million real followers, and he makes $20,000 – $25,000 per month.
Not too shabby, eh?
I've personally worked with Anthony in the past – his strategies helped me make over $330,000 on Instagram in merely 3 months.
The second way sounds similar to the make money online authority site business model that many internet marketers have followed over the past 5 years or so.
For instance: The awesome guys at Authority Hacker have created the business persona of Helen Sanders at Health Ambitions.
They outreach, guest post, and promote their content under her name, and there can be multiple people behind her content, emails, and social media updates. A persona helps to make business processes convenient and scalable.
Remember that in both of the above ways, you have to keep your content authentic, high-quality, and valuable.
Don't pursue sponsored posts simply to make money without believing in the brand you're promoting. Taking too many of such posts will also burn your audience's interest and lead to loss of trust in your brand.
Want a quick way to determine the amount of money you can make from a sponsored post?
Look to Due.com founder John Rampton. He believes you should start with $0.25-$0.50 per "like" and $1.00 per comment. Multiply that by the number of likes and comments of your average post and you're good to go.
Additionally, here's a plug and play tool by FashionPRGirl. Let's try to calculate fees for the million followers strong Foundr Magazine account.
Here are the results.
$600+ for every sponsored post they would do. That's good money. You also get a list of the last 30 hashtags that they have used.
Here's how to make money from Instagram with sponsored posts…
Alright now, let's drill down the essentials for making money from the platform.
As already discussed, you need a sizeable following of about 5,000 followers and a high engagement rate.
Once you satisfy these criteria, here's a simplistic version of how making money works:
You create a sponsored Instagram post (it could be a photo or video)
You include a branded hashtag, mention, or link to promote a brand
You share it with your audience
You get paid
Let me give you an example to get a better idea of the concept of sponsored posts.
A couple of years back, Star Wars: The Force Awakens was released.
To create buzz, Lucasfilm and HP used sponsored posts as an integral promotional strategy.
More specifically, they asked musician, Rudy Mancuso to create his own version of the Star Wars theme song.
Here he is with his dog that looks a lot like Chewbacca.
As you can see, this post received over 66,000 likes!
Now Rudy is not some huge celebrity like Kanye or Taylor Swift, but he's got a huge following.
He was able to capitalize on that to receive a nice payday.
Time for cleaning up your sponsored posts campaign
Since you're going to collaborate with multiple brands and help them run their marketing campaigns, you need to stay organized. I suggest creating a personalized package for all the brands you work with.
Before you start a campaign, try to find out the brand's marketing budget, their requirements, and the problems they are facing. This can prove useful to negotiate your price. You also need to establish clear metrics for evaluating the success of your campaign.
Here are a few ways to measure the performance of your campaign and the value you're creating for brands.
Increase in their Instagram following – Most brands will want to see their Instagram audience jump up if nothing else. If your audience trusts you, then many will press the follow button on the brands you recommend.
Website traffic – Sure Instagram only allows links in the bio, but by using UTM parameters and Google Analytics, a brand can segregate the surge in traffic from your Instagram account. Again it's an indicator of your influence.
Product sales – I would say this is the metric all businesses want to see. If your word has the influence to get a majority of your audience to buy products, then brands will flock to you.
Try a couple of dry runs on your own site. Then once you get the idea, agree on a price with the brand and over-deliver on your promise.
If you understand your audience well and they respond to your endorsements, then you can quote a value-based price instead of a fixed dollar for every post.
Alright, it's time for posting your listing and let brands approach you by signing up as an influencer at Fashion PR Girl. You can also respond to existing collaboration requests by brands here.
Initially, you might need to continuously reach out to brands with a request for sponsored posts. In the video below, Chrystie shows you how you can organize your outreach using Trello.
6 influencer marketing marketplaces to earn money on Instagram
Instead of outreaching, you can also explore existing opportunities on marketplaces. Let me introduce you to six platforms.
1. Tribe – It's available as an iOS/Android app and acts as a bridge between talent agents and influencers. You can browse leading brands, control your creativity, and tag a brand to get paid for your post.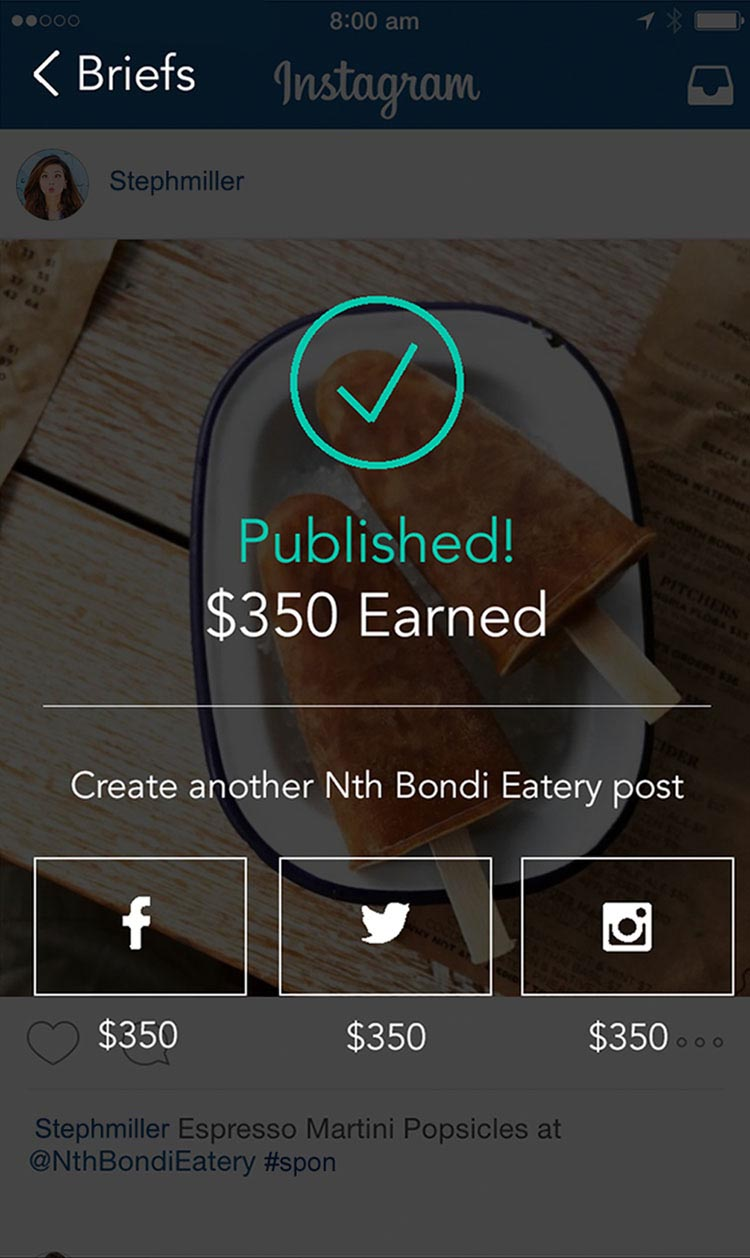 Here's an approximate rate card Tribe found via research – it's based on the number of followers of your account.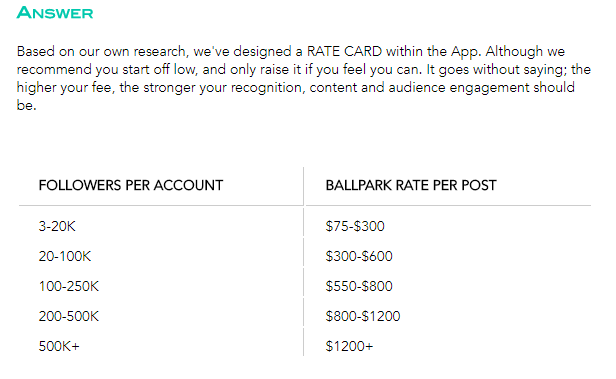 2. Influicity – It's a massive influencer marketing platform with a database of over 3 million influencers. You're required to fill out a brief form with personal details and those of your target audience.
Once you've claimed your profile, you'll get a console to get content creation opportunities by advertisers, collaborate on campaigns, and submit your content for review.
3. Hyprbrands – They claim to be the world's largest influencer discovery and directory tool. Their USP is the real-time social analytics tools. For all influencer posts, brands get to measure impact including audience demographics, estimated view count, and sales.
As you can understand HYPR is brand focused, but you can also sign up as an influencer on their platform.
4. Revfluence – Another influencer marketing platform for Instagram and YouTube with diverse niches ranging from beauty to gaming. You can submit your proposal for campaigns to brands and you're even recommended by the platform to brands as shown below.
You can get paid between $50 to $1000 per Instagram post/YouTube shoutout.
Scentbird used Revinfuence extensively to pursue influencer marketing and speaks highly of it. Brands are presented with a dashboard that shows important metrics for your campaigns including the ROI they obtained.
Sign up as a creator on the platform here.
5. Famebit – It's an influencer marketing platform owned by Google. It mainly consists of paid YouTube creation opportunities. Due to recent changes in how Instagram handles third-party APIs, you can't connect your Instagram account with Famebit.
6. Hypetap – It's an invitation-only influencer marketing platform that charges 10% per transaction.
They accept people that create high-quality content and have a decent following on social media. You express your interest in being considered as an influencer by filling out the form here.
If you want to check your influence and see whether you qualify for an invitation, then head over here and enter your Instagram username.
Bonus platform for ambitious folks: Tapinfluence
The average monthly compensation for an influencer at Tapinfluence is $763.50.
They are different in their approach compared to other influencer marketing platforms as influencers don't need to apply for sponsored post opportunities with brands. Instead, brands express interest in working with you, and you're informed about the same.
You can sign up on the platform by signing up here. Fill out your profile, media kit, and other details. A lifestyle and travel blogger, Morgan, loves the platform as it facilitated a lot of sponsored post opportunities for her.
How do you create an Influencer Marketing Agreement?
Legal jargon and hassles aren't fun. But trust me, agreements are important for effectively carrying out business transactions. In my career as an entrepreneur, I've witnessed many legal fallouts.
So I recommend that you set the expectations straight and ensure a mutually beneficial partnership with brands. I want to help you get started.
Note: All of the agreement details here are for reference purposes. Treat them only as a starting point. I am not an attorney – please consult a professional if you want legal advice.
If you aren't using a third-party influence marketing platform, then your agreement should include these campaign details.
the expected posting schedule and overall length of the campaign
specifics of content (image specifications/creative control)
details on how payments will be made
Know what you're getting yourself into
Does your contract have an exclusivity/non-compete clause? Review the guidelines sent by the brand carefully. There's no issue with getting into an exclusive contract, but you can leverage the clause to negotiate higher prices.
Here's a sample influencer agreement by PR News.
Pro Tip: If you have a prominent web presence, you can package a blog post, Twitter, and Facebook post along with Instagram posts to create a high-value bundle. Anna Dille Cobb runs a fashion and recipe site and charges $250 to $400 for such a package. You can create your own bundle using Fohrcard.
Instagram Money Tactic #3 – Affiliate marketing through Instagram shoutouts
Let's now look to the other end of the spectrum where you pay influencers to promote an affiliate product.
It involves using Instagram shoutouts, which are defined as "a screenshot of another user's profile page uploaded to your account to show support and give exposure to the other user. Shoutouts can increase a user's followers and provide advertising to small businesses and websites."
Here's how you can take advantage of this tactic.
First, you need to have an affiliate product to promote. If you want to promote a particular brand's product that you like, then go ahead. Otherwise, here are a few affiliate networks and the kinds of products they offer.
1. Clickbank – It's the go-to platform for most first-time bloggers looking to monetize their traffic. The network has a bank of high-quality products across categories that you can promote as an affiliate. You'll get a gravity score indicating how well the product is selling for other affiliates over the past 12 weeks. I recommend you to start with products that are selling well already.
2. ShareASale – Another popular affiliate marketing network with products across 40 categories. Signing up is a simple 5-step process. ShareASale recommends creating license plate links (custom links) to keep track of your product promotions on social media.
3. OfferVault – Technically, this isn't an affiliate network. Rather, they are an aggregator (reference tool) to find products for promoting. So if you like an offer, you'll need to sign up for the affiliate network which listed that offer directly. Your questions about an offer also need to get cleared with the network directly.
Here are a few offers I found for Instagram.
4. Peerfly – It's a cost per action based affiliate network with a custom built system. For promoting products on the network through Instagram, you'll need to setup a custom tracking domain. And you'll need to run your campaign through the affiliate manager before going live with your promotions. Here are the complete guidelines.
To sign up at Peerfly, you can submit your application here.
5. MaxBounty – Another CPA network that claims to offer the best rates in the industry. They have over 1,500 campaigns across various domains including education, health dating, games, finance, and the like. If you make $1,000 consecutively for 3 months after signing up, then they even offer you a $1,000 bonus.
6. Teespring – While selling T-shirts might not sound like a lucrative business, there are people like Benny Hsu that have made $100,000 in profits from the platform within 5 months.
Teespring recommends using your campaign URL and relevant hashtags when promoting your Teespring products on Instagram.
If the idea sounds interesting, then check out the detailed post by Wolf Millionaire on building a successful T-Shirt business on Instagram.
So, how do you pick the right product to promote on your Instagram account?
Pat Flynn makes a killing from affiliate marketing. But if you look at the products he promotes, you don't see different categories. Most of his income is generated from promoting products related to entrepreneurship and marketing. And all of those products are of supreme quality, built by awesome companies.
So the idea on Instagram remains the same. You need to find your niche and stick with it. Then, you need to find products that are already converting well for other affiliates and getting rave reviews by customers. If you would never buy the product you're promoting, then you're doing it wrong.
Hire influencers by buying shoutouts
Here's what you want to do once you've found a suitable product.
Go to Shoutcart.com.
This is a marketplace where you can find quality influencers who have large followings and "buy shoutouts" from them.
It's an incredibly effective way to get the word out about an affiliate product in a short period of time without having to do a lot of heavy lifting.
Here's how it works.
You browse through Shoutcart's list of featured Instagram influencers to find someone who's in the right niche that matches your product.
Here are some examples.
You then look for an influencer with the reach you're looking for and that's within your price range.
Shoutouts can be as cheap as $5 and as expensive as several hundred dollars.
You can also use tools to refine your search.
For instance, you can search by category.
Or you can select the minimum number of followers you want an influencer to have or their quality score (this determines the authenticity of likes and followers on an account).
Let me help you with a few more platforms where you can buy shoutouts.
4 platforms to buy shoutouts
Buy Sell Shoutouts – Here are the 4 steps to buying a shoutout from $5 and upwards on the platform.
Plug Hype – An influencer marketing platform connecting brands and influencers in these niches. Shoutouts available starting $15.
Jumpfame – It's a social media marketplace that has influencers in various niches offering shoutouts (and some offer to put your link in the bio).
Grin.co – Besides shoutouts on various social media, they also offer art and design assistance.
Examining key stats
So here's the deal.
You don't want to buy shoutouts from just anyone.
There are a few things in particular that you should look for, which include:
The number of followers
Number of likes an account gets per post
The bio and description of the account
I think that this article from IFTI SEO hits the nail on the head in terms of specific stats to look for.
The bottom line here is that 50,000 followers should be the bare minimum and you're looking for plenty of engagement.
After all, it doesn't do you any good if no one's actually engaging with the Instagram account.
Once you've found the perfect fit, you'll want to add the influencer to your cart, create your order, schedule, and pay.
That's it.
You should receive an influx of traffic.
And if you've chosen the right product, you'll see some fantastic sales figures.
From there, you can rinse and repeat by experimenting with different combinations of products and influencers.
Here are some tips on posting great shoutout content:
When it comes to promoting a product, you need to ensure that the post is attractive but doesn't look too salesy. Here are a few tips.
Include one CTA – If you ask people to follow the link in the bio and follow your Instagram account, they might not do either of the two.
Don't use the product image – People care about results. Show them the product you're promoting in action and how it can positively affect their lives.
Only use relevant hashtags – Overloading with 30 hashtags shows you're desperate for exposure and selling.
Shorten your link – If a long string of characters is lurking around your link, then it equates to bad user experience. Use bit.ly to maintain a professional and clean look.
Pro Tip: Instead of asking for a sale directly in a shoutout, you can also capture email addresses by offering a lead magnet on dedicated landing pages. Once you build a relationship with your subscribers, the revenue you can generate will be many times over the money you make from simply putting up your affiliate link.
How do you handle backlash while promoting products?
Snezana Markoski was highly criticized when she promoted a coffee scrub on her Instagram account with her daughter. We don't want you to come under a similar situation.
It's not uncommon for influencers to get criticized. When you have such a massive reach, you also have a responsibility toward people from different cultures and ethnicities. You need to understand that they have different sensibilities.
So even if a post is remotely controversial, think twice. Controversy can hamper your brand image and ruin your future chances of making money from Instagram.
However, even if you try your very best to balance promotional posts with high-quality, value-adding posts, a few followers will retort with 'you make money from Instagram'?
Here are a few tips to handle criticism:
1. Don't respond to trolls: Remaining silent is better. An argument on social media will not only tarnish your image, it can also destroy your business.

2. Stay transparent while promoting products – Even if the laws of your country allow you to promote products with disclosure, mention it. 69% of influencers say that their audience doesn't question their authenticity when they label content as "sponsored" or "paid."
3. Only promote products you genuinely like – It's a rule directly from Pat Flynn's affiliate marketing playbook. Don't do it purely for the hefty commissions.
Should you buy influencer shoutouts or use Instagram ads?
These two tactics rely on the same basic idea.
And that's paying for nearly immediate exposure and getting a product in front of a widespread audience by shelling out some cash.
But the thing that I like about buying shoutouts is the massive audience you can reach essentially overnight.
Although the initial cost tends to be more for this tactic than PPC, the payoff can be much bigger.
Here's what I mean.
You could pay a single Instagram influencer $30 for a shoutout.
That's going to probably cost you much more than it would for a handful of clicks on PPC advertising. That's true.
But you could potentially get the product you're promoting in front of half a million or more prospects.
So when you think of it like that, buying shoutouts can be incredibly cost-effective.
Instagram Money Tactic #4 – Sell from your own online store
In terms of time investment, this tactic requires the most by far.
However, this can also net you the biggest returns.
Here's the basic process that you'll follow for this tactic.
Create an Instagram account that's built around your niche
Feature your products on your Instagram account
Earn money
Here's what I love about the Internet.
It has created an immense amount of opportunities for those who are clever enough to use the right resources to their advantage.
For instance, there are on-demand printing companies like Zazzle that allow you to design and sell your own clothing, hats, bags, stickers, etc. with absolutely no investment and zero overhead costs.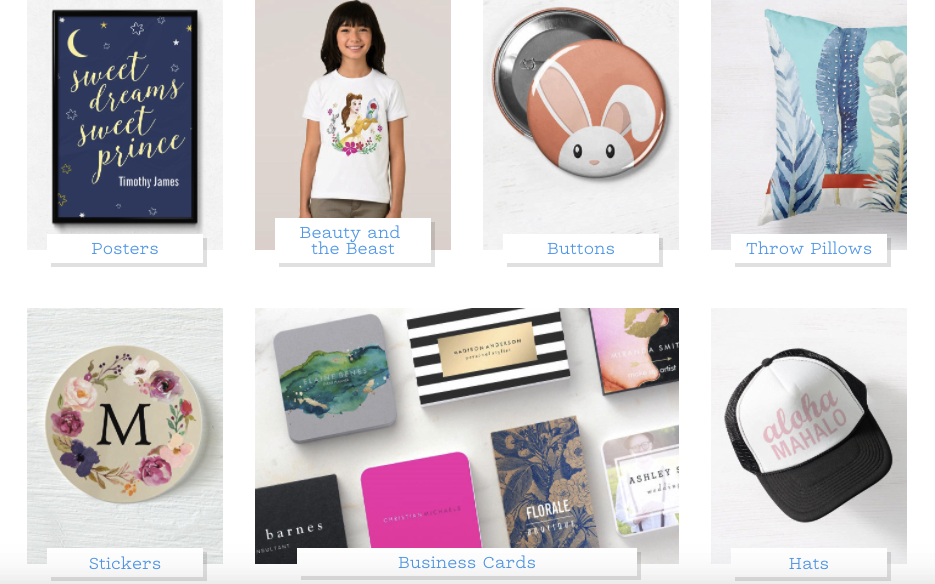 You can then use other free resources like social media to promote your products and create a nice side hustle for yourself.
In fact, I've heard of multiple people earning five figures a month from this type of business model.
An awesome example
I would like to show you one specific Instagram page that's completely killing it.
It's called Doug the Pug.
As the name implies, it's all about the life of one of the Internet's coolest and cuddliest pugs, Doug.
This page chronicles Doug's life and takes followers along on his adventures.
As of June 2017, Doug the Pug had 2.7 million followers.
Doug has his own book entitled Doug the Pug: King of Pop Culture, which is pretty impressive considering that he can't actually write.
There's also the Doug the Pug Official Store, which contains shirts, hats, mugs, plush dolls, and more.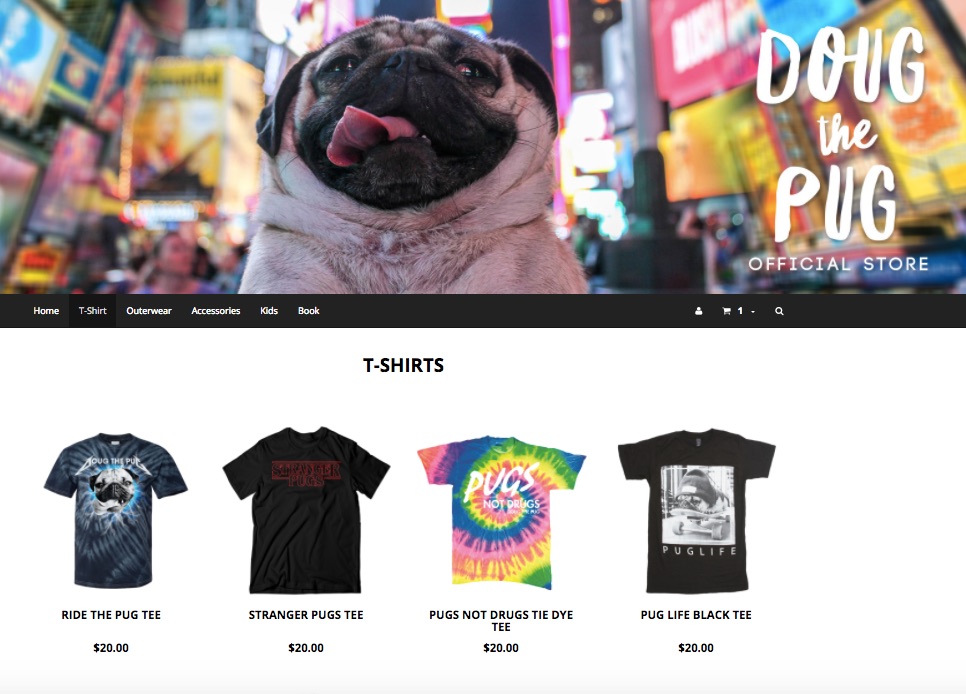 He even does appearances all around the country.
In other words, Doug's owner has created a massive brand.
And guess what?
It's all basically centered around their Instagram page.
With 2.7 million followers, you can bet that they're driving plenty of high-quality traffic to the store and consequently getting paid handsomely for it.
I personally think that this is a brilliant example of how Instagram can be used to build a brand from scratch.
I also think that Doug the Pug is definitely a template you could use to launch your own brand and sell from your online store.
Just use your creativity and come up with an interesting angle that will get people excited and eager to invest in your brand.
There's no doubt that there is a significant time investment involved, but it can pay dividends if you're able to establish a large and loyal audience.
The best part is all of the different ways you can monetize your brand later on.
Don't start an online store without this…
What's one critical aspect of a business transaction?
Trust.
Unless you share a genuine connection with your audience, you'll find it challenging to persuade them to buy from you. Here are a few tips to build a strong bond.
1. Walk in your customer's shoes – As a brand, you want to post content that helps your audience connect with you. Airbnb does a great job at portraying travel and meeting new people on their Instagram. They also share interesting trivia with their pictures. It makes their account interesting and more human.
As an online store, you can display your products in Instagram posts.
Madewell, for example, does a fantastic job with this.
Take them behind the scenes – Put a face on your brand. Get people to know you and your brand. If you can show how you create your products, even better. People value honest and authentic content. That's why this behind the scenes Instagram picture went viral.
Get your users creating content – There's no bigger endorsement than your audience crafting content on your behalf. Adobe has a powerful set of graphic design tools and its Instagram feed shows that its customers put them to good use. Adobe does user-generated content the right way.
Overall, tell a compelling visual story – Stay consistent with your posting schedule and create an interesting theme around your content. If you keep at it, then your audience will fall in love with you.
Set up a shop on Instagram – Since Instagram is mobile, the customer journey to buy your product can get real complicated. So why not set up your own shop on the platform and convert your audience into loyal shoppers?
A couple of apps you can consider for turning Instagram into a shoppable platform are Soldsie and Yotpo.
Case Study: Making money from Instagram by opening a clothing company
A Wolf Millionaire student grew his account votrends to 54k followers in 4 months and then went on to starting a clothing company.
They started with promoting products by other multiple brands on their Instagram account. And to launch their clothing line, they started by testing the response to 3 custom T-shirts. To increase the engagement, they even launched a giveaway.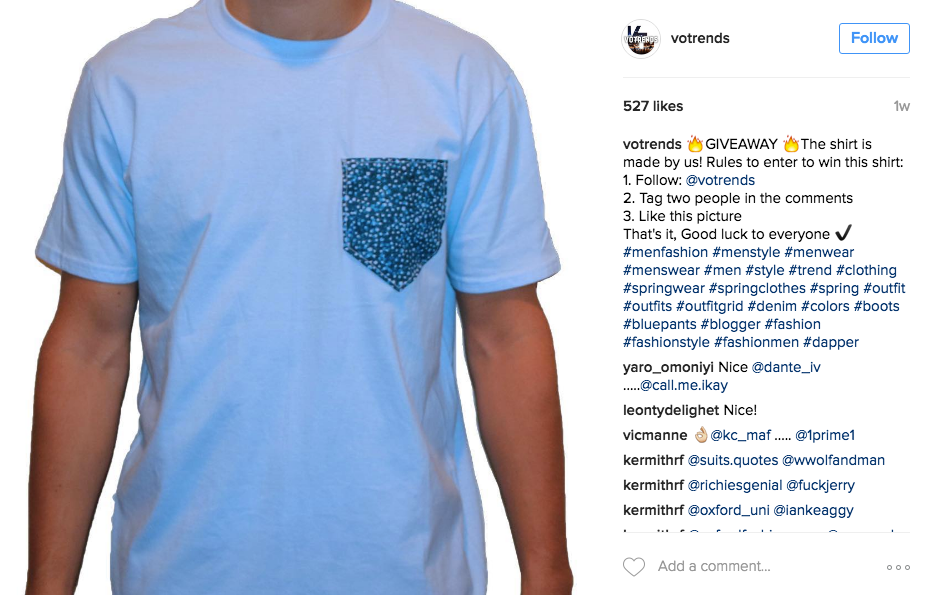 I recommend checking out the complete breakdown of how votrends is rocking their account in the video below.
How to make money on Instagram if you have an existing product
If you already own a store and want to extend your online presence to make money off Instagram, then the game is easier. You need to rely on your loyal customers to serve as your brand advocates. Because user-generated content leads to gaining immediate trust.
You can even create a user-generated gallery on your website that will serve as a powerful visual social proof. Yotpo offer the feature as a photo carousel.
You can also sell your digital products on Instagram.
Have you heard of Timothy Sykes?
He's an expert at penny stocks and made millions investing in them.
Initially, he saw Instagram as a waste of time for his business. Eventually he ended up making $500k from the platform and getting attention by major media publications like Business Insider and Mirror.co.uk for his outrageous Instagram posts (like the one below).
I've had great success with making money from Instagram by selling my training package (my existing product). I break down the complete process here.
Instagram Money Tactic #5 – Become an Instagram marketing consultant
Do you know how I grew my first blog Pronet Advertising?
By consistently getting on the first page of Digg.
I would have loved to use search engines, but as you know it takes time to find great results quickly when it comes to ranking for competitive keywords. In their analysis of 2 million keywords, Ahrefs found that only 22% of pages currently ranking in top 10 are less than an year old.
Social media is the go-to way to publicize your brand, especially if you're a startup looking for an exponential growth. Businesses already know the importance of social media and want to integrate it in their marketing.
What's shocking is that 49% of businesses don't have a formal strategy in place, even though businesses spend the most on the tactic.
Struggling businesses present a terrific opportunity for you. If you know the social media ropes, then you can help brands climb quickly and command hefty sums.
Obviously, you can't rely on Digg like me (it isn't even relevant anymore). But Instagram is the platform of 2017 with the highest engagement rates and fastest growth since being launched.
And what's interesting is that there aren't any dedicated consultant sites that appear in Google results for the term "Instagram marketing consultant." There are just a few relevant results including my blog post and an Upwork listing. This probably indicates that the market isn't as competitive.
So how much money can you make as a consultant?
I looked for Instagram marketing freelancers on Upwork and found consultants were making in the range of $16/hour to $75/hour. With experience and expertise, I am sure you can touch the upper end of that range.
Here is a simple 3-step process to make money through Instagram:
Are you new to the world of social media and Instagram?
Then you'll need to establish your credibility and understand the Instagram marketing funnel.
That doesn't mean getting hundreds and thousands of followers.
If you consistently follow the steps I mentioned in the "How to build a sizeable Instagram following" section, then you're good to go. But you have to put in the work to get the results.
Bryan Harris boils down the process in 3 steps.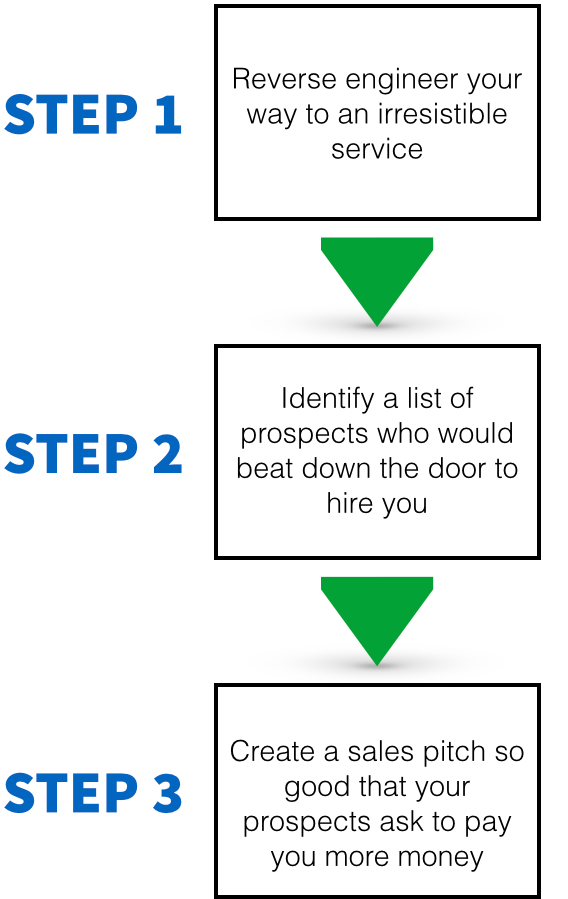 In this case, you're through with the first step – you're offering Instagram marketing to businesses. Now, you need to identify prospects willing to hire you and create a sales pitch.
Here's the personalized pitch that Devesh sent to Brian Dean. He included an 8-minute video and explained how he can help Backlinko.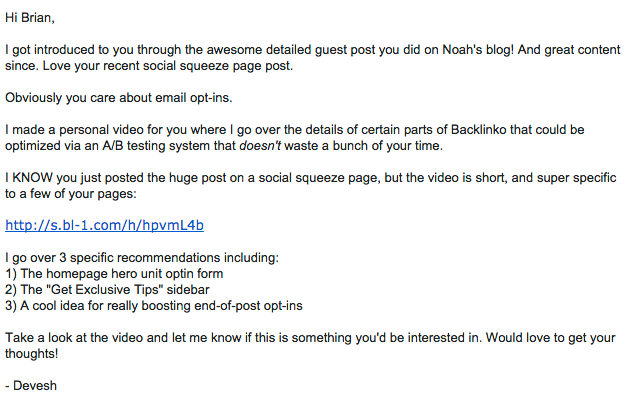 The result?
Deven earned a $10,000 contract with Backlinko.
If you can prepare a compelling Instagram marketing pitch for prospects, then you can also expect to close similar deals.
Instead of emailing, you have the option to reach out to businesses on Instagram itself through direct messages.
Here's how to build a sustainable consultation business
If you're in it for the long-term, then I recommend you follow the additional steps below for future-proofing your business.
1. Carefully decide your target market and start to market yourself on Instagram using the tactics we discussed in the "…sizeable Instagram following…" section. Building relationships with the influencers in your niche can change everything for you.
2. Build a portfolio of commendable work. Start with offering free help to local businesses and NGOs with their Instagram presence.
3. Track the amount of time you're spending on various tasks (even when working for free) using apps like RescueTime, and create a process of how you'll work with new consultant business customers.
There must be clear, concise, and regular communication with your clients
Use a simple dashboard with a few metrics to indicate the progress of their social media accounts. Even a simple spreadsheet can serve as a great tool. Here are 15 useful templates.
4. Market your services by writing guest posts. I've written extensively about how guest posting can increase your brand's exposure and lead to a slew of inbound client requests. Brandon Seymour doubled his revenue as a consultant through a single guest post.
Optional (but highly recommended): Publish content on your blog regularly. If you write content on subjects that are of interest to your target audience, then it helps your site's SEO. It helps your prospects find you and builds a brand asset that powers up your authority.
When consulting, remember client to client referrals are the best way to grow your business. So impress your clients and build a great relationship with them (you'll increase your rates to hundreds of dollars per hour eventually).
How will you measure the success of your Instagram marketing?
You'll need to mutually agree on the key metrics with your client that determines the ROI of your Instagram marketing. Here are a few you can rely on:
1. Growth in social following – Though the quality of followers is important, quantitative growth of social accounts shows the rate at which your client's community is growing. Ideally, you should express the metric in a percentage and it shouldn't decline.
For instance: Twitter is said to be dying a slow death because its growth rate continues to decline.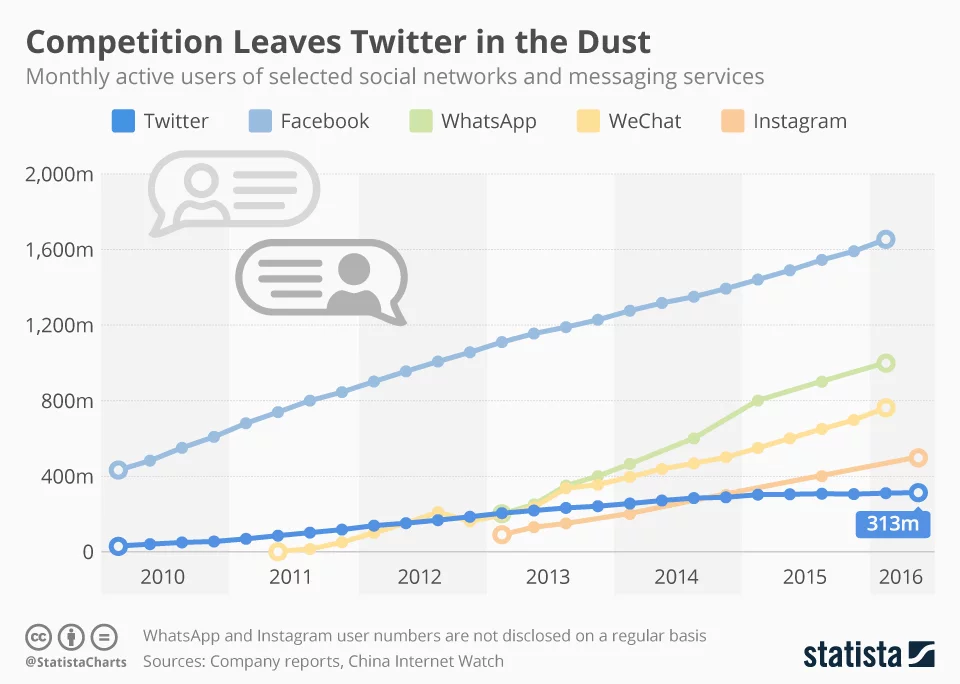 2. Engagement – The best way to gauge if your audience is liking the content you're sending out. Find out how often your audience is liking, commenting, and sharing your posts.
The per-follower interaction rate (organic) on Instagram is highest when compared against other social media, but it's slowing down with increased competition.
3. Revenue – Instagram has opened shopping on its platform. But even if you don't use the feature, you can measure the indirect revenue resulting from your marketing efforts.
For example: Foundr magazine grew their Instagram following to 110,000 followers in 5 months, and they collected emails from their bio link – they estimated six figures in revenue from the platform that year.
4. Referral traffic from social media – Since Instagram only allows clickable links in the bio, measuring the referral traffic can be tricky. But Caitlin Brehm shows how you can perform magic with a Google Campaign URL and track your referrals.
5. Performance of ads – If you're running paid ads for your client to increase the visibility of their posts, then you need to separate your paid reach from organic.
Before we move on to the next Instagram money tactic, I have some more bonus stuff for you.
Here are 4 apps that will streamline social media account management for your clients:
1. Freshbooks – It's a super cool tool to invoice your clients, track your time, send follow-ups, and organize your expenses. It's recommended by successful entrepreneurs like Pat Flynn.
2. ConvertKit – If you direct Instagram users to your landing page, then you'll need a tool for collecting emails, sending newsletters, and building a relationship with prospects. ConvertKit is an affordable solution with powerful features.
3. Cyfe – Want to track the impact of social media on the business? Cyfe creates a dashboard where you can monitor all necessary business data with beautiful visualizations. You can invite your clients to see the progress in real-time and even send automated weekly reports.
4. Later – If you need to consistently login to Instagram to send updates, then you'll waste a lot of time. Later allows you to plan and schedule your content calendar conveniently.
Instagram Money Tactic #6 – Package your expertise in a digital product and sell it to your Instagram audience
I've been blogging for over 12 years now. I've seen bloggers adopting various business models in this time. While putting up ads on the website remains the go-to way to make money, what's stuck in the last few years is information products.
Video courses, eBooks, and webinars are real hot right now.
When you package your content into an actionable course, people treat it with more respect and are willing to pay. That's why I offer a free course to my readers on Quick Sprout in exchange for their emails. I make a compelling promise: "Double Your Traffic in 30 Days" and I have valued it at $300.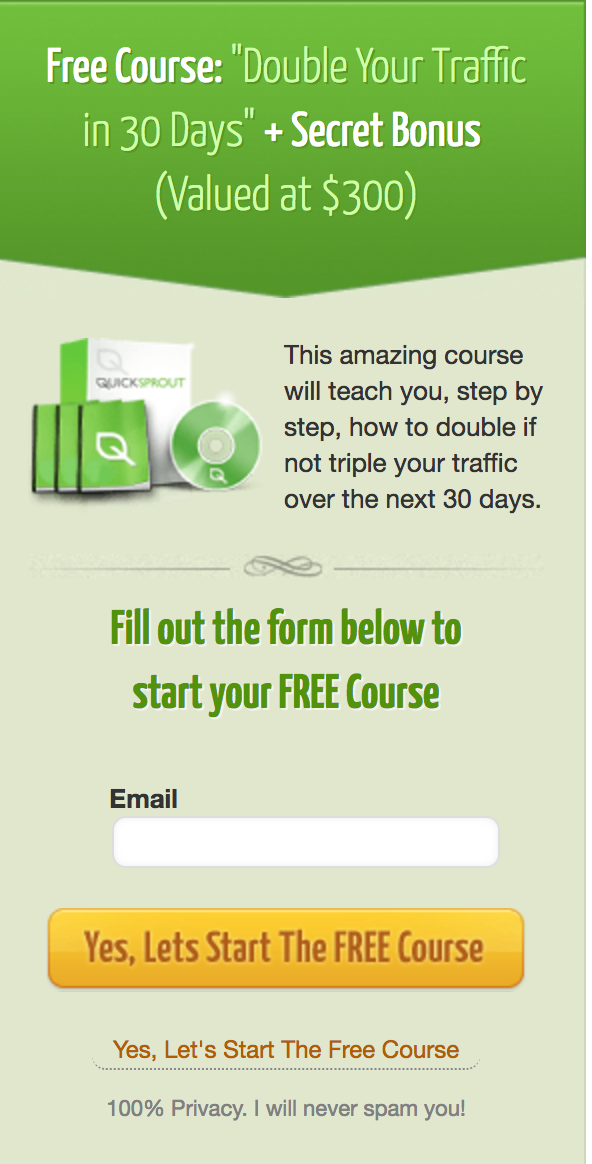 If you're keen on sharing your knowledge and want to sell your expertise, then you should explore a digital product.
There's just one problem.
You'll need to build an audience from scratch that trusts you and is willing to buy from you.
To give you an idea, here's an example online course webinar funnel by Jason at Teachery. He uses webinars to sell.
In your case, you'll build an audience around your expertise on Instagram. So our funnel will look similar (but with Instagram at the top).
You might wonder why we aren't relying on search engines and other marketing avenues for building an audience.
SEO and other marketing tactics give results slowly. If you know your end goal is to sell a course on a specific skill, then you can launch and build your brand exponentially faster on Instagram.
Just post content and build an engaged audience by following the Instagram marketing strategies I shared in the article above.
Now that you understand the huge potential of information products, allow me to tell you the next step.
Build an email list and landing pages to your Instagram audience.
You'll need to create landing pages and a lead magnet. Foundr Magazine has followed this strategy to build a list with hundreds of thousands of subscribers.

Right now, they have built a massive audience to the tune of a million on Instagram. And since it's their strong suite, Foundr founder Nathan now sells his Instagram marketing expertise in an online course called Instagram Domination at a whopping price of $1,997.
Given that businesses that are passionate about Instagram marketing follow them, Foundr has a great pool of potential qualified buyers in their audience with them on Instagram. Many of these prospects are likely to buy their course.
Do you want to understand in more detail how Instagram drives customers for Foundr?
Foundr has found Instagram to be a game changer for them. They use "product pushers" like the free eBook on getting 10,000 Instagram followers to the people that click on the link in their bio. Here's how the landing page for the eBook looks to a prospect.
Foundr claims to have reached conversion rates as high as 70% with their landing pages because of the insane value they offer.
They also offer free trials, guides, and other content through their landing page in the bio link. Here's another example post that Foundr uses to promote tools for entrepreneurs.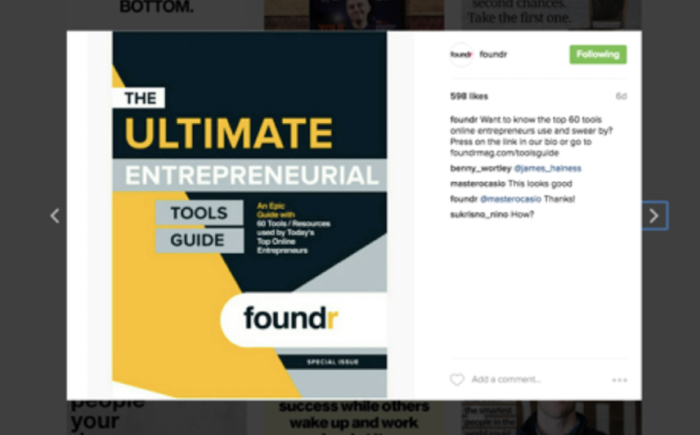 Once a prospect signs up for receiving their gift, they get swept off their feet with the high-quality, insightful content Foundr has in store.
Even if 0.1% of their email list of about 200,000 people sign up for their Instagram marketing course, Foundr generates a decent sum.
If you sell a low-ticket item like an eBook at $20, then you can get a higher percentage of people to buy from you. You'll need to decide on the type of product by consulting your audience and the amount of value you're offering.
For Example: In 2015, Bryan Harris had generated over $750,000 with his Get 10,000 Subscribers video course. Now, when he thought of creating a new product, he didn't create another massive 10-hour video course on another marketing subject.
Rather, he went back to his audience. He found that they didn't want to get overwhelmed with information. They wanted simple system with proven, actionable tips to launch new business campaigns and a deadline to keep them accountable.
And that's what he did with Slingshot.
It's a powerful tool with launch templates that are based on successful launches by online businesses. You get a video overview each week and a quick primer on what's expected (with just the necessary instructions).
In their product launch blog post, Bryan goes behind the scenes with his audience: They had sold $30,000 worth of licenses on the product within 24 hours.
I don't expect you to launch a tool as your first product (especially challenging if you aren't from a coding background), but understand that you need to be smart about the kind of information products you build.
A pitfall when launching a product: How to validate your idea
You get the process:
Market and build your brand by storytelling on Instagram, launch your site, start an email list, build a relationship, and you'll get a few of these people to convert.
But in the real world, business isn't going to behave linearly.
3 major reasons why many of you won't succeed with launching a course (or any product for that matter):
You'll run out of ideas (or don't have one in the first place)
You aren't confident that you're good enough
You'll launch a product but later find that no one is willing to buy it
That's a bad spot to be in. I know this from experience.
I have a fix for all of these problems.
You need to validate your idea and pre-sell a skeleton version (minimum viable product) of the product.
Want to know how?
One way is by looking at the existing books in your niche that are selling on Amazon and the courses selling on Udemy (look for bestsellers).
A more intimate way is surveying the audience you've built on Instagram and ask them what they are willing to buy.
Bryan Harris used the strategy to launch his product. He dug out his analytics, looked at his most popular blog posts, and found that 'list building' was generating a lot of interest. So he built a product hypothesis for the course.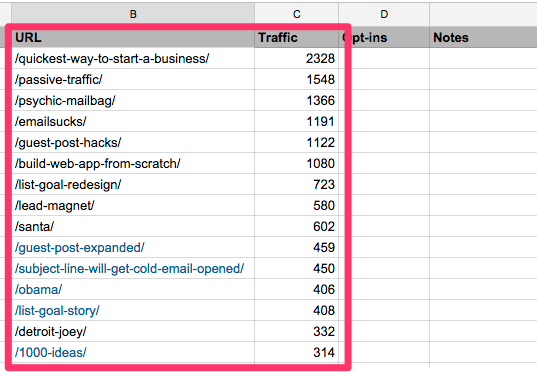 Then he put together a Google form to collect feedback and garner interest in the subject.
Finally, he emailed all the people that showed interest, addressing their objections and offering them an option to buy his course. He got 39 pre-orders.
He then went back to the drawing board and started building the course quickly (involving the people that preordered his course).
When he launched the course, he was able to generate $220,750 in revenue in 10 days.
Sweet, isn't it?
You can leverage Instagram and your website in tandem to find profitable product ideas.
You can question your audience's biggest challenges through an image post and even a 60-second short video. Your followers will respond by commenting and sending direct messages. You can then simply direct them to your bio link that leads to a survey.
Instagram isn't purely a photo sharing app. In 2015, I used the platform to generate over $300,000 in 3 months by selling my training package at $495/month. My process was straightforward. I paid Instagram influencers with huge followings and drove traffic from Instagram to my webinar landing pages.
That resulted in 2,570 email optins.

And I managed to get about 2% of those people to buy.
The opportunity is still open on the platform as it has quickly risen to 700 million users.
So leverage Instagram marketing to educate people on your existing skillsets and start your online course journey today. You never know how many thousands of dollars you'll generate in revenue.
Note: You can also sell your course on a platform with existing prospective customers like Skillshare and Udemy. But if you choose that route, then you'll have less control and need to obey the platform's pricing policies. I recommend the aforementioned Instagram audience strategy.
Instagram Money Tactic #7: Beef up your YouTube audience with Instagram videos
If you're a YouTuber, then the more nuanced and technical money making strategies (that we discussed) will take a huge bite of your time that you could spend on furthering your art.
We don't want that. The world needs more of you creative people.I have an easier business model that works on integrating Instagram with the content creation platform of your choice.
But stay with me to show you the monetary possibilities.
As much as sitcoms dominated the 90s, the current generation is brought up on web series and snackable videos.
I love binge-watching YouTube videos. It's such a tremendous resource for education, entertainment, and just pure fun. No wonder over one billion hours of video content is watched on YouTube every day.
And YouTube doesn't just have cute baby and cat videos either. 70% of YouTube viewers believe that YouTube creators can shape culture.
Who's creating the content and how are they making a living?
Singers, guitarists, comedians, filmmakers, and simple people like you.
To give you an idea, here are the most popular categories of videos on YouTube. But channels exist on every subject under the sun.
Now let's come to the monetization. YouTubers earn through ads shown in their videos. YouTube has paid $2 billion to creators since 2007.
But there are other ways to make money.
One is by partnering with brands. You can expect a YouTube creator with 1-3 Million subscribers to average $125,000 per sponsored post. Indeed, Economist found that YouTube influencers get paid the most as compared to other social media platforms (with the same number of followers).
Another great way to make money is by offering exclusive content and privileges to your premium subscribers on Patreon.
A talented YouTube star that relies on this technique is Rob Scallon. He has a YouTube channel with one million subscribers, and he shares the link to his Patreon with every YouTube video. He calls Patreon as 'Super Subscribe' and also mentions it at the end of his videos occasionally.
Right now, he has 762 Patreons contributing at least $1/month to get early access to his new videos, an option to download his videos, and some other additional privileges.
To give you an idea of the amount of money you can make from Patreon:
Patreon artists belong to a variety of genres including subjects like comics on parenting, earthquake forecasting videos, and New York City history. Many of these people don't have a so-called 'real job.' So they work on their passions full time and aren't starving artists.
Alright, now let's circle back to how this will work with Instagram.
If you're a YouTube star and want to scale your audience, then Instagram is a gold mine. It's indirect brand exposure to 700 million users will translate into more eyeballs.
And guess what?
Instagram and YouTube complement each other well. Instagram can be a place to release shorter content and build a relationship with your audience. YouTube will be the place where you release your professionally produced final versions.
Here are a few ways you can increase the number of views on every YouTube video you release with Instagram marketing:
1. Release teasers to your YouTube videos and build excitement
Are you building trailers to create a buzz about your soon-to-be-released content?
Then Instagram Stories is a brilliant tool.
You can show people behind the scenes about how you're producing your content. If it's attention-grabbing, then even a single photo can do.
Music is Win founder Tyler posted this gimmicky picture on Instagram of bashing his guitar before he posted his video on YouTube. And it got his audience (all guitar lovers) talking.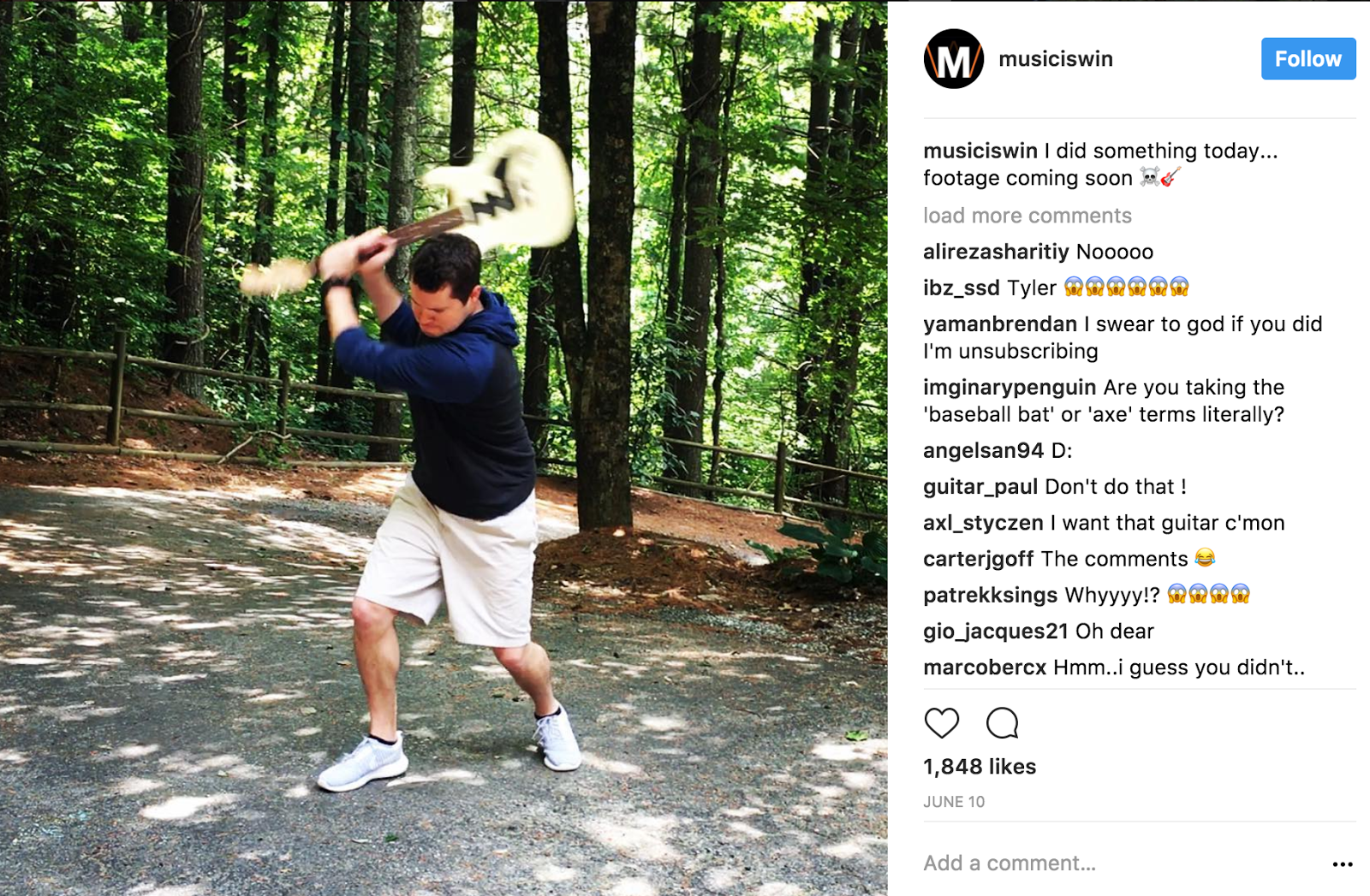 If you want to announce your videos, then a 60-second trailer to your recipes, songs, compositions, and any other kind of video sketch is great to have.
Here's an example of a song trailer posted by Majestic Casual. The post already has 2,000+ views, and many of these people must have clicked on the link in the bio to stream the full song. If you're a musician, it makes sense to create short trailers and direct people to buy the full version through your bio link.
If you don't want to post a video trailer, then you can use a quick teaser from your video as well that sets the context for your YouTube video.
It's a great way to announce new content. You can direct Instagram users to the link in the bio and get some new viewers. Here's how Music is Win used a picture for a recent video they released.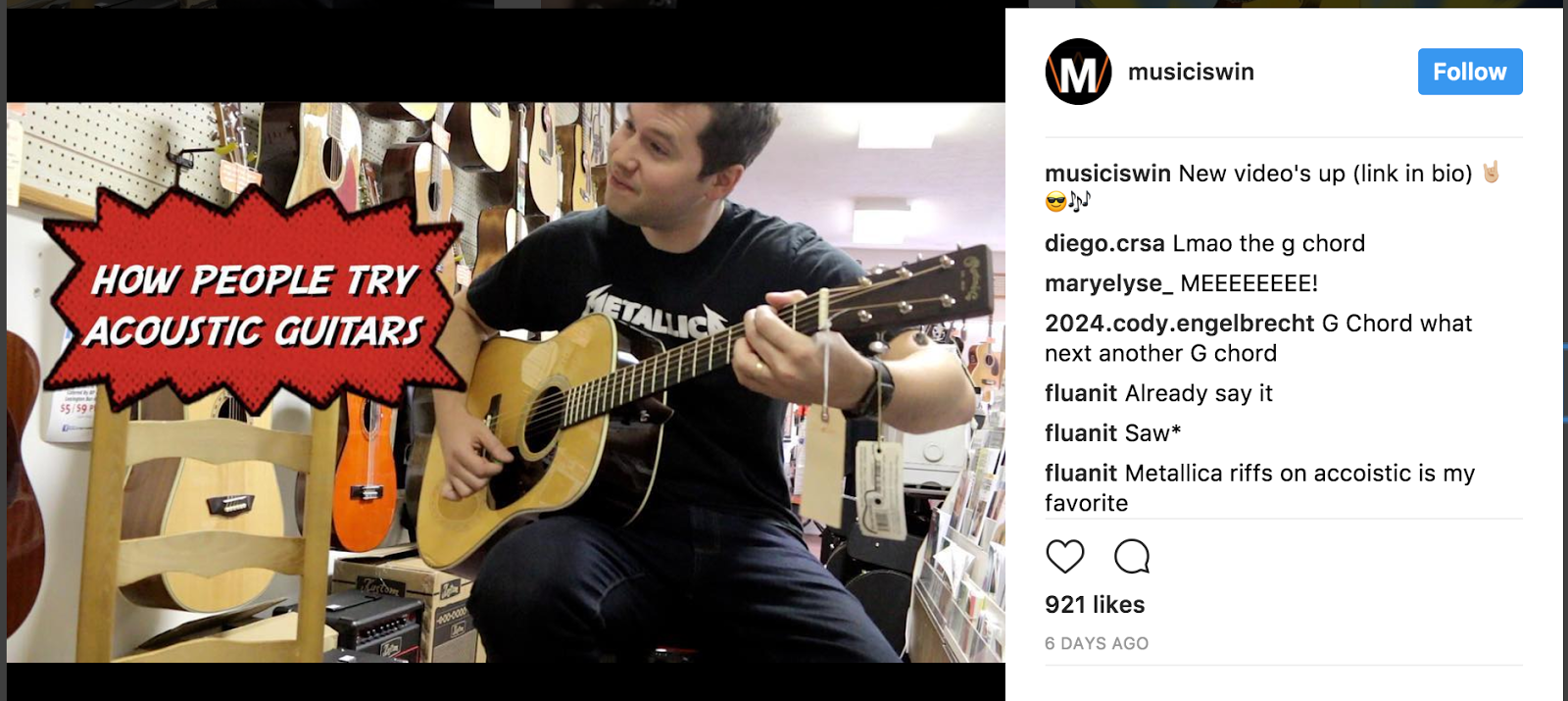 2. Show your real life and extend your social relationship with your fans
Have you ever taken out your wallet to purchase a product by a company you've previously never heard of?
Probably not too often.
As an artist, you need to hang out with your audience and build a relationship with them. Otherwise, you can't expect them to watch your content and care about you.
The concept of just creating a bunch of 1000 true fans that eagerly await your craft and buy everything you create by Kevin Kelly is real. Only these fans can help you make a comfortable living for a lifetime.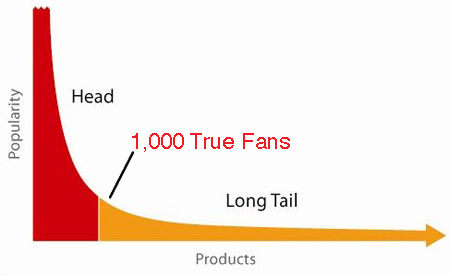 Vlogging and releasing personal videos on YouTube can make your audience feel connected to you. But Instagram is an extension of YouTube to show your fans what's happening in your daily life.
Look at the Instagram feed of YouTuber Devin Graham. You'll get a feel for his recent travels. For instance, he shared this Muckross Abbey photo with a few details of his 'spooky' experience at the place.
A couple of days earlier, he shared a beautiful family photo. As you can see, the followers loved to get a taste of his personal life.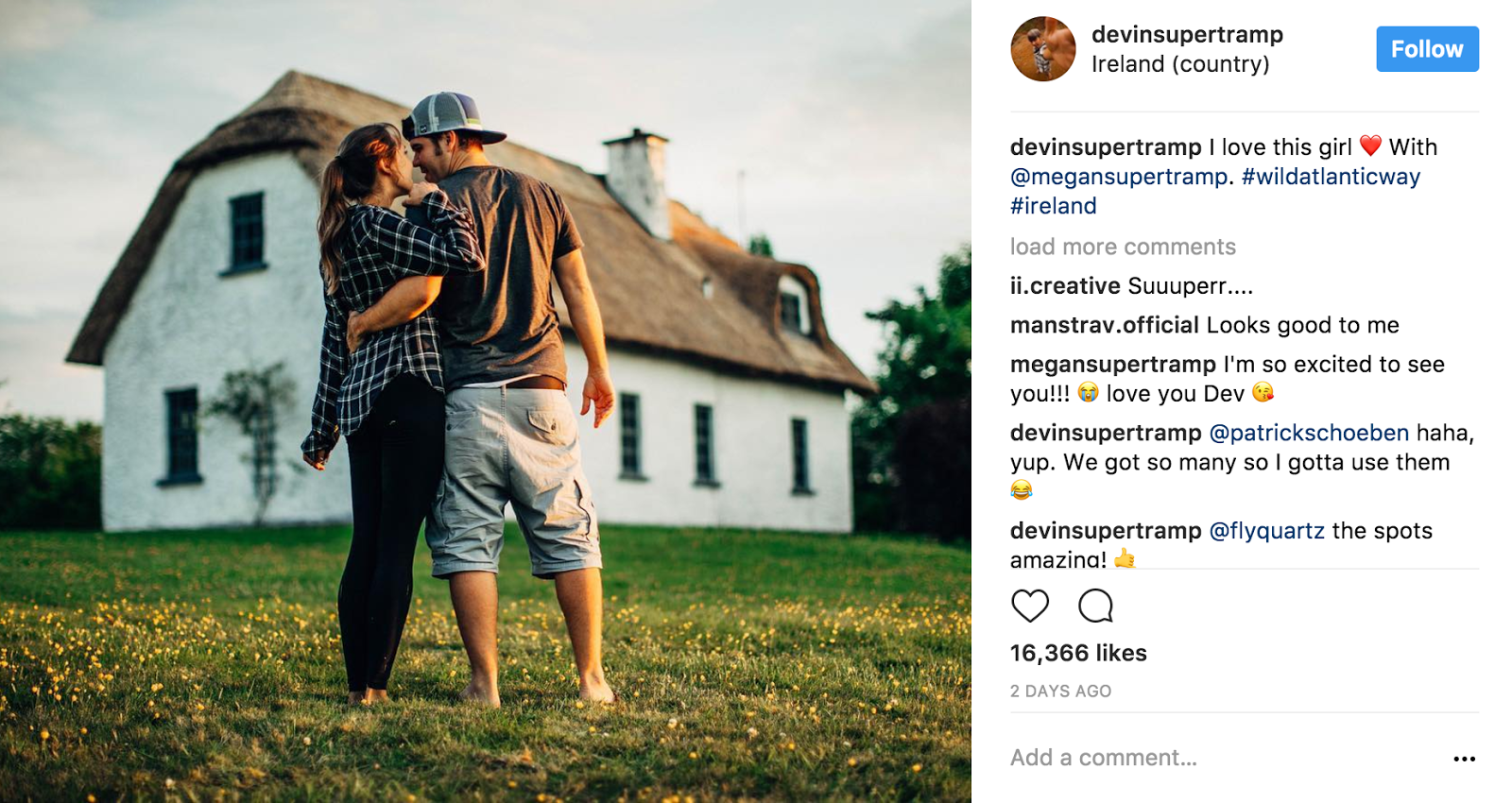 You can also feature your fans on your Instagram account and show how special they are to you. You can broadcast any user-generated content that your audience created for your brand as well. This instills trust and keeps your community alive.
If you're tracking your analytics, you can call out your super fans in videos that were the most active on Instagram every week. Tag them, shoot a quick video, and show your gratitude.
3. Use Instagram to engage with your audience and get content inspirations
One day, suddenly, you might face a creative block. It happens with all artists. Luckily for you, your Instagram audience can act as a primer for new content ideas. Ultimately, you're serving your audience and involving them in discussions about your content is a great tactic.
What's great about Instagram is that users are still engaged (especially when compared with other social media). They will comment, like, share, and answer your questions.
For example: Here's an Instagram Q & A video Kalyn Nicholson posted on YouTube.
4. Use hashtags to reach a completely new set of audience
The internet is a chaotic place with a lot of content being produced every second. A great way to ensure success is trying to reach people through different platforms (you never know where they are hanging out right now).
Instagram has a terrific organic reach and allows you to leverage hashtags for reaching audiences with different interests. Based on the theme of your YouTube video, you can use up to 30 hashtags per post and get more views (please read the hashtag strategy I shared above).
You can even create your own brand hashtag that will increase your footprint. Once enough people in your community identify with it, it gets the ball rolling whenever you launch a new content piece.
If you want to take your Instagram engagement to the next level, you can consider running a giveaway and offering a prize to your followers.
5. Collaborate with Instagram influencers to expand your reach
Remember how I mentioned Instagram influencers take $50 or upwards to do a sponsored post on their Instagram accounts?
It's a great strategy to increase your views. You can spare some budget for a web series or exclusive content pieces on YouTube that will critically define your brand.
The folks at Moxy Hotels (Marriott) relied on Instagram influencers to promote their original series 'Do Not Disturb.'
To further the reach on their content, they also launched a paid Instagram marketing campaign.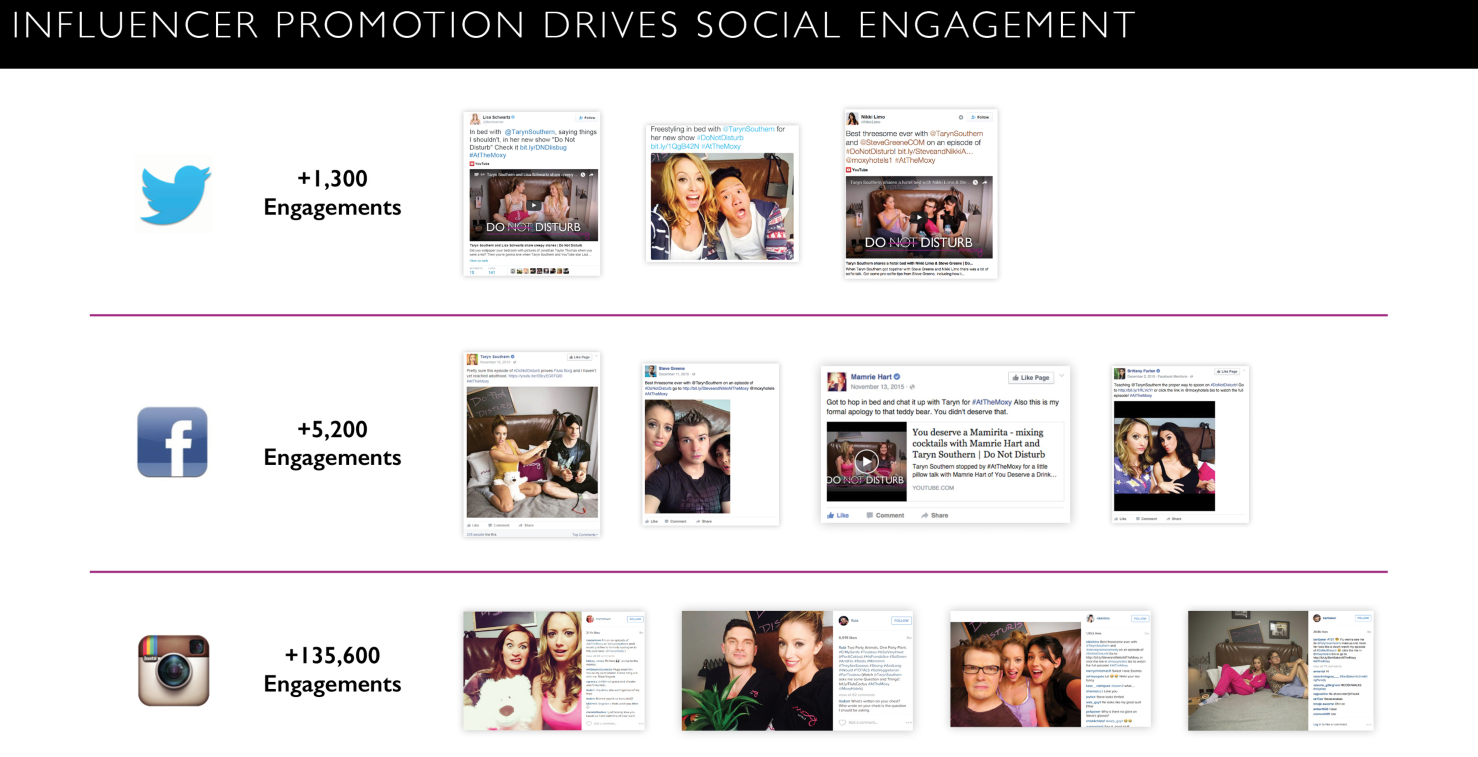 Instagram can drive more viewers which is equal to more money from ads on YouTube and more brand collaboration opportunities.
Simply put, cross-promoting your videos on social media works. More than one-third of Patreon traffic is from social media. If you're a YouTuber, start working in tandem with both of your social media accounts.
Note: If you want to make money from YouTube Ads, then I recommend joining the YouTube Creator Academy and ensure that you craft advertiser-friendly content.
Instagram Money Tactic #8: Market your Airbnb on Instagram
I am assuming you're willing to work hard (not here for quick money making schemes) and you're ready to experiment with contemporary business ideas. I am a big believer in hustling and even wrote a book on the subject.
With that in mind, let me present a unique opportunity the sharing economy has presented to us. If you don't already know, I am on the road most of the time and live in hotels. I've even sold my luxurious condo in Las Vegas. It served as a distraction.
Now, I have some similar advice for you: Put the spare room in your home up for rent, especially if you're living in a place that thrives with tourists.
If you aren't a social guy that likes meeting new people, then the idea of renting a room might make you uncomfortable, but bear with me.
I am sure you must have already heard about Airbnb. The site has more than 100 million users and over 640,000 hosts from all over the world. If you'ven't heard of them, they are huge. Here's an infographic that shows their story.
The company has done a terrific job connecting travelers looking for affordable accommodation options with people willing to rent their spare apartments or rooms. Their pitch is compelling.
And they are growing at an exponential pace and are expected to touch roughly half a billion bookings annually in the next five years—and a full billion by 2025.
Want to know what's possible on Airbnb?
In a year, Tim and Holly doubled their income after they converted their long-term rental into a short-term rental.
There are people like Scott Shatford that have earned six-figures a year from their Airbnb. Superhosts have the potential to earn five to six figures in revenue.
Now, as you might have guessed, Instagram is a terrific platform to promote your Airbnb. I'll get into the specifics later. First, let's understand the ins and outs of starting a business on Airbnb.
A quick primer on Airbnb
People are looking for lodging options on Airbnb. If you want to start an Airbnb, it's not a usual online business without people interaction. You'll need to factor:
the effort and time required in setting up a well-furnished space as well as maintenance of the business
the expenses involved in the amenities you'll provide (like breakfast, cleaning service, and the like)
the laws of the state where you live (it's extremely important to consult an attorney on this or else you might end up paying exorbitant fines)
how you'll ensure a stellar experience as a host (cleanliness, local guide)
see how you'll assure privacy for your guests while still maintaining sufficient personal space
Understand that the more number of rules and the higher price you set, the fewer number of bookings will you close. You need to make your listing appealing to the guest by offering an affordable space.
The space you rent can't be disorderly because people on vacations are looking for a soothing ambiance. You'll need to honestly describe the space in detail with as many specifics as possible.
Is it a house/room/hammock?
What are the nearby tourist attractions?
Are there any landmarks that help people quickly find your space?
Mention any additional utilities along with their costs (like Wi-Fi, electricity, food, and the like).
Are guests allowed to smoke/drink and can they bring their pets? Mention any such restrictions that you don't expect in your house.
Also, take high-quality, wide-angle pictures that clearly show exterior and interior areas of the space you're renting. If you're feeling adventurous and love to play around with data, then I recommend you to check out the analytics tool Airdna.
Here are a few copywriting tips for Airbnb:
Airbnb allows you to use only 500 characters in the summary, so use it wisely. Be concise and honest.
Put a professional picture in your profile and share your contact details (they aren't shared until a guest makes a booking).
Use attention-grabbing headlines and benefit-driven statements but don't oversell on the condition of the rental space.
Research well and set a competitive price.
Finally, I recommend you check out this checklist by OneRooftTop for short-term rentals.
Here is how you can expand your Airbnb business with an authentic presence on Instagram:
People can be frightened with the idea of entering into a stranger's house. They want to feel at home and get the assurance that their hosts are friendly people. Airbnb reviews are great to establish credibility, but 82% of listings have over 4.5 stars.
So how can you make your Airbnb an obvious choice for travelers?
Instagram can really help bridge the gap.
It's a platform where you can market your rental space to travelers and show your hospitality.
Here are 5 tips to market your Airbnb:
1. Give travelers a virtual tour
Show people around the space you're renting. Show them how comfortable, neat, and beautiful your place is. If there's a gorgeous view on a particular day from your balcony, then post that and invite your prospects to experience it.
Your neighborhood, local restaurants and events can add another dimension to your guest's experience. So show it to them along with your space.
If you offer any special amenities like local guides, maps, cuisine, then share that as well.
2. Post pictures of past guests with their testimonials
User-generated content is the quickest way to build trust. Let your guests share their experience with you. If they left you a thank you note, then take a picture of it and post on Instagram.
It even makes sense to show your past guests and share your experience with them. Goes to show that you genuinely enjoy hosting people. I would even recommend you to take a selfie with every guest you host. It will consolidate some memories and make for a good Instagram post.
3. Run special discounted rates on special occasions
Instagram is majorly about brand awareness. But your audience won't mind if you occasionally sell your products.
You know what's the cherry on top?
When you offer a special discount to your followers. They will be thrilled to get a special deal during holiday season.
I would recommend you that you update your average price as per the season changes on Instagram. If it's the off-season, you can fill the unbooked dates by announcing a deal to your Instagram audience. Create a limited-time offer to really push people to book your Airbnb.
4. Put a face on your boring listing
If you love meeting new people and having long conversations about life and travel, then show that on Instagram. Your Instagram account should not just look like a rental business advertising its space. Make it personal. Take pictures of yourself and show off your personality.
If you're light-hearted and funny, then let your Instagram account show that. Even a smile will make you a less intimidating choice and increase your chances of getting business.
5. Run ads targeting travelers in your area
Ready to spare some cash and get more bookings?
Then use Instagram's powerful targeting features and run paid campaigns. Airbnb have themselves experienced huge success with an Instagram partnership, so you can expect great results. Here are a few tips to launch a paid Instagram campaign.
You need to mix up the above tips with the Instagram marketing strategies that we've already discussed. For example: Researching and using 5 or more relevant hashtags in every post will expand the reach of your Instagram posts.
I recommend checking out The Beach Lodge on Instagram for inspiration.
Instagram Money Tactic #9: Travel, post your beautiful pictures on Instagram, and build a consulting business around it
I love to travel. Fortunately, I get to see a lot of the world as I speak at dozens of events each year.
Because of my love for the road, I like to read travel blogs to see what's out there.
I've seen travelers rely on many different jobs they find along the way to make their time abroad last longer. From teaching English and jewelry making to hair styling spinning fire poi. But all such jobs restrict your freedom, and you aren't in control of when and where you can travel.
What if I told you that in the digital economy we live in today, it's possible to make money while traveling anywhere that has a Wi-Fi connection?
Many of you might already know such people as digital nomads.
Indeed, Tim Ferriss has unleashed an era of the 'new rich' with his book the Four Hour Workweek.
He shares strategies to make money by building an affiliate marketing business and outsourcing and automating its operations to the point that you can travel conveniently.
You can even build a consulting business around your skills like content marketing. But I have a strategy that relies solely on Instagram and traveling.
Travel consulting.
It's an exciting business model because you help people plan their dream trips and get paid for it.
And how will you establish credibility as an expert in travel planning?
By traveling extensively yourself and sharing your experiences visually on Instagram.
Before we begin with how to market yourself on Instagram, let me get a few things straightened out:
You'll need a few thousand dollars saved up to start this kind of a business. And initially, until you start making money, you might have to spend some time in places where living expenses are low (like Thailand, Colombia, India and the like).
I am not saying that you should open a new franchise for an already established travel agency. That may not leave you with much control over your schedule.
If you love the outdoors and adventure, then you can get trained and offer tours to adults, families and customized group tours.
While 'traveling the world' sounds like an exciting idea, it doesn't make for a compelling pitch. You need to find a niche on a specific location and the services you'll offer to your client. Before you begin selling, go on a tour yourself. Be the client. Once you know your way around the places well, then you can offer the tour to guests.
For example, Vantigo specialized in tours around San Francisco including wine tours and brew tours.
See I got you all excited with the idea of making an idea while traveling. But it doesn't mean it's going to be an enthralling experience throughout. You might keep shuttling between the same locations to ensure a smooth experience for your guests. Since it's a business, you'll need to put in a lot of work, gather feedback, and keep improving your services. For instance, Paul and Austin run through new trips that they have developed themselves. Occasionally, they invite their alumni (they call them as "First Ascents") along to join them on these new tours. Then they collect feedback on what needs to be tweaked.
A traveling business involves a lot of variables including, but not limited to, government regulations, transportation issues, and the climate of the location. A professional business can't afford a bad experience for its customers. You need to play devil's advocate with your travel itineraries and analyze any potential problems that might arise.
Prepare for the worst with contingency plans. Think of alternate routes, destinations, and activities that will keep your guests engaged on the journey. Remember, your guests are on a vacation (unlike you – always being on the road). More than the money and time, they have an emotional attachment with every trip and want to have a great time.
So accept the responsibility and meticulously plan your tours to ensure a memorable experience for your clients.
To give you an idea of how to plan and present your first trip, head over to WanderingEarlTours.com.
Its founder, Derek Baron, has been traveling, living, and working around the world non-stop since 1999. He specializes in offering trips to small groups at a price of over $2,000 per person. Many of his tours are sold out.
Let's look at a particular tour: Wander Across India, Nov 2017. There's a detailed itinerary of the cities the guests will visit each day on the tour. You'll also find a map with locations marked, a few pictures, accommodation, and other details of the trip. The price for the tour is $2,100.
There's a separate section consisting of testimonials from past customers (an important section to earn the trust of your prospective guests).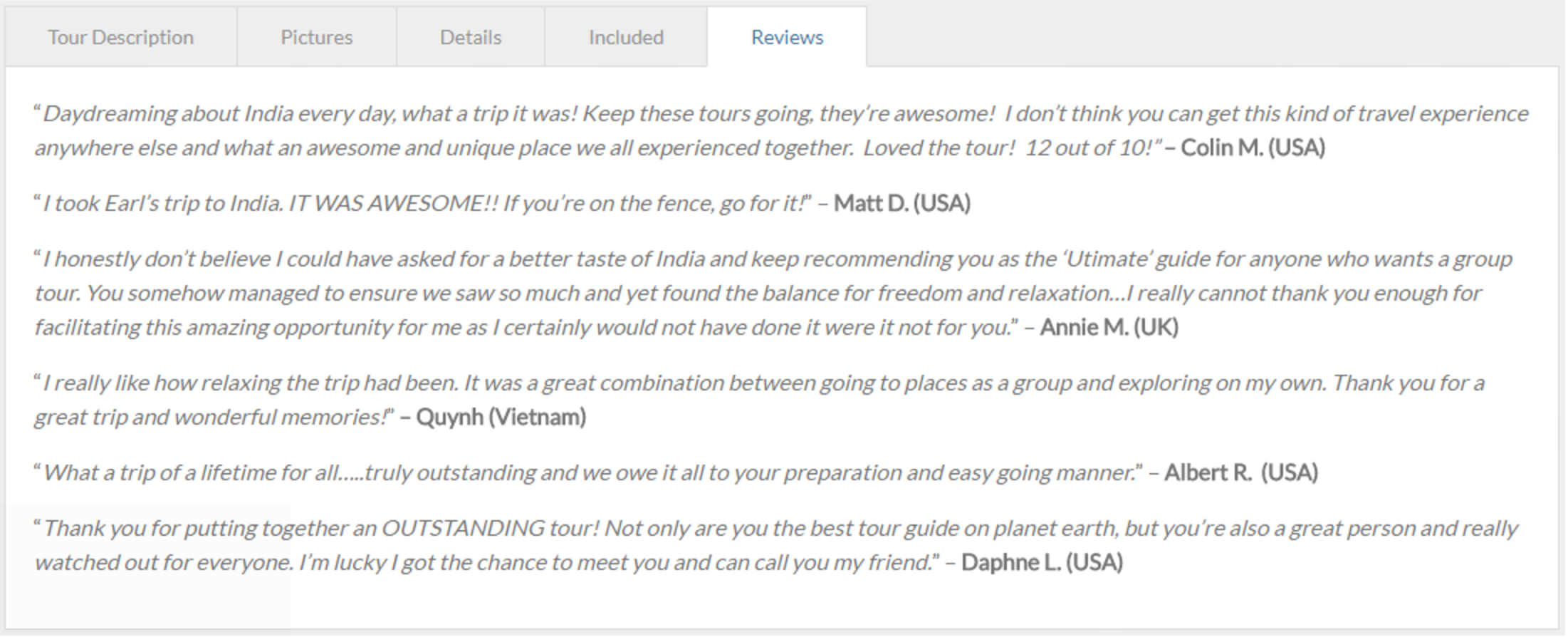 Wandering Earl even has dedicated guides for specific countries.
If you want to set up a full-fledged travel agency, then you can check out the 7-Day Travel Agency Challenge by Hosted Agency Reviews.
Let's move on to how you'll get clients from Instagram for your tour.
Pro Tip: I recommend that you spend more dollars (and work on lower profit margins) to ensure that the accommodation, hygiene, food transportation, and other arrangements are the best of the best. Even slight glitches can add up quickly to make traveling a disaster.
Ditch franchise restaurants in favor of local cuisine. Embed your guests in the local culture and intently listen to the demands of your guests. If you treat them well and fulfill their demands, you'll find a lot more business through word-of-mouth referrals and repeat customers.
How to market your travel business on Instagram?
Traveling equates to beautiful, weird, and surprising experiences. You can easily translate each of these experiences into Instagram currency: pictures. Let me expand with a few specific marketing tips.
1. Share picturesque moments from your trips – Did you find a dog eating cupcakes nearby the beach? Open your Instagram, type a quick caption, and post the picture. Saw an athletic lady doing backflips on the subway? Broadcast it and tell people how awesome it is (live videos are ticking off on Instagram).
Traveling is inherently photo-worthy. You'll witness peaceful beaches, breath-taking mountains, glorious sunrises, and elegant sunsets. Leverage these opportunities to take photos and generate content for your Instagram account.
For example: As he landed in Sweden, Derek shared this beautiful photo of the country sharing that he's in the country for the next 8 days.
Occasionally, you should use more of the textual characters to complement a picture and share your thoughts. Traveling is supposed to make you introspect anyway, right?
For instance, in the post below, Derek shares the events of his past 3 weeks and how he's stoked for being able to travel in the way which once seemed impossible to him. He vouches that hard work can make such a life possible.
2. It's alright even if you don't find a gorgeous view – Sometimes you don't even need a fancy sunset or picturesque countryside to mesmerize people. Your Instagram audience loves to travel – so even an update from your bed will transport them to the place you mention.
Even a casual snap from your travel with an update will get people floored. It's also a great way to interact with people.
For example: In the post below, Storyv shared a picture with their morning coffee. Excluding the map tattoo on the back (which is beautiful and grabs attention), the post is ordinary. But they share their plans of heading to China borders and ask for tips from people who have been to Shenzhen. Note how they subtly promote their free eBook in the PS section by putting a CTA to check out the link in their bio.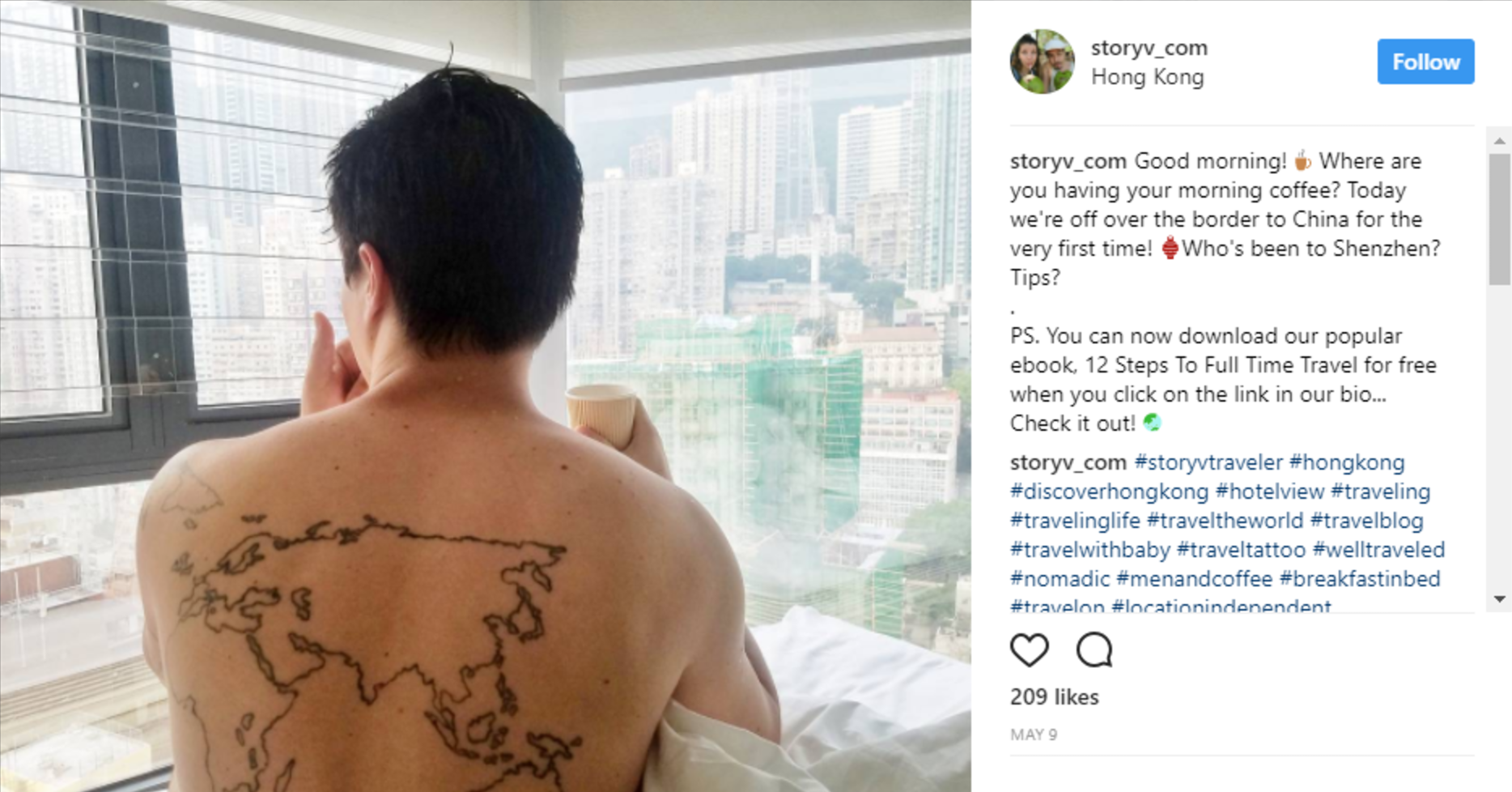 3. Seek travel advice from your audience
If your community is bubbling with passionate fellow-travelers, it doesn't have to be a one-way street. You can involve them in discussions about your plans. You can ask for their suggestions on places you want to travel to.
Here's an Instagram post by Storyv that shows a lush green office in Kerala. Hannah expresses her interest in working out of that place and traveling to India, and she invites her audience to share their opinions.
4. Share pictures of local cuisine – Food is a huge part of every culture and a major motivation for people to explore new places. So whenever you're dining out at a local restaurant, share a drool-worthy picture of the food you're having.
Here's a picture of Vietnamese food that xotours (they offer food and city tours across Ho Chi Minh City) shared on their Instagram account.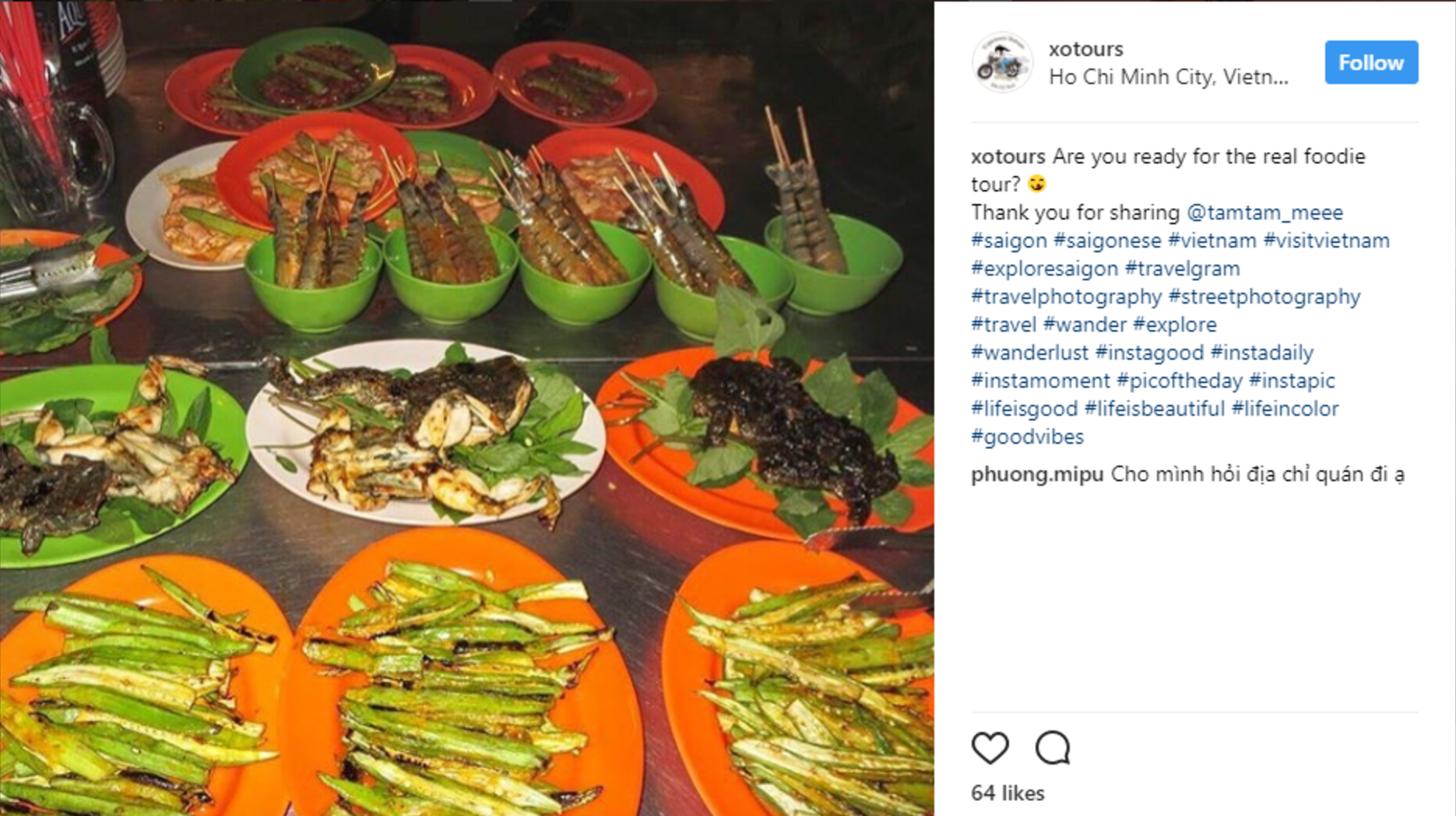 Since food is visually appealing, it gets great attention on Instagram. Jessica, a former Mathematics teacher, loves experimenting with new foods and posts pictures of her experiences on Instagram. In 2.5 years, she has built a following of 351,000 and gets paid well to travel the world while taking pictures of her meals.
5. Share pictures of useful products for your audience – Alright, we've already discussed this Instagram money tactic. Still, I want to reiterate that sponsored posts are a great way to monetize your Instagram audience. You can make decent money on the road simply by sharing useful products with your followers.
Emma from luxurybackpacking makes $2,000-$3,000 every month through sponsored posts with a little over 69,000 followers. She started out her Instagram account near the end of 2015, and in just 3 months, she hit 10,000 followers and started making some money.
Here's an example of a sponsored post by Emma.
As you implement these tips with the strategies I shared before, you'll start building your Instagram audience. Once you've 5,000-10,000 followers, you can start offering tours and make money from your travel business.
Here is an alternate way to make money through your travel expertise:
With enough traveling experiences under your belt, you can even sell digital products on your travel expertise.
For example: Chris and Stephanie are both authors with extraordinary travel achievements. Chris traveled to 193 countries before his 35th birthday, and Stephanie has worked on the road for 20 years and has been to 120 countries.
They have monetized their extensive traveling experience with a $99 course titled 'Making Your Dream Trip a Reality.' It's a 33-lesson course that discusses travel strategy, airline alliances, earning miles, hotels, logistics, and even traveling for free.
Right now, the course is selling for $69, but it has had tremendous success with over 11.500 students and 100% positive reviews.
If you browse through Udemy, you'll find many more courses related to Travel. A few courses such as 'Travel The World Free or Almost Free For As a Digital Nomad' has as many as 7,598 students.

Storyv has put up a list of diverse travel job courses on their website including ideas like 'How to Start a Hostel' and 'Get Paid to Work on Cruise Ships.'
It goes to show that people are willing to buy courses on travel, especially when you show them ways to travel for cheap (or free!).
Online courses and digital products are a great way to earn passive income while traveling. You must layer them with other travel services that you're offering. I've already talked about building and selling information products in tactic #6.
That brings us to the end of the last tactic. Before we conclude, there's one tip I want to add.
Mr. Buffett's 'diversification' mantra holds true for making money from Instagram
As an entrepreneur, I have immense respect for Mr. Warren Buffett.
I've religiously followed his advice on how to build multiple sources of income. I started my first business selling burned CDs and cable black boxes to my classmates in high school. Since then, I've built multiple blogs and businesses including Crazy Egg, Quick Sprout, Hello Bar and others.
Similarly, I recommend you play it smart with your Instagram game. Combine your interests and skills to create multiple income streams using the tactics I shared. Become a service consultant, sell a course on your expertise, and become an affiliate for products in your niche.
Shelcy Joseph is a social media influencer making an average of $1,600 per month on the side from Instagram since July 2016. And as you may have guessed it, she has more than one income sources:
Sponsored Posts: She does $75/post and makes about $600 every month from them.
YouTube Advertising: After signing up for the YouTube Partner program, Shelcy has been able to make $50 from ads. That's not huge, but she hopes to increase the amount in the coming months.
Private Consultation: They make a bulk of the money for Shelcy. She charges $40/hour from local businesses and startups for helping them with their marketing, graphic design, and video editing. She makes up to $1,200 a month from offering these services.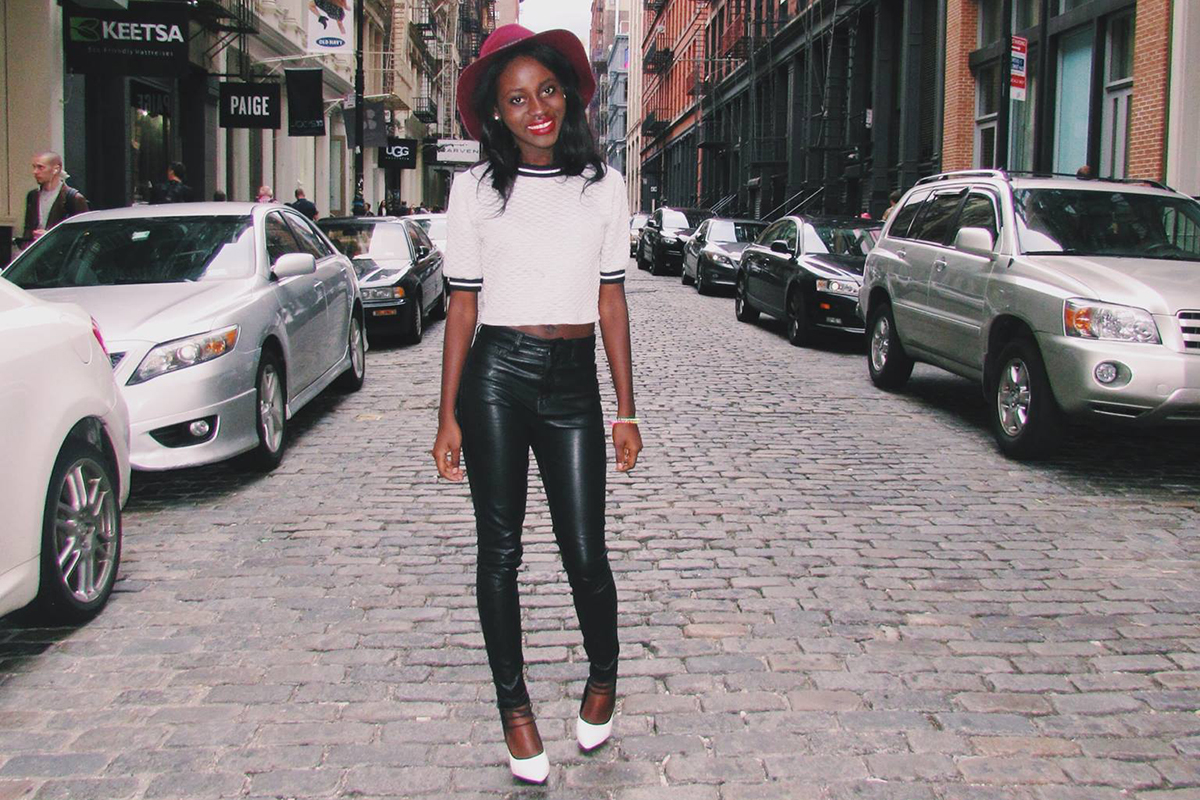 The most important aspect of making money is to keep hustling and stay patient. Starting from zero, you can't jump to $10,000/month in just weeks or months. But as you build influence and credibility, you'll start making a decent income.
Zanna Van Dijk shares how she initially got free products in exchange for an Instagram post. Eventually, as her audience grew, she did paid collaborations with brands.
I'll leave you with one last piece of advice:
You have no control over Instagram's rules and algorithms. Given that Instagram has terminated the accounts of people with thousands of followers without any warning, it doesn't make sense to build your business solely on Instagram.
Treat Instagram as a business asset. Don't build your complete business on a piece of rented land that leaves you with little control. Brian Clark calls this way of building a business completely dependent on another business as digital sharecropping.
Getting Instagram users off the platform is hard. You'll need a strong bait like a course to do so.
But I recommend you extend your Instagram presence to an email list. It will allow more control and the ability to effectively scale your business with complete ownership of your audience.
For even more stability, build products and a dedicated website where you can sell your products and services.
Foundr magazine has built an email list of hundreds of thousands of entrepreneurs from converting their one million Instagram followers. And now they sell their magazine issues and products on creating an online store and Instagram marketing among others.
Conclusion
Instagram is growing at a mind-blowing speed while maintaining a terrific engagement rate.
It's come a long way from simply being a basic photo sharing app. Brands are investing an exorbitant sum of their marketing budgets on the platform.
So Instagram presents a great opportunity for smart folks to quickly build an audience and monetize it. With so many potential business opportunities, anyone can earn money from Instagram.
I encourage you to take action on this massive guide by implementing one Instagram money making tactic.
What kind of experience have you had monetizing your Instagram account?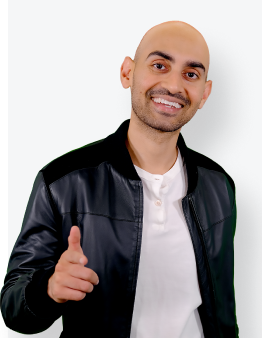 See How My Agency Can Drive Massive Amounts of Traffic to Your Website
SEO - unlock massive amounts of SEO traffic. See real results.
Content Marketing - our team creates epic content that will get shared, get links, and attract traffic.
Paid Media - effective paid strategies with clear ROI.