More than 800 million people across the world use Instagram every month to share and view photos or videos.
But they also use the platform to shop.
According to Statista, Instagram will generate $6.84 billion in mobile ad revenue in 2018. That's a huge increase from the $1.86 billion that they generated in 2016.
Brands also receive four times more engagement on Instagram than they do on Facebook. Better yet, as many as 14% of users are likely to buy items directly from the app itself.
Whether you want to sell products directly or to boost your brand's exposure, Instagram is the best platform to do it.
Here's how you can create a killer Instagram to funnel customers.
To get started, you should integrate Shopify with your Instagram account so that you can sell products right from your page.
Sell directly from your account with Shopify
Shopify is currently testing shoppable Instagram posts that allow customers to buy items directly off of Instagram.
This is a similar concept to what we've already seen with Buyable Pins on Pinterest.
With shoppable Instagram posts, you can turn any post into a buyable one.
E-commerce stores can sell to buyers right in the Instagram app, and users will never have to leave the app to go to an external website.
However, since this feature is only available to some brands as a beta release, LIKEtoKNOW.it is an alternative that you can start using right now.
The service allows users to take screenshots from the Instagram platform and shop right from the app.
If you want to send users to your website from Instagram, you need to add a call to action (CTA) and a link in your bio.
Put a CTA in your bio to direct users to your website
There aren't a ton of places to add in extra text on Instagram.
That's why you should use the space that is available, like your bio, to add texts and links.
Use this space to insert a CTA that directs followers back to your website like this example from Topshop.

They added "Click to shop" with a link to their site.
Your CTA doesn't have to send people right to your site's product page. You can use it to promote anything you want, like an app or a new blog post.
If you want to share multiple links from your bio, try using a paid tool like Link In Profile. With this tool, one single link on Instagram takes users to tons of alternate links.
Here's what the single link will look like in your bio:
Once a user clicks on the link, it will take them to a page that looks something like this:
Another easy way to funnel customers is by working with influencers to gain impressions and increase your brand's reach.
Collaborate with influencers to gain impressions and boost engagement
The Instagram influencer-marketing industry is worth over $1 billion.
Top influencers like Selena Gomez, who has over 122 million followers, can earn over $550,000 per post. Kim Kardashian earns an average of $500,000 per post.
The average cost of a sponsored post on Instagram is much less. It's about $300.
Desi Perkins is a great example of an effective influencer. Perkins works in the beauty industry and has 3.6 million followers.
One of her sponsored posts from July 2017 earned over 72,000 likes.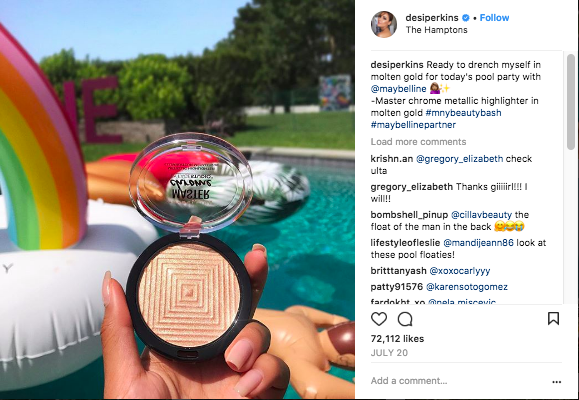 Your brand can find the same kind of success if you create partnerships with the right influencers in your industry.
You can leverage their following to bring awareness to your brand or products. And since their followers trust their voice, it won't feel like an ad. It will feel like a recommendation.
To get started on your search for the right influencers, use a free tool like BuzzSumo.
Enter the topic that relates to your desired post, navigate over to the "Influencers" tab, and you'll see tons of related influencers to choose from.
Buzzsumo will give you statistics about each influencer, including their total number of followers, reply ratio, and the average number of retweets.
However, just because an influencer has tons of followers, doesn't mean that they're successful. A large portion of their audience could be fake.
That's why the next step is to type an influencer's username into Social Blade to view their analytics.
If their following is legitimate, you should see a steady increase.

If there are a ton of increases and decreases, they've probably paid for a large portion of their followers.
The higher an influencer's following, the more a sponsored post will cost. Choosing a user with a modest-sized, engaged following is probably your best bet.
Your followers can also raise brand awareness for you.
Boost brand awareness with user-generated content
User-generated content is an easy way for you to interact with your followers while also boosting your exposure.
A quick and simple way to do this is to create a shared hashtag that encourages users to share photos of your products.
For example, Wayfair's hashtag is #wayfairathome.
The tag is full of users sharing photos of products purchased from Wayfair.
Brands can then repost this content and tag the customer who posted the photo. This allows you to get the most engagement possible out of one user-generated photo.
And as you're building awareness, don't forget about Instagram ads. They're an obvious way to funnel customers. But there are a ton to choose from, which can be intimidating.
Target buyer personas in every stage of the funnel with Instagram ads
Facebook Ads Manager creates and manages Instagram ads. But you have to connect your brand's Instagram page to your brand's Facebook page to get started.
Once you've connected them, you can use all of the ad-targeting options that Facebook allows on your Instagram account.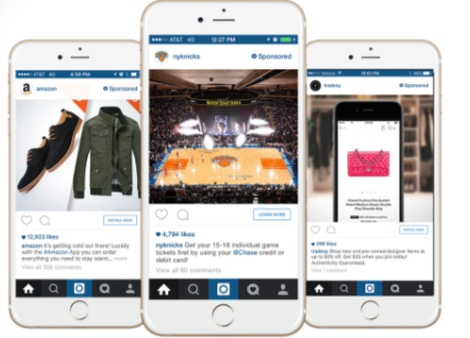 Once you select your audience, all you'll have to pay for is the cost per acquisition.
If one of your Facebook posts got a ton of love, try using that post to create an Instagram ad.
Stories ads will appear in the "Stories" area of Instagram.
Create single-image and single-video Stories ads
Instagram Stories ads are the ads that users see between their followers' stories. Instagram Stories are similar to Snapchat stories since they disappear in 24 hours.
There are recommended sizes for images and video in Facebook Ads Manager that you should check out before you create an ad on Instagram.
With Stories ads, you can choose between single-image or single-video ads.
When creating your ad campaign, select "Reach" as your objective. Then, choose "Stories."
Single-image ads allow you to create as many as six ads with one image in each ad. Every ad will look like a regular Instagram story, but it will have a "Sponsored" tag on it.
All you have to do is upload your images. Be sure to check out your selections in the "Show Advanced Options" area to turn on advanced tracking features.
Single-video Stories ads consist of a 15-second GIF or video.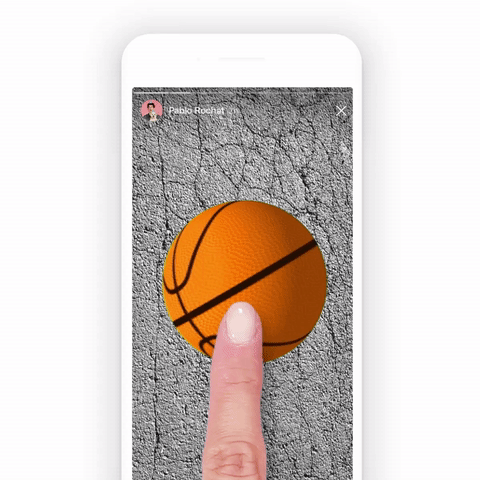 To create a single-video Stories ad, begin by uploading your video or GIF. Just like single-image Stories ads, you'll want to check out your selections in the Advanced Options area.
If you have over 10,000 followers, you'll also be able to add links to your Instagram stories
This means that you can inserts CTAs in your stories that direct followers to "swipe up" or "read more."
If you want viewers to check out a product, blog post, or page on your site, all you have to do is insert the link on your photo or video.
Here's what a post directing viewers to a blog post might look like:
You can also include hashtags in your Stories.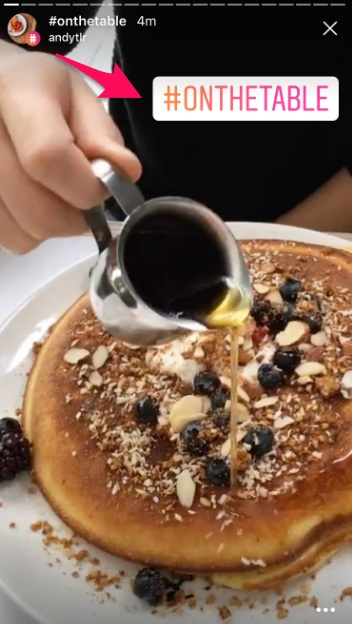 You'll want to make sure that the hashtag you use relates to your brand and the photo or video that you post.
Aside from Stories ads, feed ads are another way to funnel customers right from the platform.
Use photo, video, carousel, and slideshow feed ads
Instagram feed ads are made up of photo ads, video ads, carousel ads, and slideshow ads.
Photo ads are single-image ads, much like single-image Stories ads, but they will appear in a user's photo feed. You can create as many as six ads with one image each.
Single ads are probably the easiest ads to make. Start by choosing the images you want to include.
Next, you'll want to add a caption for the ad in the text field. You can add up to 300 characters, but Facebook recommends using around 125 characters per ad.
Add a website URL if you want to send people from the ad to your site.
The Display Link, Headline, and News Feed Link Description fields don't apply to Instagram ads, so you can leave those blank.
Single-video ads, on the other hand, are made up of a GIF or video.
Choose a video from your library or upload a new one to get started. Then, select a thumbnail generated by Facebook or upload a custom one.
Include a caption in the text box just like you would with a photo ad. Add your website URL and a CTA button if you want to direct traffic back to your site.
You can also create carousel and slideshow ads. Both of them show off more than one image or video at a time.
Carousel ads include two or more videos or images.
You'll need to create cards for your ad. You can add as many as ten cards per ad. The headline, which is the first line of your caption, will be different for every card.
Captions, on the other hand, stay the same for all images and videos.
Add a destination URL for your CTA button and leave the description blank. Your CTA button will be the same for each card.
You should also leave the "See More URL" and "See More Display URL" sections blank. Those are for Facebook carousel ads.
Slideshow ads are basically carousel ads that scroll on their own. You can add up to ten images to a slideshow ad.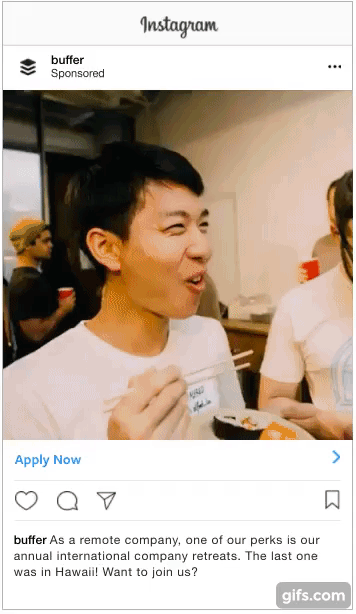 To make a slideshow ad, upload a premade slideshow or create a new one in Facebook Ads Manager.
You can customize the aspect ratio, image duration, and transition.
You can also arrange your images and insert music.
Once you choose a thumbnail, create a caption and insert a URL if needed.
Another unique way to showcase your products to funnel customers is to let users build their own products.
Let users build their own products
If you want to take your Instagram ads to the next level, use the picture and interactive navigation ad.
With this ad, users can build their own customized product right from the Instagram platform.
Mercedes-Benz created interactive navigation ads that allowed users to build their own Mercedes-Benz GLA.
The ad began with a welcome page, and it gave users the ability to select the color of their car, the wheel type, the roof, the grill, and more.
For every selection, the ad took users to a new Instagram page with choices for their model until the car was complete.
You can create a similar picture and interactive navigation ad to grab the attention of users.
Be sure to add lead forms to your ads on Instagram, too.
Add lead generation forms to all ads
No matter the kind of ad you choose to run, you should add lead forms to each one. Once you create one lead form, you can reuse it.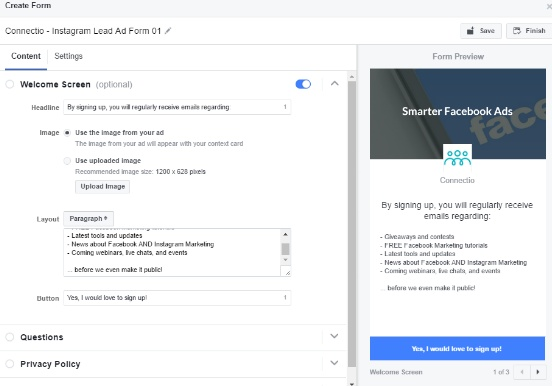 Lead forms allow you to run lead-generation campaigns on any Instagram ad that you post.
These lead forms include a contact form that users can fill out to get in touch with a brand or business. This is a quick way to gain email or newsletter subscribers.
Aside from asking users for their email address or contact information, you can also ask people custom questions.
To create a new lead form, fill in welcome-screen details such as your headline, image, layout, and button text.
Next, select your questions, add a privacy policy or disclaimer, and create a "Thank You" screen.
You can also add a website link for people to click on once they have completed the form.
Click "Finish" once you've filled everything out, but note that you can't edit a lead form once you hit this button. If you're still working on a form, click "Save" instead to edit it later.
You can download leads directly from Facebook once visitors begin completing your lead forms.
You can also connect leads to a custom relationship management system (CRM) like Salesforce or MailChimp.
By integrating a CRM, you can download and use leads faster than downloading them from Facebook since a CRM monitors leads in real time.
Then track how you're doing by using an Instagram analytics tool to monitor the overall performance of your page.
Use an Instagram analytics tool to measure performance
After trying every tip on this list and spending money on Instagram ads, you'll need a way to track your progress.
Sprout Social is a simple-to-use analytics tool that combines management tools with content creation tools.
With this tool, you can schedule new content on all of your social media accounts, including Instagram.
You can also view the performance of individual hashtags or geotagged locations. Then, you can compare the performance for each metric by creating a downloadable report.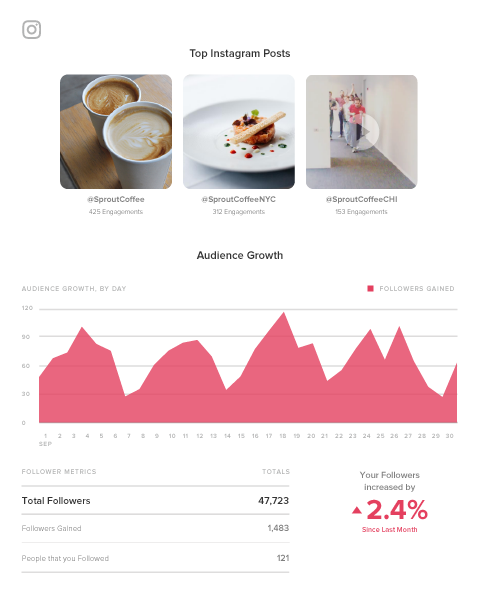 And here's the best part: Sprout Social offers a free trial, so you won't have to pay anything to try out all of the features.
The Premium package is $99 per user per month for up to ten social profiles. The Corporate plan will cost you $149 per month for up to 15 social profiles. And the Enterprise plan is $249 per month for as many as 20 social profiles.
You can change plans or cancel at any time.
Conclusion
Instagram is far more than just a social media platform. It generates billions of dollars in revenue for brands year after year.
Brands also get four times more engagement on Instagram than they do on Facebook.
That's why Instagram is the best place to funnel customers, build sales success, and create brand loyalty.
The platform allows you to build a lasting, engaging, and convenient relationship with your customers.
For instance, you can sell products directly from your Instagram account or add a CTA to your bio to push users to buy.
If your goal isn't to send users over to a product page, you can create a CTA that directs them to read your latest blog post or download an app.
Collaborate with influencers to leverage their following. Boost your brand awareness through user-generated content.
Target buyer personas with Instagram ads to reach users at every stage of the funnel.
Then create single-image and single-video Stories ads or feed ads like photo, video, carousel, and slideshow ads.
Let users build their own custom product by creating interactive navigation ads. And don't forget to add lead generation forms to every ad you create.
Finally, use an Instagram analytics tool like Sprout Social to measure your progress.
If you do all of this, you'll transform your Instagram into an effective funnel that turns your prospects into paying customers.
How do you funnel customers with Instagram?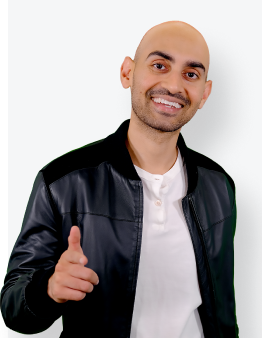 See How My Agency Can Drive More Traffic to Your Website
SEO - unlock more SEO traffic. See real results.
Content Marketing - our team creates epic content that will get shared, get links, and attract traffic.
Paid Media - effective paid strategies with clear ROI.
Are You Using Google Ads? Try Our FREE Ads Grader!
Stop wasting money and unlock the hidden potential of your advertising.
Discover the power of intentional advertising.
Reach your ideal target audience.
Maximize ad spend efficiency.