It doesn't seem fair, does it?
You dedicate your time and resources to publishing exceptional content.
You follow the content marketing experts and put their tested strategies to work for your business.
You do all of this, and yet, your efforts yield no significant results.
Let me say this: You're in good company.
More than 60% of B2B Marketers rate their content marketing as either moderately effective or minimally effective.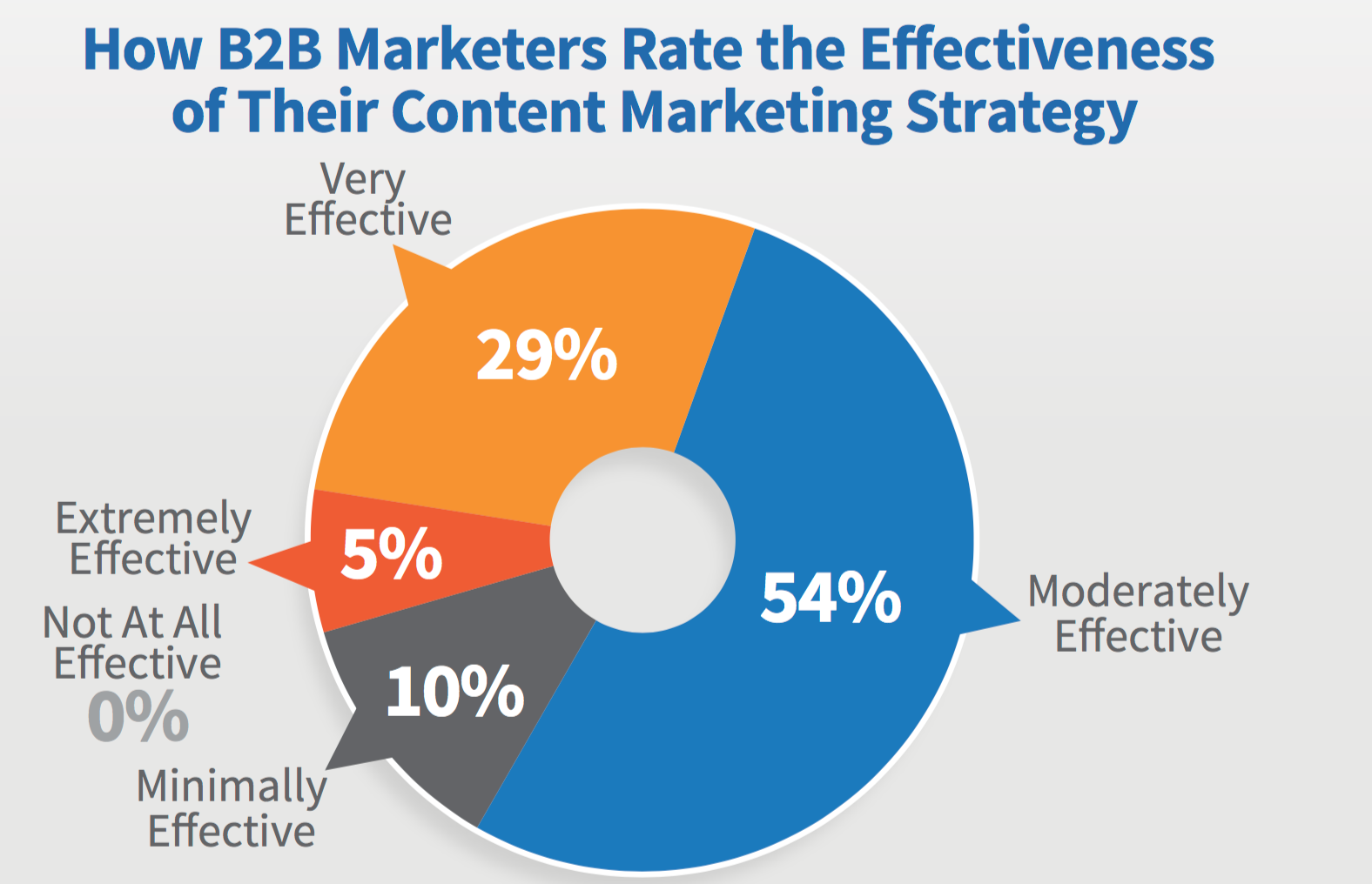 But that comes as no surprise.
This is a competitive field.
Just take a look at how much content is published on the web every 60 seconds.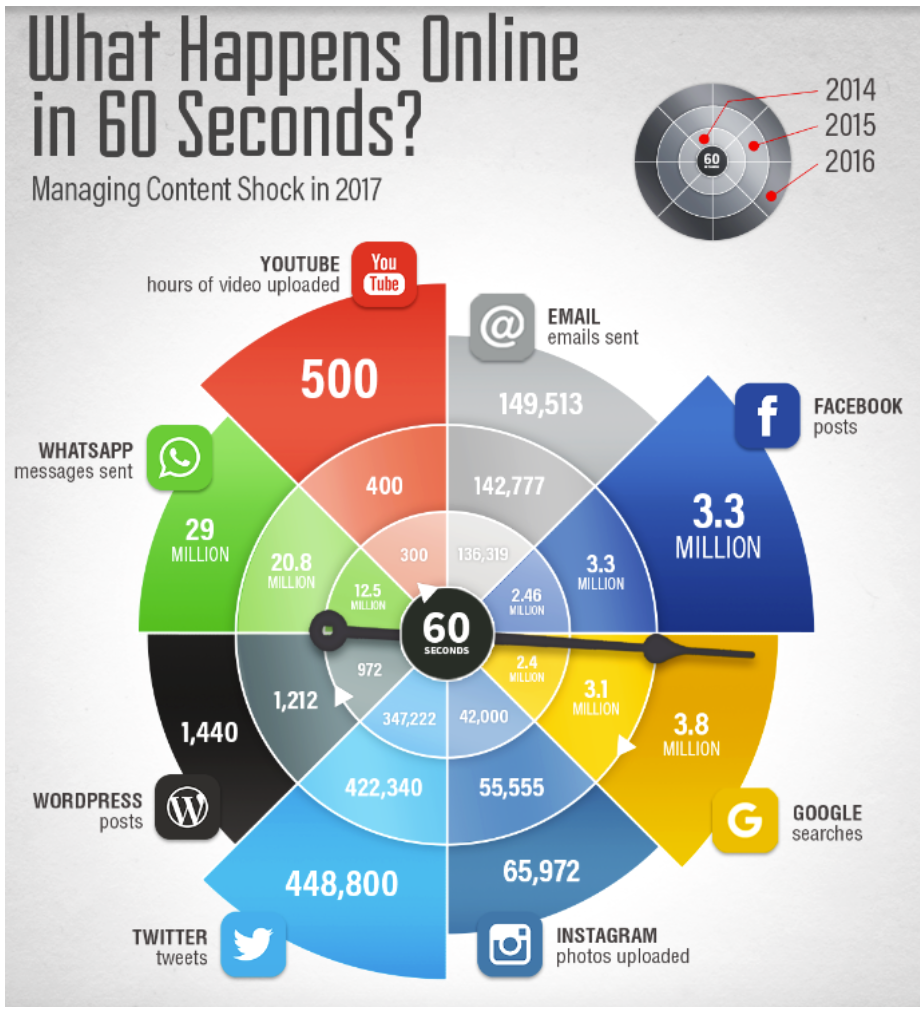 Does that mean that success is out of your reach? Of course not!
You can still win big with content marketing.
What it requires is a transformation in your approach.
In this article, I will give you a detailed process for your content marketing that will make a powerful difference in your results moving forward.
But first, let's take a look at why your current strategy might not be working.
Why your content marketing may be failing you
There isn't one core disconnect that cripples every marketer's content strategy.
But there are a few likely culprits.
1. You haven't decided what you're working towards.
Put simply, if you have no goals for your content, you have no strategy.
If you don't establish what pillar of your business that your content is supposed to serve, your efforts will fall flat.
Interestingly enough, many marketers admit to this — only 37% have a documented strategy.
Am I encouraged by the 41% who have a strategy but just haven't put it down in stone?
Not at all.
As far as I'm concerned, this is a copout.
Your sales teams, customer service reps, marketers, and other team members will all be telling a different story.
To top it off, you'll have no definite content assets that your team can use to better serve your audience.
2. You don't put enough resources into content marketing.
Content marketing isn't cheap. At least, not the kind that works.
Perhaps, that's why 39% of marketers are looking to increase their content marketing spend in 2017 and beyond.
I recognize that many people don't have the capacity to put money into hiring quality content creators and paid promotion channels.
In that case, your time is the investment.
This means that you have to commit to creating and promoting your content on a consistent basis.
Bare in mind, content marketing is a long-term strategy. A few weeks is not enough to see results.
I recommend waiting a minimum of 90 days to gain traction before you decide that your strategies aren't working.
3. Your content isn't aligned with what your audience wants.  
Content marketing can only succeed when you keep your audience first in your mind.
What are their pain points? What are their desires? Where do they hang out both online and offline?
If you don't have that figured out, your efforts will fall flat. Your audience simply won't engage with content that doesn't entertain them or solve their problems.
So, consider how well you know the people who you are trying to reach.
4. Your promotion strategy is weak.
You've heard this many times before.
Content is only half of the equation. Promotion is the other.
If you've been creating content and have spent little to no time promoting it, that's a major problem.
There are many ways to distribute your content including email marketing, social media, and document sharing sites.
You should spend much more time funneling your content through these channels as you do creating it.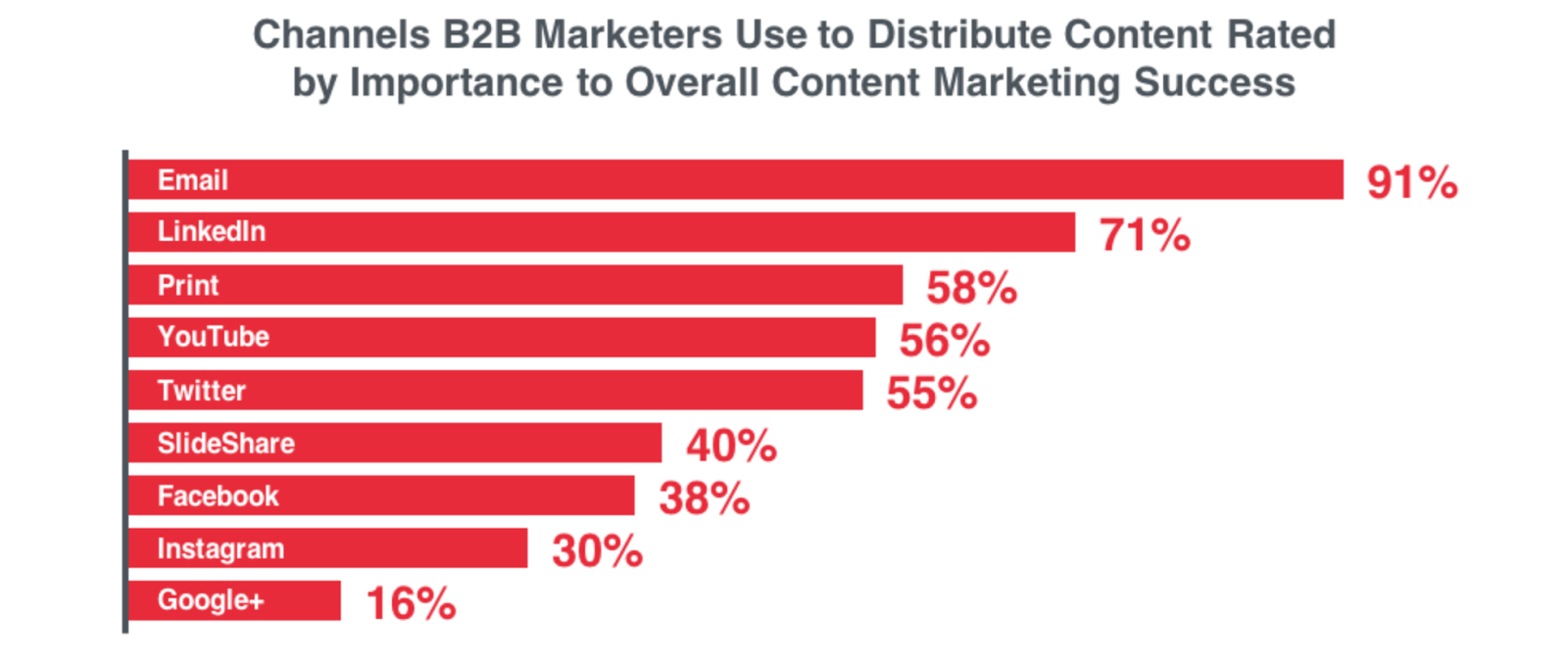 5. You're not taking advantage of SEO.  
Can SEO and content marketing be effective as stand-alone strategies?
I say they're too important to each other to be working separately.
A significant portion of your organic traffic will likely come from organic search. If you're not optimizing your content to match the search intent of your customers, you're missing out on a golden opportunity.
Now that you know why your content may be underperforming, let's get into what you can do to make some notable improvements.
The first three steps will help you answer the questions that every content marketer must answer to be successful.
"Who am I creating this content for?
"How will I amplify its reach?"
Let's get started.
A step-by-step method to overhaul your content strategy 
Step #1: Set outcome-based goals for your content marketing
Don't you wish there was an overarching metric that allowed you to measure content marketing success?
It's a shame there isn't.
The only benchmark that we have are the goals that we set for our content.
Sounds basic enough, right?
But the thing is, most people don't set their goals the right way.
I'll explain.
"Publish 5 blog posts a week" isn't a goal.
"Create 15 Instagram stories per day" isn't a goal.
These are specific projects that may be worth pursuing, but what outcomes are they being held accountable to?
What's the point of publishing 5 posts a week?
That's where outcome-based goals come into play.
It's the big picture.
It drives the direction of every content marketing project that you undertake moving forward.
It also gives you a baseline to measure your success as you now know what you're working towards.
Here's an example.
Outcome goal: Grow subscriber list to 5,000 for upcoming product launch
Building block #1: Publish 3 pre-launch blog posts per week
Building block #2: Create a content upgrade for each post
Building block #3: Run Facebook ads with pre-launch content
In setting this specific outcome goal, everything else falls into place.
The building blocks that you'll use to achieve your goal
The types of keywords that you'll target as you know what stage of the customer journey you're focused on
The type of content that you'll create
The call to actions that you'll attach to your content
With this goal-setting framework in place, here are some of the other pillars of business that you can target.
(i) Lead conversion and nurturing
(ii) Brand awareness and PR
(iii) Customer acquisition and sales
(iv) Customer loyalty and retention
I wouldn't recommend focusing on all of these at once.
If you haven't gained any traction from your content marketing in the past, it's important that you zone in on one or two pillars of your business. You can then leverage your success in other areas in the future.
So, select your focus for the next 90 days and create a spreadsheet to plan your content strategy.
Here's what your spreadsheet should look like:
While it seems detailed, this is just a skeleton.
You shouldn't commit to any goals just yet without first understanding:
Who you're trying to reach
The space that you operate in
The amount of resources that it would take to achieve your goal versus what you have at your disposal
You can flesh out this data as you put the rest of the steps to action.
Step #2: Discover what your audience wants.
We all essentially want one thing from our content marketing:
To acquire and retain customers.
All the other functions of business eventually boils down to this ultimate goal.
It makes sense that, in order to set the stage for success, you get to the core of who that ideal customer is to you.
I like to view audience research as a form of risk management.
If you're going to be putting time and money into your content, you need to make sure that investment is being poured into a responsive market.
Here's what you need to consider.
What are the popular websites in your niche?
Who are the influencers?
What types of content get the most engagement?
What's the response to the content that's being published?
What do your ideal readers really want?
How can you gain those insights?
Keyword research and analysis – This is easy. You won't be doing the depth of keyword research that is required when you're optimizing content for search engines.
Instead, you're getting an overview of what your audience is searching for so you can come up with content ideas.
You have several options.
1. Go to Google Trends, type in your niche-specific keyword, and see how much interest there is for your topic.
Here's what pops up when I search for "content marketing."
Browse through the "related topics" and "related queries."
You can also extract the relevant keywords and conduct a simple Google search to find more detailed related searches.

Click on one of the results and you'll start to get an idea of the type of content that will resonate with your audience.
For "content marketing strategy," you can see people are looking for templates, frameworks, checklists, PDFs, and more.
2. Use a tool like Google Keyword Planner to find more search queries.
Plug in your product or service related keyword and check out "keyword ideas."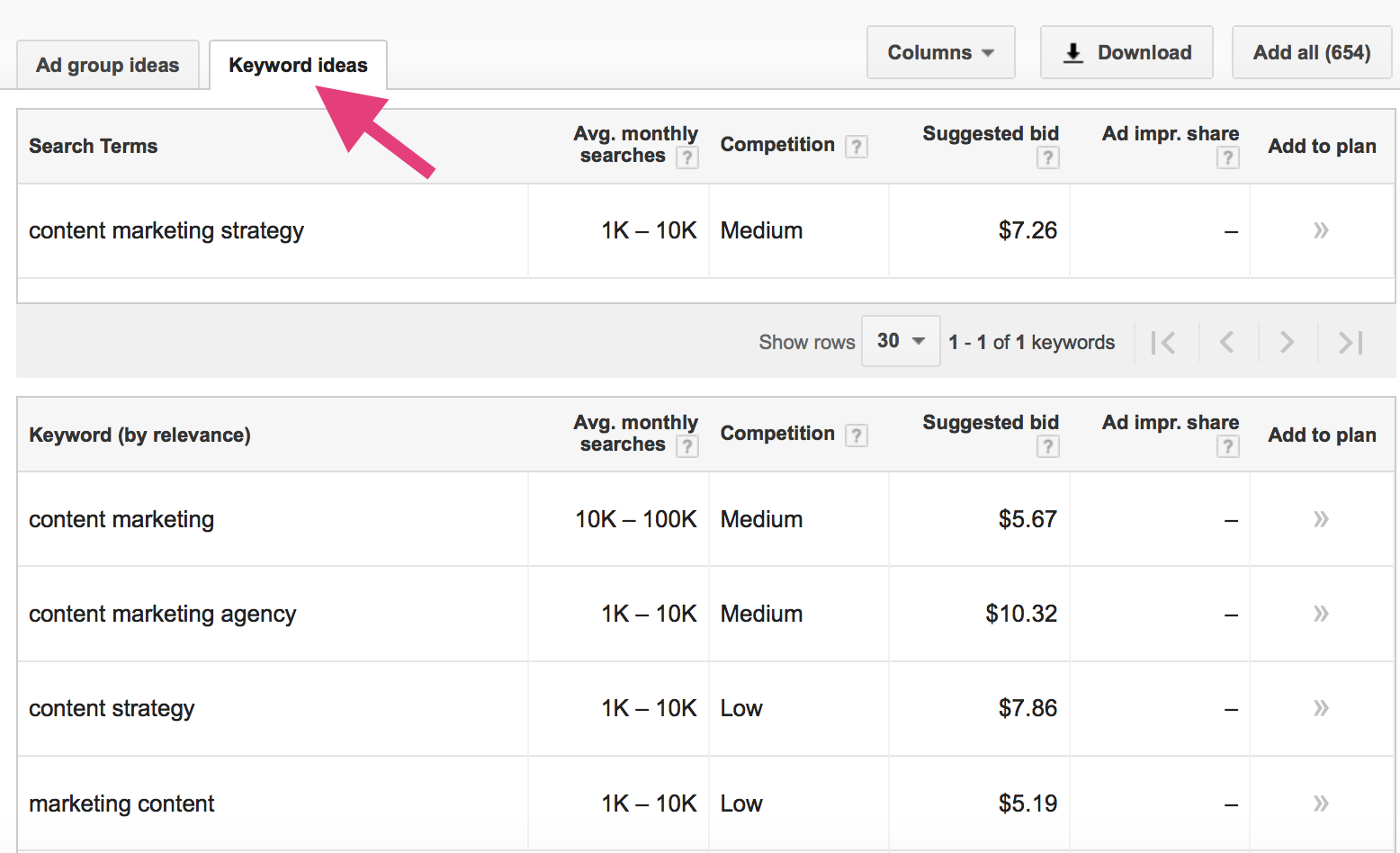 Then, click on the "Ad group ideas" tab for more keywords.
Don't forget to explore the individual Ad groups that make sense for your business.
Social media networks – Social media is a brilliant way to listen in on the conversations that are happening in your industry.
You can do this manually by searching for an industry-specific hashtag on Facebook or any platform of choice.
It doesn't have to be a hashtag. You can also search for topics.
Browse through the posts and monitor how people are engaging with the content.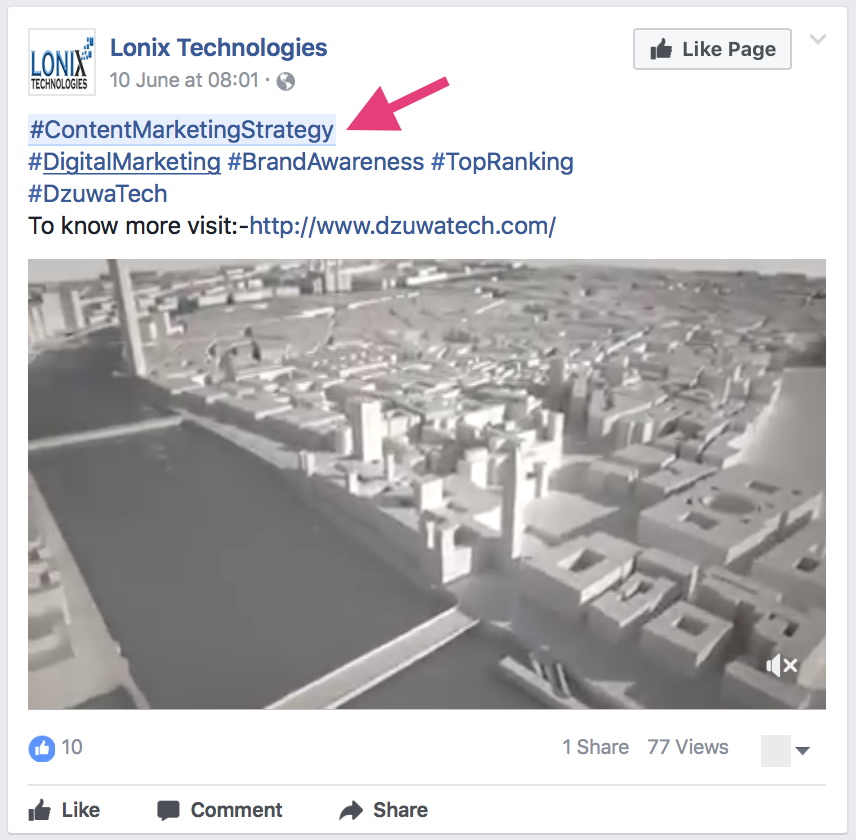 Alternatively, you can use a social listening tool like Klout.
Content audits – The best way to find out what type of content to create is to monitor what's already working.
Here's how you can do it:
1. Use your blog analytics to audit the content on your website. Identify the high-performing topics and content types.
2. Use BuzzSumo to search for popular content in your niche.
Here are some more tips for finding content ideas for your audience.
Sift through blog comments and forums
Conduct polls with your social media audience
Ask your email subscribers what content they'd like to see more of
Now that you've gotten a sense of what your audience wants, let's take it a bit further.
Where do they hang out online?
What share of these existing channels can you tap into?
Step #3: Map out the channels where your audience can be found.
If you did your due diligence in the first steps, you've likely pinpointed a few things.
The blogs that your audience read
The forums that they frequent
The social media channels that they spend the most time on
But content marketing isn't exclusive to these online mediums.
I challenge you to find the offline touchpoints as well.
Are there any tradeshows, events, and hubs that are popular among your audience?
Take a note of all these channels.
They're each going to need different types of content.
But your task now is to get an overall sense of how heavily trafficked they are.
Chances are, you won't target every single channel.
That would mean spreading yourself and your resources too thin. It may also be tricky to find out how much traffic that the offline touch points receive.
So, we'll focus on the easiest channels to project and where you'd likely put your attention in the beginning.
Websites and social media groups.
For social, you can look at the number of members in Facebook groups relevant to your business.
I recommend analyzing groups versus social media pages as they are more targeted.
Pinterest group boards are also a great projection if your audience hangs out there.
For websites, you can use SimilarWeb to get a traffic overview.
Plug in the website URL, and you'll get this data:
Check out the breakdown of "Traffic Sources."
You can take screenshots of these and save them.
So what's the point of all this?
With this data, here's what you can learn.
Whether the outcome goals that you set in Step 1 are attainable and how to adjust accordingly
What resources you'll need to achieve your goal
How frequently you need to create and publish content
What channels you'll tap into to acquire new readers and promote your content
It's worth noting how much preparation is done before you even think about the actual content creation process.
Yet, most people dive right into this step.
It's a mistake.
But now that you've got this foundation, it's time to work on your content.
Step #4: Re-launch your old content.
This is where the real overhaul begins.
You don't have to create brand new content just yet.
Instead, let's focus on breathing life into what you've already created in the past.
In this step, you'll improve and republish your old underperforming posts as well as optimize the top performing ones for even more success.
Let's get into it.
First, select your top performing content.
If you did the content audit in Step 2, you're good to go.
If you want to be a bit more thorough, go to Google Search Console to analyze the performance of your posts.
Click on "Search Analytics."
You'll get data on the "Clicks," "CTR," "Impressions," and "Position" of your pages.
Select the ones that perform better overall.
Next, dentify your under-performing posts.
The content that hasn't done so well can be identified the same way.
Brian Dean recommends selecting posts with lots of impressions but an average position between #7- #15.
These posts have the highest potential for seeing a massive surge with a relaunch.
Then, revamp and republish your content.
After you've pinpointed all the posts to be revamped, here are some areas that you can target for improvement.
Improve your SEO so your content can rank higher for organic search
Optimize your pages for email conversions by adding content upgrades
Add better images and illustrations
Make your data and supporting points more relevant
Improve the structure of the post
Add more subsections and supporting data
Craft a more captivating headline
Delete parts that are not relevant or useful
Be more persuasive and personable with your writing
Update any information that is no longer relevant
Remove old data and replace with newer studies and research
Add more internal links and backlinks
Finally, republish your posts so they can get some fresh eyes.
Step #5: Create new cornerstone content.
If you're serious about having a successful content marketing strategy, you need to get familiar with cornerstone content.
Here's how Brian Clarke explains the concept:
This is the type of content that's so epic, that sharing and raving about it are the only appropriate responses.
Yes, it takes a lot of work and research.
But the results can be explosive.
The best part?
Anyone can do it. No extraordinary writing talent is needed.
Here are some tips.
Tip 1 – Target the right keywords.
If this is going to be the gold standard of content on your website, it needs to be properly optimized so it ranks well for organic search.
Fortunately, we've already walked through this. Now it's just a matter of tightening up your keyword strategy.
Here's why this is crucial.
Cornerstone content, like ultimate guides and comprehensive tutorials, will most likely make use of informational keywords.
The problem?
This type of keyword has a high search volume and is extremely competitive.
It means the opportunity is golden to get tons of traffic, but your SEO efforts must be nothing short of perfection for your content to rank.
Tip 2 – Place your cornerstone content at the top of your website's pyramid.
In other words, a website visitor should be able to find this content easily.
I recommend creating a landing page for your cornerstone content.
Ideally, you should have a table of contents to help readers navigate through the individual parts of the article.
Like this example:
This way, your content landing page can be linked to from your homepage, your sidebar, and on other top level pages connected to your primary menu.
But here's the other thing:
Not every visitor comes to your website via the homepage.
The solution?
Your other posts should link to your core content extensively.
In fact, you can create secondary posts based on your cornerstone content.
Step #6: Promote your content aggressively.
You already know it.
If you want people to read and share your content, you must do the legwork of promoting it extensively.
One of the best ways to do that is through email outreach.
Here's a simple strategy.
First, find people who have a history of linking to content similar to yours.
Select an article that covers the same topic as yours. Ensure that yours is better in terms of scope and quality.
Go to Ahrefs and find "Site Explorer." Plug in the URL of the article that you'll be targeting.
You want to pay attention to the "Backlink Profile."
You'll be given a list of referring pages.
Take a note of the websites that you'd like to target.
A smart trick is to go after the broken links.
This way, you can target these websites with a personalized email offering your content as a solution to their broken link problem.
It's as simple as that.
Step #7: Measure your performance and set new goals as you see fit.
At this point, you've got a framework for a formidable content marketing strategy.
But the work is ongoing.
Now that you know what you're working towards, measuring your performance becomes easier.
Let's say that your goal for your content marketing last quarter was brand awareness.
Here are some things you may consider.
How many unique visitors did your content receive?
How many of them were first-time visitors?
How many referral pages or backlinks does your content have?
How have your social media pages grown?
Are people talking about your business?
Are they using your branded hashtags on social media?
The metrics that you measure should always be tied to your goal.
And the key thing to remember is don't hold your content accountable to a performance goal that you did not establish in the first place.
The type of content that works for brand awareness may not perform for customer acquisition.
That's why it's so important to keep setting new goals as the needs of your business evolve.
Conclusion
With the promise of acquiring new customers at a rapid rate, many marketers dive head first into creating content for their businesses.
Where many miss the mark is in their failure to set goals for their content marketing.
I know what it's like to have a disconnect between what you invest time in and what actually generates results.
Fortunately, in this case, it's not a difficult fix.
If your content hasn't been performing as you hoped, put the steps discussed in this article into action.
Map your goals, keep producing exceptional content, measure your performance, and iterate the process.
Your customers will be delighted, and your business will see a remarkable transformation because of it.
What business goals are you targeting with your content marketing? How has it worked for you?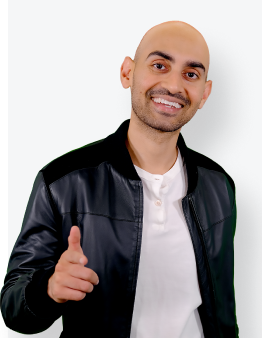 See How My Agency Can Drive More Traffic to Your Website
SEO - unlock more SEO traffic. See real results.
Content Marketing - our team creates epic content that will get shared, get links, and attract traffic.
Paid Media - effective paid strategies with clear ROI.