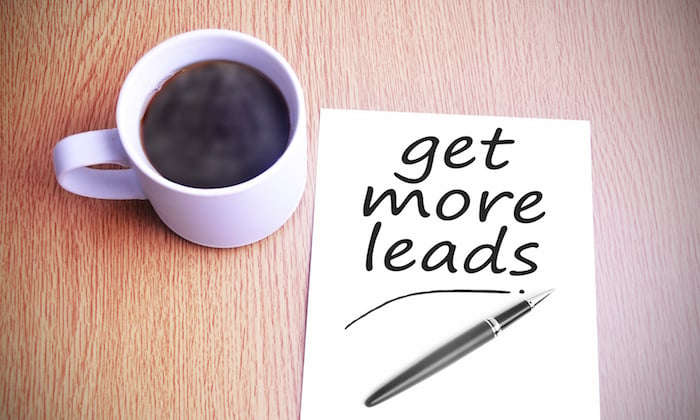 The early stages of building an online business are exhilarating and terrifying.
Exhilarating because watching your business grow is a real thrill. New website visitors? Great! Social media attention? Fantastic!
But, terrifying too, because learning to leverage your website to turn a site visit into profit can be daunting if you're new to the process.
I'm here to make that process more accessible.
A brilliant landing page, combined with a 'converting funnel,' is usually the backbone of a profitable online business.
Using a landing page, you can gather leads, and, using your funnel process, you can subsequently turn those website visitors into customers. 
And that means that you have a way of turning website visitors into money.
In this article, we're going to take a look at how you can effectively use a landing page to generate customers, whether you have a SAAS company, ecommerce, or even lead generation site.
We'll take a look at what makes a landing page work effectively. But, we'll also discuss what constitutes a high converting sales funnel.
By the end of this post, you'll be able to take what you've learned and use it to improve the revenues of your business–and keep that exhilaration going.
Let's begin.

Providing a great giveaway
Most landing pages operate by a process in which something is given away for free in exchange for an email address. 
So, before you do anything else, your first task is to figure out what you're going to offer to your website visitor. 
And, what you are going to give away is going to depend on the audience that your business caters to.
Because of this, you'll need to do some research ahead of time so that you can figure out what it is that your audience appreciates and values.
If you're a SaaS company, you may benefit by providing a product demo, whereby website visitors can receive a trial of your software to see if it meets their needs.
On the other hand, if you're not a SAAS-style company, you may instead want to offer a free PDF that teaches your target audience how to solve a specific problem.
If you choose the PDF option, it's important that the PDF giveaway really hits on a pain point that your target audience is struggling with.
If it doesn't, then those who visit your website's landing page won't feel compelled to enter their email address and access what you're offering.
So, how do you find out what you should be giving away to website visitors? 
One way that you can go about this task is by using Ubersuggest.
First, head over to Ubersuggest. Then, add your keyword where it says 'Enter a domain or keyword.'
For the sake of this post, let's say that I'm looking to create a business around 'dog training.'
Then click on 'Keyword Ideas.'  
Another way that you can get this done is by visiting social media sites and forums where your target audience spends their time.
Here is what I found when I did a search on a popular dog training forum, for example.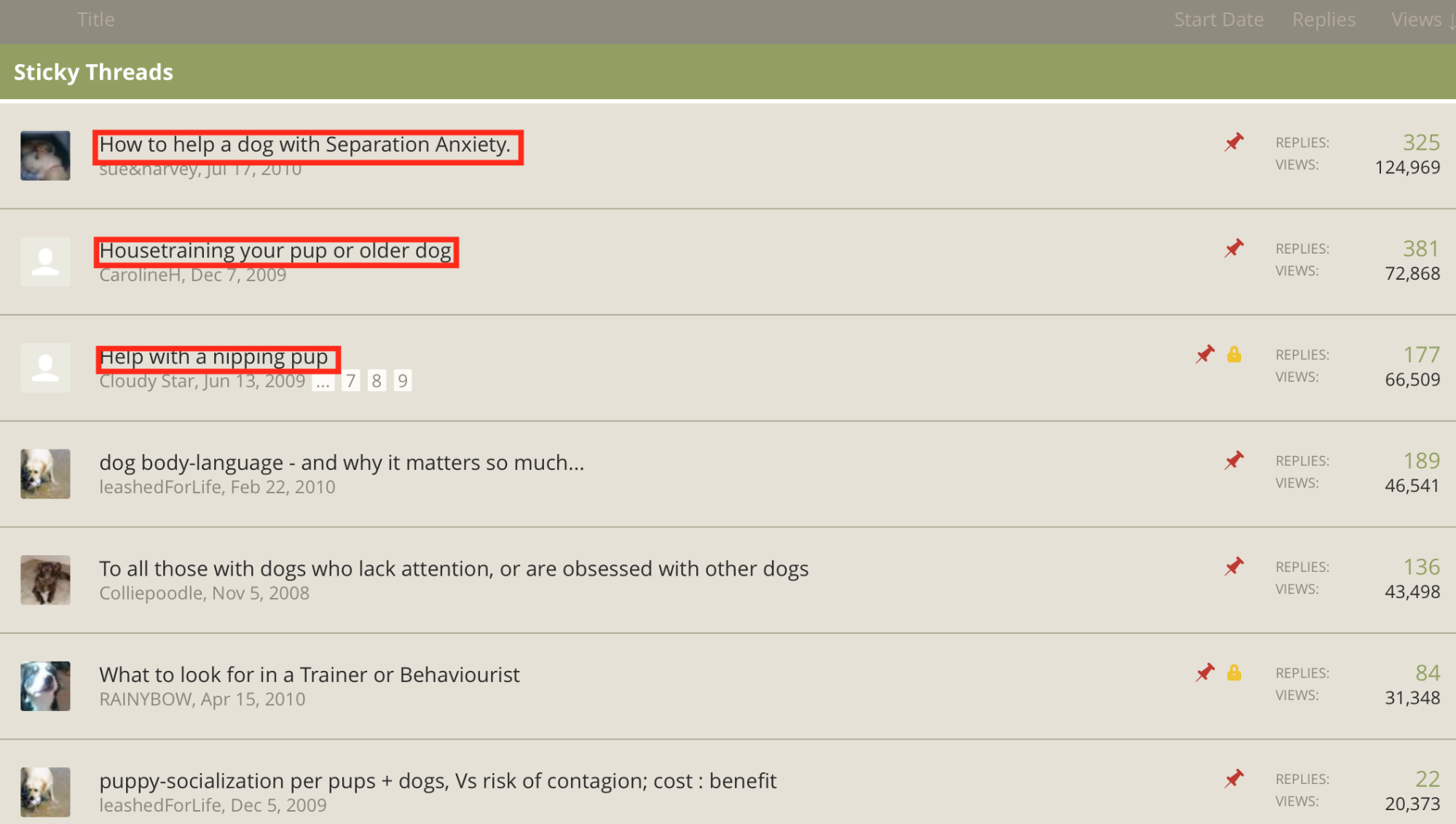 I've sorted the posts by views and highlighted some popular topics.
If you're looking to craft a PDF that covers an issue that a lot of dog owners are struggling with, then these topics are worth looking into – because a lot of people are searching for information about them.
Your goal is to really impress website visitors with this PDF.
Make sure that you put in the time and effort needed, in order to make it valuable and easy to read.
In doing so, readers of the PDF will be more inclined to read anything else that you send them because you've already earned their trust with a great piece of content.
This is key when it comes to building out a conversion funnel that's going to generate customers.
Optimize the landing page for conversions
We're not going to cover how to actually create a website landing page in this post, as we're more interested with the conversion process–specifically, how to use your landing page to turn a site visit into a profit (and earn return customers).
However, if you want to learn more about creating a landing page, I've covered the topic here.
The main issue we want to investigate now is how you can set up your landing page so that it is going to boost your conversion rate.
First, the basics, in case you don't have these in place. 'Conversion rate' is the percentage of website visitors who take a desired action. As Nielson Norman Group puts it, "The archetypal example of conversion rate is the percentage of website visitors who buy something on the site."
There are many things that can influence a landing page's conversion rate, but there are a few key factors that will generate the biggest shifts. 
The first of these factors is the headline used on the landing page.
Writing a great headline is a bit of an art. It will take practice before you can get it right.
The primary thing that you want to keep in mind when writing a headline is questioning how you can best showcase the benefit you're offering.
What is there to be gained, should a website visitor enter in their email address?
Though this example refers to an opt-in form, it still showcases the benefit of creating a benefit-rich headline.
As you can see, by mentioning what was available and explaining that it was free, signups rose by 31.54%. It's no secret that website visitors are interested in complementary services, products, and information. 
If you need some inspiration, study other landing pages and note how they've made a site visit enticing. 
In particular, take a look at landing pages that are used by paid advertisers.
There's a good chance that the headlines used on their landing pages are working, as it's costing money for the advertiser to get people to the landing page.
Don't just click on ads aimlessly, however.
Keep a note of any landing pages you see, after clicking on ads that were relevant to you.
You can also read some insightful articles on the topic, such as this one and this one.
You'll also want to pay special attention to the bullet points on the landing page of your web site.
These should be written as if they're 'mini-headlines.'
That means that they need to be benefit rich and 'punchy.' You do not have time to be fluffy here, or else you'll just bore people.
Bored people will leave your landing page.
Your goal is to quickly convince the website visitor that what's on the other side of the opt-in form is worth having.
When writing the bullet points, be specific about what you're trying to convey.  
In doing so, it helps to increase the believability of anything that you're writing.
Again, you can learn how to write great bullet points by studying other landing pages. Make sure, however, that you don't copy anything.
Something else that will impact the conversion rate of your landing page is the image that you use.
The style of image that you need to use is going to depend on the landing page itself.
However, a cool trick that you might want to experiment with is having the image of a person whose line of sight aligns with the opt-in form or the bullet points.
A great example of this can be seen below.
Finally, you'll also want to dedicate some of your time to the opt-in form itself.  
You should not see the opt-in form as just one big element. Instead, you should assess it in terms of its different components and factors.
Each factor can affect the ability of the opt-in form to 'convert.'
One such factor is the number of form fields that your opt-in form contains.
Some have found that, by having fewer form fields, they were able to increase the opt-in rates on their landing page. It's safe to assume that time is always of the essence for your website visitor. 
Leadpages ran a test and found that an opt-in box with only one form field raised conversions by 12.44%.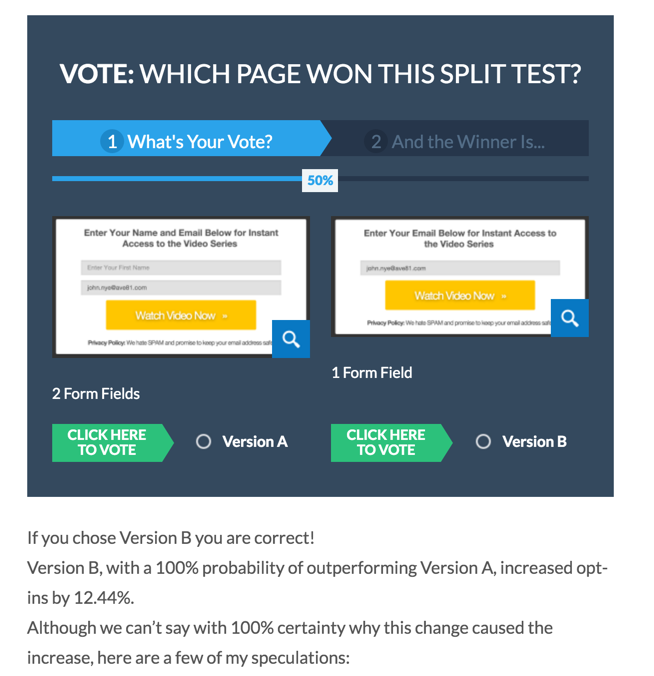 The copy that you use for the button can also impact how well the opt-in form boosts your conversion rate.  
Though you'll want to do this further along in the testing process, changing the button color can also impact your conversion rate.
Leadpages, for example, found that a change in button color increased conversions by 86.41%.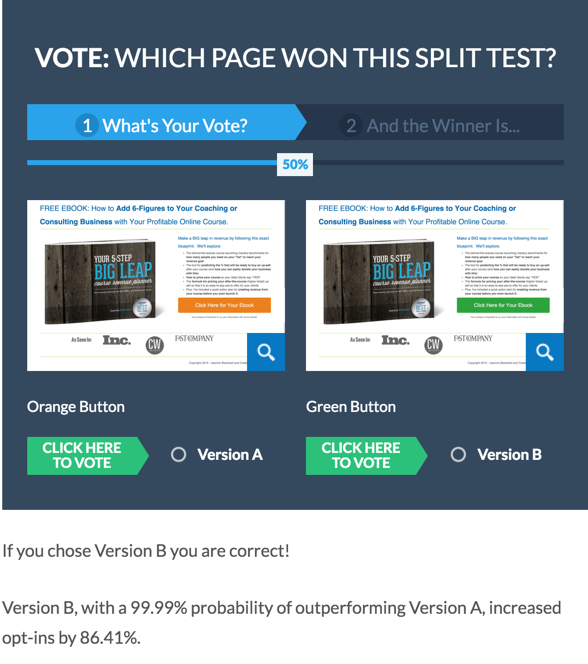 You may even want to take a look at the impact of using security and spam mentions under the opt-in form too. This is a chance to remind your website visitor that their data will never be shared or sold.
This won't work for everyone, however.
The inclusion of a privacy notice can also reduce conversions by 18.70%.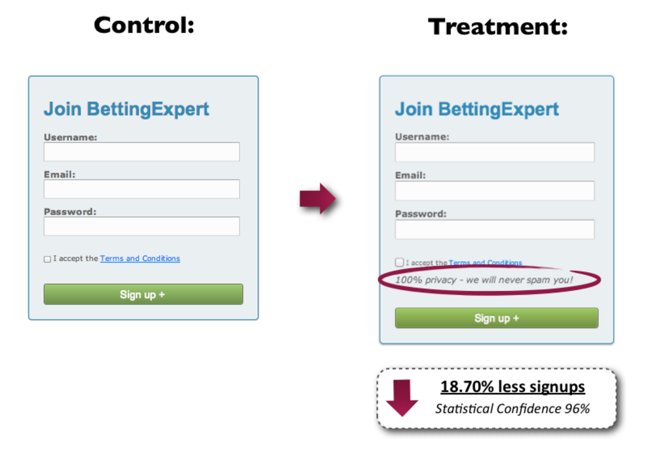 The odds of you creating a perfect landing page, the first time around, are very low.
Therefore, after you've created your landing page, you'll need to do something known as split testing.
We touched earlier on how changes in an opt-in form can impact conversion rate.
This is where you adjust elements of the landing page on your web site, in order to increase the number of people entering their email address.
You can use a tool, like Optimizely, in order to accomplish that.
When you're split testing, there are a few things to acknowledge.
The first is that it's better to make big changes rather than small, incremental changes.
Unless you have a terrific landing page at the moment, a small change is probably not going to create a significant change in your conversion rate.
Second, if you are making small changes, make sure that you only change one thing at a time.
For example, don't change the headline and the bullet points at the same time.
If you do so, it'll be difficult to figure out what caused the actual change in your conversion rate.
Have a process for turning a subscriber into a customer
There's no point in amassing a lot of subscribers if you don't have a method for turning those web site subscribers into customers.
Just like the giveaway, your process for getting this done is going to depend a lot on what kind of business you are in.
For example, if your business provides a software solution, it might be a good idea to get subscribers on the phone, after they have provided their email address.
In doing so, you can speak to them and ask them about their experience.
You'll then have the opportunity to deal with any of the doubts and concerns that they have – making it easier for you to turn them into a customer then and there.
Alternatively, you might want to send people a sequence of carefully crafted emails that continue to provide value and build goodwill.
At some point in the email sequence, you may want to send an offer that lets the subscriber know that you have a paid offering.
You could create a sequence whereby you send people a total of 8 emails. Within your 8 emails, you send an 'offer email,' every fourth email.
Don't be afraid of sending too many emails.
Hubspot found that email open rates only dropped off after 16-30 email campaigns.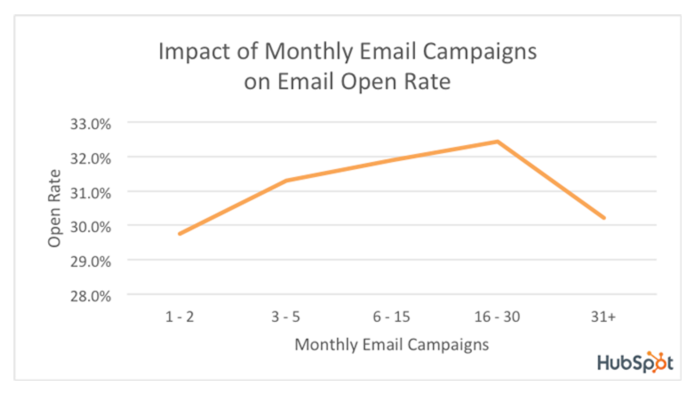 Note: Hubspot defines campaigns as –

Your ability to turn subscribers into customers is going to depend on how well-built your giveaway is but also on how good your email content is, too.
Good emails earn you the right to send more emails.
There's a lot to be said about writing an autoresponder sequence that will resonate with people.
You'll need to use the tips mentioned above, in relation to coming up with giveaway ideas and also to come up with ideas for the emails that you're going to be sending.
It can be a good idea to sign up, as a visitor, to the lists of your competitors.
This will give you a sense of the approach that works for them, in terms of the kinds of emails that are sent out and in how in-depth the content is within them.
It'll also give you a chance to see how an offer is presented and the kind of language that is used, in order to persuade you to buy.
Again, you're not looking to copy anyone, but you are looking to learn from people who have been playing the game a lot longer than you.
Keep in mind, however, that you can always combine the two approaches discussed above.
For example, you might send subscribers a sequence of emails and then ask them if they'd like to have a 'one on one' phone call with you.
Other online businesses offer website visitors the ability to live chat. Live chat is a great tool, in that it gives you the chance to get involved with your potential customer before they leave your web site and/or abandon a purchase. 
Ultimately, your goal is to provide value and to help build goodwill, by positioning yourself as a 'trusted authority.' Ensuring that the user experience on your web site's landing page is valuable and relevant will impact your conversion rate considerably.
If all else fails, come back to the thing that you're trying to sell.
Question if it is something that people actually want.
Conclusion
Search engine optimization, content marketing, social media strategies–all require time, money and energy. So why not ensure that your efforts are paying off by turning website visitors into customers?
A persuasive landing page, combined with an effective conversion process, can be the driving force of converting a site visit into a profit. 
After having gone through this post, you should now have a sense of what you need to do in order to create a great landing page and an effective conversion process of your own.
You now know, for example, that giveaways appeal to website visitors.
You also know that having a process for converting website visitors into customers is essential if you want your landing page to turn a profit for you.
Whether you do that with the use of an autoresponder sequence, a phone call, or live chat, the strategy you adopt will depend on your business and the style you're after.
Go through this post again. See if you can use some of the tips mentioned to boost your conversion rate and turn that exhilaration into satisfaction. 
What have you experienced when it comes to creating a landing page that converts website visitors into customers – are there any tips you can share?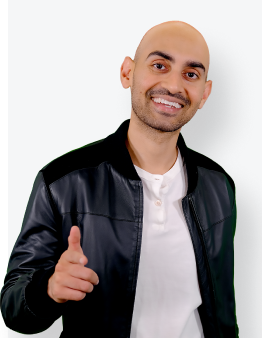 See How My Agency Can Drive More Traffic to Your Website
SEO - unlock more SEO traffic. See real results.
Content Marketing - our team creates epic content that will get shared, get links, and attract traffic.
Paid Media - effective paid strategies with clear ROI.
Are You Using Google Ads? Try Our FREE Ads Grader!
Stop wasting money and unlock the hidden potential of your advertising.
Discover the power of intentional advertising.
Reach your ideal target audience.
Maximize ad spend efficiency.