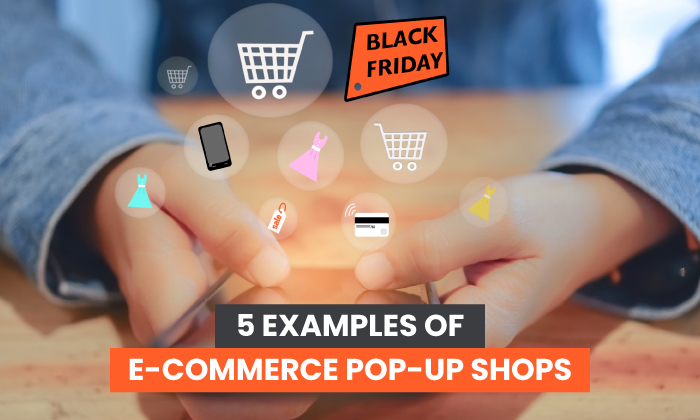 Pop-up shops are a fantastic opportunity for brands, both big and small, to connect with customers and drive sales.
Modern consumers are increasingly looking for novel experiences, and pop-up shops, both physical and virtual, fit the bill. Not only do pop-up shops offer a novel experience, but they also create excitement about your brand that lasts well after your pop-up is gone.
Whether you're an online retailer looking to build a physical connection with your customers, a physical retailer looking to test an online presence, or simply looking to create some excitement around your brand, a pop-up shop could be the perfect solution.
What Are Pop-Up Shops?
Pop-up shops are limited-time-only retail stores. As the name suggests, they pop-up and then disappear after a short-term appearance (although some are so successful, they become permanent fixtures.)
While we tend to think of pop-up shops as physical stores, virtual pop-up shops are rising in popularity.
Both options allow brands to reach a targeted audience with specific products and create an immersive shopping experience that's harder to achieve with a traditional store.
Physical Pop-Up Shops
Physical pop-up shops can take the form of a traditional store-front, a pop-in (where a brand creates a store within an existing store), or even going mobile by renting a truck.
Physical pop-up shops are ideal for e-commerce brands to experiment with a physical store without fully committing to a permanent location.
Pop-up shops are a short-term commitment, which lets brands be flexible and focus on offering a unique experience. For example, a popular e-commerce brand might create a physical pop-up shop from October to December to attract holiday shoppers.
Virtual Pop-Up Shops
Virtual pop-up shops might not be as well-known as their physical counterparts, but they're a great opportunity nonetheless. These temporary stores can take the form of a website, or even be hosted on social media using live-streaming.
Traditional bricks and mortar businesses can use virtual pop-up shops to take their first steps in e-commerce, but they're also useful for existing e-commerce stores.
Whereas your main website is something of a catch-all, accommodating lots of different people with a wide range of products, your virtual pop-up shop can be more focused.
This focus allows you to appeal to a particular audience and a more select range of products. For example, a clothing store with a famous handbag line might host a virtual pop-up that focuses just on handbags.
5 Examples of E-Commerce Pop-Up Shops
Pop-up shops are ideal for forward-thinking brands, but you need creativity and a solid execution plan to reap the benefits. Here are a few examples of e-commerce pop-up shops that delivered.
Glossier
Glossier is a successful beauty brand that can trace its success back to amazing content creation.
The brand started as a website called "Into the Gloss," where they focused on empowering consumers to become the experts and share the products they loved. Glossier continues to be led by their followers and creates products their customers want to see.
This focus has generated a massive following around the world and helped grow Glossier into a $1.2 billion brand.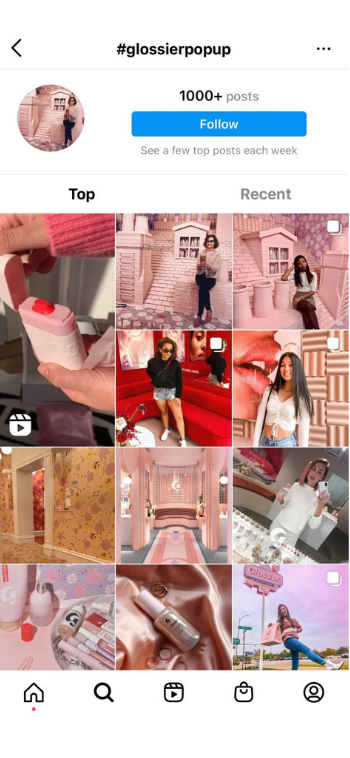 Glossier's 2019 London pop-up in Covent Garden is a perfect example of how successful pop-up shops can be, eventually leading Glossier to turn it into a permanent fixture.
In just two and a half months, the store welcomed over 100,000 shoppers and showed just how effective a physical presence could be for a mostly online brand.
Tupperware
Tupperware might not be the most exciting product you'll ever buy. However, great marketing can turn the benign into something thrilling. That's exactly what Tupperware did with its pop-up store.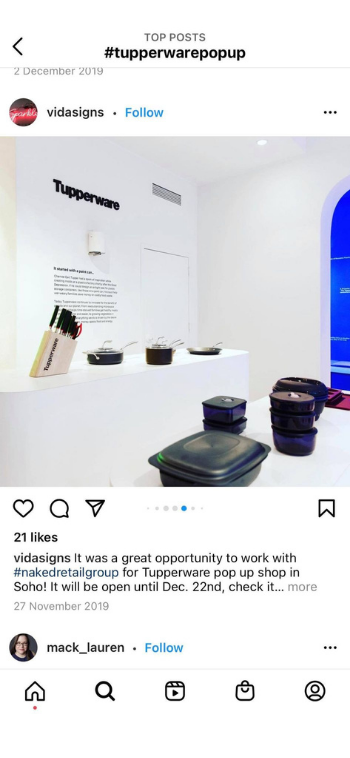 Tupperware's brand needs no introduction, but most consumers don't have a huge connection with the brand of leftover containers and salad spinners. Tupperware set up an amazing physical pop-up store to encourage that deeper connection, which was a social media hit.
The store allowed Tupperware to focus on a specific range of products, showing them off in a carefully crafted environment that offered an immersive experience. Rather than just buying Tupperware online, people were able to get hands-on experience in a modern setting.
BarkShop
When it comes to creating a social media buzz, few things are better than jubilant dogs running around picking out their own toys. That's what BarkShop put together when it created its pop-up shop in New York.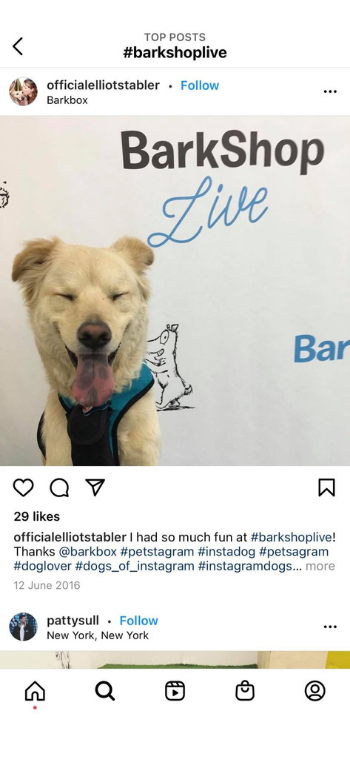 Traditionally an e-commerce brand, BarkShop opened up a temporary physical space where owners could bring their dogs to have some fun and pick out their favorite toys.
Featuring technology to help owners understand which toys their dog's preferred, this pop-up just seems like a no-brainer!
To avoid complete mayhem, the pop-up shop was available by appointment only, with owners paying $30 to treat their dog to a memorable day out.
The big advantage here is for an e-commerce brand to create that physical connection with its audience.
The pop-up shop might not last for long, but those memories of bonding with your pup in the BarkShop pop-up will last forever.
Depop
Depop is a fashion marketplace and community that brings together buyers and sellers around the world.
With a focus on making fashion more diverse, and less wasteful, the platform has reached over 13 million users. They are best known for creating a strong community with their Millennial and Gen Z audience.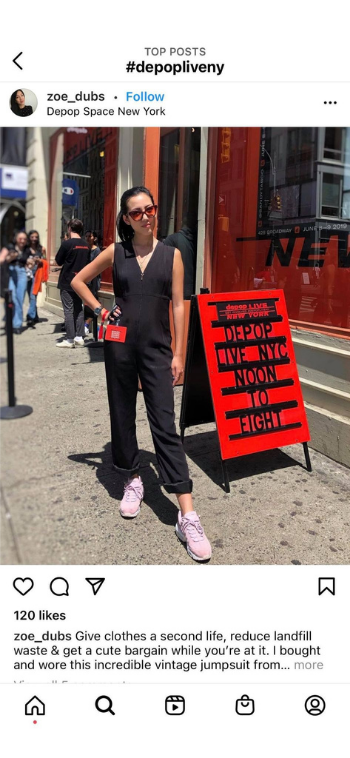 While Depop is very much an online platform, that hasn't stopped it from having great success with its pop-up shop, Depop Live. Like their online platform, Depop Live focused on community and bringing people together.
With discussions such as "Can Fashion Change the World" and "Build an Empire from Your Bedroom," the pop-up event allowed Depop to further its connection with its audience and build brand loyalty that translates into more online sales.
Amazon
Amazon might not be the first brand you think of when it comes to pop-up shops, but they do have a unique initiative called Clicks and Mortar.
Aside from the great name, this initiative was designed to give individual sellers a taste of what it would be like to open a physical store.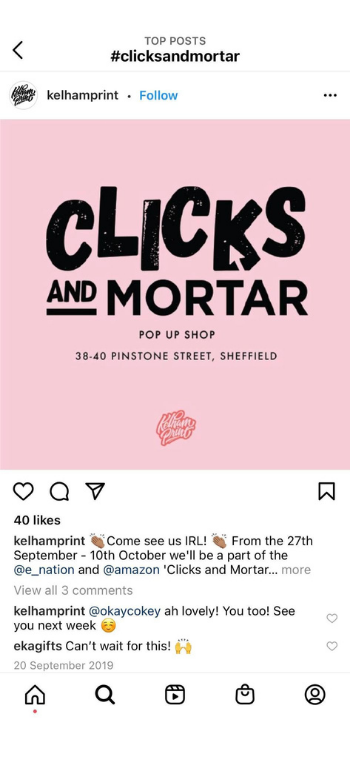 Working in conjunction with other partners, the e-commerce giant opened up ten pop-up stores throughout the UK, allowing selected sellers to connect with customers through a physical presence.
For Amazon, pop-up shops let the brand connect with its sellers, and maybe more importantly, show the community they support local businesses. These pop-up shops might be less about selling and more about PR, but they're effective none-the-less.
How to Start a Pop-Up Shop
The first step towards creating a pop-up shop can be quite daunting because it involves businesses stepping out of their comfort zones. Many of our examples are e-commerce platforms taking steps into the bricks and mortar realm, and although they've been very successful, it's a big transition.
Like any business decision, it all starts with research and planning. If you're an established brand, then you likely have data. Use that to narrow down what type of pop-shop to open, where to open it, and what products to focus on.
For example, you might choose to focus on bringing a popular line to a large audience in a location like New York or London. A smaller local brand might choose to move online and partner with a bigger brand.
When it comes to taking your first steps with your pop-up shop, make sure to outline your goals. Here are a few to consider:
Create a positive connection with your customers that goes beyond an online transaction.
Use "real," human customer service to educate customers and convert them into brand ambassadors.
Create urgency and awareness: the limited time aspect is powerful and can create a huge buzz.
Test out the market: are physical stores a viable option for you?
Take advantage of peak sales times such as holidays.
Test-run new product lines and drive excitement.
How to Run an In-Person Pop-Up
The key to an in-person pop-up shop is finding the right location. There are a few different options, such as:
space in a shopping mall
main street storefront
mobile shop
a shop within a shop
event space
Final decisions should be influenced by your audience, the products you sell, and the image you want to portray. For example, Glossier is based in New York, but they knew they had a vast, highly-engaged audience in the UK, so London was a perfect option.
If you've got a strong e-commerce store, then you've got tons of analytics to help you make this decision, so make the most of it!
When you've decided on a location, use resources like Storefront, We Are Pop-Up, and Pop-Up Shops to find the perfect space. From there, you can fit out your shop to wow your target audience and put together a team to create an exciting experience.
How to Run a Virtual Pop-Up
Pop-ups are about creating a buzz, boosting brand engagement, and driving sales—and all of this is possible online.
Virtual pop-up shops are an excellent way for bricks and mortar businesses to dip their toes into online retail, but they're also a good option for existing e-commerce brands. The key is to create something that engages your audience.
So consider how it will stand out from your current website. Or, can it incorporate aspects of your physical store that people love?
Like any online platform, getting people to your pop-up shop is crucial, so be creative with your marketing (if you want a little help, then my marketing agency always has innovative ideas.)
The last thing to remember is amazing visuals and wow factor only goes so far. Your pop-shop also has to offer a great user experience.
Don't over-complicate things when simple will do, and make it easy for users to convert from curious visitor to fully engaged customer.
One way to provide the engaging experience your customers are looking for is through live streaming. With software such as GoPopUp, you can create a pop-up live experience that integrates the entire selling process.
Live streaming is highly under-utilized and a great way to distinguish yourself from the competition.
Conclusion
Whether you run a brick and mortar retail store or an e-commerce brand, pop-up shops offer a way to connect with consumers in an increasingly noisy market. There is no long-term commitment, so they can be an excellent opportunity to test new ideas, products, and audiences.
These five examples of e-commerce pop-up shops show just how successful pop-ups can be, and while they take plenty of planning and a high-level of execution, the results may be worth it.
Any pop-up shop begins with your audience. As I've said before, "understanding your customers is the only marketing strategy you need."
Throw in some innovative marketing, strong branding, and good, old-fashioned hard work, and your pop-up store can have a significant impact on your business.
Pop-up shops might be temporary, but the effects of a memorable one can last long after it's gone.
Does your brand have plans for a pop-up shop? What is holding you back?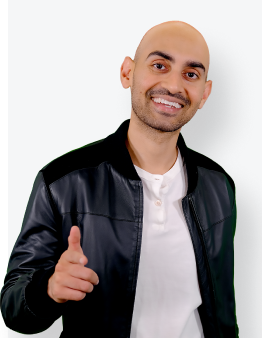 See How My Agency Can Drive More Traffic to Your Website
SEO - unlock more SEO traffic. See real results.
Content Marketing - our team creates epic content that will get shared, get links, and attract traffic.
Paid Media - effective paid strategies with clear ROI.
Are You Using Google Ads? Try Our FREE Ads Grader!
Stop wasting money and unlock the hidden potential of your advertising.
Discover the power of intentional advertising.
Reach your ideal target audience.
Maximize ad spend efficiency.