The most successful online stores winning at e-commerce are doing so because they've become absolutely obsessed with metrics. They swim in data.
Every marketing and promotional decision is driving by the data. Because without data you have virtually no chance at making improvements. You don't know what's working, what's failing, or even what success looks like.
Driving growth in your e-commerce business requires a few key components:
Setting measurable goals (key performance indicators)
Identifying the metrics necessary to track those KPIs
Monitoring performance and making adjustments as necessary
While there are numerous metrics that can be tracked, I've listed the ones most commonly tied to the growth of your store.
Segmented Conversion Rate
Your conversion rate is a pretty cut and dry metric. It's the percentage of the visitors on your website who decide to make a purchase.
It's calculated by taking the total number of website visitors who make a single purchase and dividing that number by the total number of people who visit your site.
For example; 14 customers made a purchase among 150 visitors, so the conversion rate (14 divided by 150) is 9.3%.
Your conversion rate is a good overall indicator of success, but don't stop there.
If you break it down and segment your conversion rate you can get a lot more granular with the data, giving you tremendous insight into individual campaigns you're using to grow your business.
A few ways to segment your conversion rates include:
1. Conversion by traffic source
Reviewing how customers convert based on the traffic source (Google, Bing, Facebook, Reddit, etc.) can tell you where you should be investing in driving traffic, or what channels to focus on improving the targeting or message you're using for campaigns.
2. Conversion by device type
Mobile devices accounted for 19% of US retail e-commerce in 2014, and that's expected to climb to 27% by the end of 2018.
The traffic coming from mobile is much higher. According to Yotpo, mobile accounts for more than half of all e-commerce traffic.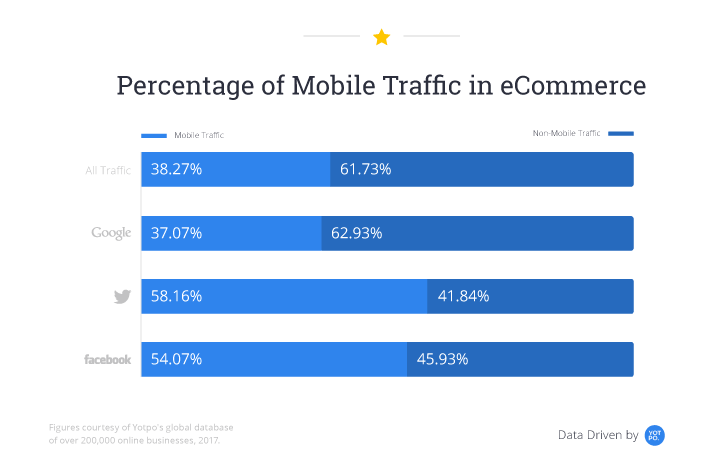 If there's a growing or uncommon gap in desktop and mobile conversion where one is outperforming another, review the user experience and see where improvements can be made.
3. Conversion of new vs. returning visitors
Keep in mind that conversions for returning visitors are traditionally higher because those customers already know you, trust your brand, and are more willing to make a purchase.
For example; if your returning visitors are converting at ~7% but your new customers are converting at ~2% then the average is going to fall somewhere around 5%. If you use that average to calculate your max budget for acquisition campaigns that actually convert at ~2% you're going to lose money.
Segmenting these conversions can help you more accurately calculate what you should be spending on your acquisition campaigns and how well they're performing.
Segmented Revenue
You should segment your revenue the same way you segment conversions. This loops back very well to tracking your conversions by traffic but you can get just as granular with segmenting your revenue.
Like conversions, you can weed out sites that are just giving you a spike of eyeballs but aren't really contributing anything to your bottom line.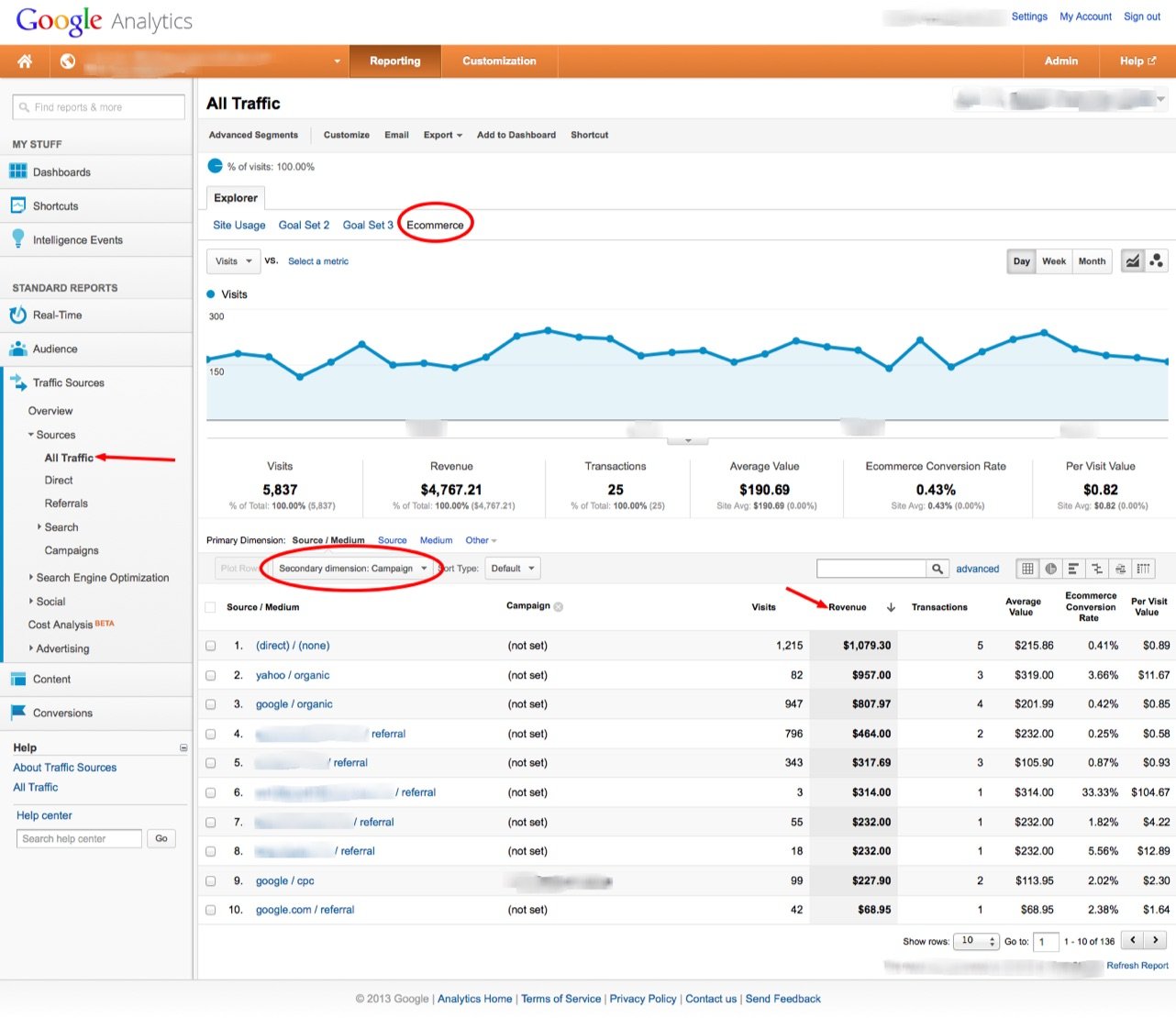 There's a pretty clear difference in revenue by the sources in the example above. Note the one referral with just 3 visits generating far more revenue per visitor.
This is a great way to see how different traffic sources contribute to your bottom line such as:
Organic search
Email campaigns
Referral traffic from blogs or social
Like the example above, segmenting your revenue gives you a look into how customer spend changes depending on the traffic source.
For example, you might get far more conversions from Facebook referrals, but those people only buy a single product. Compare that to traffic from email campaigns where the conversions are a bit lower but the average order value is twice the size.
Use that data to replicate what you're doing right with certain channels and where to invest more time and resources.
MonsterInsights has a step-by-step guide to setup your Google Analytics for tracking revenue by traffic.
Conversion by Product
If you only have a handful of products in your online store this is likely less important. For e-commerce stores with a huge SKU inventory though, this is a necessary metric to pay attention to.
Google Analytics Enhanced E-commerce has this data readily available in the "product performance" section.
It's a great metric for tracking the performance of individual products when you compare individual product conversions against product page traffic and those who added the product to a cart or wish list but abandoned the purchase.
Not only can this help you spot the popular or trending products, you can also find the under-performers.
Looking at the conversions by product can make it easy to look into individual barriers that could be impacting conversions (price, descriptions, product images, better benefit statements, etc.) and make strategic adjustments.
Funnel Abandonment
Cart abandonment is fairly common metric that's tracked by online stores. E-commerce platforms are even designed to help you keep up on cart abandonment with built in autoresponders to help win back abandoned carts.
Pixels are even in place for many brands to setup ad retargeting for customers that bail on the checkout process. But are you looking at the rest of your funnel to see where customers are dropping out during the shopping experience?
This can be done manually by checking the visitor flow on your site, or you can setup a conversion funnel in Google Analytics to see where potential customers are bailing on you.
Here's a great example of a conversion funnel setup in Google: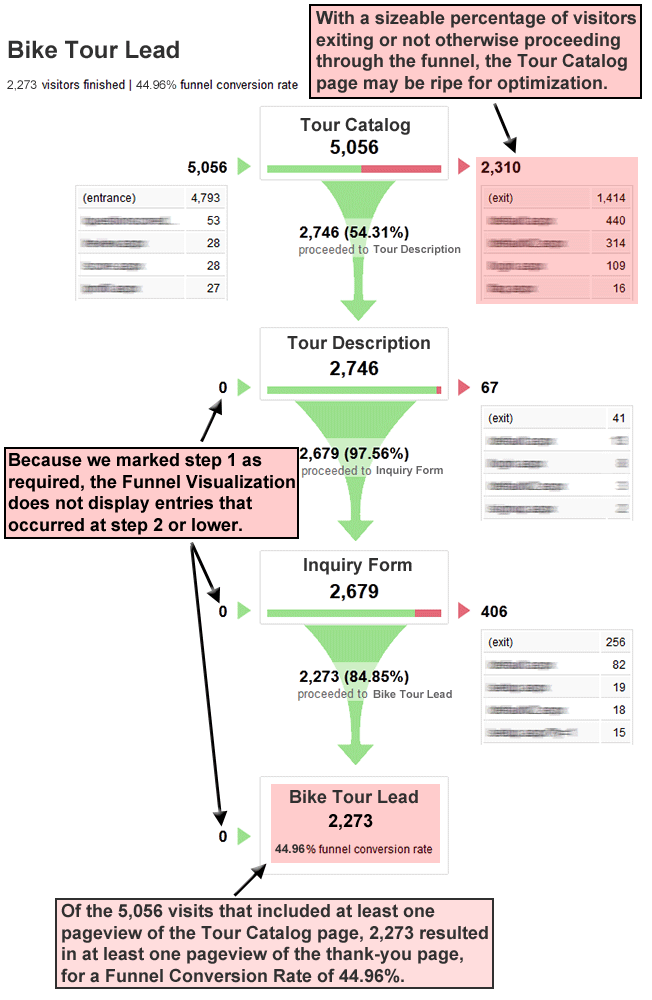 Like the example above, tracking funnel abandonment can show you key points early in the buyer's journey where customers are exiting your site – whether it's at category pages, the product page, etc.
Percentage of Returning Customers
Returning visitors is a great metric to track for measuring customer loyalty, but it helps to know how those returning visits translate to revenue. That's why you should track your percentage of returning customers – the people who come specifically to spend money.
A lot of e-commerce platforms provide customer reports with details on the number of returning customers.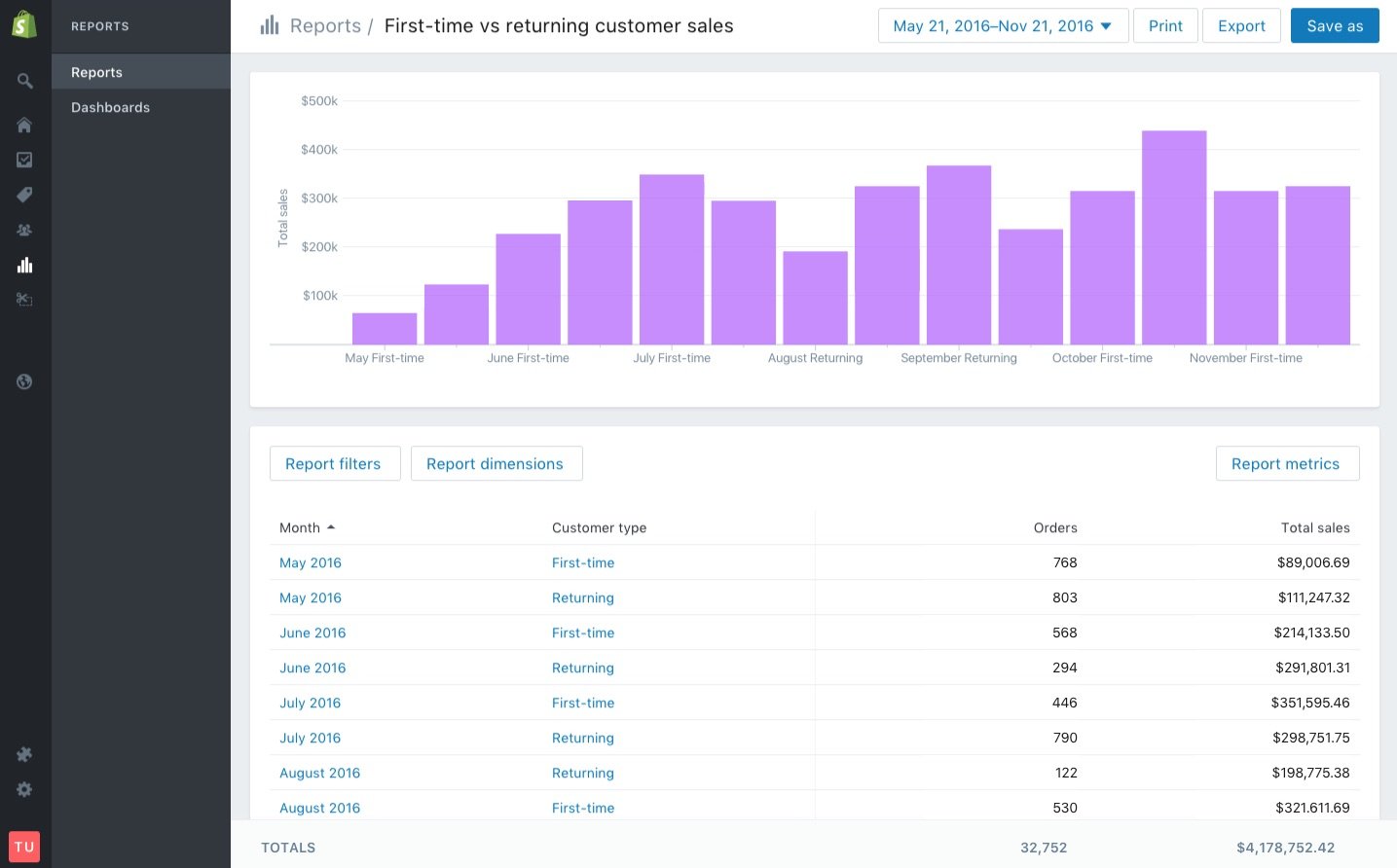 Shopify provides detailed reports for first time vs. returning customers.
If you don't have a way to access a report like this, you can export your total orders and scrub the data for duplicate emails/customer data to get a sense for repeat orders.
Percentage of returning customers is important to watch. It tells you where you stand with your customers on a number of key things:
Customer service
Price
Trust
Customer sentiment
Returning customers are highly profitable because you don't have to pay those acquisition costs to get them back. If you see a decline in return customer rates then you need to look at overall customer delight and try to find what's keeping customers from coming back.
It's not just about return revenue though. The best marketers for your business are your happy, fully satisfied customers. Those are the customers who will talk you up and take the time to leave you reviews. Data shows that 55% of customers say that reading reviews online influences their decision to make a purchase.
All the more reason to track your return customers so you can identify the ones who aren't coming back, and ramp up your re-engagement strategy.
Average Order Value
Your average order value (AOV) is the sum of the value of all of your orders (the total revenue for a period) divided by the total number of orders for that period.

For example, if you were tracking the sales for the month of August and found a total revenue of $25,000 with 760 orders. The revenue ($25k) divided by the total orders (760) equals a monthly AOV of $32.89 ($33).
Knowing your AOV is necessary to understand the lifetime value of your customer and helps you better align strategies for growth.
According to ConversionXL, there's only three ways to grow an e-commerce business:
Add more customers
Get customers to make more repeat purchases
Increase the average order value
Increasing your AOV is the one that costs virtually nothing, so focus on that.
Optimizely offers some tried and true strategies for boosting AOV, such as:
Cross-selling (offer a product that is relevant to the product customers are interested in)
Upselling (offer an upgraded option, or premium product, for just a little more)
Volume discounts (offer a discount if a customer buys multiples of the same product)
Free shipping (offer free shipping when the customer hits a minimum dollar threshold)
Coupons (offer discounts/offers on the next purchase if they hit a minimum dollar threshold)
Lifetime Value of the Customer
Customer lifetime value (LTV) is arguably one of the most important metrics to track in e-commerce. This is the overall revenue you forecast a customer to bring you during their lifetime, or span of time as your customer.
In an earlier example calculating average order value I said the AOV was $33. If the average customer purchased 14 times at that AOV then the customer's LTV would be $462.
This can be difficult to track for businesses with more sporadic returning customers because you have to know the lifetime of the customer, at what point they leave, the frequency and other variables.
Depending on your platform you may have built in reports to show you your top customers as well as the lifetime value of those customers (and overall customer LTV).
BigCommerce offers similar reporting tools to help calculate and forecast and better understand LTV.
It's worth forecasting with the data you have because this can help you better understand your cost per acquisition and how much you can afford to spend on both acquisition campaigns and retention/engagement marketing.
Aside from better calculating what you can spend on acquisition, returning customers just spend more overall.
Businesses with 40% repeat customers generated nearly 50% more revenue than similar businesses with only 10% repeat customers.
Improving customer LTV has a lot to do with loyalty and retention, so look closely at what you can do to keep your customers coming back.
Check out this great list from Mike Bal of Singlegrain offering several tactics to boost loyalty and increase customer LTV.
Conclusion
Putting this information together on a regular basis (at least monthly) is the secret to running a data-driven e-commerce business. One in which campaigns are launched, managed, and refined with a purpose.
Stay in tune with that data and at any time, at a glance, you'll be able to pinpoint areas that require immediate attention and a change in strategy in order to see your business grow.
About the Author: Ronald Dod is the Founder and Owner of Visiture, an internet marketing agency that focuses on Search Engine Optimization and Pay Per Click management for eCommerce businesses. His passion is helping eCommerce business owners and marketing professionals navigate the SEO & Social Media landscape and put together a plan to increase the bottom line through new traffic and conversions.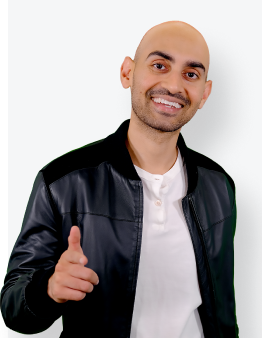 See How My Agency Can Drive More Traffic to Your Website
SEO - unlock more SEO traffic. See real results.
Content Marketing - our team creates epic content that will get shared, get links, and attract traffic.
Paid Media - effective paid strategies with clear ROI.
Are You Using Google Ads? Try Our FREE Ads Grader!
Stop wasting money and unlock the hidden potential of your advertising.
Discover the power of intentional advertising.
Reach your ideal target audience.
Maximize ad spend efficiency.