Are you struggling to produce content that engages new visitors and produces tangible returns?
Finding new, creative ways to generate more sales can be a tough task.
When it seems like you've tried everything to no avail, remember that you have one more ace up your sleeve.
And that's video marketing.
Video marketing is a great way to bring in new traffic from sources still untapped by most businesses.
YouTube currently has 1.5 billion monthly active users who are watching content on their site.
And Facebook Video is growing at a rapid rate.
Video marketing will help you capitalize on the current consumer trends that show users watching more online video content than ever before.
Now you may be asking:
Can videos actually produce revenue? Can you drive sales with simple how-to style videos?
And the answer to both questions is yes!
In fact, video marketing is one of the top sources of revenue for my business.
I post tons of how-to videos on YouTube every month that bring in thousands of views and visits to my site.
But this doesn't mean you can just upload any video and expect your sales numbers to rise.
Videos need to have a specific purpose and goal in mind, and only certain styles of video will produce better sales.
Thankfully, I've picked up a few tactics along my video-marketing journey that have garnered great results.
Here's why you need to be focusing on video marketing and three ways to use how-to videos to sell more and increase your return on investment.
Why you need to focus on video marketing
While blogging and content marketing are still here to stay, video is quickly creeping up as a leader in marketing.
In fact, video is starting to dominate online marketing.
The most recent data proves it.
According to HubSpot's State of Inbound report, the top challenge for marketers is generating traffic and leads.
This piece of data from HubSpot tells me one big thing:
The current marketing trends aren't bringing in enough traffic to fill leads and sales numbers.
Whatever we are currently doing right now isn't sufficient.
While it might be working (to some extent), it's not thriving. We haven't struck gold just yet.
But knowing what doesn't work is half the battle.
It opens the door for us to seek out and find new ways to market that our competitors haven't found yet.
New platforms are popping up daily that we can take advantage of, and many remain untapped.
And video-based content is one of them.
Video marketing is steadily becoming a growing priority in the strategies of top online marketers.
YouTube and Facebook Video are the top content distribution channels that are being added in the next year.
That means that, by 2018, most marketers will be capitalizing on video marketing.
That also means that the time is now if you want to get on board as an early adopter.
If you wait too long, you risk entering a crowded market where it's impossible to sell more products.
Marketers are just starting to add this strategy or are planning to within a year. This gives you a massive opportunity.
And if you look at usage statistics on YouTube, you can see why it has massive potential.
Those 1.5 billion monthly active users watch more than one hour of content every single day!
In fact, according to YouTube, one billion hours of video are watched daily:
On top of the growing success of YouTube, Facebook has more than two billion monthly active users:
More and more people are logging into Facebook and YouTube each month to consume video content.
And a recent Cisco study found that global Internet traffic in 2021 will be 127 times the volume of Internet traffic in 2005.
And of that Internet traffic, Cisco algorithms have predicted that video content will be responsible for 80% of all Internet traffic by 2019.
It's no wonder that 43% of consumers want to see more video-based content in the future:
According to Think With Google, 50% of 18- to 34-year-old YouTube subscribers would stop what they were doing just to watch a newly-released video from their favorite channel:

That's an incredible amount of engagement and loyalty.
It's a nice thought. Perhaps there aren't many people who are stopping what they're doing to read my next blog post.
But they might be doing that for my YouTube videos.
Video-based marketing is already dominating the landscape of digital traffic.
If you want more traffic, leads, and sales, then you need to be using video-based tactics.
So let's run through three ways to use how-to videos to sell more products and services.
1. Establish yourself as a thought leader
If you want to sell more content, position yourself as a thought leader.
Establishing yourself as an expert on specific topics within your industry or niche is critical when it comes to credibility.
Remember that stat I referenced earlier about people dropping everything to watch a new video from their favorite channel?
That's a strong foundation of loyalty built on two main things:
Entertainment
Knowledge
If you can provide the most informative how-to style content for your subscribers by building a thought-leader foundation, you can get tons of traffic.
And as with anything, you need to make it entertaining enough for someone to stick around.
Becoming an industry expert or thought leader isn't always an easy task.
But one of the best ways to do it is by consistently posting video content on particular subjects and provide actionable content.
For example, check out the videos that I post on my YouTube channel:
I often put up videos that can be grouped into a similar category. Social media-focused videos, for instance.
I also post tons of videos for search engine optimization and online advertising.
The idea here is to have a lot of videos on the same topic, showing that you have a diverse set of skills and knowledge when it comes to specific industry topics.
One of my favorite ways to do this is by creating playlists on YouTube: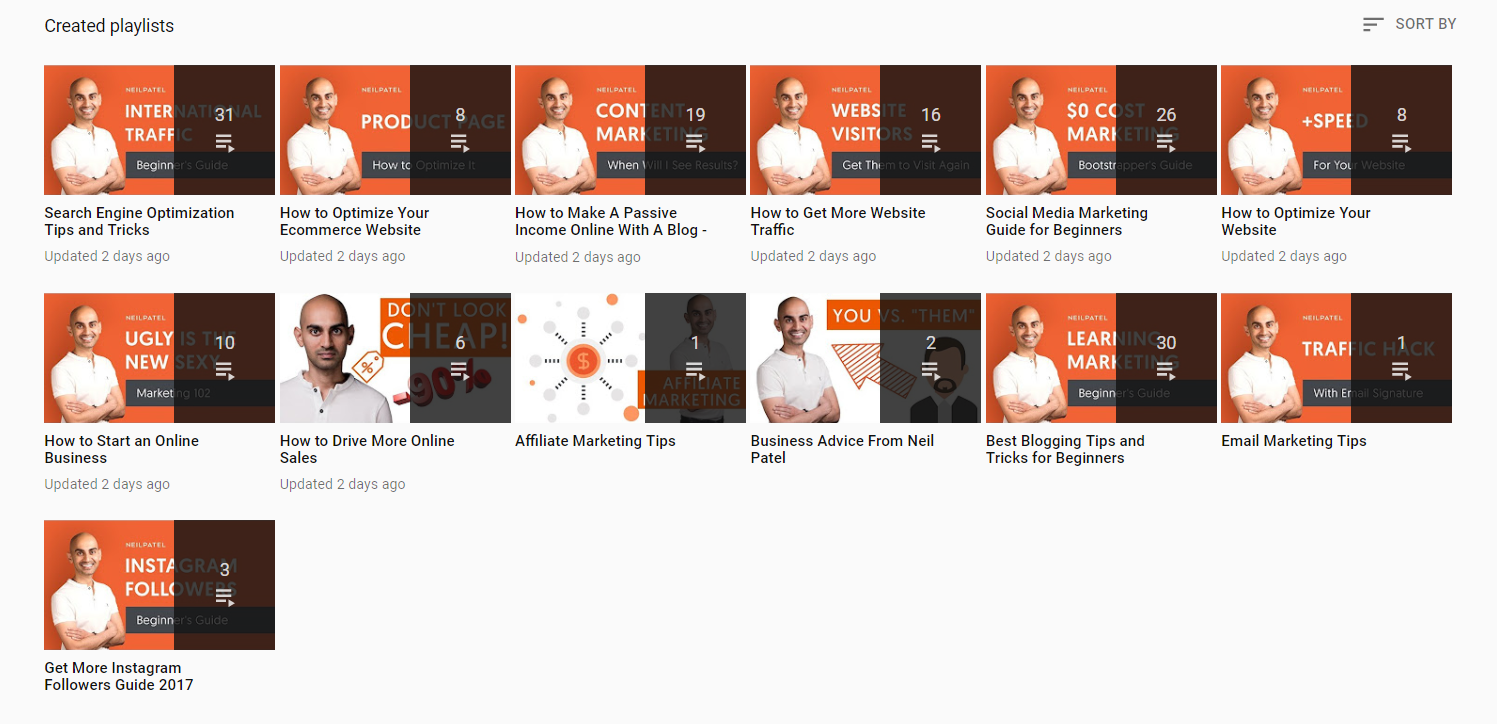 I segment my content into playlists based on different topics, making it easy for users to find what they're looking for.
On top of aiding the user experience, it also portrays me as an expert in these particular fields.
To get started with YouTube playlists, head to your account and navigate to the creator studio:
From here, navigate to your channel page and click "Customize Channel:"

Next, select your "Playlists" tab:
Simply click "+ New playlist" to give your new list a title:
Be sure to customize each playlist to center around a specific content topic.
Whether it's SEO, PPC, or social media, you need to have dedicated playlists featuring multiple videos to establish yourself as a thought leader.
People trust thought leaders. It serves as another form of social proof that can help you build trust and credibility.
And when people trust you, your content, and your brand, you'll quickly see traffic increases and your videos will start to play a big role in the sales process.
2. Teach people how to use your product for their business
Websites are great for communicating how your product or service works.
But using images that slow down your site isn't going to do your product justice.
This means you need to find other ways to showcase what you're selling and how it will provide value to the customer.
Remember, when people are landing on your site for the first time, you need to make it crystal clear why your product can help them.
They don't know anything about your product or how it works. That means they haven't established a need for your product.
Use how-to videos to explain ways in which your product can show the customer what they will miss out on if they don't use your tool.
For example, check out these awesome videos that Hootsuite uploads to their YouTube account:
They have an entire "How-To" series that goes in depth on how to use Hootsuite to the fullest.
The videos guide users through step-by-step tutorials and show them the hidden gems and benefits that Hootsuite can offer.
These how-to style clips accomplish two huge things:
They provide value to the user by showing them how to complete a task or solve a pain point.
They show the user that the easiest way for them to alleviate this pain point is with your product.
You can effectively kill two birds with one stone using this type of how-to video.
You promote your product in a subtle way that isn't spammy or promotional, but rather helpful and insightful for the everyday user.
Here is one of my favorite videos that Hootsuite published recently:
The video went into detail about the process of scheduling bulk messages using the Hootsuite social media platform.
I loved it because it showed me how to fix a problem that I was having with social media outreach while selling me on the product in a way that stood out to me:
Proving with concrete instructions how simple it really was.
Instead of saying "Hey, use our product because we have x, y, and z, and we are the best," they showed me how it could improve my life.
Another great example of using how-to videos to teach people about a product comes from Evernote:
They follow a similar technique to Hootsuite in that they show you detailed ways (and the exact steps) to get the most out of the program while not being overly pushy in trying to sell you.
It simply helps to build a need for the product in ways that traditional marketing and advertising can't do.
Pay-per-click ads excel at driving fast sales. But they don't have the best conversion rates.
Video content is great for building a progressive need for your product.
If you have a product, make detailed videos on how to use the features of that product to get an end result that your users want.
For example, do you sell an SEO tool? Show, using detailed steps, how anybody can use the tool to find better keywords.
The key with these videos is cultivating need to drive more sales.
3. Use tons of social proof for your examples
Social proof is everything when it comes to building a business online.
If you don't have any proof that your business can and has helped other people find success, there's no way for a user to know if they can trust you or not.
Social proof works just like an online review. It demonstrates credibility for the skeptics and shows that you're the go-to person or business when it comes to resolving a specific pain point.
According to BrightLocal's 2016 study, 84% of people trust online reviews as much as a personal recommendation:
This means that the more you leverage social proof in your how-to videos, the more likely people are to trust you and purchase from you.
If you want to increase sales, including social proof is the boost that you need.
BrightLocal also found that after engaging with social proof, people were much more likely to visit the company website:
So, how do you turn social proof into a how-to video?
The basic idea here is to take different forms of social proof and sprinkle them in throughout your videos.
For example, you can take a case study where you grew a friend's traffic by 50% and turn that into a how-to video with detailed steps on how to achieve those results.
At Orbit Media's Content Jam conference in 2016, they touched on ways to use different forms of social proof to increase conversions.
The video details how you can put together different forms of social proof to build a brand that people trust.
Angie Schottmuller, the speaker in the video, shared this awesome graphic for us on Twitter, too. It details her "6S" strategy of social proof:
To break it down, there are essentially six forms of great social proof:
Scoring it: For example, xx% of business owners trust Neil Patel to help them get more leads.
Sum it: Unbounce has 14,000 trusted brands on their platform.
Say it: This happens when someone gives a direct, quotable testimony for your business. Like this one on my website:
Sign it: This example could be multiple things and could actually include placing company logos (like Unbounce and I did above) on your site to show real users who've endorsed you.
Show it: This involves displaying real customer photos related to their experience: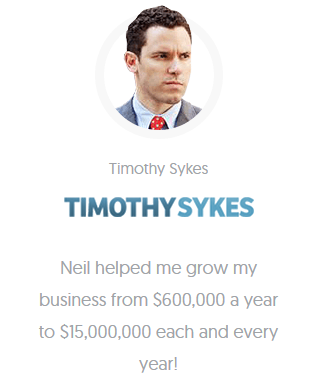 Shine it: This is showcasing any certifications, awards, or honors that you've achieved to leverage credibility and trust.
One of my favorite examples of the use of social proof in a how-to video was done by Evernote: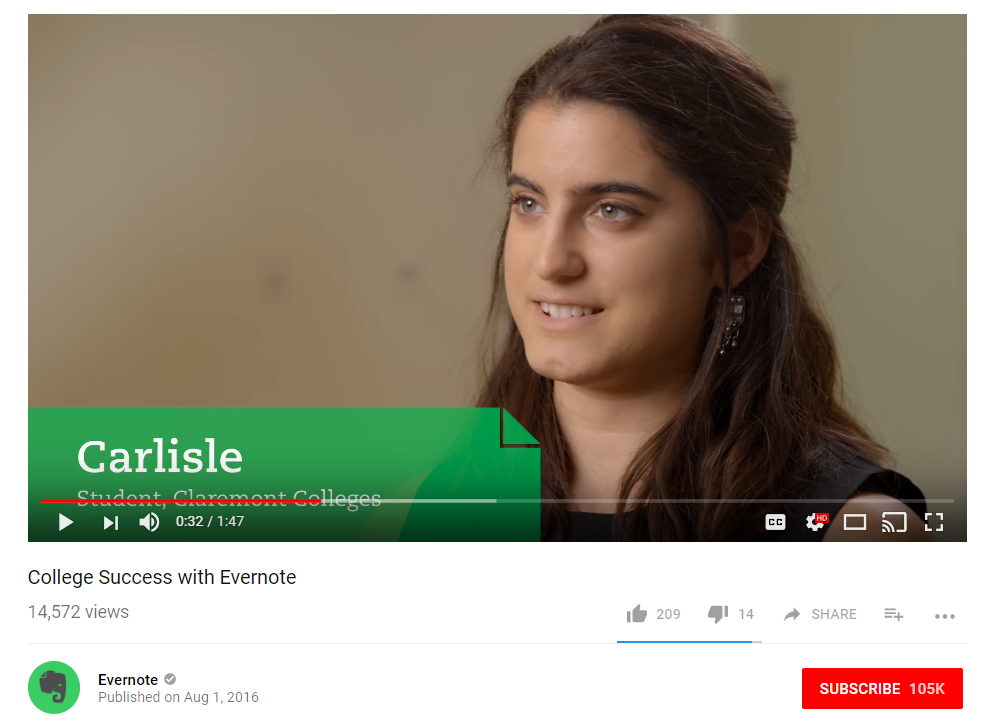 They used real customers to showcase how the product could be used for that specific target market.
By using the social proof of existing customers in that target demographic, Evernote was able to display tons of trust and credibility amongst users who are browsing their product.
In the video, they demonstrate how their product can benefit students and they even offer a discounted price point.
But the most important aspect is their use of social proof to drive conversions.
It's only natural that, when we see other people in similar circumstances finding success with a tool, we will want to use it as well.
It's by far one of the best uses of social proof in how-to video content that I've ever seen.
Tools to create better video content fast
Now that you know the best ways to use how-to videos to sell more, it's time to get started creating them.
Most marketers struggle with finding the right tools to create videos quickly.
If you're making a basic how-to video, there are tons of tools at your disposal.
For example, you can show screen recordings of walkthroughs and tutorials or you can create more animated content that has a higher production value.
Today, I am going to show you how to knock out both of these for free in just a few minutes.
Let's get started.
When you're first getting into video-based content and how-to style videos, you want to get a great screen-recording tool.
Screen-recording videos will help you walk a user through, step-by-step, how to perform specific tasks.
These are among the most actionable video forms that allow users to follow your every move.
I have personally relied on these videos to grow my business when I first started getting into online marketing.
Try using a free tool like Droplr.
Droplr allows you to record your screen and webcam with full audio and in HD quality for free.
You can even take basic screenshots and draw on top of your content to give it more notes and detail.
One of my favorite things about Droplr is the extension for Google Chrome:
You can add this extension to your browser and use it to snap high-quality videos without using any downloaded application.
The created video files that you take get uploaded directly to your Droplr account and you can dynamically share the link in seconds.
When using the Chrome extension, you have tons of different options for easy video recording:
When you're ready to view your latest video, simply hit "View my drops" and you'll be directed to your dashboard to see all of your creations:
From here, you can click the blue link button to share it or simply click on the specific video to download the file-based version.
It's that easy!
If you use an Apple computer, you actually have screen-recording software built in, free of charge.
In this article, Apple teaches you how to use your QuickTime Player to record your screen and how to edit it through iMovie.
Now that you've got the basics down for creating high-quality screen-recording style videos, you need to know how to make content with a higher production value.
Simple screen recordings are great when it comes to how-to videos. But they aren't enough.
You need to add a fun, interactive element that screen recording simply can't provide.
One of my favorite tools for this is Biteable.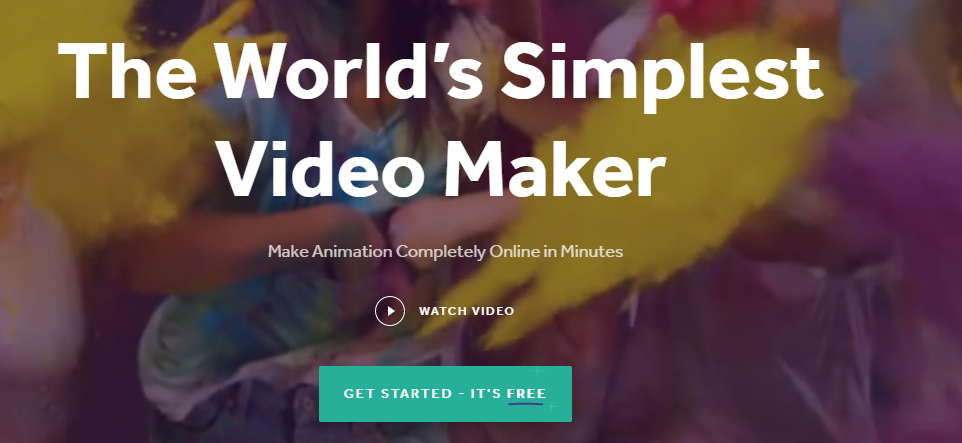 They have hundreds of templates that allow you to upload your own images and videos.
This means you can add awesome backdrops and animated slides to give your videos the boost that they need to capture attention.
Once you create a free account, you can select from the following video styles:

One of my favorite styles for how-to videos is the "Presentation" option.
It's great for turning your own video-based content, like screen recordings, into well-designed, creative templates.
Once you select your template, you can explore multiple "scenes" for your content:
These scenes are essentially animated slides or video clips that are meant to be background placeholders for content.
For example, you could have a text-based portion that says "Step 1. ____" while having an animated clip in the background that corresponds to it: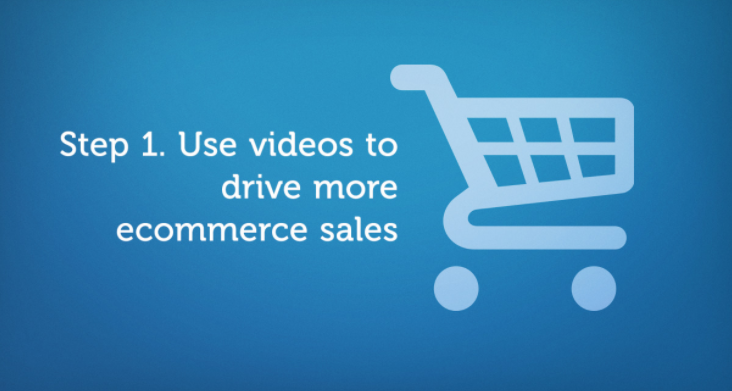 On the left-hand side, you can also upload your own videos and photos:
Try using Biteable to add some style and production value to a basic screen-recorded video.
If you struggle to make video content or simply don't have enough time in the day to balance it with the rest of your workload, you can always outsource content.
Try using a website like Fiverr to scout cheap video content work:
Fiverr is great for finding freelancers or contractors to take up the grunt work that you can't afford to spend time on.
If video-based marketing isn't your top task at the moment, outsource it to someone else to get the job done.
As long as you're starting to produce content, you are heading in the right direction.
How-to videos can have big boosts on generating sales. Using them to show how products can benefit the user is key.
And as always, be sure to make your videos creative and fun to watch.
Use simple tools that can help you produce better content in less time. Then, upload them to your website, YouTube, and your social media profiles to watch the traffic flood in.
Conclusion
When you're trying to grow your business, you need to seek out new, creative ways to get more sales.
But finding these content outlets is tough. When you've tried nearly everything to no avail, you're left with a few options.
And one of those options is video marketing.
It's one of the best ways to bring in new traffic from untapped sources.
More and more people are watching video content online. This means that marketing professionals have a huge opportunity to capitalize on this traffic trend.
If you want to keep up and remain competitive, you have to get in on the video marketing game.
Thankfully, there are a few how-to style video types that you can create to sell more and land that next big client.
Start by establishing yourself as a thought leader. Upload content often on specific topics in your industry, being sure to curate lists for fans.
This will show that you have an in-depth knowledge on various topics and that you provide free value.
Next, teach people how to use your product. Follow in the footsteps of Hootsuite and educate potential customers on how they can't live without your product.
Use social proof to increase your trust and credibility among non-brand-aware viewers, too. Social proof can be the spark that your how-to content needs to drive sales.
Lastly, use a platform like Droplr to create easy screen recordings and Biteable to help you create great video content in no time.
How-to videos can help you sell more and land more clients fast.
What are some of the ways your video-marketing strategy helps land more sales?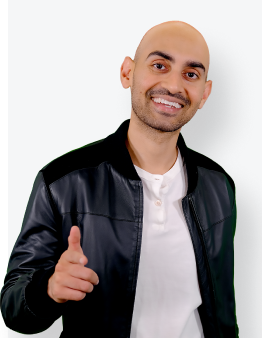 See How My Agency Can Drive More Traffic to Your Website
SEO - unlock more SEO traffic. See real results.
Content Marketing - our team creates epic content that will get shared, get links, and attract traffic.
Paid Media - effective paid strategies with clear ROI.
Are You Using Google Ads? Try Our FREE Ads Grader!
Stop wasting money and unlock the hidden potential of your advertising.
Discover the power of intentional advertising.
Reach your ideal target audience.
Maximize ad spend efficiency.