When you publish an awesome blog post, you know you're going to get tons of views.
But usually, that traffic dies down quickly.
All that hard work and effort only gives you a few weeks of traffic.
That means you need to start writing more blog posts to keep the organic traffic coming to your site.
But therein lies the major problem:
Marketers are strapped for time as it is.
Writing weekly blog posts can be a chore and drain the time from your day before you know it.
So what do you do when 5 new content marketing posts are due by the end of the week?
What do you do when your traffic keeps dying out after a few weeks?
Well, the solution is simple:
You need to create more content.
But remember: You don't have time to write tons of blog posts when you've got analytics to measure, KPIs to identify, sales to make, and a huge list filled with tasks.
Thankfully, there are a few incredible ways to recycle existing content.
You can take your best performing content and give it a virtual jumpstart to bring it back to life.
Repurposing content is one of the better ways of saving time while still delivering amazing content that brings in new traffic.
And you already know that the content will bring in new traffic because it performed well in the past.
Here are 4 content-recycling tips to breathe new life into your best posts.
1. Turn it into an infographic
One of the great advantages of repurposing old posts is that you can choose from your best ones.
If you pick ones that performed well in the past, you can bet that they'll perform well again.
You just need to bring your popular posts back in a fresh way. Almost anything you do to add value will drive more traffic to them.
One of the best ways to do just this is to add an infographic to the post.
Infographics are one of the top-performing types of visual content that you can produce.
According to a 2016 study from Venngage, marketers said that infographics performed the best out of any visual content they made:
Infographics were the best at driving high engagement rates.
That means that if you add one to a previous blog, you can expect to drive huge traffic back to it.
On top of that, the study also found that visual content is growing massively every year:
In addition, people like and share infographics 3x more than any other content type.
Simply put, infographics are an effective and popular way to repurpose old content and continue to drive traffic back to it.
To get started with creating infographics, you have a few different options.
If you prefer to outsource tasks, there are a few sites that you can use to get the job done and save money at the same time.
Start by scouring a site like Fiverr. Simply search on the website for an infographic designer:
Make sure you sort the results by top-rated services and average customer reviews to find reputable designers.
Look for services that have high-star ratings and a large number of reviews:
Fiverr is a great place to find designers that have fast turnaround times for really low prices.
That means you can pay a mere $5 to get a pretty high-quality infographic within 24 hours.
This approach is one of the fastest ways to repurpose your content.
You can also try a site like Upwork. Just go to their site and search for infographic designers.
You can get cheap freelancers to work on your design: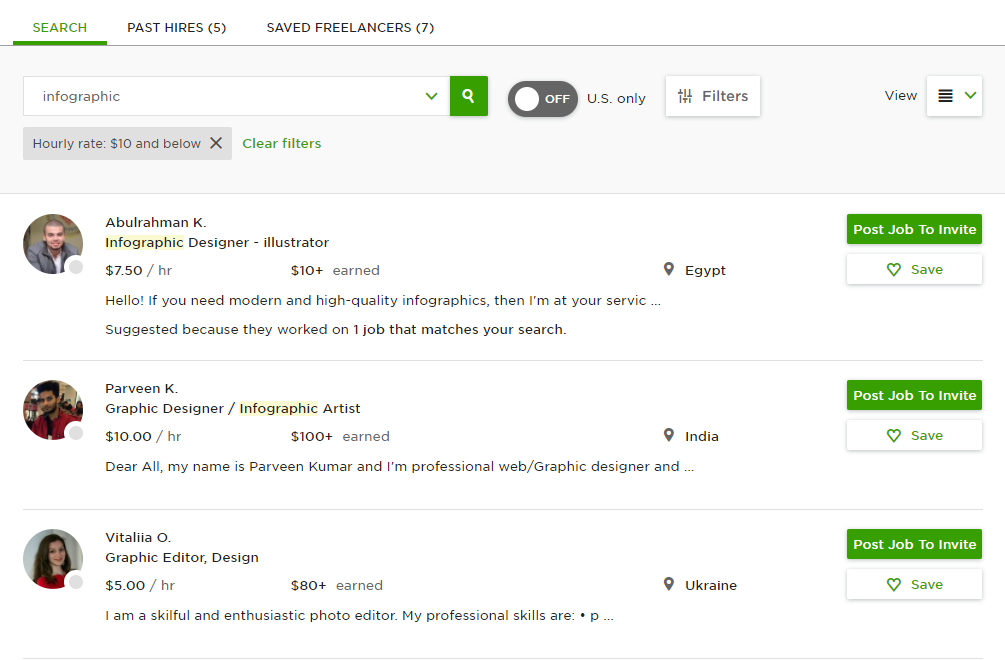 But perhaps you prefer to create infographics on your own. If that's you, then you have quite a few options available.
You can create high-quality infographics in just a few minutes on Canva, Venngage, Piktochart, Visme, and Easel.ly.
There are tons of infographic-making tools to choose from, and each of them will help you get the job done.
Canva is probably the easiest and fastest free tool to use, but it also lacks some icons and features that the other platforms have.
If you want an easy yet diverse tool, try using Visme.
Head to their homepage and create a free account to start building an infographic.
Click "Get Started Now" to create your free account.
Once you log in with your new account, you can choose from hundreds of templates:
You can also search by keyword to refine the results.
Once you find a template, simply click on it to see a preview and then click, "Select theme":
Visme is a great tool due to the simplicity of its editing features and its diverse customization options.
To edit something, you simply click on the page element.
You can also add tons of different elements from the left-hand sidebar:
You can choose between tons of matching icon sets, giving your infographic a seamless look:
You can even add basic animation to your infographics to make them stand out:
Give Visme a shot today to improve your best content.
Infographics drive social shares like none other. Implementing them can be the boost that your old content needs to drive traffic again.
2. Turn it into a webinar
Webinars are a great way to garner traffic and sales for your business.
In fact, the average webinar generates nearly 150 attendees.
And the average webinar attendee will view the webinar for 50 minutes!
That's an unprecedented amount of engagement. It's better than almost any other marketing format.
The huge advantage of webinars is that they aren't difficult to set up.
You can also record your webinar and instantly double up on your content without doing the extra work. Afterward, you can write a blog post about your webinar, too.
To decide what content you want to turn into a webinar, head to your Google Analytics dashboard under the "All Pages" report.
Here, you can see what content has performed the best over a certain time period: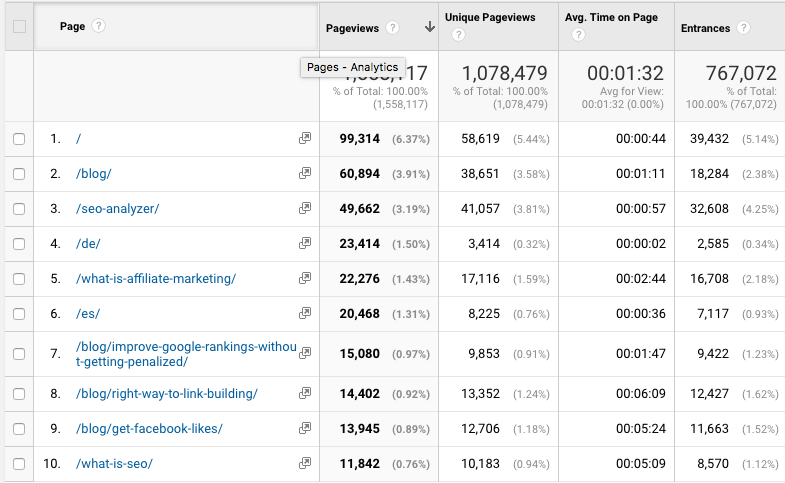 If you click on these posts, you can also view a graph of engagement and interaction over time.
This graph will help you determine which content was once popular but isn't driving traffic anymore:
Once you've identified great, old content, you can easily turn it into a webinar.
Start by rereading the post and taking notes of the structure to identify a basic outline for your webinar.
For example, you can write the subheads back into an outline format like this:
Why TOPIC X is important to the user
Why TOPIC X should be fixed, used, etc.
Tip 1
Tip 2
Tip 3
Q&A
You can quickly develop a simple structure for your webinar based on that old piece of content.
Write down any subheads or tips and then leave room for a question and answer session at the end.
GoToWebinar is one of (if not the most) popular webinar-hosting platforms on the Internet right now.
Although it's not free, you can use a free trial account to start hosting your webinar today.
Over 2.7 million webinars are hosted every single year on the platform.
On top of that, 63% of B2B marketers said that webinars are one of their most effective tactics.
And if you still aren't convinced, GoToWebinar customers generate over 25% more qualified leads!
The features of GoToWebinar are very diverse, too.
You can create custom email automation campaigns, use custom branding, utilize polls to engage the audience, record and share your webinar as a video, and stream with mobile capabilities.
I've hosted tons of webinars by recycling old content that has performed well for me.
It's a great way to build engaged audiences and establish yourself as a thought leader and industry expert.
If you use them well, webinars can show people that your content is the best available.
They drive unprecedented levels of engagement and higher conversion rates than advertising or search engine optimization.
In fact, webinar landing pages have an average conversion rate of 30%, according to Leadpages.
That's much better than typical organic search and PPC conversion rates.
Webinars should be one of your go-to strategies when it comes to recycling content and bringing it back from the dead.
3. Create a LinkedIn SlideShare
LinkedIn's SlideShare is one of the best B2B marketing tools on the planet.
Currently, 80 million B2B professionals are using SlideShare to share and view content online.
In fact, it's one of the top 100 most-visited websites on the Internet today.
The site has more than 18 million uploads and 40 different content categories to choose from.
It's no secret that utilizing SlideShare can help you attract B2B leads.
And it's easy to use.
You can take your best content and turn it into a slideshow that captures tons of leads.
To get started, create a slideshow to upload to the platform.
For example, you can use Google Slides, PowerPoint, Canva, or almost any other tool you prefer.
The key here is to be creative while still getting your message across.
I recommend using something more exciting, like Canva, so that you can display your content in a way that engages audiences.
Here's an example of what it could look like:
You can choose from 2 presentation formats to start creating a great SlideShare post in just a few minutes.
You can also choose from creative templates that are more interesting and appealing than a typical slideshow template:
As soon as you select a template, you can edit each slide and customize it to your needs:
It's a great, easy way to make free slideshows out of your old content.
Simply take the best parts of your most popular posts and throw that content into a slideshow.
If you would rather use a different platform, you can try Google Slides. Here are a few of the templates they offer:

They have plenty of updated templates, and the platform allows you to collaborate with other people.
That means you can easily have multiple employees working on the slideshow at the same time to streamline the process.
Next, head back to SlideShare and upload your post:
SlideShare is a great tool to reach large numbers of B2B professionals.
And LinkedIn is the best social media platform when it comes to generating B2B leads.
Utilize SlideShare as a way to drive new leads and bring life back to your old content.
4. Turn it into an ebook
Ebooks are still one of the most popular ways that we consume content online.
Ebook sales have been steady since 2010:
In fact, according to Statista, ebook sales are surpassing printed book sales:
Since ebook reading is on the rise, it's no wonder that they are one of the best lead magnets on the web.
People love detailed, in-depth content about particular topics.
Long-form content always wins when it comes to providing value and converting leads.
A great way to make long-form ebooks is to take multiple posts and turn them into one huge ebook.
For example, if you have a popular post on search engine optimization that once drove huge amounts of traffic, you can use that as your base.
Then you can take any related content, like blog posts on local SEO, link-building tactics, and effective content marketing, and add them to the mix.
These additions will boost the length of the content and provide more value.
Turn your old posts into a massive guide that people can use for years to come.
Be sure to include step-by-step tutorials that people can follow along with and implement on their own.
Adding tutorials will allow your audience to use the ebook beyond a one-time reading. They'll be able to refer back to it whenever they need to optimize their content.
If you want to create an ebook today, you have a few different options.
You can always outsource the production to a designer on Fiverr:
If you prefer to create one on your own, you can use a variety of tools.
If you use an Apple computer, you can download iBooks for free and create beautiful ebooks:
I've personally used it many times before.
And the best part: It's completely free.
You can choose from a bunch of unique, high-quality templates:
The software is also simple to use. Anyone can utilize the drag-and-drop or click-to-edit system that iBooks runs on.
It's as easy as using any other basic tool like Canva, but it has diverse, powerful features:
You can even add widgets and features like videos, photos, popups, sliders, graphs, and more:
If you want to incorporate statistics, you can also add charts with custom data.
If you don't have an Apple computer, you can try out a free tool like Canva to create an ebook quickly: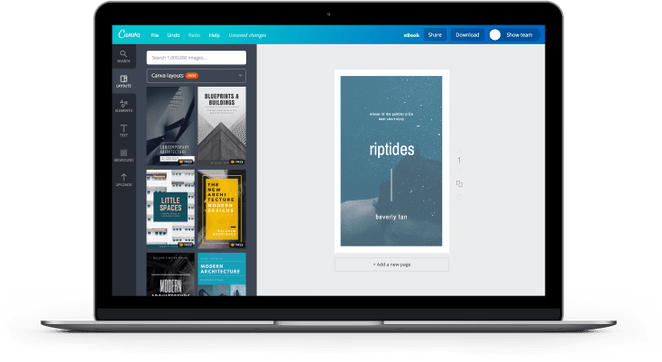 Simply make a new ebook design and start filling it in with content. They have tons of different themes and pre-made templates to choose from:
Producing ebooks is one of the best ways to bring life to your old content.
You can easily repurpose the content because you've already written it.
You simply format it, design it, and put the pieces together.
Use it to drive leads as a lead magnet or charge people to buy it.
You can increase your sales and leads quickly by recycling old content in ebooks.
Conclusion
Publishing a great blog post that drives traffic (and actually helps people) gives you one of the best feelings.
It shows that your effort and hard work really paid off.
However, usually, that traffic will die down in just a few weeks or months.
That means you can never create enough content.
There's simply not enough time in the day.
Marketers are already busy with hundreds of other tasks.
You need to find a better way to create more content in less time. So you should resurrect those old posts that drove tons of traffic.
You can't risk letting all of that hard work just die out.
You can recycle old content and breathe new life into it by using repurposing tactics.
You can bring back more traffic to those posts by tweaking just a few basic things!
Start by turning your best old content into an infographic. You don't need to do more research to perfect it.
Simply outline your content into infographic form to drive tons of shares.
Next, turn your content into a webinar. They are one of the most popular marketing tactics online today.
Create a LinkedIn SlideShare to reach high-quality B2B leads with your old content.
After that, consider turning it into an ebook. Ebooks are on the rise and are even surpassing printed books.
If your content is not bringing in traffic anymore, you need to bring it back and repurpose it.
It is how you can save yourself time and energy, while still ensuring that you're attracting leads and contributing to the success of your business.
What are your some ways you have recycled content?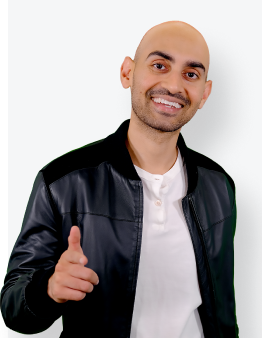 See How My Agency Can Drive More Traffic to Your Website
SEO - unlock more SEO traffic. See real results.
Content Marketing - our team creates epic content that will get shared, get links, and attract traffic.
Paid Media - effective paid strategies with clear ROI.
Are You Using Google Ads? Try Our FREE Ads Grader!
Stop wasting money and unlock the hidden potential of your advertising.
Discover the power of intentional advertising.
Reach your ideal target audience.
Maximize ad spend efficiency.