In 2015, Google generated $67.39 billion USD in advertising revenue. Google display campaigns reach 90% of global internet users.
No wonder AdWords is an excellent source for generating quality traffic fast. The problem is that without properly handling your campaigns, your advertising costs can run high. And, you can ruin your chances to get a good ROI.
In this article, I want to touch upon one of the most common mistakes that many advertisers commit, burning dollars….
bidding on keywords.
If you target irrelevant keywords, then you'll put your ad in front of the wrong audience that won't convert.
So, let's look at the 4 types of search terms that you should avoid in your AdWords account.
Here goes #1. 
1. High-volume keywords in your niche: They might eat up your budget fast
If it's a high-volume keyword, then you absolutely need to bid on it, right?
Wrong.
Such keywords will be hugely competitive and will probably not be narrow enough to draw a relevant audience to your offer.
In 2011, Wordstream found that the following 10 keywords are the most expensive, requiring you to pay almost $50 per click.
If you're a huge brand with a multi-million dollar marketing budget, then maybe bidding on such head keywords (with huge volumes and high competition) will make sense.
In such a case, brands might not be willing to just target prospects with strong buying intent. They might also want to create awareness about their products with more impressions.
But, if you're a small business owner who's just starting your account, you'll end up losing your money fast. On a tight budget, bidding on such high-volume keywords is an absolute no-no. Especially, in finance and education related industries with a high CPC.
Don't bid on the word 'laptop,' if you're in the laptop repairing business. It will attract a lot of irrelevant traffic. Similarly, don't bid for the keyword 'marketing', if you're looking for content marketing clients.
Rather, I would suggest that you bid on long-tail keywords. They generate up to 80% of traffic anyway. Plus, they will send more relevant and targeted traffic to your landing page.
Here's a Google chart to help you distinguish between the various types of keyword matches.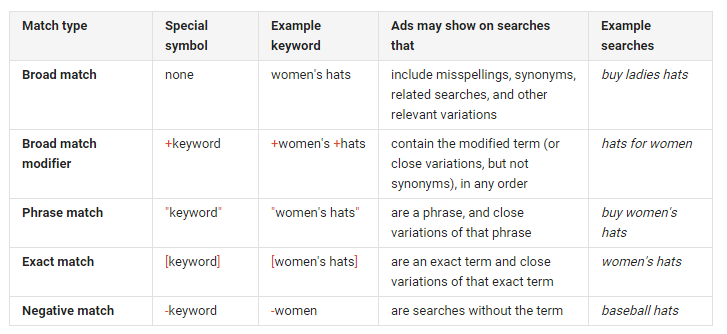 As much as possible, you must avoid bidding for broad match and even phrase match keywords. They won't get qualified clicks to your landing page.
Start by targeting exact match keywords. They allow you to easily tailor your product page to the visitor's mindset and they also get the highest conversions.
Let's look at how you can find such high-value keywords with the Google Keyword Planner.
Imagine you're in the business of selling fishing rods. And, you want to find keywords with high commercial intent and decent search volume.
Go to the keyword planner and plug in your product/service.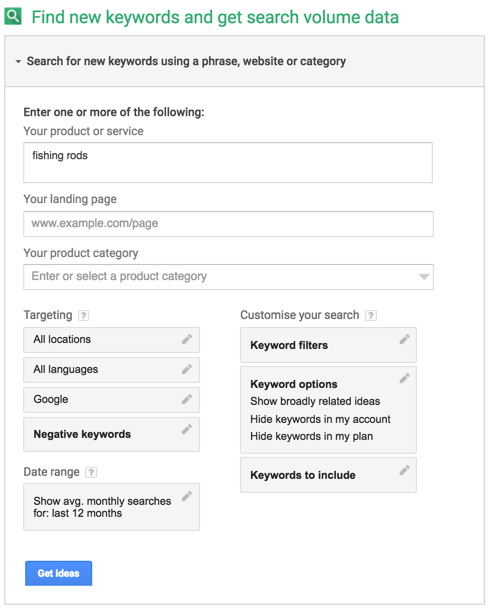 You'll be presented with ad group ideas (keywords grouped by Google into topics) and their average monthly search volume.
Now, you need to enter the ad group to find the individual keywords, along with their volume/suggested bid.
When I enter the group 'Fishing Rod', I meet the following keywords. I recommend that you sort the keywords by 'suggested bid.' This will filter those keywords that are in high demand by other advertisers.
In particular, I found 1 keyword that has incredibly low volume, but a high suggested bid. This means that it's delivering a good ROI.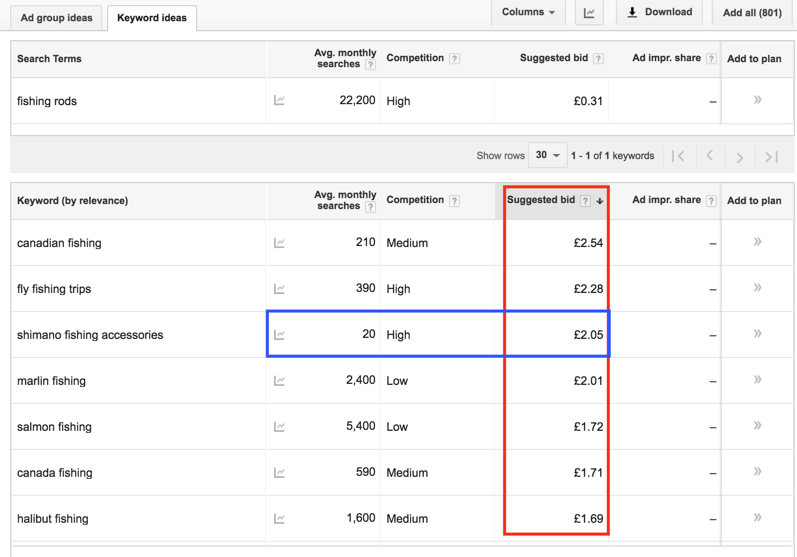 A major problem in the above results is that most keywords don't seem to have any buying intent. For seeing only closely related ones, I recommend that you click on the 'Customize your search' option, in the left sidebar. Then, turn on the 'Only show ideas closely related to my search terms' option and press the 'Save' button.
In all probability, you'll now find keywords with high buying intent in both the ad group ideas and the individual keywords in each group.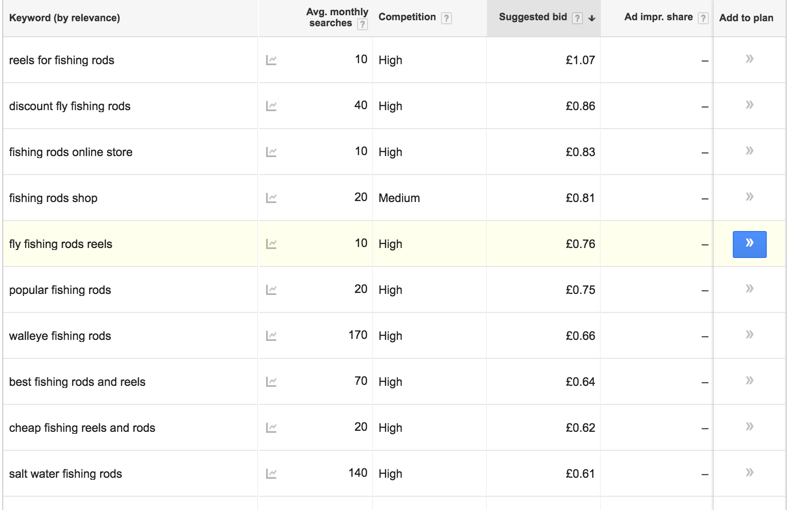 Did you notice that most of these keywords don't have a high search volume?
On the other end of spectrum, you don't want to bid on keywords that are too specific and lose out on relevant prospects…just because they didn't search for the EXACT keywords that you bid on.
One way is finding all the thousands of search terms that are relevant to your offerings.
A better solution, without the hassle, is broad match modifier keywords.
It's a way of telling Google to exactly match your keyword, while simultaneously serving your ad to a broader audience. When you use a '+' sign, you tell the search giant to interpret your keyword buy +nike shoes the way it wants to, as long as it contains the word Nike exactly.
Andrew, from White Shark Media, shows you how to leverage these modifier keywords for the phrases with 4 or more words.
2. Stuffing 20+ keywords in an ad group, deeming it irrelevant
Many AdWords advertisers bid on a bunch of (loosely related) keywords. This can make your ads irrelevant and waste your budget.  It will also lower your quality score, meaning that less searchers will see your ad.
Now, you might say that even Google recommends that you add 10-20 keywords in an ad group that fits a common theme.
But, you get only a fraction of a second to impress the prospect with your triggered ad. And, you'll find it difficult to achieve a message match with many keywords. As Jonathan points out, you'll end up with a situation like the one below.

The ideal solution is single keyword ad groups. This means that only one keyword will trigger that ad. With such an ad group, your ad will look like the one below, for the keyword "Nutella crepe recipes."
Did you see the perfect message match?
Such single keyword ad groups lead to better targeting and relevancy.
With this targeting strategy, you can expect your CTR rates to fly high. Here's a screenshot showing the improving performance with the use of single keyword ad groups.
You don't need to create a landing page for every keyword. You can use dynamic keyword insertion (DSI) to change the headline/CTA, as per the keyword searched by a visitor.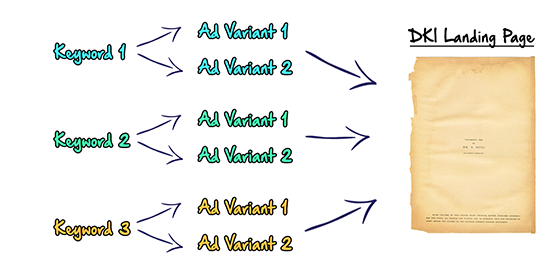 3. Informational keywords
Most search queries can be classified into the following 3 types:
Navigational: To reach a web address,
Informational: To learn about a subject and
Transactional: To buy a product/service.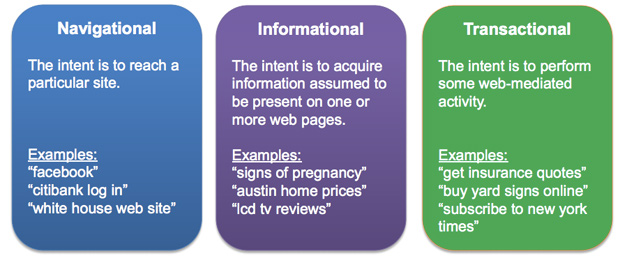 From an advertiser's perspective, it's a no-brainer to go after the transactional queries. They have the highest commercial intent and will consist of warm leads that have their wallets out.
But, 80% of the queries are informational in nature.
So, if you're a greedy marketer, you might think of bidding on all those "how to" queries and other informational keywords. They have low competition, get good traffic volume and will cost a lot less to run.
For example, look at the keywords below that pop up when you plug the keyword "calendar" into the Google Keyword Planner (considering your business is selling calendars). Those "free" and "printable" keywords aren't going to do anything but eat your ad budget.
They contain prospects at the top of the funnel. Such a searcher is only looking for free information and resources. Since they aren't interested in buying, they won't click on your ad anyway. And, even if they do, they won't convert anytime soon.
The end result?
Fast exhaustion of your budget.
This is the key- People are likely to click on an ad, only if they are willing to shop.
A keyword with commercial intent is much more likely to convert.
So, what's the fix for informational keywords?
Search for your primary keyword and see all of the related informational keywords that pop up.
Then, add them to your negative keyword list.
It's a way of telling Google that the keywords that are irrelevant to your business, so that they are excluded from your campaign.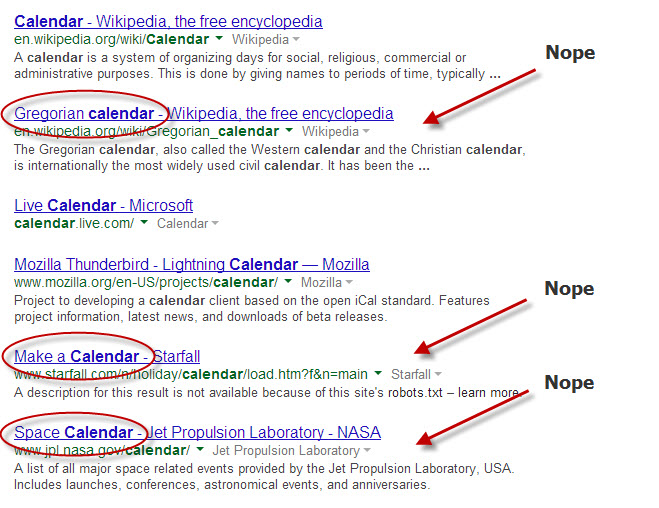 The end result?
No more meaningless ad impressions that were wasting your money.
In their Grade and Get Paid competition, Wordstream found out that some of the businesses that participated were already using negative keywords and considered their strategy solid.
But, to their surprise, most businesses ended up getting a huge wake up call.
After 30 days of getting their reports, the entrants added 103,410 more negative keywords. That was an additional 186 negative keywords per account.
Woah!
I recommend that you give the negative keyword list tool by WordStream a spin, straightway. It's time for a reality check.
Commercial intent keywords are generally identifiable by phrases containing words, like "buy", "discount", "shipping", "deal", "review", "cheap" and such.
But, they can vary, depending on the nature of your business.
The winner of the aforementioned WordStream contest, Outfitted, were in the business of renting ski and snowboarding apparel/accessories.
So, for them, words like "cheap," "buy," and "sale" didn't drive relevant traffic. They added these words under negative keywords that lifted their account's performance and saved their budget. Read the complete Outfitted case study here.
Besides informational queries, there are certain negative keywords that are almost always not relevant to the AdWords campaign. Here are two articles listing some of them. I advise you to use your discretion when adding keywords from these lists.
4. Keywords with a low-quality score and getting measly clicks/impressions
Remember how I told you that a beginner advertiser might start with a huge number of keywords. This means that you'll bid on many keywords that are irrelevant and end up attracting measly impressions and clicks.
Further, since you might have only created a limited number of ads and landing pages…you won't be able to get a good quality score (QS) for many keywords.
Deleting these keywords isn't the best option, because QS depends on a range of factors besides CTR and relevance. Maybe your landing page is the culprit. Further, you won't find keyword data for deleted keywords.
You're better off pausing these types of keywords. This way, you'll retain the keyword data as well.
Navigate to Campaigns >> Keywords. Then, look out for the quality score column in the stats table.
If you can't find the Quality score column, then:
Click Columns >> Modify Columns >> Attributes >> Click 'Add next' to the 'Qual. score.' And, click Save.
Similarly, you can find the keywords that have low impressions and don't get many clicks. Just sort your keywords by impressions, under the keywords tab (inside your ad group).
Then, pause the ones that get close to zero clicks/impressions.

Once you've paused these keywords, it's time for some spring cleaning. You want to give a shot to the keywords that look promising, but aren't faring well.
Look at your ad copy, landing pages and ad group organization. If you're suffering from low conversions, maybe your landing page needs fixing. Or, if you've got a low ad position, then it will obviously result in lower CTR (so you can experiment with higher bidding).
If you're a Wordstream customer, then you'll get a Pause Keyword alert with nifty details on your underperforming keywords and tips to improve your campaign performance.
Alternatively, you can also set up a search terms report with a weekly frequency. It gives you the exact terms that people used to trigger of your ads.
You can set up the search terms report from the Campaigns overview screen.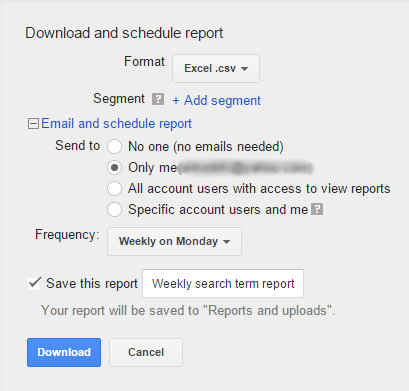 Once you've got the data in a spreadsheet, you can filter by campaign and ad group. Then, analyze it.
If you find that certain keywords only waste your budget, then you can add them to your negative keywords list.
Conclusion
Bidding for the wrong keywords is the perfect way to get irrelevant clicks that eat up your budget. You run the risk of getting low engagement, lower CTR and an even higher cost per click.
So, avoid the 4 common types of search queries that I've showed you in the article. You'll quickly start moving towards a high-performing and great ROI-generating AdWords account.
What are the types of keywords that you've found to be the most unprofitable in your efforts? Let me know in the comments.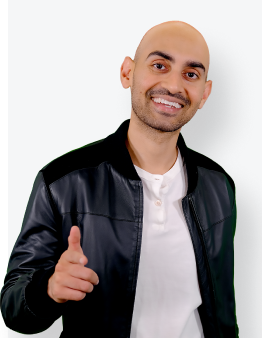 See How My Agency Can Drive More Traffic to Your Website
SEO - unlock more SEO traffic. See real results.
Content Marketing - our team creates epic content that will get shared, get links, and attract traffic.
Paid Media - effective paid strategies with clear ROI.