When sending out automated emails to your list, how personalized are they?
I'm not talking about things like $firstname, or order by $date for free shipping – but actual personalization based on their behavioral triggers.
Let's dig a little bit into the numbers behind this. According to the latest Blueshift Report, trigger-based marketing emails outperform batch and blast emails by 497%. Along with that, automated emails delivered 29% of all email marketing purchases with fewer than 2% of email sends.
Recently, behavioral email marketing showed high promise of sales. Think of this as something that's bringing the above benefits together, helping companies increase ecommerce sales by simply using behavioral triggers via email, sometimes with automation. Built off the concept of behavioral marketing, this method helps get a pulse of your audience so you can interact with them in a way that makes sense.
Let those numbers sink in a minute.
The potential for making the most of behavioral email marketing is wide open, and yet, according to Econsultancy, only 20% of marketers are using behavioral targeting.
Why is that? Let's take a closer look at the core issues and learn how to get started with behavioral email marketing.
Send Emails Based On Customer Actions
Now, not all of these points will be email "action-worthy," so it's up to you to figure out what actions the user takes (or doesn't take) that are worth sending an email. You may have even seen this kind of behavioral targeting email marketing at work when you sign up for a service, but don't complete your profile or verify your email address. If the company is smart, they'll send you an automated email reminding you to do so.
But re-targeting the user in this way isn't the only way to leverage behavioral targeted emails. You can also send out targeted messages, for example, when a customer:
Submits a form to download your white paper, video, case study or other free item

.

Views certain content on your web page. If they spent some time browsing the FAQ, you can set up a behaviorally targeted email to check in and see if they have any specific questions

.

Leaves an item in their cart without checking out. You could send them a reminder email with a small discount, remind them of limited stock (or that their cart will expire) and so on

.
Remember, with behavioral email marketing, it's the customer at the wheel — not you. They're making choices while interacting with your content. Behavioral marketing is designed to act on those choices with the kind of engagement that increases conversion rates, grows profits, and vastly improves customer retention.
Discovering Behavioral Email Marketing Trigger Opportunities
Once you start collecting and analyzing the information that you gather on your customers, new opportunities for behaviorally targeted emails will percolate to the surface. You'll start getting all kinds of great ideas on how to guide users back into your service. To help get you started, here's an overview of email marketing formats I consider some of my favorites:
The "Getting Started" Email
Also known as an "onboarding" email, this message is usually sent after you create an account or register for a service. It's designed to get you clicking and interacting with the service as quickly and fluidly as possible. Here's an awesome example from Stocksy, a stock photography site:
Notice how they've carefully curated images in emails on a specific theme – then encourage you to click through and check them out for more design inspiration. Here's another example from Airbnb:
If you've been browsing trips to wine country, this targeted email can help make your tour much more palatable through the offer of discounts, local guides, special attractions, and more.
The Notification Email
The notification email is generally just a canned response from your account or user management software that tells people their username and password, and maybe has a link to some documentation to get started. That's where most of the getting started automating of the process ends — which results in a lot of confused or frustrated users.
Instead, encourage them to take the first step toward trying out your product by offering more of a guided, hands-on tour. If you have a SaaS, walk them through using it by helping them to create their very first _____ — such as a website, playlist, or campaign. This sort of guided, pop-up tour will help them feel more at ease, and can also give you even more valuable data for your behavioral targeting email marketing goals.
The Icing on the Cake Email
These are the unexpected but highly welcomed emails that encourage better customer retention. Here's a great example from Shopify that lets users extend their free trial of the service: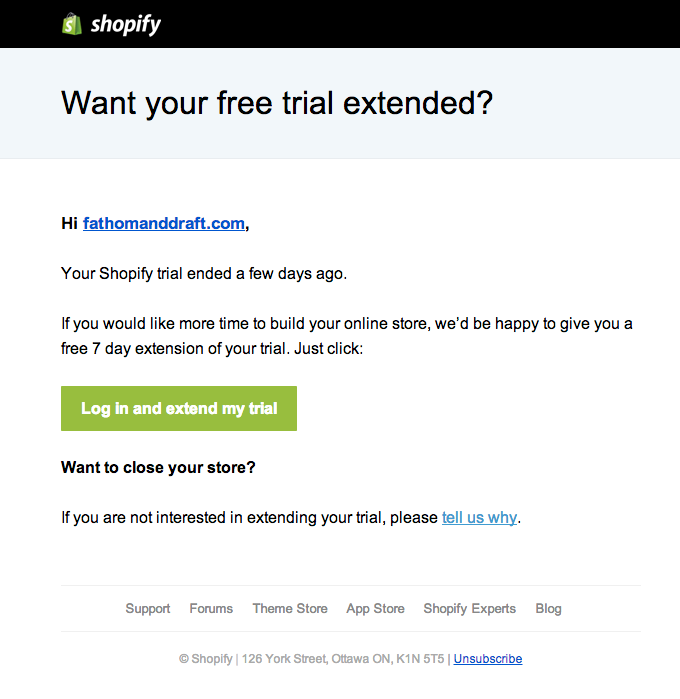 Another example comes from TurboTax, which is designed to pique the user's curiosity about how much their tax refund could be, before they ever see a check in the mail:

It also promotes the benefits of using the TurboTax service, but without being overly "sales-y" or pushy. Rather, it shifts the focus onto the customer and their end goals – which revolve around getting the biggest refund possible at tax time.
The Reward Email
Everyone loves getting an unexpected reward — even if it's a digital "good job!" Here's an example of an email from Withings, which is a Fitbit-style product that helps inspire healthy habits by tracking your activity. Here, you can see a user has won a badge for taking 8,000 steps in a day, and unlocked the Marathon reward. They can also share their progress on Twitter or Facebook.
The Recommendation Email
Oftentimes, great customer service from a company is enough to get you to recommend them. But what if the brand sweetened the deal? Bombas, which sells socks online, provides free socks, with no limit, to people who tell their friends about them. Those friends get a discount on socks, and the referrer gets more socks. And we all know you can never have enough socks.
Transactional Emails
Did you know that transactional emails (receipts, shipping notifications, etc.) are opened up at 8x the rate of regular emails? With this in mind, it's worth going through the ones your company sends and doing away with those dusty old "order confirmed" messages, to make every note you send one that not only thanks the customer for their order, but does so in a way that's more akin to having a conversation than making a statement.
This Slack notification for the user to get involved with the app on mobile does just that by having a link to their blog in the footer:
It's not invasive, but the user knows the brand has more in store. Those are the kinds of placements in your trigger emails that will keep leads engaged.
Frequently Asked Questions
What is behavioral email marketing?
Behavioral marketing refers to the response to each lead's behavior with the kind of engagement that boosts conversion rates, revenues, and customer retention.
How can I create emails based on user behavior?
Think of this email in the formula of an "if-then" clause. For example, if a customer abandoned their cart, email them to remind them of the quality products they're leaving behind. Try including a coupon, because that prompts leads to convert as well.
What is behavioral targeting in email marketing?
Behavioral targeting in the email marketing world is sending out specific emails to consumers based on their past behavior. For example, sending a different email to someone who brought a product from your online store versus someone who filled their cart, but never checked out.
What are the 4 types of marketing emails?
The 4 main types of marketing emails are as follows:
Email newsletters, sharing company news and relevant product updates.

Acquisition emails, designed to introduce customers to your sales funnel for products or services.

Retention emails, designed to keep customers engaged in your sales funnel.

Promotional emails, which highlight deals or other specific opportunities to purchase/engage with your brand.
What makes an email unprofessional?
Aside from standard issues like typos, broken images, or formatting issues, some things that may flag an email as unprofessional include:
A bad template that is difficult to read.

Using bait-and-switch headlines to trick people into reading.

Having an overly long email before getting to your CTA.

Sending too many emails in a short period of time. This may get your content marked as spam.
What are the 3 most important things for an email?
While the answer may vary here based on market and customer base, 3 things that are universal are:
Adding a personalization element to the emails whenever possible.

Be sure to sound human, not like a sales robot.

Having some form of CTA or CTAs to move the reader into the sales funnel.
Should I target every consumer with behavioral email marketing?
You'll want to create a few samples to send that depend on the scenario and behavior of the lead. Having an email tailored towards a user's experience will feel more genuine, guiding them to convert.
Conclusion
The bottom line is getting more behavioral triggers in your marketing strategy is going to make it better. Trigger-based campaigns offer the appropriate material and messaging to the subscriber at the right time, matching where they are in the funnel.
At the core, trigger email marketing operates by nurturing subscribers depending on their interaction with your brand.
You can keep your lead's attention by sending timely, relevant emails.
This can show more prospect engagement, more clickthroughs, increased customer purchases, retention, and an overall positive experience.
Marketers who aren't getting on the behavioral email marketing train are missing out, so get started by following the best practices I recommend.
Get creative with your triggers and see how your tactics convert more leads.
Which behavioral triggers have you found to be the most effective in your marketing campaigns? Let me know in the comments!
About the Author: Sherice Jacob helps business owners improve website design and increase conversion rates through compelling copywriting, user-friendly design and smart analytics analysis. Learn more at iElectrify.com and download your free web copy tune-up and conversion checklist today!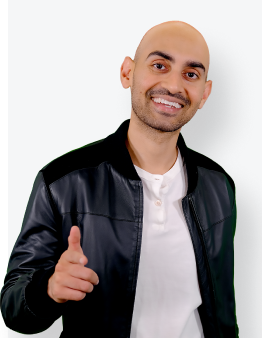 See How My Agency Can Drive More Traffic to Your Website
SEO - unlock more SEO traffic. See real results.
Content Marketing - our team creates epic content that will get shared, get links, and attract traffic.
Paid Media - effective paid strategies with clear ROI.
Are You Using Google Ads? Try Our FREE Ads Grader!
Stop wasting money and unlock the hidden potential of your advertising.
Discover the power of intentional advertising.
Reach your ideal target audience.
Maximize ad spend efficiency.