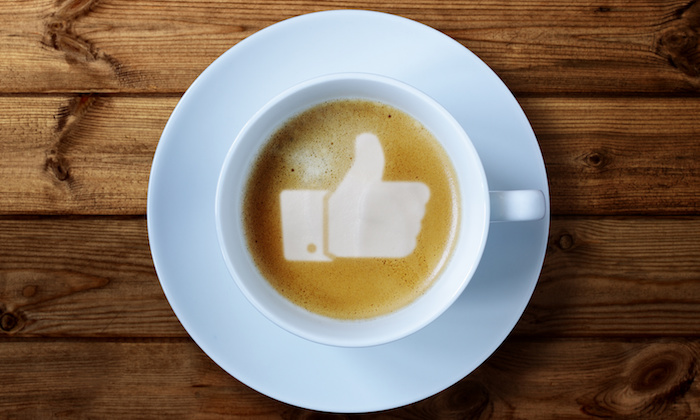 People get weird about social media marketing.
They want leads, but they don't know how to get them.
I was in this situation myself for a long time. I thought "Oh, sweet. Social media. Now….how do I get leads?"
I tried a lot of stuff.
And, most of what I tried was absolutely disappointing. Zero leads. No progress. Waste of time.
But then, things changed.
For me, it was two main things.
First, I figured out which metrics really mattered. For a while, I was watching simple surface-level stuff, such as likes and followers. (Those numbers mean virtually nothing.)
After wrapping my mind around the analytics side of things, I knew what I needed to do to convert my social media traffic.
The solution seemed simple:  1) Know your numbers and 2) Figure out how to convert them.
The first week I tweaked my strategy, I brought in 58 warm leads.
Today, I'm bringing in many times that amount.
Keep in mind, this was what worked for me. Everyone is at different stages in their marketing efforts. What worked for me might not work for you.
Heck, you may even do better than me! Whatever you do, be sure to adapt these tips contextually to your business.
Results will vary.
Learn how I combined this social media technique with SEO to grow my traffic to 195,013 visitors a month.
Step 1: Do gated content the right way
Let's start with one of the easiest lead generation strategies for social media: Gated content.
Here's my approach on gated content. Most of your social media audience consists of people who haven't purchased from you, right?
They are at the top of the funnel. They are aware. Maybe they are considering.
What you want to do is gently coax them down the funnel. No, you're not necessarily trying to get a sale. You just want to get them to act. 
How do you do that? By making a small ask on some gated content.
Gated content is content that users can only get once they complete an action and get on the other side of the "gate."
Usually, this means that users have to sign up for an email list or share a post/like a page on social media. Once they complete that action, they get the content.
Now, usually I don't like gated content. That's because I want to give people as much value as possible without asking anything in return. Gated content is still not something I do a whole lot.
But, if you've got something that's excellent and if you can communicate that to your audience, then your audience will understand that their name and email is a small price to pay for what they're getting.
That means your audience has to trust you. And, you have to respect them. Don't spam them or sell their emails. Trust is a two-way street.
So, let's talk about doing gated content the right way.
This usually happens through a simple funnel. For example, here's one of my Tweets announcing a recent blog post of mine: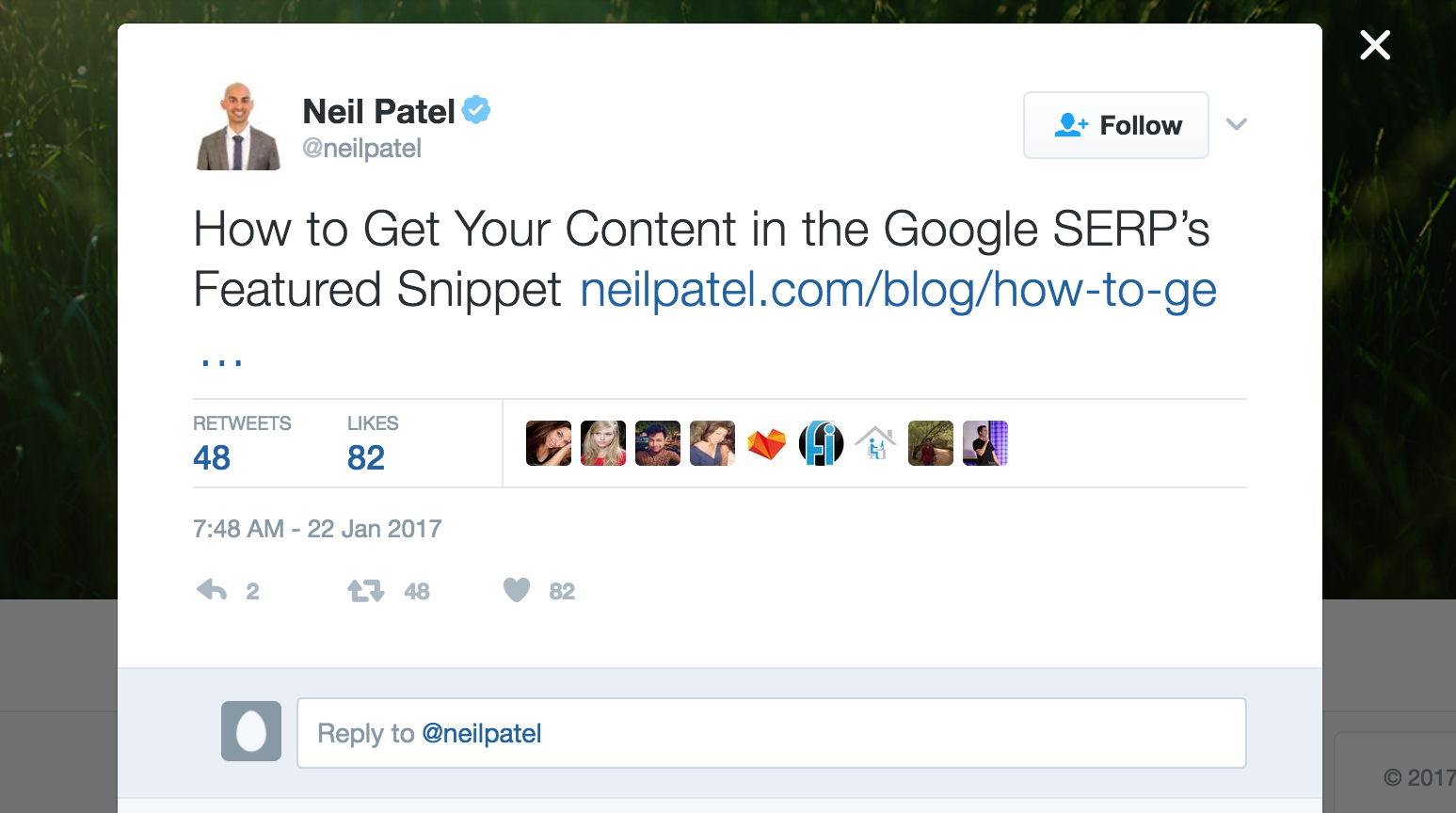 When people click through, they see this offer at the beginning of the article:

If they're interested, they click on it, and this pops up:
If a user shares their name and email address, they can access the gated content.
It's a simple, yet effective strategy. However, there are lots of companies who are doing it plain wrong. They don't understand why users don't seem to want the gated content.
This is important––your gated content has to be worth it.
If you're asking people to fill out a 10-minute survey to get a checklist, you probably won't be too successful with getting leads. That's because the cost of taking the survey (big) isn't worth the benefit (small).
There are two steps to creating the best gated content for your niche.
First, decide what content you want to give away. There are a ton of options here: webinars, videos, white papers, checklists/cheat sheets and guides, to name just a few.
But, not all of these options are right for you.
Start by looking at what other kinds of gated content pop up in your niche on social media.
Here's BuzzSumo offering a webinar on their Twitter:
For BuzzSumo, a webinar works perfectly. For other niches, a webinar may not be the best idea. Figure out what types of content your target audience responds to best.
Your audience might love an infographic or they may prefer a video. Cater to that and your gated content will get leads.
You also have to promote your gated content in a way that doesn't tick off your followers. You don't want to constantly spam feeds with your offer.
If your content is evergreen, then promote it on a regular schedule (but not too often). Think once every couple of weeks.
If you want to create gated content that's limited, make sure that your followers know about the scarcity. Remind them that they only have a little bit of time to get the content before it's gone.
Step 2: Host live streaming events
While I'm not a huge fan of gated content, I am a huge fan of live streaming events.
Unless you've been living under a rock, you know that live streaming events are hugely popular right now.
Video marketing is growing steadily and live video marketing is a huge part of that. From Facebook Live to Snapchat's Live Stories, it seems like every app is jumping on the live streaming bandwagon.
Live streams are great for capturing your audience, because they tap into the scarcity trigger. Live streams don't last forever (although you can usually save them) and people love being a part of something in real time.
There's also a killer engagement upside. When you start a Facebook live event, your followers will be notified. This increases the number of attendees.
Of all the live streams right now, Facebook has the best platform. It outshines Periscope (wider audience), Instagram (Facebook allows replays) and Snapchat.
How do you start a live event on Facebook?
In the mobile app, just click the "Live" button in the upper left corner.
You'll then add a name for your live event.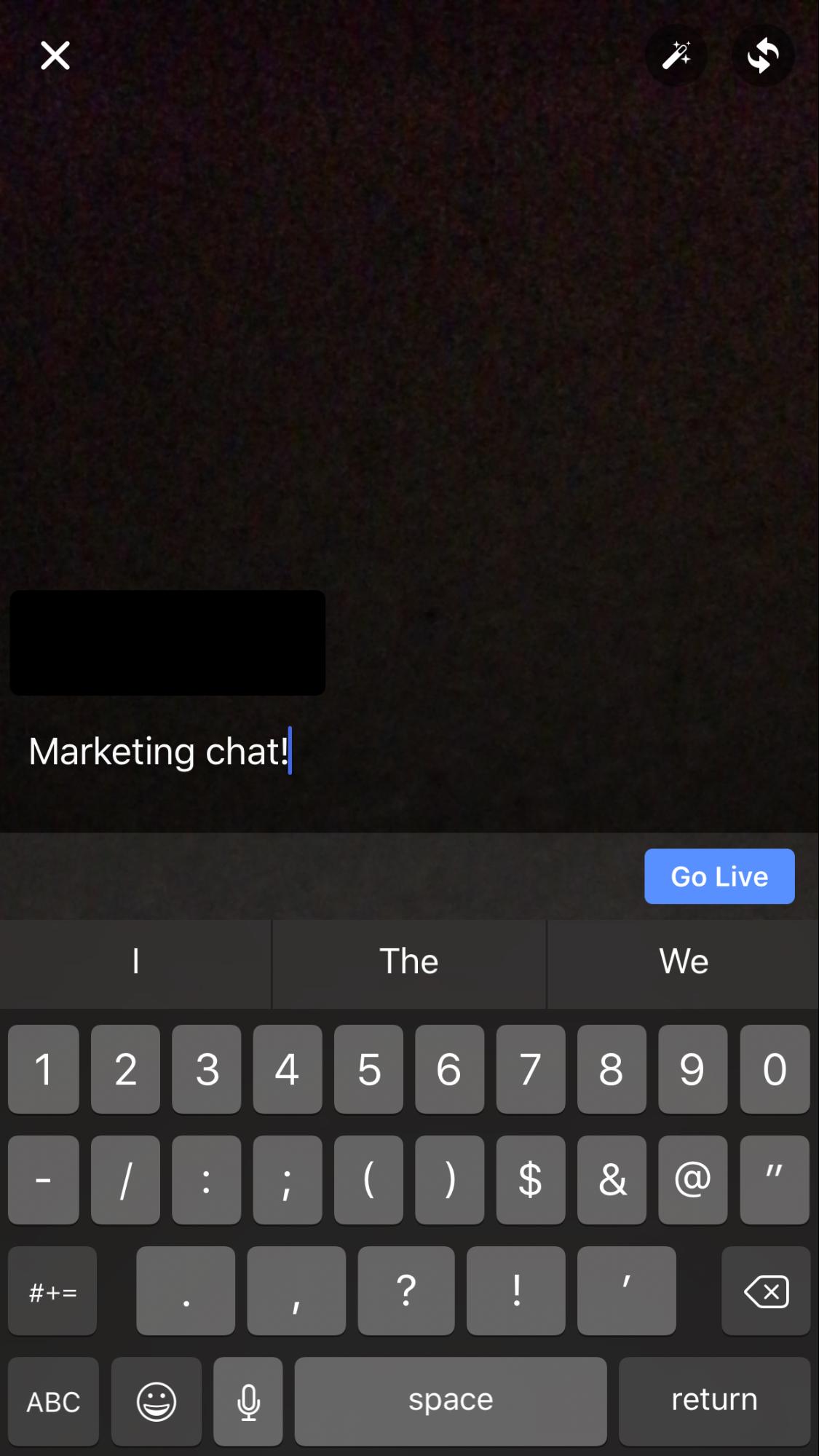 When you've named the event, click "Go Live."
Facebook gives you a three-second countdown.
It's go-time.
Don't worry about waiting for your audience to show up. They'll be able to watch it later, so don't waste time. Hop right into your content.
When you've finished, Facebook shows you "Ending Live Video,"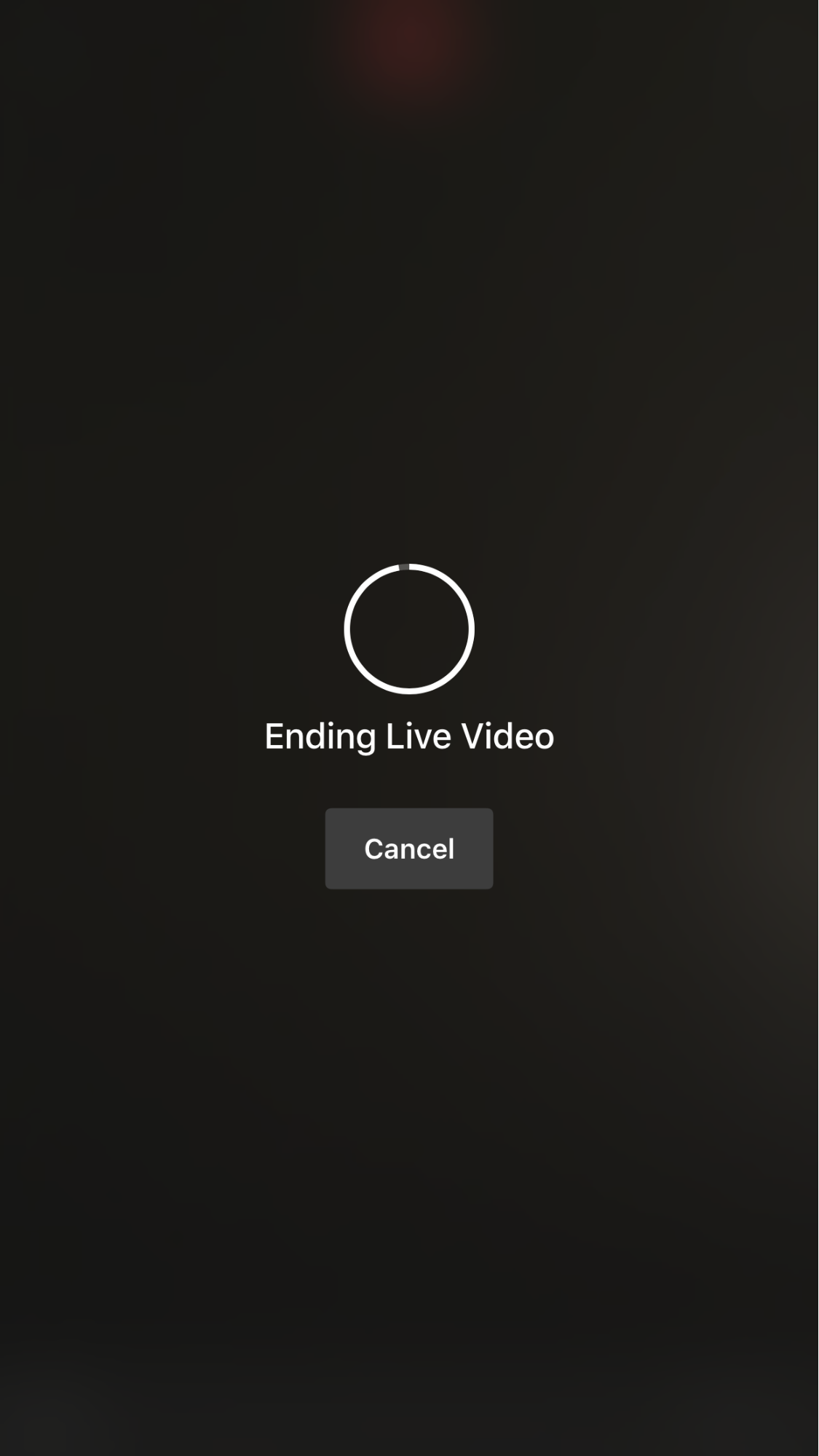 Then, you have the option to announce it to your friends again.
Okay, you're probably wondering, "How can I even use live streams for my business?"
You can use them for everything from product demonstrations to interviews. Here are just a couple of my favorites.
Nestlé's Drumstick reached out to influencers for a unique campaign using the Periscope live streaming app.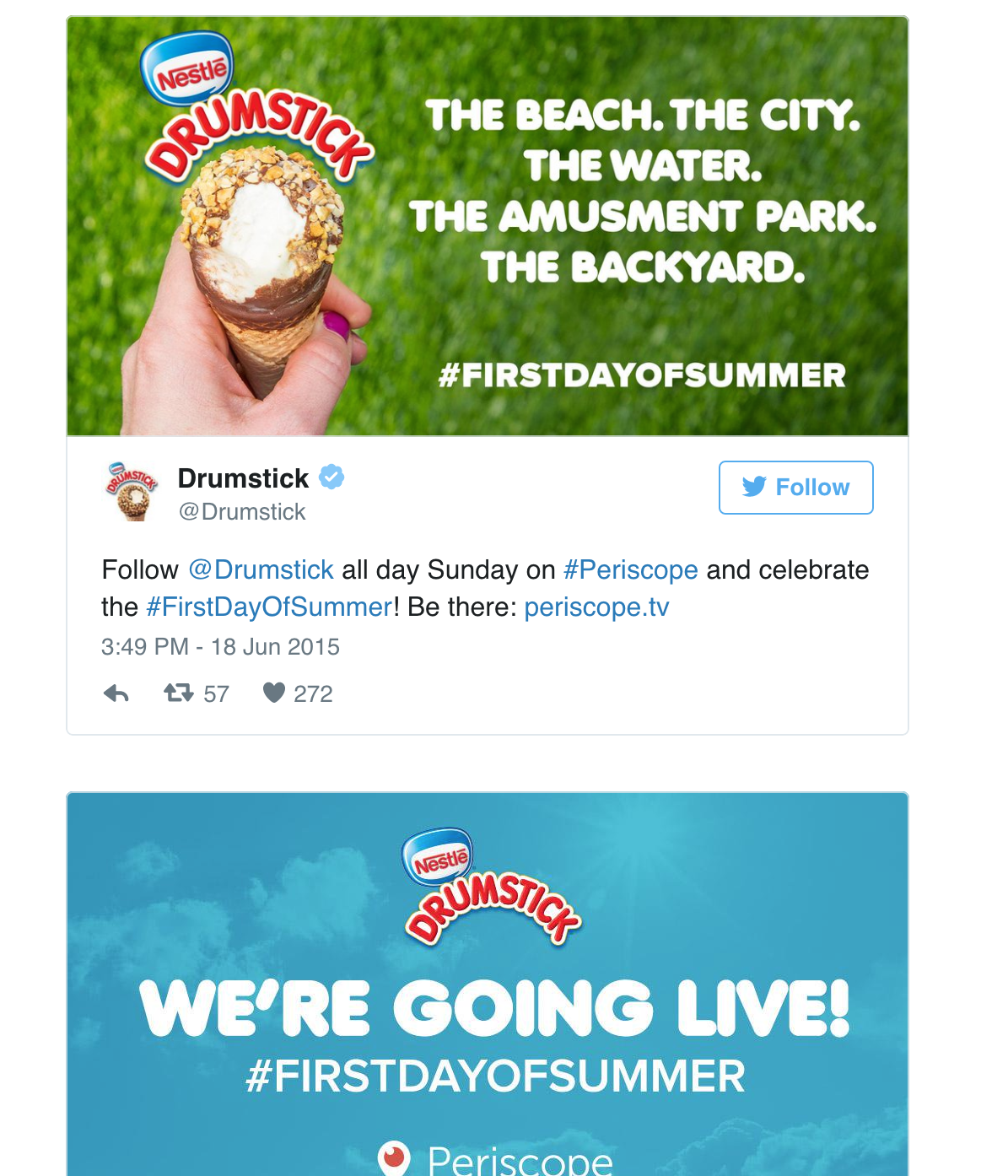 Here's a cool and unusual use. GE used live streaming to give tours of facilities using drones as a part of their #DRONEWEEK campaign.
https://www.youtube.com/watch?v=-ufHtNeBfjg
Here are some other ways to use live streams:
Q&A sessions
Real-time customer support
Hold live contests/challenges
Brand vlogging
Event coverage
If you make live streaming events a regular part of your marketing strategy, you'll be spending quality time with your users and they'll appreciate that.
Customers enjoy live interaction. Periscope has 2 million daily active users and the platform has had over 200 million broadcasts so far.
And, according to Livestream, 80 percent of respondents prefer live video to blog posts and 82 percent prefer live video to social posts.
Use live streaming events to build a positive relationship with your audience. Don't spam them or just try to sell to them. Provide value.
Live streaming provides the opportunity to create a dialogue with your customers. Don't let your live streams be one-sided. Open up the conversation and listen to your users.
There's a lot of untapped potential in the live video space. Whether you use Facebook, Periscope or another service, the sky's the limit.
Step 3: Use Twitter cards
You're probably already using Twitter. It's a great platform for lead generation.
But there's a cool feature that many marketers don't take advantage of. It's way better than any paid Twitter ads and it's completely free: Cards.
Twitter Cards are basically extensions of Tweets. You can add photos, videos and other media.
But, that's not all––Kevan Lee of Buffer has an awesome strategy for getting warm email leads using Twitter Cards.
Here's one of Kevan's Cards:
When a user clicks on the link in the Card, they go to a simple email capture page:
This is a super simple process for the user to go through. And, Kevan says this one technique is responsible for 33 percent of his email signups.
I love this technique, because you do the work once and keep getting benefits. You don't have to spend a lot of time planning. You just create the Card and you're good to go.
Here's how to replicate Kevan's technique.
Log in to your Twitter account. Once you're in, go to the top right corner, click your profile picture and select "Twitter Ads."
Click "Creatives."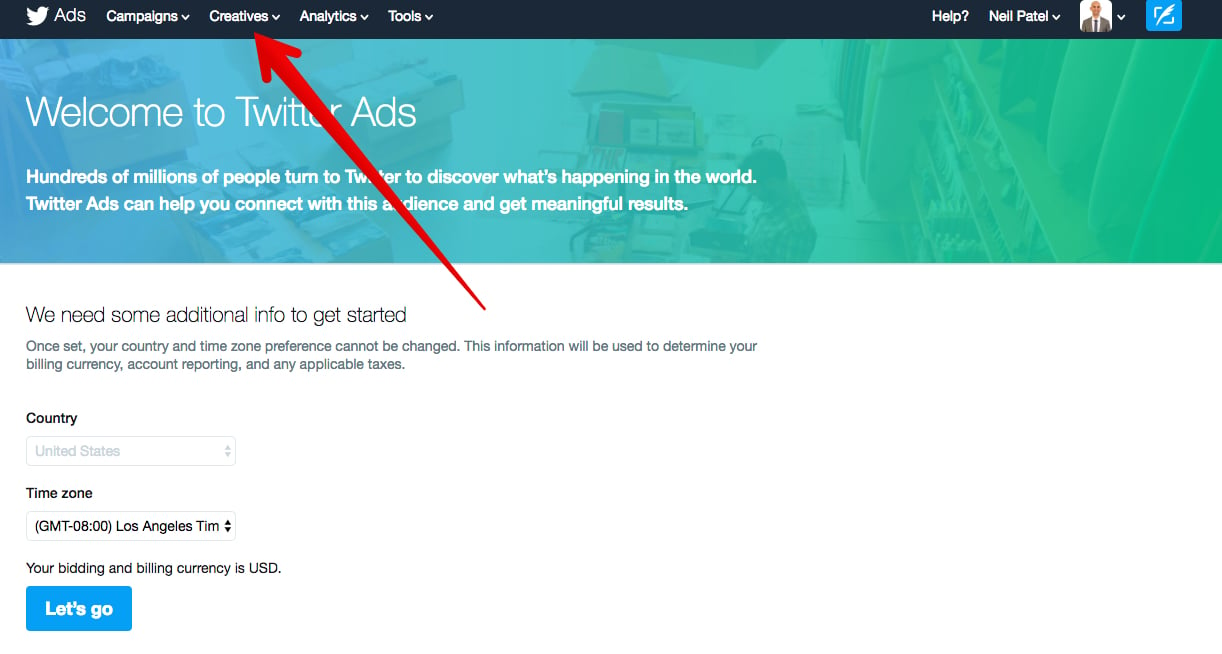 Then, click "Cards."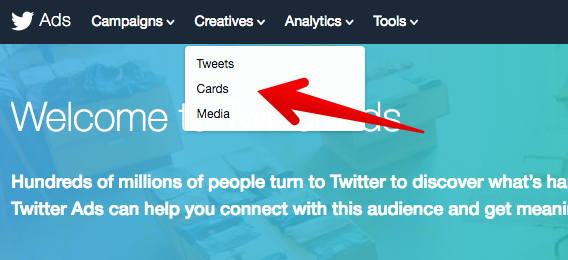 Click "Create your First Lead Generation Card."
Add your card's content. Start with the description.
Add an image.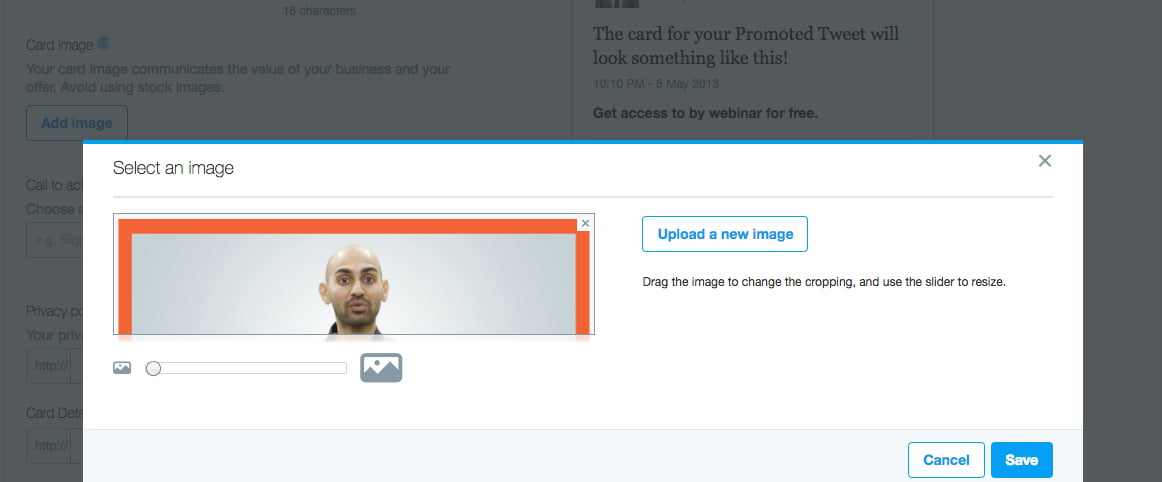 Then, add your call-to-action, privacy policy and a fallback URL.
Be sure to name your card, then agree to the data use policy and click "Create Card."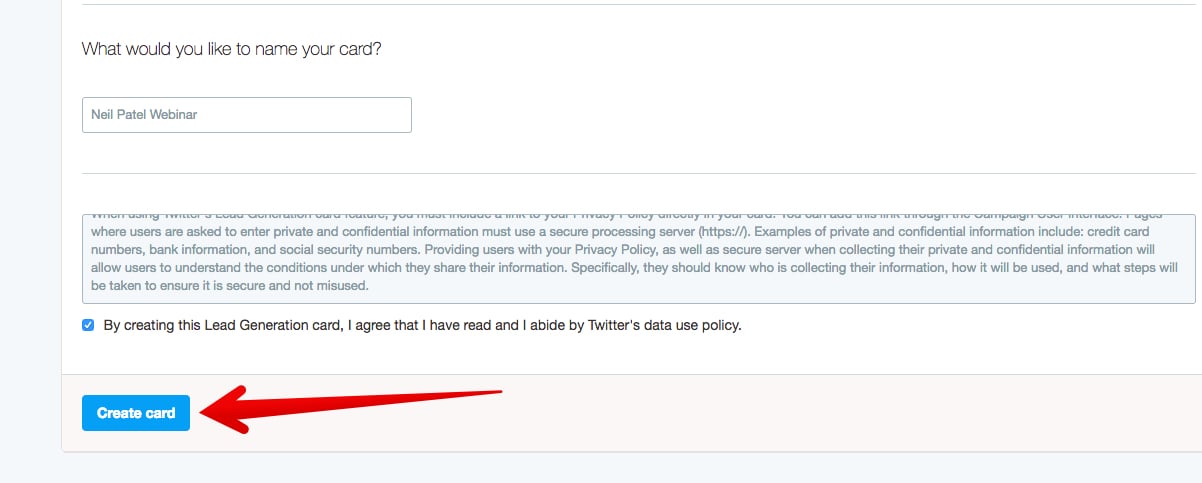 You're done!
The finished product should look something like Kevan's card:
You can also pin the Tweet to the top of your page, so that it's one of the first things a visitor will see.
Now, when anyone visits your Twitter, they'll see that pinned Card at the top of your page.
This is an excellent technique to use if you're on Twitter. You can even change your pinned Cards if you're running a particular campaign.
It's amazing how much a well-placed question can do. You could be next in line to see a nice increase in your email list size.
Step 4: Become an invaluable resource
I know this sounds like a pretty difficult process, but it's a lot easier than you might think.
While it's true that building authority does take a while, there's a lot that you can do to in the short term to get people's attention by helping them.
When I talked about gated content earlier, I mentioned the scarcity trigger. Now, we'll focus on the reciprocity trigger.
In short, the idea is that if you help someone, they're going to want to help you in return. There are a lot of different ways that this can play out on social media.
A great way to help others is to hold an AMA (Ask Me Anything). This type of interview was made popular by Reddit, but it's gained traction on other platforms.
In an AMA, you set aside a specific amount of time (usually an hour or so) to answer everyone's questions. It's a huge Q&A session run by your audience.
If you take this opportunity to provide detailed answers to people's questions, you could get a lot of traffic in return.
The team behind the Chrome plugin OccupyTheBookstore held a Reddit AMA, gave away stickers and got a lot of attention:
In fact, it was so popular and successful that the team returned for another AMA a year later.
So, even though AMAs are traditionally one-time events, people often want to hear more. And, that helps bring in fresh traffic.
AMAs can also be ongoing. The TSA has a dedicated Twitter account, called @AskTSA, to answer customer's questions.
If you get a lot of questions, this is a good approach to take, because it shows people that you're there for them. You can make a dedicated Q&A page where users can submit questions or you can use a chat box.
During the AMA, you can provide links to your profiles. Don't be salesy, but don't be shy either.
Tim Ferriss used his Reddit AMA to promote his latest book:
You can also hold AMAs on Facebook, Twitter, Instagram, Periscope or pretty much any social media platform you can think of. If you can connect with others, you can do an AMA.
The key is to be honest and transparent. Don't use any corporate jargon or confusing answers. Be open with people and they'll appreciate it.
Another way of providing value is through content. People trust content that's authoritative, detailed and actionable.
You can use webinars, blog posts, videos and so much more. It really doesn't matter too much which content types you use, as long as you make your content awesome.
To sum it up, if you create any kind of detailed content that helps others, whether it's an AMA or a webinar, you'll be seen as a valuable resource.
Conclusion
Social media lead generation doesn't have to give you a headache.
If you're not having success with your current strategies, try out these four techniques. And, if you're not on some of these platforms (like Periscope), give that a shot, too.
These techniques aren't the run-of-the-mill suggestions and I think that's part of why they work so well.
When someone sees an ad, they usually see it as little more than a marketing tactic.
But, when someone sees a live stream or an AMA, that's not the knee-jerk reaction.
What I especially love about these methods is the flexibility. You can get creative and put a new spin on these to make them your own.
So, get out there, put these techniques into action and get the warm leads that are out there waiting for you.
In fact, here's a challenge for you. Follow these steps — heck, come up with some of your own — and see just how many leads you can get in a week.
If you really give it all you've got and take a week to do it, you can probably double or triple my 58.
The challenge is on. Show me what you've got!
What's your favorite technique for getting leads from social media?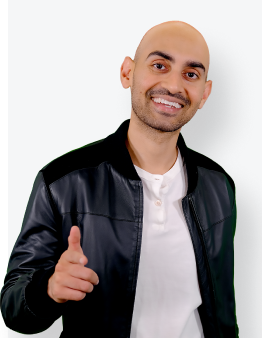 See How My Agency Can Drive More Traffic to Your Website
SEO - unlock more SEO traffic. See real results.
Content Marketing - our team creates epic content that will get shared, get links, and attract traffic.
Paid Media - effective paid strategies with clear ROI.