Have you got into LinkedIn Groups?
If you've been doing social media for a while now and have got past the naïve "I'll use social to sell stuff" stage, you likely have discovered the value of exchanging ideas and building relationships. Though you could make a case a number of networks offer you these opportunities, I believe LinkedIn Groups is the best of them.
After you understand the workings of LinkedIn Groups, if it's authority you seek, an even more powerful idea than belonging to a group is creating one.
In "LinkedIn Marketing—An Hour a Day," author Viveka von Rosen writes,
"One of the best things you can do on LinkedIn to position yourself as a thought leader and attract new customers or clients – is to create a group. (It also helps you get found on Google.)"
The best groups interact.
I spend time on LinkedIn daily and it's rare a day goes by where I don't check into a group, or groups to do some reading and writing. It's fun and informative.
However, though I belong to many groups relevant to my profession, it's impossible to give them equal time. So over the years, I've gravitated to an elite few where my experiences are the most rewarding.
As a content marketer, my favorite LinkedIn Group is "Content Marketing Academy" because the activity level is high. When you ask a good question, you get good answers. That's the dynamic I'm looking for and you should be too.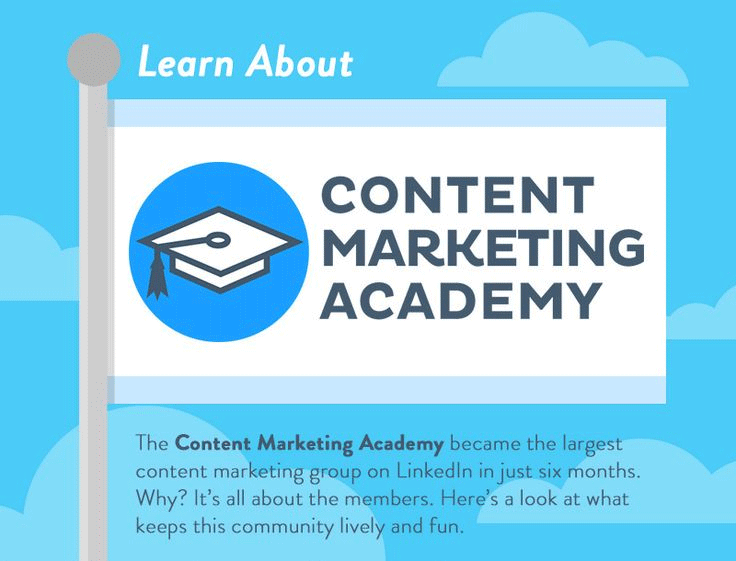 There are over 2-million LinkedIn Groups, so putting the 80/20 rule into play, I suspect there are close to 1.5-million group that are underperforming. I got to thinking, "Wouldn't it be great to learn how this top group is run?"
I reached out to Andrew J. Coate of Kapost, who manages Content Marketing Academy, and was given the opportunity to "group interview" some of the key members of the content marketing team there.
A group with a purpose and plan.
If you search Groups on LinkedIn for "content marketing," it returns over 1,000 hits. Content Marketing Academy ranks first because it's the largest. Launched in July, 2013, it became the largest LinkedIn Group in the space of six months and now has over 11,000 members.
My first question for Andrew was, "What was the plan?"
"The purpose of Content Marketing Academy was to provide a little bit of a different forum on LinkedIn," he said. "There were a lot of content marketing groups, but we noticed they tended to become, as LinkedIn groups mainly do, just a place with link dumping and not as much conversation. So we wanted to put together a place that could be more of a forum marketers of all kinds and all levels could come to and actually discuss their challenges and work them out together."
Interestingly, Andrew spoke to a measure of success he values.
"I care more about a metric related to comments per discussion than I do about how many people are in the group. While it's great to say we're the largest, I was focused on how many people were actually engaging and how engaging the conversations actually were."
Does size matter?
Andrew says the headcount of the Content Marketing Academy isn't as important now as it was last year when he set out to grow it, but admitted he did indeed seek big numbers and explained why.
"When you search 'content marketing' in groups on LinkedIn, we wanted to be the one that came up first. So originally we tried to focus on growth and getting to a point where we had more and more people joining. If that happened, obviously, there are more places to go with the conversation."
The team at Kapost searched LinkedIn by job title and interests and sent personal invitations to the people they found relevant. It worked.
Enforcing the charter.
"As we grew, we found more members that wanted to market. They wanted to promote what they're doing—blog posts and everything like that."
"I faced the huge challenge of cutting out the noise and making sure there are relevant conversations happening that stay on topic and people can engage with. So that led to the development of what I find to be a pretty unique set of rules."
Jean Spencer, a content marketing manager at Kapost, said, "Andrew is strict on his rules in monitoring this group to keep it pure. I know I have, on at least one occasion, broken the rules on accident and my post was deleted from the thread with a nice message from Andrew saying, 'This is a good topic, but unfortunately it did not follow the guidelines of this particular LinkedIn group.'"
When I asked Andrew if the heavy police work resulted in losing members, he said he's never booted anyone, no one's left as a result of being read the rules, and members tend to respect the rules and become more valuable contributors.
Jean said, "One of the most wonderful consequences that has come out of the platform is there is some real learning and real insights happening in these conversations. I think industry leaders are suggesting and offering feedback and comments on discussion that are the types of feedback and comments that you would get only from internal resources at companies otherwise."
I asked Andrew what else he does as the manager of the group. He said he reads through all the comments and participates in many. He often emails members of the Kapost team, especially when the threads need a nudge to get going.
"I use, in a different way, the ability to message all members of the group. A lot of groups use this to promote a webinar they might be doing or talk about an event or just use it like a marketing e-mail," Andrew said.
"One thing I've done is send out periodic updates that say, 'What you may have missed in the Content Marketing Academy.' These are just links to less popular discussions that happen in the group. So our users will get an email and oftentimes it will spur those conversations to be commented on just as much as some of our popular ones."
"It's also goodwill because people who do comment in the group or do start a discussion, feel like it was worth their time."
Culling content from the Academy.
A lot of great ideas are shared in many of the discussions I've started or joined, so I was curious if Kapost writers, or any members, extract comments in the discussions for use in their content.
Jean said, "I think it is a great way to make any content. I find it to be one of the best ways because it's a very engaged audience with an expert knowledge base that you can pool from. It really does add to whatever you're writing and adds to the research often as well."
Liz O'Neill, a content marketing manager at Kapost, added, "I think it's a really good way to problem-solve with your peers. People really like sharing their common struggles when it comes to content marketing. I was doing a piece on content marketing struggles and it was interesting to hear from everyone and get different perspectives on what they were struggling with and why. So I think it can also be a good problem-solving tool."
Matt Wesson, of Salesforce, started a discussion looking for inspirational quotes. He turned the answers into mini infographics.
Good questions.
Next, I wanted to know what works best for starting the conversations and what doesn't.
Andrew said, "The most popular discussions are people asking others, 'How are you doing this?"
Anne Murphy, senior managing editor at Kapost, added, "What a cool space to be in that we actually share our processes. There are plenty of industries, academia, engineering, you name it, that don't feel like they can share this way. It's really cool to watch all of the very granular and detailed explanations on how people are doing things and accomplishing challenging aspects of their career."
Promoting the group.
I wanted to know if the group required continuous promotion to maintain its momentum. Andrew said, "It takes care of itself and here's why. Every single member that joins the group gets a personal message from me that welcomes them to the group, links to the group rules and talks about what works well and what doesn't. They jump in knowing how the group works."
As our discussion continued, Andrew and Anne mentioned a few more tactics they use to keep interest and engagement high.
Post tweets and updates on Facebook and Google+ featuring discussion titles
Links to the group are displayed on some pages on Kapost's website
Mentions of reasons to join the group in calls-to-action on Kapost's blog
Does the Academy serve its host company?
I asked, "How does the Content Marketing Academy serve Kapost as a company?"
Andrew: "Mostly it's research—the getting to know your audience phase that's such a key to content marketing. It allows us to monitor and watch genuine conversations develop and then to respond to those problems in clever ways, creating content around it."
"Our customer service success team makes sure current clients are involved. For us, it really is a great place that fulfills that business need of how to you get to know your audience. There are only so many emails you can send out with surveys and stuff like this. This is a genuine way to interact with them and really meet their needs."
Anne: "I would also say it serves a lot of purposes for us from a marketing standpoint. This is a place where you can ask questions and we can actually engage with these people that are very important to our marketing strategy. We learn what kind of content we should be creating and build important relationships."
And on that note—building relationships—the perfect note for social media, our interview came to an end, but, of course, our relationship took another step forward.
About the Author: Barry Feldman operates Feldman Creative and provides clients content marketing strategies that rock and creative that rolls. Barry has recently been named a Top 40 Digital Strategist by Online Marketing Institute and one of 25 Social Media Marketing Experts You Need to Know by LinkedIn. Visit Feldman Creative and his blog, The Point.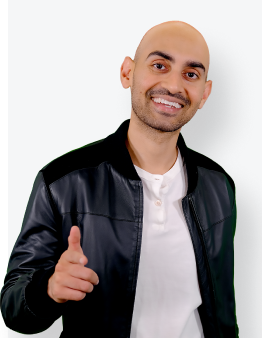 See How My Agency Can Drive More Traffic to Your Website
SEO - unlock more SEO traffic. See real results.
Content Marketing - our team creates epic content that will get shared, get links, and attract traffic.
Paid Media - effective paid strategies with clear ROI.