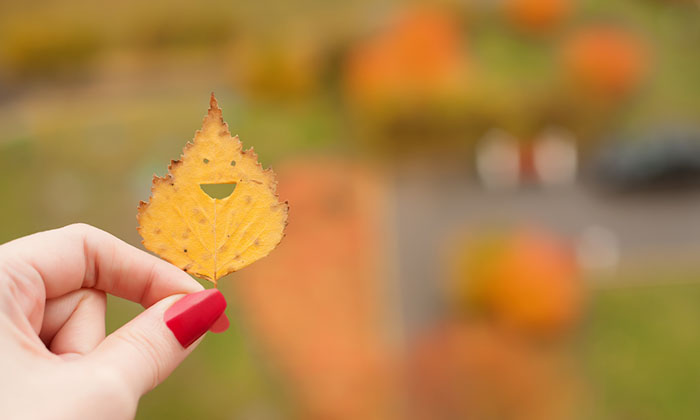 Ten years ago, you could create an amazing product, do minimal marketing, and sell it like crazy.
But today, everyone is online, marketing their products, and trying to get their message across.
So how do you stand out when more than 1.2 billion websites are shouting at the top of their lungs?
One way is to turn one-time customers into repeat customers.
A second way is by tapping into your relationships.
Let me explain.
According to a survey done by eMarketer, 84% of marketers said they would use influencer marketing in the next 12 months.
And there's a good reason for that. 6 in 10 YouTube subscribers say they would listen to buying-advice from their favorite YouTube stars over their favorite TV celebrity.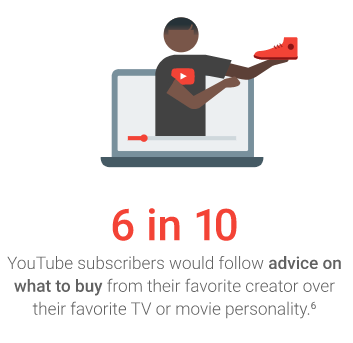 And 49% of Twitter users rely on product recommendations from influencers.
But what does influencer marketing have to do with relationships?
Influencer marketing leverages the power of relationships to get customers to buy a product.
As Jason Quey puts it, influencer marketing is "a form of marketing where you identify key people who have influence over your potential buyers."
It's why Kettle Brand Chips would pay Emily King and Corey Smith to make this Instagram post.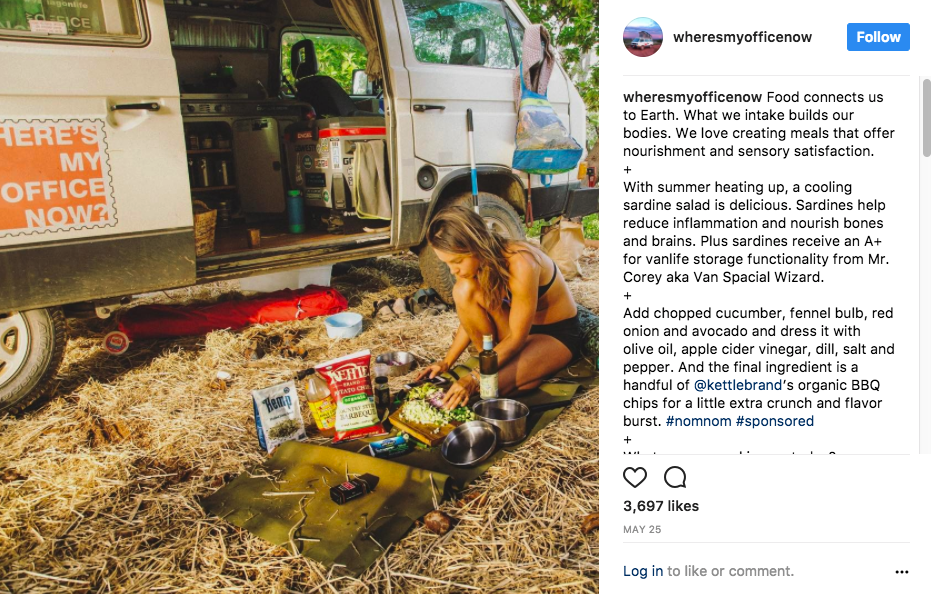 But do people really care about the bag of chips in the picture? At least 3,697 people do.
And according to Tomoson, 70% of businesses that invest in influencer marketing earn $2+ for every $1 invested.
Influencer marketing is just one example that is defining the future of digital marketing.
In this article, we'll cover exactly how you can use relational marketing to connect with your customers and increase your sales.
More specifically, I'll show you how to use influencers and how to create personable content.
Then, I'll show you what types of content you can create if you're low on time.
But first, you need to identify who your customer is.
Who is your customer?
If you want to build a relationship with your customers, you need to understand them on a personal level.
In fact, you need to understand them just as well as you understand a close friend.
But how do you do that?
One of the best ways to research is by creating a survey.
And one of the easiest ways to create a survey is to use SurveyMonkey.
Click on the above link and go to "Sign Up Free."
Then create your free account.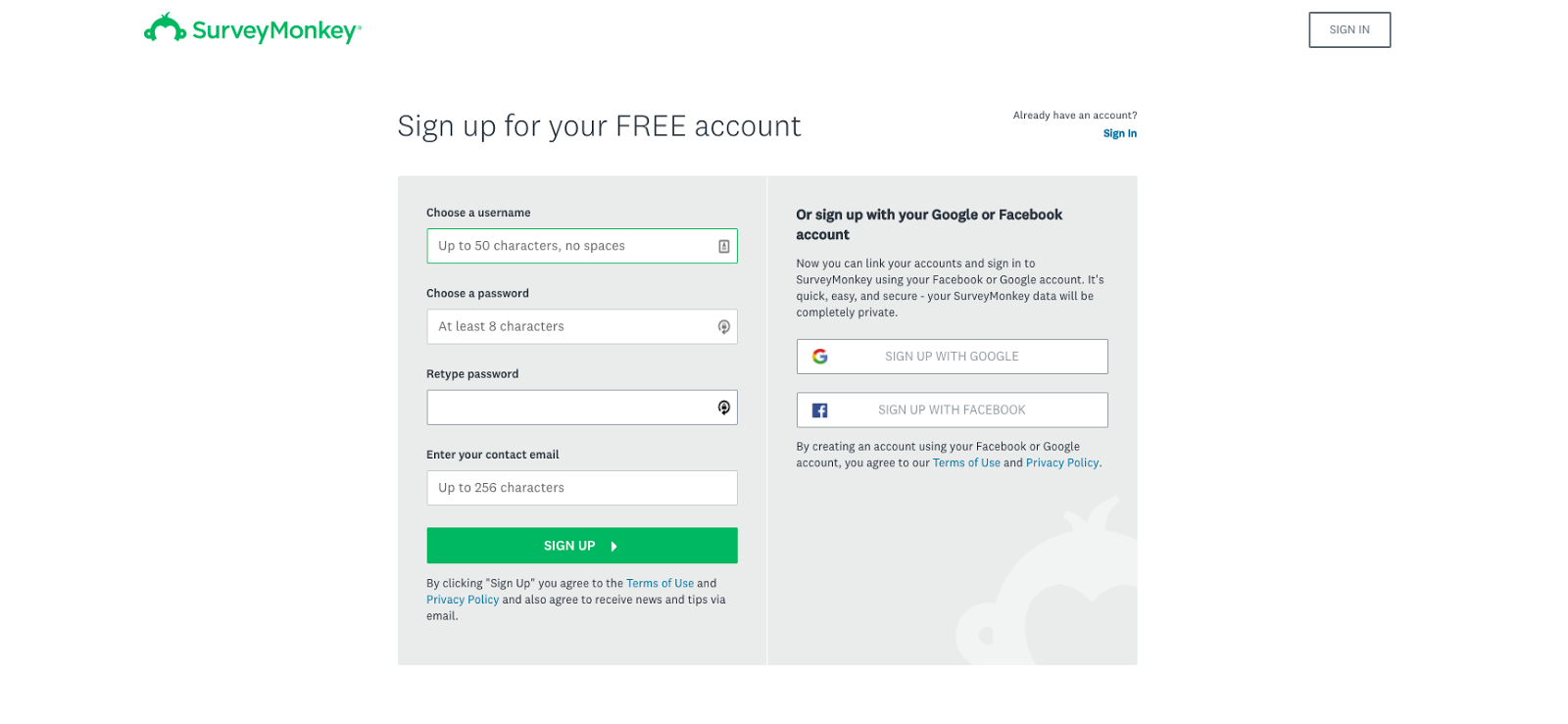 Click "Sign Up."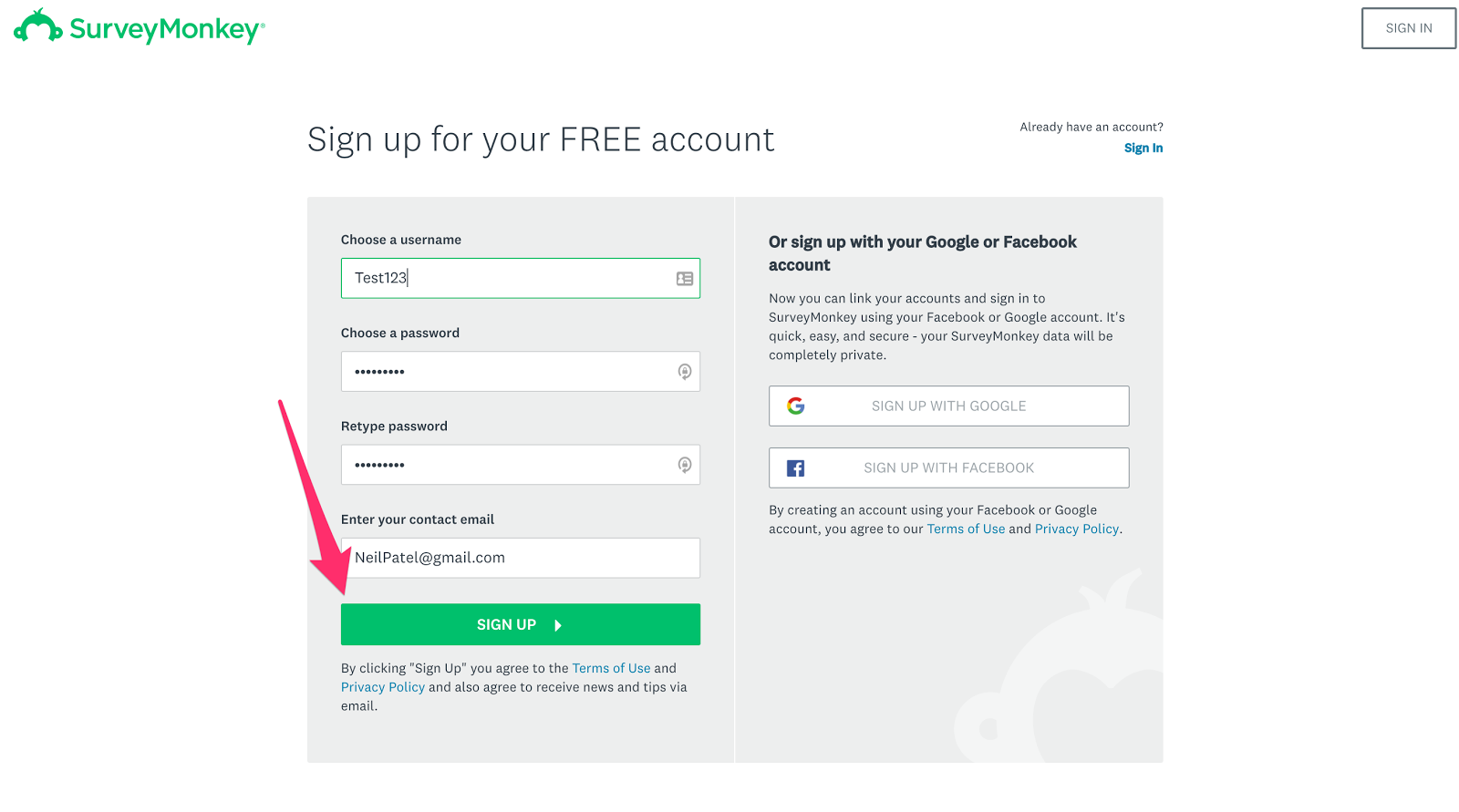 Then fill in your first name, last name, job role, and job level. Here's what mine would look like: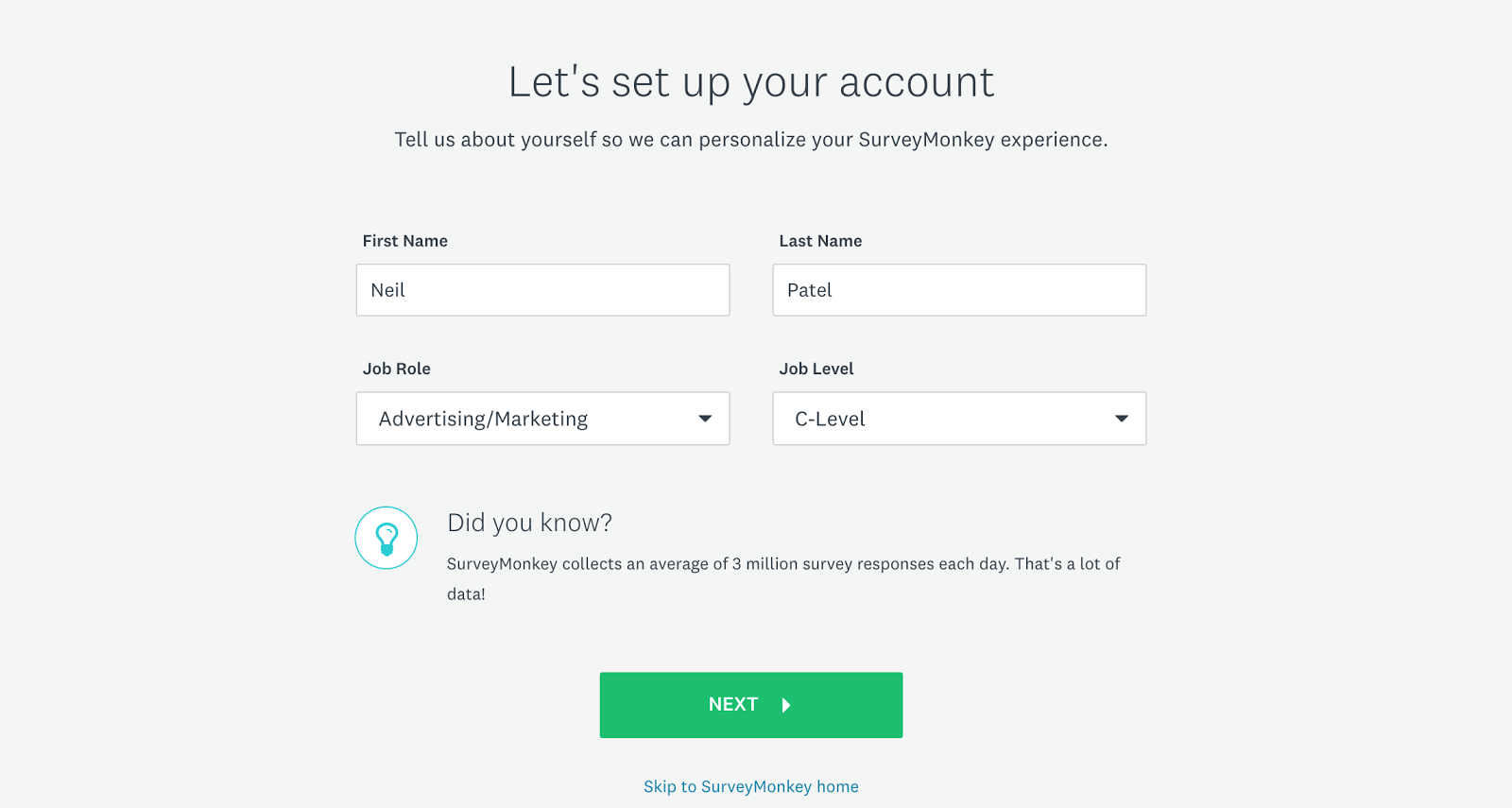 Now, SurveyMonkey will have you fill out a bit more information about your business. Once you've done that, you'll be able to create your very first survey.
When prompted, select, "My Customers."
And then select, "Start from scratch."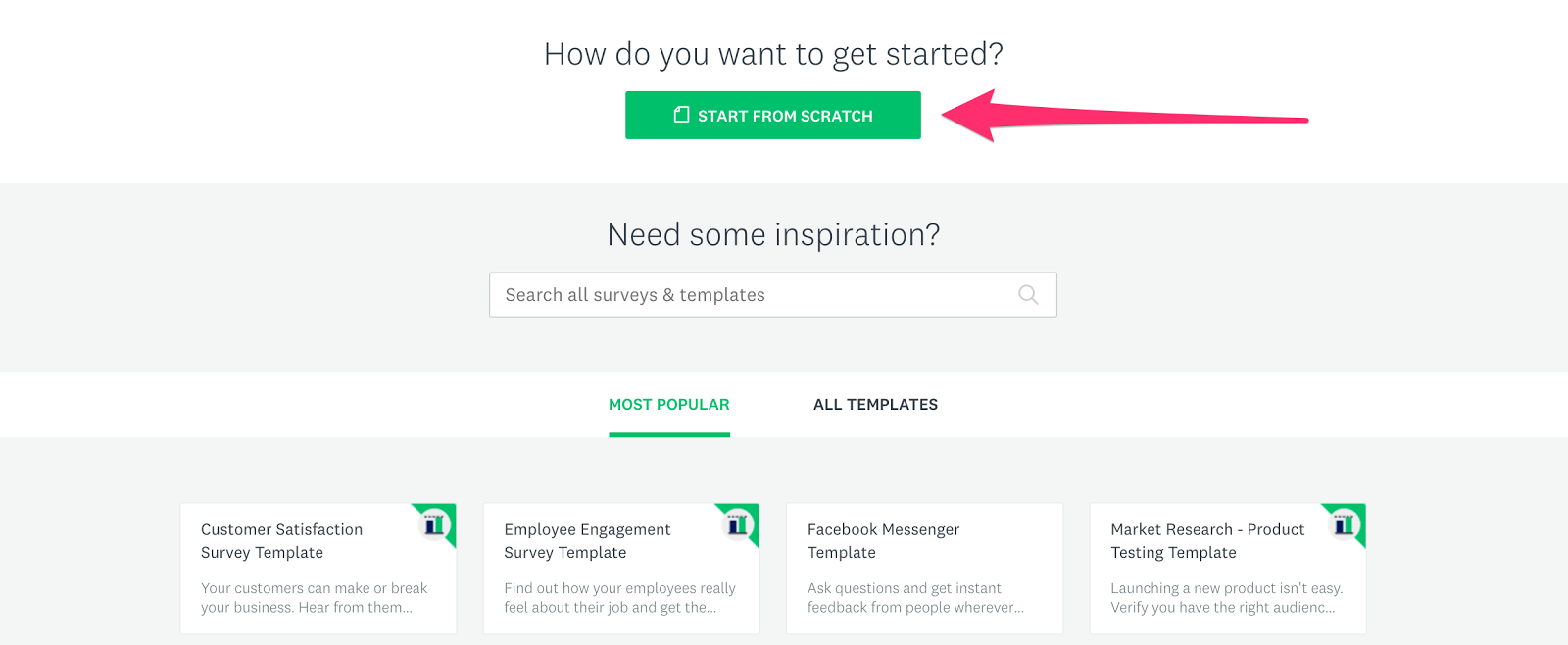 Now, name your survey and select, "Demographics."
I named my survey, "Customer Avatar," because answers to this survey will tell me about my customer's personality.
Click "Create Survey."
You'll see this page, where you can create the questions you'd like to ask your customers and prospects.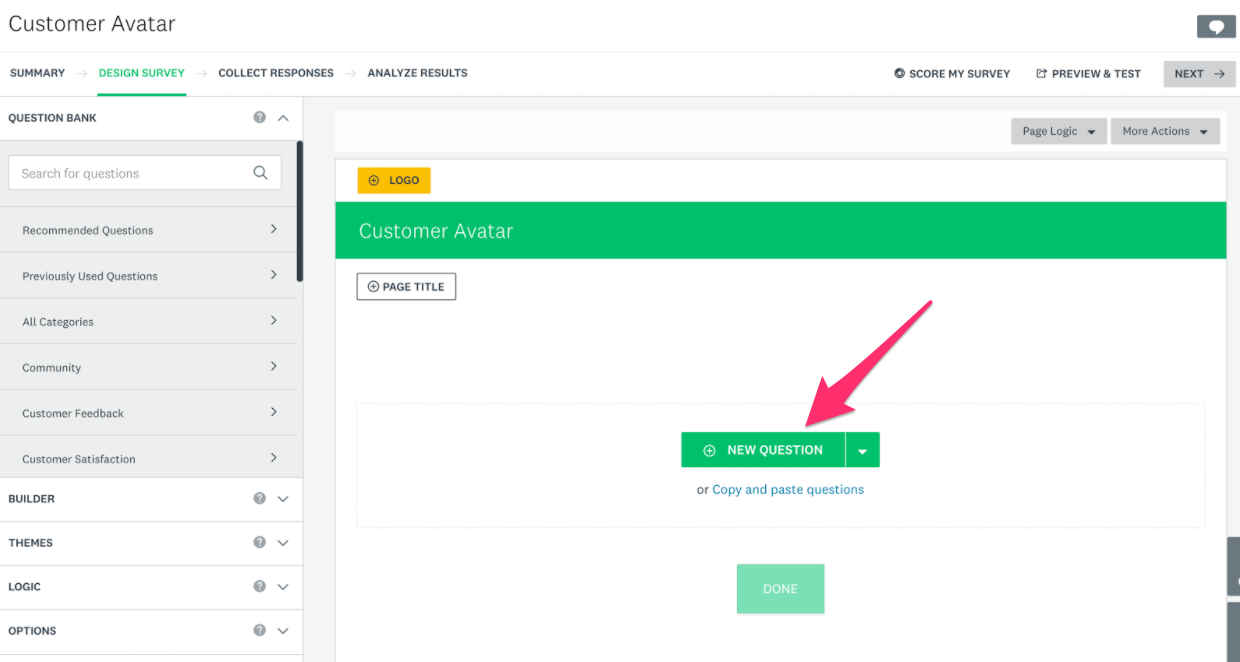 Here's my advice. Limit your survey to five questions. Most people don't have a ton of time to sit around and take a survey, so make it as easy as possible for people to complete.
Here are five questions you can ask your customers:
What is your favorite hobby?
What is your job title?
What is the biggest challenge you face at work?
What is the biggest challenge you face at home?
If I could solve one problem in your life for you, what would it be?
You might be thinking to yourself, "Why am I asking my prospects about their hobbies and their at-home challenges?"
Because to sell something to someone, you really have to understand that person.
By asking these five questions, you'll understand who your customers are, what they struggle with, and why they might want to do business with you.
This means you'll be better suited to sell them your product.
Now, click "Next."
Then, select how you'd like to send the survey to your prospects. For many of you, an email will be the easiest route.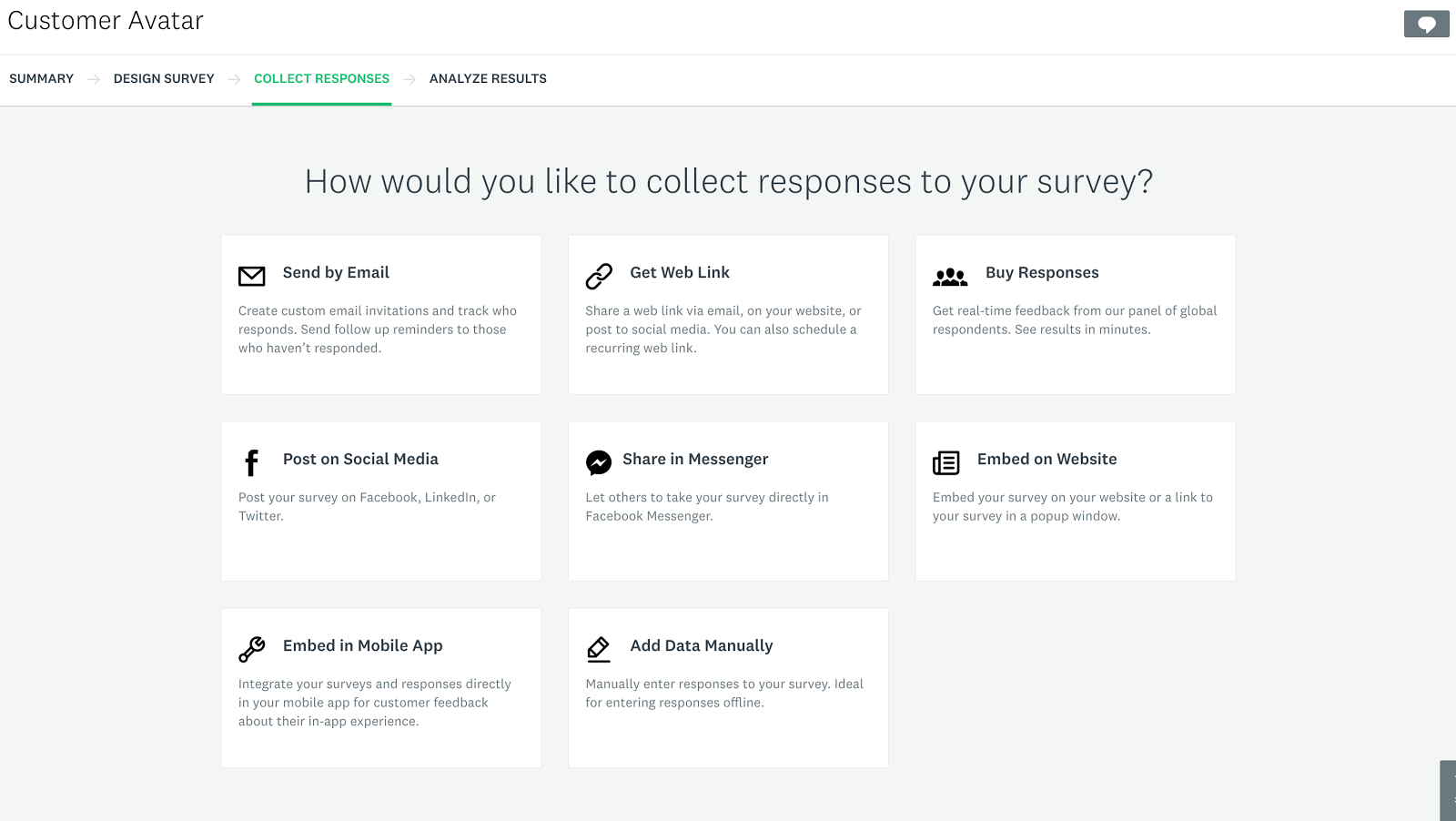 Once you get responses, take time to look over them, notice any patterns, and start changing the way you interact with your customers based on what you learned.
There's no better way to learn about your prospects than by asking them.
Now you know more about who your customers are. Let's take a closer look at influencer marketing.
Find and use the right influencers
There are a lot of influencers online.
There are also a lot of people who call themselves influencers but aren't. Some people pay for fake followers. Others have a lot of followers, but no one listens to them.
So how do you find the right influencers and make sure they're not trying to pull a fast one on you?
It's simpler than you might think.
The first thing you should do is go to Google and search for, "Top influencers in [your niche]."
You should see something like this: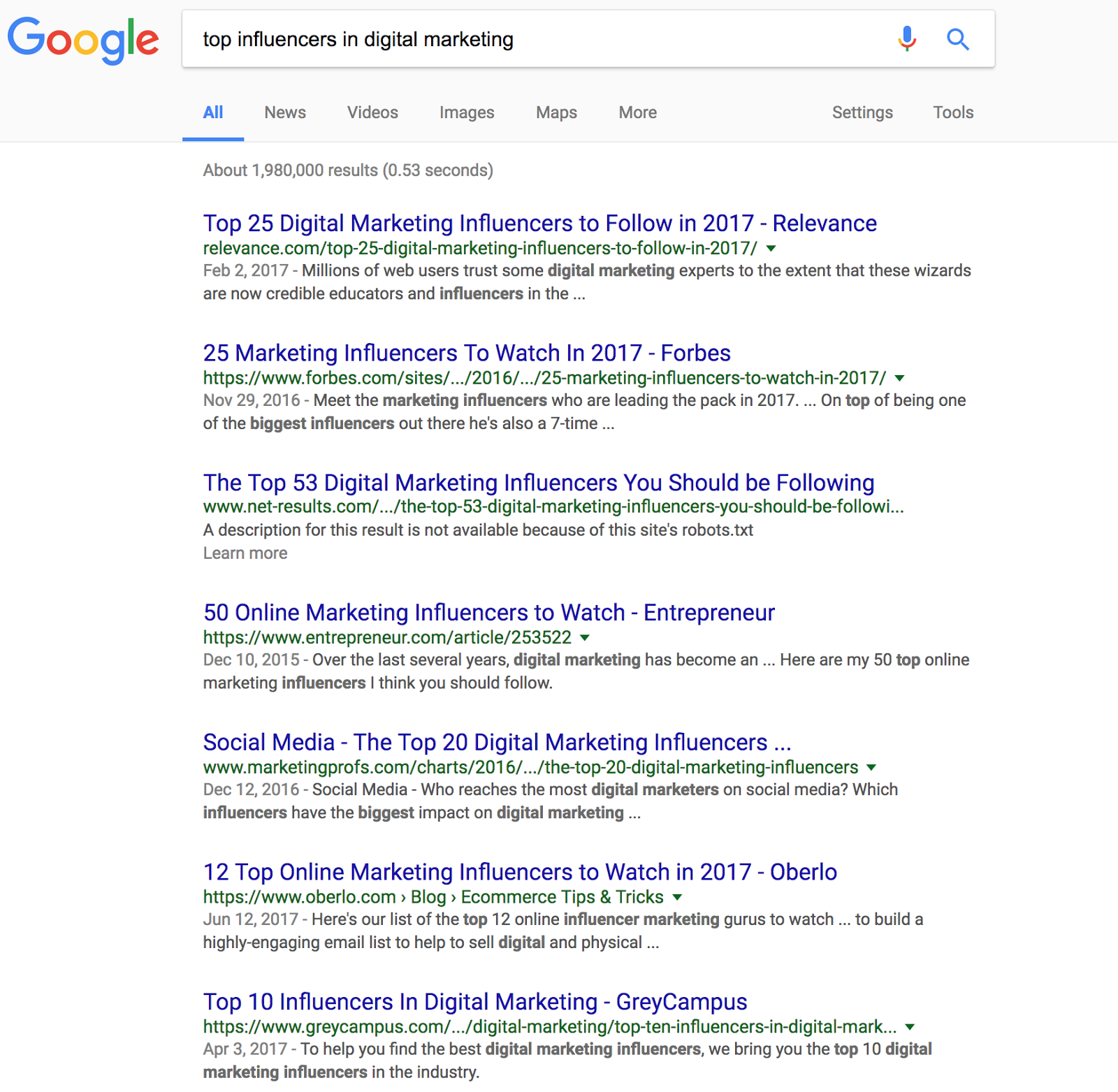 Open a few separate tabs and clicking on some articles.
Look through the list and choose any influencers that you want to work with and add them to a spreadsheet.
Or there are tools that can help you find Instagram influencers in your niche.
Now, I know what some of you are thinking.
"These influencers are way too big for me to work with. I need smaller influencers."
Maybe your business is still on the smaller side and getting these influencers would be a major challenge for your business at this point.
In that case, search for what is sometimes called micro-influencers.
Micro-influencers are online personalities that are influencers, just with smaller audiences.
In fact, micro-influencers are arguably more beneficial for your business than their celebrity counterparts.
A study done by Markerly revealed just how influential these micro-influencers can be.
Influencers with 1,000 followers receive the highest like ratio.

They also receive the highest comment ratio.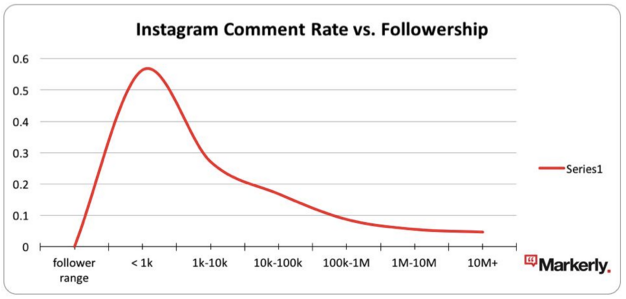 Because of their smaller audiences, they often have a more genuine influence in the lives of their followers.
Micro-influencers feel more like a friend and less like a celebrity.
82% of consumers are likely to listen to the recommendation of a micro-influencer.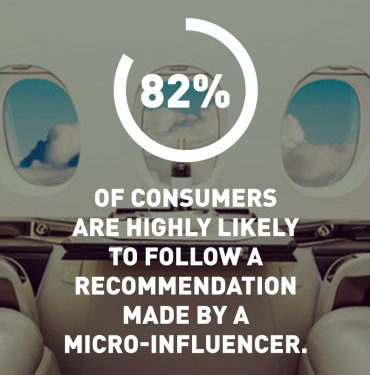 But how do you find micro-influencers?
Start by going to all the social media channels you want to target. Use the search bar and type in whatever your target niche is.
Let's look at how to do this with Facebook.
Facebook allows you to search by account type. The two types of accounts you want to focus on for influencers are "People" and "Pages."
On Twitter, focus on the "People" tab.

On Linkedin, search under the "People" and "Posts" options.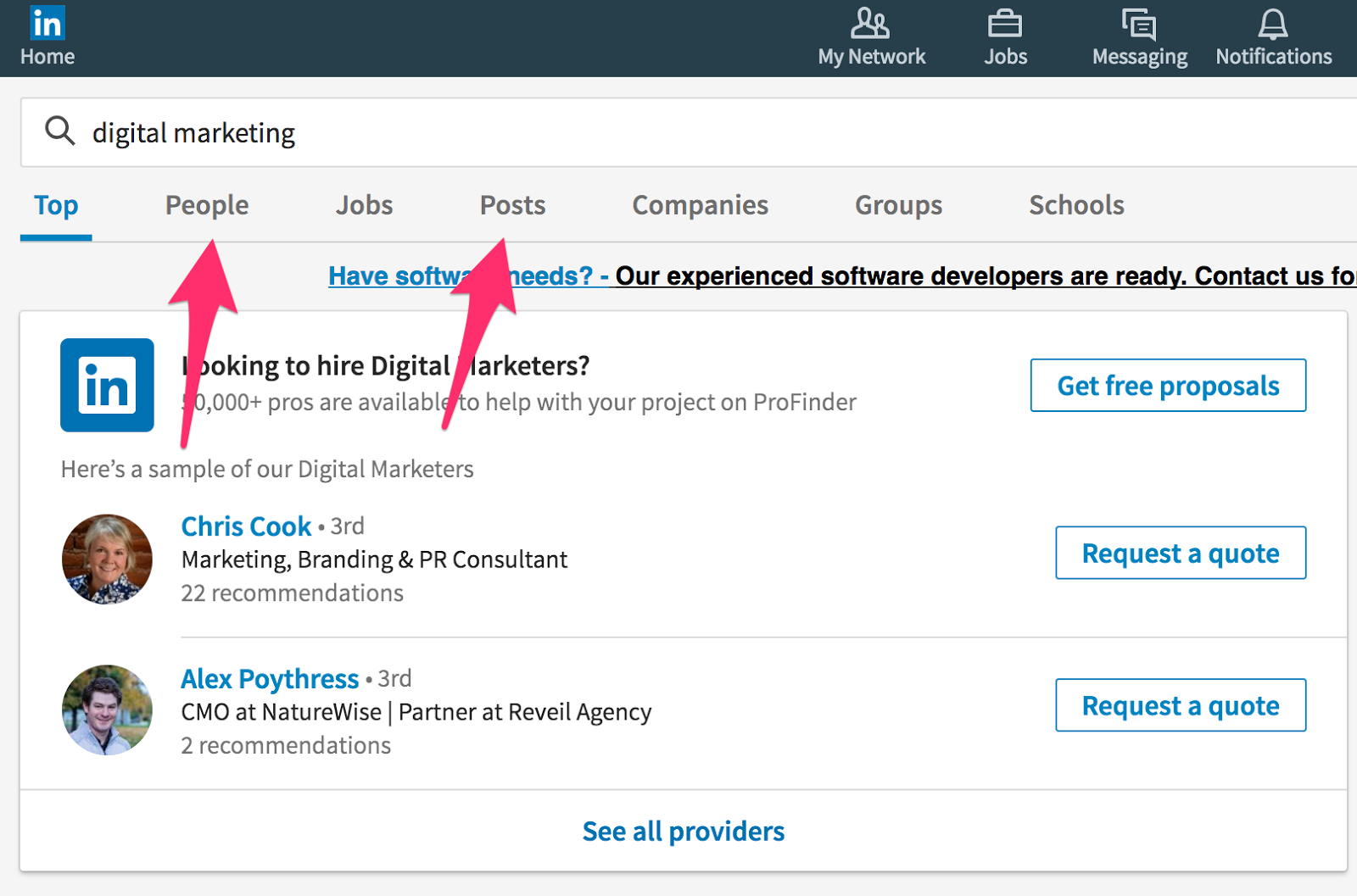 Again, save all of your research in a spreadsheet.
But don't just choose anyone. Here's what you need to think about when choosing influencers.
How many followers do they have?
Do their followers engage with their content?
Is that engagement high-quality?
Is their audience the same as your prospective client?
The last thing you want to do is spend time researching and connecting with influencers only to get no additional clients from your efforts.
Now that you've found the right influencers, it's time to contact them.
Pitching them doesn't need to be a nerve-wracking process. But there are a few important things you need to remember.
First, always be friendly and respectful of their skillset.
Second, explain the benefit that they'll receive by working with you.
And third, always approach it as a collaborative effort, rather than one person working for someone else. You're working together.
You can use this example: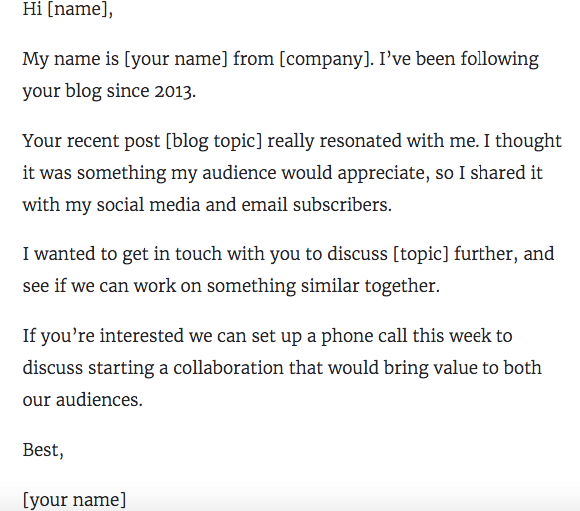 Many people who pitch influencers treat it like a transaction.
And that's understandable. In some ways, it is a transaction.
You want the influencer to talk about your product, and the influencer wants money, a mention, or something else in return.
But the problem with treating it like a contract is that it does little to create a mutually-beneficial and long-lasting relationship between you and the influencer.
Kettle Brand Chips does a great job making their relationship with Emily King and Corey Smith long lasting.
Many of their posts on Instagram sport a bag of chips intentionally placed in the photo.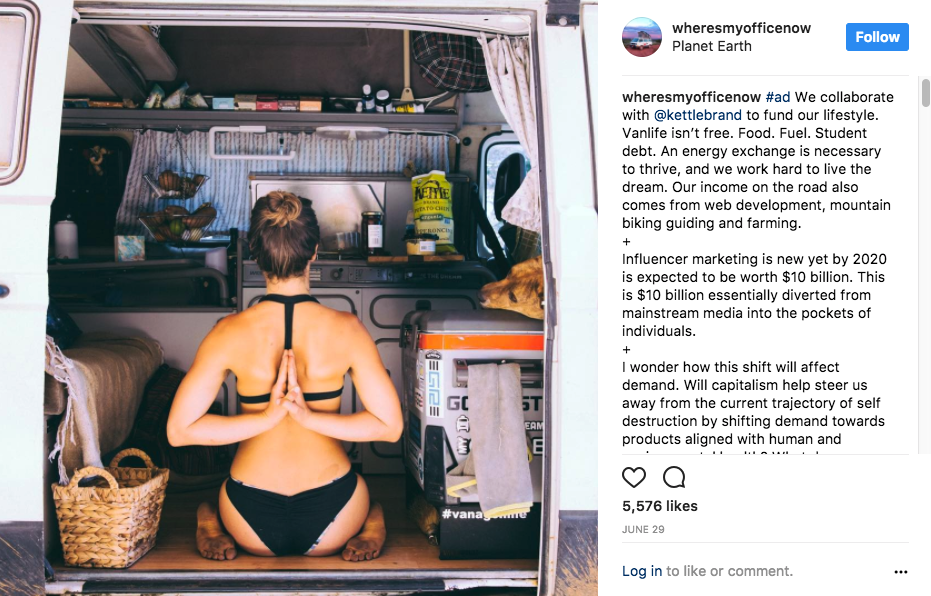 Always aim for long-lasting influencer relationships instead of one-off transactions. Keeping relationships with influencers will always be easier than finding new ones.
You now understand how to find influencers and micro-influencers, pitch them, and then work with them.
But what else can you do to market to your audience relationally?
Create free content
Many marketers bombard you with articles about why you need to create free content.
But there's a good reason for it.
In 2017, approximately 70% of businesses (B2B and B2C) are creating more content than in 2016.

And 62% of businesses are more successful with content marketing than they were a year ago.

It's nearly the same for B2B and B2C marketers.
The point?
Content marketing is on the rise, and it's bringing businesses loads of traffic.
Why is content marketing so successful?
Again, it's all in the power of relationships.
Think about it. You don't ask your friend for anything in return when you help them move. And yet, you remain friends.
Why?
Relationships are powerful. There's give-and-take without any expectations.
Content marketing is similar.
You give free content to your prospects, without expectations.
Why? Because you know people are more likely to become devoted followers and friends of your brand.
But it's one thing to create content. It's another to create relational, practical, engaging content.
So how do you do that?
Here are a few options.
1. Write engaging blog posts.
I know. That seems easier said than done.
You and I have both sat down to write a blog post and, by the end of it, felt that it just didn't come together.
Sometimes the words didn't quite work, or the examples weren't quite right.
But that's okay.
The key is to produce content that is helpful, and that people can relate to.
And doing so is simply a matter of knowing the right techniques.
First, go to BuzzSumo.

Think of a content marketing competitor in your niche.
Type in their URL.

Click "Go."
Then, BuzzSumo will show you what content is performing best on your competitor's website.
Since your competition has the same audience as you, this will tell you exactly what kind of blog post you should write to get the traffic you're looking for.
Simply choose one of the best performing titles, reword it, and create your own blog post on that topic.
2. Create Facebook Live videos.
As people become more comfortable with live video, Facebook Live is going to rule a large portion of social media content.
Mark Zuckerberg is counting on it. He says, "We're entering this new golden age of video. I wouldn't be surprised if you fast-forward five years and most of the content that people see on Facebook and are sharing on a day-to-day basis is video."
And it looks like he'll be right because already 45% of people are watching over an hour of videos a week on Facebook or YouTube.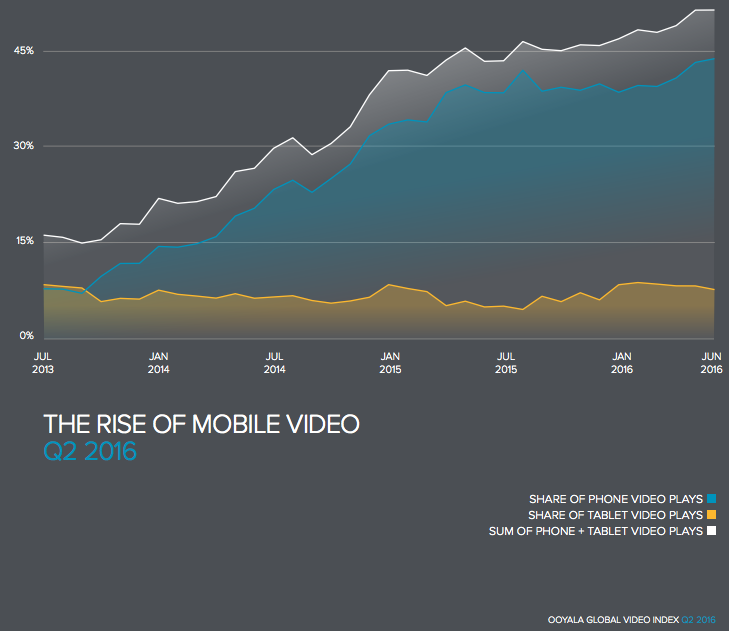 And Facebook Live video is often more compelling and easier to share than normal video.
People watch Facebook Live videos three times longer than videos that are not live.
In the words of Mark Zuckerberg, "Because it's live, there is no way it can be curated, and because of that, it frees people up to be themselves… Somewhat counter-intuitively, it's a great medium for sharing raw and visceral content."
People enjoy this genuineness.
The other advantage to Facebook Live videos is that they don't take much time to create.
Simply come up with a topic (you can use the same BuzzSumo method above), and then click on "Live Video."

Add a short and catchy description of what you'll be discussing and then click "Go Live."

Once you do, you'll be on live video, broadcasting to whoever is willing to watch.
The best part?
Facebook will notify all of your followers that you just went live, which will encourage them to check out your video.
The most important thing to remember when doing your Facebook Live video is to be authentic.
It's okay to stumble and make little speaking errors. If anything, those mistakes just tell your audience that you're not afraid of putting yourself out there.
Most people will respect that.
Here's a Facebook Live video from Starbucks where they celebrate voter registration day.
The person in this video isn't the best presenter, and there are plenty of awkward transitions.
And yet, the video has received nearly 200,000 views and almost 300 shares.
https://www.facebook.com/Starbucks/videos/10154528031108057/
Nothing is more transparent than a live video. Consider using Facebook Live as one of your content-marketing pillars.
3. Post relatable social media content.
This technique is really simple.
Start creating personable social media posts.
To get engagement with your posts, here are a few things you'll want to remember.
First, posts with images perform better than posts without images. Whenever you can, include a photo.
Make the image and writing personable like this post from Michaela Alexis on LinkedIn.
On Facebook, questions do a great job of encouraging engagement with your post.
Tony Robbins does a great job of utilizing this tactic.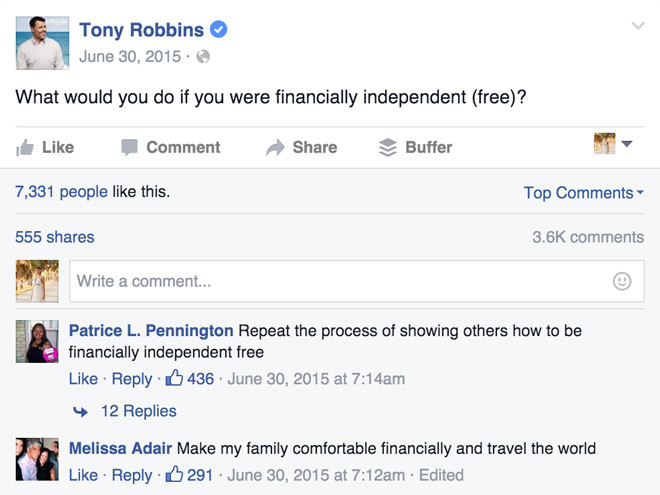 As a final piece of advice for your social media posts, give your content a positive vibe.
What do I mean?
Those with a negative bent to their social media posts receive less engagement and overall have a smaller influence.
But people who post positive social media content receive higher engagement from their audience.
Take this post from Michael Hyatt as an example.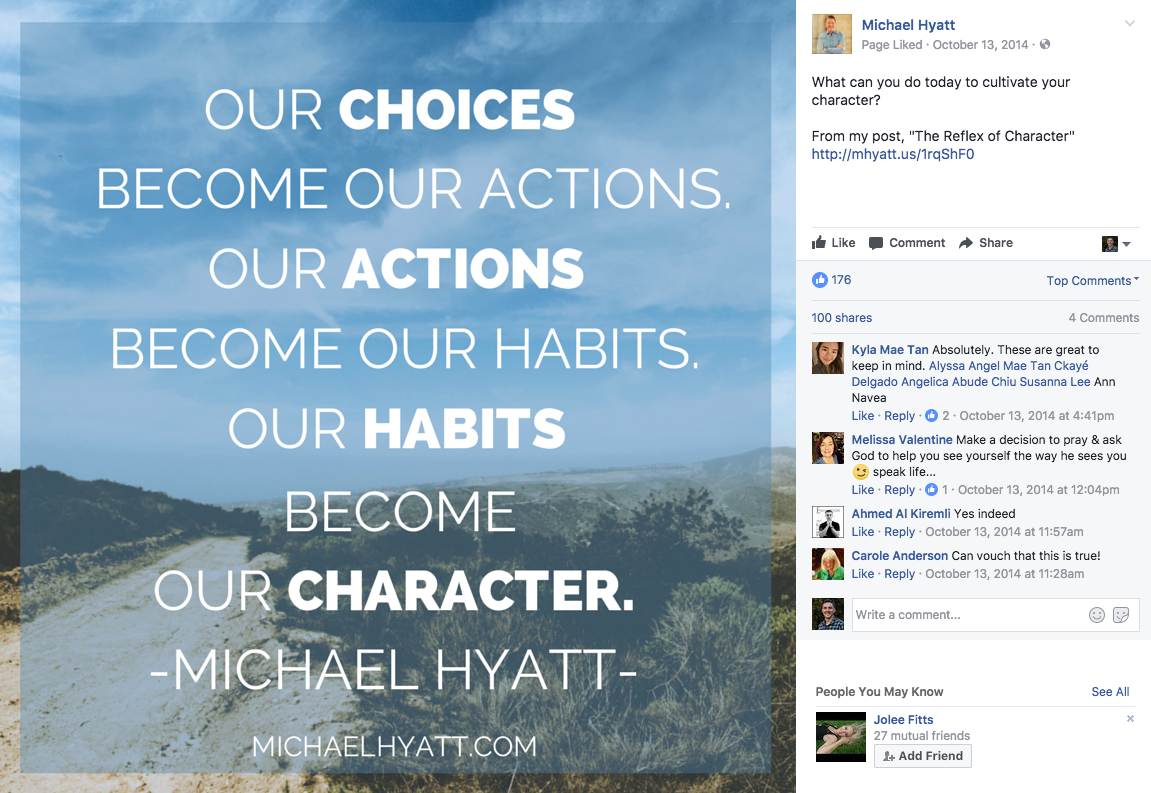 Using these three tips consistently in your social media strategy will gradually increase your engagement.
And posting on social media regularly will build brand awareness.
The best part is that it's free.
Just follow the above tips to make the most of your social media opportunity.
Conclusion
Today, your marketing strategy should focus on the person instead of the product.
Show your audience that you care about them before you ever try to sell them something.
People are marketed to more than ever before in history. Everyone is trying to sell everyone else something.
As marketers, we need to think first about our customer, and then about the product we offer.
By discovering who your customer is through a survey, finding and using the right influencers, and creating helpful and free content, you'll start building a relationship with your prospects.
Zig Ziglar once said, "If people like you they'll listen to you, but if they trust you they'll do business with you."
That's why a good salesperson sells himself before selling his product. The same is true of smart marketers.
The reality is that people need to like you before they buy from you.You can do that with relational marketing.
And once they like you, there's going to be no getting them to stop buying from you.
The future of digital marketing is relational. Are you ready?
What relational-marketing tactics are you using to prepare for the future?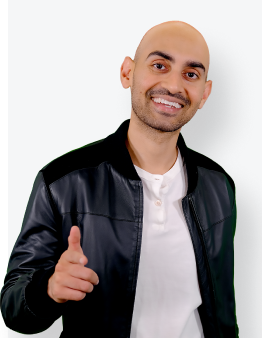 See How My Agency Can Drive More Traffic to Your Website
SEO - unlock more SEO traffic. See real results.
Content Marketing - our team creates epic content that will get shared, get links, and attract traffic.
Paid Media - effective paid strategies with clear ROI.