Google releases daily updates to its algorithm with little to no impact on websites' overall rankings. However, once or twice per year, Google will release a core algorithm update.
The core algorithm updates can have major impacts on Search Engine Results Page (SERP) rankings. These ranking changes may resolve once the algorithm has "settled," or they may remain in effect until the next core update is released.
According to Google, there is nothing wrong with sites that lose ranking. More explicitly:
"In fact, there's nothing in a core update that targets specific pages or sites. Instead, the changes are about improving how our systems assess content overall. These changes may cause some pages that were previously under-rewarded to do better."
This article will provide a look at Google's May 2022 core algorithm update. We'll look closely at 5 pages that were winners or losers in this latest update and potential reasons why they saw changes. This will provide us with key insights you can use to help your website recover from the update.
What We Know About the May 2022 Algorithm Update
As with all of Google's algorithm updates, there is no official list of changes.
So, what do we know?
On Tuesday, May 25th, 2022, Google announced the immediate roll-out of their newest core algorithm update. The roll-out was estimated to take one to two weeks to be fully implemented, and it was completed on June 9th.
Winners and Losers for the May 2022 Update
Core algorithm updates always have winners and losers– sites that rank higher or lower in the wake of the initial changes. Below are some notable winners and losers of the May 2022 algorithm update.
In order to choose the pages we will be profiling here, we utilized best-in-class industry tools to find websites that showed both positive and negative changes in the wake of the May 2022 update.
After that, we took a deeper dive into specific landing pages and their focus keywords to see how they ranked pre- and post-update. When trying to figure out what could have led to a page being a winner or loser, we focused on the following major items:

Keyword universe
Page speed
Core Web Vitals
UX features
Page intent
Backlink presence
Now, let's show you what we learned.
PCGamer
PCGamer is a content-heavy website focusing on PC gaming. So how did PCGamer fare in the May 2022 update? Not well. To illustrate the point, consider the search term "gaming desk," a transactional keyword. This last fact is very important, we'll revisit it in a little bit.
PCGamer's article, "Best gaming desk in 2022", was consistently ranking in the top three prior to the update. As of now, it is bouncing from positions one through eight but tracking consistently lower.
Aside from the listicle style of the article, PCGamer also has pop-ups and advertisements on the page.
So what page has overtaken PCGamer's article on SERPs?
Best Buy's new gaming desk product page is faring well:
Best Buy's page offers a more classic e-commerce page experience as opposed to a content-heavy blog post. It has limited content and limited advertisements.
Essential Takeaways
The content favored by Google following the May algorithm update seems to be a 180 from what Google previously featured. To understand why, we need to go back to the transactional nature of the keyword "gaming chair." PC Gamer, by and large, is an informational site, where Best Buy is a transactional website.
Before the update, Google was prioritizing blog articles and now is pushing e-commerce-related pages higher in SERPs for those transactional keywords. Why? Because Google is getting better at reading search intent. A person looking up gaming chairs is more likely looking to buy than to learn. Google understands this better now.
Another side thing to consider is that the PCGamer page is an affiliate-style page. Google has specific guidelines for this that can impact your rankings if not followed properly.
So with this in mind, here are some key recommendations from this information:
Consider refreshing older informational content to make sure that you aren't trying to target transactional keywords.
Double-check affiliate marketing blog pages to make sure you are still following all current best practices.
Wall Street Journal (Coupons)
The next loser on our list is https://www.wsj.com/coupons/.
WSJ's /coupons/ page has seen a significant traffic pullback since the algorithm update went live circa May 24th.
Prior to the algorithm update, WSJ danced with coupons.cnet.com for the number one position.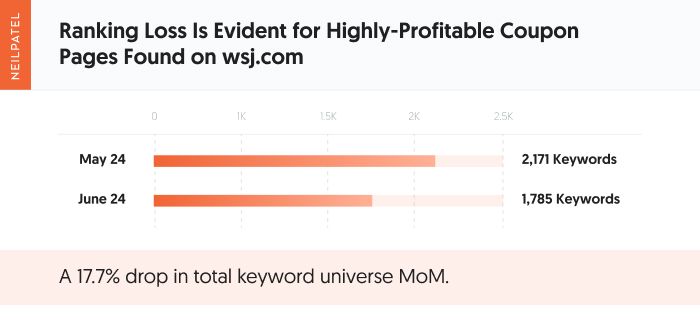 Now, though, coupons.cnet.com has consistently taken the lead since the update. On the other hand, WSJ's /coupons/ page has ranged from position three to nine.
So, what's the difference between the two web pages? Page loading times seem to be the biggest issue.
According to Pagespeed Insights, the WSJ /coupons/ page has a mediocre user experience:
This is in contrast to coupons.cnet.com, which has a higher performance score, as shown below:

In particular, WSJ is suffering from:
Largest Contentful Paint issues (4.2s): How quickly the main page content takes to load. To give you an idea, the average time here should be closer to 2.5 seconds.
Time to Interactive (5.3s): How soon the page becomes fully interactive and responsive to user input. Ideally, this should be less than 3.8 seconds.
Total Blocking Time (840 ms): The amount of time between First Contentful Paint and Time to Interactive when user input is impossible. Lower than 300 ms is considered ideal.
These issues may be resolved by minimizing their Javascript payload size.
Essential Takeaways
We have known for quite some time now that Google favors faster websites. The latest algorithm update seems to suggest Google is taking page speed even more seriously than before.
The main action item here is clear: If you've been putting off a site speed audit, now is the time. Tools like Ubersuggest are great to start checking site speed for your most important pages, so you can make the technical improvements you need to rank.
eBay
Now it's time to look at a winner in the wake of the Google core algorithm update. First up is eBay with the keyword "iphone xs used."
Prior to the algorithm update, eBay consistently ranked outside of the top five results. Following the Core Update, though, eBay has risen to the number one spot.
This is in stark contrast to https://buy.gazelle.com/collections/iphone-xs, which previously held the number one position.
The two websites have essentially switched positions.
Why is this the case?
First and foremost, backlinks. While backlinks to the eBay URL are minimal, the backlinks to the Gazelle URL are low quality, irrelevant, and spammy.
Gazelle also has an extremely low score on PageSpeed Insights:

This is in contrast to eBay's PageSpeed Insights score below:

So what elements does PageSpeed Insights consider when calculating a score?
Every time a user interacts with a page, the following information is collected:
It's a combination of these that contribute to the overall score for a website, covering factors like perceived load speed, load responsiveness, and unwanted layout changes.
eBay also has room for improvement, but its score of 62 is far better than Gazelle's score of 11.
Essential Takeaways
There are two main takeaways from the eBay and Gazelle examples outlined above.
Firstly, a clean backlink profile appears to perform better than spammy or irrelevant backlinks. We know that backlinks are a major ranking factor, but the above example highlights the importance of quality over quantity. Poor quality, even in high quantities, can be a net negative.
The second takeaway is that user experience seems to play an increasingly larger role. You don't necessarily need a perfect score from PageSpeed Insights, but you should continue to strive toward a better experience.
There are two main action items we can pull from these insights:
Build those (quality) backlinks. Even the best content around is going to lag behind without a strong backlink profile. Whether you are actively prospecting backlinks from industry resources or scouting your competition to find sites to target, spend that time to find the best backlinks you can rather than building up with low-quality ones.
Consider a UX audit. The needs of your audience may have changed since you first put your site up. See ways that you can change up your UX to make their browsing experience easier and more efficient.
Etsy
Perhaps one of the most drastic wins we've seen is from Etsy.
The URL https://www.etsy.com/market/online_antique_store has shot up from the 31st position all the way to number one for the keyword "antique store."
This is particularly significant when we look at the domain that lost its ranking as the Etsy landing page rose, https://www.rubylane.com/.
Ruby Lane is one of the largest online vintage retailers. For the keyword "antique store," its home page is the URL that ranked in the number one position prior to the Google Core Update. After the update, though, it fell significantly to make room for Etsy's collection page.
Essential Takeaways
The greatest takeaway from the above example is that the algorithm appears to be working to serve user intent more effectively.
Prior to the algorithm update, the "antique store" keyword would return Ruby Lane's home page as the first (or one of the first) results. While Ruby Lane does sell antiques, they also sell collectibles, art, and jewelry.
After the update, the new top-ranked listing is Etsy's antiques collection landing page. This means all of the items featured on the page are exactly what the customer was looking for – antiques.
Want to put this into action? Think about those keywords that you want to rank for. Chances are that if you build targeted collections or landing pages in these areas, your site is going to see ranking benefits under the new algorithm. Try to use your keyword focuses to target certain niches more effectively.
Dick's Sporting Goods
Unfortunately, Dick's Sporting Goods finds itself a loser for the keyword "putters" following the Google core algorithm update.
Since last fall, Dick's Sporting Goods collection for golf putters ranked within the top three positions for the search term "putter." This changed following the algorithm update, where golf-specific websites began to win out for the search term: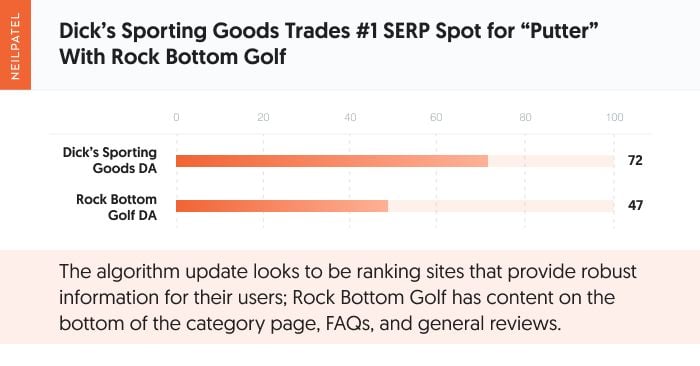 The biggest winner here is Rock Bottom Golf, an e-commerce golf retailer. While Rock Bottom Golf has not previously ranked number one for "putter," it does so now following the algorithm update.
You may be wondering, if both Dick's Sporting Goods and Rock Bottom Golf are e-commerce websites, why such a shift in SERP rankings?
There may be two reasons for this.
First, Rock Bottom Golf has a stronger backlink profile than Dick's Sporting Goods. Its link profile is more natural as many of its links are from golf forum discussions.
Second, Rock Bottom Golf has non-product content at the bottom of its collection landing page: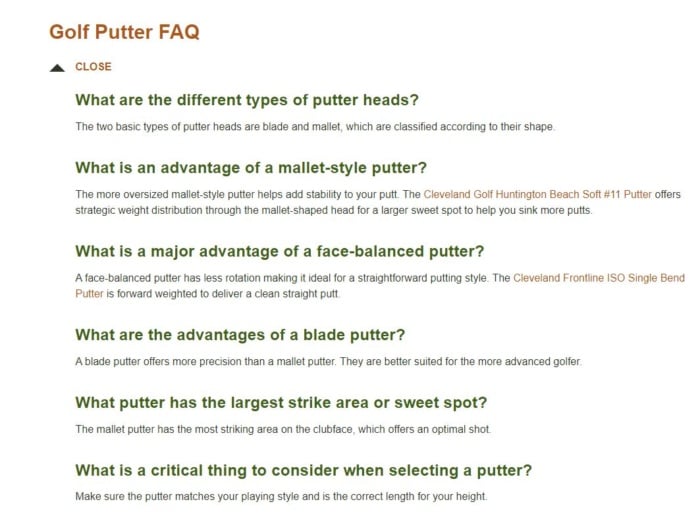 It's mostly in the form of frequently asked questions, which is an excellent way to educate customers. There are also general customer reviews.
Essential Takeaways
If you're an e-commerce website up against other e-commerce sites on SERPs, then the biggest takeaway is that helpful, non-product content seems to be a ranking factor with the latest algorithm update.
This doesn't mean article-sized content at the bottom of your pages. After all, we saw that traditional e-commerce sites outperformed the content-heavy PCGamer above. Instead, focus on content that is helpful to customers at the top of the funnel.
What the May 2022 Google Algorithm Update Has Taught Us
While Google never explicitly outlines the factors that their algorithm update will impact, we can learn a lot by evaluating the winners and losers as we did above.
So, what did we learn?
There were a few common threads throughout our analysis of the winners and losers.
Site performance, particularly site speed, was a common theme. Sites with faster speeds and overall greater performance were more likely to rank higher than poorer-performing websites.
Backlinks were also an important factor, with sites with strong backlink profiles outperforming those with irrelevant or spammy backlinks.
Finally, website content was also crucial. This includes minimal pop-ups and advertisements and the inclusion of non-product content on e-commerce sites.
The overall takeaway is quality. Website quality, quality links, and quality content.
FAQs
Would you like to know more about what to do to prepare for future Google algorithm updates? Check out the frequently asked questions below.
How to recover from a Google algorithm update?
In general, Google recommends you avoid attempting fixes immediately following an algorithm update. Instead, you should focus on quality content. This will help you to rebound most quickly following an algorithm update.
How long does it take to recover from an algorithm update?
If you follow Google's advice and wait for the algorithm to "settle," then you may notice a recovery within five days of the full implementation. If you do not, then you should evaluate your content and site factors such as speed and performance.
What are some strategies to prevent ranking losses?
The fact is that ranking losses will happen. The best way to ensure your website stays in decent shape, even in spite of ranking losses, is to focus on quality content and site functionality.
How often does Google update their algorithm?
Core algorithm updates occur every few months. However, Google makes small updates to the algorithm on a daily basis.
Conclusion
As a website owner, you may find Google core updates to be troublesome and disruptive. It's true that even "good" websites may lose their rankings with a core update. However, if we learned anything from the latest update, it's that Google values quality and consistency over anything else.
If your site has an optimal user experience and high-quality content, then you shouldn't be too worried about this or future core updates. Just continue to focus on E-A-T (Expertise, Authoritativeness, and Trustworthiness) as Google so strongly recommends, and your pages should ultimately grow in ranking.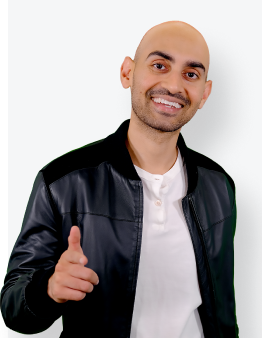 See How My Agency Can Drive More Traffic to Your Website
SEO - unlock more SEO traffic. See real results.
Content Marketing - our team creates epic content that will get shared, get links, and attract traffic.
Paid Media - effective paid strategies with clear ROI.
Are You Using Google Ads? Try Our FREE Ads Grader!
Stop wasting money and unlock the hidden potential of your advertising.
Discover the power of intentional advertising.
Reach your ideal target audience.
Maximize ad spend efficiency.