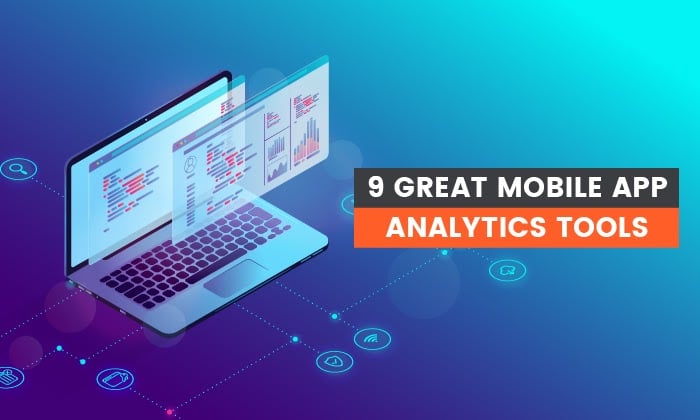 You've done the incredible—you've built an app and started marketing it. While congratulations are in order, making the app is just the first step on your path to app success.
The next (and arguably most important) step is optimization.
With consumers spending four and a half hours per day on their phones, it pays to make sure your app is earning some of that heavy time-spend.
And better visibility can pay. On average, consumers spend $120B in the app store and $190B on mobile ad spend.
You can check traffic and user metrics on mobile app analytics to make your app as successful as possible.
Here's what you need to know about mobile app analytics and which tools are most effective at helping you dig into the data.
Mobile App Analytics
Mobile app analytics aren't too different from their web counterparts; they track and analyze user activity and events on apps.
Using an app analytics tool gives you access to invaluable insight into how your app works and highlights improvement opportunities.
By seeing how users interact with your app, you can optimize your app to be as user-focused as possible.
Why Analytics Are Crucial for Your Mobile App
Without visibility, your app may fall short of satisfying your users' needs — regardless of how beautiful or useful your app is.
When that happens, your users will look elsewhere to have their needs met.
By implementing mobile app analytics, you not only equip yourself with the tools necessary to better understand your app's performance, but you also benefit in these four key areas:
Real-time ROI assessment: Enhance your app value and, ultimately, increase your ROI by gaining a better understanding of customers through data.
Data-driven strategies: With increased access to data, you can pinpoint specifics that can drive future campaigns. With clear visualization of past successes and failures, you can recalibrate your approach with data-driven strategies.
Personalized strategies: By segmenting and targeting audiences with more specificity, you're more likely to provide them with what they want or need. By using app analytics, you can identify these populations and start targeting them with customized strategies.
Goal tracking: App analytics allow you to determine which acquisition channels are working for you. By identifying these channels, you can dedicate more focus here and replicate the approach.
While these four areas aren't the only advantages of implementing a mobile app analytics tool, understanding these categories is vital to overall app success.
What KPIs You Should Track for Your Mobile App Analytics
While it's easy to get lost in the sheer amount of mobile app analytics available, there are seven crucial key performance indicators (KPIs) you should be tracking to gauge user engagement and your mobile app's overall success.
Retention rate: This metric identifies the percentage of customers that continue to use your app. Conversely, this figure also alerts you to the number of customers you're losing due to churn.
Lifetime value (LTV): This formula helps you assess what your customers are worth over the "lifetime" of their relationship with your business.
Uninstalls: Tracking the number of people who uninstall your app is vital to understanding why those people uninstalled your app.
Cohort Analysis: This analysis focuses on segmenting users by traffic source, country, and device and analyzing the associated metrics.
ROI: This number represents what you've spent versus what you've earned on a particular effort.
Cost per acquisition (CPA): This figure lets you know exactly how much you're spending per acquisition.
User growth rate: This figure represents the number of new users within a specific time frame.
While these seven KPIs are by no means the only helpful app analytics you can track, they provide a comprehensive view of your app's success and highlight areas in which improvement is necessary.
What's The Difference? SEO vs. ASO
Just like optimizing any web page for SEO is vital to your search success, it is imperative to optimize your app for app store optimization (ASO).
ASO refers to the continuous process of measuring, testing, and assessing existing app store marketing strategies to increase your app's visibility and driving downloads. The higher your app ranks in the app store, the more likely potential customers are to see your app.
While SEO and ASO processes are similar, they also have some significant differences, including the ways users search the web versus searching an app store.
While the web is primarily used to answer questions, the app store is used to search for a specific product that matches the searcher's intent.
This means you'll need to use different strategies to rank high in the app store versus search engines like Google.
Which is why you don't want to just use web-based analytics tools for SEO to track ASO.
Best Mobile App Analytics Tools
With a slew of mobile app analytics tools available, it can be challenging to figure out which ones are the right choice for you. These nine tools represent some of the most effective platforms that can help you make your app climb toward the top of the search bar.
App Annie
App Annie is a mobile and data analytics platform that provides unprecedented views of both your app's data and other in-market apps. With both a paid and free subscription option, App Annie can help your app stand out among the digital crowd, whatever your budget.
What Platforms Support It
iOS, Android, Windows Phone.
What Data It Provides
The free version of App Annie provides ratings, rankings, reviews, charts, and app details, while the premium pricing plan adds ASO options, download and revenue estimates, usage estimates, advertising estimates, and audience estimates.
How to Use It
Use App Annie to access data to help you determine how to best optimize your app. Through the App Annie platform, you gain immediate access to the organization's technology innovations and data sets, allowing you access to shared data, identify opportunities, and the ability to craft successful campaigns.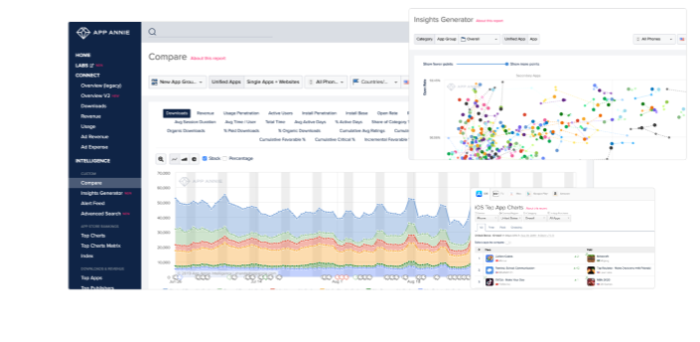 App Radar
App Radar is all about making your life easier. It offers several tutorials to help you optimize your ASO from the ground up. The mobile analytics app comes with keyword tracking and research functionality, helping you build a solid ASO strategy.
What Platforms Support It
Android, iOS, Windows Phone.
What Data It Provides
Key metrics tracking, localization, keyword rank tracking, keyword research tools, and more.
How To Use It
Use App Radar to research keywords and track competitors' search strategy. As you build your own approach, use App Radar's suite of tools to optimize your ASO.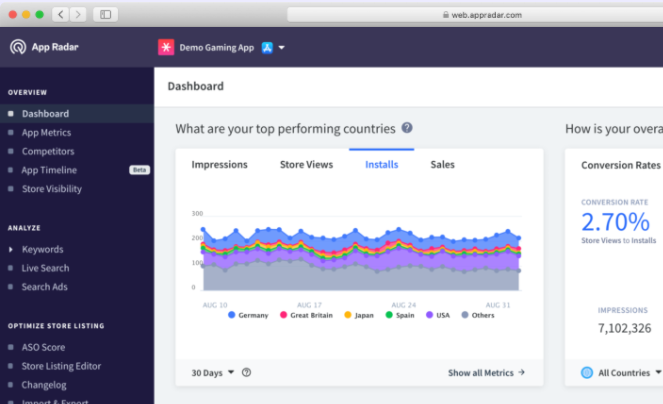 Adjust
Adjust is a mobile analytics app designed to help you identify and build your user base. This mobile analytics app tracks hourly trends, assesses LTV, and analyzes cohorts.
Adjust also allows you to aggregate lifetime user data in a single dashboard. Also noteworthy is the platform's Fraud Prevention Suite, which protects your app from fraudulent activity.
What Platforms Support It
Android, BlackBerry, HTML5, iOS, Windows Phone.
What Data It Provides
Insights on churn, ROI, in-app interactions, LTV, event funnels, and more.
How To Use It
Use Adjust to view and understand patterns of user behavior. By identifying these patterns and metrics, you can recalibrate your app for your user and extend user engagement with the app.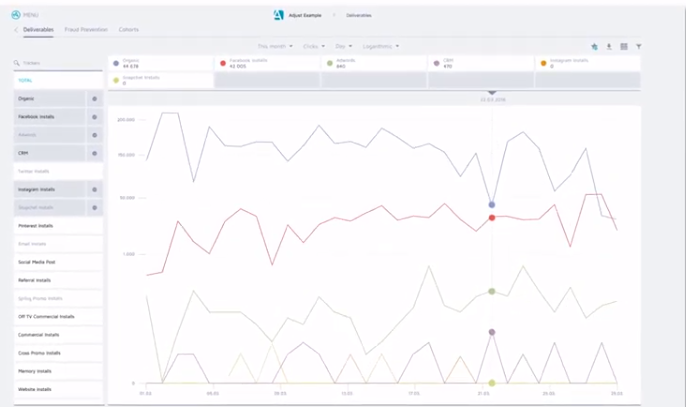 Firebase
Firebase is Google's free mobile app analytics platform that supports developing, improving, nurturing, and growing your app by displaying all metrics in a single central location.
The app aggregates user data and shares it via an immersive dashboard, allowing you a unique view of the actions happening in and around your app.
What Platforms Support It
C++, iOS, Unity, and Android.
What Data It Provides
The number of users and sessions, session duration, operating systems, device models, geography, first launches, app opens, app updates, in-app purchases.
How To Use It
Use Firebase to identify specific audiences through segmentation. Once you've broken out these subsets, you can start targeting these audiences through in-app notifications or other strategies.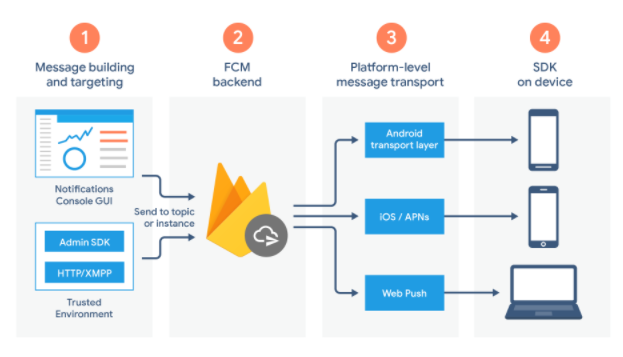 App Analytics
App Analytics is Apple's mobile analytics app that provides specialized analytics for apps published in the Apple App Store.
This mobile analytics app gives you specific visibility into user interaction within the App Store, relaying how users discover your app.
What Platforms Support It
iOS
What Data It Provides
This mobile analytics app provides user engagement, App Store impressions, sales and trends, and user segmentation.
How To Use It
Use this app to understand how users find your app in the store and replicate this experience for your target consumers.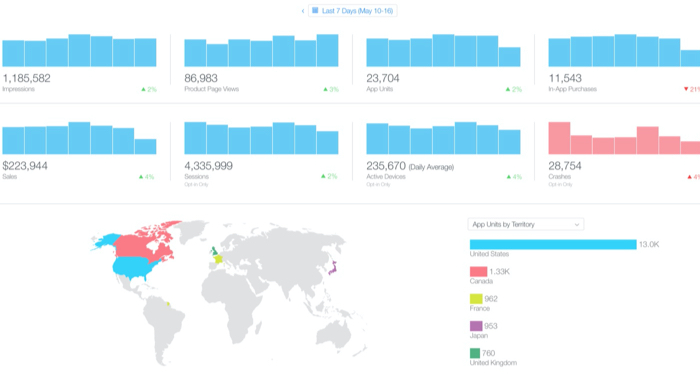 Tune
Tune is your solution for measurement and engagement throughout the customer journey, tracking a user's trajectory by monitoring movement and unifying cross-channel touchpoints.
What Platforms Support It
Android, iOS, tvOS, Javascript, Windows Phone.
What Data It Provides
Tune provides ROI, cohort ingestion, impression, click, event measuring, and more.
How To Use It
Use Tune to gain a complete view of the customer's journey throughout your campaigns. By providing you with real-time data, Tune can help you identify specific improvement points with your strategy.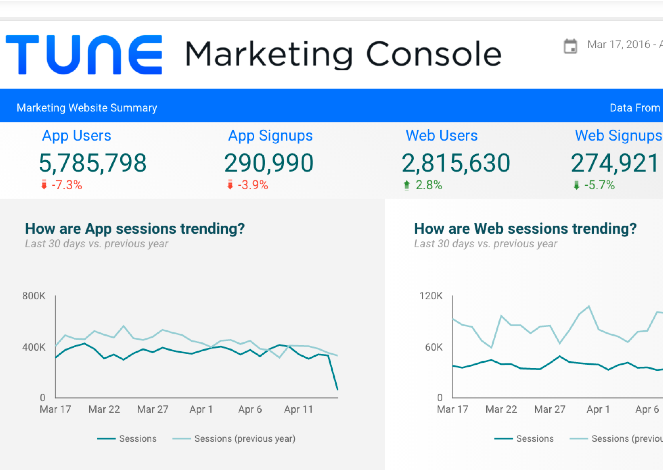 Kochava
Kochava is a platform designed for tracking engagement, LTV, and user acquisition. Through this mobile app analytics platform, you can view vital data points and build user groups. This platform allows you to analyze ROI through pinpointed data.
What Platforms Support It
Android, iOS, tvOS, Windows & Xbox One, Unity, ReactNative, Cordova, Adobe Air, Xamarin, Web SDK, Corona Labs, Adobe DPS, Adobe Analytics.
What Data It Provides
Retention analytics, real-time ROI, location-based marketing, channel attribution, contextual targeting, and much more.
How To Use It
Use Kochava's data points for real-time visualization of campaign performance and engagement, targeted audience identification and creation, targeting, and prevention of mobile ad fraud.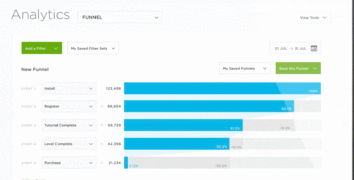 MixPanel
MixPanel is chock-full of unique analytics tools, including a funnel analysis and its uniquely-titled engagement tracker, the Addiction Report. These tools allow you to understand which strategies increase conversion, retention, and engagement.
What Platforms Support It
iOS, Android.
What Data It Provides
Retention rate, churn, campaign segmentation, funnel analysis, and more.
How To Use It
MixPanel comes with interactive reports so you can pull data quickly and easily. This interactive feature provides answers to all of your audience engagement questions in seconds.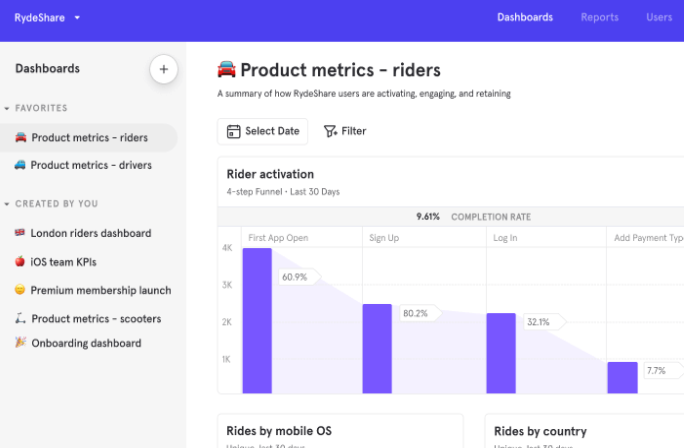 Flurry
Flurry Analytics is an extension of Yahoo's Develop Network. This mobile app analytics platform lets you track new users, active users, and sessions via a single dashboard.
What Platforms Support It
iOS, Android, React Native, watchOS, Unity.
What Data It Provides
Installs, sessions, time spent, user journeys, custom events, user segmentation, and more.
How To Use It
Use Flurry Analytics to see app performance easily. Flurry also comes equipped with crash reporting, which helps you identify issues and fix them before they impact performance — and customer satisfaction.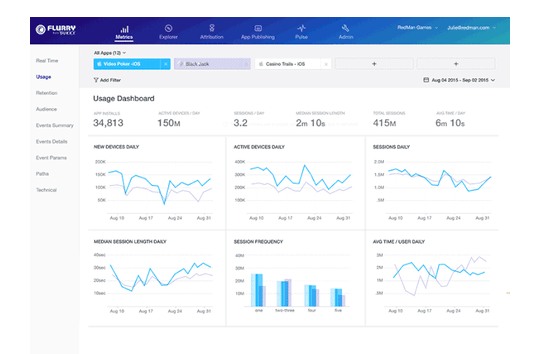 Conclusion
Whether you're just beginning your app-marketing journey and looking to increase visibility, or if you're looking to delve into the nitty-gritty of advanced data, you need a mobile app analytics tool to help you navigate the realities of ASO.
While there are tons of mobile analytics apps available to choose from, the nine tools I highlighted above offer detailed information about your users and provide unique data points that can highlight patterns of behavior.
Armed with these new metrics, you make your app irresistible for your targeted audience.
What's your favorite mobile app analytics tool?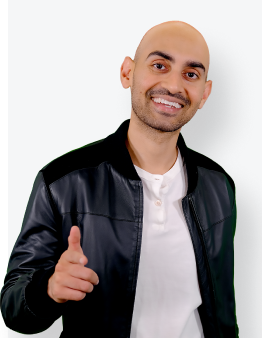 See How My Agency Can Drive More Traffic to Your Website
SEO - unlock more SEO traffic. See real results.
Content Marketing - our team creates epic content that will get shared, get links, and attract traffic.
Paid Media - effective paid strategies with clear ROI.
Are You Using Google Ads? Try Our FREE Ads Grader!
Stop wasting money and unlock the hidden potential of your advertising.
Discover the power of intentional advertising.
Reach your ideal target audience.
Maximize ad spend efficiency.