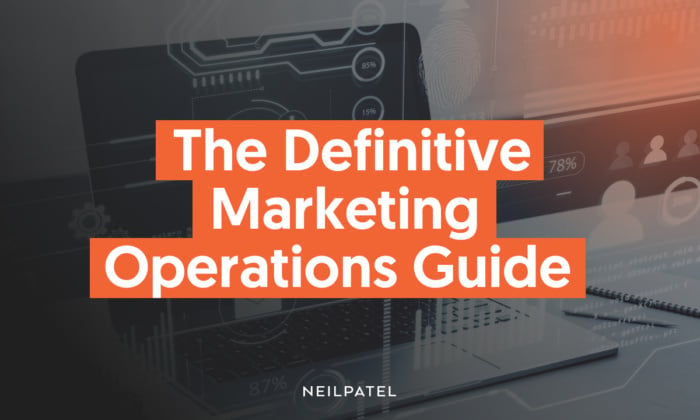 What's the secret to business success? It depends on who you listen to. Some might put it down to being in the right place at the right time.
Others might say it's due to their business sense and determination. One thing is clear, though. Having some structure behind your business helps set it up for success. For example, you'll want clear goals and objectives, a well-defined business plan, effective processes and systems, efficient resource allocation, and a strong organizational framework.
You also might want to introduce marketing operations into your business. When you optimize your workflows, you boost efficiency and get better results.
In this post, I explain how to build a marketing operations strategy and share some marketing operations best practices for you to implement.
Are you ready to go? I hope so!
Below is a brief explanation of marketing ops to get us started.
What Is Marketing Operations?
Let's keep it simple, shall we?
Darrell Alfonso, Global Marketing Operations Leader at Amazon and Marketing Operations Essentials defines it as:
"The art and science of executing great marketing."
That describes it nicely, but let's put some flesh on the bones.
Marketing operations is what goes on behind-the-scenes to support your marketing strategy. That's the processes and systems you have in place, like refining workflows, creating marketing content, and managing data.
In addition, as the graphic below shows, it brings together multiple skill sets, including process, project, content, brand, and tech management.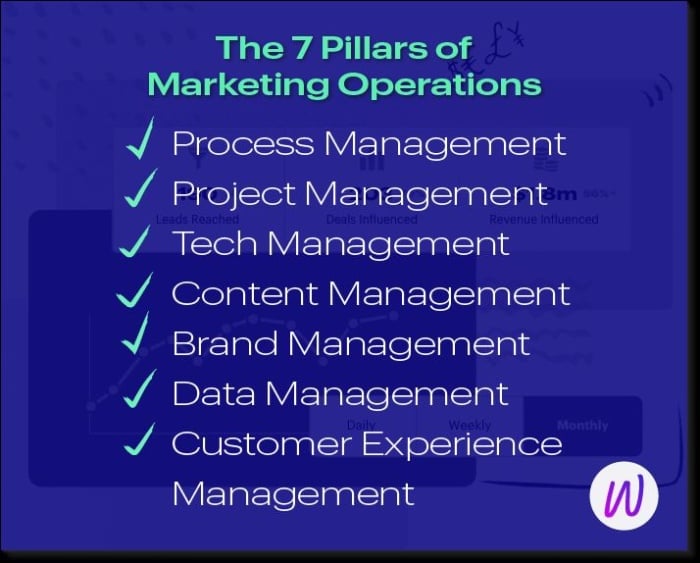 Marketing ops enable you to optimize your ROI, productivity, and results, all while using fewer resources.
How to Build a Marketing Operations Team
Building a marketing operations team might look like a daunting task. However, it's a step you must take to optimize your marketing efforts and achieve better results. There are a few key considerations for developing a successful marketing ops team and getting the most from your chosen marketing organization structure.
Assuming you've already outlined your goals and objectives, the next step is to start building your marketing ops team.
As illustrated in the chart below, you'll be looking for a mix of marketing and IT staff with a range of skills from project planning and management to data analysis for your digital marketing operations: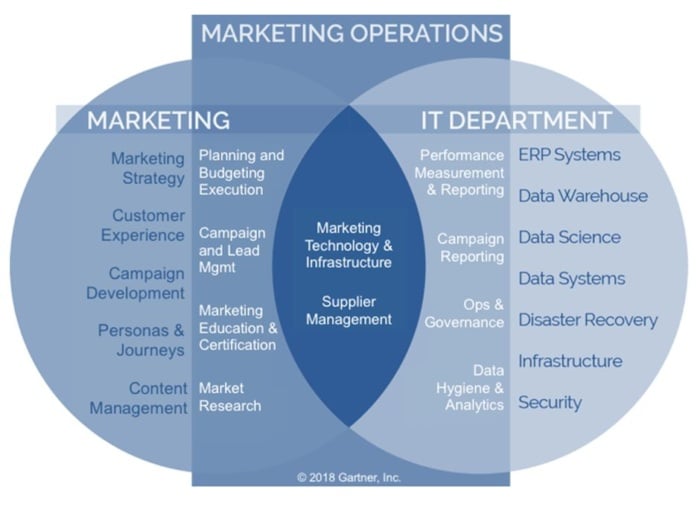 While building your marketing ops team, you'll need to:
Decide which team members to assign which marketing operations responsibilities to. For instance, you'll need a project manager/marketing ops manager, data analyst, marketing automation/platforms specialist, etc. Other members of your team may include content writers, marketing strategists, and SEO consultants.
Think about the size of your team. How many people do you need to accomplish individual goals, and can you do this effectively with the team you have? In 2023, 47 percent of companies surveyed say the marketing operations role comes under the senior marketer, while 21 percent have a head or director of marketing for the role.
Ensure your team has a diverse set of skills and experiences. You want them to collaborate effectively and bring their individual skill sets and perspectives to the project.
Consider training and development. Arrange ongoing training for your team to evolve your marketing operations strategy and stay current with the latest marketing operations trends and techniques.
Finally, take a good look at your existing team to fill any gaps in remaining marketing ops roles. Sometimes it's beneficial to focus on people with the potential to grow, rather than seeking out highly specialized candidates.
By following the above tips, you can assemble a marketing operations team that is well-equipped to manage your business's marketing needs and drive your business forward.
How Marketing Operations Helps Businesses
Marketing operations is the backup support ensuring that a marketing team can perform at its best. MOps teams source marketing technology solutions and develop efficient processes for marketing teams.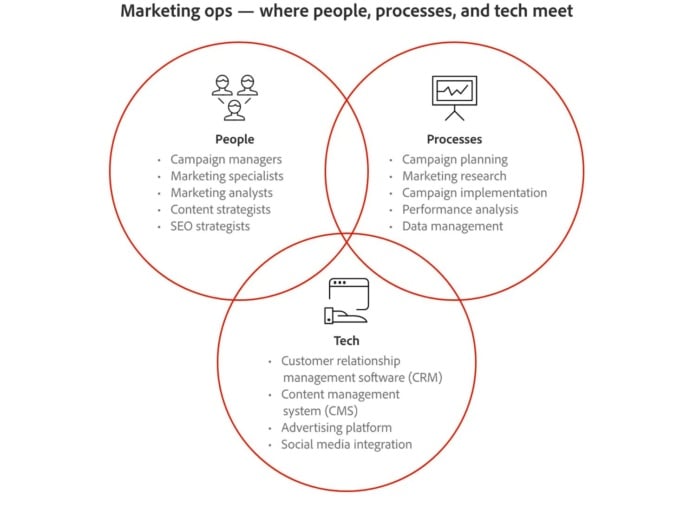 However, there are plenty of other ways that marketing ops help businesses, including:
Optimizing resources: marketing operations strategies uncover room for improvement and save time and money by introducing more efficient processes. For instance, automating repetitive tasks.
Enabling data-driven decision-making: One of the responsibilities of marketing operations is measuring data and identifying possible improvements. This allows businesses to allocate resources where they need them.
Staying organized: Using marketing operations enables your business to stay organized by giving your team structure for managing its marketing activities.
Developing targeted, personalized marketing campaigns: by focusing on strategic planning, coordination, and optimization of marketing processes and systems, you'll ensure efficient execution and measurement of your campaigns. This can improve conversions by tailoring the right product to the right person.
Enhancing customer experience: Through marketing operations, businesses can create a seamless experience across all channels. Doing this increases customer loyalty and satisfaction. For example, marketing operations can ensure that you have consistent marketing and branding and that companies share data across all channels.
Aligning marketing aims and business goals: Marketing operations give a framework to boost success by creating objectives, targets and defining marketing processes. This ensures that your marketing aims stay in alignment with your business goals.
All in all, operations can play an essential role in any modern business, allowing companies of any size to improve their marketing efforts.
How to Build a Marketing Operations Strategy
How do you build a marketing operations strategy that works? It doesn't have to be complicated.
Follow these tips to set your team up for success:
Set out your goals: What does success mean to you? Is it more traffic or increased revenues? Or perhaps your want to boost leads and increase conversions. When you're clear on your goals, you can ensure your marketing operations strategy is in keeping with your business aims.
Assess the resources you'll need: This includes personnel, budget, technology, and defining marketing operations responsibilities through the team based on their expertise and strengths.
Identify your target audience: To successfully sell to someone, you need to understand who you're marketing to. What are their pain points? Where do they hang out? What's most likely to resonate with them? Answer those questions, and you can tailor your marketing ops strategy to your ideal customers' precise needs.
Draw up a content strategy: At the heart of an effective marketing operations plan is content. Blog posts, social media content, videos, and whitepapers can all help you attract your target audience.
Use marketing operations tools: You'll need a few tools to maximize your success. Leverage marketing automation software, analytics, and content management systems to get the most out of your plan. Use your marketing operations plan to decide which tools will be most beneficial for your business.
Assess your results: Are you heading in the right direction? Unless you track metrics like engagement, click-throughs, conversions, cost per acquisition, and customer lifetime value, you'll never know:
Keep improving: Refine your marketing ops as you go. Marketing operations aren't just a once-off project. You must keep analyzing data and optimizing workflows to enhance your business's efficiency and effectiveness.
Best Practices for Marketing Operations
If you keep best practices in mind, then you can't stray too far wrong with your marketing operations. By following these tips, you can ensure your marketing ops are effective and efficient.
Develop a clear marketing strategy: This means defining your target audience, unique value proposition, and sales channels, among other things. A clear strategy helps ensure your marketing efforts are focused and effective.
Leverage technology for your business: Marketing technology can help streamline processes, improve productivity, and provide valuable insights. This includes tools such as marketing automation software, analytics platforms, and content management systems.
Optimize workflows: By streamlining workflows, you can help reduce costs, improve efficiency, and ensure you can complete tasks on time. This involves identifying areas where you can improve workflows and implementing changes to optimize them.
Establish clear processes: Clear processes help ensure that everyone involved in marketing operations understands their roles and responsibilities. This includes strategies for campaign planning, execution, tracking, and optimization.
Measure and analyze data: Measuring and analyzing data is critical for understanding your marketing efforts. This includes tracking metrics such as conversion rates, cost per acquisition, and customer lifetime value.
Continuously improve: You should view marketing operations as an ongoing improvement process. This means constantly analyzing data, optimizing workflows, and refining processes to improve efficiency and effectiveness.
FAQs
What is marketing operations?
Marketing operations means the processes and systems that support and enable your marketing strategy. This includes areas like managing marketing campaigns and analyzing data, optimizing marketing technology, and refining your workflows.
This enables your company to maximize its marketing efforts by ensuring they are effective and efficient. When you've streamlined your processes, and you're marketing operation tools to track results, it can lower costs, enhance productivity, and improve the overall quality of your company's marketing efforts.
What role does technology play in marketing operations, and what are some common tools used in the industry?
Technology plays an important role in your marketing operations framework by streamlining processes, improving efficiency, and enabling data-driven decision making. Common MarTech tools include marketing automation software, customer relationship management (CRM) systems, content management systems (CMS), analytics platforms, SEO tools, and social media management tools.
How can a company measure the success of its marketing operations strategy?
Measuring the success of your marketing operations involves the use of various metrics and indicators. Monitoring key performance indicators (KPIs) such as conversion rates, customer acquisition costs, customer lifetime value, and return on investment (ROI) provide valuable insights, while revenue and sales growth analysis helps track the impact of your marketing campaigns.
Additionally, keeping track of customer engagement metrics such as website traffic, social media interactions, and customer feedback plays an important role in gauging the effectiveness of your marketing ops in reaching and satisfying your target audience
Conclusion
Having a marketing strategy is one thing, but if you want to maximize your efforts, you want structure. That's where marketing operations come in.
Marketing ops are the backbone of any effective marketing strategy, helping you lower costs and improve your results.
With the right combination of staff and applying some best practices, you can confidently launch your marketing strategy.
Do you have a marketing operations team? How do they support your business?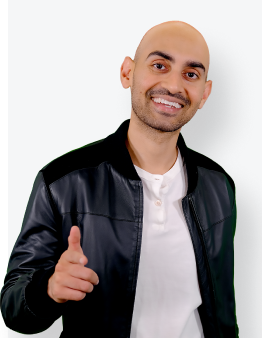 See How My Agency Can Drive More Traffic to Your Website
SEO - unlock more SEO traffic. See real results.
Content Marketing - our team creates epic content that will get shared, get links, and attract traffic.
Paid Media - effective paid strategies with clear ROI.
Are You Using Google Ads? Try Our FREE Ads Grader!
Stop wasting money and unlock the hidden potential of your advertising.
Discover the power of intentional advertising.
Reach your ideal target audience.
Maximize ad spend efficiency.