Finding new tactics to grow your business is tough.
It's especially difficult when your competitors are trying the exact same things.
But you need to differentiate yourself.
The same old marketing tactics won't help you stand out.
One of the best ways to attract potential customers is to use new platforms.
That's where live video comes into play.
Live video is slowly but surely becoming the future of online video marketing.
It's no secret that videos, in general, generate tons of traffic, views, and engagement.
People are now watching billions of hours of video daily on platforms like Facebook and YouTube. While pre-recorded video still dominates the space, live video is catching up.
In fact, people spend more time watching live videos than pre-recorded videos.
You can't risk waiting any longer to start using live video.
Thankfully, there are a few brands that are already leading the way with live video marketing.
Here's why you need live video and how you can use it to dominate the competition.
Why you need to use live video
It's no secret that pre-recorded video is on pace to become more widely used among marketers than blog content.
It drives more engagement, views, and traffic.
Live video is already more desirable than blog content.
In fact, Livestream just conducted a study with New York Magazine and revealed how live video will dominate marketing.
Currently, 80% of users would rather watch live video from a brand than read their content marketing posts: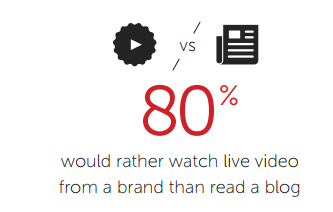 People want to see your company produce live content more than they want to read your posts.
Think about it: Would you rather watch and hear about actionable data or spend 25 minutes reading text?
If you put yourself in the shoes of the end user, you'll see how live video can be beneficial.
People process video and images faster than text-based content.
In fact, people retain 80% of what they see and only 20% of what they read.
And the year-over-year growth is incredible for live video content right now:
More people are tuning into live video than ever before.
And its popularity is growing each and every year.
Conversion rates are relatively high on live stream events, too:
67% of those who watch a live stream make a purchase. That is a huge conversion rate when compared to bringing in inbound traffic with a blog post.
Most sites will only convert blog traffic at a few percent.
On top of that, people will spend 3x longer viewing video that is live compared to video that is pre-recorded.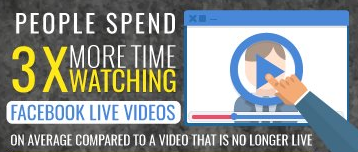 Live videos get more shares, comments, and interaction than those that are no longer live.
Brands can see unprecedented levels of engagement with live video content.
So, what platforms should you use?
According to the study by Livestream and New York Magazine, the most popular live video platforms are Facebook and YouTube:
And it makes sense when you look at the user base of each platform:
Currently, YouTube has over one billion active users.
Facebook has over two billion monthly active users.
Here's how to leverage live video content on Facebook Live, YouTube Live, and more.
At the same time, you can also dominate the competition.
How to start sharing live videos
There are tons of platforms you can use to share live video.
You've got Facebook Live, Twitter live streaming, YouTube Live, Livestream, and others.
But where are the most live fans hanging out?
The previous Livestream study found that Facebook and YouTube were the top sites, and the following study confirms that data too.
According to Statista and Business Insider, here are the most popular platforms:
You should focus your time and efforts on one or two of these platforms to avoid spreading resources too thin.
If you want to optimize your marketing plan and put all your efforts into one basket, Facebook Live is the place to be.
They have the biggest monthly active user base of over 2 billion people and more live video watchers than any other platform.
Plus, it's simple to start live streaming.
You can go live on mobile or desktop. And if you want to up your production value, you can even connect external cameras and microphones.
To get started, head to your company Facebook Page and select "Live Video" from the posting options:
From here, you can choose between two live streaming options:
Connect your external camera or a gaming live stream.
If you want to connect a camera, select the camera option and start streaming instantly.
It's that easy!
If you want to stream on YouTube, it's also incredibly simple. Head to your creator studio and click "Stream now" under the live streaming tab:
Then click "Get started" and verify your account:
Once you verify your account, you can go live immediately.
Or you can first edit your stream settings and review YouTube's tips for going live fast: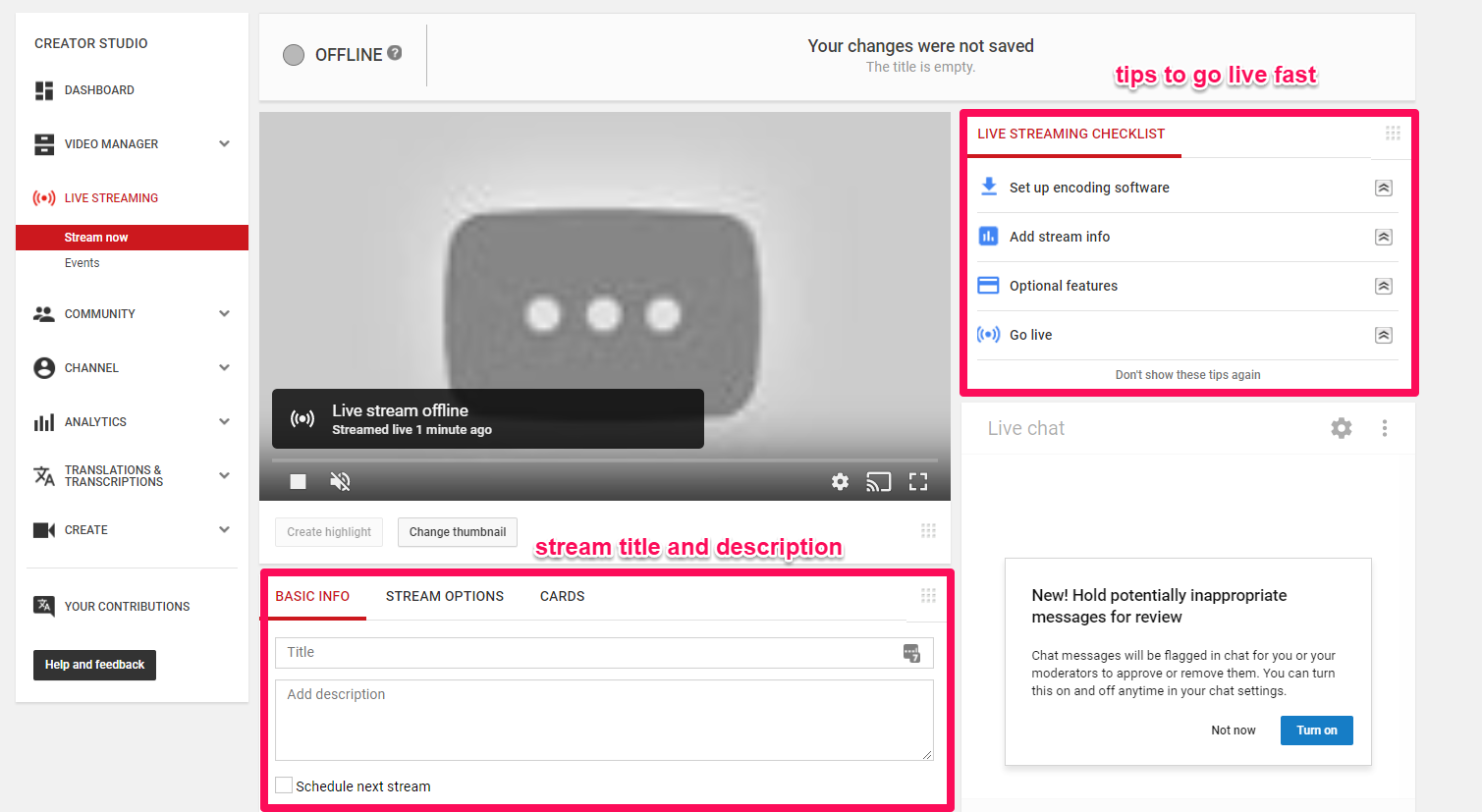 Live streaming on these social platforms is one of the easiest things you can do for your marketing strategy.
Now that you know how to live stream video content, here are some best practices to keep in mind.
Show behind-the-scenes content
According to Livestream's latest study, 87% of people would prefer to watch live video if it meant seeing more behind-the-scenes content.
Behind-the-scenes content is one of the best ways to connect users to your brand.
Think about it:
Bloopers are one of the most highly-watched forms of content on YouTube.
Search for videos of TV show bloopers. Many of them have millions of views:
People enjoy behind-the-scenes videos that show how the creators produced the content.
They want to know how your business functions. They want to see the struggles, the hard times, and the real interactions between employees.
Personalization is huge, and seeing behind-the-scenes content is a form of personal interaction with your audience.
Live video allows them to connect with your brand in ways that blog posts or pre-recorded videos simply can't.
When you're live, you're typically off-the-cuff and responding to comments in real time.
Your brand will become human to your audience.
Let me show you some great examples of behind-the-scenes live stream content.
Take a look at how Buffer does it through Twitter: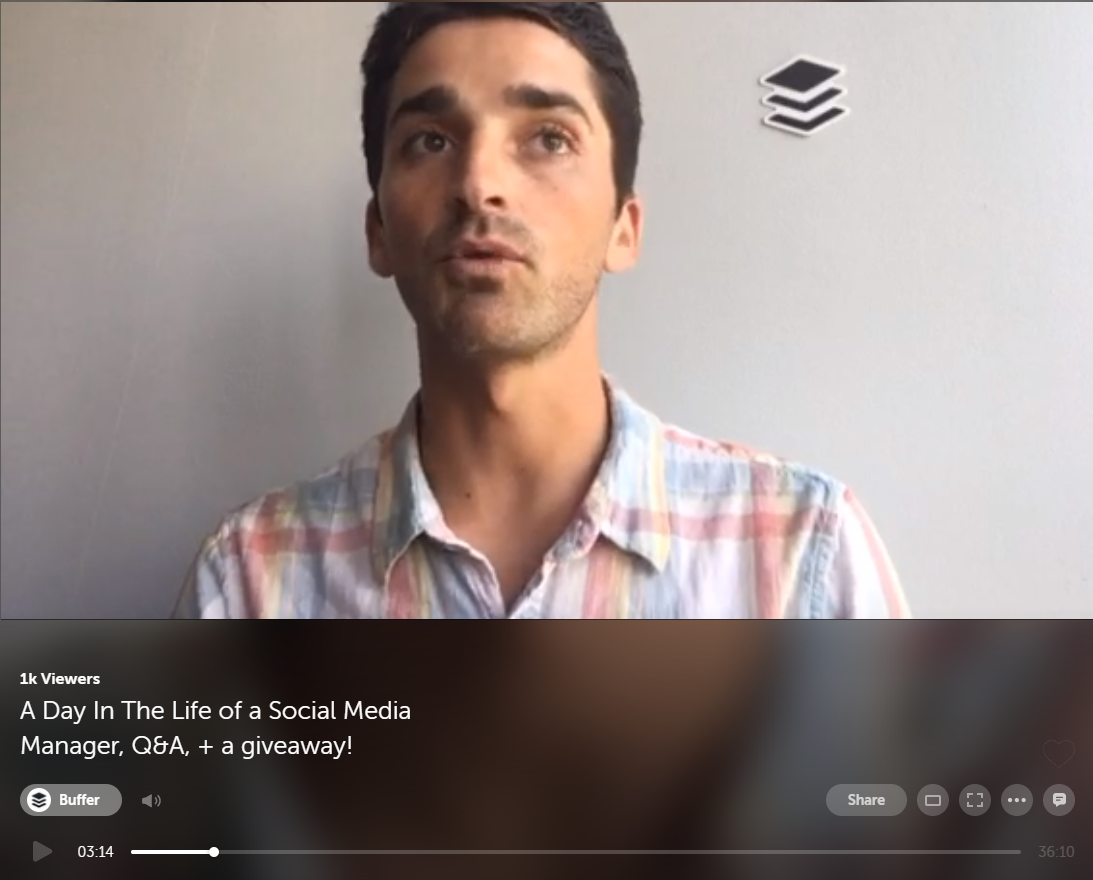 Notice the title? A Day In The Life of a Social Media Manager.
Users want to tune into this kind of content. It shows them what companies and brands are doing every day to grow their businesses.
It shows the behind-the-scenes action that it takes to grow a business.
And that's why this stream had over 1,000 viewers.
The production value was minimal. It didn't require a studio or fancy equipment to attract those visitors.
Another great example comes from Tough Mudder on Facebook Live:
They live streamed behind-the-scenes footage of their in-person event to connect with people who weren't able to attend.
It shows people what's going on with your brand and gives them the opportunity to connect even if they can't actually be there.
Try showing more behind-the-scenes content with your live video streaming.
Here are a few ideas for you to test in your next live video:
Show day-to-day activities at your company or office
Conduct impromptu interviews with employees
Share live video at lunch or coffee breaks with your team
Behind-the-scenes content succeeds because it's real and genuine.
Implement it today to see huge levels of engagement.
Turn blog posts into live content
Turning blog posts into new forms of content is a great way to reuse your hard work.
For example, you could take one of your favorite blog posts that drove tons of traffic and create a video or infographic from it.
You could double the traffic for half the work!
But before we jump into this section, let me give you the classic scenario of content marketing in today's marketing landscape. I'm betting you've found yourself here before.
You spend hours researching keywords for new topics.
Once you've developed a keyword list, you spend a few more hours creating topics for the next month's articles.
Then, when you've developed article topics, you spend hours writing each post.
In fact, according to Orbit Media, it takes more than 3 hours to write a single blog post:
And that's for blog posts that are just over 1,000 words:
So if you're writing long-form content that's over 2,000 words, you can expect to spend 6.5 hours on it from start to finish.
That's before you even look for images to include.
Next, you publish your latest blog post and promote it on every social media channel possible.
You load it into Buffer and schedule it out for maximum shares.
You repurpose that content and turn it into an infographic to gain more shares.
But then you check your marketing analytics the next month and see that your traffic levels are declining.
Your conversions are slowing down, and your shares have stopped.
Your content effectively died in a month.
So you're forced to make even more content to keep the inbound organic traffic flowing in!
What can you do instead?
Start utilizing live video instead of blogging.
For example, if you have a post called "How to do SEO in 10 minutes a day," you can turn that into a live video.
Essentially, it's like a webinar. And webinars drive huge amounts of traffic and engagement when compared to a standard blog post.
One of my favorite examples of this tactic comes from Marketo: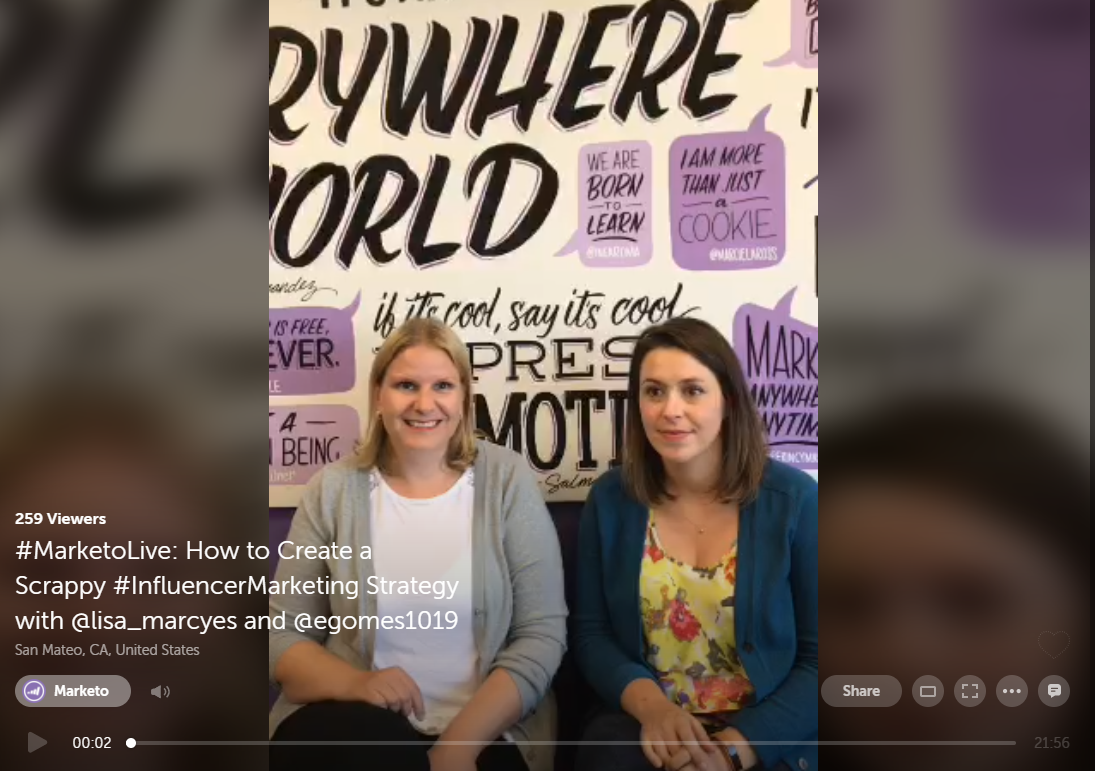 Take a look at the title: "How to Create a Scrappy #InfluencerMarketing Strategy."
You may find the content in this video in a blog post. However, it's much more digestible as a live video than as a large chunk of text.
Check out this awesome post on Facebook Live by HubSpot.
They incorporate live commentary with typical images that you'd find in a blog post.
This allows viewers to tune in and follow along as the commentator covers each way to accomplish the goal.
HubSpot has turned a blog post into a live video.
Another one of my favorite Facebook live videos comes from Search Engine Journal:
They used a similar approach to HubSpot by taking a typical blog post topic and turning it into a live video.
They utilized images that they would have used in their blog post to help guide people as they watched.
If you want to start using live video content to teach people new tactics, take some of your best-performing blog content and transform it into a live video.
Use it to show breaking news
According to the Livestream study, 56% of the most-watched live video content is breaking news:
Facebook used to be a place where you'd mostly find pictures of your friends and family.
Now it's become a hot ticket for news and advertising because of its ever-growing user base.
In fact, over two billion people are active on Facebook every single month.
So breaking news is one of the most consumed forms of content.
And that's why Search Engine Journal dominates live video marketing on Facebook:

They use news-style videos to show how the marketing landscape is changing.
They give us breaking news updates on Google updates, algorithm changes, and more.
Another great way to use breaking news is by creating live video at different events.
For example, check out how HubSpot used lived video as a news source during a marketing conference: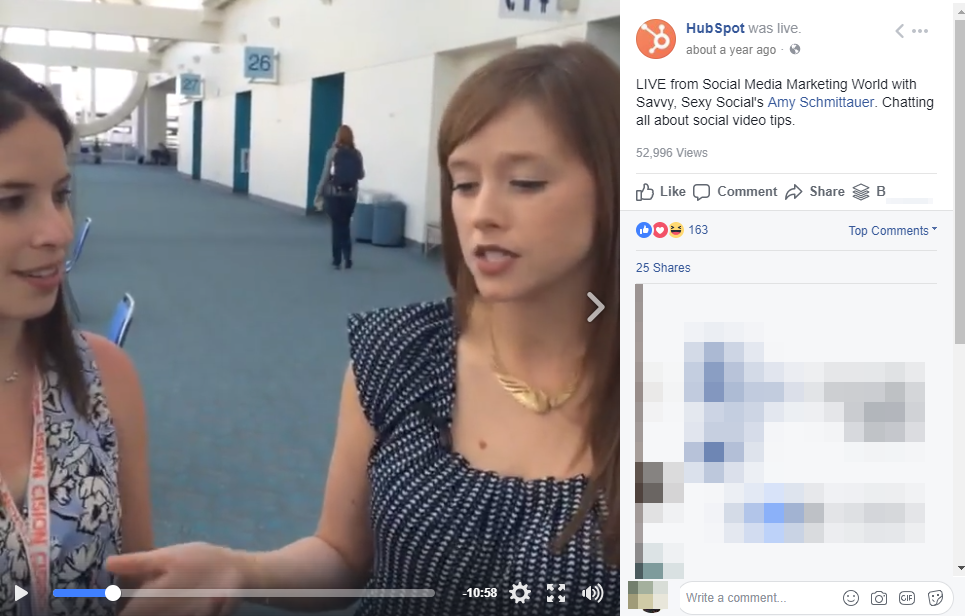 That video received over 50,000 views.
Breaking news is a great way to drive tons of views and engagement with live video.
It's one of the most commonly consumed content types on Facebook.
Here are a few ideas you can implement for news-style videos on your favorite live streaming platform:
Make videos about industry news like algorithm changes, updates, etc.
Create content from marketing events/expos/conferences
Make videos that include news from your company
Get started with some of these to experience high engagement levels and shares.
Use a Q&A format
Question-and-answer formats are great for driving high levels of traffic and engagement.
If you invite high-profile guests onto your live streaming shows, you can receive lots of interaction from fans.
People enjoy hearing insights and tips from industry leaders.
Asking questions and getting insider tips is one of the best ways to grow your business.
You can get tons of valuable information for free, which is why users love to tune in to that type of content.
Think about it:
If you could ask your favorite entrepreneurs a bunch of questions on a live stream, free of charge, wouldn't you tune in?
Check out how HubSpot did exactly that with the co-founder of Canva.
They had the co-founder of a huge, popular company come onto their live show to answer questions from the audience.
As expected, they got tons of comments and shares.
People want to ask high-profile industry influencers about how they've grown their businesses with marketing.
These videos help bring in new inbound traffic that might be unaware of your brand.
Try researching the popular influencers in your niche.
For example, you can do a simple Google search like this:
This should give you tons of different roundup-style posts where you can find details about the most popular influencers in your niche:
Perform cold outreach to these influencers and get them to come on your Facebook Live stream for a Q&A session.
Q&A live video is an awesome way to get your fans and organic traffic to comment on your videos and share them.
Conclusion
Finding new marketing tactics to grow a business is tough.
It's especially difficult when your competition is looking for new marketing channels too.
You need to differentiate your brand on various platforms if you want to stand out and see growth.
Trying the same thing and expecting different results won't work.
The same old marketing playbook is what everyone is following.
Branching out to new platforms and tactics is your only hope when growing a business.
And that's where live video can help your brand.
It's growing every single day.
People are now consuming more video content than ever and fewer written posts.
That means that you need to implement live video fast. Like right now.
Pick your platform. Whether it's Facebook Live, Twitter live streaming, YouTube Live, or another website, you can get started in minutes.
Show behind-the-scenes content. It's a personalized way to get users involved and connect with them.
Next, turn your blog posts into live content. People would much rather watch your live video than read a blog post.
Use the appeal of "breaking news" to drive huge amounts of traffic. Who doesn't want to be in-the-know when it comes to the latest news?
Lastly, consider implementing a Q&A-style video with high-level entrepreneurs to drive huge levels of viral buzz.
Live video is the future of online marketing. It's time to get prepared.
How have you started implementing live video to dominate the competition?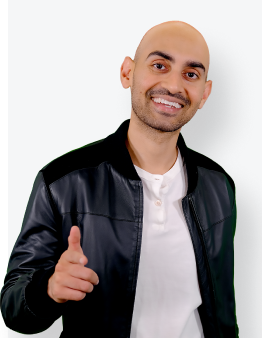 See How My Agency Can Drive More Traffic to Your Website
SEO - unlock more SEO traffic. See real results.
Content Marketing - our team creates epic content that will get shared, get links, and attract traffic.
Paid Media - effective paid strategies with clear ROI.