Did you know that there are roughly 320 million monthly active users on Twitter? Did you know that there are more than 414 million registered members on LinkedIn?
With social media use on the rise, it's easy to see why a growing number of companies are putting more time, money and resources into this aspect of their marketing strategy.
You know that there are hundreds of millions of people using a variety of social media platforms. What you may not know is how to implement a strategy that allows you to capitalize on this popularity.
Fortunately, there is help to be had.
In this post, we're going to take a look at 27 social media tools that can improve efficiency, save you time and money and help you generate positive results.
Let's get started! 
Social Media Management
1. Hootsuite – A leader in the management of social media, Hootsuite caters to businesses of all sizes.
Here are some statistics, shared by Hootsuite, that prove its popularity and power within the space:
Used by more than 800 of the Fortune 1000 companies.

More than 10 million total users.

Available in 16 languages, with users in nearly 200 countries.
It's the tools offered by this platform that make it so special. From engagement to analytics, from monitoring to collaboration, Hootsuite has every feature you require from a social media management tool.
The ability to connect with more than 35 popular social networks is icing on the cake.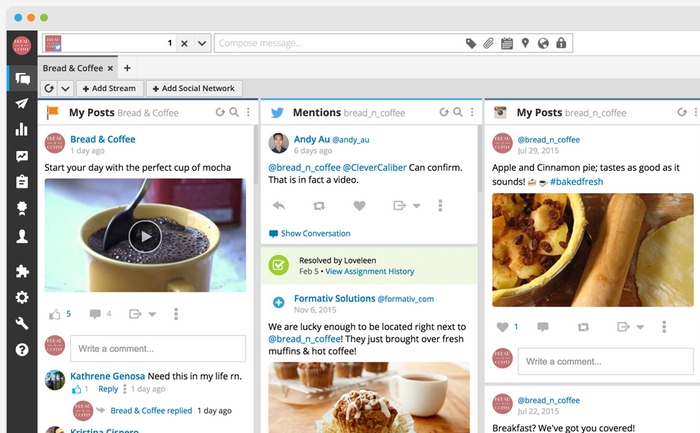 2. Buffer – A social media management tool for both marketing professionals and agencies, Buffer isn't far behind Hootsuite in this space.
With an intuitive, feature packed and easy to use platform, Buffer helps its more than three million users schedule updates and manage all of their social media profiles.
Adding to the basic features, Buffer offers a variety of mobile apps and browser extensions, allowing you to add content to your pipeline as it's discovered.
Since its founding in 2010, Buffer has quickly become one of the top social media management tools. Every day, customers post more than 500,000 updates across almost every social media service imaginable.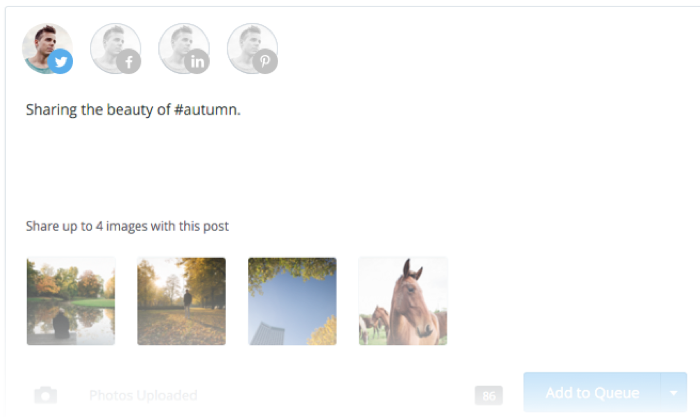 3. Tweepi – Hootsuite and Buffer, among others, are geared towards helping users manage all of their social media accounts. Tweepi is different.
This platform is all about the management and growth of your Twitter account. With more than one million users, you don't have to wonder if it's powerful enough to meet your needs. It most certainly is.
Tweepi takes a three step approach to Twitter account management and growth:
Find users who are interested in what you have to say.

Interact with targeted users by following, adding them to a list or mentioning.

Get noticed as Twitter notifies users of your interaction.
There are many tools for users to implement, such as "reciprocate," which allows you to quickly find all of the users that follow you. You can then follow them back (if you so desire).
Tweepi takes a lot of the manpower out of Twitter management, putting important tasks on autopilot.
4. Sprout Social – Similar in form and function to Hootsuite and Buffer, Sprout Social markets itself as a more "professional" social media management tool.
A quick look at some of its many clients proves that Sprout Social is attracting top corporate users. From Stanford University to UPS, companies large and small like what Sprout Social brings to the table.
Social media management may be the primary attraction, but Sprout Social also excels in the areas of social customer service and social media marketing.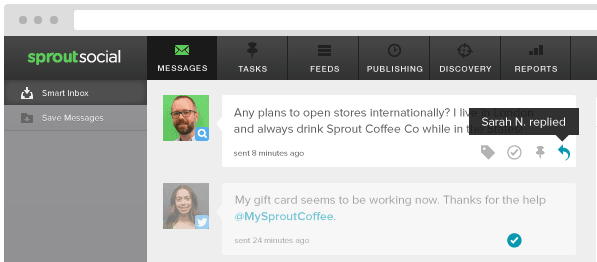 5. Edgar – Not your prototypical social media management tool, Edgar is used to "recycle your best social updates automatically."
With Edgar, you save updates and make note of which profiles to post on. With a posting schedule in place, Edgar does all of the dirty work.
And, this is when the real fun begins. Once a post is created, the system puts it back in the library, at the bottom of the list, of course, so it can be used later on.
The benefit of this is a never-ending schedule that keeps your social media profiles fresh, while refilling itself without your input.
Use Edgar once and you may soon be calling him your BFF.
6. SocialOomph – The name says it all, as SocialOomph is a tool for boosting your social media productivity.
SocialOomph is not as popular as others in this category, but it does stack up nicely in terms of features and ease of use.
There are two plans: free and professional. Those who need access to all of the best features should opt for the professional plan.
SocialOomph doesn't do anything special, but it does everything the right way. A solid solution for anybody who needs help managing multiple social media accounts and boosting their presence.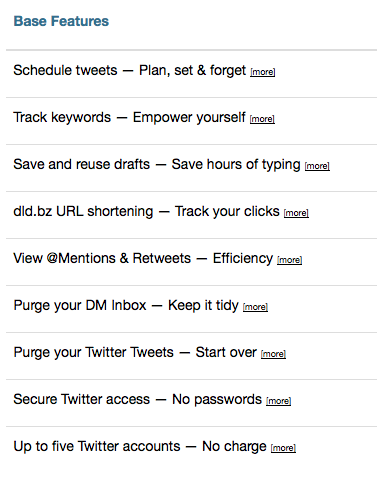 Image Creation
7. Canva – The use of images can increase your reach on social media. Rather than settling on any old image, using a tool like Canva can help you create graphics you can be proud of.
Canva is a leader in the image creation space, thanks to templates for every possible use, millions of stock photographs, photo filters and hundreds of fonts.
Canva has more than eight million users. To date, these users have created nearly 60 million designs. With the service claiming "it only takes 23 seconds to learn," signing up for a free account makes a lot of sense.
Tip: take the time to experiment with both Canva for Web and Canva for iPad.
8. TwitHelper – Simple, simple, simple. This is what TwitHelper is all about.
A design tool allowing anybody to "make Twitter ready images in seconds," there is no delay when you are in need of a high-quality graphic.
You have the option to upload your own image or use one from the TwitHelper library. After selecting an image, it's time to add your text. With nine distinct fonts, you can give your image a unique look and feel.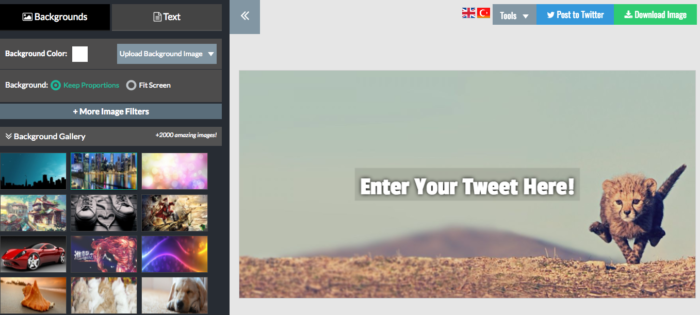 9. Pablo by Buffer – I mentioned Buffer above as a top social media management tool.
It's worth mentioning again, as Pablo allows you to design engaging images in a matter of seconds.
It's every bit as easy to use as the competition. You can upload your own image, or, if you don't have one, choose from one of the 30,000+ offered by the service.
Pablo's user interface sets it apart from the competition. You'll never get lost or become confused when using this tool. You can reposition your image. You can make it black and white. You can add text. You can blur it. And, that is just the beginning.
Tip: if you use Buffer to schedule social media posts, add Pablo to your daily mix. This will increase the ease of adding images to all your updates.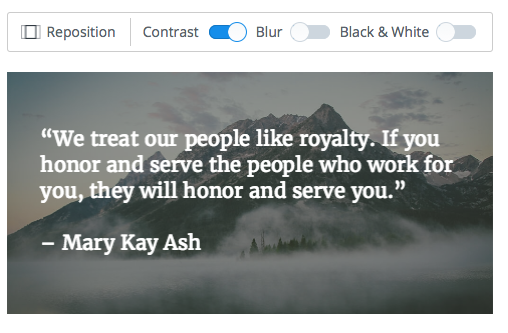 10. Word Swag – Are you a master of social media on the go?
If you find yourself updating your social profiles from your iPhone, the Word Swag app is a must.
Word Swag allows you to add text to your photos within a matter of seconds. All you need is an iPhone, the app and a few minutes to get your bearings.
Once you are setup, you can easily create custom text layouts and choose from hundreds of pre-populated quotes and thoughts.
Images make your social media updates pop, and this app gives each update a bit of swag. And, don't we all need some of that?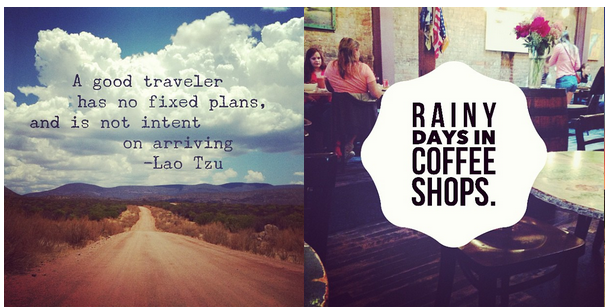 Market Research
11. Bundlepost – You spend a lot of time managing your social media posts, but here is the big question: what are you doing from an engagement perspective?
Bundlepost offers a suite of tools, all of which help you get more out of your social media strategy.
Its market research functions, such as the option to manage curated posts from a variety of sources, can help you provide your audience with more targeted and engaging updates.
You can add any feed to the system, allowing it to automatically aggregate and save the content that is most important to you. Next comes the automatic formatting, allowing you to select and edit updates in a timely manner.
12. Buzzsumo – Here's how Buzzsumo describes itself: "Analyze what content performs best for any topic or competitor." That's easy enough to understand.
You can use Buzzsumo in many ways, but here are two of the best:
Find out what content is most shared on any topic.

Research content ideas, both for blog posts and for social media.
Why take a wild guess as to what is trending? With Buzzsumo, you can research your market for targeted data.
Knowing what's hot and what others are sharing is half the battle.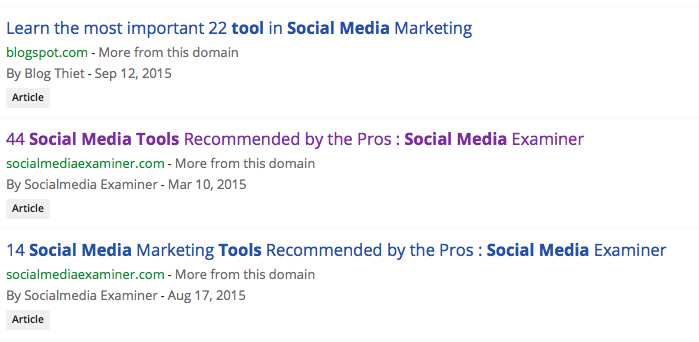 13. Feedly – Collecting news and knowledge will go a long way in helping you create more detailed social media updates.
Use Feedly to collect all your favorite information in one place. From popular publications to blogs and videos, Feedly brings it all together.
As your collection builds throughout the day, you can decide what to share with your audience. As an added bonus, you can use the ideas to create blog posts of your own.
Feedly takes great pride in helping you put content to work, noting that it can assist with:
Organizing content.

Reading content.

Searching for the best content.

Saving content for later.

Discovering content.

Sharing content.
Feedly easily integrates with Hootsuite and Buffer, making it even easier to share content and schedule posts to the appropriate social media profiles.
14. Inkybee – This tool offers a little bit of everything in regards to market research and blogger outreach.
Inkybee provides "a suite of research and discovery tools to audit and understand your client's sectors," including:
Powerful search engine.

Blog discovery tool.

List management tool.

Tools for analyzing Twitter followers.

Sector segmentation tool.

Reporting tools.
For those who want to pinpoint and communicate with thought leaders on Twitter, Inkybee can provide assistance. It even offers tools for contacting bloggers, direct from its dashboard.
Analytics
15. Dasheroo – A business dashboard tool with a strong focus on social media KPIs, Dasheroo was built with marketing professionals in mind.
On its blog, Dasheroo regularly discusses the benefits of a social media dashboard. For instance, a dashboard allows you to keep an eye on your social profiles, determine what type of content is well received and track traffic generated via social media.
In addition to an easy to use interface, Dasheroo is a big winner in this space thanks to its ability to integrate with the social platforms and other apps, that you use on a daily basis.
16. Cision – It is one thing to analyze data. It is another thing entirely to convert the data into action. This is what Cision is all about.
The tool helps you review trends and make decisions that improve your return on investment (ROI).
There is more to social media than what you see on the surface. Understanding the data points associated with your profiles and strategy can help you achieve greater results in the future.
17. Tweepsmap – "Analyze. Listen. Engage." The company's tagline provides a window into its soul.
With access to location based, actionable analytics, you can use this tool to create a social media strategy that boosts reach and improves ROI.
Every time you visit your dashboard, you are presented with actionable insights regarding "trending topics among your followers by location." When you know what your followers are talking about, you can thrust yourself into the conversation at the right time.
The Tweepsmap hashtag map is a unique feature that allows you to identify and analyze topics all the way down to a city level.
It's also worth mentioning that Tweepsmap has tools for displaying the best times to tweet, which can improve the reach and impact of every tweet.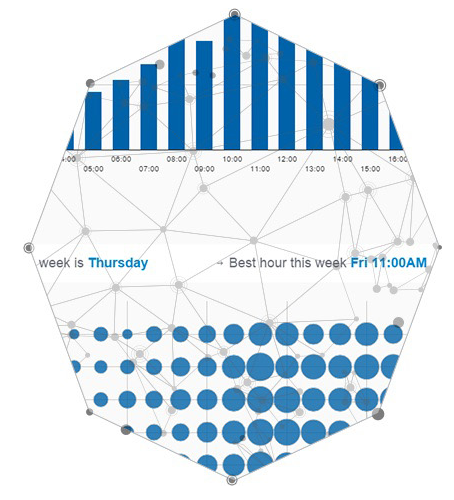 18. Twitonomy – It's all about the details, right? If you have ever used Twitonomy, you know the company believes this to be true.
Twitonomy doesn't spread itself thin by providing analytics data for all social media platforms. It focuses solely on Twitter.
Twitonomy provides services such as:
Detailed analytics regarding any user's tweets, replies, retweets, and mentions.

Monitor interactions with other Twitter users.

Export search analytics on any keywords, URLs, users, and hashtags.

Search and filter insights on users who follow you and the users you follow.
If you want to go beyond the basic analytics provided by Twitter, Twitonomy is the tool for you.
19. Iconosquare – Instagram doesn't always receive the attention it deserves, as it's often overshadowed by Twitter and Facebook. There may not be a good reason for this, but it's true.
But, if you are one of the millions of people who understand the power of Instagram, Iconosquare is a tool to learn more about.
Iconosquare provides key metrics regarding your Instagram account, including your most liked photos, number of likes received, comments per photo, average number of likes and follower growth charts.
With 11 million users, including 260,000 brands, you won't be alone if you rely on Iconosquare for all your Instagram analytics needs.
20. Quintly – To make the most of your social media strategy, it's a must to understand your data as well as the numbers associated with your competition.
Quintly helps with both these things, with the ability to track and benchmark your performance. Through a comparison to your competitors, it's easy to see where your social media strategy and performance stacks up.
With centralized analytics, Quintly can save you a lot of time. There is no more manual tracking of KPIs spanning multiple platforms.
Quintly works with all of the most popular social channels, ensuring that you have a firm grasp of how you stack up against the rest of your industry.
21. Keyhole – Are you interested in real time Twitter and Instagram analytics? Keyhole allows you to track keywords, hashtags and URLs in real time.
Type a keyword, hashtag, or URL into the search box and Keyhole does the rest. Within seconds, you are presented with a variety of information.
For example, a keyword search will return the total number of posts, users, reach and impressions. There is also a breakdown of the top sites for the keyword, as well as a list of most influential users and recent users.
Keyhole presents data in an easy to digest manner, ensuring that you can quickly understand all of the information laid out in front of you. There is no guesswork when you use this tool. There is only top notch data that you can use to improve your social media marketing strategy.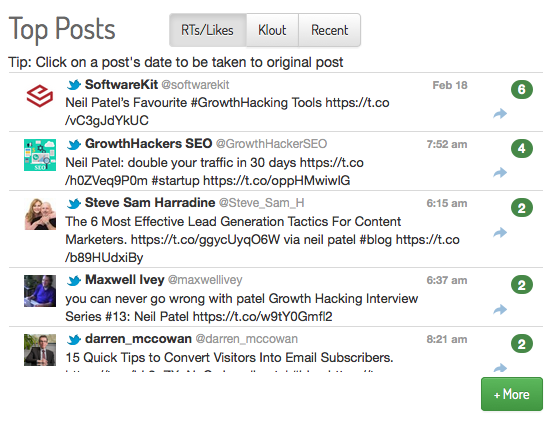 22. NUVI – There are two phrases that best describe NUVI: real time and beautiful data.
With real time data visualizations, you never have to worry about making decisions based on outdated information.
When combined with beautiful presentation, you have a system at your disposal for better understanding your strategy and for making more informed decisions.
Here is a takeaway from the NUVI homepage that will help you better understand the tool:
"Spend less time worrying about the number of rows your spreadsheet can handle and more time focused on the insights the social conversation carries. NUVI makes social intelligence clean and interactive."
You only have so much time in the day. This is particularly true regarding the analysis of social media data. NUVI gives you real time data in an attractive format. All that you have to do is put the information to good use.
23. LikeAlyzer – Do you need help analyzing and measuring your Facebook Pages? Do you want to spy on the competition? LikeAlyzer helps with both of these desires.
LikeAlyzer helps you monitor, compare and explore a myriad of possibilities by evaluating your activity.
Type any Facebook URL into the search box and you are presented with recommendations, comparisons, similar brands and a variety of data.
Want to know the average number of posts per day? LikeAlyzer has you covered. Are you interested in page performance? Again, LikeAlyzer generates this data within a matter of seconds.
You may think you understand how your Facebook page is performing, but you won't know for sure until you run it through LikeAlyzer.
Other Tools to Implement
24. SumoMe – SumoMe does a lot for marketing professionals. For example, its share tools are described as follows:
"Share makes it stupid-easy for your visitors to share your content to their friends, family, and others. The more people share your site and content, the more viral traffic goes back to your site."
With connectivity to more than 16 social services, you can integrate SumoMe with everything from Twitter to Facebook to Buffer.
Highlighter is another popular feature of SumoMe. With this, visitors can highlight sections of blog posts to share with others. This goes a long way in increasing social traffic.
25. Sysomos Heartbeat – When it comes to social media, you always need to be on the ball. You can have the best marketing plan, but it means nothing if you aren't connected to your audience.
Heartbeat helps you monitor and analyze the conversations that are most important to your business.
Those who are new to social listening or need help improving in this area can benefit from Heartbeat.
When Heartbeat claims access to a rich set of data, it means it. The company claims access to "billions of conversations spanning 189 countries and 186 languages with up to two years of historical data." That's a lot of data, no matter who you are.
26. Little Bird (now acquired by Sprinklr) – With influencer marketing on the rise, tools like Little Bird are growing in popularity.
This tool helps enhance your social media strategy by mapping influencer networks.
By helping you identify influencers, Little Bird eliminates the need to do this manually. Once you understand who the influencers are and how to engage with them, you can create content to position yourself in the same circle.
The Little Bird platform is easy to use, allowing you to discover influencers by topic, engage with them and measure the impact on your marketing strategy.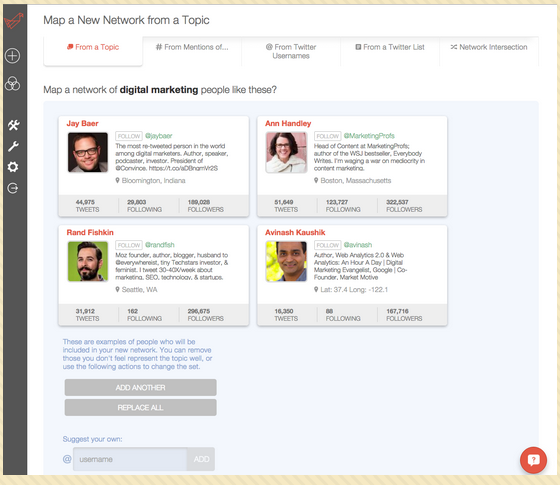 27. PeopleLinx – Social selling is hot, hot, hot. This trend will continue through 2016 and into the future.
PeopleLinx was built to drive multiple outcomes through the sales cycle. These include:
Brand amplification.

Lead generation.

Pipeline acceleration.

Deal conversion rate.
Through the implementation of the PeopleLinx system, the goal is to generate higher quality leads, a higher close ratio and a faster sales cycle.
Conclusion
There is a big difference between using social media and implementing a strategy with the purpose of generating results.
Hopefully, after reviewing these 27 social media tools, you'll find several that can boost your strategy and help you reach your goals.
Maybe you need a tool to better manage your many social media profiles. Or, maybe you seek assistance with designing professional images. Regardless of what help your social media strategy might require, there's probably a tool that can help.
Have you experimented with any of these social media tools? Which ones do you rely on regularly?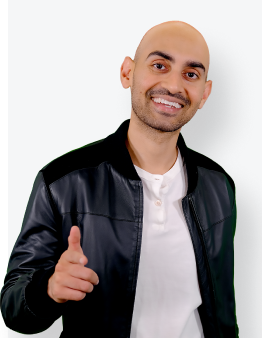 See How My Agency Can Drive More Traffic to Your Website
SEO - unlock more SEO traffic. See real results.
Content Marketing - our team creates epic content that will get shared, get links, and attract traffic.
Paid Media - effective paid strategies with clear ROI.
Are You Using Google Ads? Try Our FREE Ads Grader!
Stop wasting money and unlock the hidden potential of your advertising.
Discover the power of intentional advertising.
Reach your ideal target audience.
Maximize ad spend efficiency.