With over 90 million customers watching a combined 125 million hours of television and movies everyday, there's no doubt that Netflix has changed the way we watch our favorite shows. It has also become a prime force in our daily lives — integrating into everything from mobile devices to our language and culture.
And with a relatively low 9% churn rate (lower than any other subscription streaming service), one has to wonder — how does a service like this continue to keep their customers engaged in both the short and long term? How do they succeed when others fall short? Let's take a closer look and discover how they do it.
Why Engagement is So Crucial to Netflix
As a subscription service, each new month gives every Netflix users a chance to cancel the service.
Like all subscription companies, the best step Netflix can take to reduce churn is to create a great product that people are willing to pay for. They do this by having a large library of original and licensed content. As long as people keep watching, they'll keep paying.
Let's look at how Netflix achieves relatively low churn rates, when compared to their peers.
Reluctant to Switch
With more than a third of U.S. households subscribed to Netflix, it's no secret they're far ahead of their competitors (namely Amazon Prime and Hulu Plus) in the video streaming subscription race. Recent research by Parks Associates showed that only 4% of U.S. broadband households cancelled their Netflix service — representing almost 9% of Netflix's subscriber base.
By comparison, 7% of users cancelled their Hulu Plus subscription within a year — but that figure represents approximately half of Hulu Plus' current subscriber base.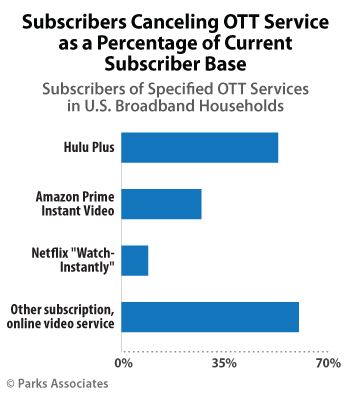 (OTT refers to "Over the Top" – a term used in broadcasting to refer to internet-based transmission of media without an operator –as in cable or satellite — controlling or distributing the media).
What this tells us, is that not only are most households electing to keep their Netflix subscription and "test the waters" with other streaming services, but those same users keep coming back. But what is it that draws them back?
A Deeper Insight into User Preferences
Perhaps some of what makes Netflix so irresistible among its user base are its original shows. With fan favorites like House of Cards and Orange is the New Black, Netflix has its finger on the pulse of what users are watching. And they're not just skimming the surface, either. They look at things like:
How many users watched a particular episode
How many users watched an entire series
How much of a gap was there between when the user watched one episode and the next?
And that's not all. They're also gathering data on:
When you pause, rewind or fast-forward (or if you stop watching and never pick it back up again)
What day you watch (most people watch TV shows over the week and movies on the weekend)
What date and time you watch, as well as the zip code you're watching from
What device(s) you use to watch which media
The ratings you give and the searches you conduct
Your browsing and scrolling habits
And even the data within the movies and shows themselves
Netflix knows when the credits roll – but it's also speculated that they're monitoring things like the volume, movie/show setting, colors and so on. All of this information is not just collected, but also acted upon.
Some might even say that Netflix took a huge gamble ($100 million to be exact) in purchasing the exclusive rights to House of Cards but they did so with a concrete hypothesis — that a large portion of its customers streamed "The Social Network", directed by David Fincher from beginning to end. House of Cards is also directed by David Fincher. What's more, they also noticed that films with Kevin Spacey tended to do well, as well as the original British version of House of Cards.
But Netflix didn't just settle on one trailer to introduce users to House of Cards. Spacey fans saw trailers that exclusively featured him. Women who watched Thelma and Louise saw trailers featuring the female protagonists of House of Cards and big time film buffs saw trailers that reflected Mr. Fincher's finest directing moments.
All of these points intersected in a way that practically lit up a path to customer engagement and retention. And all of them were made possible thanks to insights delivered by big data.
But this method only attracts users who happen to be watching other movies. What about when they're not watching? Netflix has that covered, too.
Email: We Added a Show You Might Like
With the vast content library available, it would be overwhelming to not recommend shows to users. So Netflix doesn't just collect data about the shows you watch — it acts on that data too, sending you emails when a show is added that you may like based on your existing viewing habits.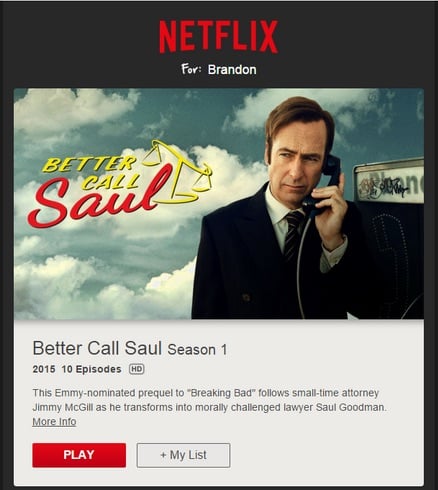 The email itself is simple and straightforward, and, this is the important part — you can play the episode right from within your mobile device, or add it to your watch list. So it's not just notifying you that you might enjoy this show, but rather giving you an action to take that lets them better tweak suggestions according to your viewing habits.
Push and In-App Notification – New Season
Many people find push notifications bothersome and frustrating — but it all depends on where they come from. Things that affect users directly – like utilities (your water or electricity is scheduled to be off for a time) or transportation (there's a car wreck near you that may slow your commute) are definitely wanted.
Movie or series suggestions don't seem like they'd be high up on users' priority lists, but Netflix has done a fine job of customizing and fine tuning what gets shown to each user. For example, if you followed season 1 of House of Cards, Netflix lets you know that Season 2 is now available: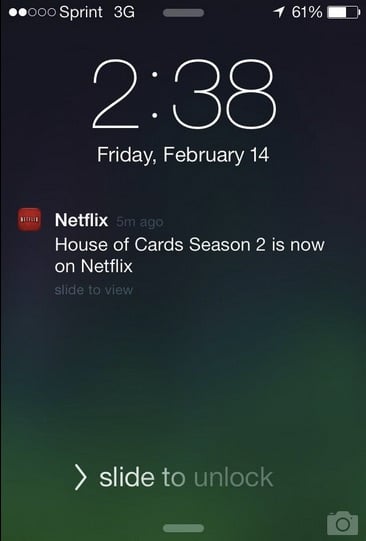 What it doesn't do is inundate you with notifications when every new season or every new movie is listed. Each push notification is carefully crafted again, based on the data from your viewing habits. This way, it's not intrusive, but rather engaging.
Recommendations for You
Netflix is also famous for its recommendations. It knows it has just 90 seconds or less to convince you that there's something worth watching that's catered to your tastes, it looks at things such as the genre you watch and your ratings, but also what you don't watch. There's a very real problem of overwhelming the user — with so many choices, Netflix doesn't want to get too personal.
And it doesn't care so much about what you watch, but rather that you watch. When given the choice between calling a friend, reading a book or watching Netflix, they obviously want you to keep coming back.
And although Netflix does push its own original series up on its recommendation pages, it plays a flat fee to content providers, so there's no reason for its recommendation algorithm to favor one series over another. Everything it recommends to you, it does not just because of your viewing habits today, but also historically.
All of these options filter in to create a uniquely personalized — but not too personal — list of recommendations specifically tailored to each user. An engaged user is a happy user, and Netflix is pulling out all the stops to keep them watching.
Interestingly enough, the personalization algorithm resets every 24 hours, making it more likely that users will keep discovering current titles of interest from Netflix's ever-growing catalog.
Split Testing
Not surprisingly, Netflix also does a great deal of split testing — a couple hundred tests each year to be exact. It randomly selects around 300,000 users from around the world and tests everything from images to font size.
Whenever major changes are made, such as a homepage redesign, users are understandably upset and backlash is imminent – it's in our nature to tend to resist change. However, Netflix does a good job of easing them into the new design by explaining what has changed and why. According to Netflix's vice president of product innovation, Chris Jaffe, however, less than half of their tests have a positive impact on metrics.
Conclusion
Even still, with so many options to keep users informed across nearly every type of device, Netflix is continuing to test, innovate and refine its algorithms to prevent churn and keep users watching — and those users are at its core in a quest for never-ending user experience growth.
What are your thoughts on Netflix's methods to keep you hooked? Have you discovered new shows as a result of their recommendations? Share your thoughts with us in the comments below!
About the Author: Sherice Jacob helps business owners improve website design and increase conversion rates through compelling copywriting, user-friendly design and smart analytics analysis. Learn more at iElectrify.com and download your free web copy tune-up and conversion checklist today!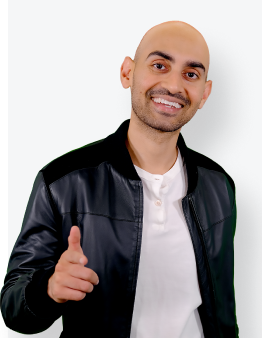 See How My Agency Can Drive More Traffic to Your Website
SEO - unlock more SEO traffic. See real results.
Content Marketing - our team creates epic content that will get shared, get links, and attract traffic.
Paid Media - effective paid strategies with clear ROI.
Are You Using Google Ads? Try Our FREE Ads Grader!
Stop wasting money and unlock the hidden potential of your advertising.
Discover the power of intentional advertising.
Reach your ideal target audience.
Maximize ad spend efficiency.