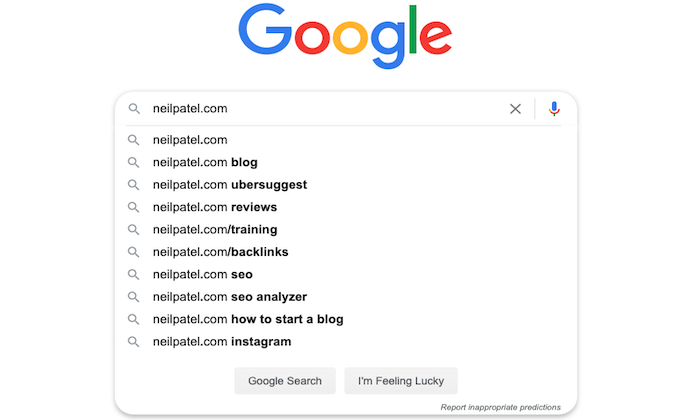 When you type in a keyword into the search box, you know how you get a list of keyword predictions?
This is called Google Autocomplete. Its purpose is to save users time. In fact, according to Google, it lowers typing time by 25%.
There's no doubt that this feature makes our lives easier, especially when using Google Search on mobile devices.
Google Autocomplete is often overlooked by digital marketers, so taking the time to understand it can give you an edge over your competition.
What Is Google Autocomplete?
Google Autocomplete is a Google Search feature that provides search term predictions.
For example, if you type "what is the capital of" into the search bar, you will see something like this: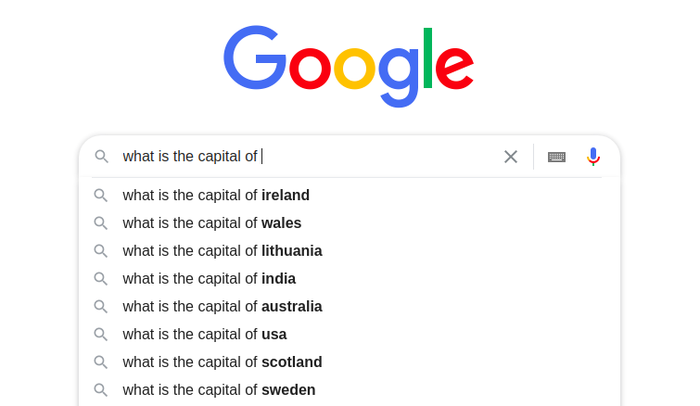 As you continue typing, predictions will adjust accordingly, until you see the search term you want to use.
You can then simply click on that option instead of typing it all out.
Google Autocomplete's purpose is to help you save time by completing the search query that you had in mind.
Where Do Google Autocomplete Keywords Come From?
Here's how Danny Sullivan, public liaison for Google search, explains it in his blog post on Google Autocomplete:
"How do we determine these predictions? We look at the real searches that happen on Google and show common and trending ones relevant to the characters that are entered and also related to your location and previous searches."
Are The Predictions Different in Various Countries?
Google Autocomplete predictions depend on which country you're in.
For example, if you're in Vilnius, Lithuania, and you type "best pizza in" into the search bar, you will see something like this: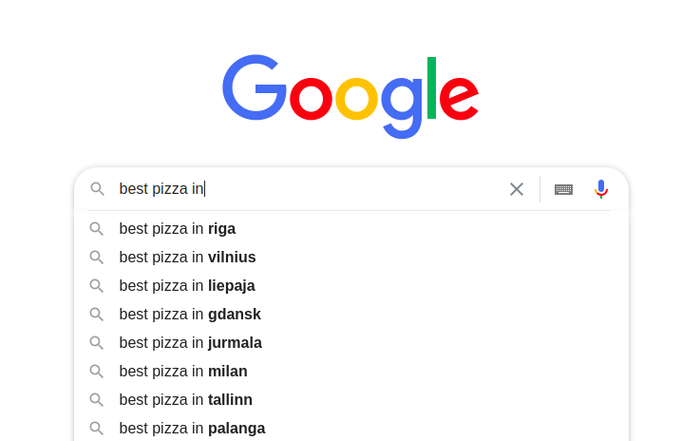 All these locations (except for Milan) are either in Lithuania or near Poland, Latvia, and Estonia.
If you change locations, Google will "follow" you, and your autocomplete options will adjust accordingly.
Are Google Autocomplete Predictions Different for Various Languages?
These predictions differ based on the language(s) you're using to enter queries into Google.
For example, if you set your default language to English, you will be shown English predictions.
However, if you add other languages that you understand, say, German and French, you'll also be shown predictions in those languages.
Does Your Search History Affect Google Autocomplete Predictions?
When you're logged into your Google account, Google considers your search history when showing predictions.
When you see a prediction that has a "Remove" option next to it (it shows up as an "X" on the far right), know that this is a prediction based on your search history—it remembers that you searched for this, but recognizes it may have been a one-time search.
What Are the Google Autocomplete Guidelines?
Not all search queries are deemed appropriate to display as predictions.
These types of predictions go against Google Autocomplete policy:
Violence and gore
Sexually explicit, vulgar, or profane language, though medical and scientific terms are allowed
Anything related to hate speech or approval of hateful acts
Sensitive information or terms about named individuals
Dangerous predictions, meaning searches for things that could allow serious harm to people or animals to happen
Google admits that while they do their best to remove inappropriate predictions, they don't always get it right, so they provide a way to report a prediction.
How Can You Use Google Autocomplete for SEO?
Before you start analyzing Google Autocomplete predictions for SEO, it's essential to do these three things:
Log out of Google or use incognito mode to make sure your search history doesn't influence the predictions you get.
Use a VPN if you are based in a different location than your target audience. For example, if you're currently in Thailand, but you're focusing on people in the United States, use a VPN to make it seem like you're in the United States. You want to see predictions for the location where your target audience is.
Adjust your language settings to be similar to the language settings the people in your target audience use.
These parameters will help you see the predictions similar to those shown to your target audience.
Keyword Research
Google Autocomplete can be a useful keyword research tool.
Here's how you can make the most out of it.
Type in a Keyword, Look at the Predictions
Simply type in a keyword that is relevant to your niche and look at the predictions. This research is a great way to discover valuable long-tail keywords. (Answer The Public is another free tool that does this for you.)
Then, use an SEO tool like Ubersuggest, Ahrefs, or Moz Pro to analyze those keywords and identify ones that are worth going after.
Go Through the Alphabet
What if you don't like any of the predictions that you got?
Brett Farmiloe, the founder and CEO of Markitors, advises to type in your keyword, then just go through every letter of the alphabet to see what predictions come up.
He uses the keyword "equipment financing" as an example: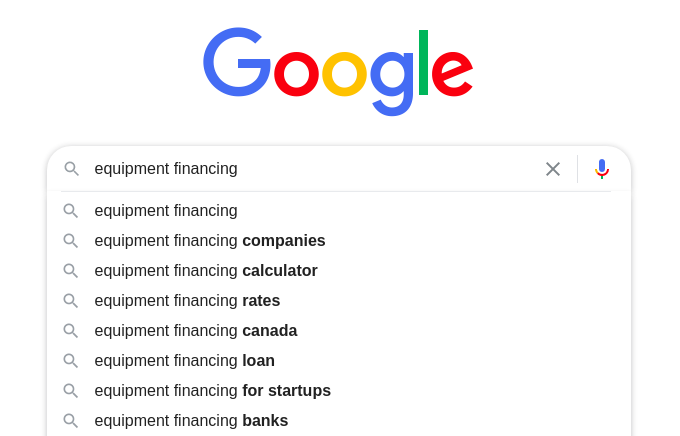 You can add the letter "a" to get a new set of predictions: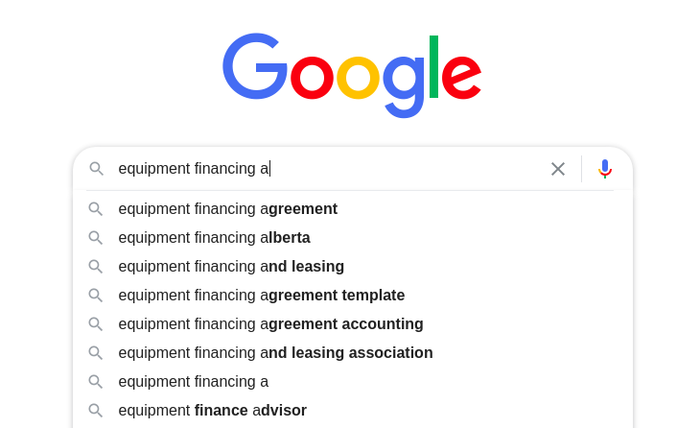 And then you can add the letter "b" to it: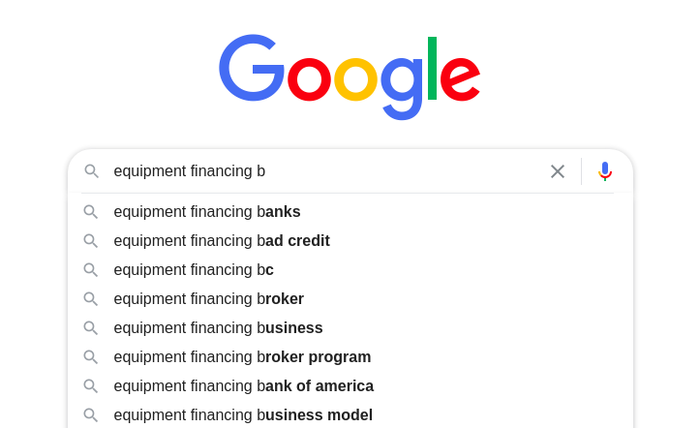 …and that's how you go through the entire alphabet.
"This is particularly good when you are really stuck, and you are really just in need of some inspiration," says Brett.
Let Google Fill in the Blanks
Tom Dupuis from Online Media Masters suggests using the underscore character "_" in a phrase so that Google would complete it.
He uses the keyword "chicago _ photographer" as an example: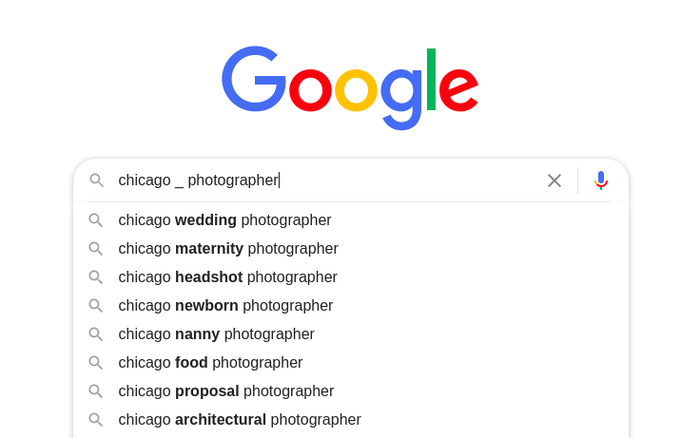 "Instead of having Google complete only the last part, this can show you a better selection of keywords depending on what type of phrase it is," explains Tom.
Experiment With the Position of the Underscore
Dupuis also encourages people to experiment with the underscore's position to see what new Google Autocomplete predictions show up.
For example, if you already tried "chicago _ photographer," why not try "_ chicago photographer"?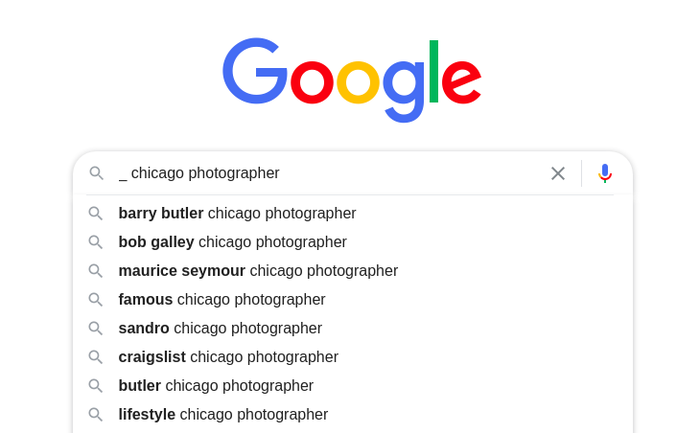 Try Both Singular and Plural Form of the Keyword
Another valuable piece of advice from Dupuis is to try both the singular and plural forms of the same keyword because this leads to different Google Autocomplete predictions.
Take one more look at the predictions for the "chicago _ photographer" keyword: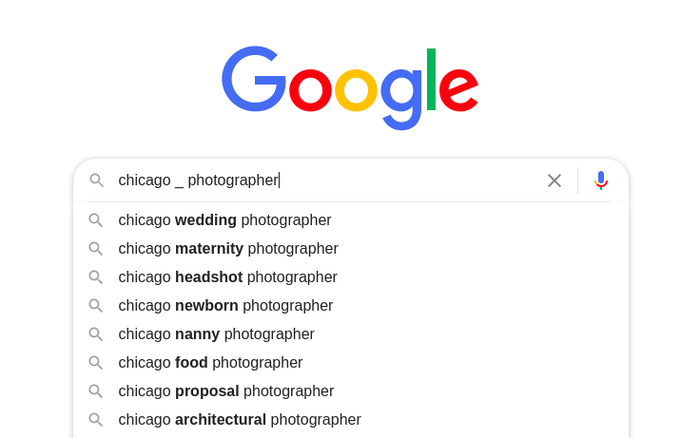 And now look at the predictions for the "chicago _ photographers" keyword: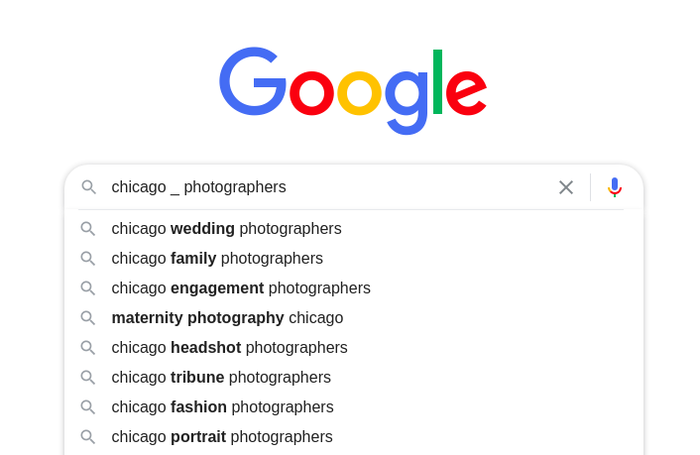 As you can see, the predictions are different, so try both forms of the same keyword.
Online Reputation Management
This tool is also useful for researching results about your branded terms, such as company, executive, or product names. Google Autocomplete can present a serious threat to your public image if an unflattering search term appears in the predictions using your brand terms
What can you do if you find yourself in that situation?
You have several options:
Address the Problem
If the unflattering prediction refers to something true, fix the problem.
The resolution won't make the autocomplete issue go away immediately, but if the problem is solved, then over time, people will forget about it and stop searching for it. As the volume for that search term goes down, it ultimately will drop off the prediction list.
Work on Your Brand Image
Again, if the prediction is about an actual incident, you can help people forget whatever happened faster by giving them something positive to focus on.
For instance, you can feature loyal customers on your website, do a giveaway, or organize an event.
Even directly engaging with your customers on various social media platforms can go a long way towards creating a positive brand image.
Other Ways to Use Google Autocorrect Research
Google Autocorrect is a simple tool — but it can be quite powerful. From keyword research to maintaining your reputation, those suggestions can super-charge your digital marketing efforts.
In addition to finding popular keywords, there are several other areas where Google's suggestions can be useful concerning SEO.
Uncover Key Words for Local SEO
Google Autocomplete can also provide suggestions for local SEO searches you might not have considered.
Say you are looking to rank the website of a coffee shop in Denver — would you just target "coffee shop Denver"? Or do people use neighborhoods, cross streets, or even zip codes?
Google Autocomplete will tell you what terms people search when looking for a coffee shop in Denver: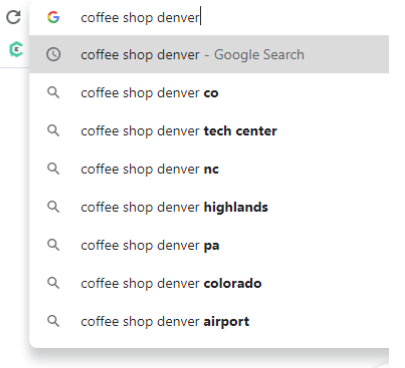 Looking at this example, what can we learn?
Denver Tech Center is a business and trading center in the southeast portion of Denver, Colorado. It's a popular destination for business workers, so if your shop in that area, you'd want to include Denver Tech Center in your key terms list.
Denver Airport shows up on the list, so if the shop is near there, you'd want to target that term as well.
Google autocomplete shows several major landmarks (including the airport), so you will want to research if your shop is near any popular locations, such as a museum or shopping center.
There are also listings for Denver, NC, and Denver, PA, which means it's probably a good idea to include the state.
It's easy to assume you know what people will search — but it's worth the few seconds it takes to check and see what inspiration Google autocomplete might offer.
Create a User-Friendly E-commerce Website
Ecommerce is big business — according to Oberlo, more than 2 billion people make online purchases annually. Despite many online shoppers, there's also a stiff competition to get shoppers to your site.
Using autocomplete to find key terms to target is just one way to use the feature to create a better ecommerce store and create a user-friendly site.
Let's say your e-commerce sells shoes, clothing, and accessories. Your goal is to make it as easy as possible to find what they want and make a purchase.
Google Autocomplete can help by:
Showing which categories are most popular: For example, if you search "women's shoes" in Google, the search engine will also suggest: "women's shoes near me," "women's shoes on sale," and "women shoes size 12." That means people often search for shoes on sale and by size, so those are categories you'll want to include on your website.
Uncover popular brands: A search for "women's tennis shoes" tells you which brands users search for most often, including Adidas and Nike. Those are brands your audience is likely to purchase.
Get ideas for your FAQ page: Searching "are women's shoes…" provides a list of questions people often ask, including "are women's shoe sizes the same as men's?" and "are women's shoes more narrow?" Those are questions people are asking, and providing those answers could help drive more traffic to your ecommerce site.
User experiences can impact search rankings, so making a user-friendly site should be a top priority.
Get Inspiration for Content Topics
Google Autocomplete features searches that people make regularly. Targeting any of those terms or phrases is going to drive traffic. (At least it will if your content is good!)
Here are a few suggestions for getting content inspiration:
Who, What, Where, How, Why: Use your primary key term with question words before or after (whichever makes more sense). See what Google suggests — you might uncover the bit of inspiration you need to write your next great piece of content.
Use action verbs: This can provide creative angles for your next blog post or ebook. Searching "content marketing is…" shows a list of quirky title ideas, including "Content marketing is like a first date." Other ideas for action verbs include: are, will, show, be, build, and replace.
"Key Term and…": Looking for related topics? Search your primary key term with "and" to see what associated terms searchers are looking for. For example, if you search "content marketing and…" Google suggests social media, lead generation, storytelling, and sales.
Content marketing is a critical part of SEO, so finding topics that users are searching for can improve the ranking for specific pages and a site.
How to Use Google Autocomplete for SEO FAQs
How do I use Google autocomplete?
To use Google autocomplete, begin typing a keyword into the google search bar. Google will automatically pop up a list of suggestions for things people searched for when they enter the term you are using.
How do I turn on Google autocomplete?
You don't need to turn this feature on; it is automatic with the Google search engine.
What is Google autocomplete based on?
The autocomplete search terms Google pulls up are the terms with the most traffic that are associated with the word/phrase you entered in the search bar.
How much time does Google autocomplete save us?
According to Google, its autocomplete feature saves us 200 years time per day.
How to Use Google Autocomplete for SEO Conclusion
Google Autocomplete isn't just a neat user feature that allows you to complete a search term without typing it out.
You can also use it to discover valuable long-tail keywords that you wouldn't have thought of yourself.
Of course, it can also wreak havoc on your life if an unflattering prediction appears next to your name or your company's. It's wise to keep an eye on what shows up on Google Autocomplete so that you can address a problem immediately.
Just don't make a bad situation worse by using black hat techniques. It's not worth it.
How do you use Google Autocomplete for SEO?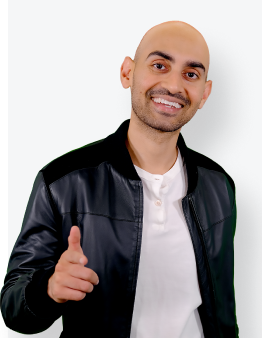 See How My Agency Can Drive More Traffic to Your Website
SEO - unlock more SEO traffic. See real results.
Content Marketing - our team creates epic content that will get shared, get links, and attract traffic.
Paid Media - effective paid strategies with clear ROI.
Are You Using Google Ads? Try Our FREE Ads Grader!
Stop wasting money and unlock the hidden potential of your advertising.
Discover the power of intentional advertising.
Reach your ideal target audience.
Maximize ad spend efficiency.