QR (Quick Response) codes are starting to pick up steam among the growing smartphone-browsing crowd – a statistic that has marketers brimming with creative ideas and promotions.  Still, no one wants to open their device to a glut of text messages and alerts from codes they've scanned.
Fortunately, these companies have found innovative and unique ways to not only get you to scan their code, but boost their brand awareness in the process.  Here are a few of the most memorable ones – and a few examples to get your mind stirring.
Who's Using QR Codes?
Nearly half of all smartphone users have used their phones while shopping in brick-and-mortar stores – 40% of them to compare the competition's prices.  Statistics for who's scanning QR codes and with what device appear to be mixed, although most data places iPhone users at the top, with the user age range being 25-34.  Japan and the U.S. are currently leaps and bounds ahead of other countries in QR code scans (around 60% approximately) – with Canada and the U.K. trailing dozens of percentage points behind.
Still, QR code creation jumped a whopping 1,253% in 2011, with two million of them created in less than three months. By far, most were used to lead users to a web address, but they can also store vCard details, Google Maps info and even Youtube video links.
1. Creative Ads for Apps
Even though QR codes in marketing are just starting to gain traction, there are still companies and individuals making their message loud and clear to early adopters.  Here are two eye-catching ads, for Instragram and Angry Birds, both created by U.K. Ad Agency "Made by Stupid". Both QR codes take you directly to download the app, and are a great showcase for both ad creativity and self-explanatory promotion of the apps themselves: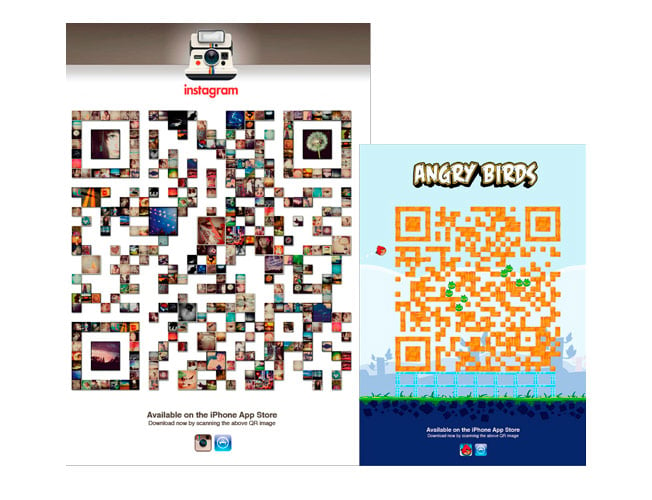 Instagram and Angry Birds QR codes highlight their respective apps while taking users directly to the download page
2. Greeting Cards and Mixtapes
Here's a creative and interesting thought – what if you combined greeting cards with playlists? It's the new generation of mixtape and the QR images, as they're called, were developed by the same U.K. agency that did the aforementioned unofficial ads for Instagram and Angry Birds. If the user has the premium Spotify app on their phone, they can scan the barcode and instantly start the playlist. Music in the playlists spans nearly every interest and occasion including music for geeks, music for cooks, and everyone's mixtape favorite – love songs.
3. Breathe New Life into Boring Places
When was the last time you went to a museum? If you responded "on a grade school field trip" or "only old folks go to museums", you're in for a treat. Sukiennice Museum in Poland has added a whole new dimension to their paintings to turn each one into a series of stories about insanity, intrigue, deception, war and much more. Sukiennice Museum brought reenactors to tell the "Secrets Behind the Paintings". Visitors scan the QR code for a particular painting, and get the inside scoop direct from the "painter" themselves.
4. Get Festive with Personalized Gift Messages and Wrapping Paper
Although the holidays are behind us, you can't help but admire the clever ways in which marketers have attracted holiday shoppers using QR codes.  This past year, JC Penney released "Santa Tags" which would let the gift giver record a personalized message that would be played when the recipient scanned the QR code:
5. QR Codes Share Your Life in a Single Graphic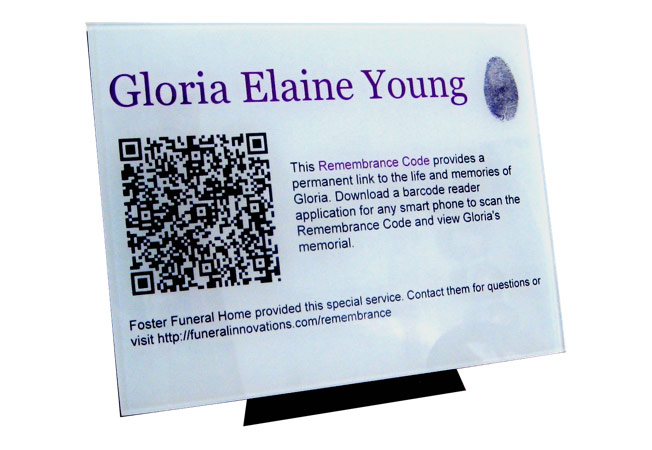 While we've yet to see any QR codes on tombstones, they can be used to check in at the funeral (much like Foursquare) and notify the family who was in attendance.  Currently, most of the older generation doesn't exactly know what they are, but once they're told about how the QR codes (or Remembrance Codes as they're called in the industry) work, they're amazed.  Who else thinks that in the future, names and dates will be eclipsed by QR codes that share a story about a loved-one's life?
How to Get Your Own QR Code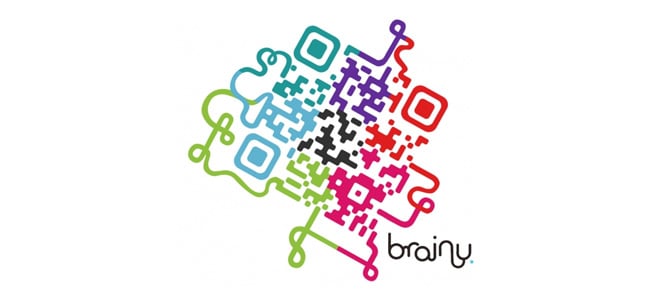 An example of a stylized QR code by Custom QR Codes
The fastest way to get a QR code (for free) is over at QR Stuff.  For a price, you can also get scan analytics. If you're looking for something a bit more stylish, Custom QR Codes designs the codes in much the same way as a logo.  In fact, up to 30% of a code can be distorted or purposefully left out and it will still be readable by most scanning devices.
Potential Pitfalls of QR Codes
Before you jump on this new trend, be aware that there are some potential issues with QR codes.  For example, spammers are now using QR codes as a way to flood smartphones with their gunk (you knew this was coming, right?) Savvy hackers and scammers can use them to disguise malware downloads and force your phone to send premium text messages non-stop at $1 each.  Because some QR code scanners will let you use shortened URLs, there's currently no telling where those URLs could point to.
That's why, like with your computer, it's important to know how your QR scanner works, what's being downloaded, and whether or not you trust the source.
Action Steps for Working with QR Codes
So how can you take advantage of this growing trend for your business?  Keep in mind that much more than web addresses can be scanned. For example, you could:
Direct employers to your resume, your LinkedIn profile or your Vcard
Use a QR code in a direct mail piece, business card or postcard to provide a discount
Give customers an inside look at your new Facebook promotion
Take them to a page with more detailed information that wouldn't easily fit in a print ad
Use them to deliver step-by-step instructional videos or a printable setup sheet
Have the QR code send a tweet when scanned, or check in with Foursquare
Let them enroll in an event such as a webinar or teleseminar
Use the QR code to let customers send themselves a reminder via SMS
Link them to a special "Exclusive" YouTube video
What are some of the most creative uses of QR codes you've found?  Have you used a QR code yourself in a promotion? What sort of results did you get?  Share your thoughts and ideas in the comments below!
About the Author: Sherice Jacob helps business owners improve website design and increase conversions with website reviews and SEO copywriting. Download a free conversion checklist and web copy tune-up at iElectrify.com.