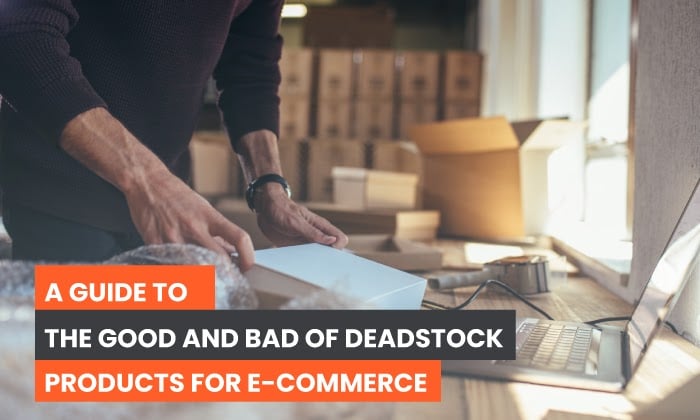 E-commerce retailers face many obstacles in the realm of online business. A common yet persistent issue is deadstock products.
The accumulation of deadstock inventory can drive up operational and warehouse costs. As more products enter the warehouse, the cost of storing unsold items can drain the valuable financial resources of your business.
What's more, seasonal trends and products make it difficult to eliminate deadstock products completely.
How to solve this problem? This article explains how to avoid deadstock and how to get rid of it when it piles up in your warehouse.
Let's start with the definition for deadstock first.
What Does Deadstock Mean?
Deadstock is synonymous with dead inventory.
These are items that haven't been sold and are very unlikely to sell. If you don't use an inventory management system, these goods likely pile up and remain forgotten in your warehouse.
An alternative definition of "deadstock" refers to goods that are no longer sold in stores. In this case, these deadstock goods, like unused or unworn shoes or vintage apparel, are sold at much higher rates.
For the purposes of this article, we won't explore the latter definition in this post.
Is Deadstock Bad for Business?
Deadstock comes with a price.
Retailers won't be able to recoup the cost of manufacturing products if they never sell.
As a result, unwanted items take up space in your warehouse. A longer stay means more storage costs for your business.
How do you calculate deadstock? To understand its consequences for your business, calculate the costs involved in holding onto these useless products.
List rental costs, utilities, equipment, insurance, and security used to guard your items.
Ideally, businesses make up for these costs through sales, but deadstock products remain stagnant in your warehouse. Instead of making a profit, retailers pay to keep these useless goods.
Deadstock also has an attached opportunity cost.
The space occupied by these items could have been used for "headstock" or highly profitable and bestselling items, which instantly make a profit for your business.
How to Avoid Deadstock
In my experience, you need to avoid deadstock as much as possible.
Business of Fashion reports that dead inventory costs around $50 billion per year for the US retail industry.
If a retail brand's standard margin is around 60%, then a deadstock worth $40,000 represents around $100,000 worth of retail sales and $60,000 of gross margin dollars.
I've advised a lot of e-commerce stores, and I can tell you it's best to avoid deadstock than to wait for it to snowball at a later time.
So today, I'll share tips for avoiding deadstock.
1. Improve Inventory Management For Less Deadstock
Inventory management is a major cause of deadstock.
Fortunately, an inventory management system can guarantee your inventory is monitored and managed appropriately.
Here are some popular inventory management systems:
There is no right or wrong inventory management system. Instead, find a solution that meets your needs.
Once you have a system in place, keep track of the products on your shelves, as well as those that end up as dead inventory. In addition, you must identify the products with no sales or low sales for the past year.
An intelligent inventory management system can identify bestselling items, allowable return dates, expiration dates, as well as flopped goods you're better off without.
2. Discount Potential Deadstock Items
Pay attention to what's selling and what's not.
Take into account the latest market trends. What are the popular products people love? How long will this trend last?
Seasonal products might be selling like hot cakes for the first few weeks, but the excitement fades eventually.
A good tip is to discount potential deadstock items by hosting end-of-season sales.
For example, Patagonia, The North Face, and H&M frequently have end-of-season sales to sell their jackets and coats once the winter season ends. This way, they can get rid of deadstock items and make way for next season's collections.
Perishable goods won't be sellable after their expiration date has passed. That's precisely why you must monitor items that will almost reach their expiration date and then offer them at discounted prices.
Tools like Wasteless utilize AI to prevent food waste through a dynamic pricing model. By using machine learning, they can use variables like brand popularity, seasonal popularity, and expiration dates to determine the real-time price of perishable goods.
Of course, your profit margins will be lower than expected for discounted products. However, a discount helps you get rid of unpopular products, and it's a lot better than stocking these goods in a warehouse and paying more for storage.
At the very least, you have an opportunity to make up for the manufacturing costs and break even.
3. Know Your Target Audience
This happens all the time: You promote the product, but it just won't sell.
If an item remains unsold despite numerous promotions, your target audience probably doesn't want them.
Every time you source potential products to sell, you must understand the conditions you are dealing with.
This is why market research and surveys are crucial to your success. The socioeconomic profile, gender, location, and interests of your audience can predict the outcome of the sales of your store.
So, before you pay for manufacturing costs, ensure your consumers want the product.
To get started, create a marketing persona for your online store. This doesn't have to be complicated.
Here's an example of a marketing persona that considers the demographics and characteristics of your consumers: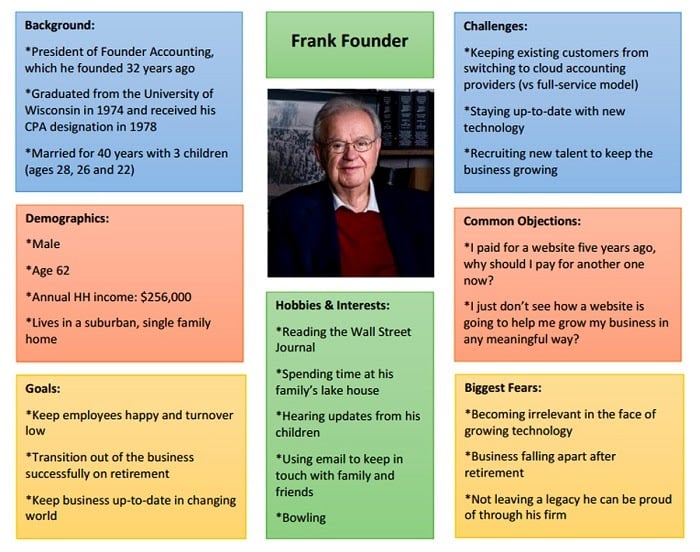 Another idea is to perform market research by sending regular surveys to pinpoint your customers' needs. I highly recommend getting current customers as respondents because they've experienced your product and likely fit with the profile of your target market.
Survey Monkey recommends asking these questions to evaluate the product/market fit.
How did you find this product?
How would you feel if this product was no longer available?
What are the benefits of using this product?
What alternatives would you use if this product was no longer available?
Have you recommended using this product to anyone?
It's best to conduct surveys regularly to identify opportunities within your target market.
Also, understand the items and trends that customers love and take them into consideration for future product releases. You can use inventory management software to identify products that sold out quickly to make sure you're selling the products that shoppers need.
Having more bestselling items is key to the elimination of deadstock, and while you won't always be able to sell 100% of items in your inventory, knowing your customers and assessing product/market fit will help reduce the accumulation of deadstock.
4. Diversify Your Products to Avoid Deadstock
You may opt to sell bestselling items only to avoid deadstock completely.
However, you must guarantee that most of the bestselling items in your store don't have the same features or characteristics. Otherwise, you can get more deadstock too.
Having too many similar items may mean cannibalization. Some customers may prefer one brand or item over another, which leads to low sales numbers for other goods.
This is common for retailers offering similar items from multiple brands.
Diversify your product inventory to avoid this consequence.
A good tip is to add complementary products of existing items in your e-commerce store. For starters, complementary goods are products that are used together. They may be completely different from an item you're selling, but their combination of complementary goods will sweeten the deal.
For example, if you're an iPhone retailer, then add iPhone cases and accessories to your arsenal. As the value of the latest iPhone decreases, it may become more mainstream. Thus, more people will be buying your cases and accessories in the future.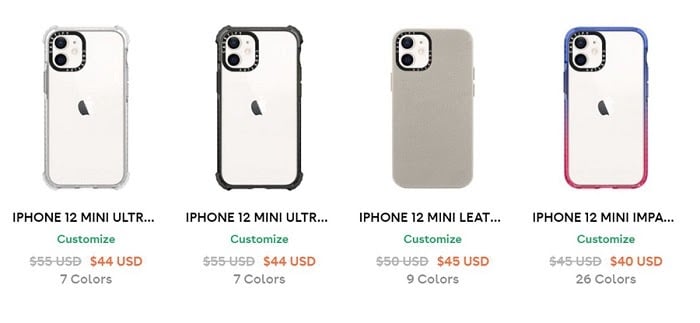 Alternatively, you can offer an assortment of related products, instead of selling them separately.
For instance, Harry's – a men's grooming brand – offers a "Truman Set," which includes a foam shave gel, blades, and razors packed in one convenient package.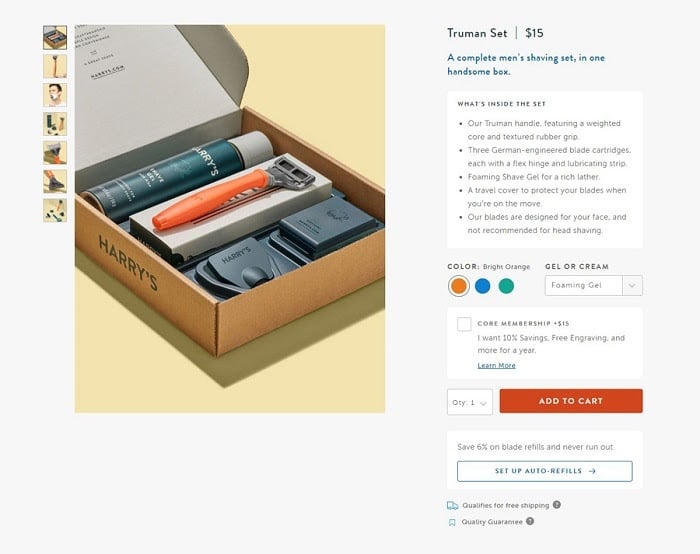 How Do I Get Rid Of Deadstock?
Now, if you already have deadstock, it's time to get rid of it.
Here's what you need to do.
1. Return Deadstock Items To Suppliers
If you're in the window to return, this may be the best option.
In the short-run, you'll pay a small fee, but at least you can avoid a major loss and more deadstock.
As long as the items are in good condition, you may be able to return them to the supplier. However, review the return policy of suppliers first to guarantee they allow this method.
Most suppliers have a restocking fee worth 10% of the merchandise. You'll likely get an option to pay in credit rather than cash.
2. Put Deadstock in Clearance Sections and Bundles
What if you sold some items at a discount, but it just won't sell? You can take it even further.
Find out the lowest price that you can sell these products. Then bundle related and complementary products together and sell them as a set.
For example, Glossier bundles related items together and offers them at a discounted price. Many beauty enthusiasts prefer a complete set sold at a discounted rate, rather than purchasing a single item with no discount.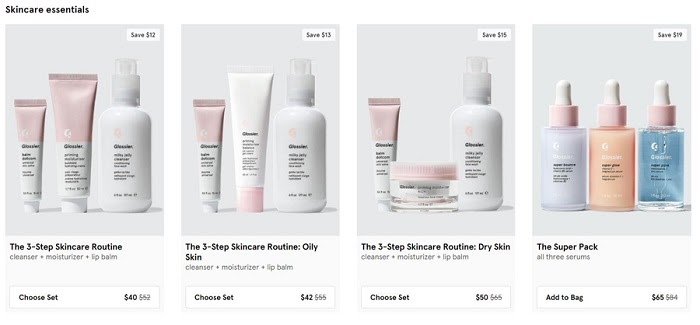 If you have a lot of stocks with the same item, get rid of them through freebies and giveaways. Consumers love to get free stuff, so it may compel them to return to your online store and make a purchase.
During the holidays, you can bundle items to create holiday gift sets with an assortment of products.
For example, Soko Glam bundles miniature-sized skincare products and sells them as a gift set for the season of giving. Plus, customers who make orders above $135 will receive a Dreamy Satin Pillowcase while supplies last.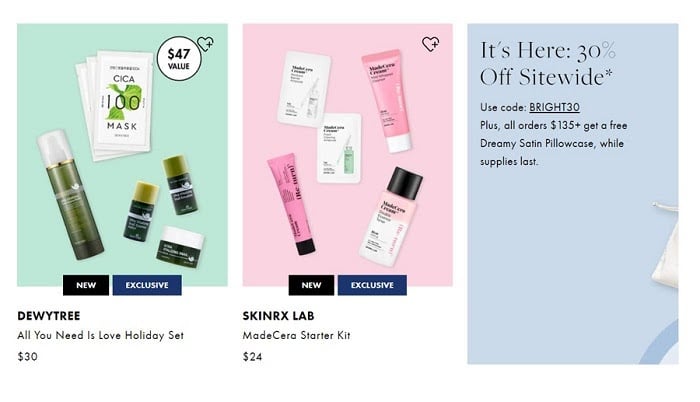 3. Sell to Deadstock Buyers
You'll likely lose some cash, but getting some money back is better than a total loss.
Here are some deadstock buyers to consider:
Wholesale: If you have a lot of deadstock in good condition, you can sell them to wholesalers. For clothing retailers, popular boutique wholesale clothing suppliers include Sugarlips Wholesale, Bloom Wholesale, Wholesale Fashion Square, Tasha Apparel, Magnolia Fashion Wholesale, and LAShowRoom.
Amazon Seller Central: Amazon has a Seller Central where you can adjust the pricing or match your competitor's lowest price.
eBay: Deadstock consisting of repaired or returned products could be sold to eBay at drastically reduced costs.
Consignment shops and warehouses: These buyers usually purchase clothing, home goods, and old items that could be sold at low prices.
Closeout liquidators: These businesses can buy a bulk of your deadstock and resell it in their own stores at cheaper prices.
4. Donate Deadstock to Charities
Finally, if a product just won't sell, consider donating it to charity.
Donating to charity is a popular option for clothing retailers. You can sell deadstock items to discount stores like T.J.Maxx or the Outnet as a last-ditch attempt to make sales.
Some foundations like The Salvation Army and Oxfam accept donated clothes.
We bet there are many charities in your local communities and cities. You can donate to any organization, just make sure it's legal. Find a reputable charity where you can sell your items.
While you may not be able to sell these goods, you can claim a tax write off for donating them. If handled well, this initiative will make your business look good.
Conclusion
If you want to eliminate deadstock products, make an active effort to find products that will sell.
Use an inventory management system to track unwanted items in your inventory. Bundle deadstock products and sell them as gift bundles or give them away as freebies. As a last resort, you can even sell deadstock products to wholesalers, consignment shops, Amazon, or eBay.
There are many options to avoid the accumulation of deadstock and get rid of unsold items stuck in your inventory,
How will you avoid deadstock products?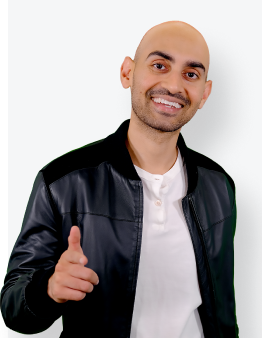 See How My Agency Can Drive More Traffic to Your Website
SEO - unlock more SEO traffic. See real results.
Content Marketing - our team creates epic content that will get shared, get links, and attract traffic.
Paid Media - effective paid strategies with clear ROI.
Are You Using Google Ads? Try Our FREE Ads Grader!
Stop wasting money and unlock the hidden potential of your advertising.
Discover the power of intentional advertising.
Reach your ideal target audience.
Maximize ad spend efficiency.