If you own a blog, chances are you have encountered a little – or a lot – of spam. The more popular your blog becomes, the more spam it is likely to get. And there is nothing more frustrating than having to spend a lot of time moderating your comments to determine which ones are spam and which ones are legit.
In today's post, we're going to look at:
How to identify spam.
If third-party comment systems control spam.
Settings and plugins you can use in the base WordPress comment system to help moderate spam.
Comments, Trackbacks, and Pingbacks
Before we go further, I'd like to define a few terms I'm using throughout the post in relation to what you will see in the Comments section of your WordPress blog.
Comments – Comments are created when someone uses the comment form on your blog post to engage with your content.
Pingbacks – Pingbacks are automatically created when someone links to your blog post from one of their blog posts.
Trackbacks – Trackbacks are manual notifications by one blogger that they have linked to your blog post within theirs. Pingbacks were created to automate this process.
WordPress currently refers to Trackbacks and Pingbacks as Pings when you attempt to filter your comments.

You can recognize the difference between the two visually like this. Comments will have the comment author's name, email address, optional website link, and IP address listed along with their comment.

Trackbacks and pingbacks (Pings) will only have the title of a blog post, a link, and an excerpt from the external blog post as the comment.

Unfortunately, comments, trackbacks, and pingbacks can all be used as spam. There are ways to even automate the spamming process which adds to the problem. So let's look at some ways to identify spam.
Why Comment Spam is Bad
Some people, in an attempt to inflate their number of comments, will feel that it is OK to approve comments that they feel might not actually be legit. What is the harm in doing this? Consider these things:
Google is cracking down on bad links. This doesn't just include the sites that buy links, but the sites that allow them. The last thing you would want is for Google to think you're allowing bad links onto your website, even if they are just in the comments.
Comment spam shows lack of moderation. Imagine you're about to buy a home. You are driving through a neighborhood where the lawns are overgrown and some of the fences are covered in graffiti. This is the impression your visitors will have of your blog if the posts are littered with spam – that no one is actively taking care of it.
Your readers might lose faith in you. What if a reader clicks on a link to another comment author's website and is taken somewhere they don't want to be. If you wouldn't link to a website in your content, chances are you shouldn't let someone link to it in your comments.
How to Identify Spam
How do you know if a comment on your blog is spam or legit? This is a tough one, and it is really up to the blog owner. Some blog owners will read every comment and consider it legit if the comment shows that the reader actually read the post. Other blog owners will dismiss a comment as spam based on the fact that the link does not match the same industry as their blog. Here are some questions you can answer when looking at a comment that will help you determine whether or not you should approve it to go live on your blog.
Would I want my blog readers to click on the comment author's link? If the answer is no, don't approve the comment. Or strip the link, although you might get a less than positive response from the comment author if they note you approved their comment but got rid of their link.
Is the comment author using a real name or keywords? The use of keywords in the name field of a comment without the use of a real first and/or last name is almost always the sign of an SEO spammer.
Is the comment specific or could apply to any post? I have actually copy and pasted comments I've received into Google search and found them being used, word for word, on dozens if not hundreds of other blogs.
Has the same comment author been using several different email addresses or website addresses? If "Jane Smith" comments one day linking to a fishing site, the next to a clothing store, and the following to a pet supply company, they just might be an SEO spammer.
Does the comment author use a legit email address? Chances are, you don't have time to email all of your comment authors. But if you see someone commenting with the email address of [email protected], then chances are, it's not a legit email address. Personally, I like to know if the comment author is a real person – I don't approve comments from people using obviously fake identities.
When it comes to trackback spam, sometimes you just have to check out the link the trackback originates from. Some websites will add several links to blog posts at the end of theirs simply to get the trackback from those blogs. If you don't feel the actual blog author linked to your blog post for a good reason (such as they liked your post), then don't approve it.
Do Third-Party Comment Systems Help
One way people try to combat spam is by using third-party comment systems. Popular third-party systems for WordPress include Disqus, Livefyre, and Facebook. Third-party party comment systems often offer features such as multiple comment moderators, the ability to find one user's comments throughout your blog and moderate them simultaneously, a centralized dashboard, and a requirement that visitors login before they comment.
While these things can help you moderate comment spam, they by no means eliminate the problem. In fact, some spammers enjoy the fact that, with some comment systems, they know they will be automatically approved simply because they have an account.
Some other things to keep in mind when it comes to third-party comment systems are the following.
The effects of a third-party comment system on your overall site loading speed. Pingdom did a study of four popular third-party comment systems vs. the base WordPress comment system and noted that blogs with the base WordPress system loaded faster than those using third-party systems. Facebook increased load time the most.
Who controls your comments. When you consider adopting a third-party system, be sure to find out what happens to your current comments and what will happen to comments made on that system if you decide to change it down the road.
How user-friendly the comment system is. Will your regular readers want to register with a third-party system just to leave a comment? Sometimes adding a third-party comment system does nothing but reduce the number of legit comments.
Settings to Help Control Spam
So what can you do on the base WordPress comment system to control spam and moderate your comments effectively? First, let's look at some basic settings to use.
Moderate Comments from First Time Comment Authors
Not only will this prevent your blog from becoming a spamfest, but it will also allow people who have been approved once to be approved for future comments, leaving less to moderate. Comment authors who change the way they enter their name, email address, or website link will be placed into moderation again. This keeps someone from being approved once with a good website link from coming in and using one you would not approve of in future comments.
Note that you have to keep an eye on previously approved comment authors – some know the system and will leave a few awesome comments, then slack off for future ones just because they know they are being automatically approved.
To hold a first time commenter author in moderation, go to your WordPress dashboard > Settings > Discussion. Under the Before a Comment Appears section, check the box for comment author must have previously approved comment. Make sure the checkbox above it for an administrator must always approve the comment is unchecked.
Turn Off Trackbacks
Trackback spam is sometimes worse than comment spam. So you have to consider whether or not having it on is even necessary. You can still find out who is linking to your blog by looking at the Incoming Links portion of your WordPress dashboard.
You can also keep track of them by subscribing to the following RSS feed in your RSS reader.
http://blogsearch.google.com/blogsearch_feeds?hl=en&scoring=d&ie=utf-8&num=10&output=rss&partner=wordpress&q=link:http://domain.com/
Just change the URL at the end to match your own blog or website. This way, you will see new links from blogs in your RSS reader.
Turn Off Comments After 30 – 60 Days
People who comment for link building purposes (aka SEO spammers) typically look for blog posts with high PageRank – Google's 1 – 10 scoring of authority. Typically, blog posts start out at a PageRank of 0 and only gain PageRank after a few months. This means that SEO spammers are going to be targeting your older blog posts.
Typically, the height of popularity for a blog post is within the first two weeks. That will also be when you get the majority of your comments (unless you don't update your blog that often). Hence, if you close blog comments after 30 – 60 days based on your preference, you will have a lot less comments to moderate.
To close your blog comments after a specified number of days, go to your WordPress dashboard > Settings > Discussion. Under the Other Comment Settings Section, check the option to automatically close comments on articles older than __ days and fill in the number of days you want comments to be open.
Plugins to Help Control Spam
Now, let's look at some plugins that you can use to reduce spam comments or at least make them easier to spot.
Akismet – Akismet is a plugin built into the WordPress system that will filter what it presumes are spam comments into a specific spam folder. To activate it, you will need to sign up for an API key from their website. It is free for personal blogs and anywhere from $5 to $50 a month for non-personal blogs. Keep in mind that you will need to check your spam folder often as some legitimate comments sometimes get mistakenly filtered as spam. You can mark them as not spam and then approve them on your blog.
G.A.S.P. – The Growmap Anti Spambot Plugin is a free plugin that allows you to add a simple checkbox captcha to your comment form. Comment authors must check the box to confirm they are human and not using an automated commenting system to submit their comment. This will cut down the amount of automated spam significantly to your blog.
CommentLuv – CommentLuv is not a spam-related plugin. It allows comment authors to leave a link to their latest post with their comment. This can be helpful for blog owners to spot non-relevant websites as it will show them the latest post on the comment author's blog.
How Do You Moderate Your Comments?
Now that we've looked at how to identify spam, whether third-party comment systems help with spam, and what things you can do in WordPress to moderate spam, we open the floor to you. How do you moderate your comments and determine what is legit vs. what is spam?
About the Authors: Kristi Hines is a freelance writer, professional blogger, and social media enthusiast. Her blog Kikolani focuses on blog marketing for personal, professional, and business bloggers.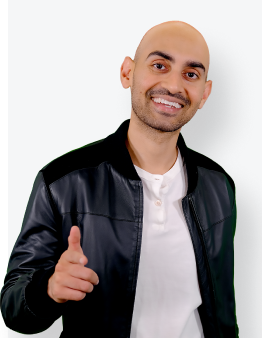 See How My Agency Can Drive More Traffic to Your Website
SEO - unlock more SEO traffic. See real results.
Content Marketing - our team creates epic content that will get shared, get links, and attract traffic.
Paid Media - effective paid strategies with clear ROI.
Are You Using Google Ads? Try Our FREE Ads Grader!
Stop wasting money and unlock the hidden potential of your advertising.
Discover the power of intentional advertising.
Reach your ideal target audience.
Maximize ad spend efficiency.