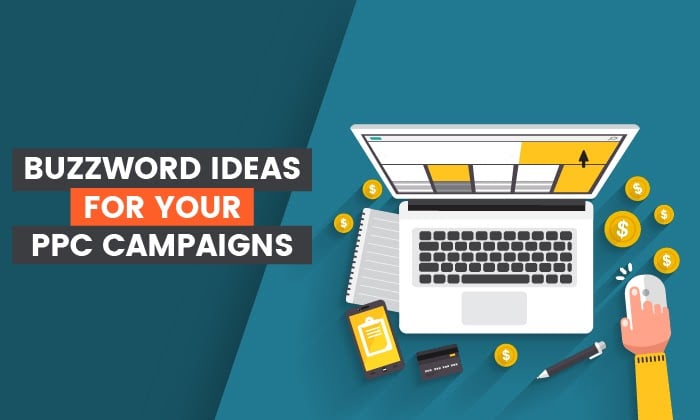 The best pay-per-click (PPC) campaigns catch the eye, target relevant audiences, and motivate users to click or buy. Buzzwords are one way to reach these goals in the brief amount of time someone may spend looking at an ad.
Effective PPC marketing will always come down to compelling language. No matter how many features you use or Google Ad extensions you add, the best ads will always be the ones with the most powerful ad copy.
What Is a Buzzword?
Buzzwords are popular or trendy words or phrases. They are sometimes referred to as "jargon" or "business jargon."
A buzzword can be a single word, a short phrase, or an acronym that gains popularity and replaces more traditional words.
Is buzzword marketing effective in business? It can be. There are several instances where marketing with jargon can be appropriate. For example, if you want to show your audience you belong and understand their problems or when you want to filter out irrelevant readers who aren't likely to buy from you.
Take a look at these ads for companies offering digital transformation. Are they written for a wide audience?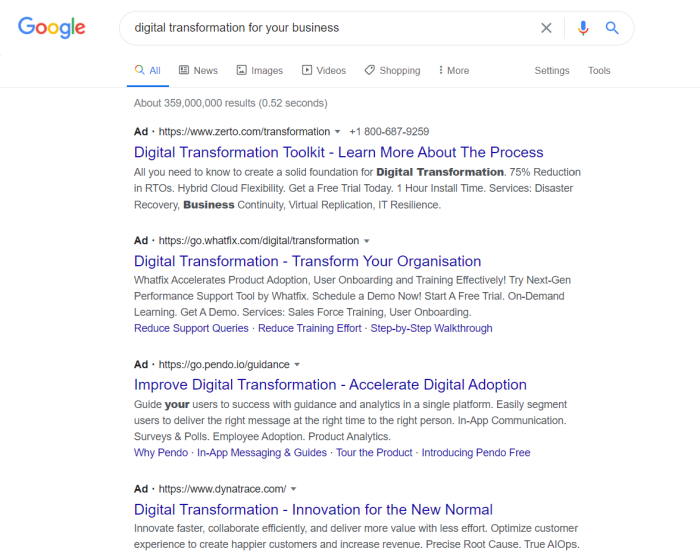 No. They are clearly making an effort to stand out to a very particular audience, and use buzzwords they know will jump out at a potential customer.
These ads don't explain or define these terms because they know their ideal client already understands them.
How Can Buzzwords Boost Your PPC Campaigns?
When you only have a moment to make an impression, buzzwords can have a big impact. They become popular for a reason, and they are often catchy and memorable.
We tend to develop a preference for things that sound familiar, and that includes language. This is called cognitive fluency. When we're familiar with words, we find them easier to understand — and easier to remember.
Why Is It Important to Use Buzzwords in Your PPC Campaigns?
Countless ads are competing for users' attention. Your PPC ads need to make a big impact in a small space. Buzzwords can help your ad stand out while appealing to the people most likely to become customers.
Here are some of the benefits of using buzzwords in your PPC campaigns:
Grab Attention Quickly
Most readers only skim ads or read the first few words before moving on. Buzzwords can attract attention and quickly target relevant audiences due to swift recognition of the terms.
If you could only use a word or two to catch the attention of your customers, do you think your ad would stand out if you use words like quality, sell, buy, and fast — words used by every industry or business? Probably not.
It would be more effective to let them know your ad is relevant to them by using buzzwords they'll recognize from their industry or interests.
Increase Your Visibility
Buzzwords can show up in timely searches for hot topics. You can then direct users to landing pages with content that uses less flashy language.
You can also use varying headlines on multiple ads with attention-getting buzzwords and change them as language evolves.
Target the Right Audience
A specialized audience who connects with your ad copy can become a highly motivated and well-targeted audience. Buzzwords allow you to signal that you're an insider speaking to other insiders, and communicate value quickly based on that status.
Show You Understand Your Audience's Needs
PPC is about marketing, but your ads are being read by humans who can be swayed by psychological impulses. Most are making practical decisions based on their emotions, whether they realize it or not.
People use this language because they want to belong. When you use the same language, you'll tap into a psychological need to feel heard. They'll respond to make sure they aren't left out of the latest movement.
If your ad can create an emotional response that fills one or more of these needs, you're likely to inspire action.
Customers are looking for reasons to buy from you. Reassuring them that you know what they're facing and can solve their problems encourages them to buy from you.
How to Find Buzzwords to Use in Your PPC Campaigns
The best way to find buzzwords that your customers will recognize is to pay attention to the language they use.
What do your customers say when they email or call your business? What language do they use to describe their pain points and the frustrations they face? What are they asking for when they ask for solutions? What words do they use when they write reviews?
Talk to your service department. They talk to your customers all day long, and they're used to hearing your customer's language. If you can address these concerns in your ad, you're one step closer to showing your customers you are listening. This is a powerful shift.
You can also look at conversations in the communities you serve. What are your customers or audience saying online? What are your competitors saying? What topics are at the center of the most active conversations online?
How to Use Buzzwords
If you want to use buzzwords in your PPC marketing, you should have a good understanding of the structure of an ad. Each ad you write will be made up of a few elements: headline 1, headline 2, and a description.
You may find that your customers only read the headline of your ad, or that some devices cut off portions of your ad due to space constraints. If you use buzzwords to add impact, make sure your customers will actually see them.
20 Ideas to Get You Started Using Buzzwords in PPC Campaigns
Ready to get started with buzzwords? Here are 20 ways to make the most of them in your paid ads.
Consider the audiences you want to target with your ads.
If these audiences resemble your existing customers, use the language they use.
Consult online reviews to see how customers describe pain points.
Check your customer emails and form submissions for the solutions they're seeking.
Review client testimonials for positive feedback and how they describe success.
Ask your customer service department for suggestions.
Look into online forums and social media chats for new buzzword ideas.
Develop your messaging from your customers' language.
Create your ads from this new messaging.
Make sure your landing page content matches your customers' search queries.
Create multiple ads with buzzwords that all point to one relevant landing page.
Keep your website content free of buzzwords and jargon that could go stale.
Update and refresh your ads as the advertising language evolves.
Do your best to send users to relevant content so they don't navigate away.
Think about the buyer's journey as you write your ads.
Let your customers see themselves in your ads.
Show up as an insider in specialized industries.
Become a trusted source for solutions by showing what you know.
Create urgency by tapping into your customers' need to be included.
Target new audiences by adopting buzzwords used in their communities.
What's the Difference Between Keywords, Buzzwords, and Hashtags?
Buzzwords are trendy words that attract a lot of attention — but only for a short period of time. They are not necessarily language that will stay fresh, and could eventually become stale or develop negative connotations. Buzzwords are ideal for short content that needs to make a fast impression, like your PPC ads.
Hashtags are words or phrases written without spaces after a hash sign (#) in social media posts. They allow you to tag your content so people can find your posts when searching for those topics online. Using hashtags on social platforms can ensure you show up in the right conversations online and grow your social media following.
Keywords are the search terms you want to research when trying to show up on the search engine results pages (SERPs.) While keywords are likely to be used in your ads and your site content and may help your content rank over time, they likely aren't as trendy and short-lived as buzzwords might be.
Popular Buzzword Examples
From real estate to sales, healthcare, insurance, or the auto industry, every industry has its own specific advertising buzzwords.
Where else does language change quickly? Anywhere there is a lot of innovation in new areas and new capabilities being developed.
For example, in technology circles, if you aren't using the terms your industry is throwing around, you'll be left behind.
If your customers see you selling without language that positions you as an expert and trusted authority, they'll go elsewhere. Buzzwords signal to your audience that you are part of the specialized group they want to be in.
In the auto industry, people have sold used cars nearly as long as cars have been on the road. However, the use of the term "certified pre-owned" vehicles is an example of how marketing language has evolved over time.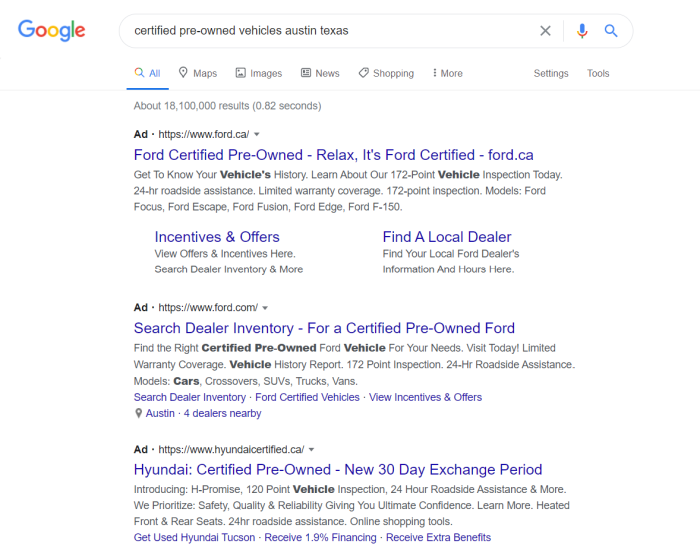 Whether you like the term or not, most people will have a different reaction to ads for "used cars" compared to "certified pre-owned" vehicles.
Without using the new term, you might struggle to sell used cars at the same level as dealers who have adopted it. In this case, not using a buzzword could hurt you.
Examples of Common Buzzwords
Disruption
Hyperlocal
Freemium
Clickbait
Leverage
Touchpoint
Transformation
Examples of Common Buzzword Phrases
Blue-sky thinking
Pushing the envelope
Facetime
Ping me
Digital transformation
Big data
Next-gen
Deep dive
Growth hacking
Value add
Examples of Common Buzzword Acronyms and Meanings
B2B (business-to-business)
EOD (end of day)
CAD (computer-aided design)
ROI (return on investment)
AI (artificial intelligence)
RFID (radio frequency identification)
SEO (search engine optimization)
CRO (conversion rate optimization)
How NOT to Use Buzzwords in PPC
Using buzzwords is a powerful way to boost your ad copy and quickly attract attention from specific audiences. However, be sure the buzzwords you use are relevant, widely used by your audience, and don't have multiple meanings.
Don't use buzzwords for communities you aren't a part of or that will confuse your customers. They want to hear the language THEY use, not the language you use internally.
Ad copy needs to make a point at a glance, and without context, so your buzzwords will need to fit these parameters as well. If it needs explaining, it doesn't belong in an ad.
If your value proposition isn't clear in the first few seconds, your ad will likely miss the mark.
What About Using Buzzwords In Longer Content?
Avoid using buzzwords in your landing pages and content marketing. Buzzwords often sound dated after a few months, and it's time-consuming to update pages of content on a regular basis.
Your ads can be updated and refreshed any time there is a change in language or the general response to popular buzzword changes.
Using too many buzzwords in your writing can turn people off and make them think your content lacks substance. Some buzzwords are so overused that they may turn people off entirely.
Examples of buzzwords to avoid include:
Low-hanging fruit
Hit the ground running
Bells and whistles
Get your ducks in a row
All hands on deck
Conclusion
Using buzzwords in your PPC campaigns can help you target specialized audiences swiftly and effectively. When used carefully, they can effectively trigger an emotional response in your customers and move them to action.
While using compelling language in your ad copy is essential, remember that plain language will always win out over complicated jargon.
Don't clutter your ads with multiple buzzwords or try to cram unrelated buzzwords into single ads. Let them stand on their own, craft compelling copy for the rest of the ad, and watch your relevance.
Ad copy is a specialized skill, and many business owners find PPC consulting helpful to see results faster. My team offers PPC management if you'd like to get in touch.
Have you tried using buzzwords to boost results in your PPC marketing? What results have you seen?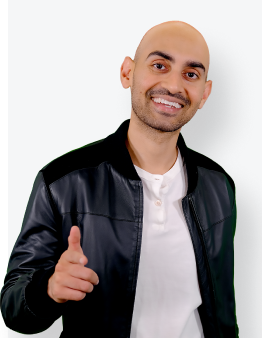 See How My Agency Can Drive More Traffic to Your Website
SEO - unlock more SEO traffic. See real results.
Content Marketing - our team creates epic content that will get shared, get links, and attract traffic.
Paid Media - effective paid strategies with clear ROI.
Are You Using Google Ads? Try Our FREE Ads Grader!
Stop wasting money and unlock the hidden potential of your advertising.
Discover the power of intentional advertising.
Reach your ideal target audience.
Maximize ad spend efficiency.