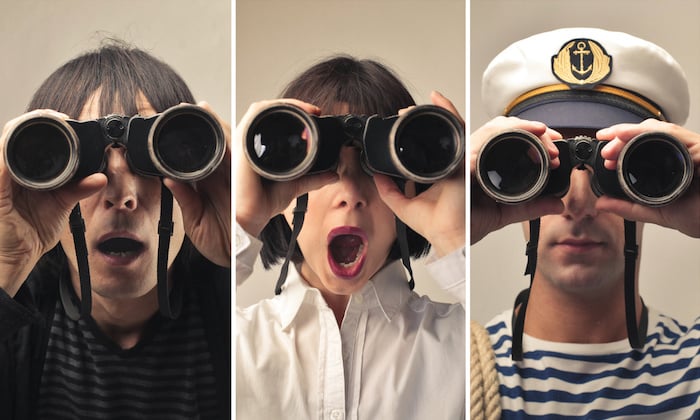 The success of a PPC campaign boils down to two things:
Increasing its click-through rate (CTR)

Lowering its cost-per-click (CPC)
Every effort that you put into your PPC campaigns and specific ads should be driven towards achieving those two goals. 
These can be achieved with a high-quality score where the search engines view your keywords and ads as relevant to consumer needs. When this happens, your purchasing ad rank improves to ideally lead to a higher conversion rate with better-positioned ads, thus saving money.
Including negative keywords can help filter off the keywords that can negatively impact your click rate, sales, and revenue. But it's not enough.
When you're looking to generate leads and grow your business quickly, pay per click advertising is the best way to go, especially thinking in the short run. Yet everyone fears the cost per click and overly concerns themselves with ad text.
Adopting proven PPC best practices can prevent you from losing money on the marketing campaign, prematurely giving up on PPC or believing it doesn't work, despite the fact that the PPC ROI is relatively high.
In this in-depth article, I want to show you some simple things that you can do to increase your PPC ad views and lower your CPC at the same time.
Let's dive in: 
1. Make your ads relevant to your campaign and switch to manual bidding
Pay-per-click advertising is tricky.
If you see no reason why you should adjust your bid, then you might never lower your cost-per-click. Truly, if you're just starting out, Google can help you manage your bid, based on what it concludes is best for your ad campaign.
You'd take the default bid, and let Google do the rest.
Automatic bidding really does work. It helped Rakuten Ichiba reduce campaign costs by 12%, increase conversions by 12% and increased the value of sales by 14%.
Automatic bidding saves you a lot of time because Google handles everything, from bid monitoring to adjustment. Your job is to log in and check how your campaigns are performing. This frees up time to develop the marketing campaign, write ad text and focus on conversion rate.
However, if you want to lower your CPA and increase your ad viewability, you need to switch from automatic bidding to manual bidding.
This helps you to prioritize keywords that will convert better for you. What's more, you can optimize your CPA to a level that helps you maximize clicks and, thereby, generate better leads.
Again, when you notice that your ads are underperforming, there's no way to make quick adjustments, if you're using automatic bidding. But, it's a piece of cake if you bid manually.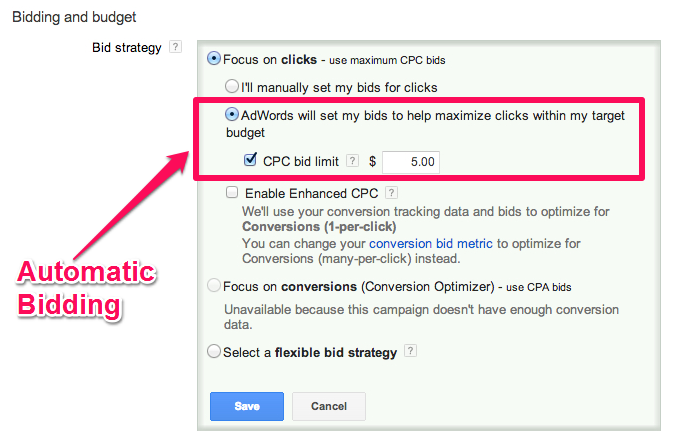 But, don't switch blindly, because manual bidding all by itself will not improve the CTR of your PPC. Rather, it's all in how you approach it.
Keep these few nuggets in mind when switching to manual bidding:
i). Focus on one campaign per time: This can be time-consuming, especially when you have several ads and you want to manually fill out their bids. That's why you should start with one campaign and scale from there.
ii). Lower your bids: If you've got keywords that have received a lot of impressions, but didn't produce any sales, you should lower their bids, so that you can stop wasting money on poor conversion rate keywords.
iii). Increase bids for converting keywords: When in your ad group, lower the bid for keywords that aren't generating sales or leads for your business. As you do, you should also increase bids for high converting keywords.
This would reduce the position of your ads, such that if they were placed at #2, now they can go to #5, assuming you're on search networks.
When you study your statistical report and notice that a set of keywords (maybe 1 or 2) are bringing customers who purchase your product or sign up to your list, you should increase the bids for that ad campaign. That way, you can increase the position of those ads and generate even more sales.
iv). Use the Average CPC: Everything matters, when it comes to PPC ads, but one of the key elements that'll make a whole lot of difference is how you utilize the average CPC, especially for different devices across various search engines.
This important metric helps you to determine the appropriate bids when you've switched to manual bidding.
Generally, the average CPC shows you the exact amount of each cost per click on any particular keywords (when you were using automatic bidding).
When you're armed with this, you know exactly where to begin your next bid and the potential to multiply your results.
As you enter the bidding auction, you have to account for your bid manually. Remember that your average CPC has to be lower than the bid you decide on because your actual bid is usually the maximum CPC that you're willing to spend on any given click. Improved ad rank helps you control costs.
Always choose a default bid that's close to the average CPC in your campaigns, so that you can maintain your ad's ranking or increase its position without spending additional money on clicks.
Above all, remember that there's no one-size-fits-all plan here. Whether you use automated or manual bidding (which has the potential to lower your CPC), you need to test it out and stay consistent.
Sometimes, you need to run the ads for several days, or even weeks, before making a decision about which bidding strategy you should adopt.
When PPC Hero tested out manual and automated bidding strategies, they were consistent for 6 weeks. They reduced the bid, and, by tailoring the bidding strategy to mirror the nature of their business, they grew their revenue and were able to plan for the month ahead.
2. Use remarketing and segmented lists
Google AdWords can quickly send you targeted traffic, leads, and sales without worrying about quality score. But, don't take my word for it.
For most websites and landing pages, about 2% of visitors convert on their first visit. Retargeting (also known as remarketing) can help you re-engage these visitors who bounced off and never returned but might be interested.
If someone clicked on one of your Google Ads, but for some reason didn't take further action to either subscribe to your list or purchase your product, they've indicated their interest in your ad text offer.
Don't lose them. Bring them back and they'll thank you for it.
Retargeting is a simple practice that allows you to keep your brand (e.g., ads, website, product, events) in front of bounced traffic after they leave. Implement this in your marketing campaign.
Retargeting is very useful when a lot of your site visitors are bouncing off (leaving) immediately after they visit your landing page or site.
Marketers are already retargeting across different channels. In fact, 80% of marketers are actively involved in site retargeting.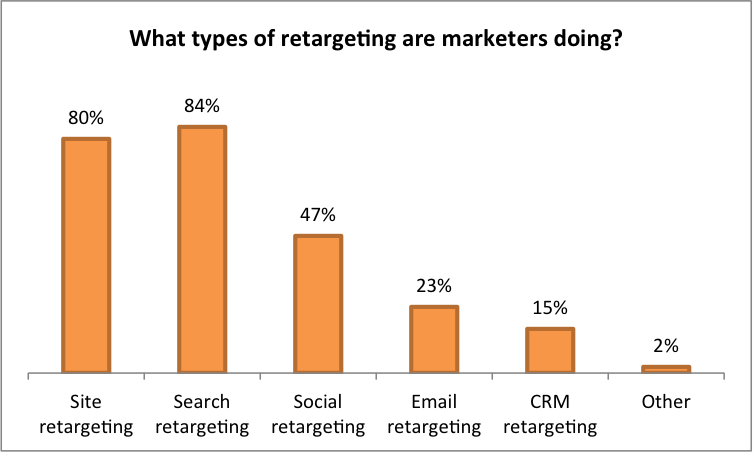 Before you start using remarketing to increase your ad viewability and lower CPC, it's wise to modify "Membership Duration."
Ideally, you should set a shorter time period of about 30 days. Better yet, set the duration to align with your sales cycle and objectives.
The only way to be sure about the perfect retargeting membership duration, though, is to test it out and set the length by the size and behavior of your list.
For example, if you're going to retarget before Valentine's Day to remind people to purchase gifts for their significant other, you don't want that ad to continue appearing in March – or, worse still, April. Not only is this a waste of a potential cost per click (should someone follow it), it annoys your audience.
To change your membership duration, log in to your Google Ads account, then follow this path:
Library > Audiences > Membership Duration:
Optimizing your PPC ads to generate immediate sales on first visits is always the focus.  But, if you have the opportunity to retarget to shoppers who engaged with your brand, but got distracted before buying, then remarket to them.
If you're currently remarketing, Google Ads has leveled the playing field.
Now, you can easily segment your Remarketing Lists and serve up ads to prospective customers based on what they want and on the specific landing pages your ads initially brought them to.
This particular type of segmentation gives you a rare opportunity to reach the target audience members who want to hear from you again. After all, they visited your landing page once, right?
Retargeting to your segmented list is critical because it saves you time, money and effort. Instead of creating new ads for new leads, you can instead focus on those who've indicated interest. Creating an ad group like this makes your marketing campaign more efficient.
This can lower your CPA and get you more sales.
3. Build your campaigns via search networks only
Depending on the nature of your business and the specific conversion goal that you want to achieve, targeting only search users might benefit you the most.
For example, if you know that your target audience consists primarily of search users (people who search Google when they're looking for information), you can let your ads show up above the organic listings.
The core reason for building your marketing campaign via search networks only is that if you select display networks (other authority sites in Google's network where Google Ads are advertised for more visibility), you'll get unnecessary clicks on your ad that may not translate into leads or sales.
This will increase the overall cost of your ads, increase your CPC, and it might even send generic visitors to your landing page.
Before deciding which approach to use, you should ask yourself this question: "do I really need my ads on other sites that may not have my target audience's best interests at heart?"
Overall, if you've been using both search networks and display networks to build your ad campaign and run your ads, you might want to pause one and test out the other. Like I frequently say, "there is no single perfect solution – you must test it out to be sure."
4. For maximum reach, adjust bids based on location, devices, day, and time
Every smart Google Ads advertiser knows that in order to lower CPC and maximize the clicks going to the landing page, they have to adjust bids, based on location, day and times and the devices used.
But, before that, they have to determine …
Which days bring in the best sales

Which time of the day yields the most conversions

The user's favorite device (which performs better – e.g., desktop, mobile)

Which country or geographical location send quality traffic

The worst days that bring no or meager sales
Since the focus of every PPC advertiser is to lower CPC and increase the number of people who view the ad, click on it, visit the landing page and convert – you've got to track everything. No stone should be left unturned when viewing the metrics of your ad campaign.
Therefore, your attention must be firmly placed on adjusting your keywords bids, based on devices, locations, days and times.
Based on the above pointers, if you discover that a particular day of the week is generating only clicks and no sales, you can pause or stop your ads running on that date/day.
On the other hand, you can increase your bid, so that your ads can become more visible on days that generate both targeted clicks and sales – increased conversion rate.
There are market standards, though, when it comes to the device that generates the most CTR and conversions. 
5. Review your keywords and include long-tail variations
When it comes to increasing PPC ad views and lowering CPC, you can't afford to neglect long-tail keywords. You already know that long-tail keywords generate up to 80% of organic traffic.
Smart marketers take it seriously.
Big brands may not find it worthwhile to invest their time and money into long-tail keywords – they have huge budgets and high brand recognition, right? They can go after the head keywords (e.g., plastic surgery) and still rank in search engines.
But, if you're just starting out, you don't dare go after head keywords with all of that competition with all those huge budgets. It's too much competition and it's too hard to break in anywhere in any search engine.
In the same vein, too many people fail at leveraging Google Ads to drive traffic, leads, and sales to their businesses, because they're bidding for the same keywords that big brands go after.
Don't do that.
You should, therefore, review your ad text and keywords then add more long-tail keywords. These keywords may not generate super-high click-through-rates, but you can be assured of the quality of the clicks that you do get.
Here are two scenarios:
Would you rather drive …
100 people who want to buy your product to your site, or

10,000 people who haven't decided on purchasing your type of product yet?
Of course, you'll take 100 ready-to-buy prospects, any day.
When you add more long-tail keywords, you're not necessarily concerned about too many people clicking your ads and coming to your landing page. On the contrary, you want only the right people – the people who have money to spend on your product.
To get this started, if you're already running a campaign, you should create ad groups that focus on lower competition keywords search engines will reward you for.
Truth be told, long-tail keywords usually have lower search engine volume, but you'll pay less per click and convert better leads.
Conclusion
With so much information and so many technicalities associated with running PPC ads, you might get engrossed in the data and forget about the simple things that'll make a difference in your bottom line.
As simple as rotating your ads evenly on your marketing campaign might seem, it can help you lower CPC and increase the number of ad views you generate per day or per week.
One of the reasons why I like Google Ads and other PPC advertising platforms, like Facebook, Instagram, and LinkedIn, is the flexibility and control that you have over your ad campaign across search engines.
You can log in, any time of the day, modify your keywords bids, pause ads that are underperforming at a particular time of the day and literally reverse-engineer your campaigns, using retargeting for segmented lists.
Organic traffic is fun to get, but you need to be patient while you continually produce high-quality and shareable content.
But, with Google Ads, you can start getting search engine traffic, leads and sales to your business within 24 hours – assuming your sales funnel is well optimized.
Which other strategy or tactic have you used to increase your PPC ad viewability and to lower CPC?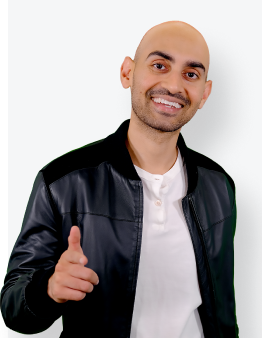 See How My Agency Can Drive More Traffic to Your Website
SEO - unlock more SEO traffic. See real results.
Content Marketing - our team creates epic content that will get shared, get links, and attract traffic.
Paid Media - effective paid strategies with clear ROI.
Are You Using Google Ads? Try Our FREE Ads Grader!
Stop wasting money and unlock the hidden potential of your advertising.
Discover the power of intentional advertising.
Reach your ideal target audience.
Maximize ad spend efficiency.