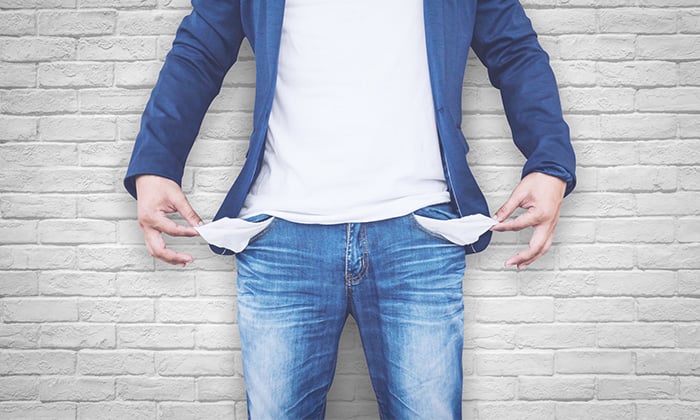 Everyone says that content is king. But knowing that doesn't get you anywhere.
Do you know how to develop your strategy, create content, and promote that content? Are you trying to do it on a budget, too?
I understand how brutal it can be. You're attempting to spread your small marketing budget wide enough to give every marketing avenue a go.
Sometimes there just isn't enough money for content marketing.
I get it.
As a startup, you don't have the same budget as the big brands. You can't hire as many people as you want and you can't use every tactic available to you.
Most startups are forced to fight for their piece of the attention pie, and you are probably no different.
But even with a limited budget, time, and resources, you can still make use of content marketing and achieve great results.
Afterall, 70% of your customers would rather learn about your business through an article as opposed to an advertisement.
It really is a no-brainer.
You just have to know how.
Where to find blog post ideas
Before you come up with your content marketing strategy, the first thing you're going to need is some ideas for content.
There's no point thinking about content marketing if you don't have any content to produce.
The good thing is, though, that you can source ideas for your content for free.
You can use a paid tool like Ahrefs to help you do your keyword research and figure out what your audience is reading.
But there are plenty of free tools and services out there to enable you to put together a content plan.
Within your own company, think about topics that come up all the time.
For example, if you have an e-commerce SaaS company, it's likely your audience will want to read content about e-commerce.
That's what they know you for. That's the value you can provide.
When coming up with content ideas, you might spend time trying to think of that one piece of stellar content that will go viral.
You don't have to think up all these ideas yourself. You can effectively steal them.
Let's look at how.
Listen to podcasts in your niche.
Podcasts are a great medium for people to share their content. There are hundreds of podcasts being produced every day.
You can find ideas for content by simpling browsing the titles.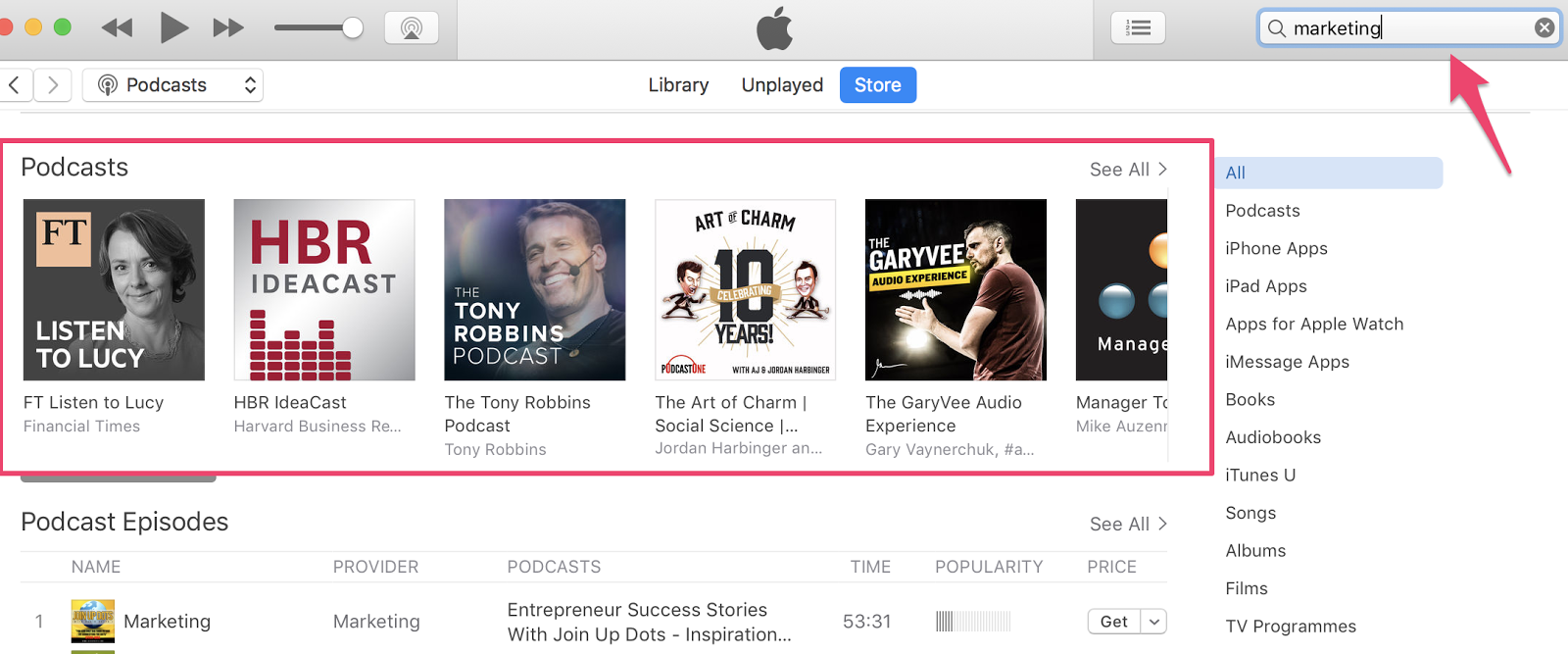 Enter the name of the niche you're involved in or the topic you'd most like to write content about. Then choose a podcast most relevant to your audience.
Even better, most podcasts have detailed descriptions. So not only do you get title ideas, but you get a brief overview of what the podcast is about.
You don't need to listen to every podcast.
Make use of Amazon.
Think about it. There are books for every niche. Most of those books are sold on Amazon.
This is another underused opportunity to generate content ideas.
Simply type your keyword or niche into the search bar and see which books come up: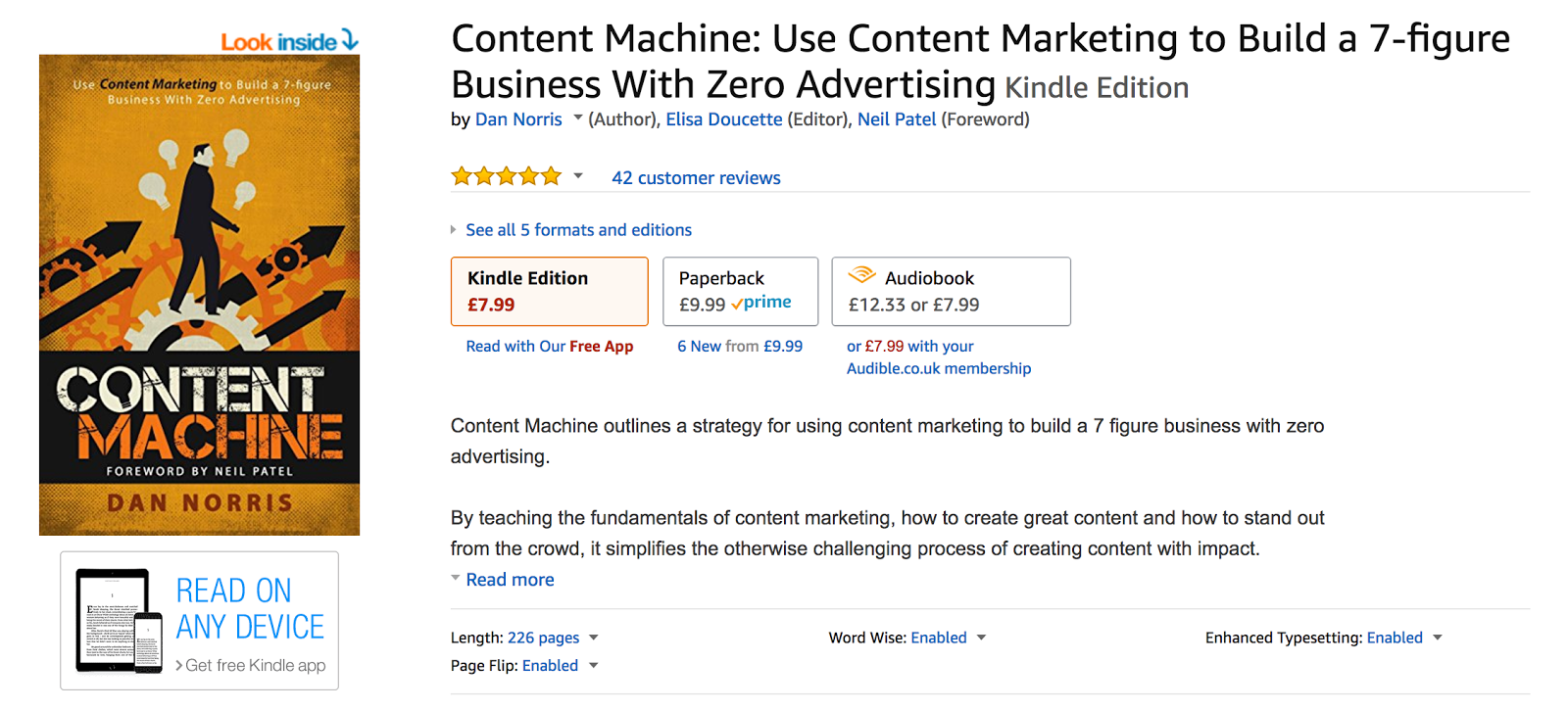 Order by most popular and now you have an idea of the general topics within your niche that people are interested in.
Click on some of the most popular books and read their table of contents to get ideas for more specific content:
And to find untapped content ideas, head to the reviews section.
The great thing about Amazon is people love to leave reviews.Not only do they leave detailed reviews about what they liked and didn't like about the book, they often mention what was missing from the book, or what they would've liked to have been included.
Not only do they leave detailed reviews about what they liked and didn't like about the book, they often mention what was missing from the book, or what they would've liked to have been included.

In this example, you know people who read this book would also like to learn about advanced content marketing tools.
So if you were looking for an idea of what content to create, you could come up with a list of advanced content marketing tools, building on the content already shown in this book.
These are great ideas for content because you already know there is a demand for it.
Look at Facebook groups.
Joining and engaging with Facebook groups is a good way to discover new ideas for your content.
There is likely to be a Facebook group for your niche, too.
The thing about Facebook groups is they're filled with people asking questions.
And the questions they ask are great opportunities for you to create content.
For instance, check out this comment: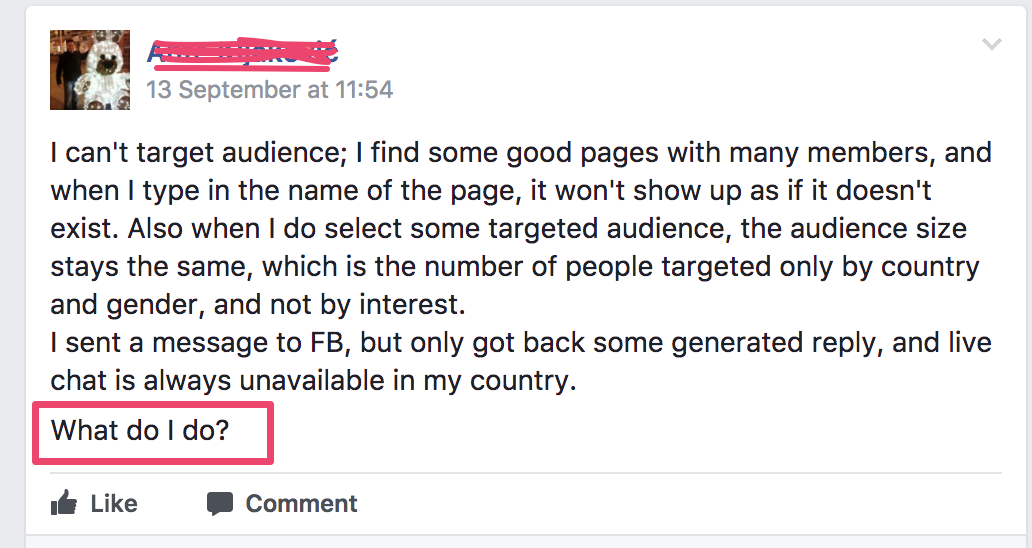 Here, the user is looking for ideas for targeting different audiences with their Facebook ads.
What resource would they appreciate?
Content that tells them exactly how to do that. You can also assume if they're asking this question that there are other people who are looking for answers to it too.
Creating content that answers people's questions encourages you to create meaningful, unique content that directly solves a problem they're having.
With $0 budget, there are many methods you can use to find great content ideas.
You just have to know where to look.
Creating your content
Once you've put together your content ideas and created a strategy, it's time to start producing content.
Many people hire a full-time content person or team or outsource their content to a content agency.
But remember, you're trying to do this with $0 budget.
So if that's the case, you're going to have to rally the troops within your company.
Note: don't hand off all the content to one person, as it'll take time away from them doing their job.
Share the content responsibilities. You may have one person who researches, another who writes, and another who edits.
You don't have to post your content every day, either.
This is where so many startups go wrong.
They think they need to post content daily in order to succeed. You can still do exceptionally well if you post relevant valuable content once a week for your audience.
But the best practice is to post around 16 times per month.
A study by HubSpot revealed that companies that published 16+ blog posts received 3.5x more traffic than their competitors who published less content per month.
Creating effective content is hard. If you're struggling with finding the budget or time to create content, don't produce it all yourself.
What do I mean by that?
Curation.
People love roundup posts. They love having all the information they're searching for in one handy blog post.
It's why sites like BuzzFeed do well:

They curate content produced by other people to create an even better piece of content.
Think about ways you can curate content.
Perhaps you could curate a list of top people in your industry:

Or a list of the key stats you can find from around the web about your niche.
This sort of content works well and takes you less time to create because you're simply putting together content that already exists.

All you need to do is attribute it to the original owners.
You can also utilize user-generated content (UGC).
User-generated content is content created by your customers that you use for marketing purposes.
Coca-Cola made use of UGC by adding names to their bottles and cans: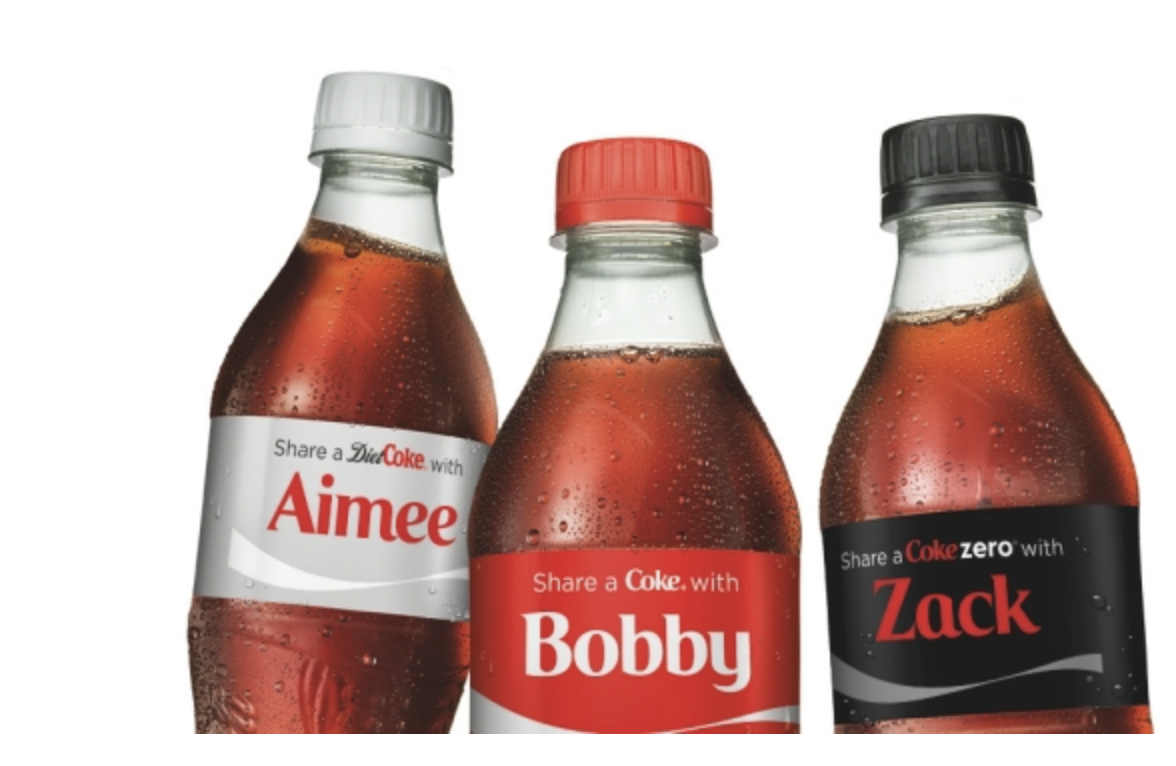 All over the world, people shared images on the web of them with their names on their drink. It prompted others to find a bottle with their own name on too.
It worked, too. The drinks brand managed to generate over 998 million impressions on Twitter.
When creating content, images are everything. They are the backbone that holds all your content together.
Here is a list of resources and websites where you can acquire attractive royalty-free images. Some of the sites don't even require you to give any attribution or accreditation.
–Unsplash
–Gratisography
–Freestocks.org
–MMT Stock
Prepare for promotion
If you want to succeed at content marketing, you need to get your content in front of as many people's eyes as possible. What's the point in producing content if no one is going to read it?
Normally, outreach takes time and money. People invest in expensive programs like BuzzStream to keep track of who they've emailed about their content.
If you have no budget, these tools are out of your reach. However, there are still free strategies you can use to promote your content.
First of all, don't be selfish. If your content is all about you, no one has any reason to share it.
But if you include other people in your content, they are more likely to share it.
Think about it. People like when other people mention them, especially on the Internet.
So if you include a quote from someone, or mention a specific business that is doing a certain task well, reach out to them to let them know you featured them on your blog post.
You can reach them via Twitter or find their email and let them know: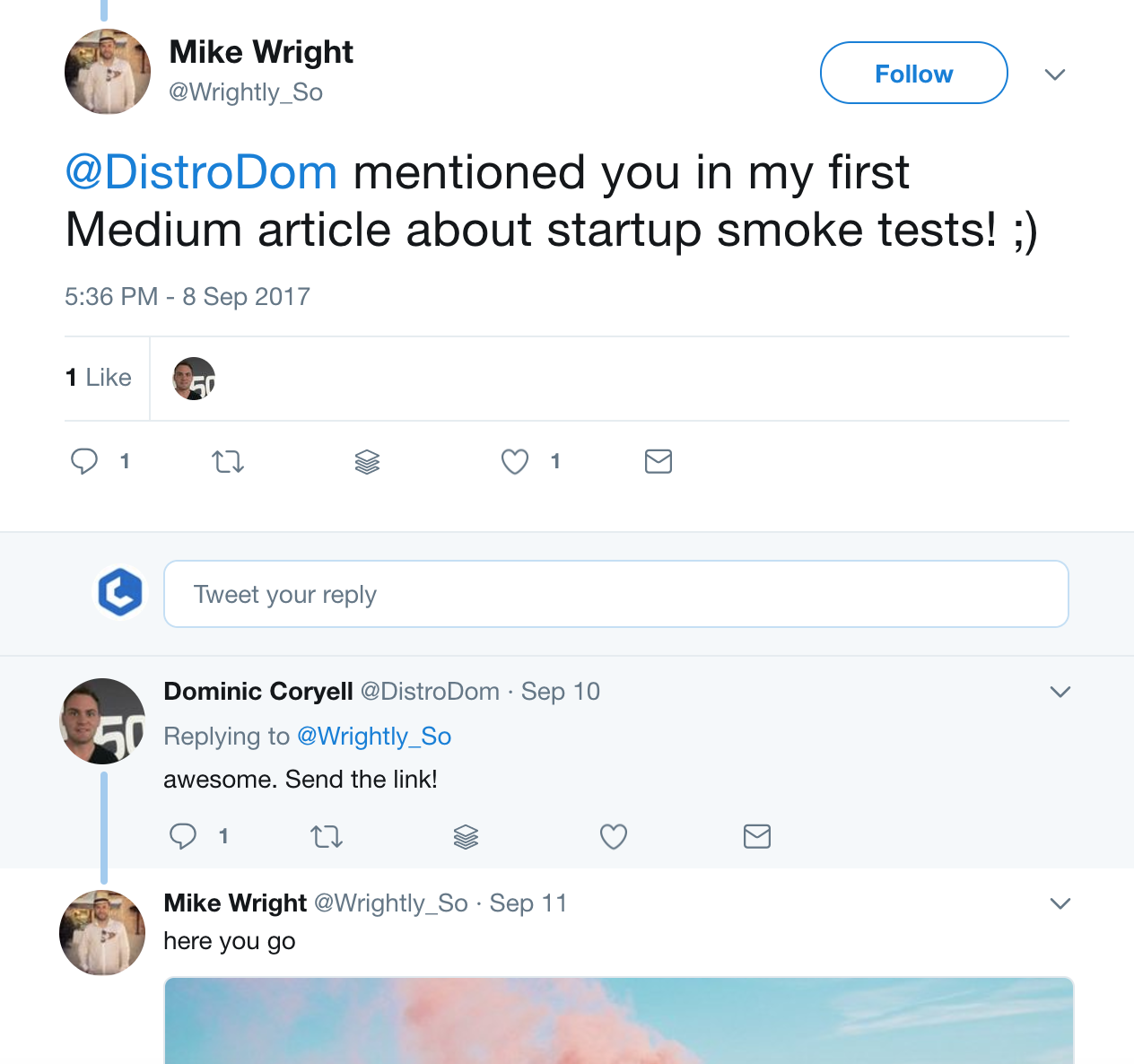 You may have heard of the skyscraper method. It's a system of content writing that encourages you to consistently create top content within your niche.
You analyze the top performing content for your chosen keyword and create even better content based on that keyword.
One easy way to find the top content in your niche is to use a tool like BuzzSumo:

It's super easy.
First, enter your keyword into the search bar and hit the "Go!" button, and you'll be taken to a page that shows the top shared content related to that keyword.

You will be able to see the top 10 blog posts on the free version, with more available on the paid plan.
BuzzSumo shows you how many times people shared that piece of content around, who wrote the content and which platform was most popular on.
The thing about this is the top content has usually been shared around a lot. So if you can write something even better, you can be sure you're providing value.
Once you've done that, use a tool like Muck Rack to see who's shared your content:
Reach out to those people to see if they'd be interested in sharing your content too.
Send an email like this:
Hi Name,
I noticed you shared a post recently about X.
I've recently written a post about X, but it includes 7 extra strategies that were missing in the original post you shared.
If you'd like to read it, let me know and I'll send it through.
The reason this works is that you're finding people who have already shared the content and you're approaching them with a new piece of content that you know they'll like.
This way you increase the chance of your content appearing on their sites.
Another promotion method is to syndicate your content through tools like Medium or Business 2 Community.
The reason this works well is that those sites have a higher readership than yours. It gives you a chance to get your content in front of more eyes. And what's more, it's free.
Keep in mind that if you do plan to syndicate your content to sites like these, then you need to ensure that Google knows which content was produced first.
The issue is, when you syndicate your content to another website with a higher domain authority, Google often sees it as more important, even if you posted yours first.
To combat this, when syndicating your content, make use of a rel=canonical tag.
<link rel="canonical" href="ENTER YOUR URL HERE/" />
What this does is tells Google to give all the credit to the original post, i.e. you and not the page you're syndicating your content on.
This way, your own rankings don't get penalized for having a website with a higher domain authority than yours take over.
Social media is free. And using a free tool like Buffer will enable you to post and share your content as well as analyze which content performed best.
Use social media to put out snippets of your content with links to the original pieces.
When you share your content, though, it's not enough to just share it once.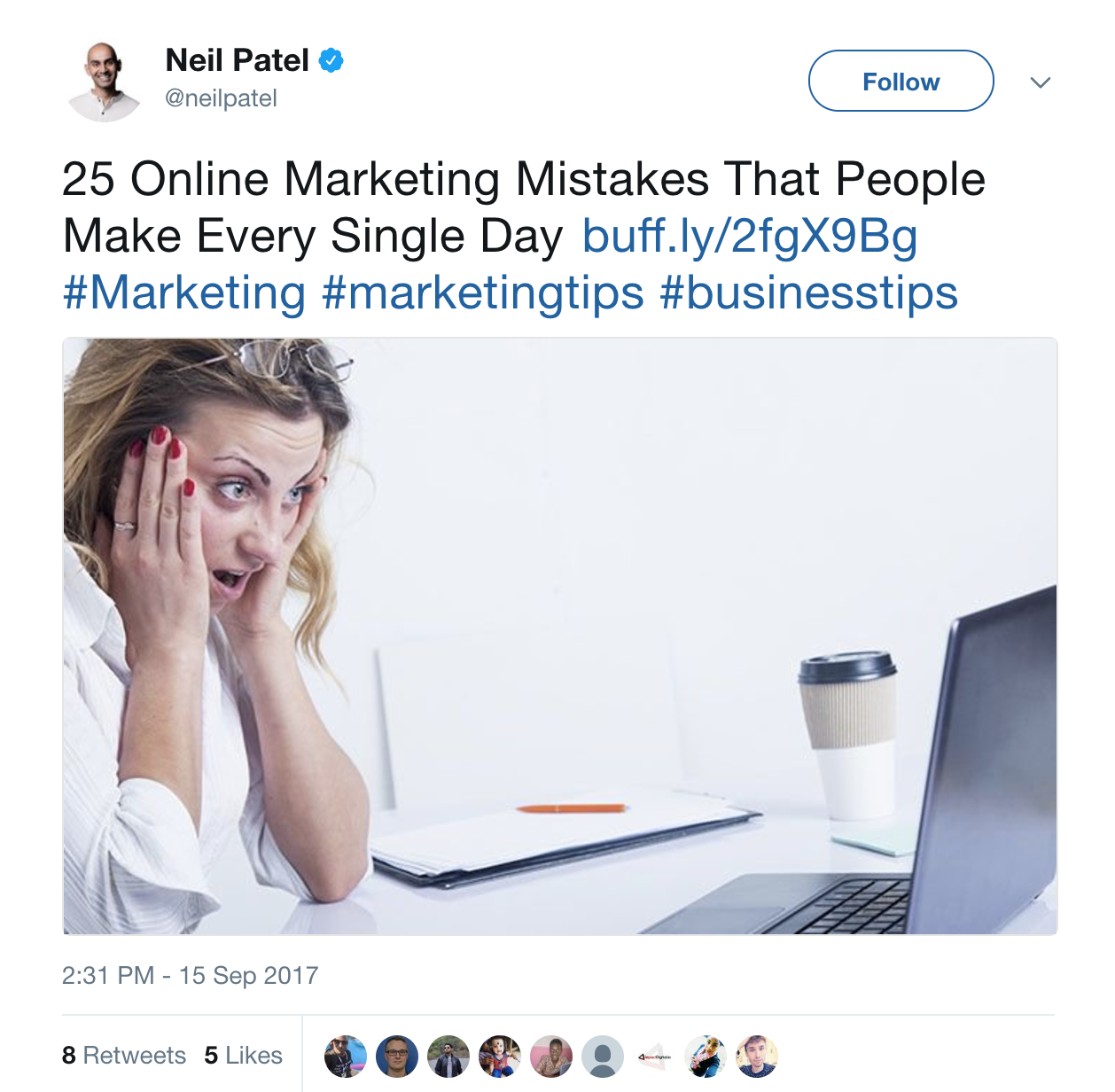 Every time a social media user refreshes their page, they see a new collection of content. It's also important to note that users are online at different times of the day.
If you want to get your content in front of enough people, repeatedly share it. Just don't it too much, as you don't want to appear to be spamming your audience.
Social media is a great way to share your content because it's why these platforms were created.
When someone reads a great piece of content there's a high chance they will recommend it to their followers.
And when their followers read it, they'll recommend it to their followers, too, and so on.
Soon, your content will be shared around the Internet via a web of social network users.
Plus, sharing your content on social media is completely free.
Repurposing content
You might not have the time or manpower to produce original content every week. That's OK. You don't need to.
When you repurpose content, you take an original piece of content and craft it into something new.
This means the hard work is only done once. You only have to research for that post one time.
For example, you could put together a lengthy blog post, and then the next week turn that blog post into a SlideShare or create an infographic: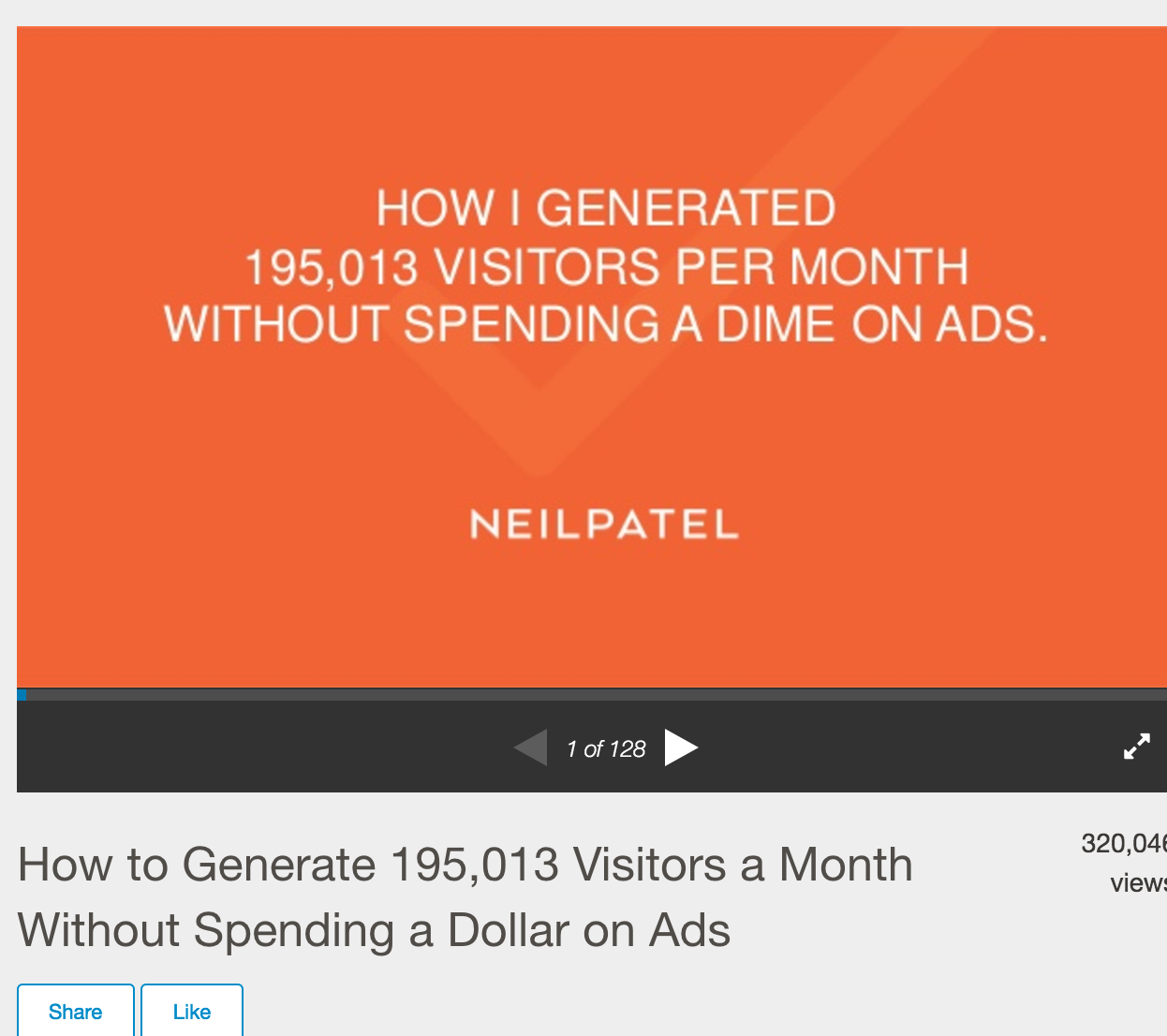 These are simple ways to take your existing content, reformat it into another medium, and have another avenue to approach your readers.
Some readers might not have time to read a 3,000+ word blog post, so if they could get the same information in a SlideShare format, that would be ideal for them.
Likewise, if they see your SlideShare and want to know more about what you're talking about, they could follow through to your actual blog post.
Repurposing your content means you get more bang for your buck with every piece you produce.
SEO
Search engine optimization (SEO) is the best strategy you can use to ensure your content is seen on the first page of Google. It involves optimizing your pages for specific keywords.
The main key to SEO is to create useful content related to your keywords.
So when someone searches for "off-page SEO," you show up on Google first.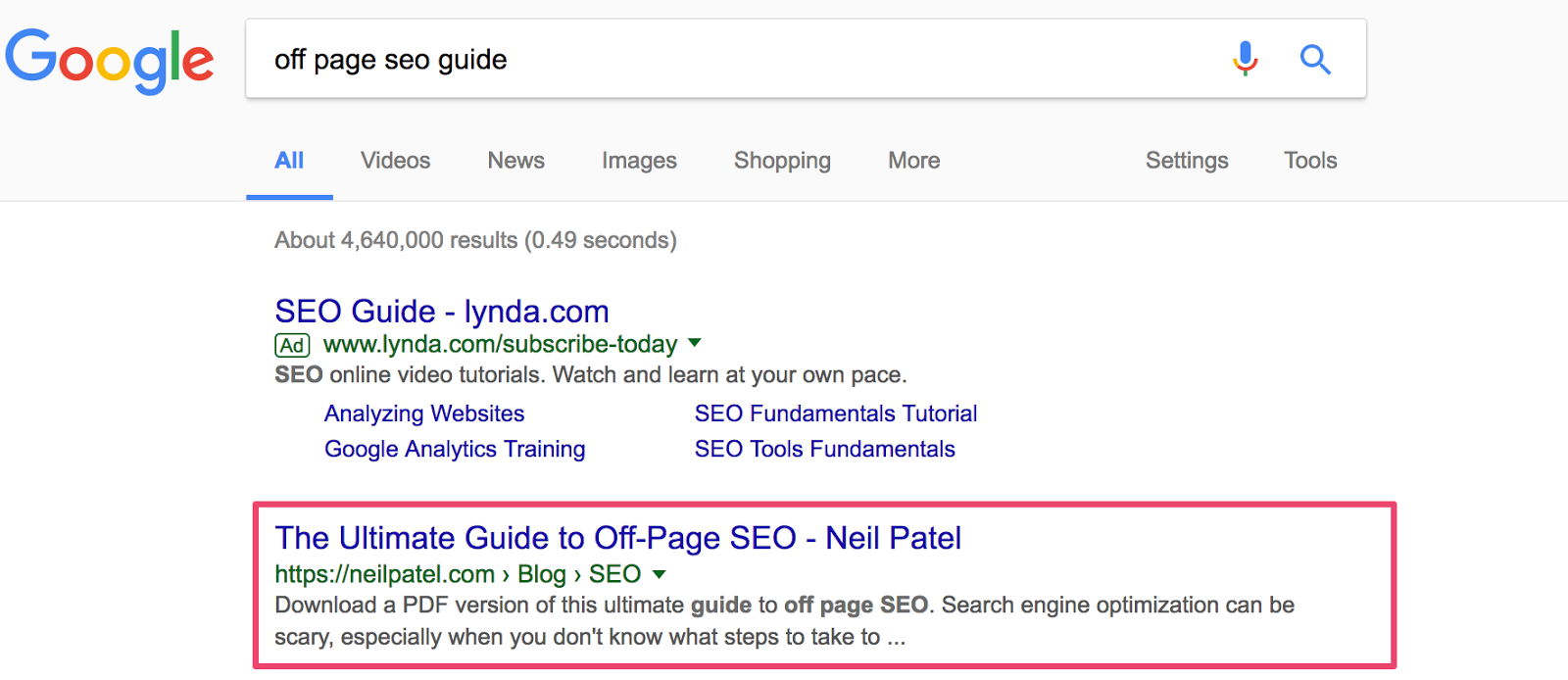 Your content is in the number one position because Google thinks it's valuable.
When your content is deemed valuable, you'll get more eyes on it.
You don't want to go too overboard, though, and stuff your keywords in everywhere.
Google is smart enough to know when content feels natural to read and when it feels like it's been written with the sole purpose of ranking for keywords.
Doing so will hinder your efforts. Not only will you not show up on the first page of the search engine, you might not even show up at all.
Optimizing your content for SEO is completely free.
If you're using WordPress, then download the Yoast SEO plugin. Yoast SEO helps you understand whether or not your content is optimized effectively: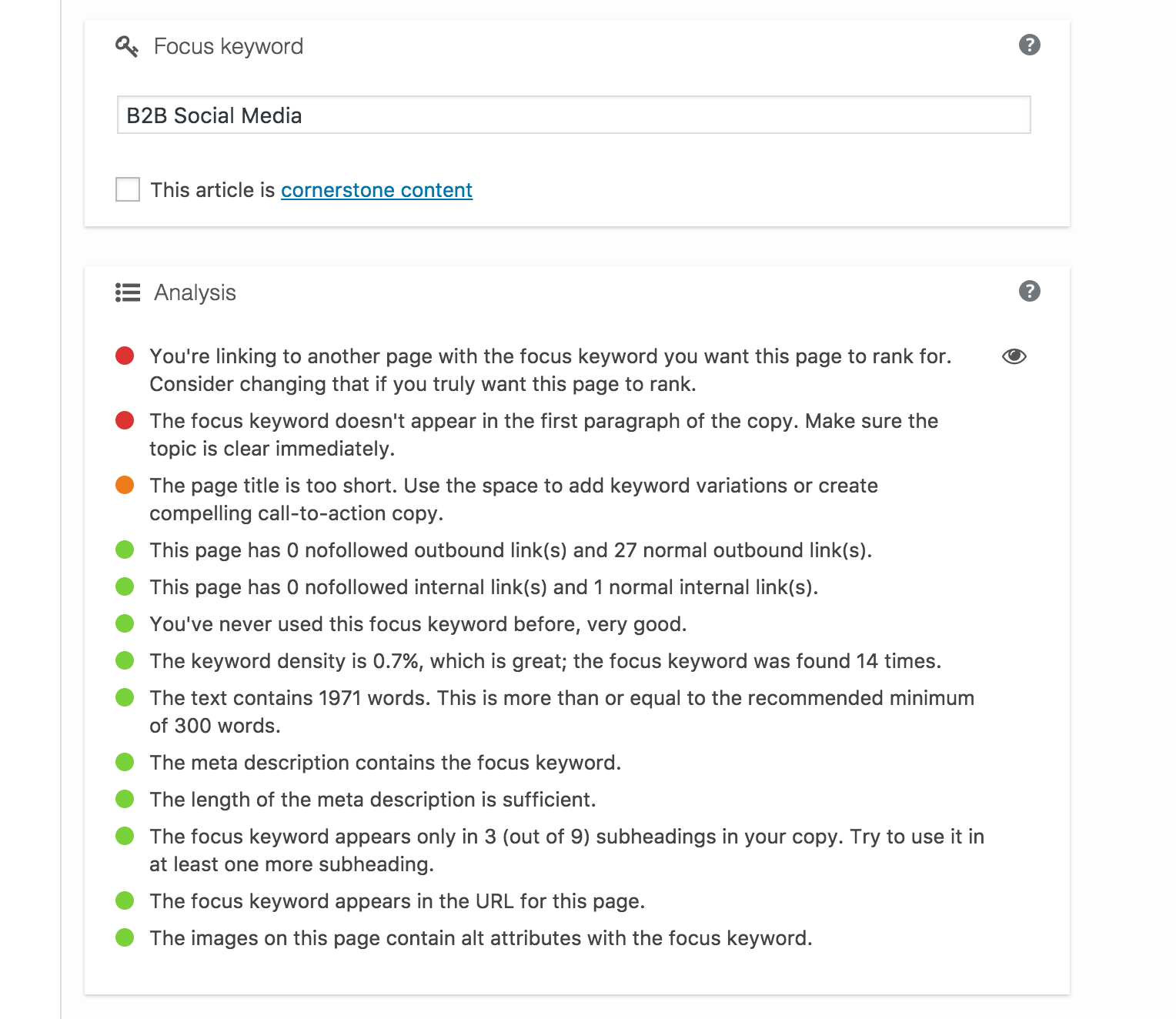 Conclusion
Content marketing is important. You know that already, though.
Even with a limited budget and resources, there should be no reason why you can't get involved with content marketing.
When you do, you'll have an army of loyal fans just waiting to wax lyrical about you.
Your revenue will increase and so will your authority.
And when your revenue and authority increase, you can reinvest those earnings to scale your content efforts with a strategy you know works well.
Content marketing is all about using various mediums to tell the story of your brand. It's there to engage, educate, and encourage your audience to become better at what they do.
When done right, it can have powerful effects on your entire business.
Content marketing doesn't necessarily require a large budget, so why aren't you making use of it yet?
What content strategies have you used that didn't require a budget?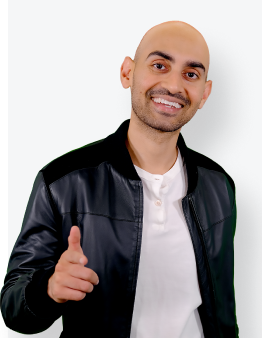 See How My Agency Can Drive More Traffic to Your Website
SEO - unlock more SEO traffic. See real results.
Content Marketing - our team creates epic content that will get shared, get links, and attract traffic.
Paid Media - effective paid strategies with clear ROI.