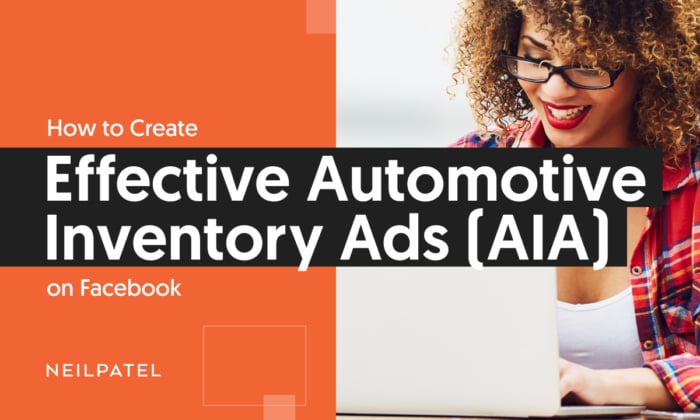 Quick question: what do you think holds back the average auto dealership from increasing sales?
Answer: Friction.
Friction prevents a customer from moving to the next stage in the sales cycle. Friction can be caused by almost anything, from a slow website to an uninspiring blog post to an unexpected cost.
You'll never be able to eliminate some friction points, especially in the automotive industry. Not everyone who views an ad needs or can afford a car, after all. However, fortunately, there are plenty of friction points dealerships can address that make it much more likely potential customers will step foot on your lot. One of my favorite methods is dynamic Facebook Automotive Inventory Ads (AIAs)—catalog-based Facebook ads that can reduce friction dramatically.
In this post, I'll discuss what makes the Automotive Inventory Ad such a powerful dealership marketing tool, how you can implement them properly, and how you can improve your automotive Facebook advertising.
What Are Automotive Inventory Ads (AIAs)?
Facebook Automotive Inventory Ads, also called Facebook Ads for Automotive, Dynamic Ads to Automotive Inventory, and automotive Facebook ads, are catalog-based Facebook ads that use Meta's AI solutions to show car ads to in-market buyers.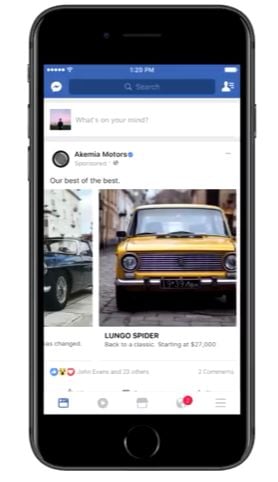 These Facebook ads for car dealers leverage your dealership's entire inventory of cars (including information like make, model, and mileage) and use engagement metrics and the Meta Pixel to show shoppers a range of vehicles that match their interests and location.
AIAs are a bit like Facebook's dynamic ads but with a couple of key differences. The biggest difference between AIAs and standard Meta dynamic ads is that AIAs focus on car sales alone. AIA supports retargeting for both new and used car inventory. Facebook also allows you to focus on people already shopping for cars, ensuring viewers are more likely to convert.
AIAs are also a highly targeted form of Facebook marketing. AIAs don't just look for car shoppers—they can look for choosy car shoppers. Make, model, and trim are all accounted for, matching relevant vehicles to interested shoppers. Plus, you can include location details, so you only focus on nearby buyers.
In essence, AIA usage is a no-brainer for dealerships looking to get ahead of the competition.
Why Should You Run an AIA on Facebook?
One of the biggest reasons to switch over to Facebook Automotive Inventory Ads is how easy it is to create and manage them. Facebook automatically runs AIAs once you've set them up. You only need to set up your campaign once to promote your entire automotive inventory. That's right; you don't need to sit around creating individual ads. Facebook will do it automatically every time it finds a relevant buyer.
Better still, ads are only shown to relevant people who are interested in the specific makes and models you sell. That means you aren't wasting money on users who will never buy one of your vehicles. And ads are shown across mobile and desktop devices, regardless of which device potential customers first used to see your business.
It's an almost frictionless form of advertising, too. The shopper doesn't need to leave the platform to contact your company—although they can if they want. Instead, they can use Facebook Messenger as a low-risk contact method to get in touch with you on the move. It's much less formal than picking up the phone or filling in a request form, making it much more likely that shoppers will take action.
How to Set Up Automotive Inventory Ads on Facebook
Have I convinced you to start using automotive inventory ads to promote your cars? Great! Here's how you can get started with them.
1. Create a Vehicle Feed and Catalog
The first thing you need to do when setting up Facebook automotive inventory ads is to create a vehicle feed and catalog. There are several ways you can create a catalog in Meta, but I think a vehicle feed is easiest since it lets you upload multiple vehicles at once.
Let me just spend a second clearing up some common confusion between the two terms:
Your catalog contains information about all of the vehicles you wish to promote. A vehicle feed is a spreadsheet containing information about your vehicle inventory that you upload to Meta to populate the catalog.
Let's start by creating a new catalog. I'm going to assume you already have a Facebook business page and a Business Account in Business Manager, but create those first if not.
Head to Commerce Manager. Click Get Started, then click Create a catalog and then Get started again.
Click Auto, then click Next.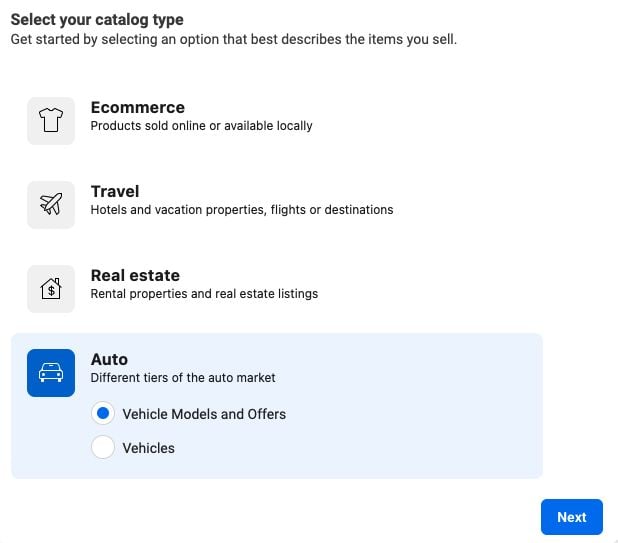 Give a name to your catalog, then click Create.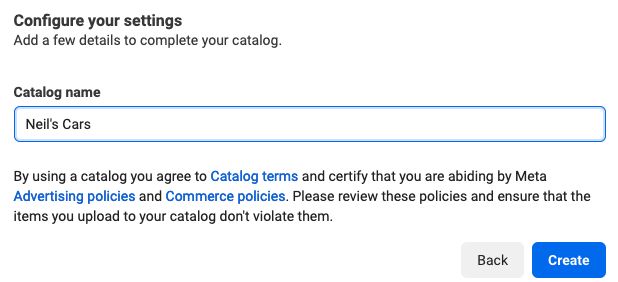 Now let's create a vehicle feed using a template from Meta. Head to Commerce Manager, click on the Catalog tab and then Data sources.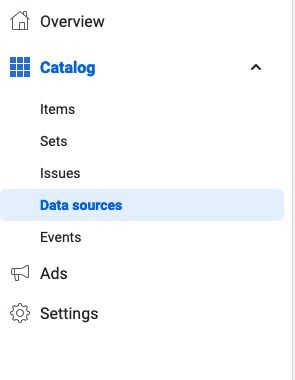 Navigate to the right-hand side bar and click the Download template drawdown menu. You can choose to download the template as a .csv file or .xml file. I prefer .csv files because they are easier to use in Microsoft Excel or Google Sheets.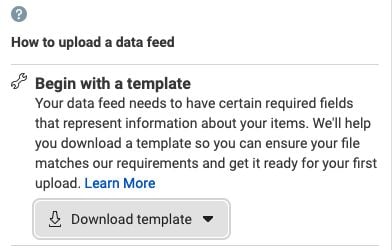 The template can be a little confusing and overwhelming at first, but don't worry. Each of the template's columns are fields that you can use to provide information about each of your vehicles. There are about 80 different fields in total, but you don't have to fill them all in.
The top row of the template tells you whether each field is required or optional. There are 20 required fields for automotive inventory ads, which you can find more information on here.
The second row is a label for each of these fields. This includes things like a title for the vehicle, a description, and the vehicle's mileage, make, model, and year etc.
The third row is an example provided by Meta showing how to fill out the template. You'll want to delete this field before you upload the template, but I recommend doing that last so you can keep referring back to it.
Review your vehicle feed carefully once you complete it and then upload it to your catalog. This is pretty simple.
Head to the Commerce Manager, click on Data sources again, navigate to the Add items section, make sure Data feed is selected then click Next.

Click Upload from your computer on the next page and then drag and drop your completed .csv template onto the screen.
Give your data feed a name and then make sure the currency is correct.
That's it. It can take a while for your vehicle feed to upload fully, but you'll be able to check on its status at any time by clicking on Data sources under your Catalog in the Commerce Manager.
2. Implement the Meta Pixel and/or Mobile SDK
If you want to show automotive inventory ads to people who previously visited your dealership's website or mobile app, then you'll need to implement the Meta Pixel to your site and the Facebook SDK to your app. Both these tools send data to Meta so the company knows who to deliver ads to based on the actions they took on your website and app.
For example, if users look at the product pages of one or more vehicles, there's a good chance they will be receptive to an AIA featuring those specific cars.
3. Connect Your Catalog and Pixel
Once you have added the Pixel and SDK to your website and mobile app respectively, make sure that you connect the catalog you created in step one with both tracking tools. If you are using two or more catalogs (which may be the case if you have dealerships in several cities), make sure the correct Pixel to the correct catalog. The last thing you want is for residents in Phoenix to be shown ads for your dealership in Albuquerque.
Be aware that it may take 24 hours to connect your catalog and Pixel.
Check everything is connected correctly by using Meta's Commerce Manager to check your catalog's match rate. Meta recommends keeping your match rate above 90 percent, which means the vast majority of vehicles users interact with on your website are in your catalog and available for ads.
4. Create an Ad Template
The final step is to create an ad template for your automotive vehicle ads. Unlike other carousel ads that you find on Facebook and Instagram, you do not create individual automotive inventory ads. You create a template that automatically uses images from your vehicle feed, instead.
Head to the Meta Ads Manager to create your template. Click to create a new campaign and choose Sales as your campaign objective.
Give your campaign a name and then turn on the toggle switch for Use a catalog. Meta will automatically use your catalog if you've only created one. Otherwise, you'll need to choose the correct catalog.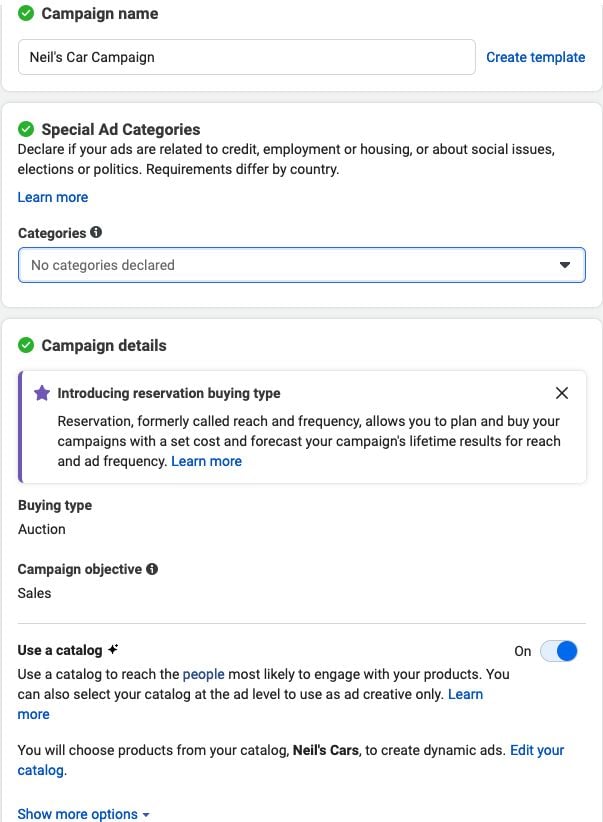 Now give a name to your Ad set, choose where you want to send traffic (to your website or to an on-Facebook destination), and set a daily budget and schedule.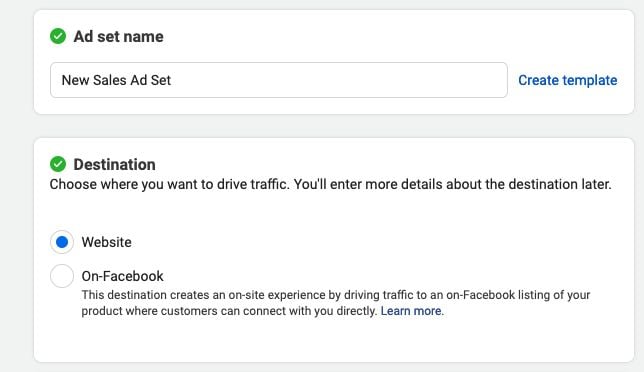 Now choose whether you want to target all prospective customers or just the ones that have interacted with your website or app in the past. Finally, choose which part of the country you want to target.
Once you hit next, Meta will use your vehicle feed to create an example ad. The final thing you need to do is choose whether your ads are structured as a single image or video, a carousel, or a collection of the two. You can also choose whether a single image is shown at a time for catalog cards or whether images are shown in a slideshow loop.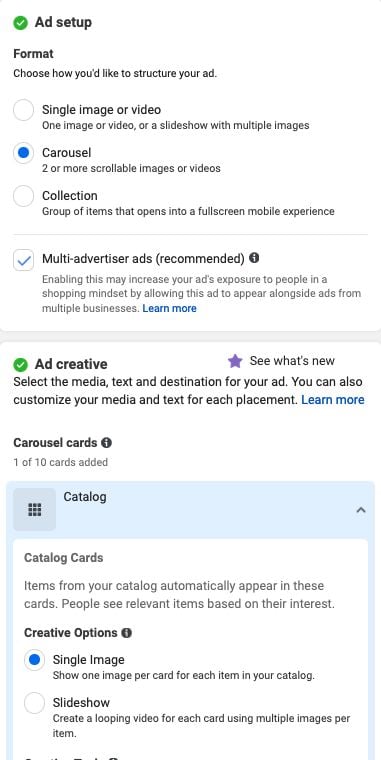 Once you're happy with your ad, hit Publish to finish. Your ads should now run automatically on Facebook using the information you uploaded to your catalog. You can edit your ads at any time or upload a new catalog and create a new ad set if you want to target a particular subset of vehicles or customers.
Best Practices for Facebook Automotive Inventory Ads
Facebook designed AIA as a simple way for dealerships to elevate their automotive marketing. In fact, don't be surprised if your competitors are already using them!
If that's the case then you need to make sure your automotive inventory ads stand out from the crowd. Follow my tips below to do just that.
1. Optimize Images
Make sure your visuals are both eye-catching and high-quality to entice viewers to click.
Choosing a great camera, effective lighting, and neutral backgrounds are just a few best practices you already apply when adding photos to your dealership website. So don't let poor-quality pictures ruin your online ads.
In addition to photo composition, be sure to set your vehicle photos up for success on both social and search engines by choosing the right file name for your image.
There's a big difference between default "1444pj.jpg" and "Honda-Civic-2020.jpg." Remember, we're all about reducing friction here! Take a look at the high-quality image above for reference.
That's not all, though. Before posting, reduce your image file size, scale your images to avoid distortion, and include effective alt text.
2. Research Your Audience Thoroughly
It's essential to research your audience before spending money promoting your business — and creating automotive inventory ads is no different.
While you don't have a huge amount of control over who Facebook advertises your inventory to (but rest assured, they will be interested buyers), you can try to target specific consumer demographics by limiting the number of vehicles you upload to your catalog.
For example, if you only want to target first-time buyers, you probably won't want to upload information about your dealership's offroad trucks and sports cars. Reliable and inexpensive cars will likely be the more popular choice for those customers.
You probably already have a good understanding of what consumers want from talking to them day in and day out. But, if you're in doubt, I recommend completing a competitive audit on one or more of your competitors to understand exactly what they are doing to attract your target audience.
You can even use my research tool, Ubersuggest, to find out what your competitors are doing from an internet marketing perspective and beat them.
3. Improve Your Local Visibility
Facebook Automotive Inventory Ads take location into account because the vast majority of car shoppers make purchases locally. You'll want to capitalize on this as much as possible by increasing the local visibility of your dealership.
You can do this by dialing up your local SEO.
What does that mean? For starters, you should create a contact page, make phone numbers clickable on mobile devices, and add a map to your website.
You should also claim your Google Business Profile if you haven't already. I have a guide on how you can set it up properly, but make sure you collect as many reviews as possible.
Once you win the online visibility battle, outshining your competition becomes much more manageable.
4. Set Up Facebook Messenger
It's time to stop expecting customers to always call your business; they're often shopping on the go. To accommodate this, set up Facebook Messenger to stay in touch with them.
Make sure it's enabled, then create a unique username and link. Write an appropriate greeting, and set up an Instant Reply.
My advice? Create some responses to frequently asked questions. Not only will this save you time in the long run, but it could show you understand shoppers' pain points.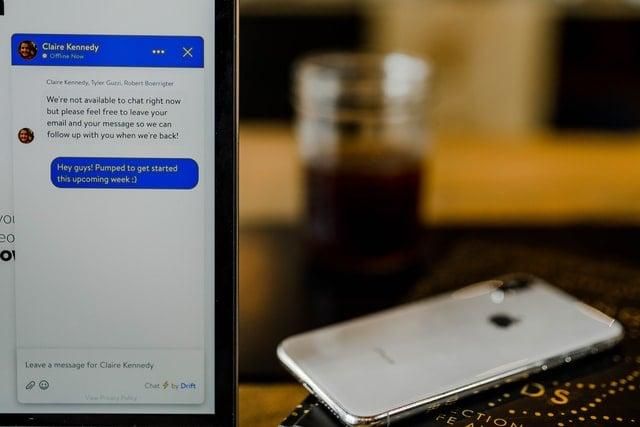 Note: If you really don't think Facebook Messenger is for you, then you can send customers to a lead submission form or a specific page on your website.
5. Track Analytics and Leverage User Data
Facebook Insights allows you to track data from ads and campaigns. What key performance indicators (KPIs) should you focus on?
The answer is impressions, reach, and engagement rate.
Impressions are how many times your ad was on screen.
Reach is the number of unique users who saw your ad.
Engagement Rate represents how many people interacted with your ad.
These are the building blocks of your social media marketing strategy.
Facebook Automotive Inventory Ads FAQs
How do you advertise a car on Facebook?
Automotive inventory ads are the easiest way to advertise your dealership's cars on Facebook. Once you've set them up using my guide above, they run automatically and only reach targeted users who are interested in purchasing a vehicle. 
How do I add vehicle inventory to my Facebook page?
Create a catalog on Facebook by uploading a vehicle feed into Commerce Manager or using third-party inventory providers. 
What does AIA stand for?
AIA stands for Automotive Inventory Ads, Facebook's tool for increasing automotive sales. These are catalog-based ads that automatically target interested buyers in your area. 
How do you target a first-time car buyer?
Unfortunately, there's not a targeting option on Meta that lets you target first-time buyers only. However, you can create a specific vehicle product feed and catalog that only includes the most common vehicles first-time buyers purchase.  
What's the difference between AIA and dynamic ads?
There are a couple of differences between AIA and dynamic ads. For one thing, automotive inventory ads can only be used to target car buyers. AIAs are also automatically generated based on a template you create. With dynamic ads, on the other hand, you can create as many unique ads as you wish. 
Conclusion
Facebook has made it its mission to reduce friction for dealerships and used car salespeople. Automotive Inventory Ads let you quickly create highly targeted ads for all of your fleet and set them to run automatically.
But remember ads don't work alone. Be sure to optimize your images and online profile to improve your SEO, research your audience, and leverage user data. Then, make informed decisions based on campaign results.
Above all, recognize how powerful this kind of reduction in friction truly is. Then, apply this principle to your website and eliminate any hurdles stopping shoppers from completing purchases.
What's your biggest friction point? How does your sales team get around it?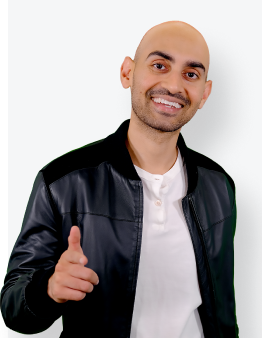 See How My Agency Can Drive More Traffic to Your Website
SEO - unlock more SEO traffic. See real results.
Content Marketing - our team creates epic content that will get shared, get links, and attract traffic.
Paid Media - effective paid strategies with clear ROI.
Are You Using Google Ads? Try Our FREE Ads Grader!
Stop wasting money and unlock the hidden potential of your advertising.
Discover the power of intentional advertising.
Reach your ideal target audience.
Maximize ad spend efficiency.