The best information is usually the most straightforward: Cold hard statistics.
Even though stats aren't exactly emotionally scintillating or suspenseful, they are nonetheless very powerful.
In this article, I've collected some of the most surprising ecommerce stats that I believe have profound implications for the way that we do marketing. These statistics come from the recent report by Visual Website Optimizer in their eCommerce Survey 2014.
1. Shipping charges kill conversions.
The Statistic: 28% of shoppers will abandon their shopping cart if presented with unexpected shipping costs.
This doesn't sound like a huge number, but the situation is worse than it sounds when compared with the other reasons why people abandon shopping carts. There are six main reasons for abandonment, ranging from causes such as shipping charges to coupon codes.
The shipping charge category is the highest source of abandonment. Here's how it stacks up:
When viewed that way, unexpected shipping costs looks pretty macabre.
It's not necessarily that people don't want to pay for shipping. Rather, it's that people don't like to have to pay for shipping unexpectedly.
Sometimes, people are going to have to pay to get stuff delivered to their door. They get that. But when they are confronted with the need to pay for something that they didn't expect, that's when they get a bad feeling, and leave the site.
What needs to change: Be explicit and upfront about your shipping charges.
Shopping cart abandonment is going to happen. But you don't have to accept the fact that 28% of your users will abandon, especially if you can do something about it.
Just tell it how it is. If you are going to charge for shipping, inform users about this before they get farther down the funnel.
You might lose some shoppers at the beginning of the funnel if you tell them "You're going to have to pay some extra shipping charges." Personally, though, I would rather have the users leave at that point, rather than to drag them through the entire funnel only to have them abandon their shopping cart at the end.
In the shopping cart below, I can clearly see that shipping is going to cost me. This is the first step in the shopping cart process, and there is nothing unexpected about the charges. It's plain and straightforward.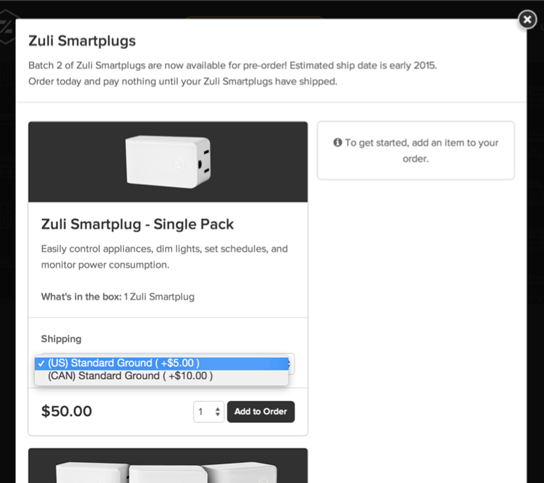 One unobtrusive way to inform users about the shipping charges is to provide a "calculate shipping" feature to the shopping cart. That way, they are at least expecting to have to pay something for shipping.
2. Account creation also kills conversions.
The Statistic: 23% of users will abandon their shopping cart if they have to create a new user account.
Some sites are so dead set on their membership model, that they completely ruin their chances at converting some users. Face it: Some users don't want to create account. They just want their stuff.
When you force users to create an account before checking out, you are basically saying "no" to a huge amount of conversions. Personally, I'd rather have a more conversions including guest checkouts than to have less conversions and a few extra membership signups.
This site makes it impossible to purchase or even browse without handing over an email address.
Most websites wait until you're ready to checkout and then hit you with the membership requirement. I'm not sure which one is worse.
What needs to change: Provide a guest checkout option.
Don't refuse customers just because they don't create accounts. Instead, give them an easy way to checkout without the hassle of a membership creation.
Here's how Nike does it. Before you checkout, you choose one of three options: 1) Member checkout, 2) Guest checkout, 3) PayPal checkout.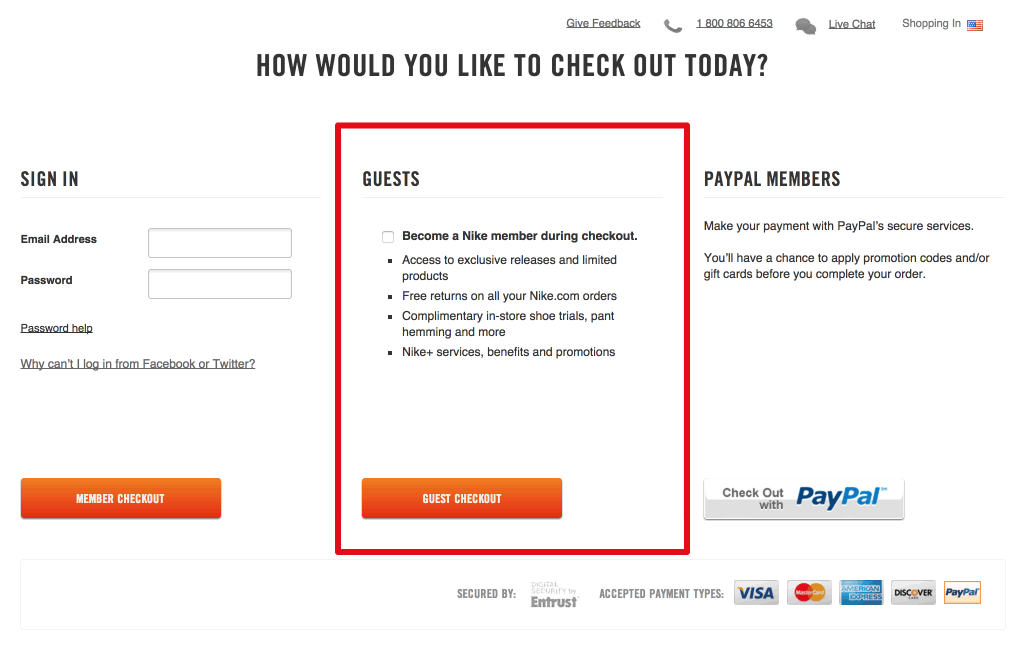 Play nice with your customers, and don't force them to join your website if they don't want to.
3. Discounts will win back your customers.
The Statistic: 54% of shoppers will purchase products left in shopping carts, if those products are offered at a lower price.
Most shoppers are willing to spring for a bargain. If you drop the price on items in their shopping cart, they're way more likely to buy.
What needs to change: Offer lower prices.
Price is one of your bargaining chips. If you can negotiate the price to gain a sale, then do it. The statistics back you up. You'll get more than half of shoppers to complete a purchase by just retargeting and shaving a few bucks of their order.
4. Retargeting is the new frontier.
The Statistic: 72% of millennial shoppers are favorable to retargeting.
In the world of ecommerce, retargeting is one of the most powerful and effective forms of marketing.
Marketers are always looking for higher ROI, greater customer retention, easier customer acquisition, and higher customer spend rates.
How can you get all of those things and more? I have a solution. Retargeting.
What needs to change: Start retargeting if you haven't. Increase retargeting spend if you already retarget.
The idea behind retargeting is simple: Show users ads even after they left your site.
Retargeting provides a highly focused method of gaining new customers, or converting old ones again.
Once you think about it, retargeting seems like such an obvious technique. These are interested potential customers. They've proven that they are interested. Pitch them an ad again, and you'll win a lot of them back.
I've used retargeting and remarketing with success, and I think it's time that more digital marketers start using this marketing method.
5. The best marketers are satisfied customers.
The Statistic: 55% of shoppers say that online reviews influence their buying decision.
You probably already know that testimonials can dramatically influence your conversion rates. When a potential customer sees the review of a satisfied customer, they are far more likely to buy the product or service themselves.
But there's an even more powerful form of testimonial. Rather than the carefully curated and highly selective testimonials that you picked and placed on your site, your customers are more likely to be persuaded by user generated content such as reviews and ratings.
Amazon led the way in making reviews a must-have component in ecommerce. Users are interested in reviews for product research and purchases. Now, thousands of ecommerce sites have discovered the value of featuring customer-generated product reviews.
On Amazon, you simply don't buy a product without at least seeing the review graphs. Most of us will even read a few of the top reviews.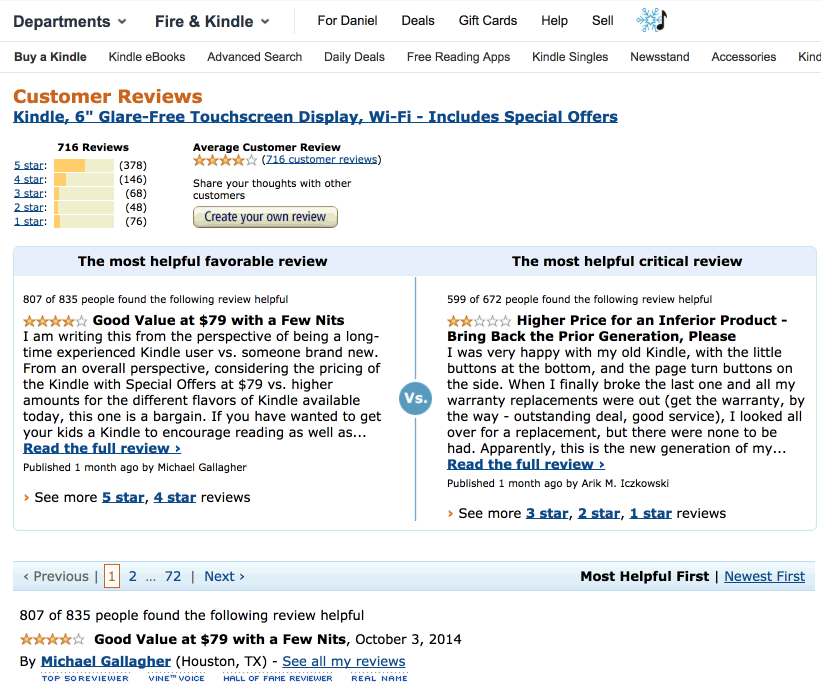 In today's search world, "review" related queries are high in volume and very high in CTR and conversion potential. For example a user searching for "best vacuum cleaner reviews" is clearly searching for something intentionally and carefully. He or she is cruising for a conversion. This is a customer that will be influenced by reviews on an ecommerce site.
What needs to change: Feature product reviews and/or user generated content (UGC).
No matter what your traffic level or conversion rates, 55% is a pretty significant number. That's the percentage of shoppers who think that customer reviews are important.
What are the chances that you could improve your conversion rates by implementing this single technique?
I'd say it's pretty high.
Conclusion
You're a marketer. You want better conversion rates. What's going to deliver higher conversion rates? You split test. You work hard. You learn stuff.
And you change your approach.
If you don't change anything, then you won't be able to budget your conversion rates. If, on the other hand, you give these data-driven techniques a try I think you're going to see some pretty dramatic improvements.
What are some statistics that have changed your marketing approach?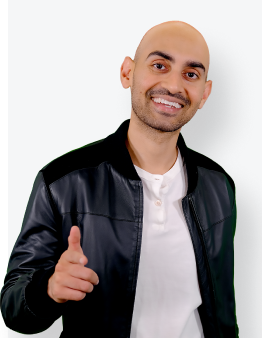 See How My Agency Can Drive More Traffic to Your Website
SEO - unlock more SEO traffic. See real results.
Content Marketing - our team creates epic content that will get shared, get links, and attract traffic.
Paid Media - effective paid strategies with clear ROI.
Are You Using Google Ads? Try Our FREE Ads Grader!
Stop wasting money and unlock the hidden potential of your advertising.
Discover the power of intentional advertising.
Reach your ideal target audience.
Maximize ad spend efficiency.